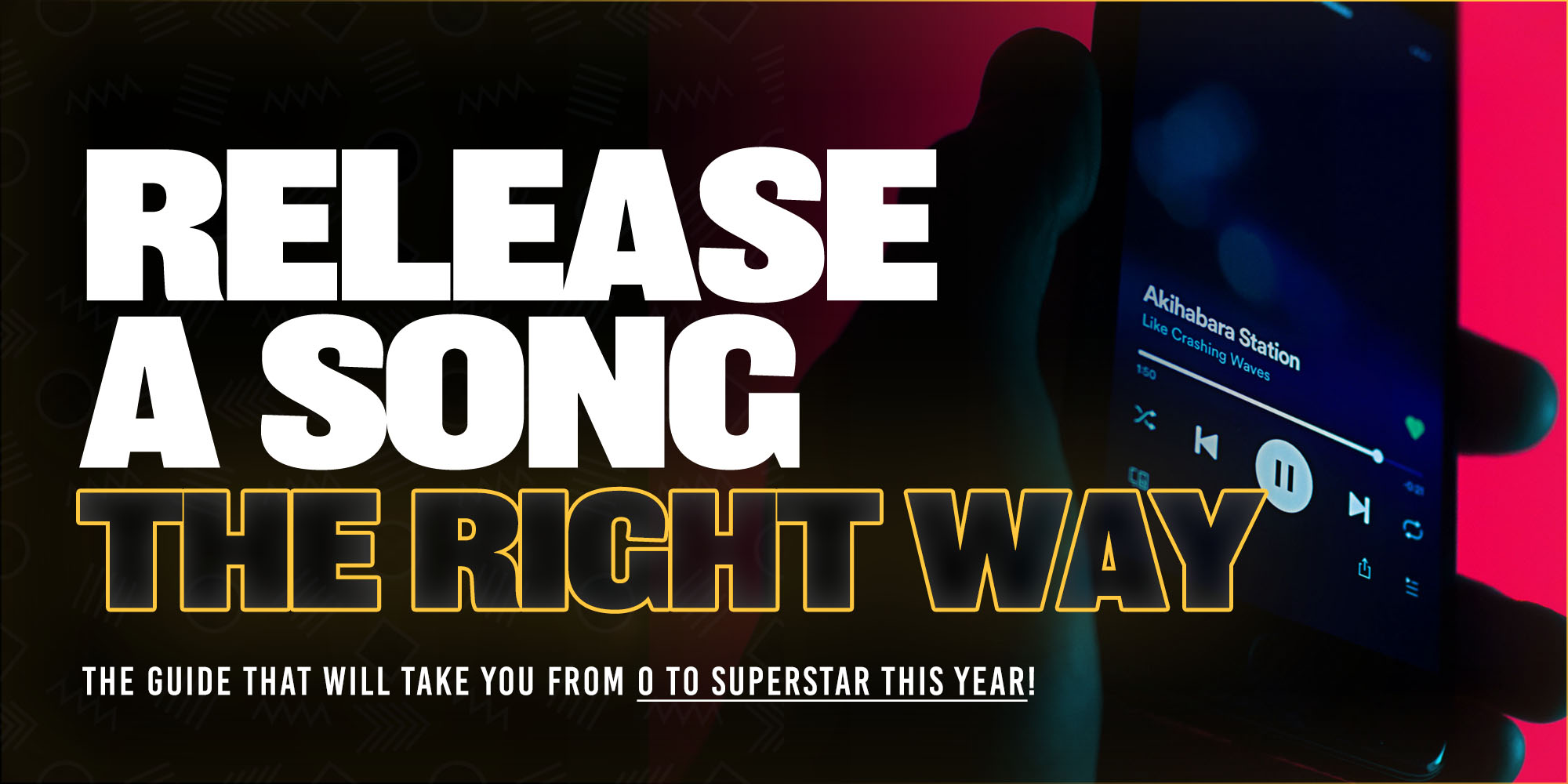 How To Release Music: From The Basics To Unlocking Big Growth
Let's face it... every artist is in the dark when they go about releasing music for the first time.
If you think about it, releasing music is like starting a business. Your brand is the business, and your songs are your products.
It's our job to make this process go as smoothly as possible and to guide you step by step.
In this guide, we break down releasing your first song, to then building up a genuine organic fanbase that can't help but continue coming back for more.
Boost Collective is the #1 trusted source of music distribution for artists - You can protect your content and earn royalties whenever it is being used. Enjoy!
1. Create Your Release Assets

After creating your first song, you'll need to create and gather the necessary release assets.
Here's the full list of what you'll need to have prepared for the best results:
Cover Art

Banners For Social Media

Press Release Materials

Social Cards For Easy Sharing

Meta Data

Potential Video Content Ready

Artist Bio

Description of Your Song
Best Cover Art Practices

I want to stress that not everything above is absolutely required.
You can get by with the basics, however the more prepared you are, the better!
By far the most important step in the pre-release phase is your cover artwork.
Knowing how to make your own cover art is essential for music success!
You'll want to make sure that your artwork is 3000x3000 pixels in digital size. This will be important in the next step!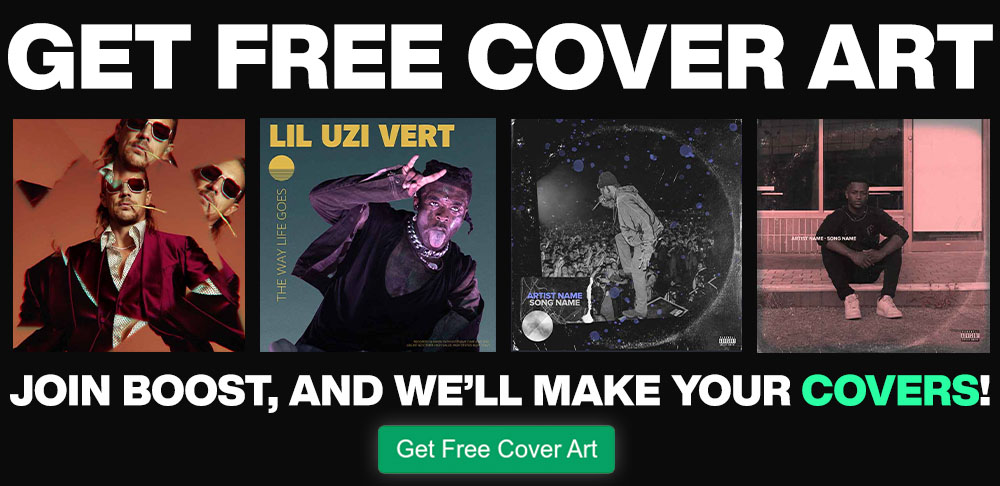 It's also important that the cover is eye-catching.
It needs to captivate the listener's attention so that they click on your song. It should also capture the vibe of your song.
Prep Your Press Materials

The next most important part of this phase are the press materials that you capture.
What do I mean by this?
Think about your favorite artists. Usually, they embody a new look in the form of photos, videos, and teaser posts on their social media.
These days, having a strong brand is widely considered as important as the music itself.
So then, what can you do for your first release?
Surprisingly, it's not too difficult! Don't forget that listeners enjoy authenticity.
So try to capture photos and videos during the music creation process.
You can then edit these up into short, fast-paced clips. TikTok style if you so choose!
You're an artist! It's time to get creative.
2. Use A Music Distributor To Get Onto Spotify, Apple Music, Amazon Music & Other Stores

If you want to reach as many people as possible, you'll need to get on all of the major streaming services.
How do you do that? Well... it's never been easier with the help of a digital distributor.
You'll need to distribute music to streaming platforms to see ANY income roll in!
This is actually a little awkward.. because our entire movement is to get artists to ditch their distributors, and move to a solution that actually supports artists throughout their entire careers.
So then... what digital distribution should you use? Thankfully the choice is easy!
Use Boost Collective's artist free development platform.
It's never been easier to release your music, and get every asset you need on top!
The Boost platform actually rewards you for releasing music.
You'll get credits for every song you put out.
You can then use those credits to get free cover art, free Spotify promotion, free music videos and much more!
A music distributor won't help you get your music heard.
They purely deliver your song to the stores on the release date that you set.
Indie music artists these days are expected to do everything, so our platform aims to help out with that!
Alternatively, if you're a label looking to get into the game with your first release, here's our article on the best record label distribution!
Best Distribution Practices You Should Know About

Over the past few years we've gained plenty of insight into what indie artists are doing right and wrong.
Here are some best practices to help you maximize your distribution.

Schedule Your Release Date 4 Weeks Out
If you're a Spotify user, you've seen the major playlists on the platform such as "rap caviar," or "beast mode."
Did you know you can actually pitch your music to these playlists?
Spotify calls them "editorials".
If you want to submit music to these big playlists, you'll simply need to schedule your release 4 weeks in the future (or further).
You'll then want to sign up for Spotify For Artists to pitch your song to the editorial team.
Checkout our guide here on how to use the Spotify editorial pitch feature!
Release Your Music Video At The Same Time Or After Your Release Goes Live On DSPs
A good rule to practice is to not release any possible music video you may have before your song actually releases on streaming services.
You'll want to make sure that your video drops the same day most of the time.
You may see major artists dropping music videos after their release.
This is because often times they don't allocate budget to a particular song they definitively know will blow up.
Once you see that a song has blown up, you may want to invest further into a professional video.
We'd recommend using our platform to generate yourself some visuals for your new music.
Your Release Might Not Pass Major Stores Quality Control

We can't preach this enough...
There are some things you must know to ensure that your song actually passes through the quality control of the major DSPs (Digital streaming platforms).
To make sure your song actually lands on big platforms like Apple Music, Spotify, Amazon Music etc... Make sure you do the following:
Best practices to releasing music to streaming platforms:
Ensure your album art properly displays an explicit content sticker if your song contains explicit language.

Make sure your album artwork doesn't display any banned imagery (I'll leave this one to your imagination).

Ensure your release title is not in ALL CAPS! Some digital stores are less forgiving than others!

Do not upload copyrighted, uncleared material. (This includes major artist verses you don't own the rights to, samples from popular songs etc...)

Make sure that you're using a 16 bit WAV file when uploading to a digital distribution platform.

Complete all the meta data correctly, and credit your songwriters, composers, contributors, arrangers etc... Release information is very important long term!

How much does it cost to release a song?

Depending on which distributor you use, the cost to release a song may vary. Some distributors like CD Baby charge you $9.95 per single release, whilst others like Boost Collective are free to release unlimited songs. Each platform has its pros and cons when it comes to price per release.
We recommend you choose the distributor that will best represent your needs as an artist.
Here's a more drawn out look at the costs associated with making and releasing a song:
6 expenses to account for when releasing a song:
Studio time: $75/Hour Average

Cover Artwork: $70 Average

Banners & Social Assets: $50 Average

Music Videos & Visualizers: $100-1k Average

Music Distribution: Free (Using Boost Collective)

Spotify Canvas Videos: $50-100 Average
In total, releasing a single could cost you on average $500 or more if you want super high quality assets and production.
If you're not looking to launch professionally, you can get away with much less.
How To Release A Song For Free!

We get it... you might not have upwards of $500 every time you want to drop a new single. So here's how to release a song for free:
You'll want to choose a distributor that can deliver your music on to Spotify, Apple Music & more for free such as Boost Collective, Routenote or Amuse. For all your release assets, you can get them for free through Boost, or by building friendships with graphic designers.
Luckily, artists don't need a label's help to push out music and get prepared for the release date.
If you're able to build new connections, or strategic partnerships...
Releasing music for free is totally in the cards.

3. Prepare A Marketing Strategy That Actually Brings Long Term Success

Here we go! It's time to kick it up a notch. Music promoting is our bread and butter.
These days, success is measured by streaming stats. Gone are the days where the masses hear about sales. The major music executives are looking at streaming numbers.
You've probably seen a popular artist hold up their gold or platinum plaque from RIAA right?
Since technically music achievement is still measured in sales, RIAA has decided that 1 single song sale is equal to 150 streams.
So if a platinum record is 1 million sales, that would mean you need 150 million streams! Seems out of reach right?
Well... maybe not right now. But I'm here to tell you that with the right strategies you can eventually get there.
See... releasing music is an ongoing project. In your music career, you aren't going to just release this ONE song your fixated on right now.
In fact... This might shock you, but we recommend you release music like crazy!
How much is crazy? How about 20 songs a year?
Here's why releasing plenty of music these days is the motive:
You're up against a saturated market. One where tens of thousands of songs are going up every single day.
If you want to cut through the noise, you can't just release 3 songs a year...
Ask yourself this... Would you be upset if your favourite artist put out even more music? Of course not right?
With all this being said here's how to start out promoting your song, and then transition into building long term success, so that every future release day is incredible!
Create A Release Schedule

To maximize your success in your career, you'll want to go further than just releasing one song.
We'd recommend going no more than at least a month between releases.
The name of the game is to build up a catalog of good music that you can be proud of as an indie artist.
Later in this article, we go deeper into promoting your music and how to provide rocket fuel for your future releases through collaborations.
You can expedite the process towards success, simply by putting out more music.

Refresh All Of Your Social Media Profiles

"Out now!" should be applied to all social media accounts and your artist website if you have one!
You'll want to create graphics for each platform you'll be using to share your content.
Instagram Ideas
Here are some Instagram tips to spark life into your account!
4 tips to improve your instagram artist profile:
Change your Instagram bio to announce the release - don't forget to include the musical note or an appropriate emoji! Include the link to the live feed.

Create a release tile and share it with the album/single art, along with a call to action to click the link in your bio.

Make an Instagram Story video and share it with your followers.

Use Instagram Live to announce the release of the track and get feedback from fans.
Facebook/Meta Ideas
Facebook... Meta... Whatever.
It's an essential platform to share your art, so you'll need to understand it!
5 tips to create an engaging Facebook artist post:
Create a humorous video to promote the release.

Boost or purchase an advertisement promoting the release to your admirers and a similar demographic. (You can actually retarget your own following in the Meta Ads Manager to show everyone you follow that you have new music out!)

Include the new release in the "About" section.

Post a status update announcing your release, and use the timeline feature to pin it to the top.

Use Facebook Live to announce the release of the track and get feedback from fans.

Spotify Ideas
Now finally... the big boss himself.
Spotify has its own set of challenges, but you can definitely mange them when you know what to expect.
5 best practices for growing your Spotify following:
Keep your Spotify header and profile photo up to date and consistent with the rest of your social media sites.

Choose photographs that are most aligned with your brand and recent music from the image gallery.

Add links to your social media profiles. As well as an image gallery, according to Spotify.

Bio from Spotify: You can edit this whenever it makes sense for you, with 1500 characters to share with your fans. Update your bio to incorporate upcoming performances, noteworthy press, and new singles. When it's suitable, tag other artists in your bio to improve it.

Include an Artist's Choice: You can choose a "Artist's Pick" song, album, or playlist. With a note from you, this will appear at the top of your profile. If you wish, you can add a custom image to your Pick or share tour dates. More information can be found here.
Twitter Ideas
Are you looking to grow on Twitter as an artist?
Here are 5 effective Twitter tactics to use:
Send out a tweet announcing your new release.

The tweet will be pinned to the top of your profile page.

Go to Buffer and schedule your tweets for the next 10 days, 1-3 times per day.

Reply to other people's tweets and mention your new releases!

YouTube
As were know, Youtube Music is is hella popular!
Here are some ways to het your music to new ears on YouTube:
Personalize the banner to advertise the release of new music.

In the "About" section, include your streaming link and a note of the release.

Upload a video of the cover art with the music in the background.
Do all these and you're a shoe-in for growth!
Create An Inner Circle On Social Media For Your Music

Here's an interesting idea you may not have thought of!
On Instagram you can create a close friends list to display certain story content only to a certain amount of your followers.
Here's what I'd recommend doing.
Create an instagram story asking your audience if they'd like to be apart of your inner circle.
Here are some perks you can offer your inner circle:
Exclusive music previews

Music snippets

Intimate looks into your day to day

In the studio session videos

Inner circle polls and Q&As
The name of the game is making your fans feel special.
Take a look at what pro artists are doing to keep their fans always in the loop!

Pitch Your Music To Playlists Or Run Ads

Here's why it's important to pitch your music to playlist curators:
Unless you pitch it through Spotify For Artists, you have no chance of being heard by Spotify curators, let alone being featured in an Editorial.
Sure, there are undoubtedly exceptions, but believe me when I say you don't want to rely on those odds.
This is also how you can get added to your fans' Release Radar playlist, (you'll get on release radar when you pitch your song to the Spotify editorial team).
While there is no exact formula, we have accumulated a few years of expertise and know-how that you may find valuable.
Get your hands dirty.
Here are the cheat codes to getting playlist curators to accept your submissions:
Excellent Sound Quality
Make sure your music is on point.
This should go without saying, but I'll say it anyway.
A low-quality track made up of a 16-bar loop with overused samples that hasn't been properly mixed and mastered has no chance. Bring your A-game to the table.
Astonishing Artwork
The same goes for the artwork: try your best, enlist the help of a designer friend, or simply explore websites like Unsplash for royalty-free images.
It should represent your artist brand, the track's atmosphere and vibe, and, most importantly, your vision.
Length of the Track
People frequently inquire about the length of a track's impact on editorial placement. Technically, it shouldn't...
but keep in mind that each curator is looking for a distinct vibe/setup and specifications, so your 8-minute song might not be a good fit for a playlist of the same genre with tracks that are more brief and on-the-fly (3 to 4 minutes).
Track Title
We can't say it's crucial, but we always advise artists to stay away from generic names. Sorry, but "Jazz Beat" isn't sexy enough.
Artist Pick, Bio, and Canvas Video
Spotify appreciates it when you use all of its features, and they urge everyone to do so.
It's also free, so don't be stingy — include a bio (at least 1500 characters), photos, social network links, and make use of the Spotify Canvas, Artist Pick, and other features.
Make sure your social media platforms are working for you.
Spotify curators check your social media accounts and Google you to assess your potential, so make sure you're active and have a strong artist brand.
For further information, see our article on Developing an Artist's Music Brand.
How To Write A Playlist Submission Pitch After You Release Your Song

Looking to secure a spot on a major editorial?
I'd say writing the pitch is the most crucial part.
You only have 500 characters to work with, so make the most of them — and editors advise that you attempt to stay as close to 500 as possible.
The writing should strike a nice mix between the tale, your artistic approach, the process of making the music, as well as previous success, your credibility, how you plan to market the release, and the Spotify Editorial the single would fit under (show them you did your homework).
Spotify curators value context and community, so try to assist them with your early research by considering the theme, genre, mood, audience, and how well-known or emerging the artists are (although you might get added to a different playlist).
Also, don't be afraid to tell them if you've worked with a renowned person, been featured on a specific music site, been spotted by BBC One, or launched a major festival.
Obviously, you won't be able to fit all of this information into 500 characters, but consider the most crucial aspects of yourself and your music.
You should be able to tell a nice story (or find someone who is).
Your one-of-a-kind and remarkable story will captivate the editors. They'll surely hear your song after that.

Should I Pay For Playlisting After Releasing Music?

Ahh the age old question.
Should you pay to get your song playlisted? Or Should you run some ads?
This is ultimately up to you. The next section below goes over how to scale up-to millions of streams for nothing but spending your time.
But! If you want to expedite the process and build some buzz, paying for ads or playlisting is not a bad idea in the slightest.
First I'd advise you to checkout how you can get some free playlist promotion here!
Here's why paying for some playlisting can be very helpful:
You can quickly see if your song has the potential to do bigger numbers. This is a great practice especially as you amass a larger music catalog.
Picture this... imagine you had 10 songs, and you placed each one on the same playlist. You can use this as a litmus test to see which songs actually do better.
You can then take the clear winner, and playlist that track further! Pretty smart right?
I'd also recommend checking out our article on how to get plays on Spotify organically!
Get Seismic Growth For Your Future Releases Through Collaboration

This is where you can provide rocket fuel to your career. Collabs baby!
If you release music with other artists, you'll tap into a whole new world of growth.
Collaboration Best Practices:
The world of collaborations are deeper than you think.
Personally, I believe that it's the most powerful way to grow to over 1 million monthly listeners on all streaming services.
Oh yea... and guess what... it's free. It only costs your time.
Here's what you have to know:
Collaborations can take time. So you'll need to water your connections as you grow them.

Be persistent in checking in on your collaborators progress. You can tell them that you need their contribution to the song back by a certain date to speed up the process.

Make sure that when filling out the meta data for the release, you include yourself and your collaborator as a main artist. This will ensure that the algorithm spreads the flow of organic traffic mutually. This is the secret sauce behind collab records!

Ensure your collaborator is cleared to be listed as a main artist if they're signed to a record label.
Once again I want to reiterate that I believe collaborations to be the most powerful way of growth hacking your way up the ladder. Use them to your advantage!
Join The #1 Platform For Music Artists.
We're starting a revolution - and putting music artists (like you) first.
Boost Collective is a free-forever music distribution platform. Upload unlimited releases to 150+ stores and platforms and keep 100% of your earnings.
You'll also get free playlist promotion, cover art creation, and much more!
Join Boost Collective for free here.