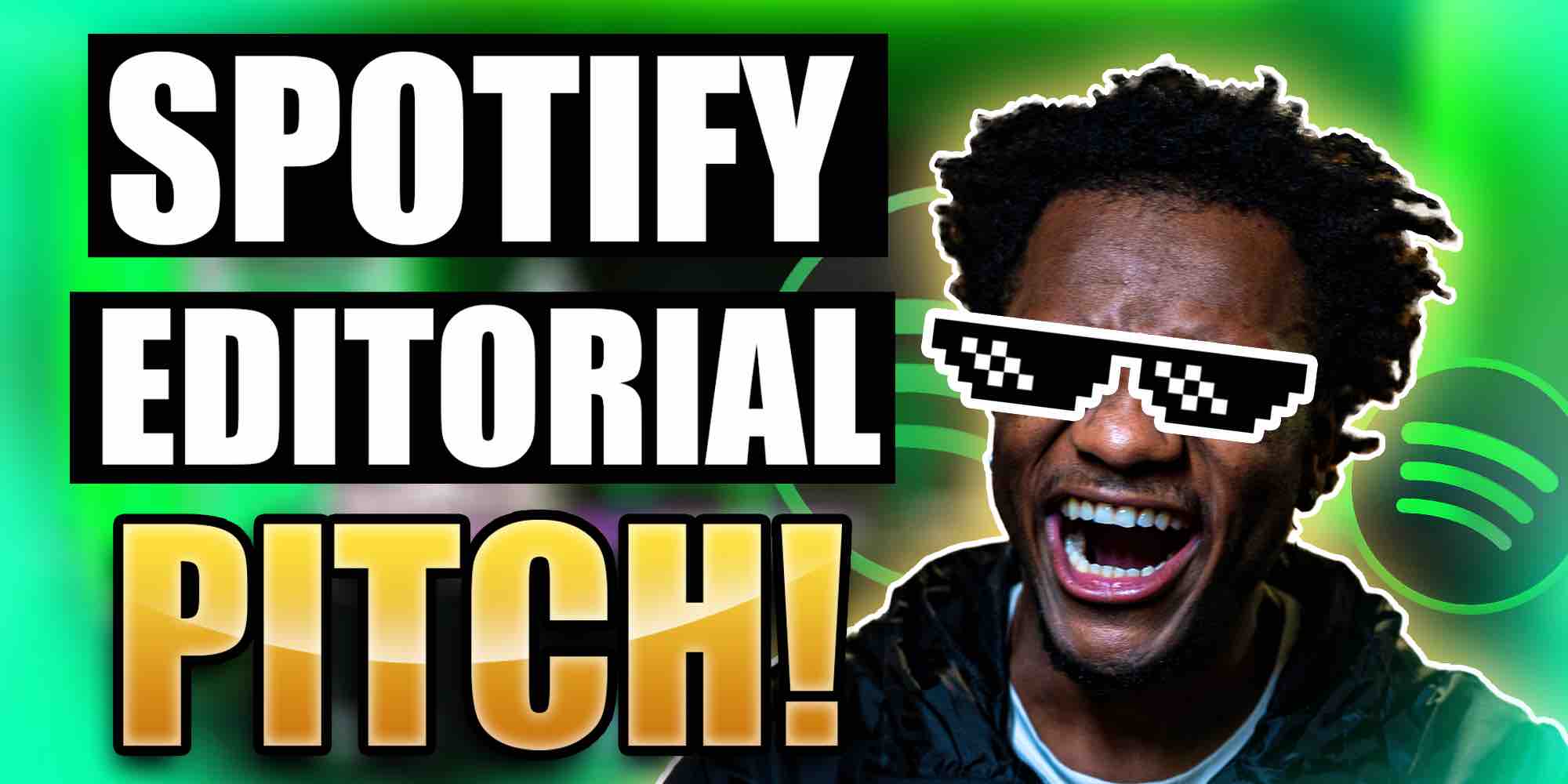 Get your new music heard in 2023!
Musicians around the globe are seeing major streaming numbers on Spotify in 2023!
Spotify has revolutionized the music industry and is changing the way we listen to music in the digital age.
Through the Spotify playlist pitch system, you'll not just be able to get your music to Spotify, but to tons of big playlists!
If you're an independent artist looking to get your songs heard on the platform, here are some tips on how to pitch your songs to the editorial team.
Getting on Spotify's editorial playlist is the undisputed best way to promote your new music to Spotify users around the world.
This Spotify feature can make your album release go from flop to extreme success!
How do I create a Spotify artist account?
Bonus: Check out Boost Collective's free Spotify promotion here - our free-to-use platform is a must-join for all independent artists:
Use Boost Collective's free music distribution platform! Distribute unlimited songs to 150+ stores/platforms, and protect your content with Content ID - while also keeping 100% of your earnings. Use this upload form to distribute your single now:
Does

Pitching

to Spotify work?
The editorial team at Spotify listens to every track submitted from playlist pitch, and playlists 20% of them. Before release, Artists can submit their songs to Spotify through the editorial submission platform.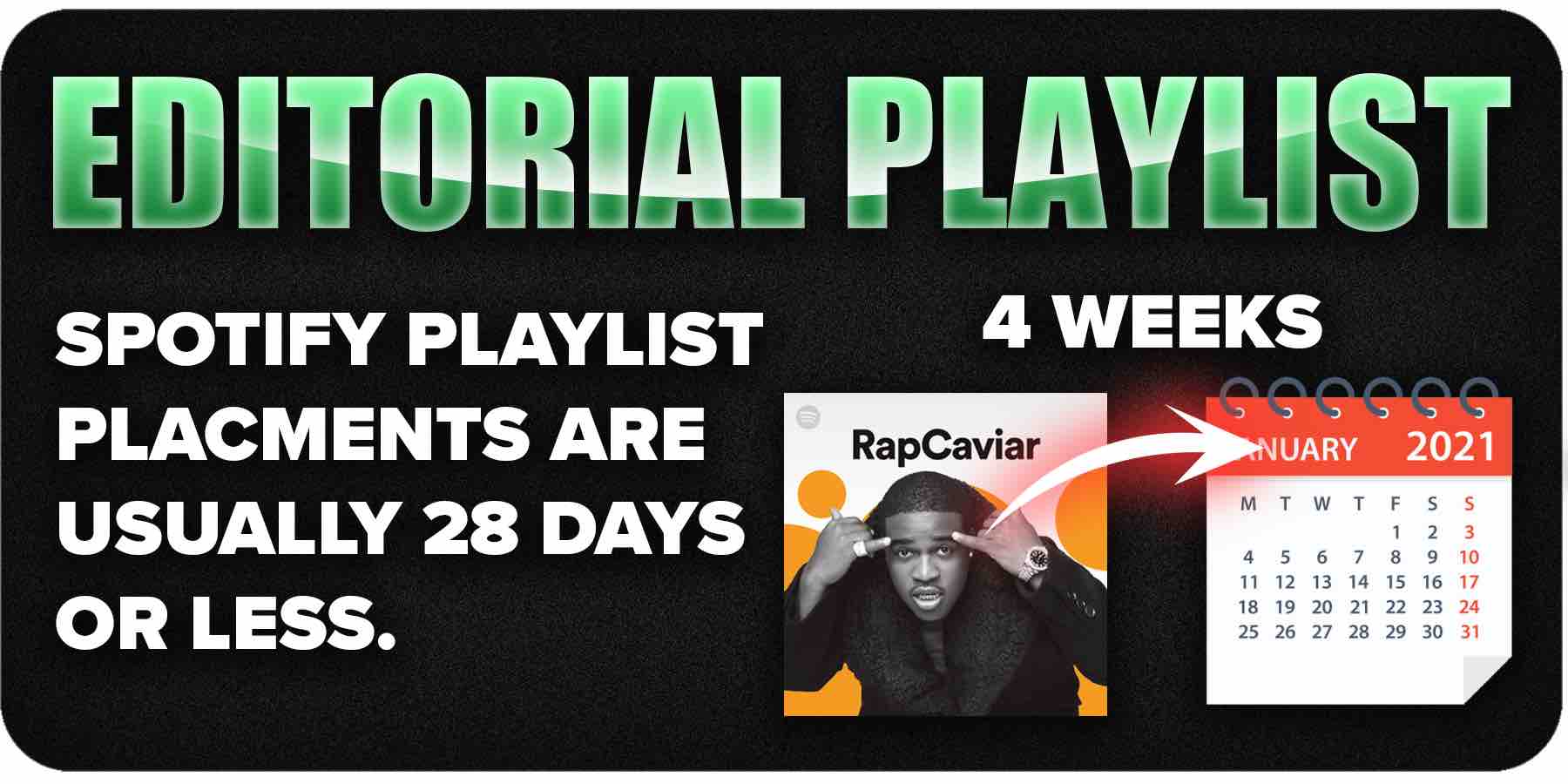 The submission platform will take your song and send it to a team of experts.
They will then decide if your song is a good fit for the platform and if they want to feature it on the site.
If they do, they'll contact you with some instructions on how to upload the song.
If you're looking for more information about pitching your songs, check out this helpful blog post from Spotify's editorial team:
Disclaimer: not every song is accepted
The number one thing you need to understand when pitching to curators is that I did today it is still playlist consideration.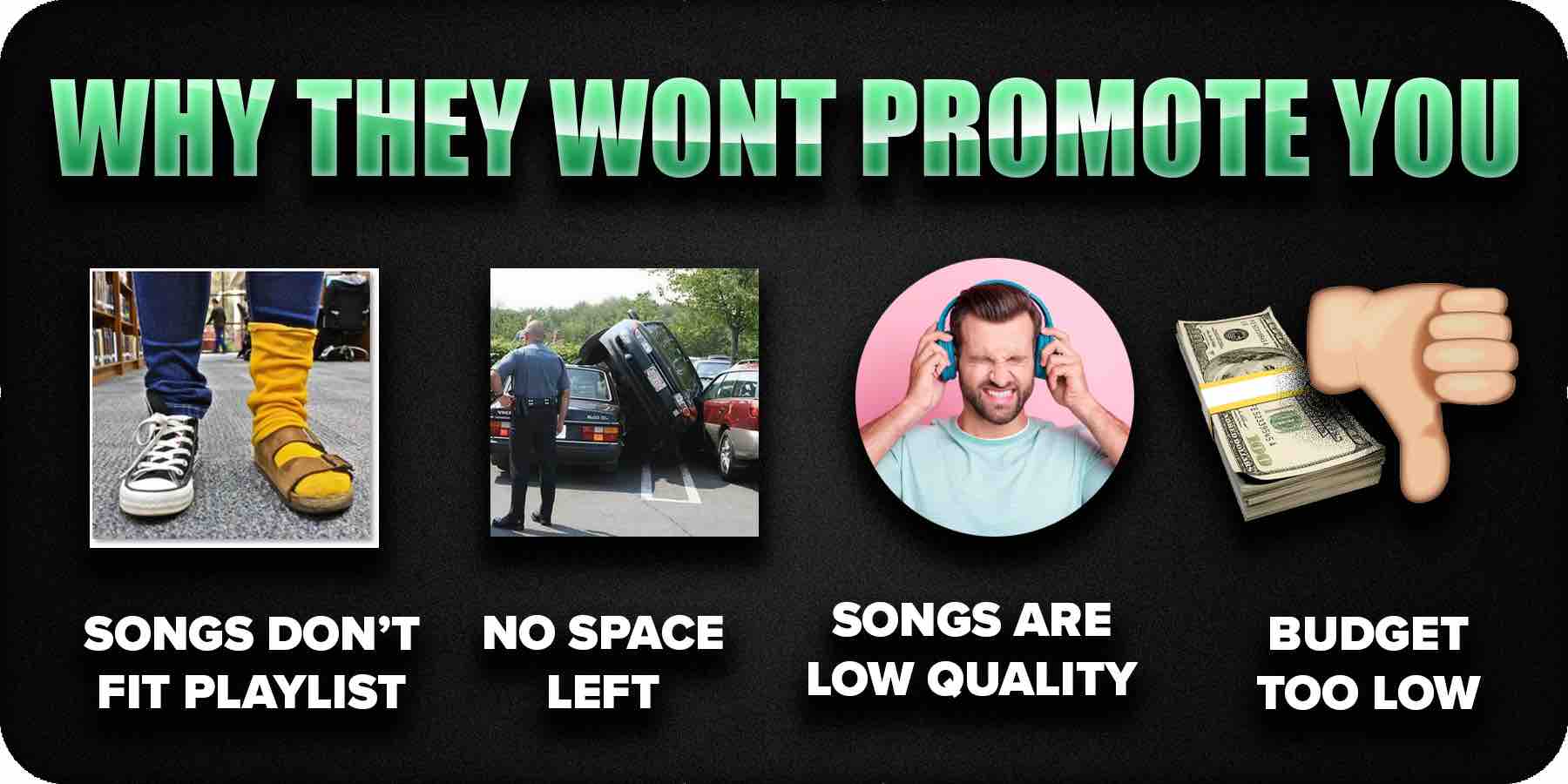 Not all upcoming releases have the sound quality nor do they fit the exact mood in the genres for all popular playlists.
I always tell artists that when is time for your release date it's better to have a few active playlists rather than getting discovered on the playlist that doesn't match your sound.
The pitch tool on Spotify isn't guaranteed compared to Boost Collective's Free Spotify Submission tool!
In the latter case, you won't be building great day to resources for your Spotify track.
This hurts the process because all of the algorithmic streams that you would've had never come, that's blocking the number of listeners you'll get.
Should I pay for playlist placements?
Keep submitting to Spotify curators
Don't be discouraged if the Spotify curators reject your music, it just means that that one song didn't fit. You can still keep submitting your upcoming releases with no penalty!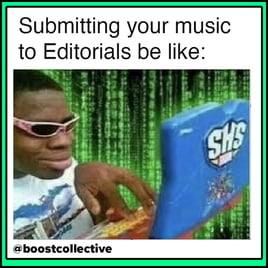 Getting featured on the playlist is a big process.
There is a massive number of songs created and pitched to the curator every single day.
Don't expect to be discovered your first time around!
The cool part is even if you pitch your first release and don't get a playlist you're good.
As an artist, you still have release radar and your personal Spotify community for listening to your music!
Spotify for artists is pretty much the plug for managing your playlists.
If you notice that your track has been taken down from playlists then they should be crystal clear but it's time to pitch some more!
How to increase odds of acceptance in Spotify playlists
The more tracks you release, the higher your chance of getting a playlist feature based on the number of track admissions.
Also, the more videos you watch from Boost Collective, the more educated about the industry you'll be ;)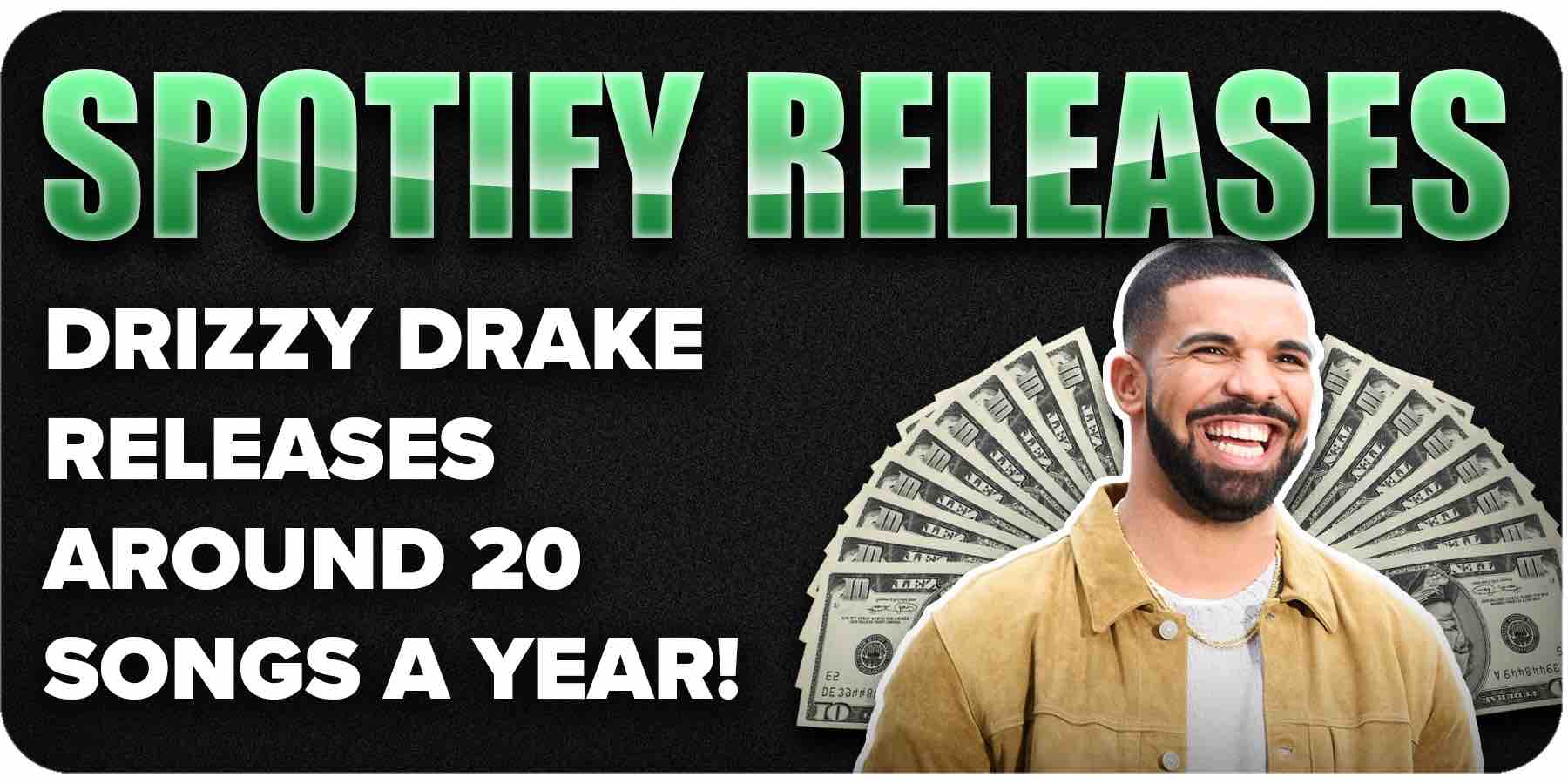 Your Spotify for artists account should be growing in track number every day.
If you are a featured artist on a track then another benefit is that the collaboration song has a higher chance of getting on playlists.
By getting your music tracks on an independent playlist you're also boosting the track algorithm data.
This is something that Spotify Curators watch out for!
This makes sense, the more sounds created and try to put out to the world, the more you have to work with.
Instead of it being a first-time pitch, with a huge number of featured tracks then your sourcing your audience from different songs!
How to pitch your unreleased song to Spotify
If you're an independent artist looking to get your songs on the platform.
Here are some tips on how to pitch your songs to Spotify's editorial team, to get on Spotify editorial playlists...
6 EASY steps to submit music to Spotify editors
Sign in to Spotify for Artists from your desktop

Go to home or profile

Open see the unreleased tracks section

Select GET STARTED in front of your release

Tap Submit the Music button

Pick a song for submission.
To submit a song, you'll need a high-quality audio file with lyrics and title information
Spotify curators have pretty high standards for their artists.
Even the Spotify editorial playlist pitch ain't easy.
Your track needs to be mixed and recorded at its highest level.
Unless it's something crystal that you pitch to Spotify editors, your shot of getting playlisted is next to none.
Fans trust editors to get fresh finds for Music.
The last thing Spotify will do is tarnish their editorial playlist by putting in a bad song…
How do I find playlist curators & contact them?
5 Steps to landing on Independent Spotify playlists
Let's get your music into editorial playlists!
The Spotify playlists submission has 4 parts:
The title of your song

The song's pre-save link

The song's audio file

The song's metadata
If you're looking for a way to get your songs onto playlists, I got you!
You can use an independent submission tool such as Boost Collective that will get you featured and heard on playlists.
Tens of thousands of artists have already seen their monthly listeners increase by 10X.
All through using the Boost Collective free pitch tool!
It's ranked #1 in the Top 5 Spotify Promotion Companies!

You can connect with playlist readers on Twitter as well.
Try to create a good connection with as many independent Spotify curators as you can.
This will help you when it's time to pitch as an artist.
Focus first on mood, then genres next.
Is my song worth being on Playlists?
Now, this is the hard part about managing Spotify for artists...
Maybe it's not just your one song that missed the mark with the playlist, but your music as a whole is not that good.
Normally when promoting your social media links to Spotify your fans will lie and tell you that you have the best music ever…
Yet the audience of listeners simply is not paying much attention.
Listen to real listeners rather than social media friends.
Take a critical look at the music to create and reevaluate if it sounds good enough for pitching.
In this case, you may have to take some time away from the promo and refine your sound to build a better artist story.
In the end, you will release better music and see real growth in your audience!
Nothing wrong with a little bit more artist development for your next song.
Best Rap Spotify Playlists To Submit Music!
How to land on Spotify's editorial Playlists
Landing on Editorial playlists is not that hard.
5 steps to landing on Spotify playlists
Select a decent playlist

Find the playlist curator's email or Instagram

Message the curator - state your intentions

Once responded to, send your music

Follow the curator's terms for playlisting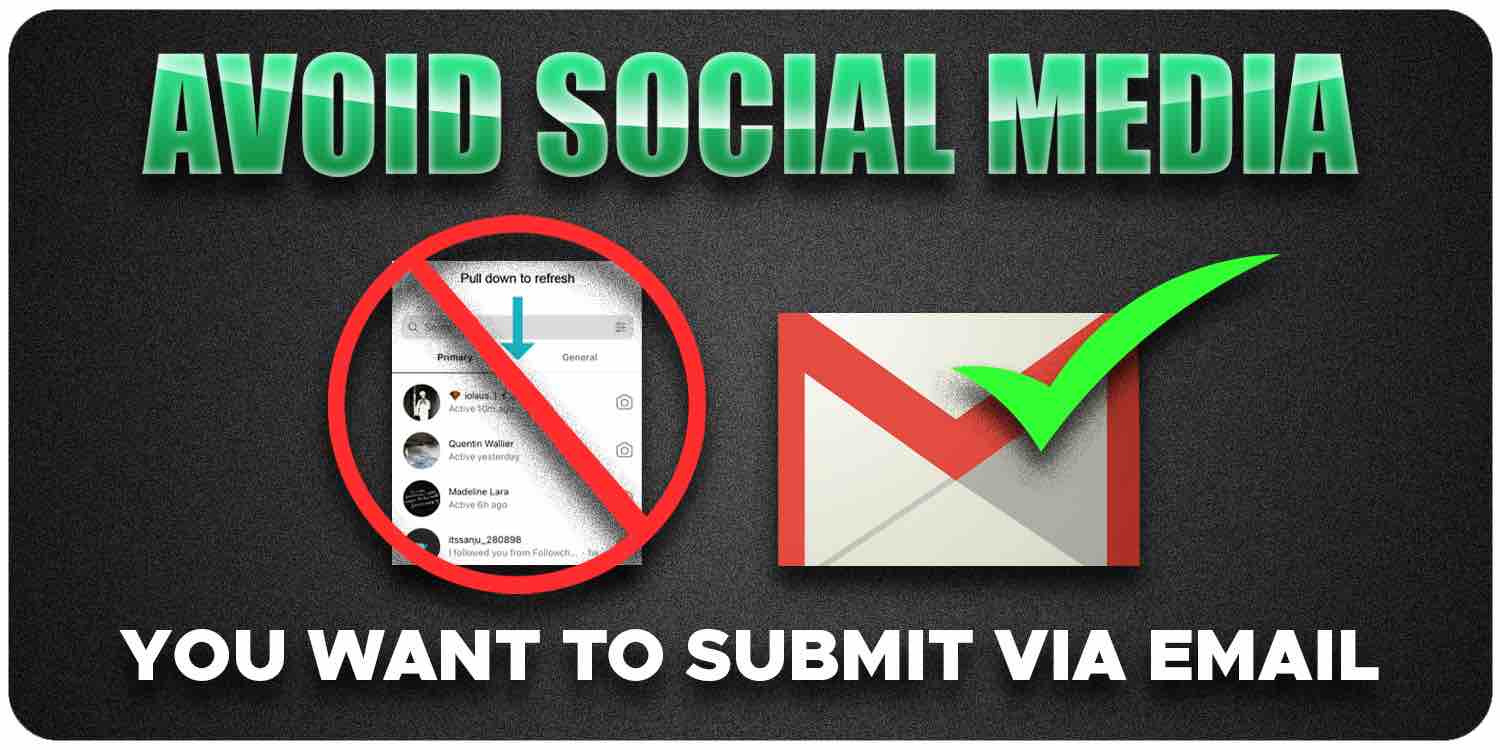 Begin by writing an email to the editor of a specific playlist that's relevant to your song.
reach out to Playlist curators to find success!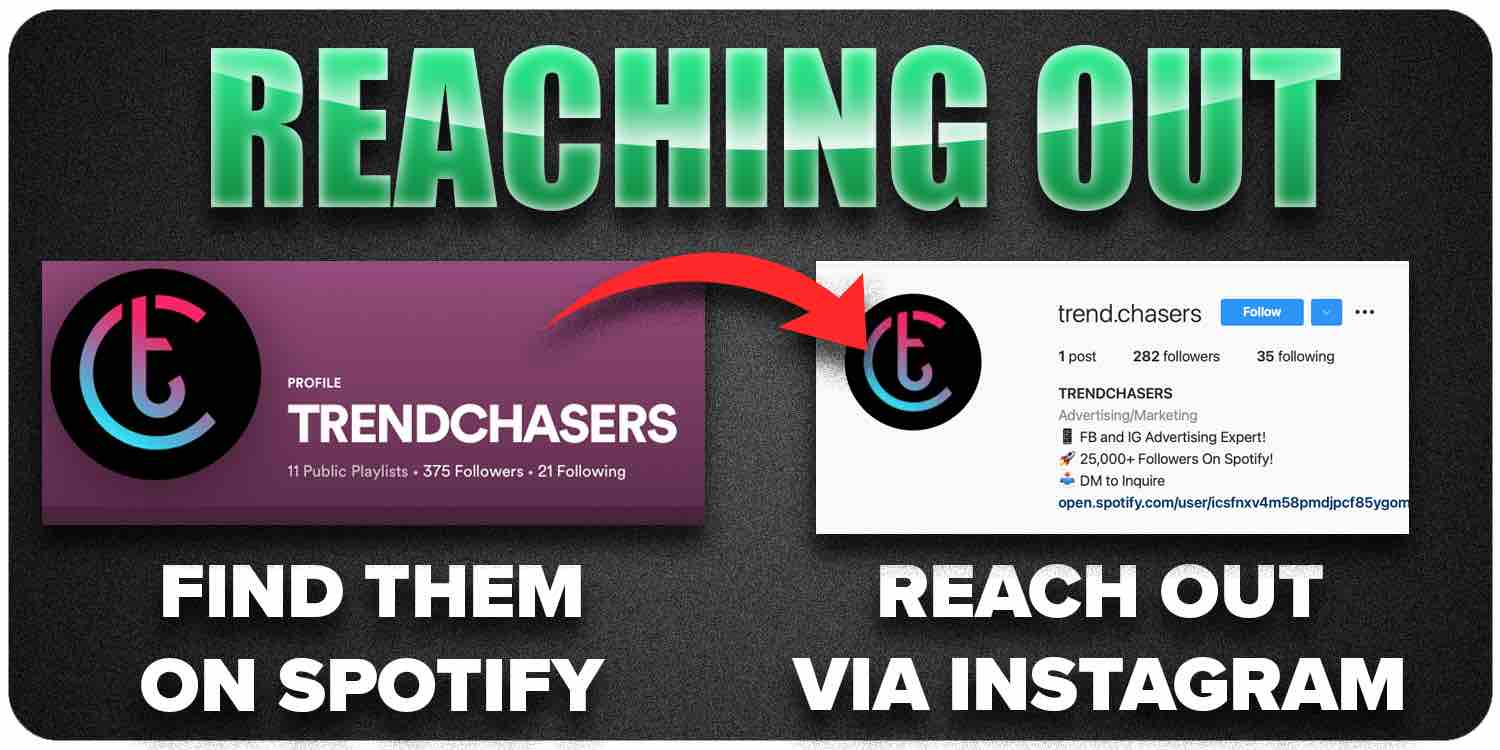 Start by giving them some background information about yourself and what you're looking for from them.
Be brief - don't waste their time!
Once they respond, send them a URL link to your song on Spotify.
Finally, submit any other information requested by the editor as well as links or contact info.
Once you submit your music, wait for their reply!
Note: in many cases, playlist curators charge for their services.
How Do You pitch to editors on Spotify after release?
It's not possible to submit your music to the editorial team after release. Editors will have to discover you through the platform for additional promotion.
Playlist curators generally look at large independently on Spotify playlist as inspiration for brand new music.
They directly add those songs onto Editorial playlists.
Don't neglect good quality stream Data
You also need good algorithmic data, that signals to editors that your song is good.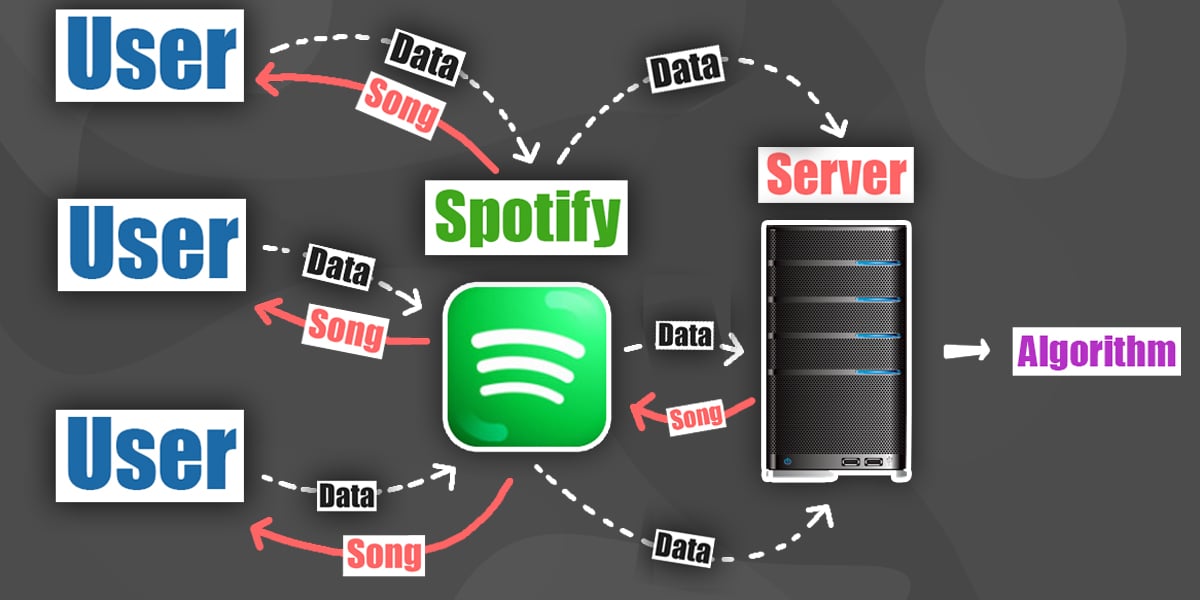 This is why you must put in effort toward getting hard on independent playlists as much as editorial ones.
That discovery will go a long way if your music is good and you're giving it the publicity that it deserves!
Make sure you don't neglect to submit your music to the Independent Spotify playlist for free!
How to get in Spotify algorithm playlists
Spotify algorithm playlist such as discover weekly and release radar is a great source of streams.
Every Friday of the week, a brand new release radar playlist is created for all your fans to listen to.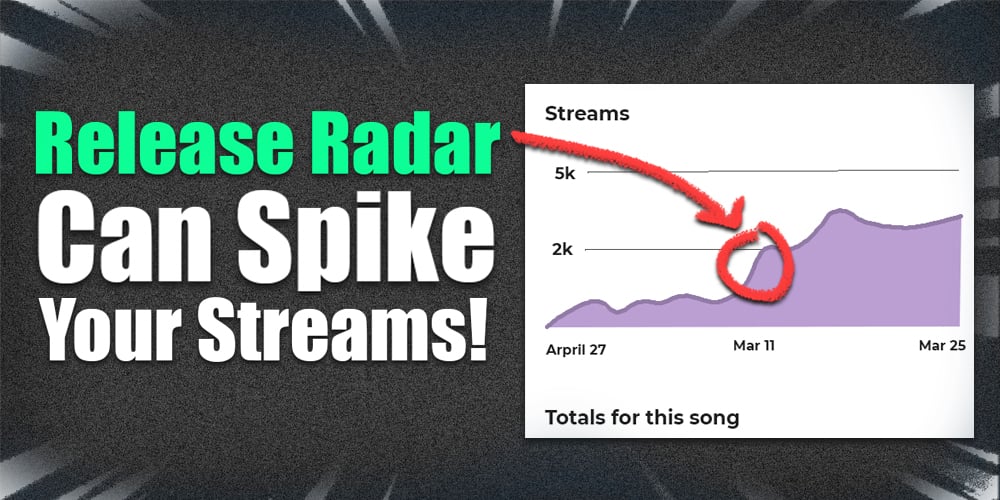 Spotify for artists is a powerful tool to manage your fans and album!
The more streams that you get as artists, the higher your odds of getting discovered by labels are.
Connect with your Spotify fans
Make sure you read more info for getting on the Algorithm playlist.
It does wonders for your album promo!
So long as you create a connection with fans it's almost guaranteed that your music will appear there.
Get in targeted genre playlists to build these connections.
Artists need to understand that you create music for the fan, not just for yourself.
In my opinion, Spotify for artists should be renamed Spotify for fans!
Join The #1 Platform For Music Artists.
We're starting a revolution - and putting music artists (like you) first.
Boost Collective is a free-forever music distribution platform. Upload unlimited releases to 150+ stores and platforms and keep 100% of your earnings.
You'll also get free playlist promotion, cover art creation, and much more!
Join Boost Collective for free here.