How to Create an Artist Profile on Spotify
Being on Spotify is a must for artists looking to grow their music career.
You'll be able to access important data and insights, see what your fans are looking for and see where your music is being streamed from across the world.
It's easy to claim your Spotify for Artists account.
The data you'll get when you create your account will supercharge your music career - and help you get your music to the world!
Bonus: Check out Boost Collective's free Spotify promotion here - our free-to-use platform is a must-join for all independent artists!
Use Boost Collective's free music distribution platform! Distribute unlimited songs to 150+ stores/platforms, and protect your content with Content ID - while also keeping 100% of your earnings. Use this upload form to distribute your single now:
Tap below to get content ID distribution today! 👇
Boost Collective is the #1 trusted source of music distribution for artists - You can protect your content and earn royalties whenever it is being used. Enjoy!
What is a Spotify Artist Profile?
An artist profile is different from a regular Spotify account. An artist profile gives you tools, data, and analytics on your streams and audience.
You'll only be able to make a Spotify for Artists profile if you have music on Spotify already, or have releases scheduled with a distributor for Spotify.
A Spotify for Artists profile lets you tap into more promotion, get stats and analytics on your fans, and customize your public Artist page.
Why You Should Make a Spotify Artist Profile
There's no excuse for not having a Spotify Artist Profile if you have music on Spotify.
How do I get my music on Spotify?
Not only does it take a few minutes to set up, you'll give your music the best chance at success on Spotify.
The three biggest benefits you'll be getting instant access to with a Spotify artist page is:
More opportunities for music promotion on Spotify

Access fan insights and analytics

Customize how your Spotify page looks like
Spotify's algorithm also favours artists who have an artist page set up, increasing their odds at being added to algorithmic playlists among other things. (Here's how to get a "This Is" playlist!)

How to Claim Your Spotify Artist Profile
How to claim a Spotify artist account
Go to artists.spotify.com

Click on 'Get Access'

Select 'Artist or Manager' and click on 'Continue'

Search for your artist name or paste the link to your Spotify artist page into the search box

Follow Spotify's instructions to get access
The procedure for claiming your profile if you have your first release scheduled depends on your distributor, so it's best to reach out to them.
For this article, we'll focus on the step-by-step if you already have music out on Spotify (which is most artists).
You can only claim your Spotify for Artists profile if:
You already have music on Spotify (your artist name is on Spotify)

You have scheduled a Spotify release with your distributor for your song
Spotify will basically ask you for some ways to verify that you're the rightful owner of the Spotify artist name that you want to claim.
Once you submit your info, you'll have to wait a little bit. You'll get an email notification when you've successfully claimed your profile.
It's usually best that you claim your own profile, although it's also normal for a record label to set up your Spotify for Artists profile on your behalf.
How to Customize Your Spotify For Artists Profile.
Once your request went through, the first thing to do is to customize it to your liking. This is the most satisfying part about creating your Spotify artist account, so have fun with it!
Once you're on your dashboard, click on the 'Profile' tab at the top of the page.
You should then be taken to a page that looks like this:
Click on the pencil icon on the top right to edit your banner and profile picture images.
Here are Spotify's recommendations for good header (banner) and avatar images:
File format: jpeg, gif, or png.

Avatar images must be at least 750x750px.

Header images must be at least 2660x1140px.

Avoid text, logos, and busy backgrounds
Make sure you follow those guidelines when you create the images.
Click on the 'About' tab to update and add the following:
Image Gallery - a collection of images you can upload that people can browse through

Artist Bio - a text field explaining who you are as an artist that users can read

More info - where you can add your social media links, like your Soundcloud, Facebook or Instagram account.
Make sure you fill everything out.
Spotify favors artist profiles that are fully filled out and completed.
The most important one that seems to be forgotten is your artist bio.
Also make sure you also set up Artist's Pick!
Not to mention, having a fully updated Spotify for Artists profile helps you give off a more professional tone to listeners, increasing your engagement and follower count on Spotify.
Share Tour and Concert Dates
Have any upcoming concerts?
Accessing Spotify for Artists lets you add this information to your profile.
Whenever a fan sees your next release on Spotify, he or she will also see your tour dates!
Tour dates and concerts will automatically be synced up with Spotify when you have a Ticketmaster, Songkick or AXS listing.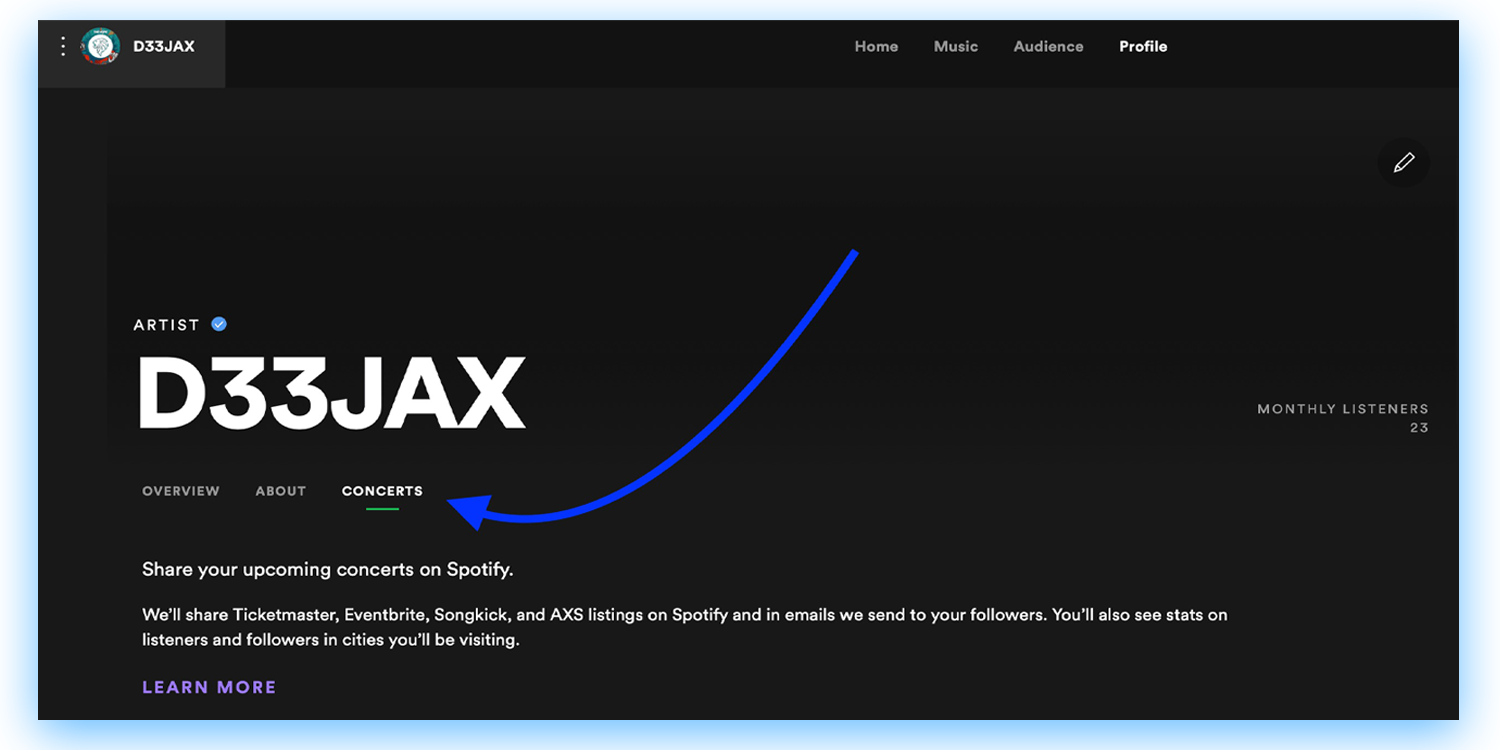 It's a neat and easy way to tell your audience what parts of the world you are going to!
Set up Spotify Canvas for Your Songs
Having a looping video play whenever someone streams your song on Spotify can help increase engagement and help solidify your artist brand.
It's one of the best ways to stand out from the millions of artists on Spotify.
To add a Spotify canvas video to your songs:
1) Log in to your Spotify for Artists account
2) Go to the 'Music' tab
3) Select the track you want to add the canvas to
4) click the 'Add Canvas' button

Not sure how to create or edit a high-quality Spotify Canvas video? Get started here with Spotify Canvas creation here.
You can create and add Spotify Canvas to your track any time after the release date.
Get Spotify Promotion
One of the best reasons you need to claim your Spotify for Artists account is so you can:
Get more Spotify exposure

Get a pulse on the Spotify promotion
You do end up doing.
This way, you won't be flying blind and have a clear view of every promotional effort you're doing on the platform.
Get on Spotify-Curated Playlists
With a Spotify for Artists account, you'll be able to submit your music to Spotify Curated Playlists whenever you have a new release.
These include Rap Caviar and Viva Latino, with each of these playlists boasting millions of followers. (How can I get followers on Spotify?)
You can only pitch one song at a time per release - so use this wisely.
Getting on just one of these playlists can launch your career.
The downside is that it's incredibly hard to get a placement, especially with tens of thousands of songs being added to Spotify daily.
Your promotion is basically in the hands of a Spotify employee should you only rely on this method.
Get on Curated Spotify Playlists
An easier way to get on active, curated and relevant playlists is to run a campaign through a playlist network.
At Boost Collective, we get you on active and relevant playlists designed to get you maximum organic growth.
Our Spoti fy promotion lets you tap into our 350+ Spotify playlist network, anywhere and anytime.
With a Spotify for Artists account you'll be see the stats from these campaign in real-time, such as seeing where the streams come from, what lists you've been added to, and how many of these streams will turn out to become long-term listeners.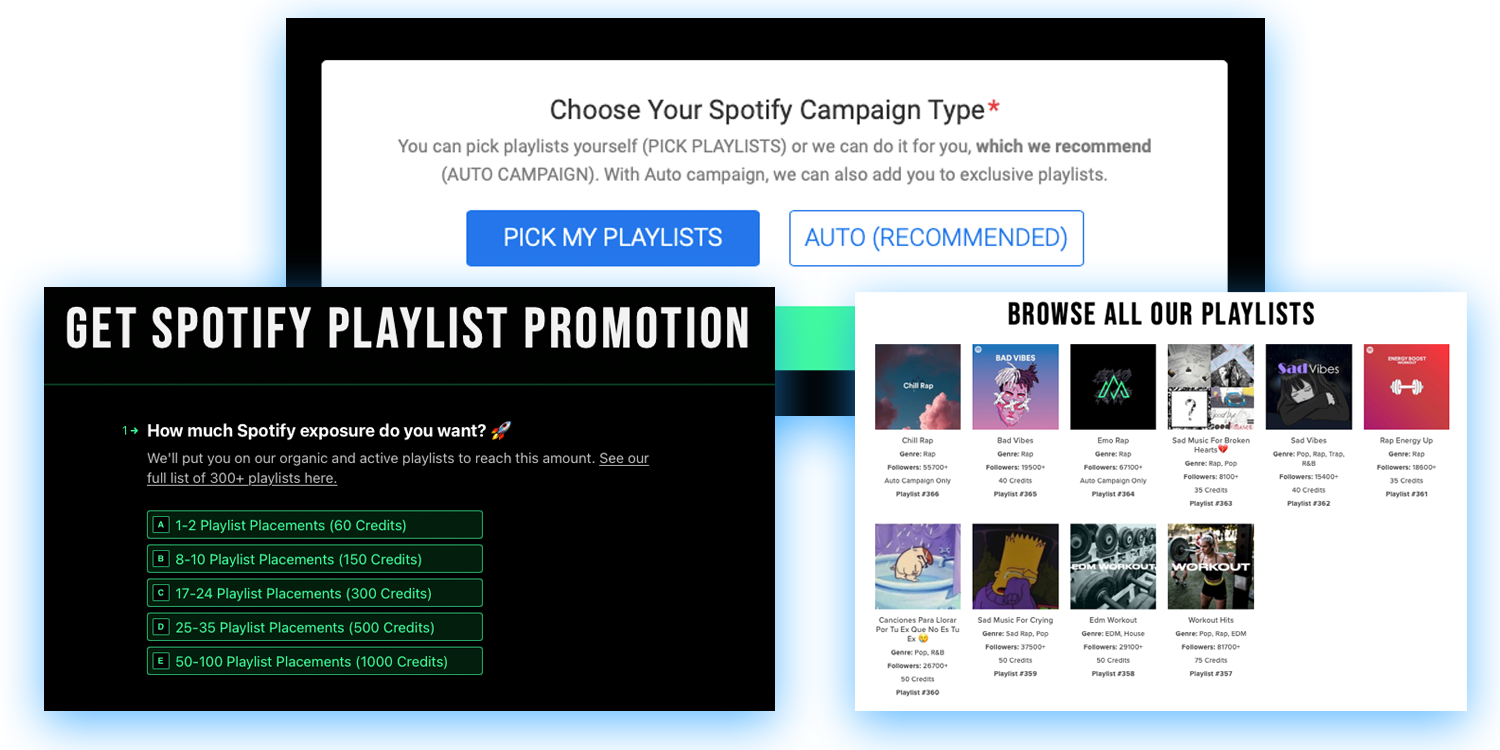 How to Use Your Spotify Artist Profile
Great, so now that you've got a Spotify profile set up, understand the basics of Spotify promotion, and customized your profile to your liking, it's time to start managing your profile.
This will let you make the most of the Spotify for Artists platform so put new music out strategically and get more fans.
The Spotify For Artists Dashboard
This is the dashboard where you'll be seeing every time you log in to your Spotify for Artists account.
You'll have the most relevant stats available to you on the right (streams, playlists, and your top songs).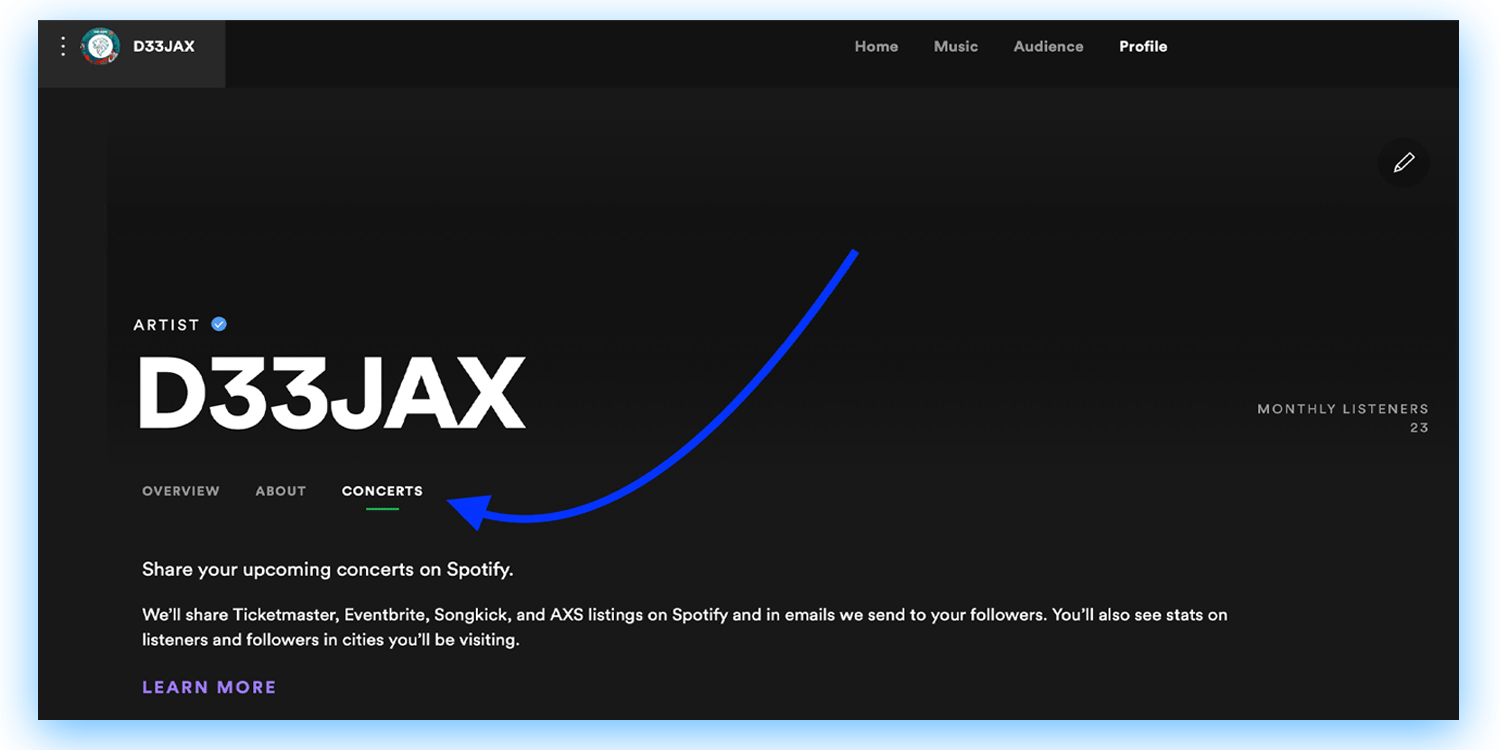 What's most important here is the quick links to videos and articles Spotify created to help you succeed on Spotify (and your music career in general).
It's worth going through all the free content they give out.
You'll regularly see new content be shared on your Spotify for Artists home page.
Your Music Tab
Navigate to the 'Music' tab to see information on each of your songs, drilled down by date.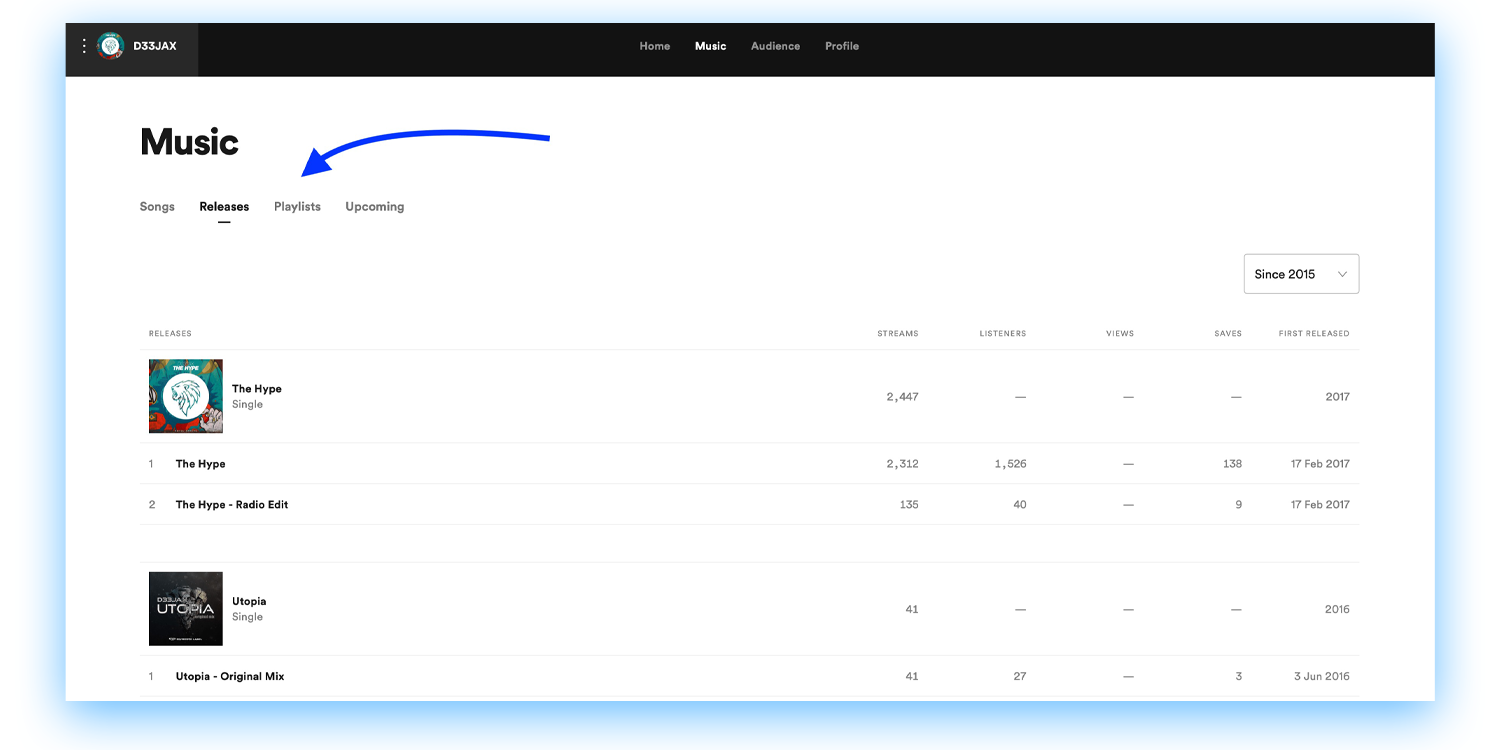 The 'Songs' section will give you a basic reading of streams, listeners, views and saves in the time period you specify.
This can let you compare performance across your songs at a glance.
The 'Releases' section will give you a similar readout as on the 'Songs' section.
The 'Playlists' section is POWERFUL.
Here, you'll be able to see where your streams and listeners come from in relation to the playlists you're added to.
The Algorithmic section will show you which of those playlists you got streams from (be it release radar, discover weekly or anything else).
The Editorial playlist section shows you what streams you got from any playlists the Spotify team added your songs to.
Scroll down to see the most important section: Listener playlists.
This is where the majority of your streams will come from if you get Spotify promotion, and it lets you see which playlists performed the best for you.
Your Audience Tab
The Audience tab will give you the richest information about your music.
You'll be able to drill down by location, date, streams, listeners and followers.
The Audience tab is designed primarily to help you understand the demographic you're serving. You'll see detailed statistics about your fans.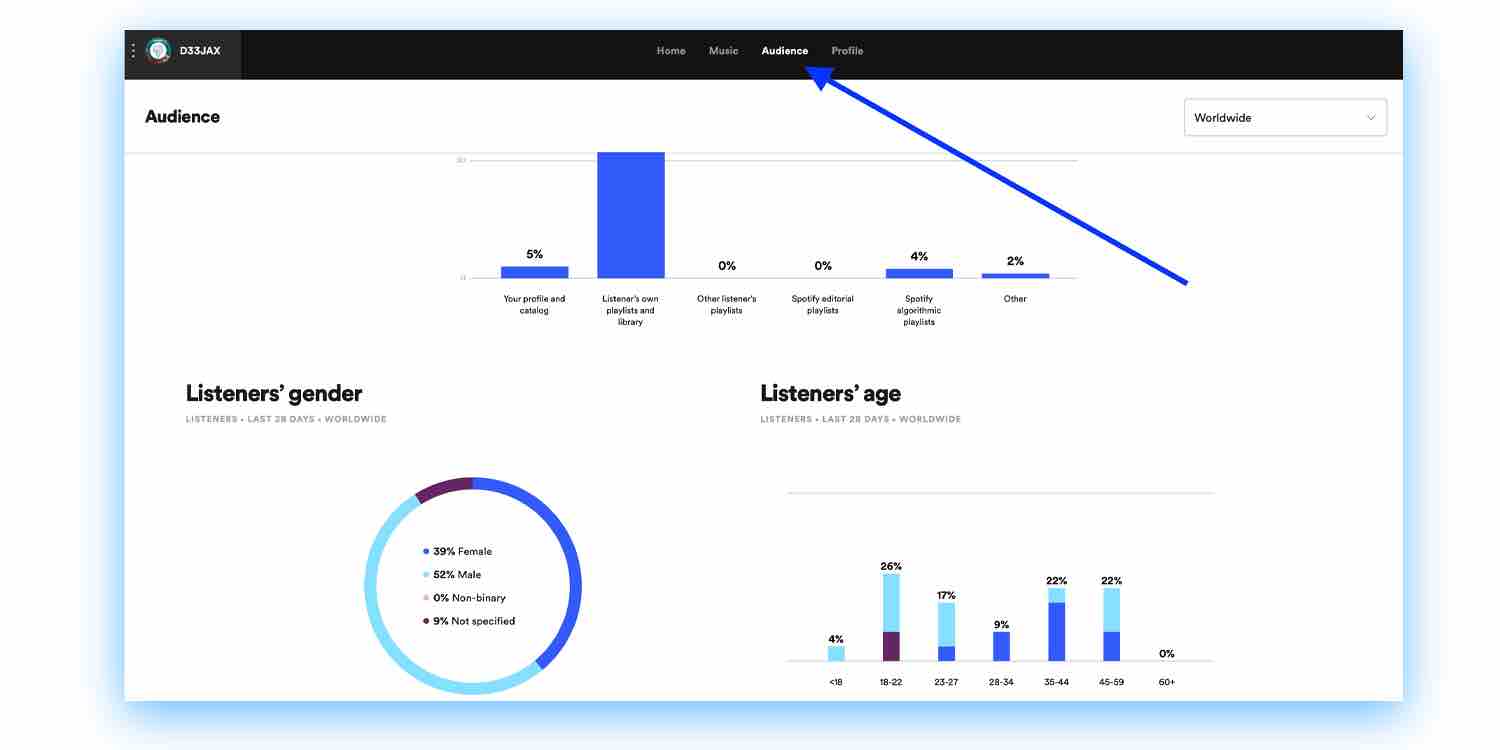 Here you can see the following stats about your audience:
Age

Location (countries and top cities)

Gender

What other artists your fans are listening to
What Are Spotify Streams?
There is a difference between Spotify streams and listeners.
Understanding the difference will help artist pick out patterns in the way users listen to their music.
A stream is counted when one of your tracks is listened to for at least 30 seconds by a user.
Every time someone streams your song for 30 seconds or more, your stream count goes up by one.
Spotify pays you for every stream you get.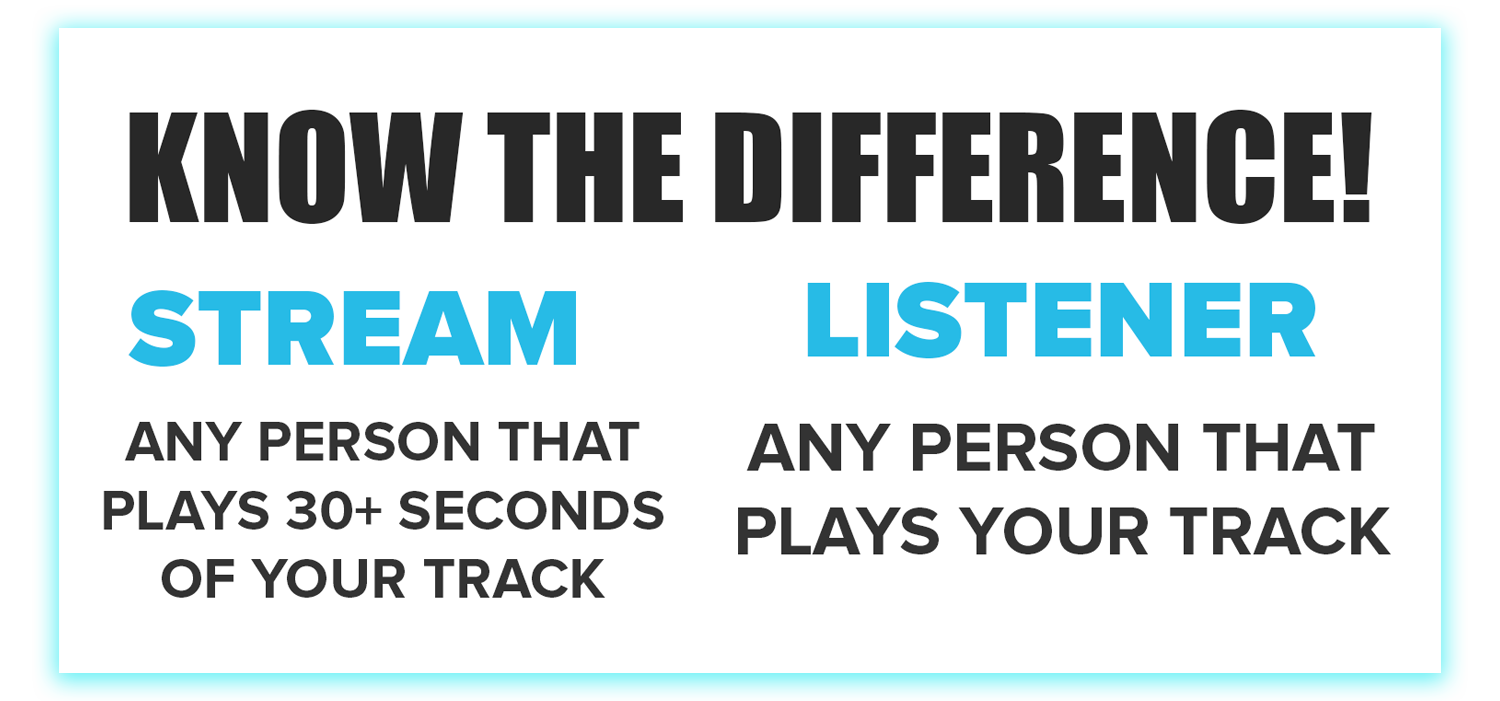 What Are Listeners on Spotify?
Spotify listeners is a count of the users that stream your music for at least 30 seconds.
So every time you get a stream, you also get a listener.
For example, if one listener (Spotify user) streams one of your tracks 10 times, your stream count will go up by 10, but your listener count will only go up by 1.
This is because only 1 listener streamed your song 10 times.
The difference is important - it gives you sense of how many times the average listener listens to your music.
For example, if you have a song with 1,000 streams and only 100 listeners, that's an indication that you have 100 people listening to that song an average of 10 times.
Spotify pays you by streams, not by listener.
So in theory, one listener that streams your music 10 times will be 10 times more valuable than the listener who only streams your music once.

Conclusion - The Best Artist Page Will Win!
The Spotify for Artists platform gives artists the tools to access data about their music.
Even if you're releasing music on Apple music, Amazon music and other platforms alongside Spotify, the data you'll get from your Spotify for Artists account will largely match the activities on these other platforms.
It's a wonderful time to have a career as an independent artist - record labels used to have full reign on access to your music stats.
No longer is this the case.
Simply schedule your release date for your track or album, log in to your Spotify for Artists account, and get instant access to all the information you'll ever need.
You can claim your Spotify for Artists profile at this link: https://artists.spotify.com
I hope you enjoyed this Spotify promotion guide!
Join The #1 Platform For Music Artists.
We're starting a revolution - and putting music artists (like you) first.
Boost Collective is a free-forever music distribution platform. Upload unlimited releases to 150+ stores and platforms and keep 100% of your earnings (Spotify, Apple Music, Amazon, & more!)
You'll also get free playlist promotion, cover art creation, and much more!
Join Boost Collective for free here.