DO PLAYLISTS MATTER?
As a music artist in the modern era, your primary goal with Spotify is probably getting as many streams as possible.
And while growing your streams is a metric you should care about...
There are other stats that you need to focus on in order for your stream count to start climbing up.
Most notably, Spotify followers and their own playlist.
The more followers you have on your Spotify artist profile, the more likely you are to see consistent, compounding, and growing streams.
If you put a definite focus towards getting as many Spotify followers as possible, you'll be able to ultimately get the exposure you've been desiring.
And if you want to get your music on Spotify as well as grow your exposure by getting on playlists, make sure to use Boost Collective's free music distribution platform! Distribute unlimited songs to 150+ stores/platforms, and protect your content with Content ID - while also keeping 100% of your earnings. Use this upload form to distribute your single now:
Boost Collective is the #1 trusted source of music distribution for artists - You can protect your content and earn royalties whenever it is being used. Enjoy!
Why Spotify Followers Matter
As mentioned above, the number of followers you have directly correlates with the number of organic, recurring streams you'll be able to get.
Real, engaged followers will deliver you real and recurring streams, reliably. It all comes down to gathering followers and keeping them happy.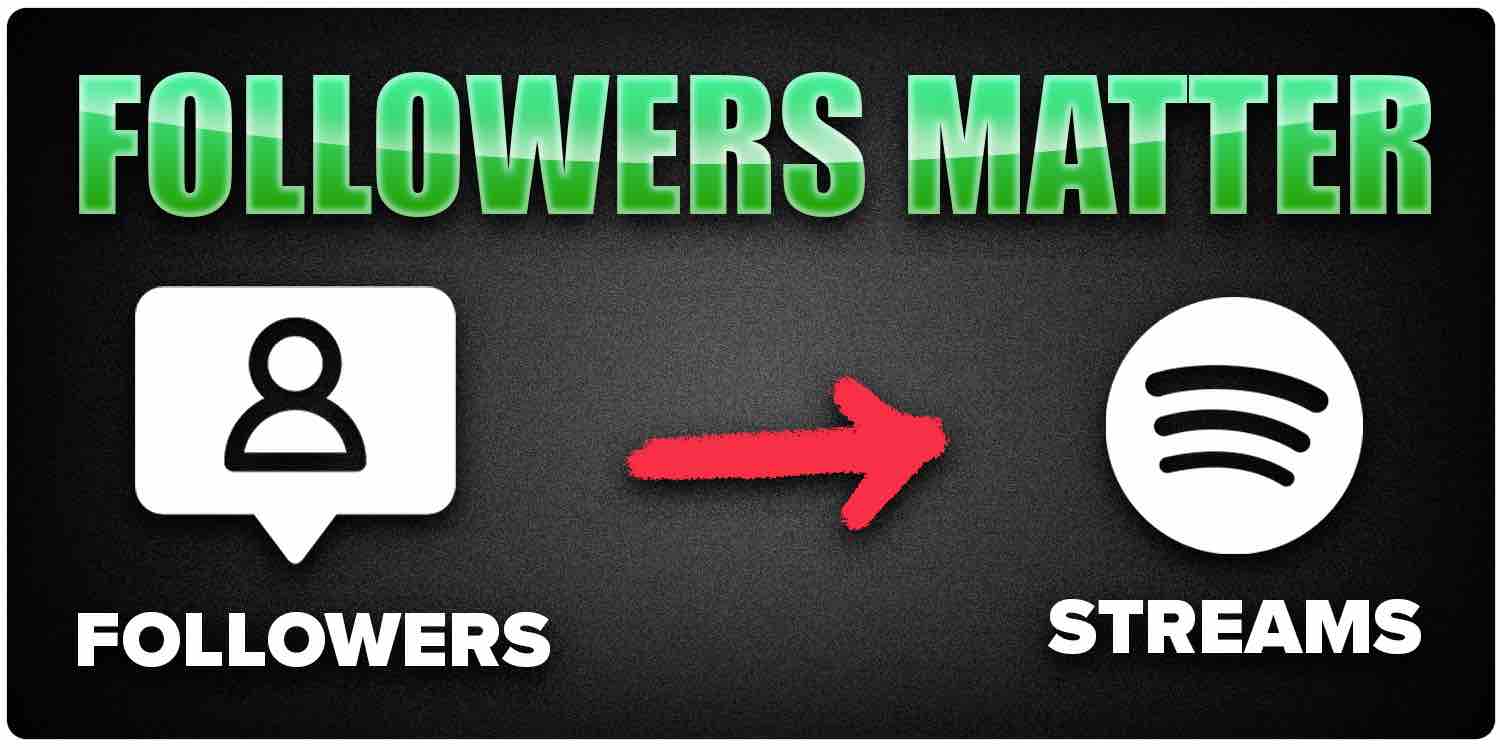 What we care about as artists is having sticky listeners.
That is, listeners that will stream every release you have coming out, so you have a stable (and growing) monthly listener count on Spotify.
And the best way to do this, is by putting an efforts towards getting as many Spotify followers as possible.
You'll Get More Spotify Engagement
More Spotify followers will bring more engagement - it's that simple. People who'll follow you on Spotify will be the first to listen to your music.
Listeners that end up following your profile on Spotify become 'sticky fans'.
This means they are more likely to listen to your new music as soon as it comes out, as well as come back to your profile to listen to your music over and over.
This is important - a one-time listener won't do much to move the needle.
But a sticky fan that streams your music 100 unique times will be 100x more valuable than a listener that streams your music once, and never again.
Increases Your Odds of Getting on Algorithmic Spotify Playlists
Spotify loves to recommend good, undiscovered music to its users through their own curated playlists.
Let the Spotify algorithm work in your favor.
The more followers you have, the more likely you are to be added to people's discover weekly playlists.
Not to mention, those who follow you will be almost guaranteed to get your music in their Release Radar whenever you release a new track.
This in turn will drive up your streams and engagement in the first days of releasing a track.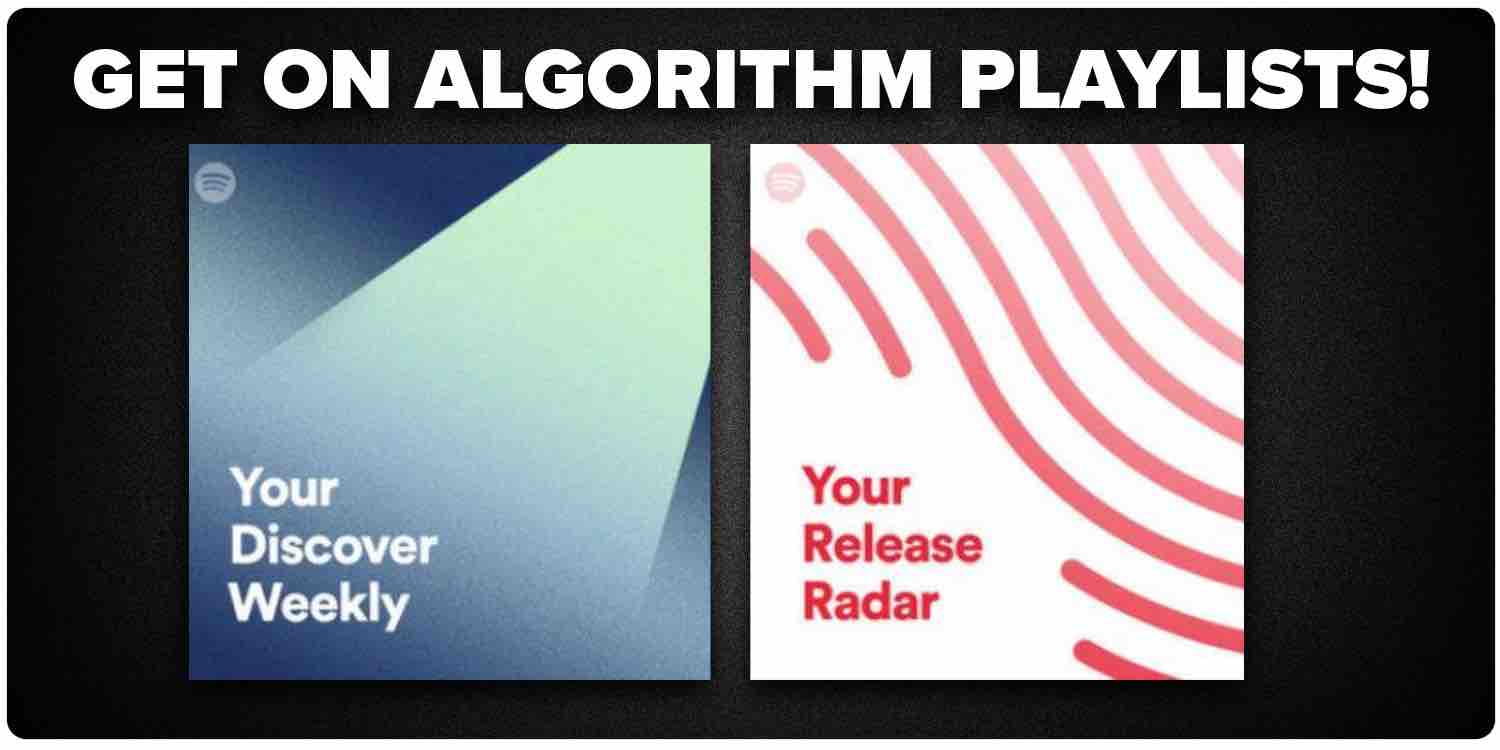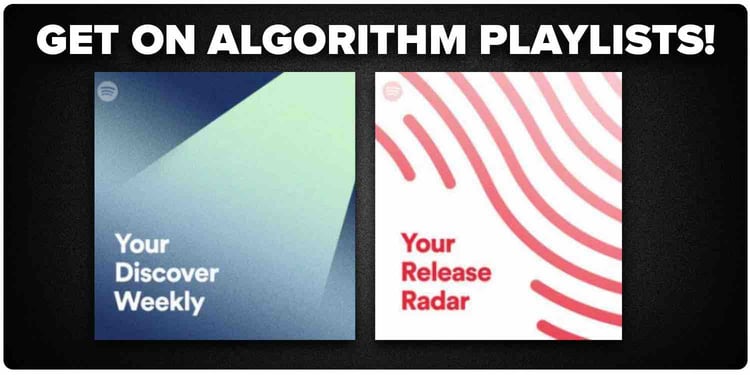 You Might Get on a Curated Spotify Playlist
Spotify playlist curators are always on the hunt for unheard talent - and if your music appears on their Spotify, they'll likely add you to their own playlist.
It's all about exposure - increase in followers will give you more opportunities for growth.
Being discovered by curators is easier when you have more followers on your Spotify profile.
The Algorithm Will Favour You
Spotify's algorithm of recommending music to its users is one of the main ways you'll be discovered.
When Spotify sees that you have a large amount of people following you, it tells them that you are a music artist that delivers quality music that listeners enjoy.
This means that you'll have more new people receiving your song from Spotify's algorithm - whether it be discover weekly or elsewhere.
Spotify will always prioritize and recommend artists with hundreds or thousands of followers, as opposed to those with under one hundred.
Understanding How Spotify Following Works
Being well-versed in how the Spotify platform works is going to give you a leg up in your quest for more followers.
Most artists don't spend enough time researching the platform, and it's a massive oversight that can leave you blind to some powerful strategies.
If you're able to learn how Spotify users use the platform, you'll be able to get more new listeners and followers in no time.
It's important artists spend time to understand how it works.
Boost Collective is the #1 up-and-coming music distribution for artists, letting you put your music out there for free.
Learn How Spotify Works
The fact you're reading this article is a great sign - it means you're hungry to learn more and get a leg up in your music career.
There's a ton to cover when it comes to learning about how Spotify works, and doing a Google search on this topic will give you more proper, in depth looks into how it works.
The core idea you need to be aware of is that Spotify followers are a fundamental metric Spotify's algorithm uses to recommend and bring exposure to your music.
Make growing Spotify followers a key focus, and you'll see a growth in streams and more follow suit!
Boost Collective is the #1 up-and-coming music distribution for artists, letting you put your music out there for free.
Your Spotify Artist Page
Whenever you are doing promotion on Spotify, make sure you use the desktop app on your laptop or computer.
Don't use the browser version or mobile version. You don't get all the features needed on the mobile app or browser-based version of Spotify.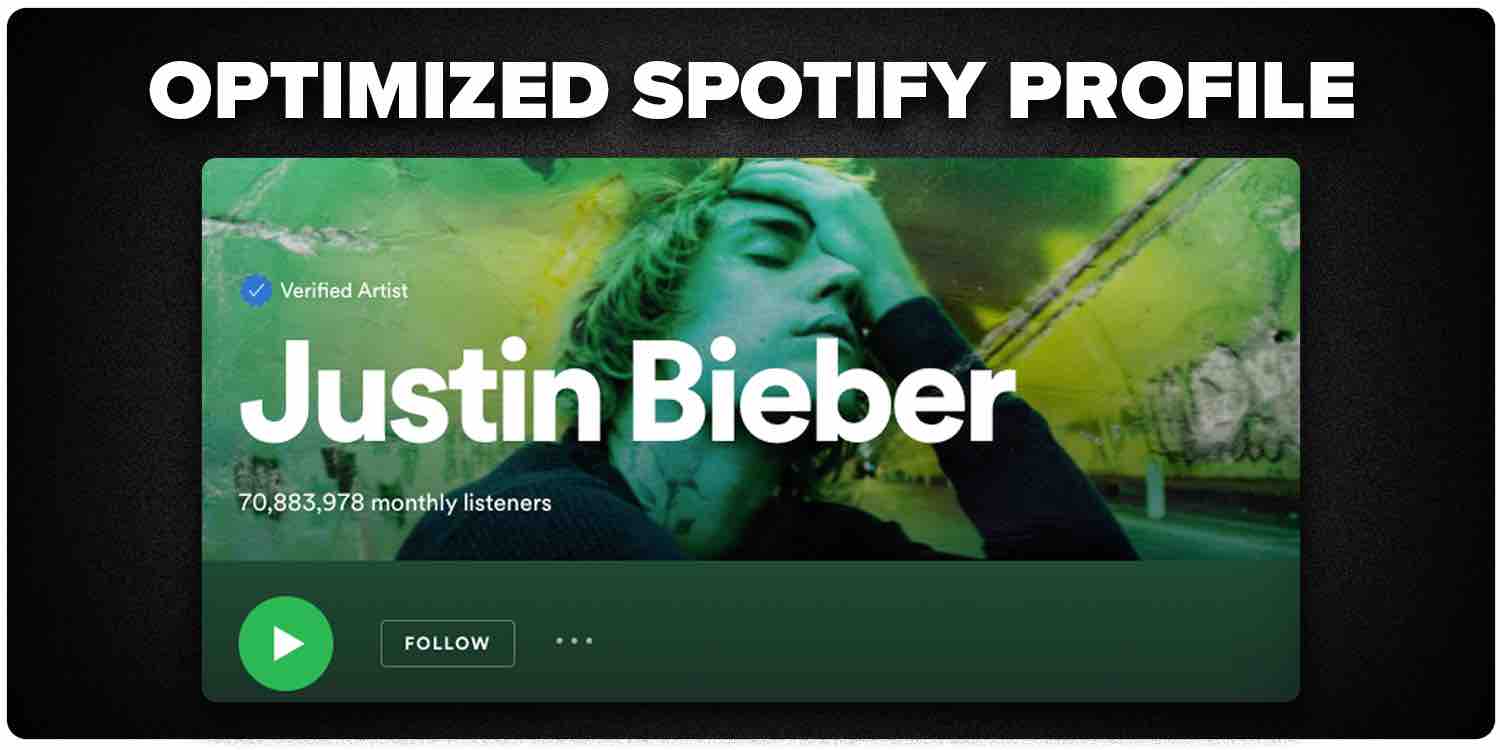 How Spotify Followers Get You More Streams
To sum up, there are three main ways you'll get more streams through Spotify followers.
The first is through algorithmic playlist adds - whenever someone follows you on Spotify, your music is more likely to appear in their discover weekly, daily mix, and almost guaranteed to appear on their release radar.
Editorial playlists are not to be overlooked!
The second is through getting on new playlists, and putting your music in front of playlist followers.
When you have more followers, your music is pushed by Spotify's algorithm, increasing the chances of being seen by a Spotify playlist curator.
The third is simply getting sticky fans - those listeners that follow you on Spotify are much more likely to stream your music in the future.
This will contribute to a solid and consistent monthly stream count that so many artists desire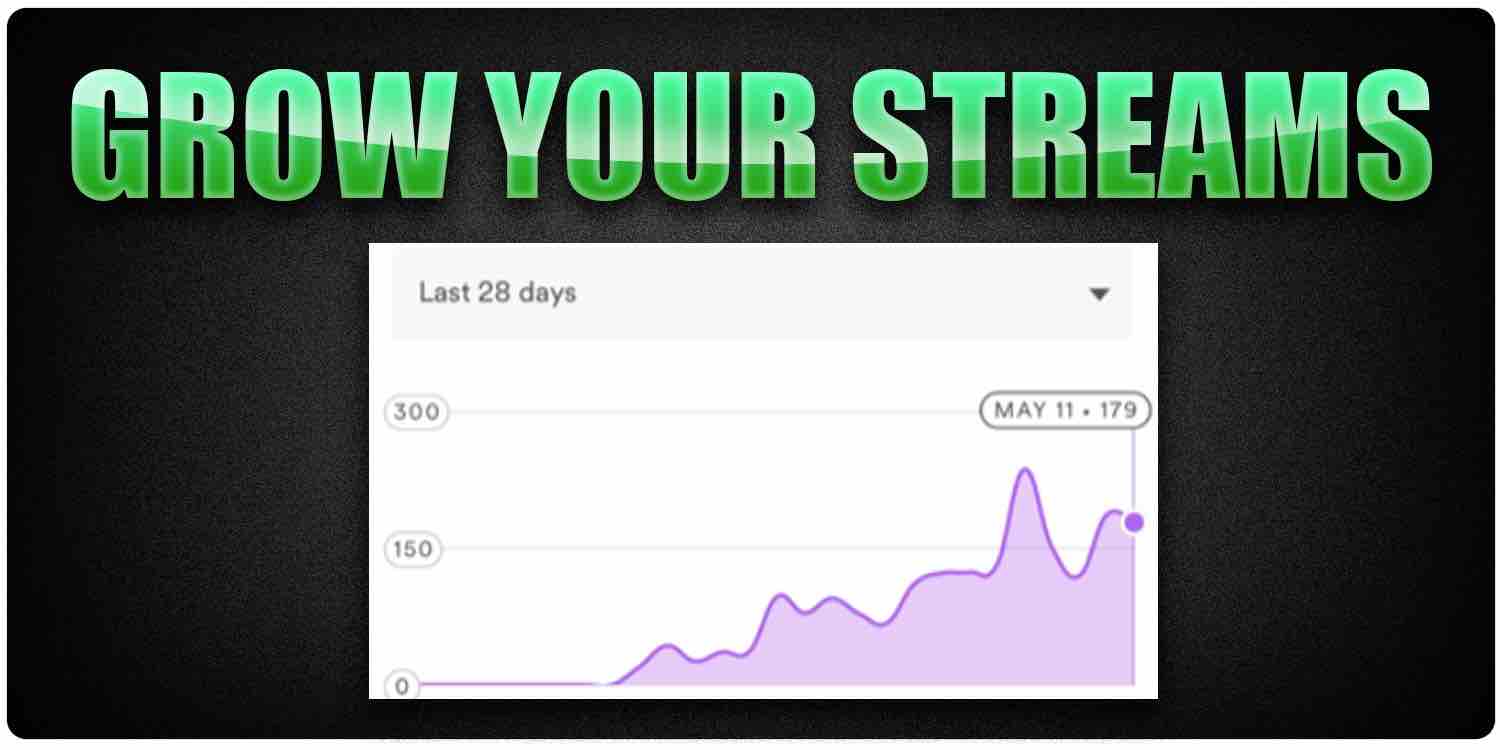 How to Grow Your Spotify Followers
Now that you know just how important it is to grow your following on Spotify, it's time to get into the good stuff - how to actually grow your follower count.
Remember, getting Spotify playlist followers is a powerful promotion strategy.
Treat it with the respect it deserves by following the steps and putting a definite action plan out for yourself.
Without proper direction and planning, you're not going to be getting the growth in followers you want.
It'll take months of consistent effort to start to grow your Spotify to have real followers listening to your songs, time and time again.
Release Music Regularly
The most important part of getting new followers (and pleasing existing ones), is by having new releases scheduled out.
An indie artist might object, saying that it's not all that easy to make music on a schedule.
The truth is though, Spotify greatly rewards artists who release tracks regularly, and punishes those who don't.
A good rule of thumb is to have a song out every other week, or at the very least every month.
Spotify prioritizes artists that release music frequently on their editorial and algorithmic playlists.
This is because Spotify cares about user engagement, and those who release the most music will be having the most people listening to music.
Not only that, you'll also be getting more monthly listeners since you have more songs for people to listen to in the first place, and your existing followers will be getting every new release in their release radar playlist.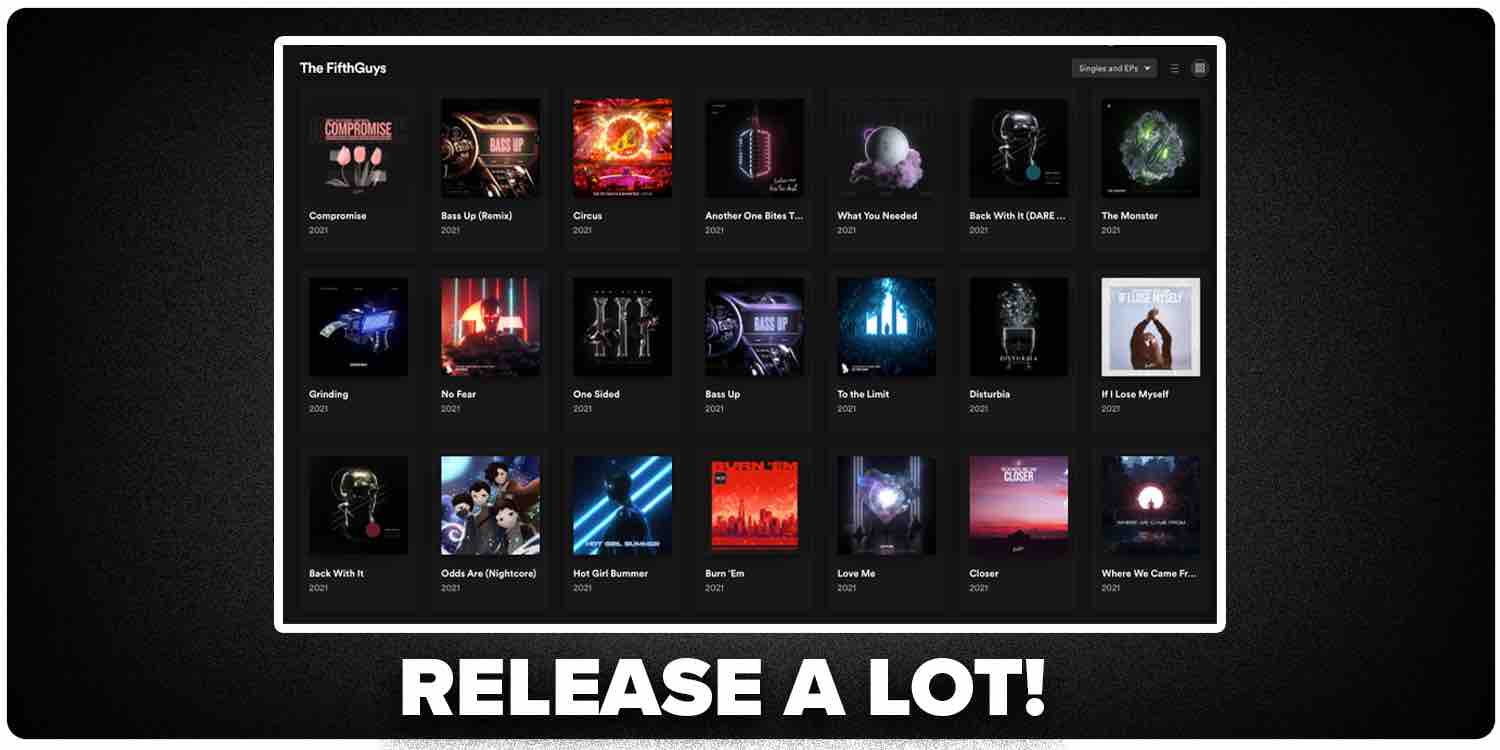 Make High-Quality Music That Can Compete
This is not to say that you're allowed to put out music that's not good quality.
We want quality first, quantity second. Ideally, you nail both.
Spotify cares about the length of time the average listener listens to your song as a determinant of how much they should promote your tracks.
If your music isn't as good as the most popular artists and other bands in the genres you are in, Spotify won't be recommending your music to people, regardless of how many followers you have.
In other words, other artists will be getting the engagement that you deserve.
So make it easy on yourself - make your music 10/10 before focusing on Spotify promotion.
Once you're able to do so, make an effort to consistently put out good music.
As an independent artist, your duty is to make great music as step one.
Everything else will fall into place much easier once you can do that!
Get on Spotify Playlists
Getting on a great playlist can increase your follower count by tens or even hundreds of users.
You can get on playlists by submitting to curator networks, paying for organic Spotify promotion campaigns, or being discovered by a curator.
Check out in-depth guide on how to get on Spotify playlists for a starting point on your journey to getting more followers and streams through playlists.
Getting on a playlist gets your song in front of more of the Spotify community.
The more Spotify playlist followers a playlist has, the more listeners (and therefore, followers). The more playlists you get on, the better.
It's important that you get playlisted by curators who grew their Spotify playlist followers organically, and avoid playlists that have fake followers, as they won't do anything to improve your own follower count. Making sure you're getting playlisted from a trusted source is important. Here are the best Spotify promotion companies to use:
| | |
| --- | --- |
| Spotify Playlist Service | Ranking |
| Boost Collective | No. 1 |
| SubmitHub | No. 2 |
| Artist Republik | No. 3 |
| Music Gateway | No. 4 |
Create Your Own Playlists
You can also get new followers by creating your own Spotify playlist, add tracks similar to the music genres you make, and add your own music in there as well.
For every 10 tracks that you put in there, put one song of your own.
This tells Spotify that your song is being added to playlists, and if you're lucky your playlist might even start to organically grow.
You might also get more Spotify playlist followers that can eventually discover you.
This opens the door to playlist exchange with other curators as well.
Get on Curated Playlist Networks
You can also make life easier on yourself by getting on curated playlists run by trusted and popular sources, like Boost Collective.
Their Spotify promotion lets you tap into their 350+ Spotify playlist network, all carefully vetted to ensure they bring organic, real, and active engagement to your music.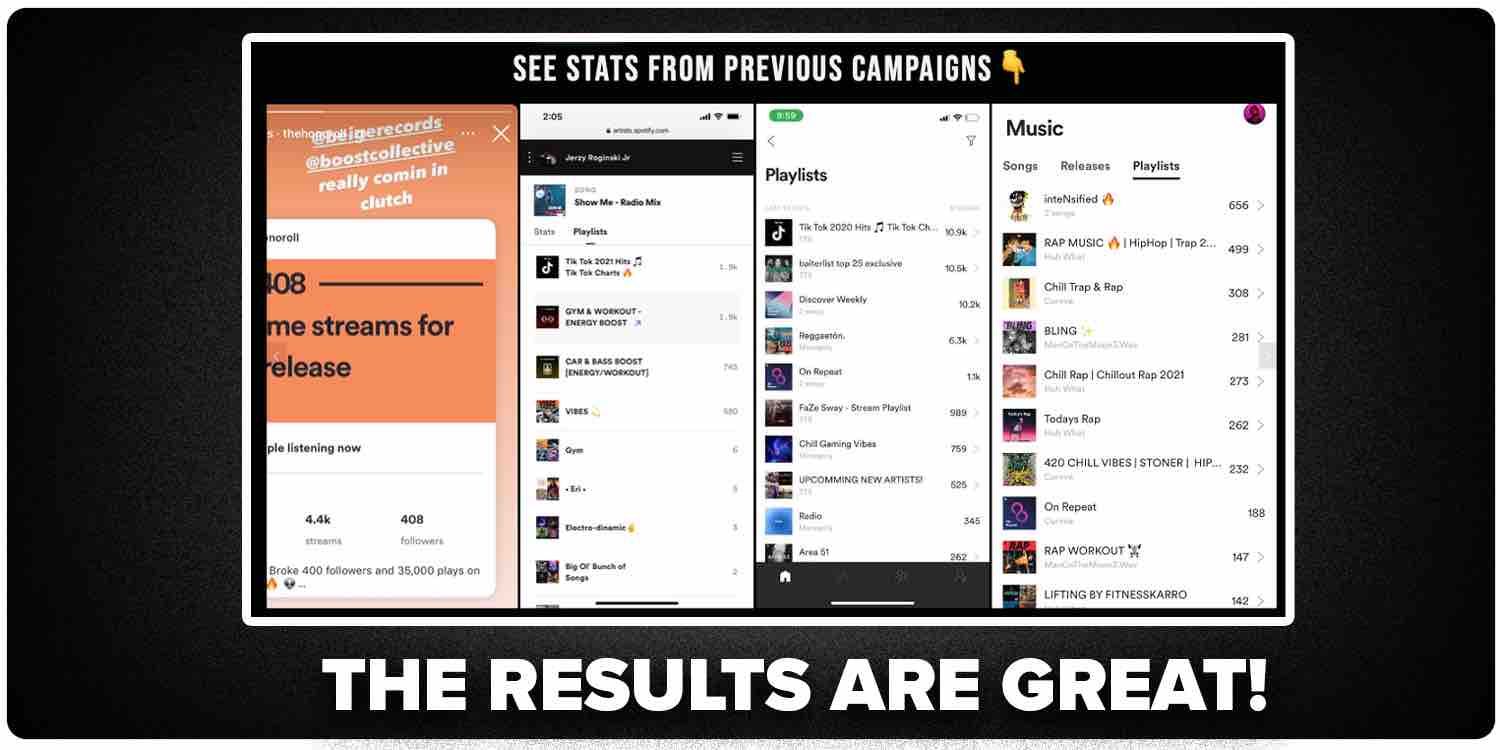 Not only will this get your music streaming numbers up, you'll typically get an increase in followers after a playlist campaign.
This'll help you save time and gets the playlist side of things taken care of for you.
Upload music to Spotify (and get added to playlists), Apple Music, TikTok and 150+ other stores and platforms for FREE:
Boost Collective is the #1 up-and-coming music distribution for artists, letting you put your music out there for free.
Turn Playlist Followers Into Your Followers
Before running a Spotify promotion campaign or getting your song added to any playlists, it's important that you have every condition right to turn these playlist followers into YOUR followers after listening to your song.
Obviously, the first and most important thing is music quality - when your track sounds good people will be more inclined to check your artist page out, and follow you.
Second is making sure that you get on relevant playlists in the first place.
More playlist followers doesn't translate to more listens and followers, if the playlist you're being added to doesn't fit the genre of you make.
It's important your music lines up with the type of playlist you get added to.
Optimize Your Spotify Profile
The third thing is having a professional cover art that grabs the attention of the listener.
If a Spotify user listens to your song and sees a cheaply-made cover art, they're more likely to think you're an amateur and not bother to check your page out.
The fourth thing is to mention in your bio that a follow would be greatly appreciated - as many listeners that do read your bio are interested enough in you to probably care to follow you.
They just need that little nudge.
The final thing you can do is have a Spotify canvas video on all your songs.
Not only does this bring a new level of professionalism to your song, it makes it stand out from all the other songs in a playlist that don't have one.
This'll encourage people to check your profile out.
Incentivize Your Fanbase
Got an existing fanbase? Make sure they are ALL following you on Spotify.
It's super important to take your music lovers and get them following you on Spotify.
Without a good incentive though, many fans won't bother.
You can do something as simple as a t-shirt giveaway on social media, saying that a random Spotify follower will win it.
Or maybe you can give each follower a free demo or a free download of your track.
You can be creative - there are tons of ways to incentivize and engage your fans to follow you through social media.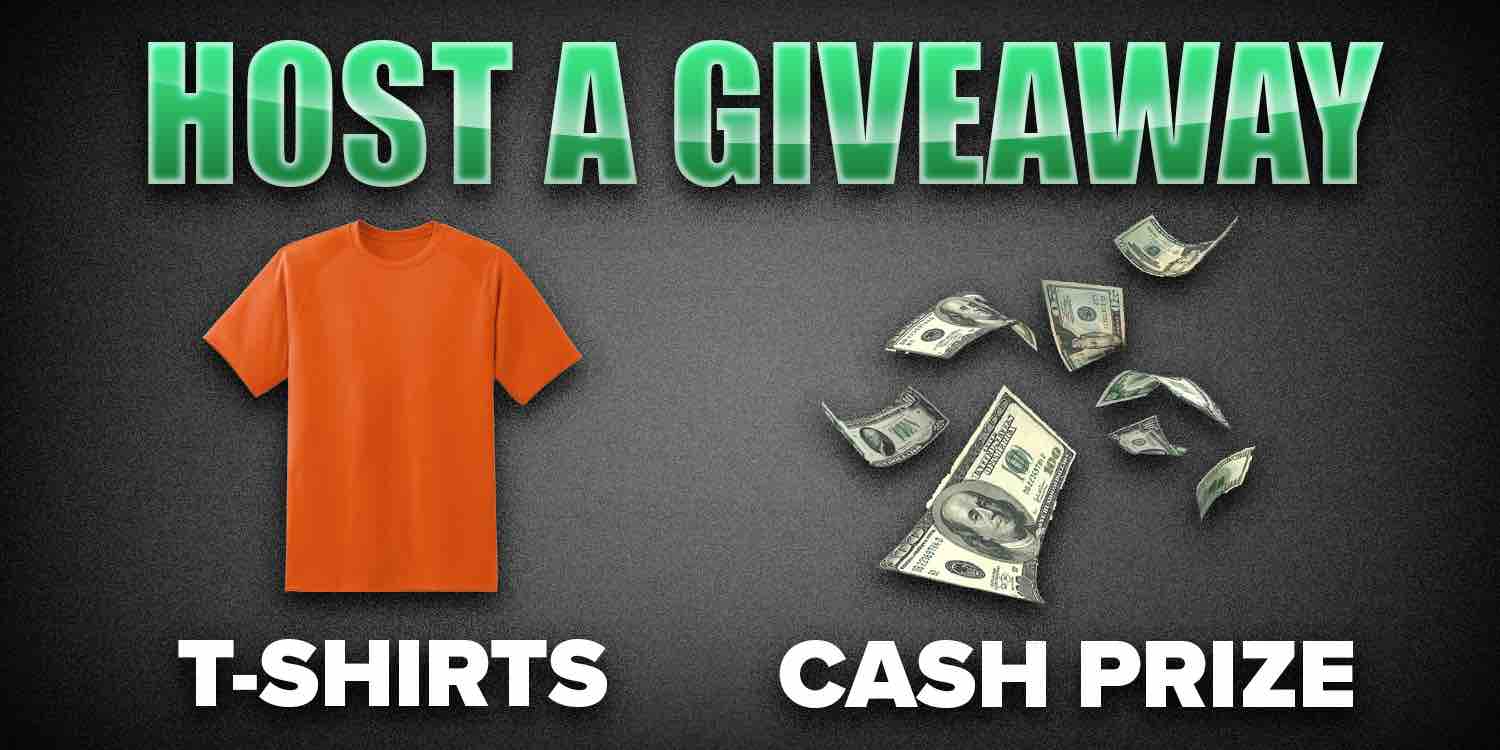 Leverage Your Social Media
Make sure you push people to follow you on all your social media.
If you have a link to your Spotify in your bio, make the bio text or button text say 'Follow me on Spotify', with the link being to your Spotify account.
On Instagram, you can make every post a carousel post - with the second picture in a post always being a call-to-action to follow you on Spotify.
Just like the last point, the sky's the limit, really. It's just a matter of being creative and putting in the effort.
Get Featured on Music Blogs
Getting your track on various music blogs as well as doing general PR work will definitely give you a leg up on Spotify.
Not only will you be gaining more connections with well-connected music industry individuals (which can open doors to promotion), you'll also be getting write-ups and press on credible blogs.
Music blogs are read by playlist curators looking for new tracks to promote.
When you get your song featured in a blog article, your odds at getting on Spotify playlists goes up tremendously.
The music industry loves to revolve around big blogs and editorials.
A playlist curator tends to find music through blogs.
Another benefit is that your artist name will appear more often on search engines, helping to solidify your brand.
This will in turn get you more Spotify followers.
It's just one of the many things you can do that'll get you in touch with playlist curators and open doors to opportunities that can bring immense promotional opportunities.
Boost Collective is the #1 up-and-coming music distribution for artists, letting you put your music out there for free.
KEY TIPS TO GROW YOUR SPOTIFY FOLLOWERS
Getting followers on Spotify is something we all want as artists.
It's an overlooked metric - people often put more of an emphasis on getting streams rather than getting followers.
But when you change your focus, you'll see that you can get consistent growth in streaming numbers when you focus on getting people to follow you on Spotify.
How to get more Spotify followers as an artist:
Make high-quality music that people listen to in full

Release a track at least once a month, and keep to a rigorous schedule

Get your track on more playlists

Remember, more Spotify playlist followers don't always mean a better playlist.

Optimize your Spotify account profile to convert as many listeners to followers as possible.

Incentivize your fanbase to follow you with a giveaway or free download

Push people to follow you through social media

Get your artist brand featured on music blogs
Follow these strategies and you'll have a leg up on other artists, and put you on pace to get get followers on Spotify.
Focusing on these strategies while at the same time making sure you make high quality music will ensure you get places in the music industry.
And that's it! I hope you enjoyed this Spotify promotion guide.
Join The #1 Platform For Music Artists.
We're starting a revolution - and putting music artists (like you) first.
Boost Collective is a free-forever music distribution platform. Upload unlimited releases to 150+ stores and platforms and keep 100% of your earnings.
You'll also get free playlist promotion, cover art creation, and much more!
Join Boost Collective for free here.