What Exactly is a Spotify Pre-Save Link?
Your Spotify pre-save link is where the pre-save campaign begins.
What is a Spotify pre-save link exactly?
A Spotify pre-save link is how you bring as many fans and potential listeners to as possible to your music. Through this link, they'll be able to add your upcoming release to their Spotify library in advance.
Pre-save campaigns revolve around bringing as many people as possible to this link.
It's as simple as that!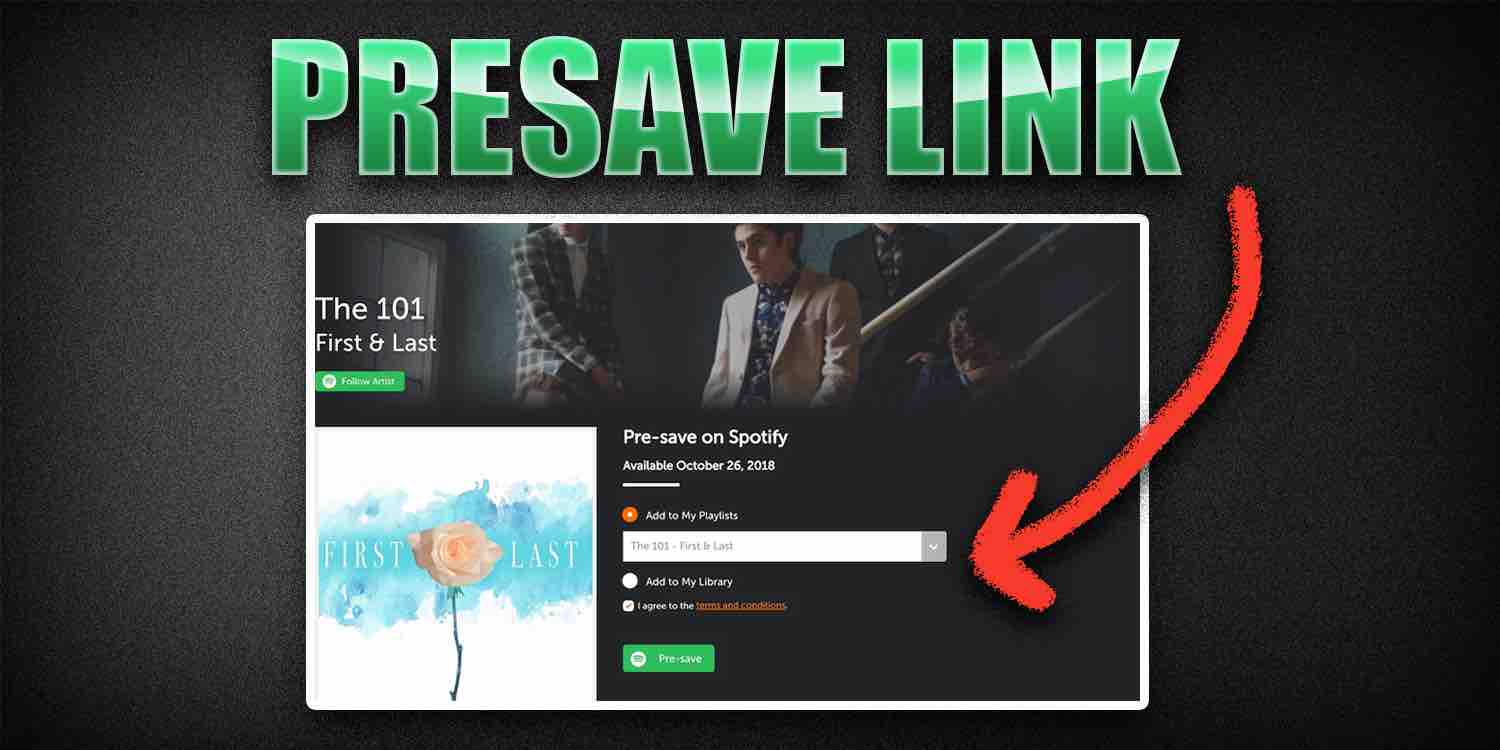 A Spotify pre-save campaign is something all artists should be doing to push their upcoming release to more users.
Use Boost Collective's free music distribution platform! Distribute unlimited songs to 150+ stores/platforms, and protect your content with Content ID - while also keeping 100% of your earnings. Use this upload form to distribute your single now:
Boost Collective is the #1 trusted source of music distribution for artists - You can protect your content and earn royalties whenever it is being used. Enjoy!
How does Spotify pre-save work?
Spotify pre-saves lets you get as many listeners streaming your music as it drops. Think of pre-ordering an album like a video game. You're offering first access to the video game - the same idea for pre-saves.
When you run an effective pre-save campaign, you'll be getting Spotify users listening to your music on day one of it going out!
Not only giving your die-hard fans the chance to stream your music fast but also getting potential fans in on the action too.
The result will be an influx of streams on day one, letting your release start off strong.
The only thing you need to start is a Spotify pre-save link.
Once you have that, follow the steps outlined below to launch an effective Spotify pre-save campaign for your upcoming release!
Bonus: Check out Boost Collective's free Spotify promotion here - our free-to-use platform is a must-join for all independent artists.
How to Get a Spotify Pre-Save Link
It all starts with getting your Spotify pre-save link.
How can you make a Spotify pre-save link?
There are many services that'll make you pay to generate your link and make a customized landing page to entice people to pre-save your music. The best place you can generate your pre-save link for free is Toneden.
Alternatively, SmartURL is also really good!
Boost Collective is the #1 up-and-coming music distribution for artists, letting you put your music out there for free.
All you need to get started is a free account and nothing more.
You'll need to make sure your song is already scheduled for release with your distributor in order for it to work.
You'll need to input your release's Spotify URI in the Spotify product ID section, as outlined in the tutorial linked below.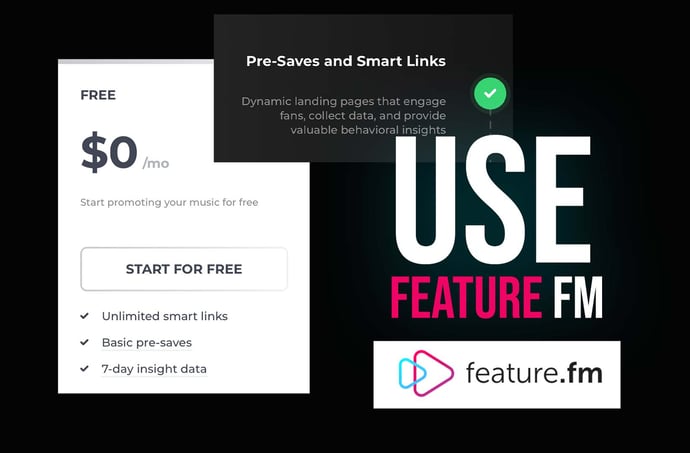 Below we made sure to embed a video on how to generate your Spotify pre-save link through the Feature.fm platform.
Check it out to see how to generate your link.
We think that Feature.fm is the best solution to create a free pre-save link currently.
What's important is making sure you have an effective pre-save campaign in place - obtaining the link is just one step of the puzzle!
Feature.FM Vs LinkFire: Who's The Smart Link Top Dog?
The main difference between Feature.fm and Linkfire's tiers is the free tier for feature.fm offers no adverts.
Pre-saves are also possible, but they cannot be utilized to collect email addresses from fans.
Unlike Linkfire, Feature.fm allows you to track an infinite number of link visits, but only for a period of seven days.
Chat help is also available in the free tier.

The following are the differences between the premium and free levels of Feature.fm:
They enable the collection of 50 and 150 emails, respectively, via pre-saves.

They provide lengthier audience insight timeframes of 28 days and 90 days, respectively.

You may export audience insights.

They provide one subdomain.
A retargeting pixel can also be added to the Pro Artist tier.
We believe either one is a great choice, but just know that Linkfire isn't free anymore.
You can start a free Linkfire trial, but you'll have to pay after that drys up.

In addition to pre-saves, using Boost Collective's free artist development platform will help you gain more momentum.
Our team actively promotes the music that's released through the platform!
3 Benefits Of Having a Pre-Save Link
More streams on Spotify is ultimately what we're all after.
If you properly send people to your pre-save page and consistently run these campaigns, you'll begin to see streams and results compound.
Here's how you'll get more exposure with pre-saves on Spotify.
Watch how I grew my Spotify stream from a FREE playlist promotion!
#1. It Generates Hype on Your Release Date
The most obvious way you're going to get more Spotify streams is simply due to the fact that you'll be getting more people hyped about your upcoming song.
When you do a pre-save, you generate natural buzz about your upcoming song, increasing awareness in your existing fans.
The pre-save page in turn will act as a way to capture this buzz into streams, as people who pre-save are much more likely to listen to your song as soon as it drops as opposed to not capturing them at all.
So not only will you generate more hype for your upcoming release, you're capturing this hype and actually turning it into streams on Spotify.
#2. Increases Your Odds of Getting Spotify's Algorithmic Playlists
Using Spotify pre-saves is just one way to get your song on Release Radar and Discover Weekly playlists.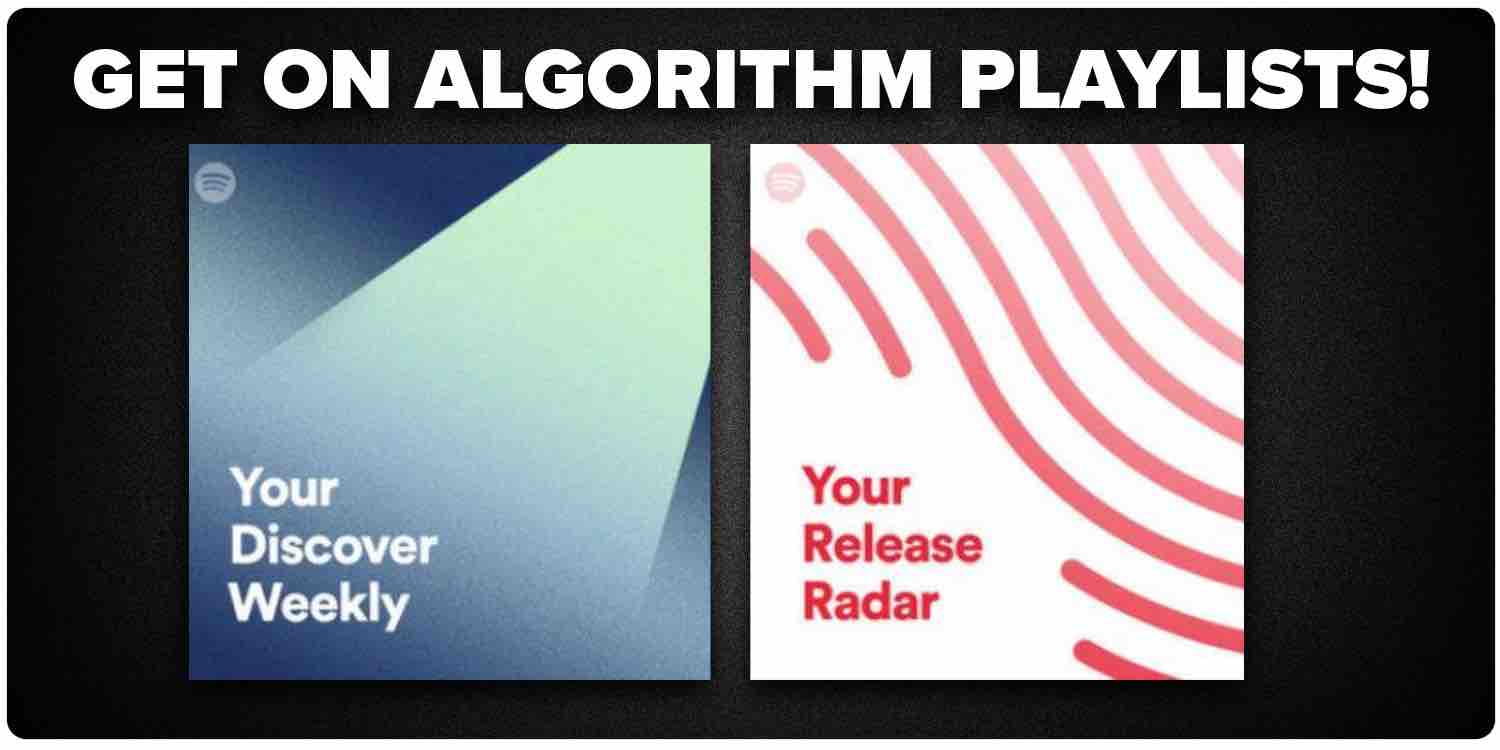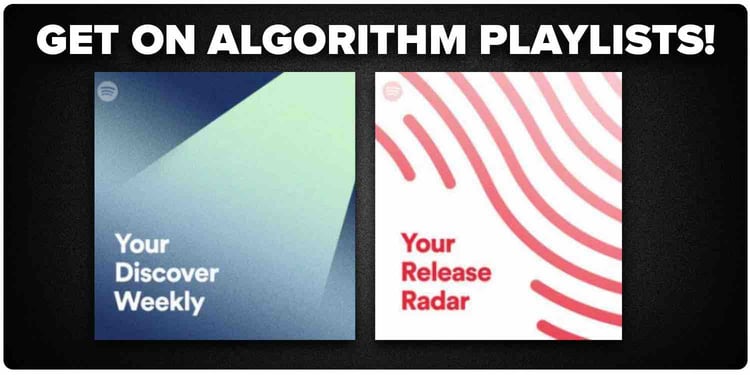 These are Spotify's algorithmic playlists that they auto-generate for all users, and the more you get on these playlists, the more new listeners and fans you can begin to amass.
When a new release gets a strong stream count on day one of release, this tells Spotify's algorithm that this song is ripe for being added to people's release radar and discover weekly playlists.
Other than paid Spotify promotion, a strong pre-save campaign will help you get that high stream count on day one that you need to get on these playlists.
#3. Spotify Pre-Saves Build Your Music Momentum
Whenever you have a new song coming out it's essential to build up hype, especially if you are an up-and-coming artist.
Not only is it important to create awareness but it is also a great way to encourage tangible action in the buildup to the release, which is why Spotify pre-saves are very effective.
With Spotify pre-save you can generate awareness and enthusiasm for your new music and drive fans to listen once your music is released.
It is more effective to incentivize pre-saves as once people have access to your music they are likely to listen time and time again.
If you're looking to build even more momentum with your music on Spotify, you have to check out the video below on how to get more monthly listeners on Spotify!
Which is the BEST Spotify pre-save link service?
There are different pre-save services out there, and you'll be the BEST pre-save link.
Honestly, the best pre-save link is the one affiliated with your distributor…
Nothing can beat the DistroKid or Boost Collective pre-save.
This is because it's already integrated with the platform that handles all of your royalty collection and statistics.
Not all distribution services are that good, I compared them in my DistroKid alternatives blog you should read up. 😉
Get a Free Spotify Pre Save Link for your next release

It can cost you to have pre-save links, of course, nothing good comes for free, eh?
But you can get a pre-save for free with Boost Collective.
There is all the upside of having a full music team with you, but you don't have to spend a single cent on it. Win-win, eh?
How to Set up Your Spotify Pre-Save Campaign
Let's get into the meat and potatoes:
How to actually create an effective & engaging free Spotify pre-save strategy to boost streams on your music's release.
What's important is being prepared. All the extra planning pays off on release day!
How to easily set up a Spotify pre-save campaign:
Schedule a release date in advance

Distribute your music on Spotify

Incentive fans to check your music

Generate your pre-save link

Create good messaging for your music

Post on Social media

Update all existing banners

Run an email campaign
Follow these steps and you will see easy success!
#1. Schedule a Release Date Ahead of Time
Planning ahead of time is crucial in order to maximize pre-saves.
Work backward from your release date.
Once you have your music ready to be distributed, we want to determine how long you want your pre-save to be available. One month before your release date is standard.
If you want your song to release on August 1st, you'll want your pre-save campaign to start on July 1st.
This means that you'll want to upload your song to your distributor 2-3 weeks before July 1st and schedule it for an August 1st release.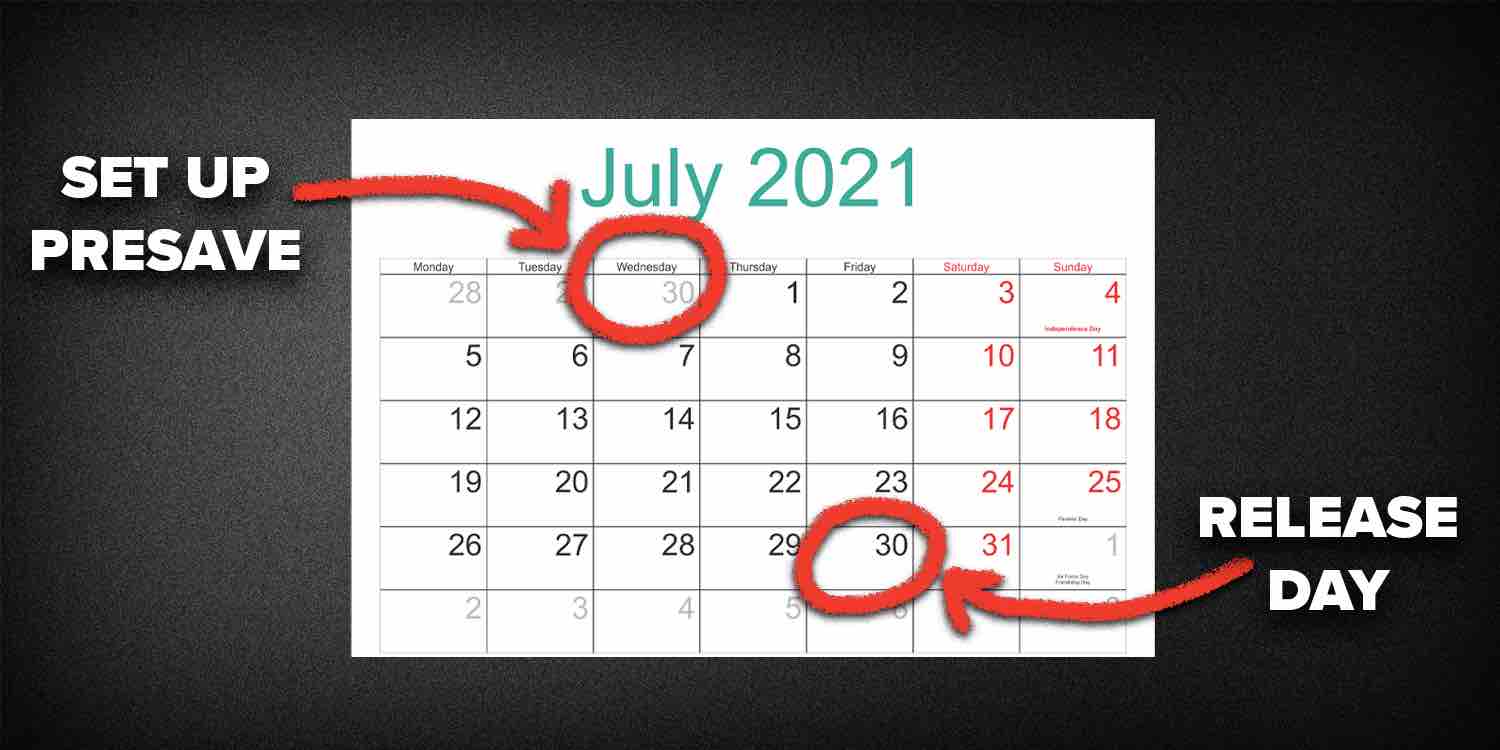 This is so you have time to generate your pre-save link and have one month to push it to your audience.
#2. Distribute Your Music on Spotify
Got everything scheduled and sketched out on a calendar?
Now it's time to upload your song for distribution.
There are many music distribution companies to pick from that'll get your song on Spotify.
Find one, go through their signup process, and you'll be good to go!
Make sure you schedule the song for a release date of 5-6 weeks in the future, so we have time to push the pre-save link.
#3. Create an Incentive to Get People to pre-save your song
Like all promotional activity, getting people to do something for you requires that you give them a good enough incentive.
Not only will this help you engage with people and generate buzz, but it's going to encourage people to go ahead and pre-save your music.
The goal is to drive as many people to your pre-save page as possible. The more people click your pre-save Spotify link, the better.
Give away t-shirts, cash prizes, or free downloads to randomly-chosen fans who pre-save your new track to their Spotify library.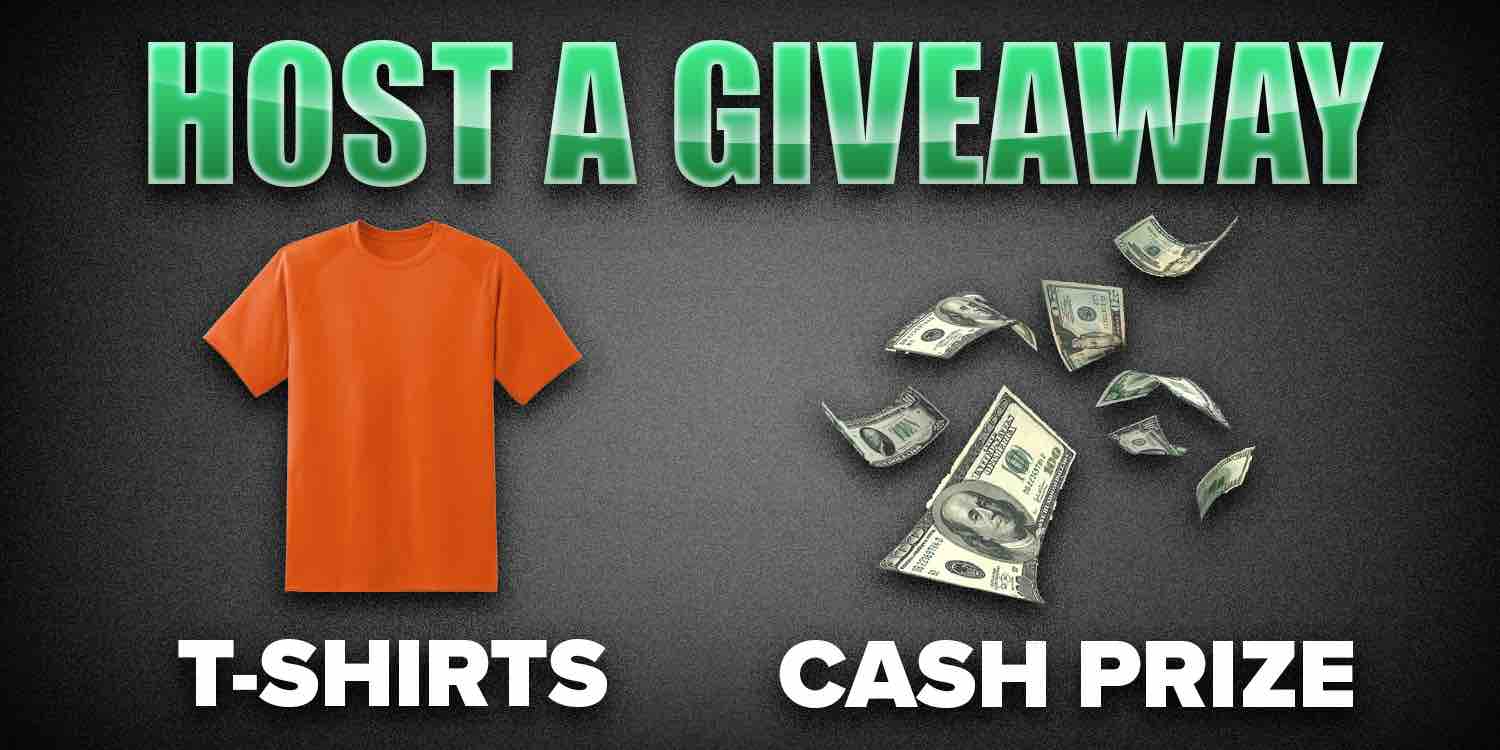 It's a great way to reward fans for engaging with you!
Some other ideas are running a rewards campaign or giving exclusive access to the music you're working on.
#4. Generate Your Pre-Save Link
Once your song is scheduled with your distributor, it's time to generate your pre-save link.
There are many places that help you create the link, but this tutorial explaining how to generate one through smart URL for free seems like your best bet.
Feel free to use a different method. All will need the Spotify URI and the Spotify Product ID, which is covered in the tutorial mentioned!
All that matters is that you create a pre-save page that we can send people to.
5. Create Good Messaging
As you're configuring your pre-save page in step 4, you'll need to create enticing messaging to convince fans to click on the mighty pre-save button.
This is where you can mention the thing you're giving away.
Promote Your Spotify Pre-Save Campaign
Once you've got the link that people will use to pre-save on Spotify, it's time to get out there and push it out to as many people as possible.
#6. Make Social Media Posts
Build up hype within your fanbase - making an engaging social media post every 5-7 days dedicated to pushing your pre-save page will be key.
Upload to your stories, show your face, and also make text posts across all your socials. The more people you reach, the better.
#7. Update Your Social Banners
Updating your banners to say you have an upcoming release will draw attention to your link in the bio to the pre-save.
#8. Run an email campaign
Sending email notifications to an email list you have can boost awareness of your pre-save.
A strong email list offers obvious benefits - and if you're not building one, you're missing out!
Pre-Save Links Engage Your Fanbase
Engaging your fanbase in new ways is key if you're not a fan of losing momentum in growth.
Pre-save on Spotify gives fans a new way to engage with you - and it might be exactly what they need to fully engage with your music.
A good pre-save campaign brings along a fun sense of desire for your fans, chasing your upcoming Spotify releases and being the first to pounce on them.
Emotional appeal is important - and this is another way to bring it to your fans.
Run Pre-Save Campaigns For Every New Release
Release day is important - your upcoming album or song won't get heard if you don't have a consistent strategy in place.
You must make sure your new music is being added to your fan's Spotify library, with every release.
Make it a habit to create pre-saves for all new music you plan on releasing.
By the time you make your music live, at least 50% of your audience should have already heard about it.
Patience is key to Success on Spotify
Like all good things, results won't appear overnight.
Organic strategies such as this will take time for them to work.
It takes 3-5 of these campaigns to really nail it, and have them optimized.
So don't get let down - be patient, and the results will come.
Focus on your Existing Fanbase
It's best to gather as many of your existing fans to your pre-save rather than try to get new audiences.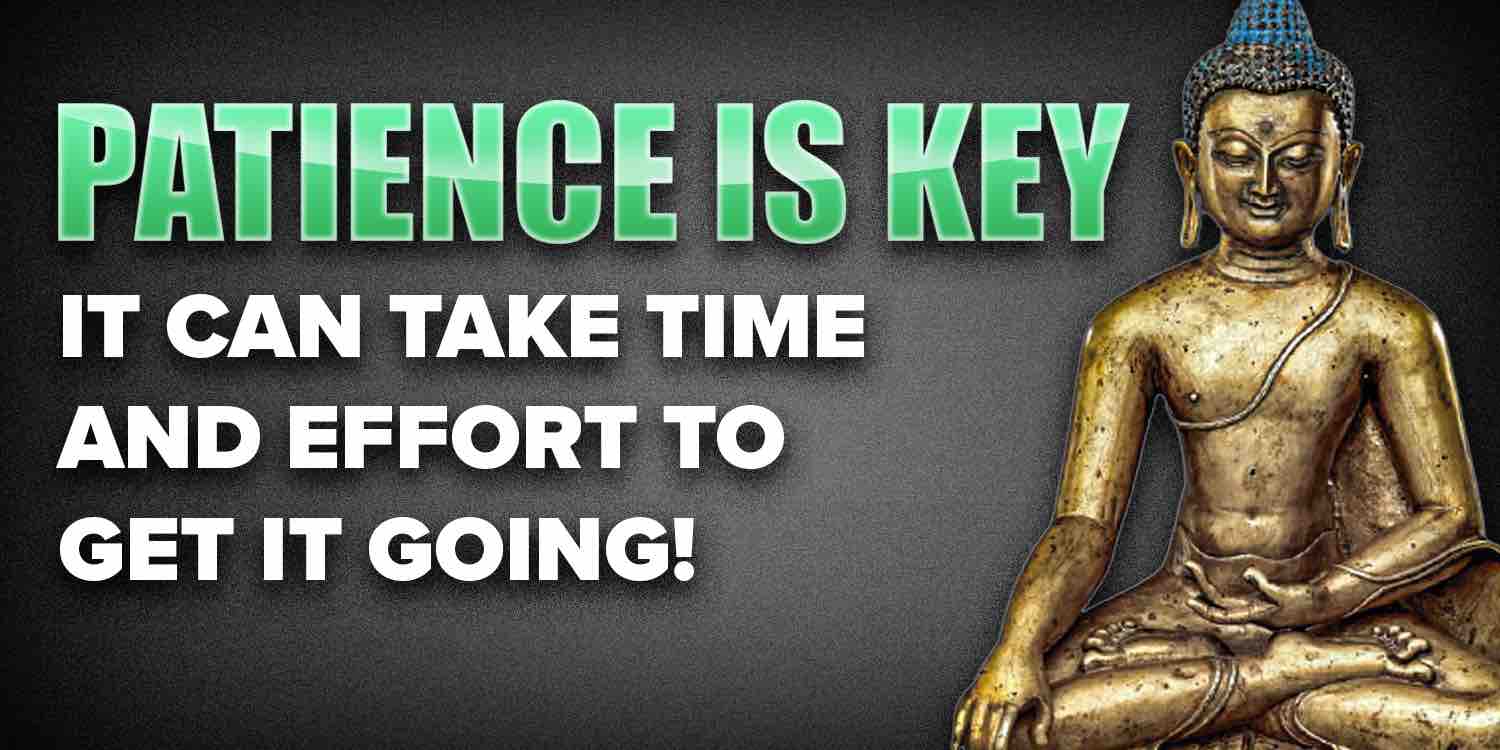 Once the song's released, new users will come to your song if your existing fanbase streamed your song on day one.
That initial hype will make your song appear on other Spotify users' lists.
Summary
It's easy to get your music heard on Spotify.
It just takes a bit of time, effort, and planning to begin to see a wider audience clock to the different tracks you have released on the Spotify platform.
Follow the steps above and you'll be seeing Spotify users flock to your music, growing your overall presence on Spotify!
I hope you enjoyed this Spotify promotion guide and now know how to make a Spotify pre-save campaign!
Join The #1 Platform For Music Artists.
We're starting a revolution - and putting music artists (like you) first.
Boost Collective is a free-forever music distribution platform. Upload unlimited releases to 150+ stores and platforms and keep 100% of your earnings.
You'll also get free playlist promotion, cover art creation, and much more!
Join Boost Collective for free here.