HOW TO GET MUSIC HEARD ON YOUTUBE
We've all seen Drake's music videos on YouTube at one point or another.
Wouldn't it be amazing to get the same growth on your YouTube channel as well?
Heck, that's the whole point of being in this music game.
It's easier said than done though...
Growing your musician channel and getting action to your music videos is harder than ever today!
You've probably tried every trick in the book to get your YouTube videos to a brand-new audience yet failed to see any substantial growth.
And even if you did do some numbers on your past release, it doesn't mean that the audience is here to stay.
No worries I understand the struggles to expand your platform and YouTube channel.
I've had some success in the past and grew to over 7000 subscribers on YouTube so I know a finger to about getting heard!
Here are the best methods to promote your music video on Youtube.
(I've also included some behind-the-scenes screenshots as well.)
Submit your song, if I like it then I'll add it to my Spotify playlist.
Why your music video matters (a lot)
Your music video is the most important aspect when you're promoting music on your YouTube channel.
See YouTube is one of those platforms where there's both audio and video.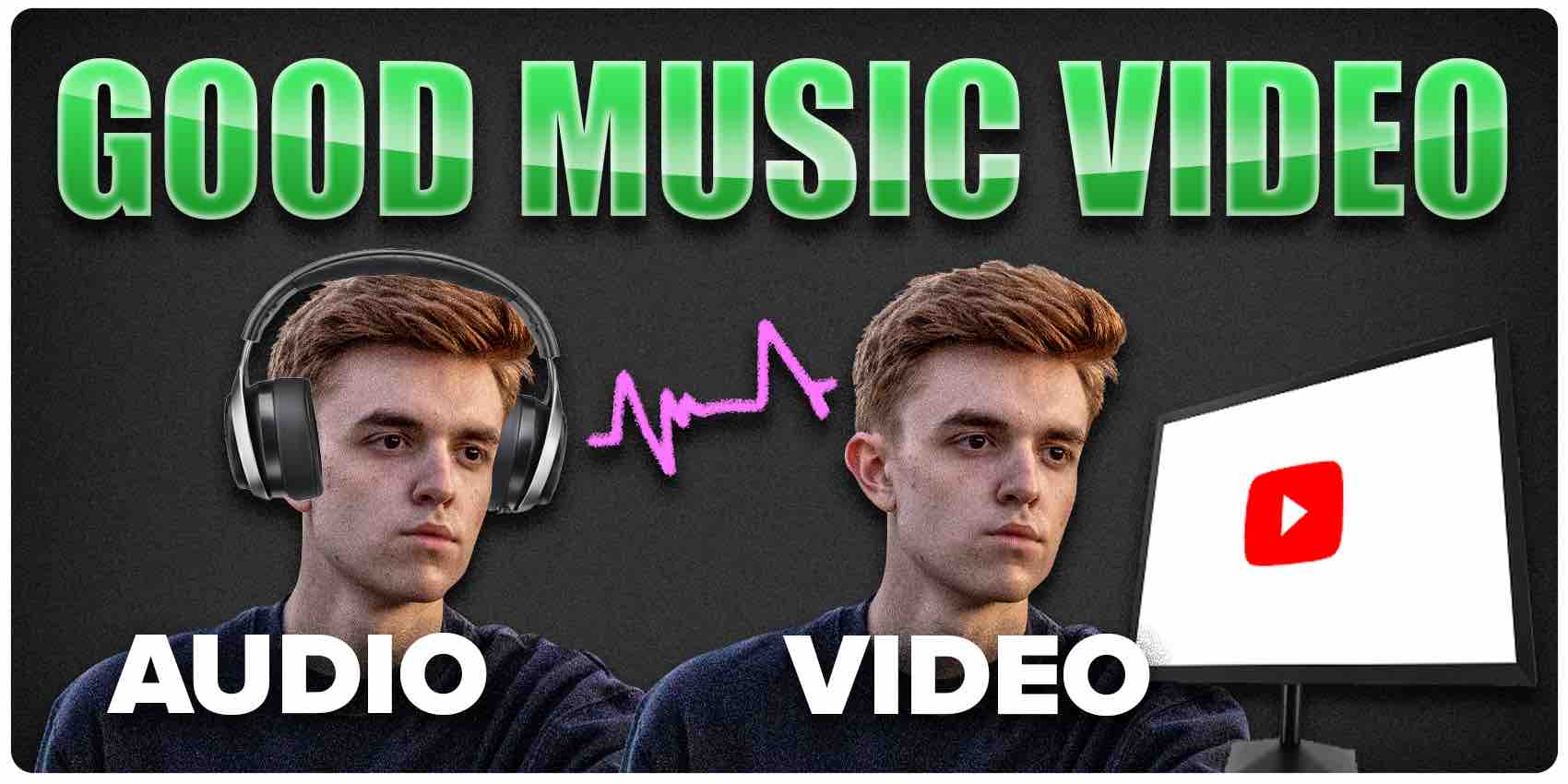 When potential fans search your stuff, they expect the music video to be good as well.
Potential fans are going to judge your music video graphics before they actually listen to your song that's why having an important thumbnail is everything.
If you aren't good at making your own content you should spend some money on a marketing firm to help you with that such as Boost Collective.
Of course, if you have the budget you can use a little bit more money by hiring a designer as well.
Just note it costs more money because they charge musicians a lot more to create music videos since they only work one on one.
Marketing firms have many clients so they can afford to keep the costs low via scale economy.
Make sure you use the free Boost Collective platform to get free music promotion, distribution and more.
It can help you grow your Youtube views and also get your releases on Youtube Music: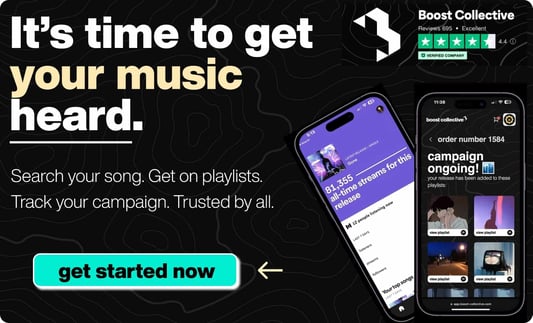 Run youtube ads to get heard!
If you're a musician and you don't run YouTube ads... What era are you living in?
Whether you're in a musician band or a solo artist it's the same case.
When it comes to running ads for your Youtube music videos, you have two options.
Do it yourself

Pay a firm to do it for you
If you don't want to pay you can do it yourself to get your band heard - I don't recommend that all artists should do that though.
You actually pay less using a firm because they have the strategies, tools, and systems in place already.
A great way to get more streaming success is by using Boost Collective - the #1 promo agency in the word!
Get on Youtube playlists to get heard
I have good news and bad news when it comes to playlist promotion on YouTube.
The good part is you can get comments from users and a lot of interaction for your music!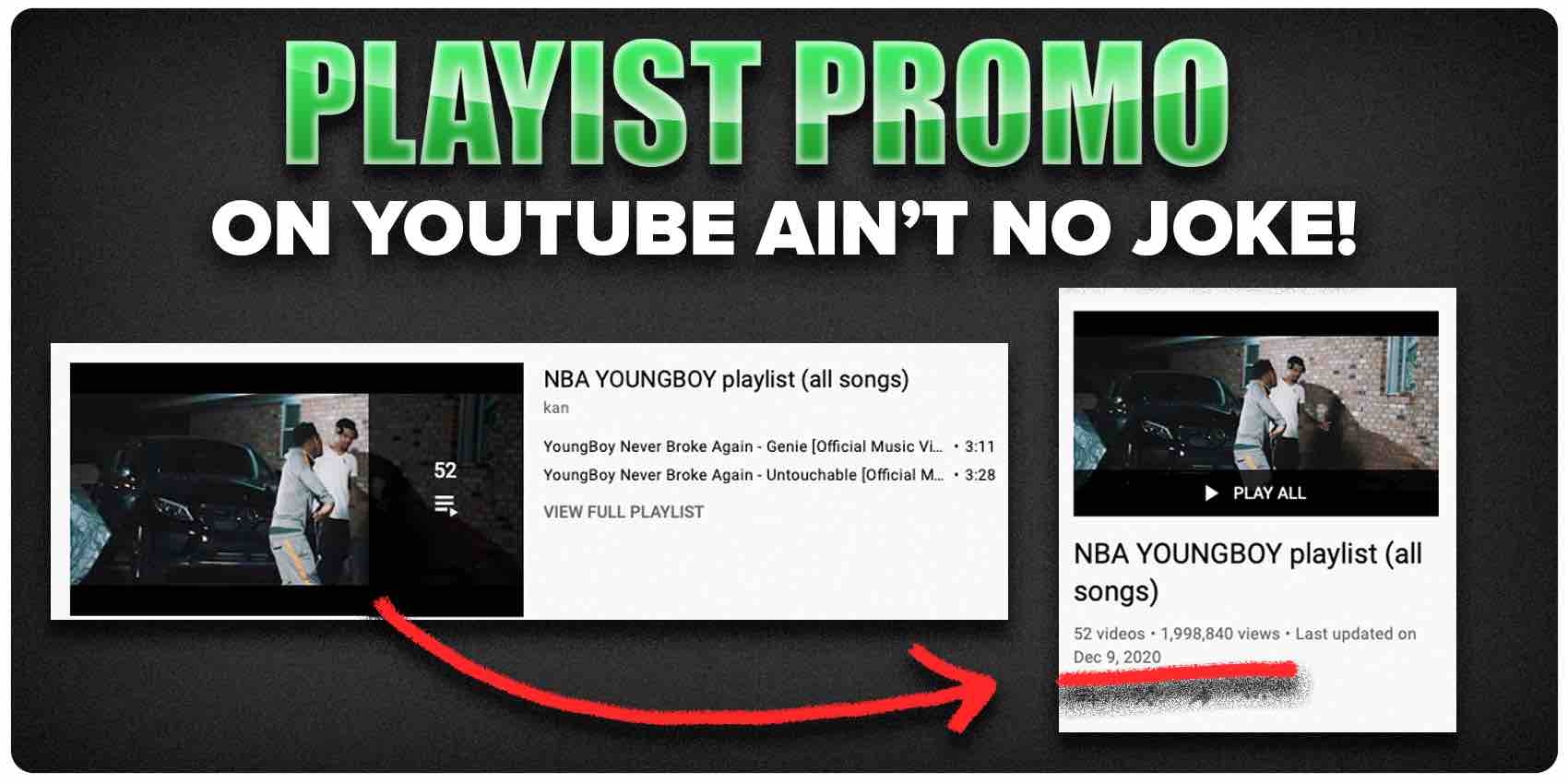 Not to mention there are more people using YouTube daily, and it's less competitive to get streaming numbers up on YouTube (many artists skimp out on YouTube marketing.)
It's hard for an artist to find the main page for the curator of these playlists though.
Not only on Youtube - TAP HERE for the Best Methods to get on Spotify playlists!
Fortunately, YouTube allows you to search their email address and from there you can get the contact to these curators.
Look at the image below to see how many views these playlists can bring in.
Match the thumbnail to the content (No clickbait)
You're back in the day, artists used clickbait in order to get the music channel to grow.
For example, this happened on SoundCloud a lot.
Don't do that - it doesn't work anymore.
If your YouTube music promo method is to trick people into listening to your music then people click off instantly.
This brings your music video watch time lower and YouTube will no longer promote it.
The most important aspect it comes to promoting your music video is watch time!
If there is a lack of concurrency between thumbnail and content then you're digging a ditch that's gonna be hard to climb out of.
Promote your music the right way instead!
Most marketing tactics are free and effective.
There wonderful ways to get your video seen (even if your fan doesn't search for it!)
Promoting your music video on Social Media
It's a given that your social media platforms have a higher following than your YouTube channel.
The smart thing to do is to transfer your fans onto your unit YouTube content!
The best way to do this is to upload posts on every other platform the refers back to the track on YouTube.
Not to mention you should plug your other social media platform is in the description of your YouTube video.
This way potential fans in your audience can go and check you out on all the other social media platforms as well.
This creates a feedback loop that helps you promote your music both on social media as well as on your YouTube channel.
The bigger of an audience you can create, the more effective your music video promo will be!
Embed your music video in your BioLink
To get some extra juice out of your music videos you should embed them into your bio link.
It reinforces the social media music promotion as well - but in order for this to work, you need to use a good link website.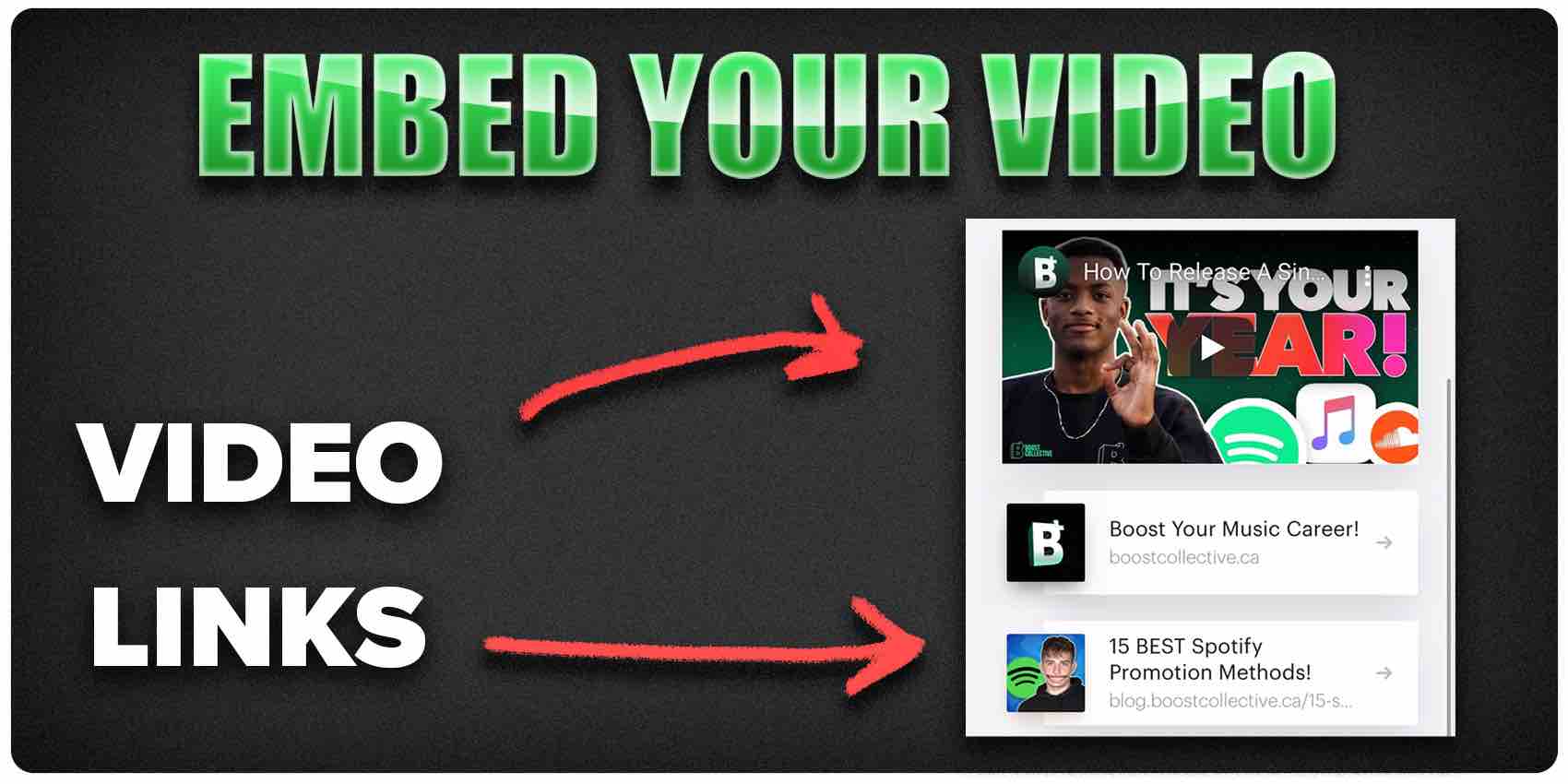 Some link website services such as Linktree allow you to put many links that can go towards your streaming platform, new album, whatever.
I tried them all and the best one for marketing your music is definitely a solo.to.
They allows youtube video embeds LIVE on the page.
It takes five minutes to create an account and best of all it's free!
Just TAP HERE to get started!
I personally subscribe to the paid version because it allows me to promote my recent post off of YouTube.
It's really expensive and totally worth it.
Not to mention I have analytics to see my audience and fans - I fully track the audience that goes through my promotional website link.
Which format of music videos performs best?
To promote your music on YouTube you need to understand that or not every music video is the same.
Some music videos are designed to get you more results than others.
I find that lyric videos work really well in a YouTube playlist, it's usually pretty chill and people have the option to sing word for word with the track.
Every now and then you'll see a large creator on YouTube post an hour-long YouTube video mix.
Some trends I've been seeing is that lyric videos work really well here as well.
Submit your song, if I like it then I'll add it to my Spotify playlist.
Promote with lyric music videos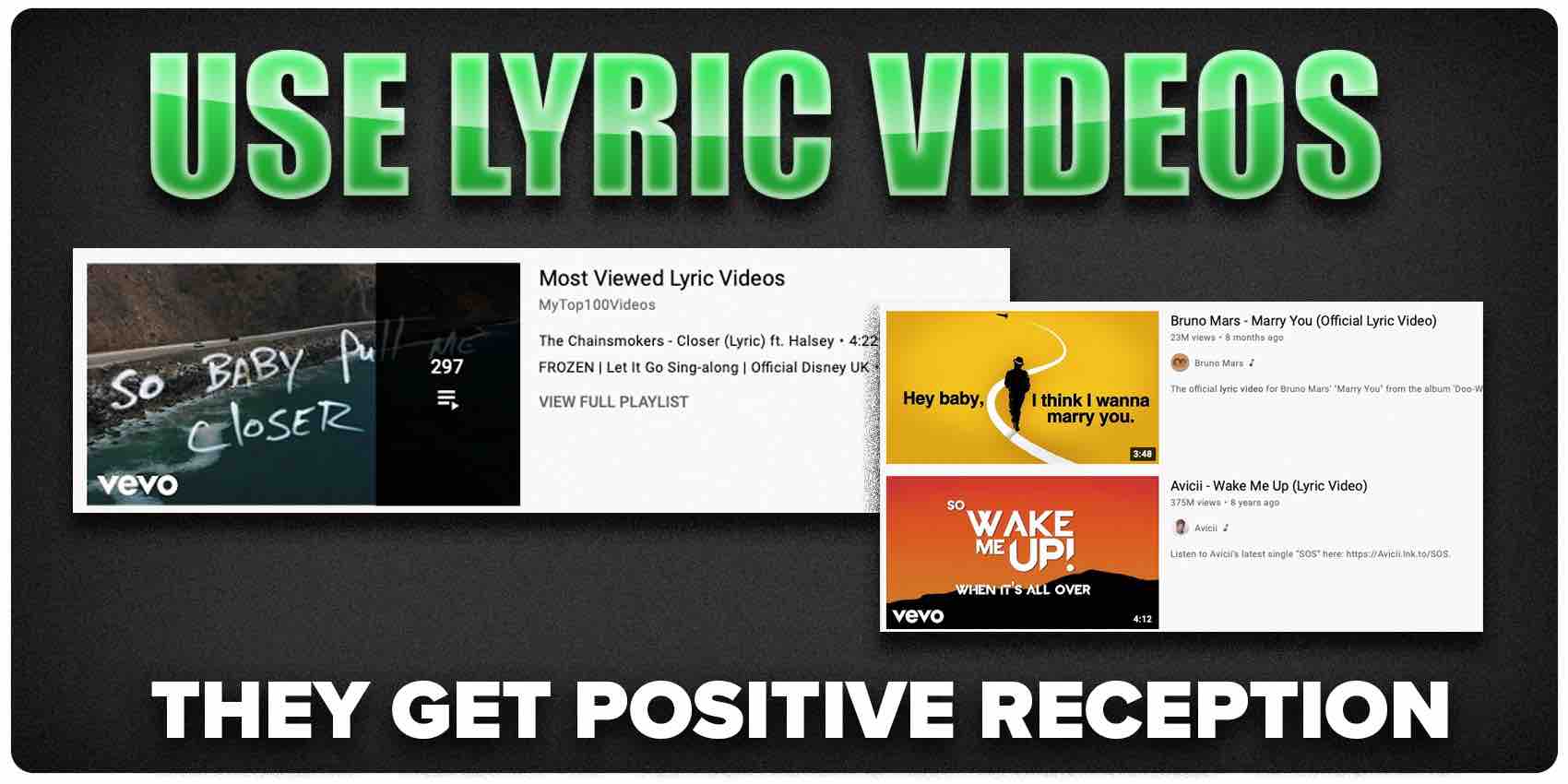 I've noticed that the best music video style that works on YouTube is lyrics videos.
If you've ever been to a karaoke bar - you know exactly what I'm talking about.
For some reason, fans LOVE to use YouTube to access their videos and sing along to musicians Songs.
This is not really the case for a lot of electronic musicians, especially if you make dubstep and your audience is more interested in the rhythm and bass more than vocals.
Make sure that you write [lyric video] in the title as well.
Optimizing your youtube channel for fans
There are literally millions of YouTube channels out there.
How are you going to promote your YouTube channel and grow your artist brand on YouTube unless you stand out?
We've all seen large YouTube stars with millions of subscribers on their channel and yet their videos can barely crack in 1000 views.
This is what you don't want - you're going to optimize your music YouTube channel to bring in the most potential fans so they can watch music videos and engage with your music.
Have a nice title banner on your channel!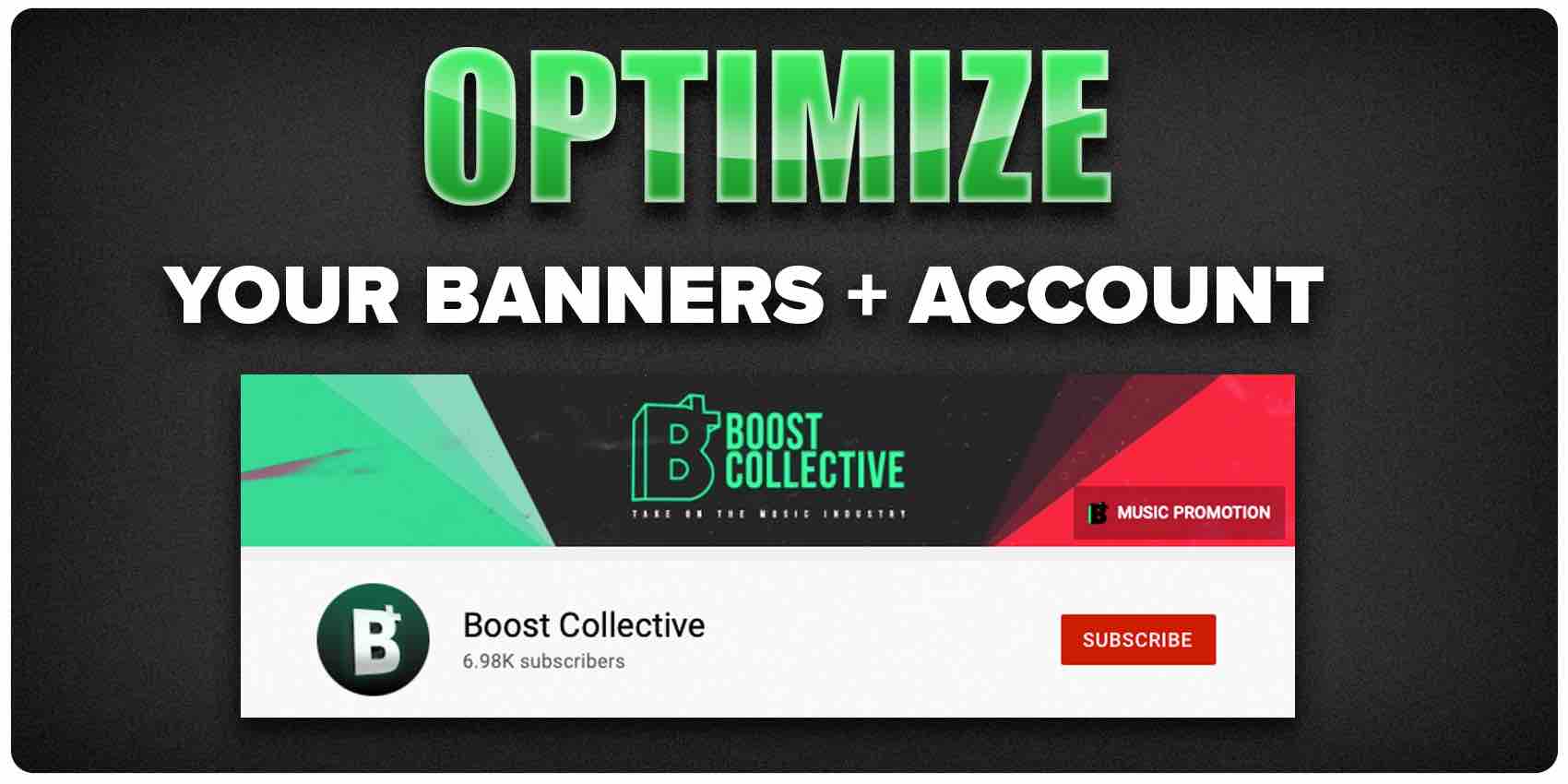 You can change it up depending on what you're trying to promote:
A new music video

Giveaway

Album release
fans are more likely to subscribe to you if your channel is complete.
If you don't have one just yet, tap below and I got you! 👇

Don't forget to write a good description for ALL videos.
Your description needs to include links to your other social profiles, as well as artist website.
Record behind the scenes content
Do you know what the number one thing a fan wants from your favorite artists?
Your fans want more access to you.
One of the biggest trends for fan interaction is going live.
Think about it why do fans spend hundreds of dollars to go watch their favorite creators live at concerts?
They can listen to it for free on YouTube...
It's because the connection to your favorite artist really brings you closer it makes you enjoy the artists more.
Right now it's hard to do concerts however you can still upload behind-the-scenes content to all the users on your platform.
O even make a behind-the-scenes video for your music video: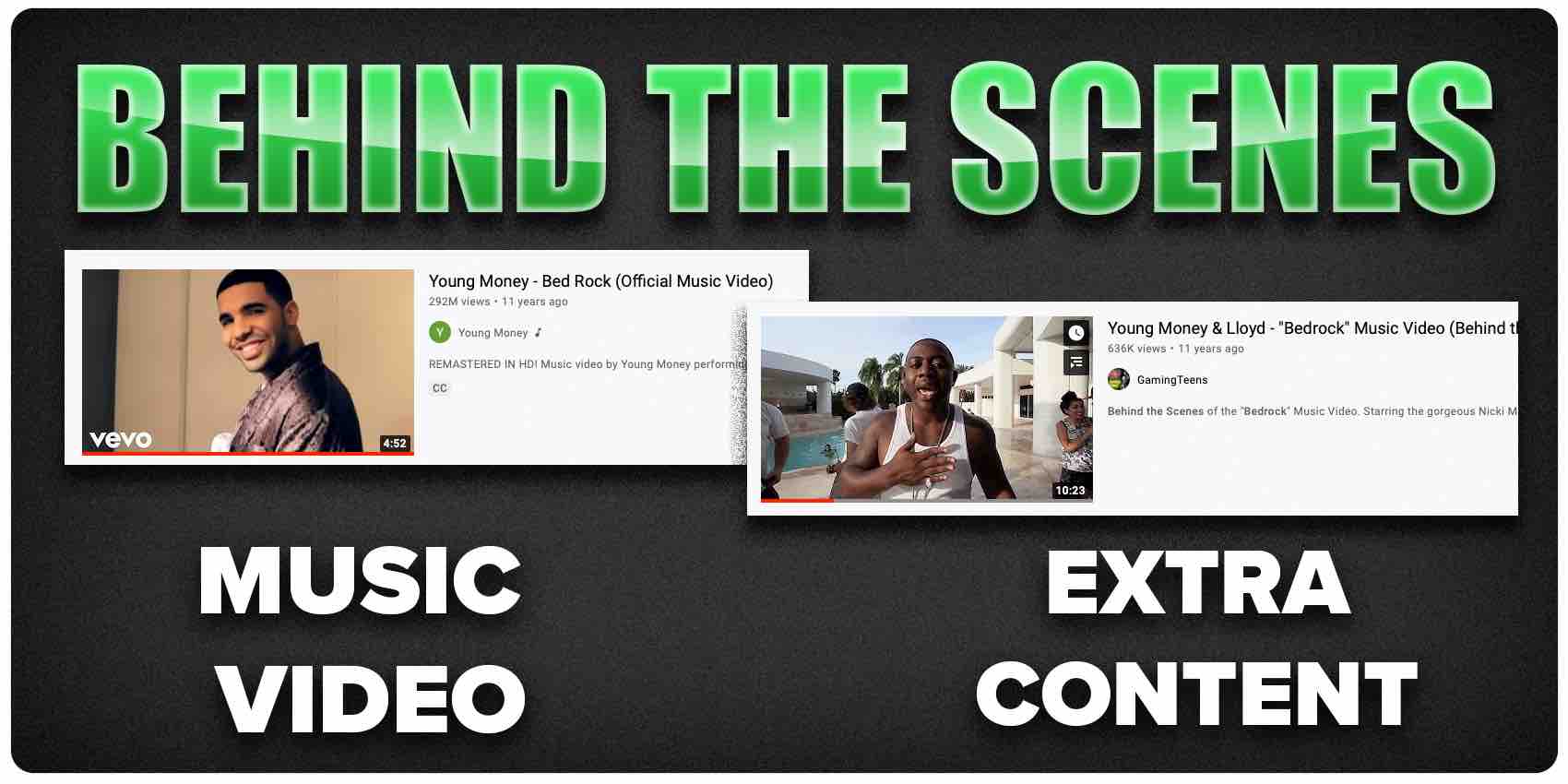 It doesn't need to be a post about a song, in particular, a large part of YouTube branding is to promote you as a person!
A great way to promote your personal brand with behind the scenes videos is by going on YouTube live.
You can try playing games or do anything to entertain every subscriber on your channel.
Submit your song, if I like it then I'll add it to my Spotify playlist.
I'm taking song submissions of all genres👇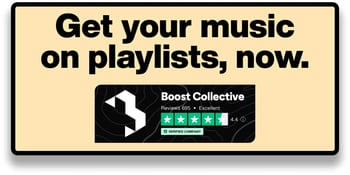 Use youtube community posts to push engagement to your music video
Sometimes we forget that YouTube is a social media platform - there are so many media (music videos) but the social aspect isn't there, right?
Well, this isn't the case anymore.
YouTube allows you to promote your recent posts on your official channels through the community tab!
All major YouTube channels use this platform to post the information - it's a great way to get attention to your channel.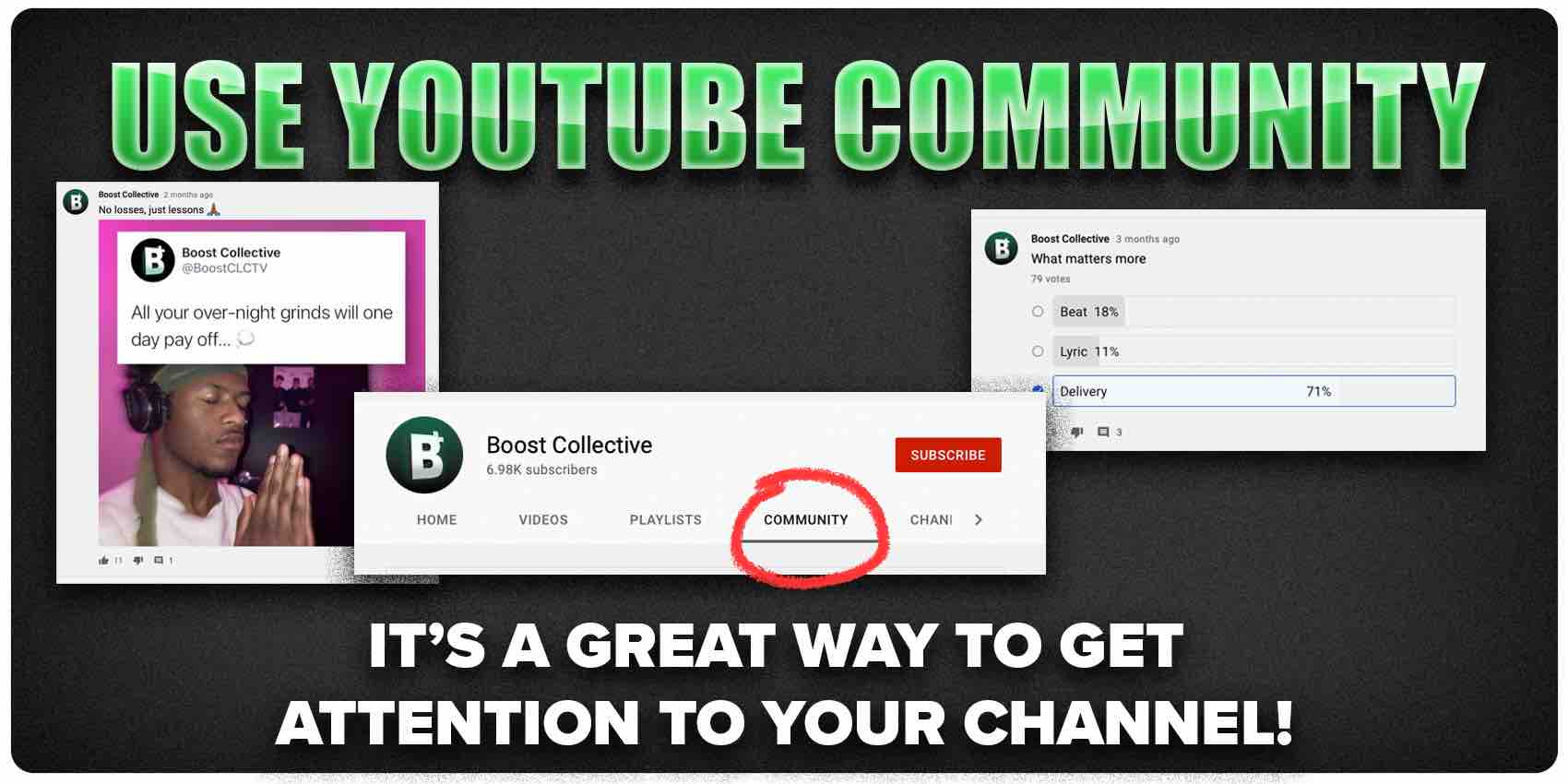 These are great recent posts to create on your subscribers community tab:
Information about your new release

Free giveaways

Promote your recent music video

Promote other artists (good networking)

Create funny memes and post them there

Refer to a new song release

Take an image of one of your tweets and post it there
Most people are going to search for your song - You need to bring it to them!
The fact of the matter is that growing your YouTube channel is hard because there is so much noise out there.
You need to post on a consistent and frequent basis so that your channel does not get forgotten among all the other artists, musicians, and creators out there!
Comment a lot and share some love
You get back what you give.
All other artists are posting their video, you go and leave insightful comments there!
Not only will your comment make their day it can also lead to a potential video collaboration in the future.
To take it to the next level you can even start posting their music on your community tab.
This will all help you in the long run!
Transferring social media fans to youtube
It's important to promote your music across every social media platform possible.
That said not all social media platforms are the same!
For example, on TikTok you can put out a lot of music videos but people won't really remember you - it's hard to stick out as an artist since there is so much distraction.
Instagram is slightly better for an artist to get their official music video out, but it's still distracting.
Your audience will most likely not watch a three-minute post on Instagram.
The best option is to post a full music video release is either Facebook or YouTube.
I said to focus on the YouTube channels instead because you can actually monetize off of that via streaming and ads revenue.
YouTube because once your audience watches your music video, you have a high likelihood of your channels showing up on their suggested video.
How to track your fans from Youtube
Most artists are not aware but it is 100% possible to track the users on your YouTube!
In the YouTube creators studio, you can actually pinpoint all users that subscribe to you.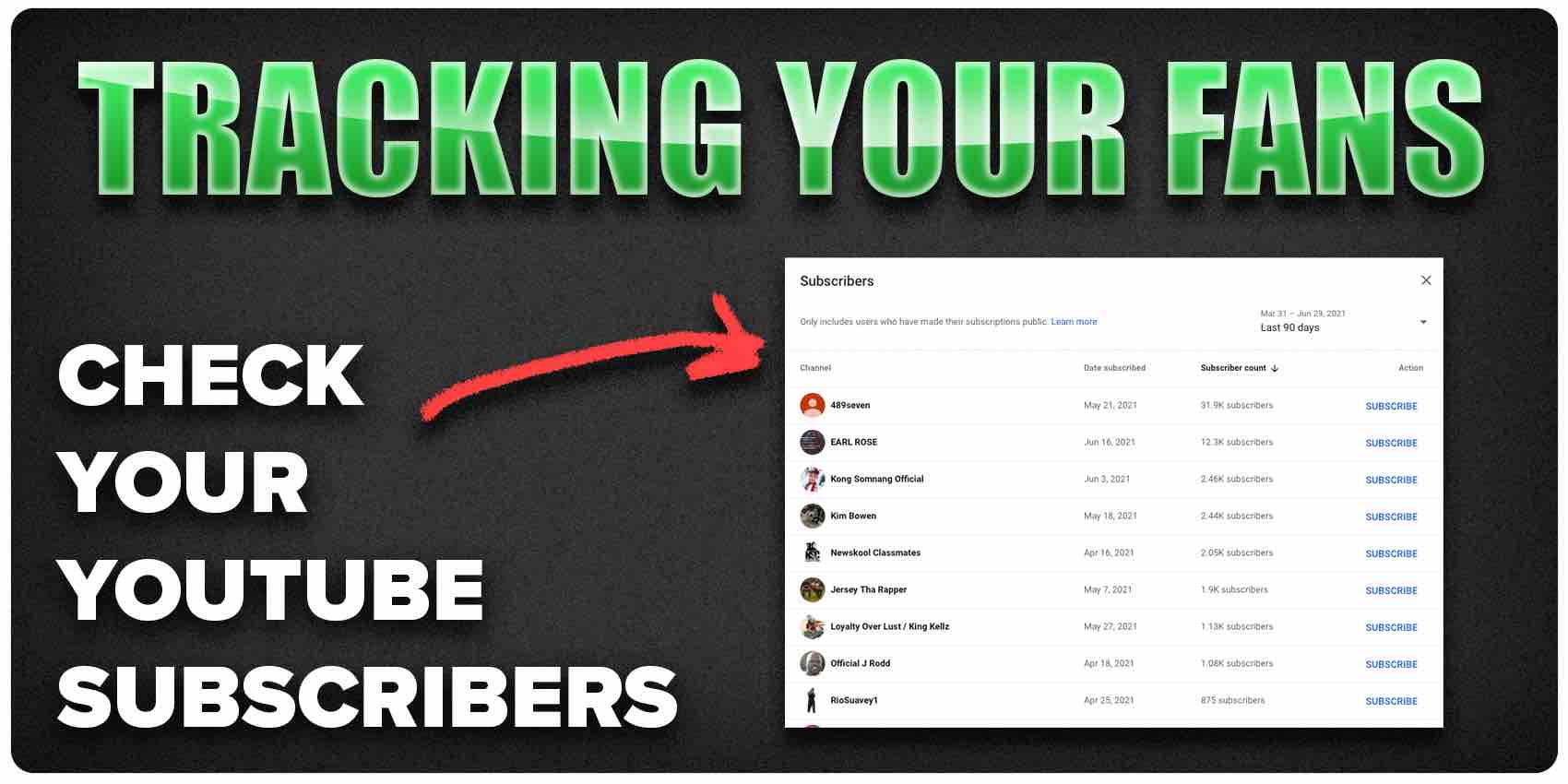 This means that you can track them one by one across other social platforms to strengthen the connection.
YouTube is always watching which kinds of people are interacting with you.
For example, if a potential fan starts watching 3 or 4 of your videos - Youtube knows they may enjoy your other Youtube channel videos.
When it comes time to run ads, your page and videos will be pushed to this fan group.
Tracking fans with Facebook pixel
Another way to track your fans as a music creator is to refer them to your website.
On your website set up Facebook pixel and collect data for every account that visits your website.
This is one of the best tips ever because you'll be able to target the same fan when running Facebook ads!
As an artist the most important aspect to successful ads is data.
Facebook is amazing forgetting your songs to the right fans.
You will have to pay a bit, but it all comes around.
Submit your song, if I like it then I'll add it to my Spotify playlist.
I'm taking song submissions of all genres👇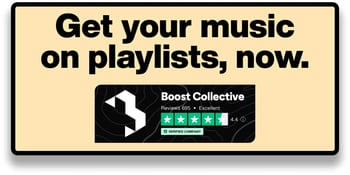 Join The #1 Platform For Music Artists.
We're starting a revolution - and putting music artists (like you) first.
Boost Collective is a free-forever music distribution platform. Upload unlimited releases to 150+ stores and platforms and keep 100% of your earnings.
You'll also get free playlist promotion, cover art creation, and much more!
Join Boost Collective for free here.