How to get my song on Spotify playlists?
It's a question all us artists have been asking these past few years.
With streaming services becoming the norm across the music industry, independent musicians will focus on getting Spotify plays, Apple music exposure, and fans on other platforms.
In 2021 the landscape has changed, and getting Spotify promotion is a different process than before.
Navigating these changes will make sure you save time, and focus on what matters - getting your new music heard by as many listeners as possible!
Tap below to get on a Spotify playlist today! 👇

Why You Should Get on Spotify Playlists
Many new music artists don't even know the reasoning for getting on Spotify playlists.
More than a few of us have just heard it in a video, seen it in an article, and have but a vague understanding on why and how it works.
Every time your song is streamed on Spotify you make but a fraction of a cent.
If you're just getting a few streams a day, you may never even see a cheque from Spotify. But if your song gets thrown on a top Spotify playlist with thousands of daily listeners, those cents can really add up!
Fortunately there are millions of Spotify Playlists to Submit To!
That's the basic idea behind getting your music on featured on lists.
Your music gets in front of relevant, targeted, and active listeners that are ripe for turning into fans.
It's one of the only ways to organically grow your Spotify streams, and arguably the best way for new fans to discover your music in 2021.
With that being said, the demand for getting Spotify playlist features has never been greater.
More artists than ever before know the power of getting playlisted!
Read our Free Spotify Playlists Breakdown to learn the ins-and-outs of playlist promo!
More Fans and Streams
Of course, the biggest reason why you'll want to get on Spotify playlists is for the fan growth it'll give you. It's the only way you're going to be able to grow your Spotify exposure in an organic way, without investing too much money or time.
The rise in popularity for playlisting has led to many platforms, resources, sites, and curators ready and willing to help you grow your music.
Some are better than others. With all these new ways to get your music on a Spotify list, it can be hard to know which ways are good, and which aren't.
We'll go in-depth on the main ways of getting on playlists below, and which methods to avoid.
Tap below to get on a Spotify playlist today! 👇

Increase Your Odds to Get on Algorithmic Playlists
Getting your music on algorithmic playlists such as Spotify user's Release Radar and other Spotify owned playlists is crazy important, and the best thing you can do to increase your odds for this (other than make good music), is to get featured on Spotify lists in general.
Spotify's Release Radar feature lets listeners stream your music as soon as you release it - as it gets added to the Spotify editorial playlists makes for that specific listener.
Spotify's algorithms determine which songs to add.
The only way you'll get on Release Radar is if a listener follows you on Spotify and listens to your music regularly.
This will only happen if they discover your music from a non-official Spotify playlist in the first place.
When to Get on a Spotify Playlist
While it may be easy to think that the second you have music on Spotify, you should start looking for playlists, it's usually not the best move. It all starts with your unreleased music.
It's important that you make sure your music is up to a quality and standard that competes with the top professional musicians in your niche.
Getting on editorial playlists will only happen if you have this down pat.
If you don't properly mix, master and record your music, it'll be much harder for a Spotify playlist to accept your new release for a feature.
Make it easy on yourself - make sure your unreleased song is top-quality before your scheduled release date.
There shouldn't be a loss in quality, loudness, and professionality when listening to a popular & professional song and then listening to yours.
Get your music to sound good.
Once it's 10/10, start getting it on Spotify playlists. It's the only way you'll increase your odds for playlist consideration.
Don't Focus on Playlist Follower Count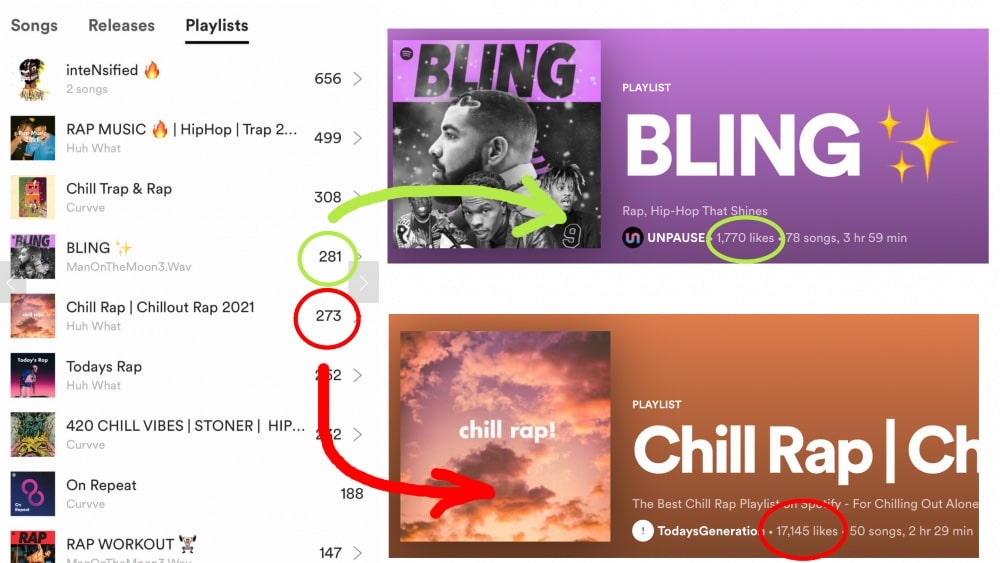 Follower counts can be misleading!
While it sometimes correlates with the amount of streams you can expect, more times than not this isn't the case.
You can get just as many (or more) streams from an active and growing Spotify playlist with 1,000 followers as an inactive playlist with 40,000 followers (see image example)
There's no reason to be bummed out if you get on lists with 1,000 followers or less.
Getting on active, relevant, and personalized playlists is what you should focus on. Follower count isn't everything - the quality of your playlist placements matters more.
Watch out for Fake Spotify Promotion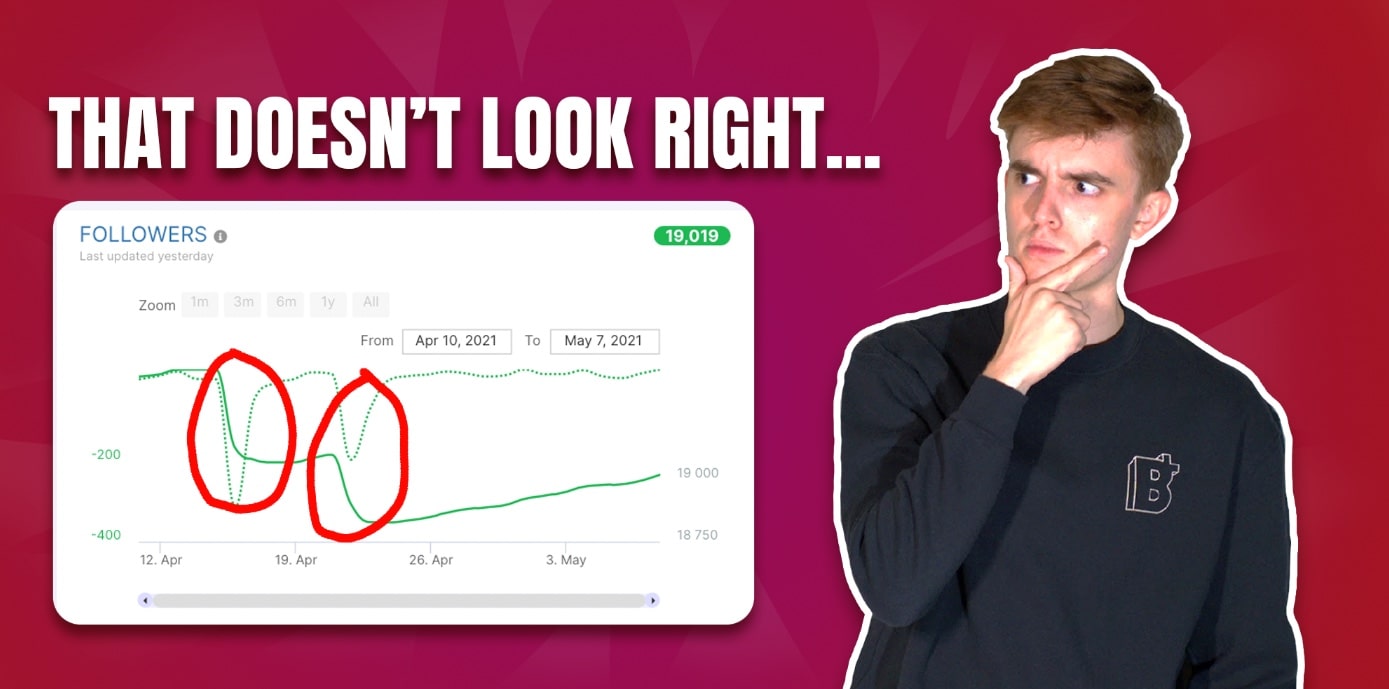 This goes back to the previous point.
There are tons of playlists out there with tens or hundreds of thousands of fake followers.
These won't increase your stream count or get you more fans. A new indie musician may fall prey to this all too easily.
What's more, fake lists tend to give you botted streams to make it seem like you're actually getting results.
This will not only get you zero real engagement or streams, but it'll increase your chances at Spotify taking down your song (or worse, your account).
We wrote an in-depth guide on how you can tell which playlists are real, and which are fake - so you can avoid the risks.
Spotify rewards artists who get organic music promotion (increasing your odds of getting on Spotify owned playlists) and penalizes those who don't.
You can also check to see how many streams each playlist gives you by checking your Spotify for Artists account.
Finding Trusted and Curated Playlists Are Key
Ensuring you get your Spotify playlisting from a trustworthy source gives you peace of mind.
It's usually a good idea to avoid any Spotify promotion services that don't show you the Spotify playlists you're going to get on before you buy.
Spotify's editorial team also is more fond of promoting music on discover weekly and release radar playlists.
Running Spotify playlists through SpotonTrack is one of the best ways you can personally ensure the playlist is going to yield organic growth.
Services like Boost Collective let you browse and check their entire playlist network before you buy, so you can see for yourself that they are legit.
Trusted services will carefully curate the lists they offer to ensure you don't get added to any fake ones.
Finding Relevant and Niche Playlists are Key
The best Spotify lists are the ones most relevant to your song - the more niche, the better.
Making a rap song and adding it to a rock playlist won't help you out.
Adding a rap song to a rap playlist is a start. But drilling down even more is key: Is your rap song sad? Try to find sad rap lists.
When your song fits the exact niche of a playlist, you meet and exceed the expectations of that playlist listener, earning you a new fan.
Use a Spotify Promotion Service

Spotify promotion services have broad, curated networks of playlists that can readily add your song.
It's the way to go if you want to save time and get playlists from a trusted source. It's how most artists get on Spotify streams in 2021.
As mentioned before, it's important to know if the service offers playlists in your genre, and if you can see the playlists before you buy.
Boost Collective Spotify promotion gets you on their 350+ Spotify playlists, available for you to browse before you start a campaign.
Submit to Spotify Playlist Curators
You can also submit music directly to Spotify playlist curators through platforms like Submithub.
Curators will also sometimes give their email address or submit link in their playlist bio, so you can submit your music to them there as well.
The downside of submitting to curators (especially paying for it) is that you aren't guaranteed a placement.
So if your music isn't up to par, you could potentially sink money and only get a few playlists featuring you.
We've compiled the best Spotify playlist curators to submit to, so you know who to share Spotify links to for Spotify playlist consideration.
Get Signed on a Record Label For New Music
Many record labels invest in growing their own Spotify lists or have access to editorial playlists they use to promote their releases. Getting your release signed is a great way to get featured for free.
A good way to finding relevant labels is by reaching out to similar artists that got signed already and ask them which label(s) got them playlisted.
Not all labels will playlist your song, but there are few far and between that will be willing to invest in playlisting your song.
Having a proper Spotify for artists profile greatly helps getting on labels if this is your jam.
Ask other Artists how they get on a Playlist
Have a somewhat established music network?
Asking fellow artists how they get on specific playlists is a great way to get more data and information on how you can get on playlists.
Some will recommend you Spotify promotion companies to try, others might even have lists (and might even add your song!).
Regardless, knowing what your network is doing for playlisting is powerful. Most artists have a Spotify playlist strategy, and there might be gold nuggets of information hiding in plain sight.
Tap below to get on a Spotify playlist today! 👇

Get your Song on Music Blogs
Getting your music featured on music blogs will likely also land you on some playlists, as most music bloggers have them.
They'll usually add songs they feature on blogs on there too.
It's worth asking the blog writer to add you to the playlist after you're featured, since most will only add your song if you show explicit interest in doing so. Having a polished Spotify for Artists account also helps with this.
Complete Your Spotify Artist Page
This is an oversight that's all too common even these days among new artists.
If you have music on Spotify, you must have a Spotify for artist page set up!
Since most playlist listeners that like your song will view your profile in order to give you a follow or check out your other songs, it's important that it looks as professional as possible.
Many Spotify users will refuse to follow artists they deem as 'amateurs' - a feeling they get if you have no profile picture, banner or bio. A fully fleshed out Spotify account is key.
Simply log in to your Spotify for Artists profile, and make sure that everything you can fill out, you do.
Spotify does a good job nowadays in assisting you to creating a comprehensive artist profile.
Create Your Own Playlists
Last but not least, you should consider creating your own Spotify playlists to promote your music.
This is just another way in which people can discover your music.
Try curating based off mood or activity and include tracks from bands and musicians you like.
You need to make sure that it's tailored to something people would want to listen to.
Don't go overboard with plugging your own tracks here. You want these playlists to feel authentic. Add one of your songs for every ten songs that aren't yours.
It's important that you have a catchy title, attractive playlist image, and make it appeal to many potential listeners.
You'll get a leg up by simply having proper branding.
Here's an example of some well-designed ones. Making it look like branded playlists helps up the credibility.
Tap below to get on a Spotify playlist today! 👇

Conclusion: Do Your Research
Taking your time to craft a solid playlisting strategy is worth it.
There is no easy way to grow your Spotify exposure the more music you put out doesn't necessarily mean the more exposure.
Trying to skip the line by getting fake or botted Spotify streams is something that Spotify doesn't tolerate more than ever before. Here's a summary of what we went over:
One song on one playlist isn't enough. The more playlists you get on, the better.

Getting on discover weekly, user created playlists, independently curated playlists, and other playlists is key. Being on different playlists matters a ton.

All your new releases must be properly mixed and mastered. Get your music to the professional level before distributing.

Some lists can get you loads of streams. Other playlists won't. Follower count can be misleading!

Getting Spotify promotion from a trusted source where you can see the lists you can get added to is your best bet - since you can see for yourself what kinds of exposure you might get .

Submitting to playlist curators is another alternative, although you may not always get placements even if you invest money to submit through platforms like Submithub.

Asking artists what they do for playlist submissions will also help give you insight.

Music blogs can also give you playlist placement if you are willing to ask.

Make your own playlists and ad your own songs on there.

Make your Spotify for Artists page as polished as possible!

Promote your songs on social media platforms. Get your music on as many people's playlists as possible!
With these strategies, you'll know how to navigate the ever-growing world of Spotify exposure.
YOUR NEXT STEPS!
Music success doesn't come easy - except it does, with Boost Collective!
Whether you want Spotify promo, cover art or music video creation, or want to hop on a 1on1 call with our roster of music pros and mentors, we're your all-in-1 music success site.
Curious about our campaign results?
We'd love to share some with you. Check out Boost Collective reviews.
See how we can help your music career below👇