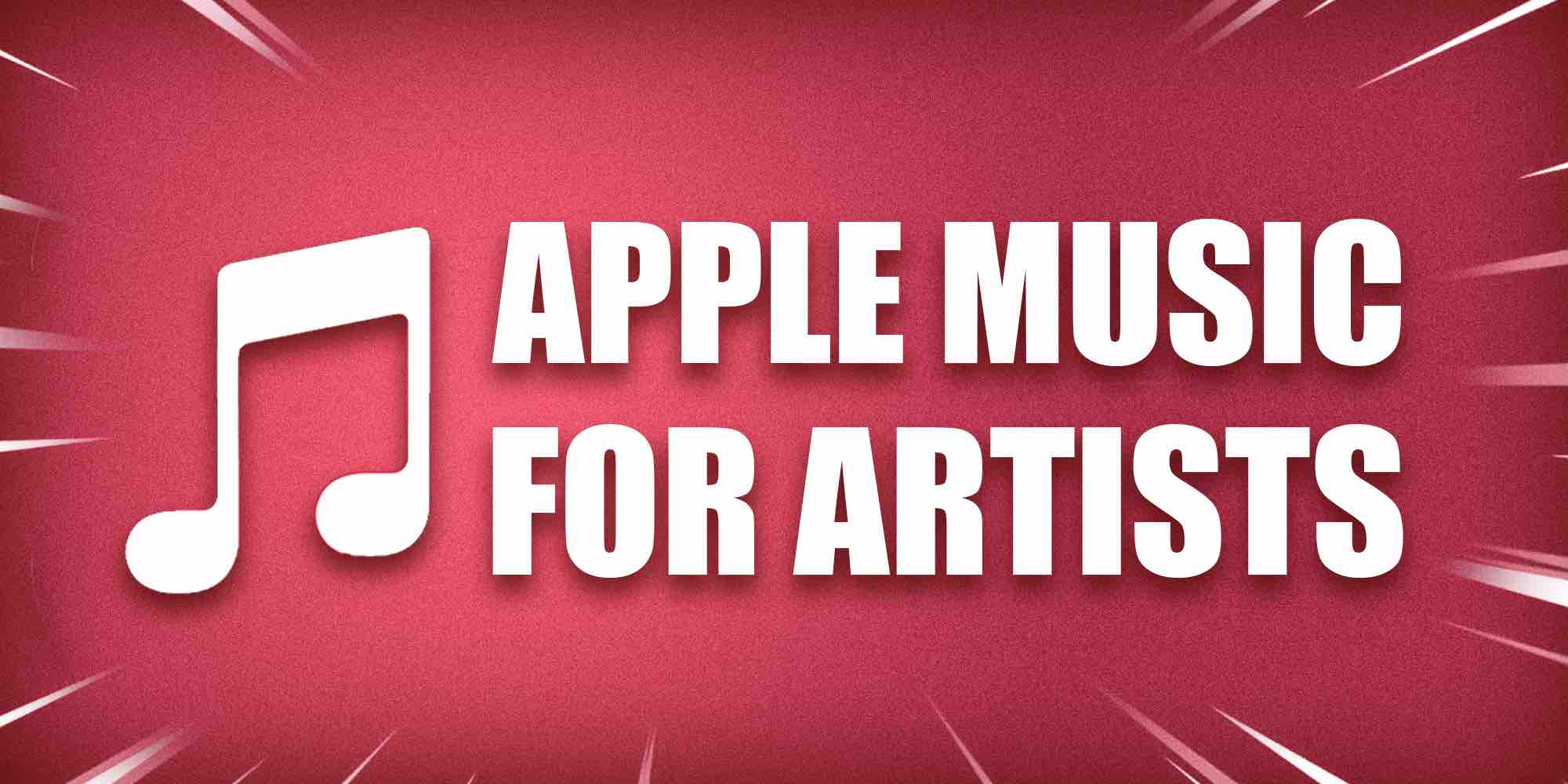 How to Make an Apple Music Artist Account, easily
Knowing how to make an Apple Music Artist Account is crucial for seeing more data and analytics.
Apple Music is one of the fastest-growing streaming platforms today for any artist profile.
When you distribute your music, you're most likely going to have it appear on Apple Music as well.
And make sure you have full control and access to your Apple Music artist profile is a must in order to make the most out of what the platform has to offer you.
Apple Music wants to compete with Spotify.
And part of catching up with Spotify involves allowing artists to claim their Apple Music account to see their stats, understand their audience, and increase promotional opportunities.

How Much Does Apple Music Pay Per Stream In 2023?

Make sure you've got your artist page before your next release date, so you can fill in the gaps in your understanding of how people interact with.
Learn to promote on Apple Music with this video guide! 👇
Use Boost Collective's free music distribution platform! Distribute unlimited songs to 150+ stores/platforms, and protect your content with Content ID - while also keeping 100% of your earnings. Use this upload form to distribute your single now:
Tap below to get content ID distribution today! 👇
Boost Collective is the #1 trusted source of music distribution for artists - You can protect your content and earn royalties whenever it is being used. Enjoy!
How Does Apple Music For Artists Work?
Before even getting Apple Music for Artists, you need to be able to distribute music to Apple Music (as well as other platforms).
If you're looking for a free music distribution alternative, consider our Boost Collective platform!

Apple Music For Artists is a dashboard which gives you important data on your songs in Apple Music.
It helps you better understand the way your fans interact with your music, and is a great tool to help with gaining valuable insight that can help improve decision-making in your music career.
When you log in, you'll be greeted with a variety of stats and data, as well as other things.
We'll show you how to get started, set things up, and make the most out of the Apple Music dashboard below.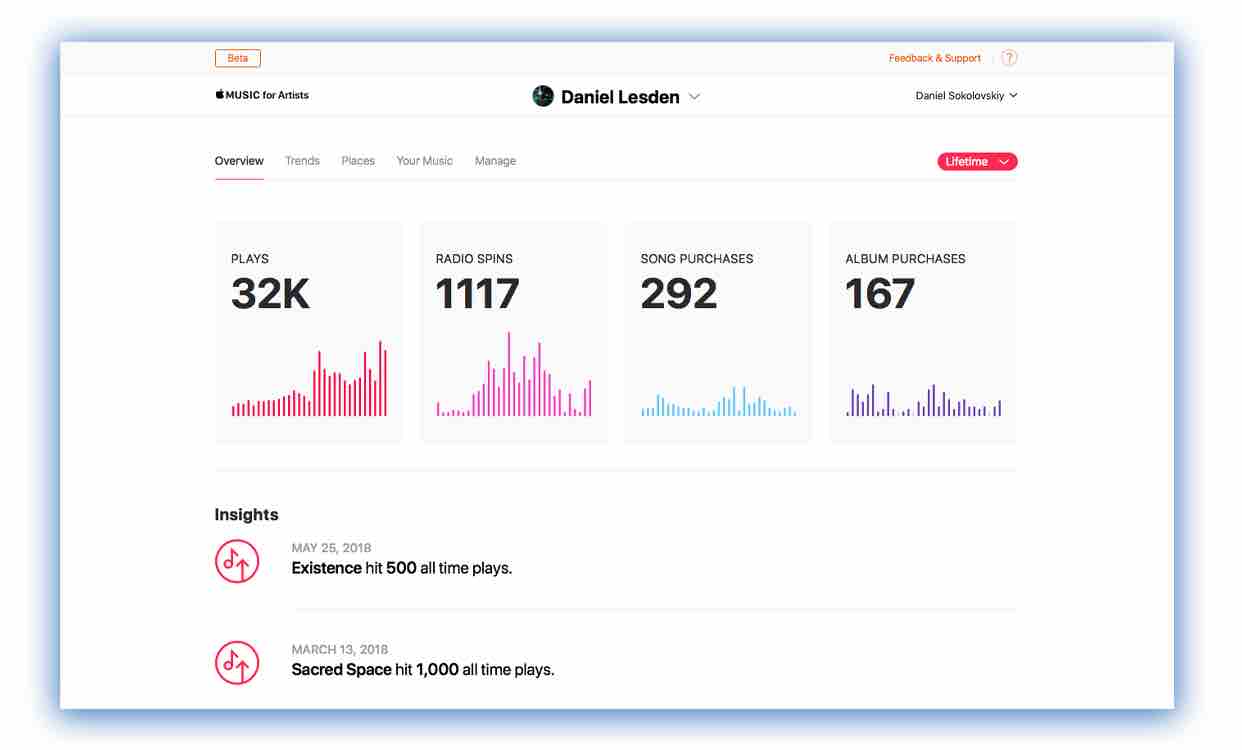 Apple Music is Different From iTunes!
To be clear, Apple Music is not the same as iTunes.
In fact, iTunes is being slowly phased out in favor of Apple Music. Apple Music is the primary way people will be listening to your music on Apple devices and that is why we care about this streaming platform more.
Think of Apple Music as the competitor of Spotify, Tidal, or Amazon Music.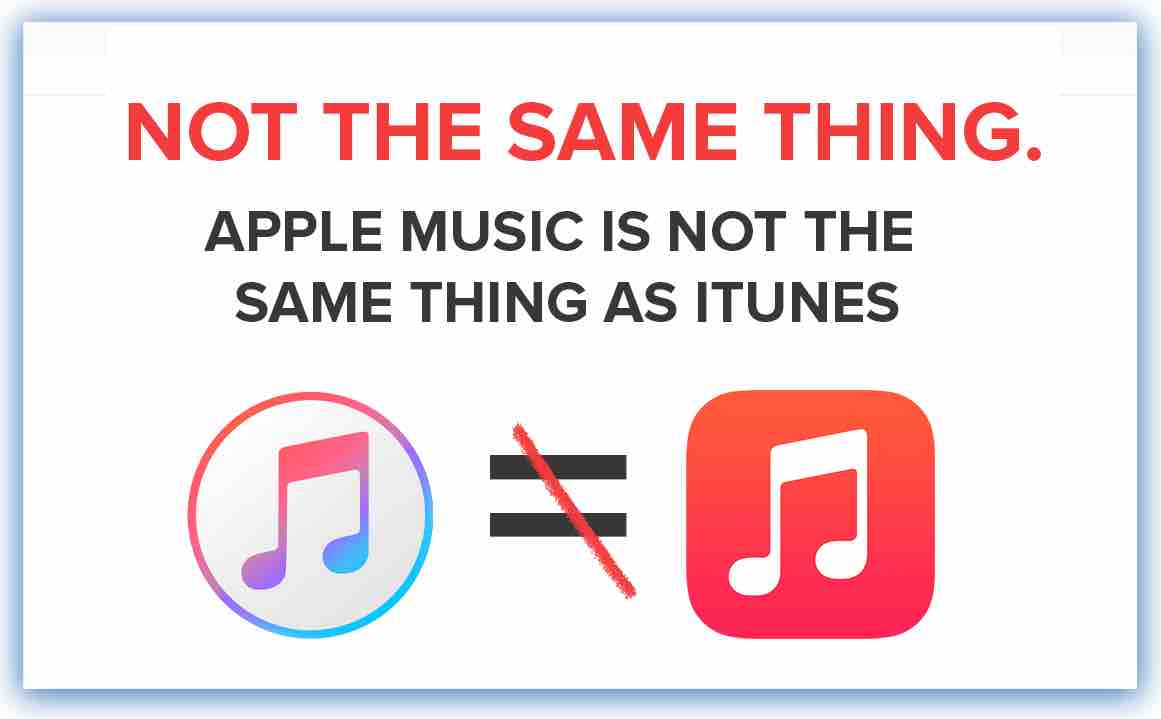 Why You Should Get Verified on Apple Music For Artists
Some artists think that getting verified on Apple Music For Artists is different from simply making your Apple Music for Artists account. In reality, there's no difference at all.
When you claim your account, you'll get that famed blue check.
Why do I Need an Apple Music Artist Page?
If you release songs on Apple Music and you don't have access to your own Apple Music for artist account, you're missing out!
When you have an Apple Music profile linked to your music, you'll have tons of advantages over artists that don't.
PS: Here's how to promote your album on Apple Music!
Get More Stats With an Apple Music Artist Page
The main reason why you want to have an Apple Music For Artists account over a regular account is the amount of stats, data, and analytics you're going to have access to.
Artists can see radio spins, purchases, streams, and much more on the dashboard.
You Can Get More Free Promotion
The more interesting benefit is that you can get extra Apple Music promotion with an artist account.
This feature is only available to artists who have their songs on Apple Music.
Artists also used to get access to Apple Music Connect - allowing fans to follow them.
Additionally, everyone who's added your music or bought your music will automatically become a follower.
Then, you'll be able to share audio, photos, and videos directly with these followers, allowing you to unlock extra engagement with your fanbase.
This is a feature that has been removed by Apple as of 2018.
Besides the now-defunct Apple Music Connect, there are other ways your Artist page can deliver you promotion opportunities.
You'll also have extra integration with iMessage, allowing Apple Music listeners to more easily share, post, and forward music to their friends and family through iMessage.
How to Claim Your Artist Profile on Apple Music
It's an easy process to claim your artist page.
The minutes it takes to set it up will help you gain access to features hundreds of thousands of independent musicians use on a daily basis.
It's Easy to Sign up for an Apple Music for Artists
To get started, go to artist.apple.com
Then, click 'Sign up' and then click 'Request Artist Access'
Then, paste your iTunes Store artist link into the text box (see how to find your link below)
Find your artist profile (matches your artist name), select it, and complete the verification process.
Find Your iTunes Store Artist Link
How can I find my iTunes artist link?
Here are 5 steps to the iTunes artist link to locate your artist page.
Go on the iTunes app or desktop application

Search for your Artist name and click on it.

Click the three dots, where an option will appear to 'Share Artist'

Click on that, and select copy link (may appear differently on mobile)
You wont have an iTunes profile to claim if you haven't done that yet.
Note: you're only going to have an iTunes profile if you've released a track on Apple Music before.
How to Change Your Apple Music Artist Profile Picture
The first thing you'll want to do once you've got access to your Apple Music for Artists profile is to update your profile picture to something that matches your other music profiles.
Keeping a cohesive brand image across all platforms helps your fans receive a more consistent experience regardless of what platform they stream your music on, and more importantly, creates a strong visual brand.
Log into your artist profile, go to the 'Manage' tab, and upload your image.
It'll take up to 48 hours for Apple Music to approve your profile picture.
To ensure your image gets approved, make sure that you use a high-resolution image with no text as well as no explicit or profane content.
Access the Apple Music For Artists App
If you don't always want to visit your artist profile through a web browser, it's worth getting the app.
If you have an IOS device, download the app to get fast and easy access to your dashboard to see your music's performance on the go.
You'll need an Apple ID (email address) which is the same as what you use to download apps or from the Apple app store, as well as what you use to purchase music from the apple iTunes store.
You can get the app HERE.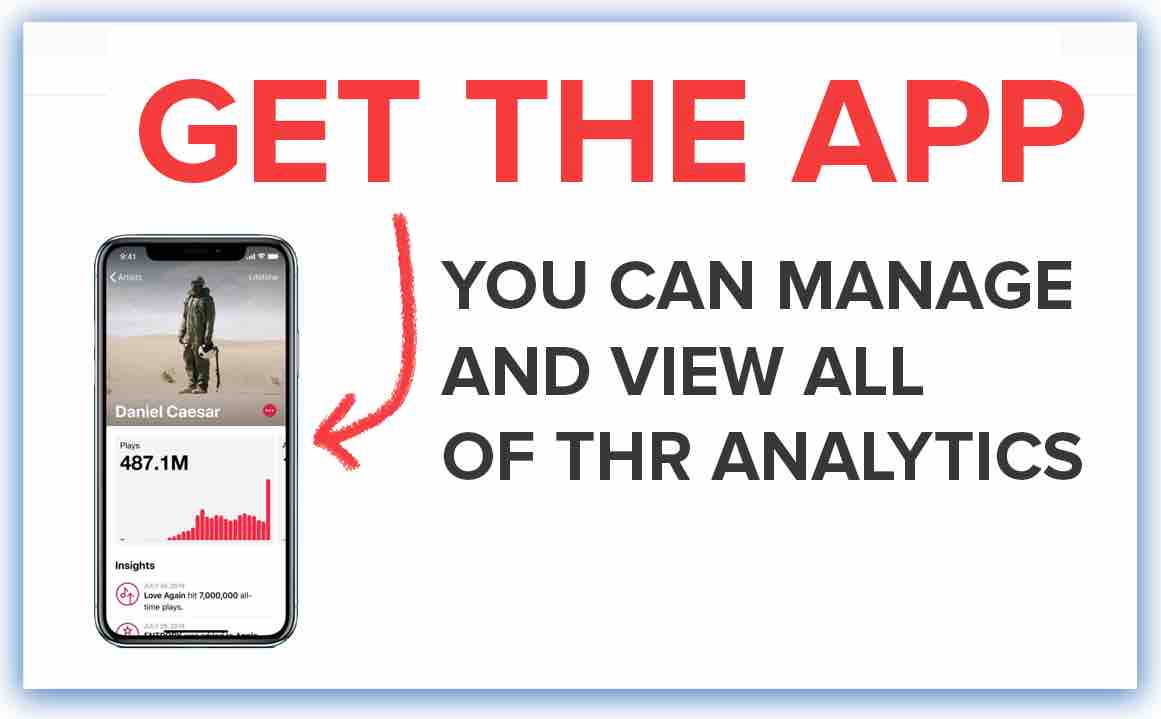 How Does Apple Music for Artists Work?
You've now successfully claimed your Apple Music for Artists account, and you can now access Apple Music stats and data.
Here's how to navigate your artist page and make the most of your Apple Music dashboard.
The Overview Tab
This is what you're greeted with when you log into your Apple Music For Artists dashboard.
You'll see some top-level stats and the most useful data for you.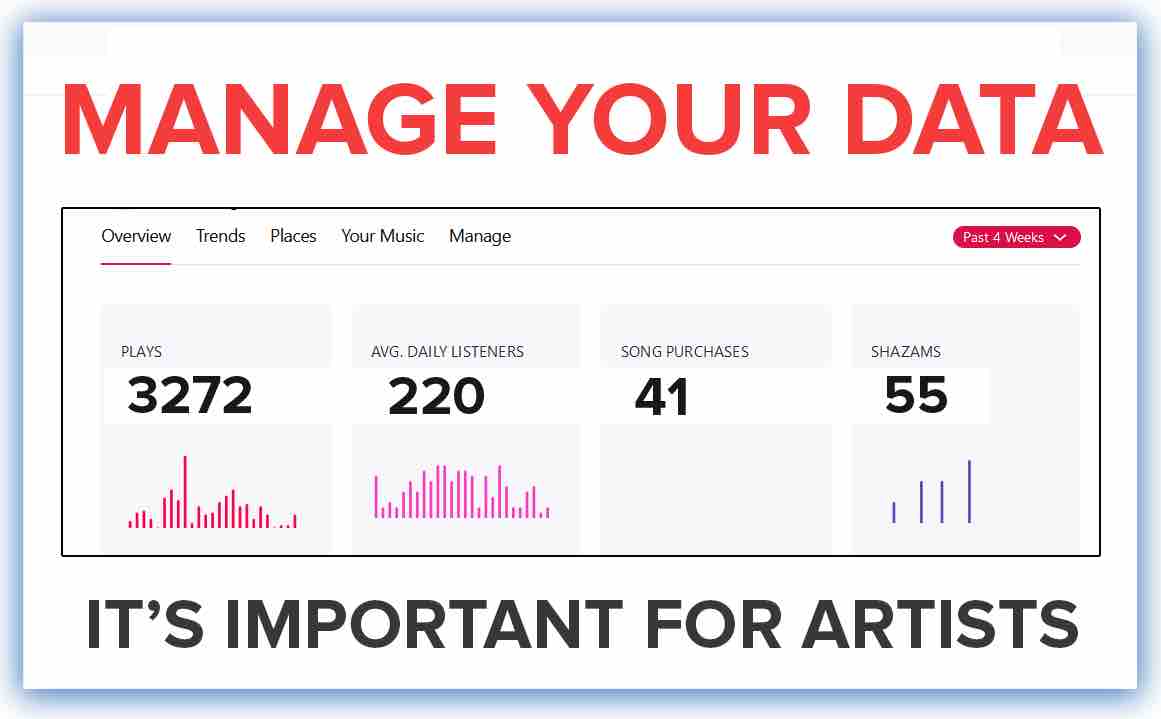 Apple will also give you insights, milestones, and achievement information here.
The Apple Music Trends Tab
Trends is going to be the most useful section of your dashboard, as you'll be able to drill down on the analytics that matter to you.
Here you can get data on your playlist and radio spins filtered by date, song, location, gender, and age.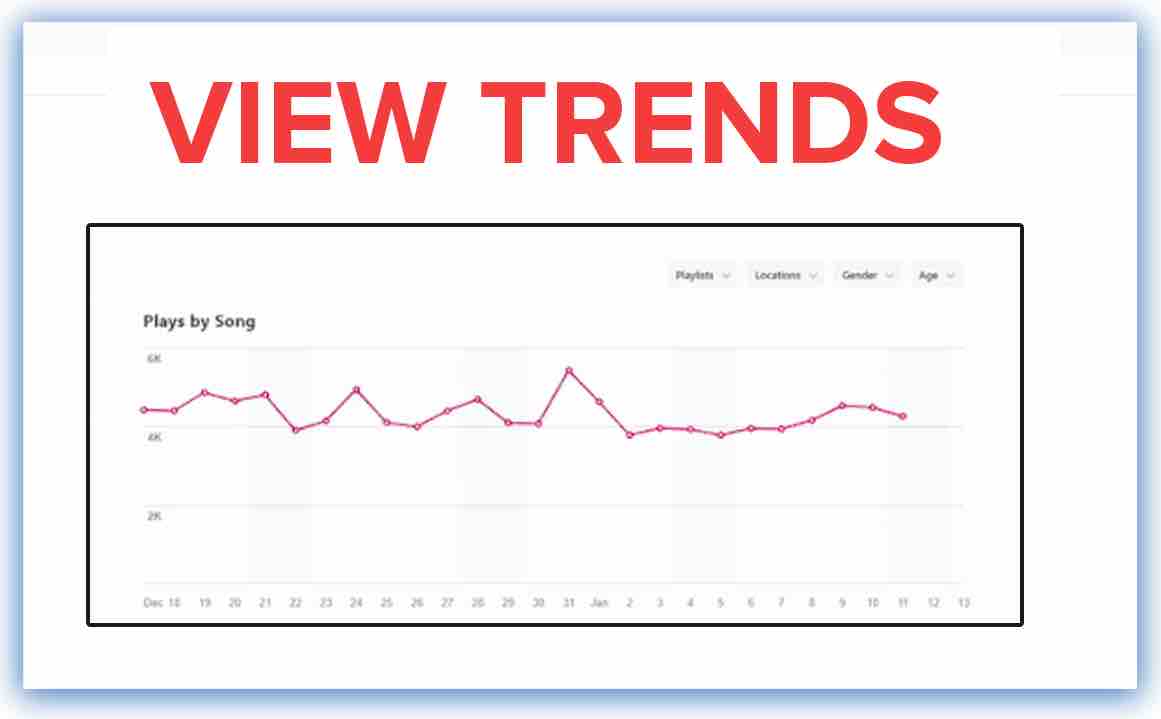 Spending some time here will help you get a good grasp of the type of people your music caters to.
The Places Tab
The Places tab is cool because you can see your music's impact on the world. You can see what countries and regions are streaming your music the most.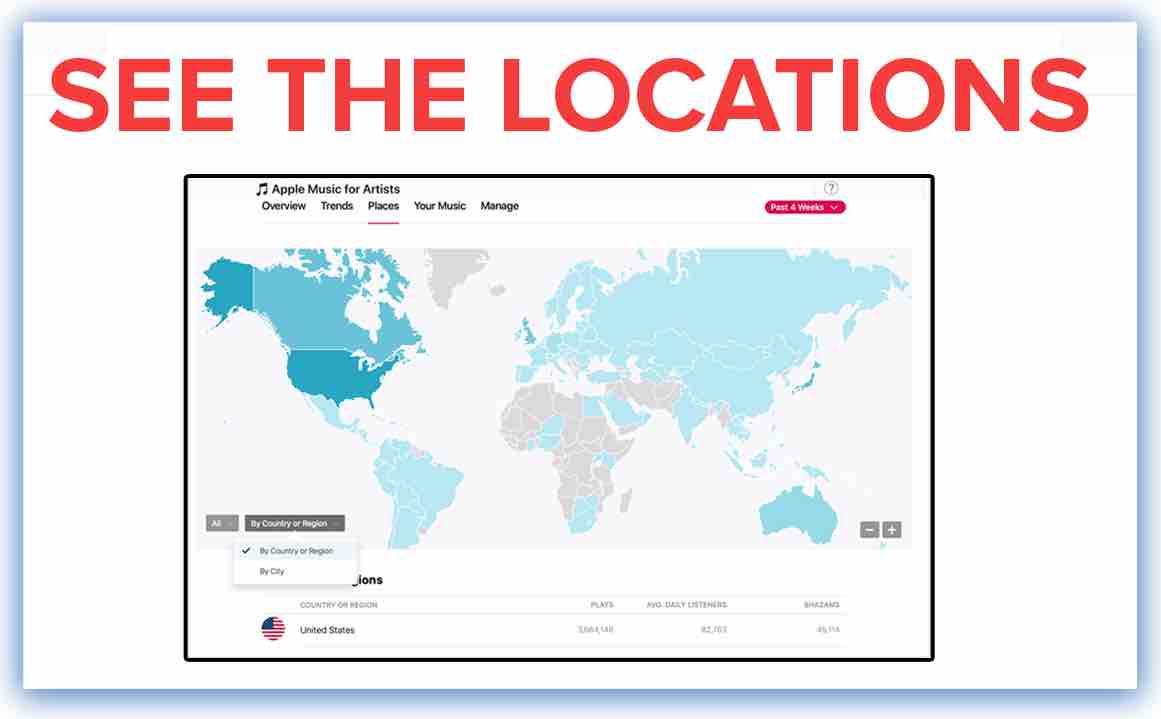 This data is great to determine if your listeners are local (same as your country) or from across the globe.
Once you start amassing a lot of plays on Apple Music, you can start to see some interesting trends appear on this tab
Your Music Tab
This is just a simple place where you can see plays, radio spins, and Shazams by song. Nice and simple.

Manage Administrator Access
You can give access to your Apple Music artist profile to others, in case you have an artist manager or label representative who wants to see your stats as well.
All they need to do is request access and you'll be notified.
They'll choose their role, fill out the requested application fields, and get access!
As an admin, you'll be in charge of reviewing additional access requests sent your way.
This way you can share your profile on Apple Music without worrying about giving your account info to others.
What is a Radio Spin on Apple Music?
This is some terminology that only appears on Apple Music, and it's often confused with plays or streams.
A Radio Spin is different from a play.
A Radio Spin is counted when a user plays your song for at least 30 seconds listening from an Apple Music Radio Station, either auto-generated or Apple-curated.
A Radio Station is not like a Spotify playlist.
A radio station is automatically generated when a user picks a song or artist to generate a radio station, and Apple Music creates a list of songs similar to that song or artist.
What Counts as a Play on Apple Music?
A Play is similar to a Spotify stream. It's counted whenever someone listens to your track for at least 30 seconds.
Plays can come from anywhere, not just Apple Music radio stations.
Get Apple Music Promotion
Now that you've claimed your Artist page and shared access with your artist managers (or not, if you're a solo artist.)
It's time to leverage the page to your advantage.
What is Apple Music Connect?
Apple Music Connect used to be a way artists could post content to their followers, though the platform has since been taken down since it was rarely used. A Connect account is no longer needed.
You can learn more about the shutdown of the service here.
Conclusion
In all, claiming your Apple Music artist profile is a must for all musicians, and is the next step once you've put your first release out on Apple Music.
You'll get access to new tools, faster verification, and ensure that your music is linked to the correct page.
All you need is an Apple ID (if you want the IOS app) your iTunes store artist URL (find it by plugging in your artist name into iTunes), and you'll be well on your way to claim your artist page.
You can claim your Apple Music artist page here, on Apple's website.
If you want to learn how to distribute your music to Apple Music, click me!
I hope you now know how to make an Apple music artist account!
Check out our blog for more helpful artists like this one!
Join The #1 Platform For Music Artists.
We're starting a revolution - and putting music artists (like you) first.
Boost Collective is a free-forever music distribution platform. Upload unlimited releases to 150+ stores and platforms and keep 100% of your earnings.
You'll also get free playlist promotion, cover art creation, and much more!
Join Boost Collective for free here!