How to Upload Music on Spotify
This is the complete guide to uploading music to Spotify.
This is the full process, read the ENTIRE blog for all the gems!
7 Easy Steps to get your music on Spotify:
Submit to playlists
(Tap any of those tops and go to that section of blog ☝️
Think of Spotify as a digital jukebox - that lets you listen to music from the internet.
Many millions of fans use Spotify to discover artists!
When your music is available on Spotify you're going to expand your audience like CRAZY!
Plus... Your royalty revenue won't be isn't so bad. 😉
In this guide, I'll even show you how to manage your account once it's live.
Don't want to read? Quick answer: You can upload your music to Spotify (and 150+ other stores and platforms) for free by using this upload form:
Boost Collective will distribute your music to Spotify for free, and you'll keep 100% of your song's ownership, copyright, and earnings.
Upon uploading your song, you'll receive an account where you can track and manage your release and see in-depth analytics, as well as upload more releases for distribution to Spotify - and it's 100% free!
Spotify Music Distribution Explained:
Before we actually upload the music, first you need some basic knowledge.
See, the term for uploading your music on streaming platforms is "music distribution."
Here is the technical definition:
Music distribution is the process of getting your music to the ears, eyes, and/or hands of your audience. You do this with either a record label or an aggregator.
Now let me explain this in simpler terms:
Basically, your music gets put into a "box."
Whenever a fan listens to your music, it gets taken out of the box and into their phone.
(That's what streaming music is, the audio file isn't actually in your phone unless you download it.)
So if you've been looking into how to put your music on spotify, distribution companies basically create that box for you, and share access to streaming platforms!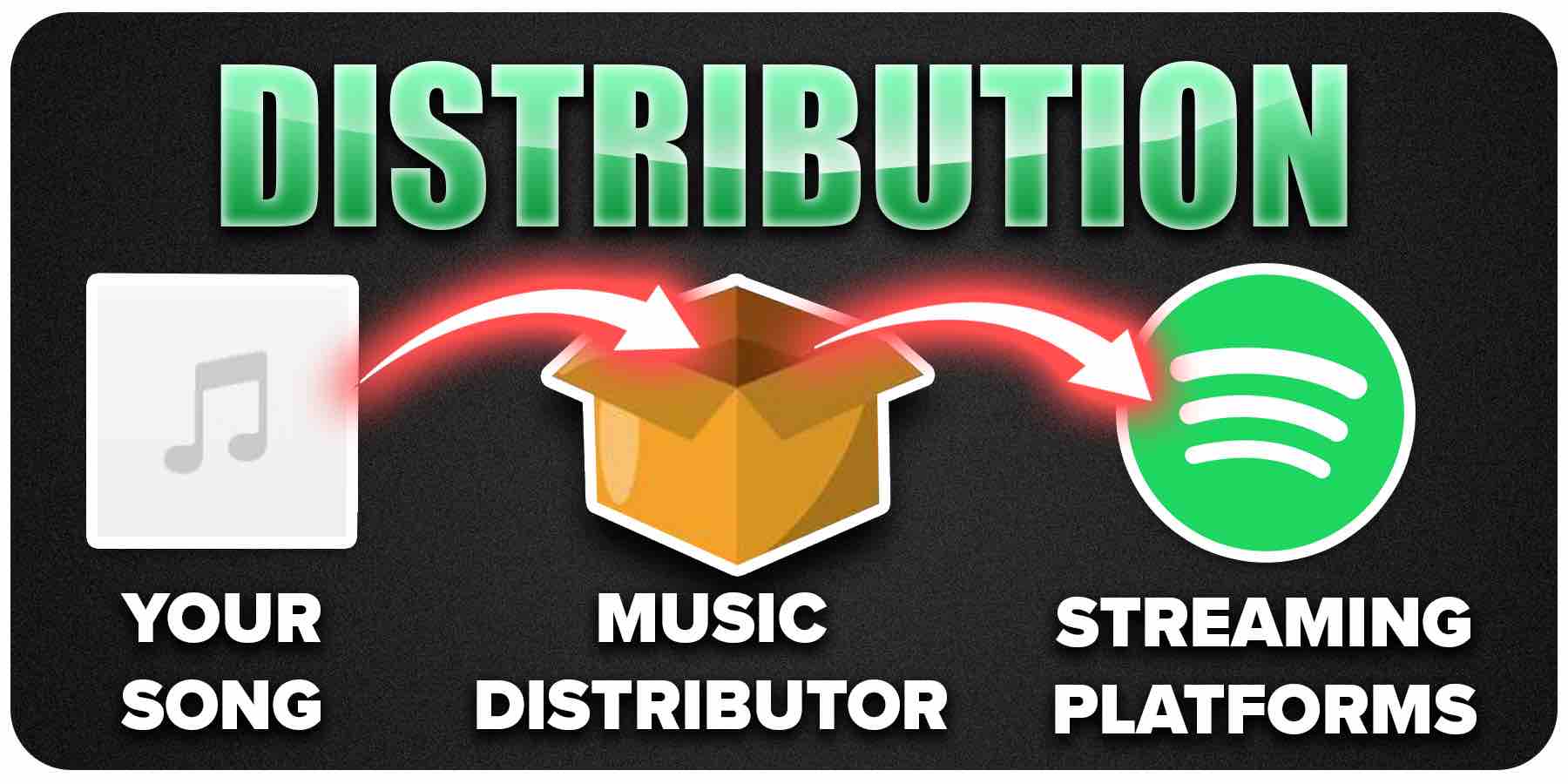 This lets you get your music heard by as many people as possible since streaming doesn't take much device storage.
Now without further ado, let's find out which service is best for you when it comes to uploading music to Spotify.
5 Best Free Music Distributor Services
Time to go shopping!
Let's get you a good Spotify music distributor so you can win.
What's the difference between the distribution companies?
This is it: pricing.
Some music distributors allow you to upload for free while others charge service fees or monthly subscription rates.
Let's deal with free distribution companies!
5 free music distribution services to get music on Spotify:
I don't advise the paid companies - because you're getting charged a pretty penny for essentially the same service.
It's kind of a big deal. That yearly fee kills all your streaming royalties.
If you're paying $50 yearly fee then you'll need a minimum of 20'000 streams to cover that.
F--- that.
I'm here to make money from my music, not pay expenses.
I still don't see why you should pay out of pocket to upload music to Spotify?
In fact, you can instantly upload and distribute your music with Boost Collective for free:
Which Music Distributor Should I Use?
Select a distribution company that fits your needs.
Submitting your music to streaming services is free, but these aren't interchangeable.
Some features you can find on Spotify for Artists, whereas others are dependent on the distributor selected.
Some of the services have bonus perks, whereas others fall flat.
Boost Collective for example has free mastering, free cover art, free canvases, free Spotify promotion, etc.
The more music you distribute with Boost Collective, the more features your upload through the platform!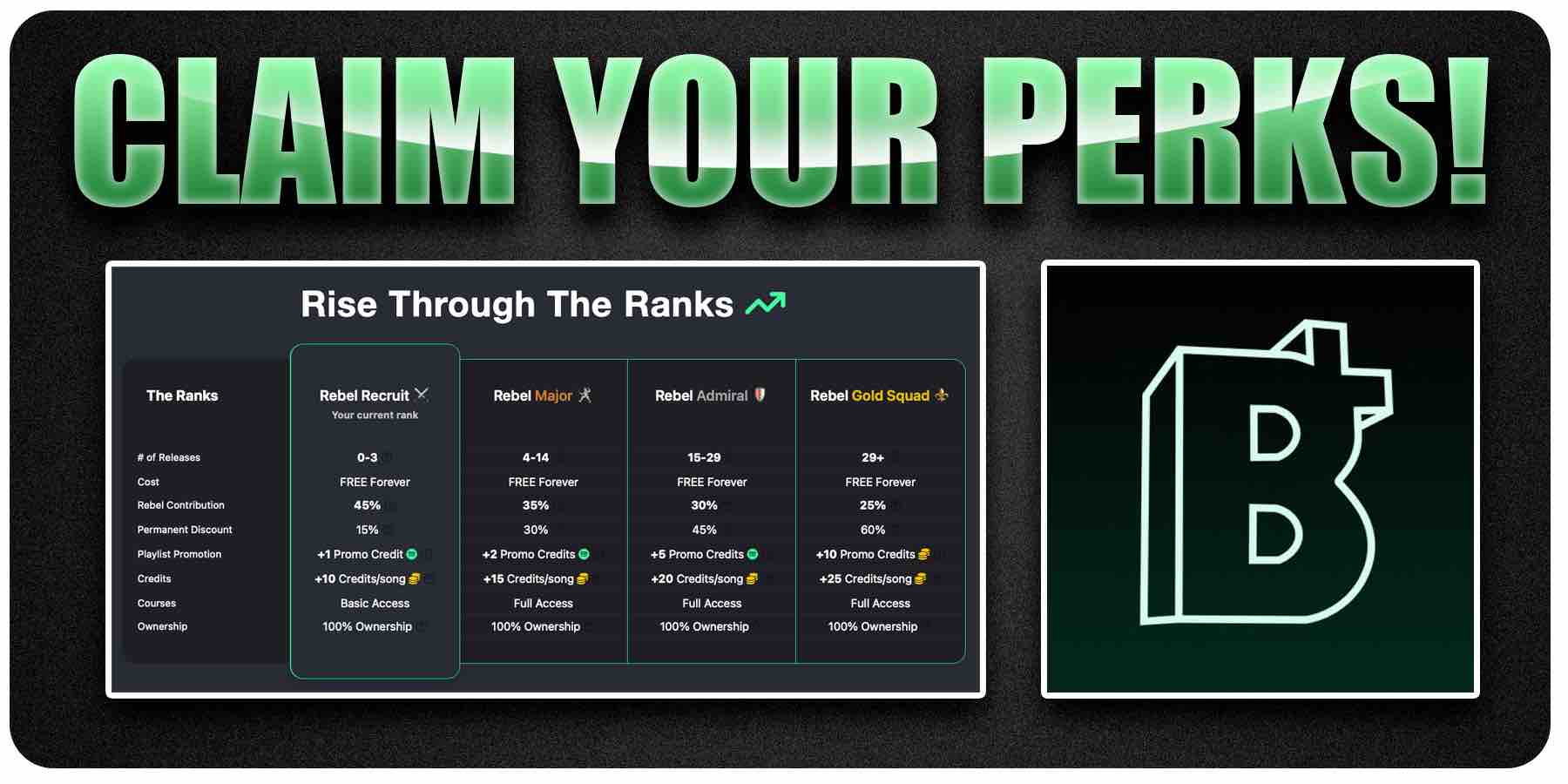 Upload music to Spotify and promote it for FREE with Boost Collective today!
Use our form to instantly upload your music to Spotify for free, trusted by 25,000+ artists:
Can I Upload music on Spotify Without a Distributor?
Now you might be thinking...
"Instead of using distribution companies, why not release it myself?"
Ahhh. Classic naive question.
You can't upload music by yourself, and this is why:
You can't release music to Spotify without a label or aggregator (digital distributor). To protect copyrighted work, Spotify agrees to only upload music from these verified sources.
Don't forget... Spotify doesn't ACTUALLY own these songs!
All those Drake and Universal Music Group tracks are only there due to strict licensing agreements.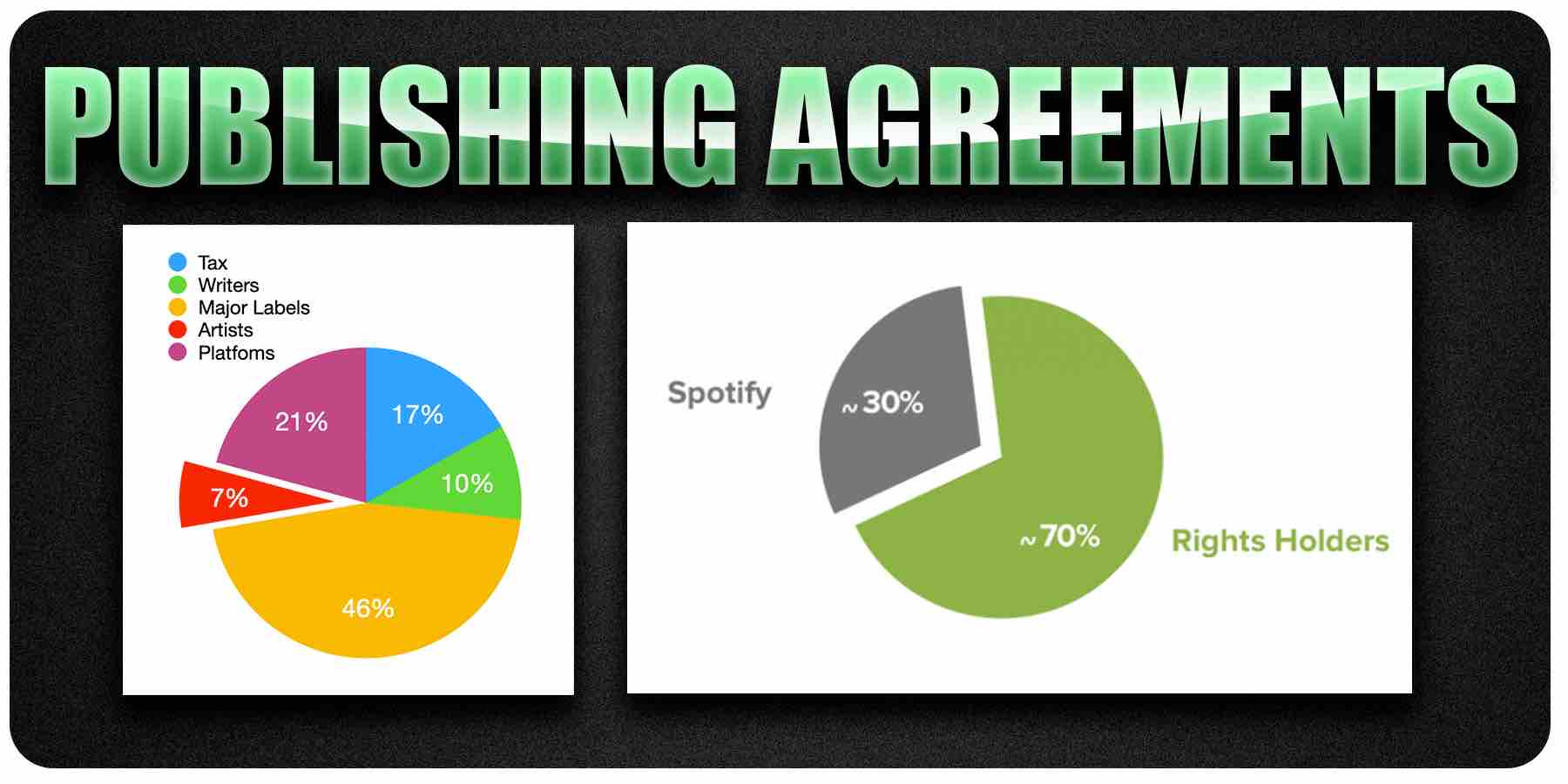 It's in the best interest of both Spotify and Major Label rights holders to put structure in place for releases.
But here's some good news though:
Without one of these arrangements set up, anybody can repost your music as theirs and steal royalties from you!
No record label wants their recording artist to be stolen from.
This "feature" (not much of a feature) would only lead to the demise of Spotify and the industry as a whole.
Just look at SoundCloud... Not doing so hot.
You can't even release cover songs and expect to make money for the music uploaded.
Just look at Youtube... The company gets in trouble for copyright issues 24/7.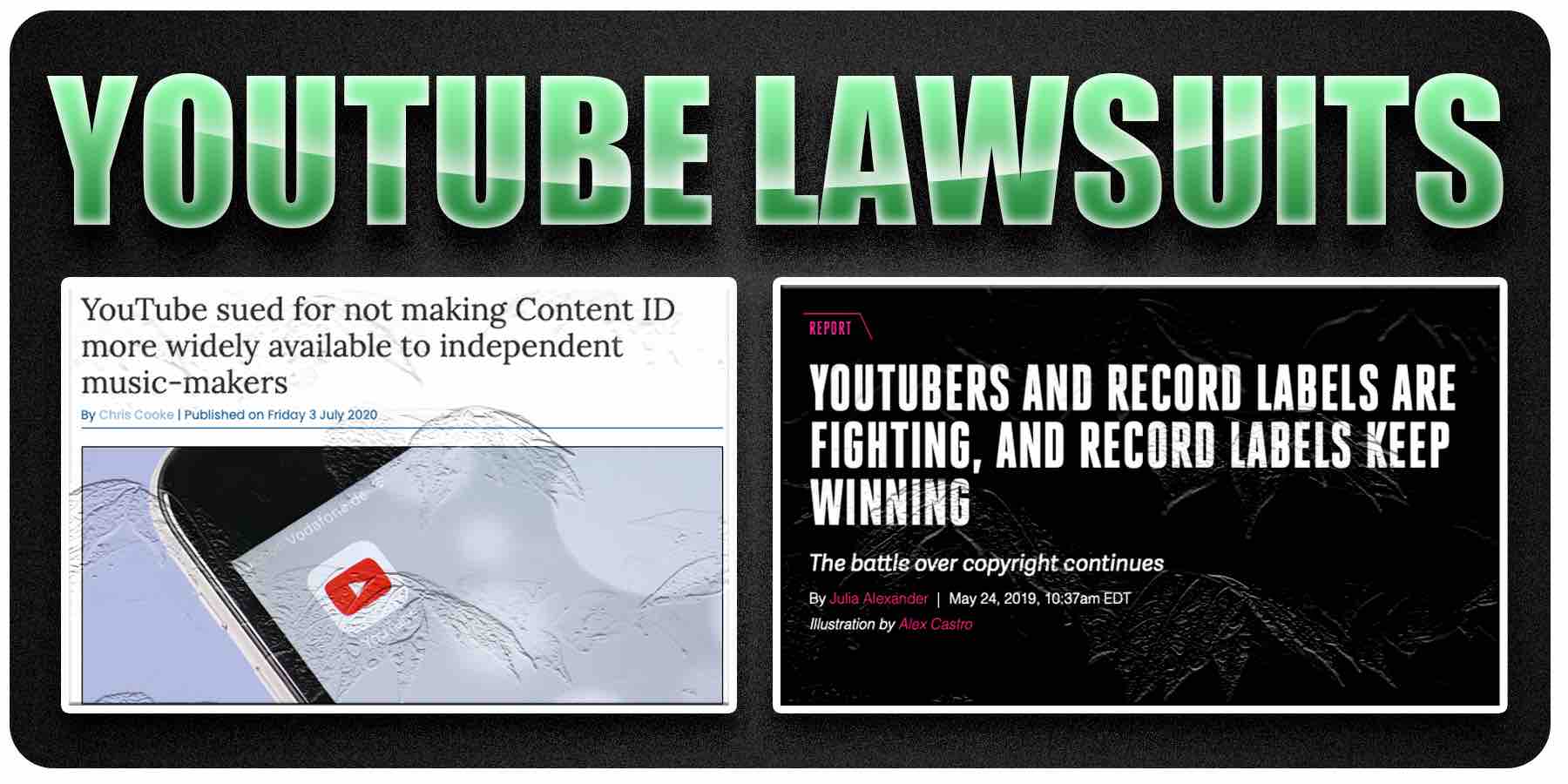 Now that I've blessed you with this knowledge, let's get your music on these platforms!
Upload music to Spotify and 150+ other stores and platforms for FREE:
It's the #1 way artists distribute their music to Spotify, without needing to pay a dime.
How To Prepare Your Own Music for Streaming Services
How do you know if your song is fully prepared for Spotify?
Sure, you can say it's ready but... How do you REALLY know?
You'll need to fit criteria to ensure full release success.
Here are the best practices for releasing music on Spotify.
Have the highest audio quality

Tag your song metadata correctly

Follow music upload guidelines
Now let's go into detail on what this means.
Preparing Audio For Release (Spotify & Apple Music)
Spotify doesn't use MP3 for audio... It doesn't even use WAV!
Rather, Spotify uses an audio codec called Ogg Vorbis.
This means that the audio that comes from Spotify is LOWER quality than you actual track!
So what should you do about this?
Export your music is in a standard format and ready to be distributed. WAV, AIFF, and FLAC are all common file formats that music should be in.
Avoid MP3 files like the plague. Your track won't sound so crisp on loudspeakers.
Don't forget - not every listened has $500 monitors like you do.
Some people listen on car speakers, headphones, AirPods, etc.
It's essential that you record/master your music in the highest fidelity codec to ensure clear music when released.
Now, audio file is just ONE aspect of the release process.
The second is proper metadata tagging.
So then... to answer the question of how to post music on spotify, you can actually get started now! Upload your music to Spotify and 150+ other stores and platforms for FREE:
It's the #1 way artists upload to Spotify, without needing to pay a dime.
How To Use Music Metadata For Success
Woah woah woah!
I know I just dropped a big word like "metadata." 😩
If you don't know, this is what metadata is:
Metadata is the elements of the song that isn't publicly displayed but is crucial to identifying the song.
When uploading a song to a music distributor, you must provide metadata. This includes the album title, track number and artist name. Metadata can later be changed depending on the distributor used.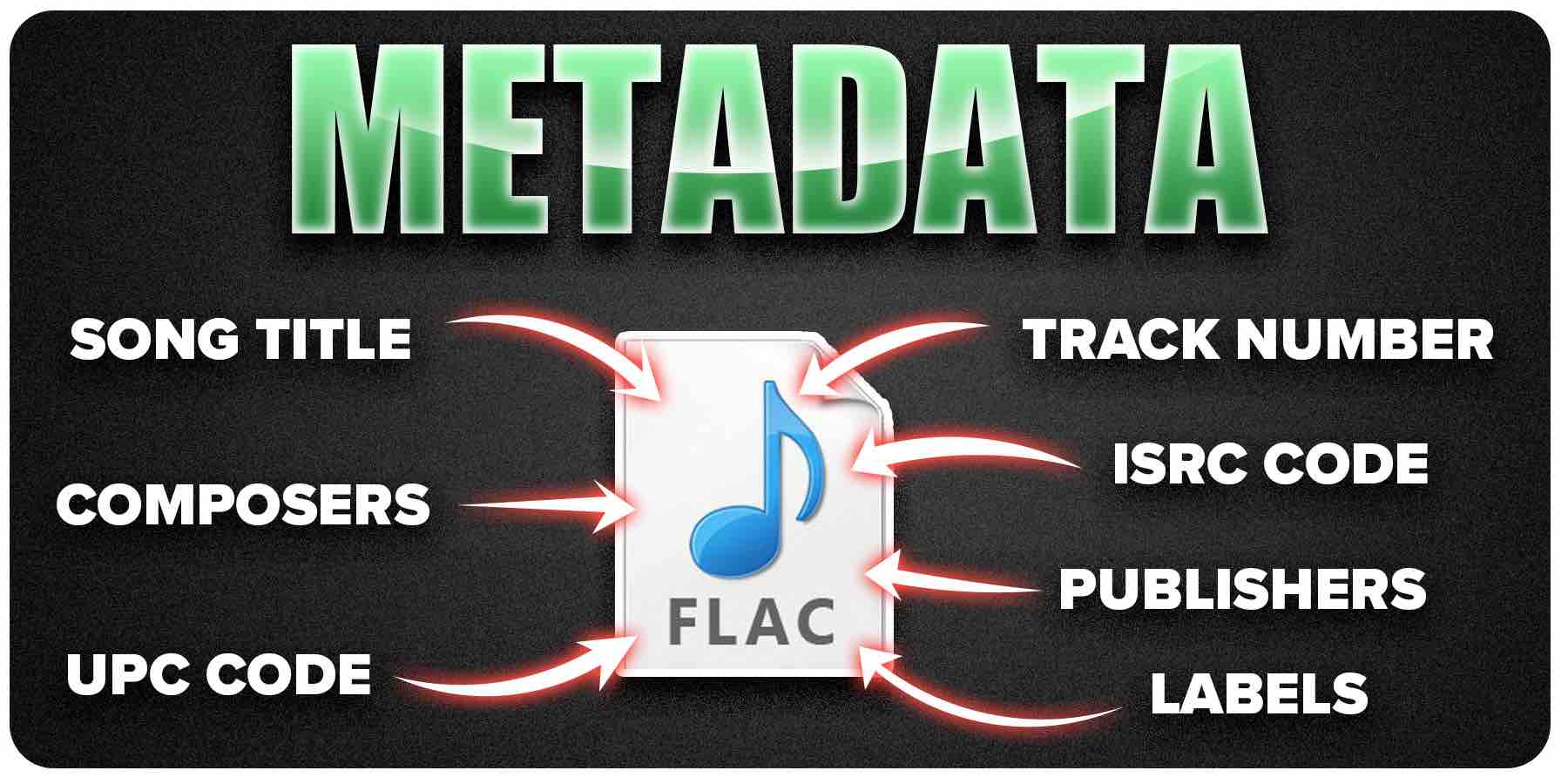 Metadata is essential.
Spotify uses Metadata to know who's song belongs to who, as well as how the song is structured for algorithmic promotion.
For Spotify to access this metadata, music distributors may also have their own form for you to fill out for getting music on spotify.
Tip: Make sure that all of the required fields are completed accurately and completely before submitting them.
You don't want any confusion about what type of songs or artists are represented by your account.
If you mess up this stage, it can be hard (or sometimes impossible) to reverse, leading to an unwanted take-down of the track.
Some music distributors such as Boost Collective are great because they allow you to change your metadata AFTER you upload music!
Now, we just covered metadata... let's talk artwork.
Get started now! Upload your music to Spotify and 150+ other stores and platforms for FREE:
It's the #1 way artists distribute their music to Spotify, without needing to pay a dime.
Uploading Your Music Cover Art to Spotify
If you're releasing music online, you'll need artwork.
Here's you'll have to choose between hiring a professional designer to create custom artwork or editing stock photos.
While free stock photos are almost never the ideal choice, there are still some instances where using them is acceptable
In the case where you're going for the simple look, you can add text over an image and it's solid!
This is what Kanye West did for his album "ye". 👇
Otherwise, I recommend you hire a designer to create it.
But the best news of all... There is a third option.
You can use Boost Collective to get free cover art for your Spotify music!
This is included for EVERY member that distributes with them.
You won't find CD Baby do this for you anytime soon.
Check below - you may be entitled to free artwork! 👇
Bonus: Get Your Song Placed on Spotify Playlists!
Now that your music is in on Spotify, let's get it heard!
There are 3 types of playlists on Spotify to get your songs on:
Spotify editorial playlists

User-Generated Playlists

Your own playlists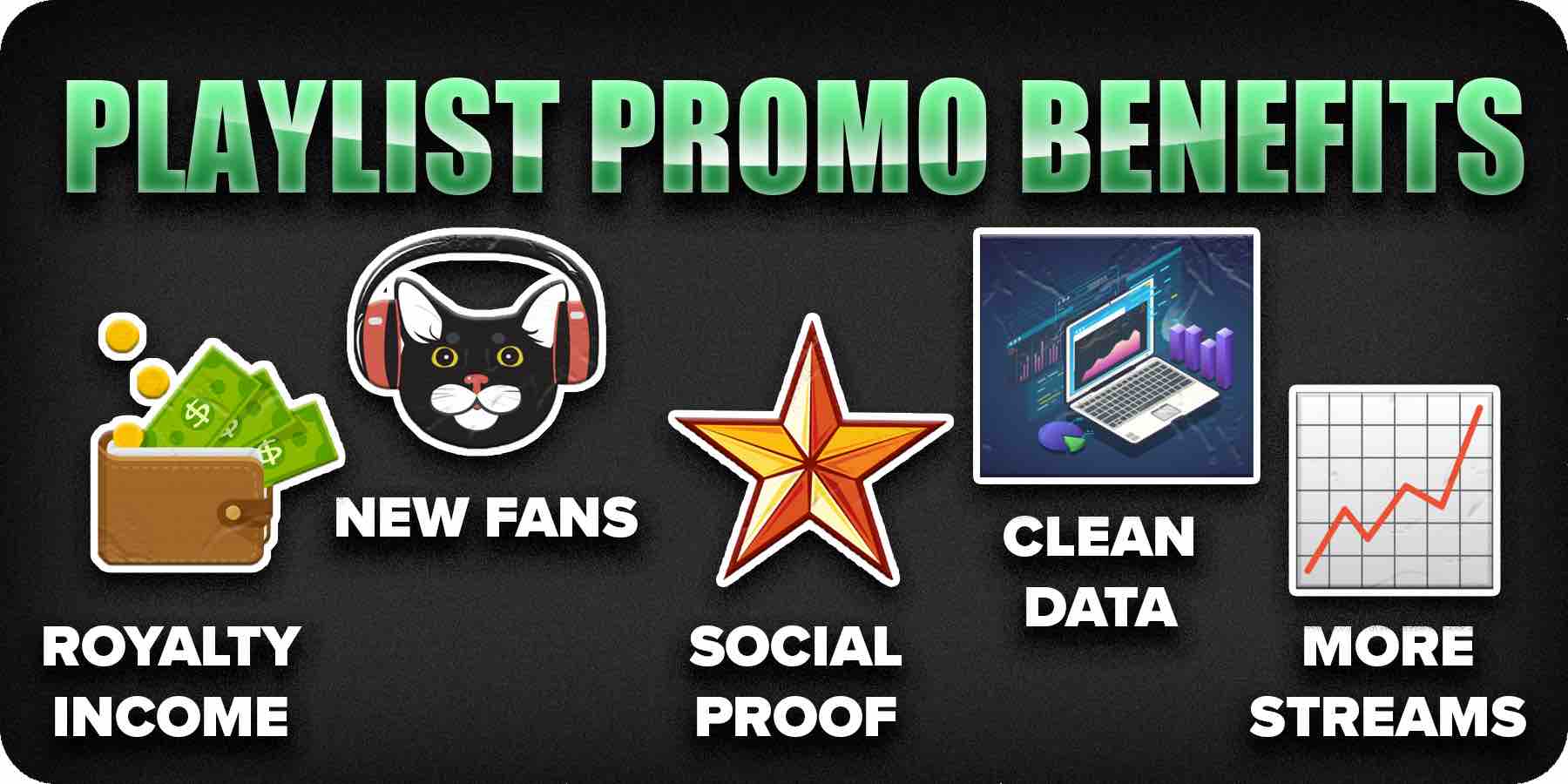 How to use Spotify's built-in submission tools:
On the Spotify web player, Click Setting and select the Submit tab. You'll see options to directly submit your tracks to Spotify's Editorial team for playlist consideration.
You can also submit your tracks using the Spotify mobile apps (iOS/Android).
Not every musician gets accepted by Spotify's editorial team though...
Fortunately, Boost Collective promotes your music for you.
All you need to do is upload with them - and you're good to go!
Boost Collective can put your music on a Spotify playlist for free.
Hip Hop, Rock, EDM, etc. We've got all the genres.
Artists pay enough money as it is... There's no need for more expenditure.
Add Physical CD & Vinyl on Spotify
There are other pros when you upload music to Spotify!
Physical CDs and vinyl records are great ways to get your music out to the public!
Spotify has this as a service for music artists that want to branch into physical media.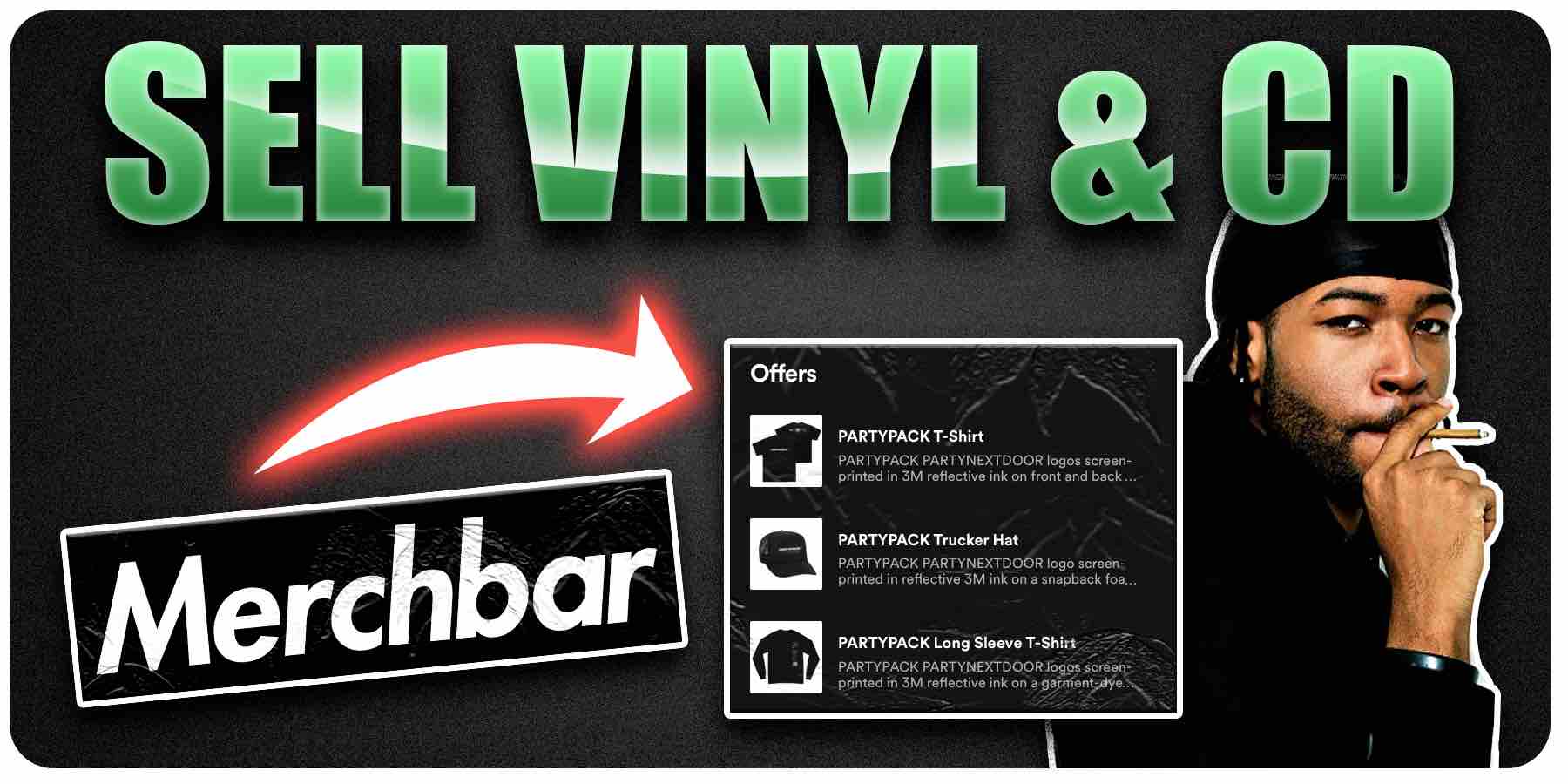 Although physical media was on the decline, it's still lucrative if you're able to generate the right demand!
Streaming royalties take a long time to generate so other services like this are a god-send.
Not only is there a healthy profit margin, but it feels good to have somebody appreciate the value of you music.
However... This is only possible if you have the means to produce them.
For the most part, the costs of producing a vinyl record or a physical CD are almost nothing, but you'll need to hire a manufacturer to get the job done.
It's the #1 way artists distribute their music to Spotify, without needing to pay a dime.
Here are the best practices for selling Vinyls on Spotify:
Use Merchbar to produce vinyls that you can sell on digital retailers like Spotify. It takes 5 minutes to integrate onto your Spotify profile and is very lucrative.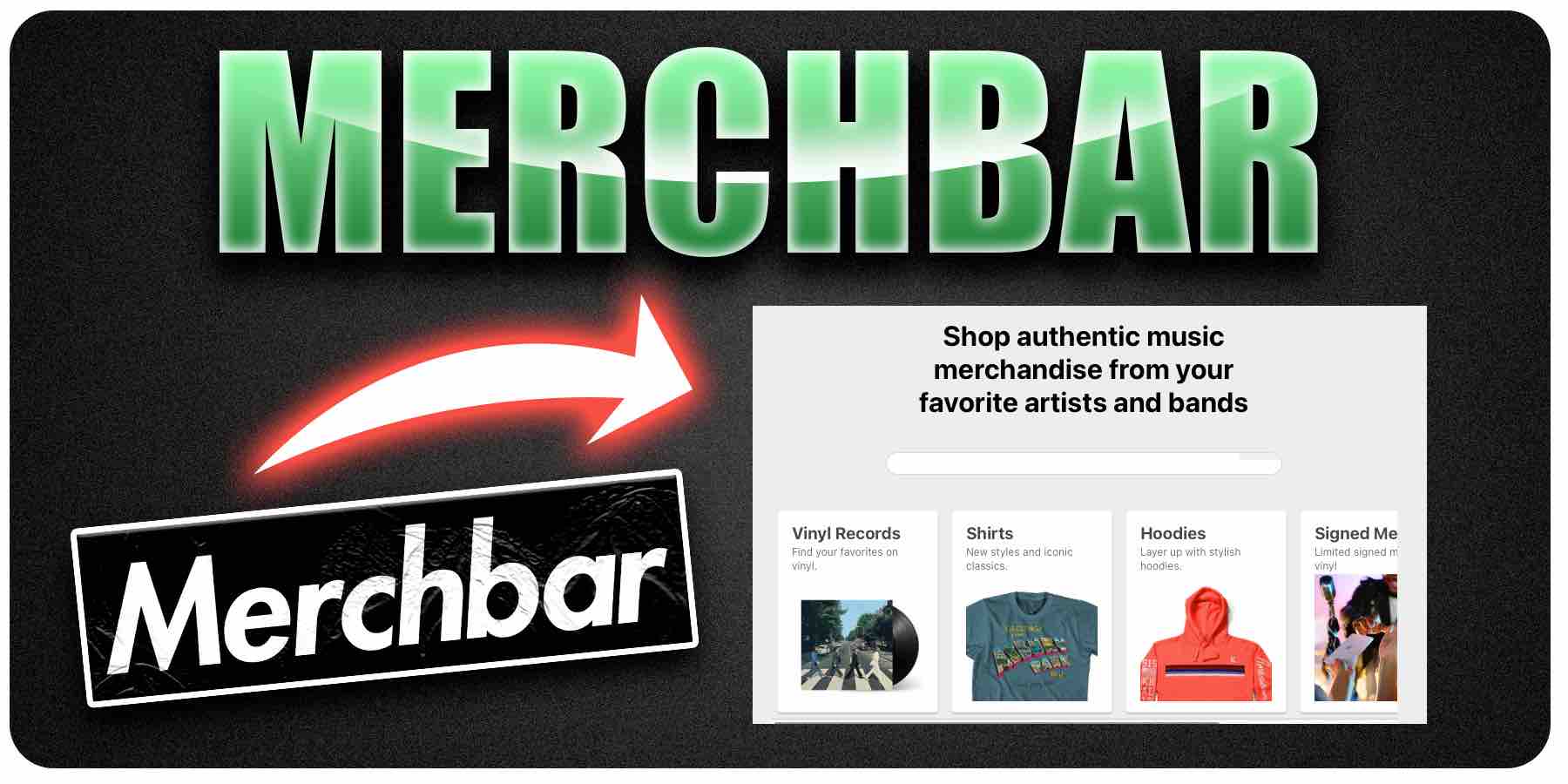 Remember to professionally master each track on an album to sell them independently of each other when in Vinyl and CD form.
You don't need CD Baby or any music distributor to get this done.
Finally - a completely free feature for the independent artist!!!
You don't see too many of those in the new music industry.
How to Add Lyrics to Your Song on Spotify
I advise you to add lyrics when you upload music to Spotify.
Want some sick lyrics to showcase your singer-songwriter skills?
To add song lyrics to your Spotify track, you'll need to sign up with a lyric directory service such as Musixmatch or Genius. This feature is called "Behind the Lyrics."
Benefits of getting your music on Musixmatch:
Have lyric appear on Instagram music

Spotify "Behind The Lyrics"

Get your music easily on Genius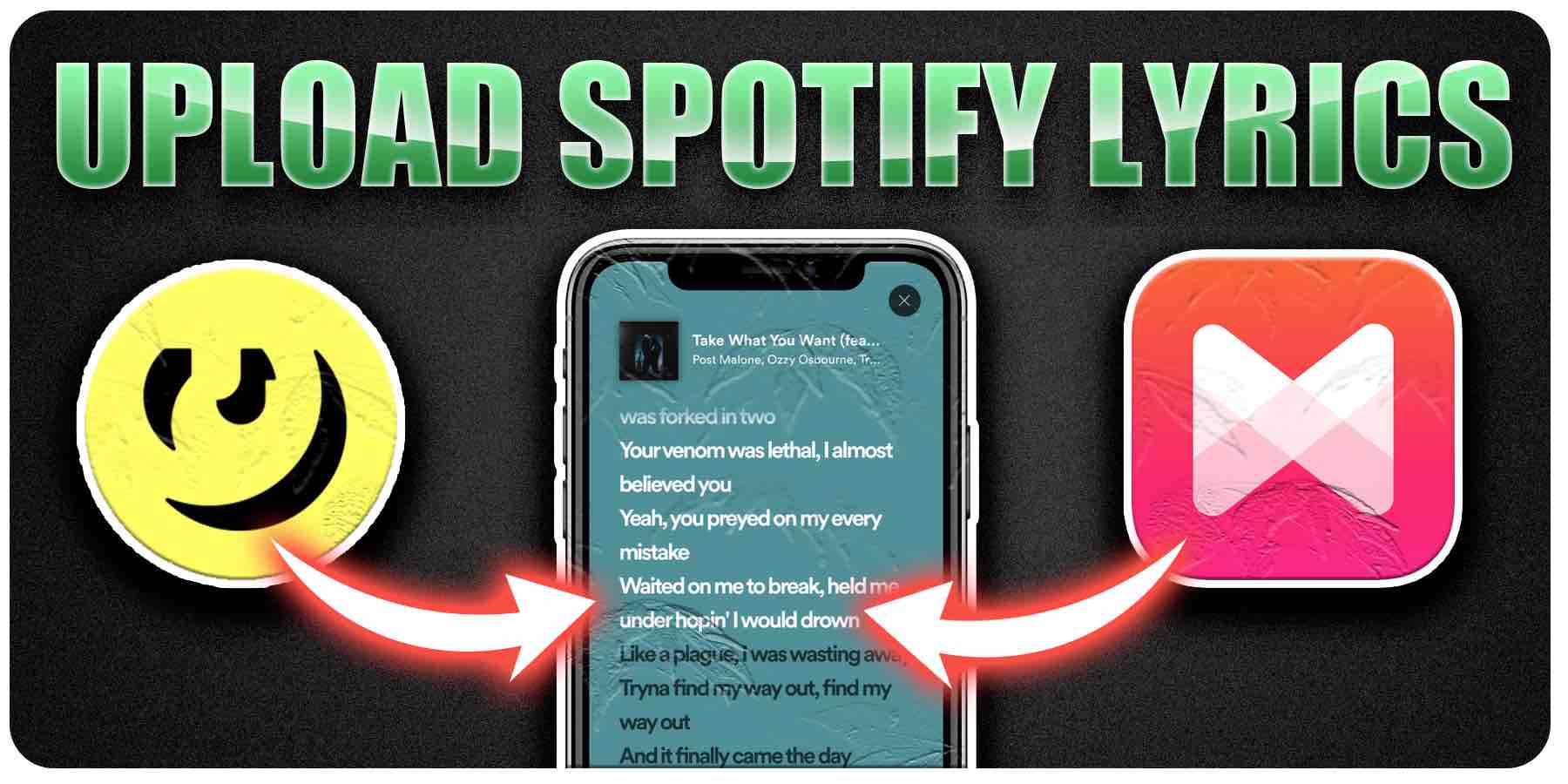 Musixmach is already synched to most music distributors so it won't take any effort to do this!
Yo get your music on Genius, just copy from Musixmatch and paste.
It's an easy platform, and the best thing in the world!
How to Add Lyrics on Musixmatch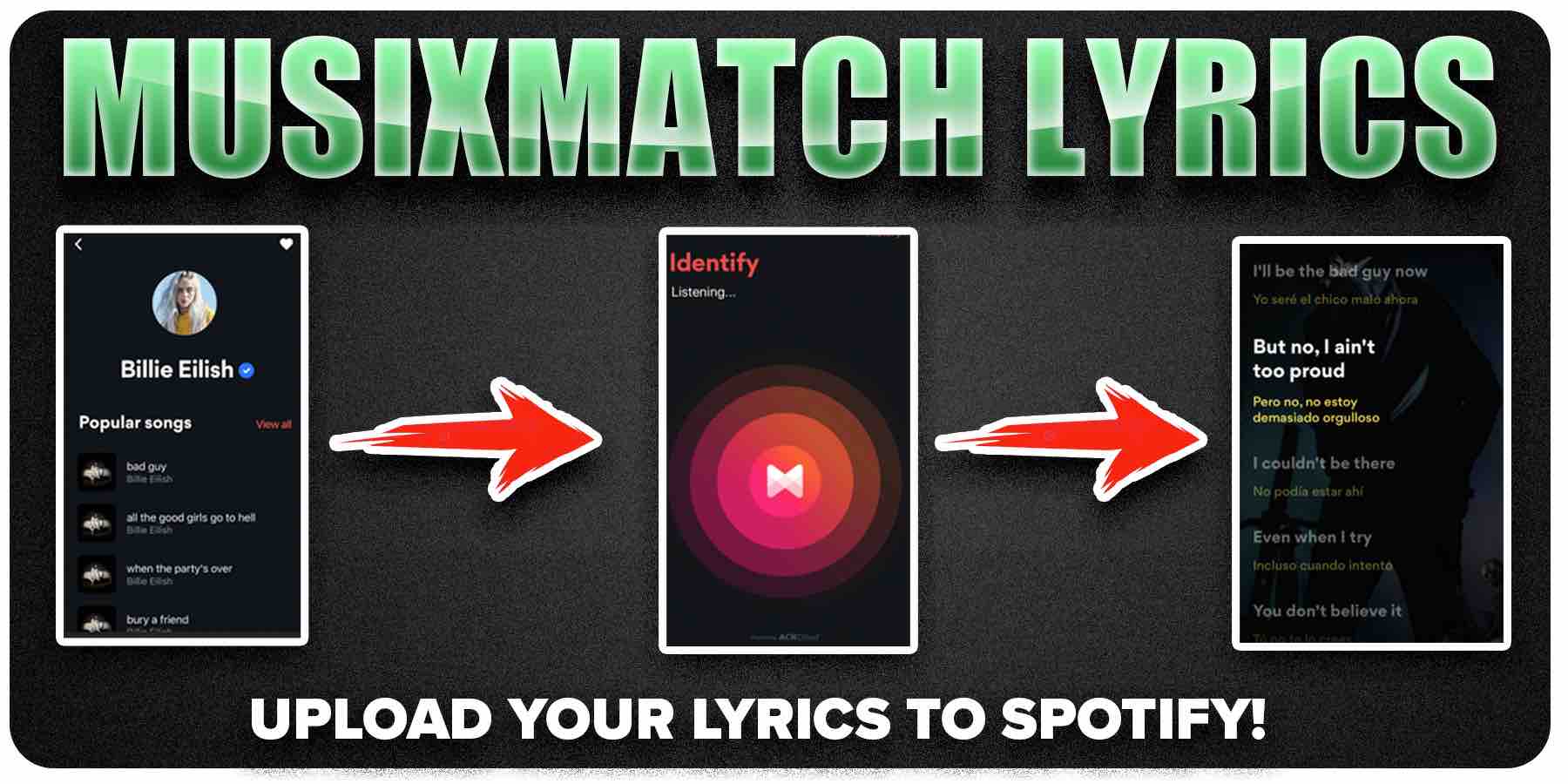 It's much easier to get your lyrics up than you may think!
Step-by-Step method to get lyrics on Musixmatch
Create an artist profile on Musixmatch.com

Type in the lyrics to your song

Download the Musixmathc app and connect with Spotify

Locate the song to synch

Sync the lyrics to the songs
It's very simple, even a monkey could do it!
(And no. I'm not calling you a monkey.)
How to Release a Collaboration Track on Spotify
Collaborations are the key to growth in the music industry!
That's how I've generated over a MILLION streams:
How to release a song with a collaborator:
If you have an album with multiple main artists, you can list them in the "Artist/band name" section of the upload form to indicate a collaboration.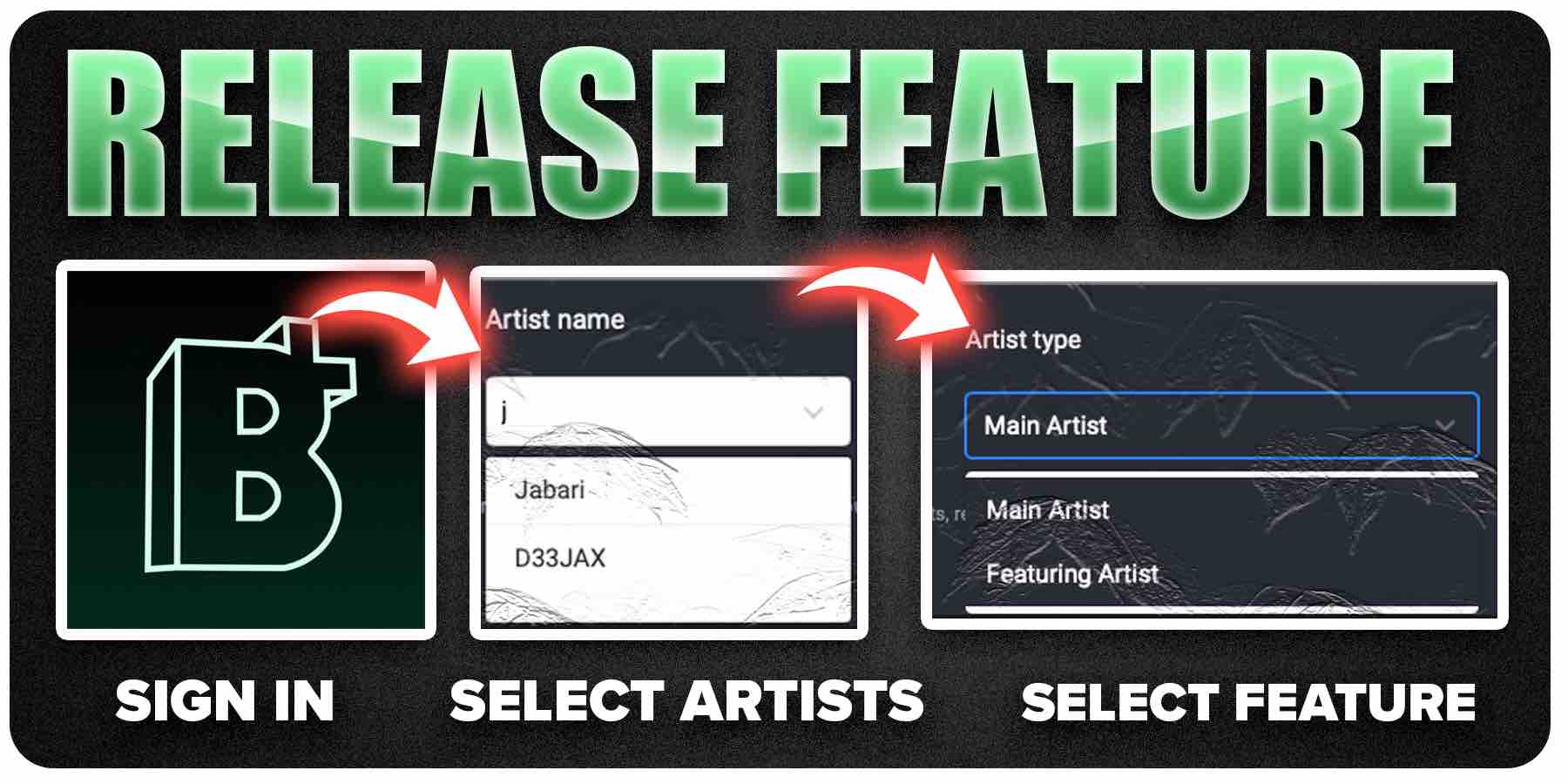 There are different kinds of collaborations, there are "features" and "main" collaborations.
Example: another rapper or having a staff writer.
These differences can seem small, but when it comes to the Spotify algorithm tagging it's a huge difference!
Just note - some streaming services do not show all collaborators. Tidal is one of these.
Get started now! Upload your music to Spotify and 150+ other stores and platforms for FREE:
Claim your Spotify song: step-by-step
Now that your song is out, the job is far from finished!
We need to claim our music for access to analytics, royalties and promotion.
Claim your artist page by following these steps.
Find your artist's profile on Spotify and copy profile link

Go to Spotify For Artists

Click "Claim Your Profile"

Select whether you are an Artist or a Manager

Paste in your URL from step #1

You'll see a preview of what it will look like once you have claimed the Page, click continue if this is correct otherwise change details before continuing.
Best part - this process is the EXACT same for Apple Music releases!
Get started now! Upload your music to Spotify and 150+ other stores and platforms for FREE:
It's the #1 way artists distribute their music to Spotify, without needing to pay a dime.
How long does it take to release music on Spotify?
Ready to get your music on Spotify but don't know how long that will take?
It usually takes just under a week for a music distributor to get your music on Spotify. Expect 4-5 days for a single and 5-7 days for an album/LP to show up on platforms.
Note: to release on Apple Music is can take more or less time.
It also may take a while before your song becomes approved and is sent off to the streaming services and stores if it does not meet certain policies or needs more information.
Avoid this by reading the release policy in advance!
The last thing you want is to tell your music fans that your song is out... Only for it to be waiting in progress.
That's the fastest way to lose potential fans (especially if it's your first release!)
You want your first release to go right.
Get started now! Upload your music to Spotify and 150+ other stores and platforms for FREE:
It's the #1 way artists distribute their music to Spotify, without needing to pay a dime.
How to get a music visualizer on spotify
A Canvas is a static visual loop that will fill the entire screen.
4 easy steps to uploading a canvas on Spotify
Go to boostcollective.com

Download free Spotify Canvas Visualizer

Sign into Spotify for artists

Upload your visualizer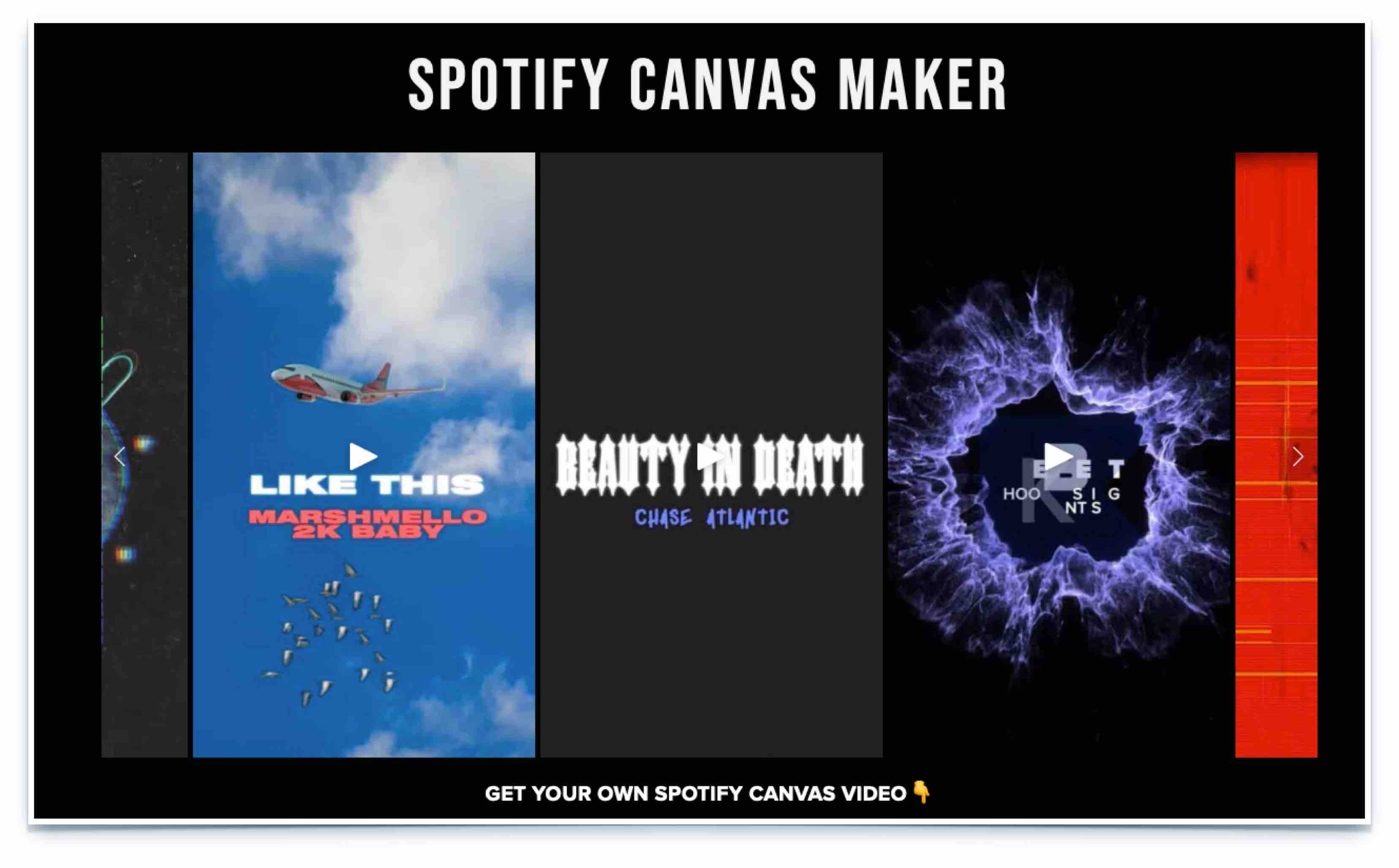 (Depending on which device you have, you'll see settings in the top right corner.)
It appears in the Now Playing View instead of your album artwork!
Here's a cool Spotify app visualizer fact:
Your release date doesn't matter.
Your artist profile and canvas can be edited whenever you like.
Just go on Spotify for Artists and upload easily.
This is probably one of the best features Spotify offers.
How to Take Down Music from Spotify
To remove a song is actually much easier than it is to upload new music!
So how can an artist remove their song from Spotify?
You just need to submit a takedown request within the distribution platform. Some music distributors can take up to 2 weeks to remove a track, but others are much faster.
Boost Collective has the fastest releases and take-down times.
How to take down your own music from Spotify
Sign into your music distributor

Select track for take-down

Tap Request the take-down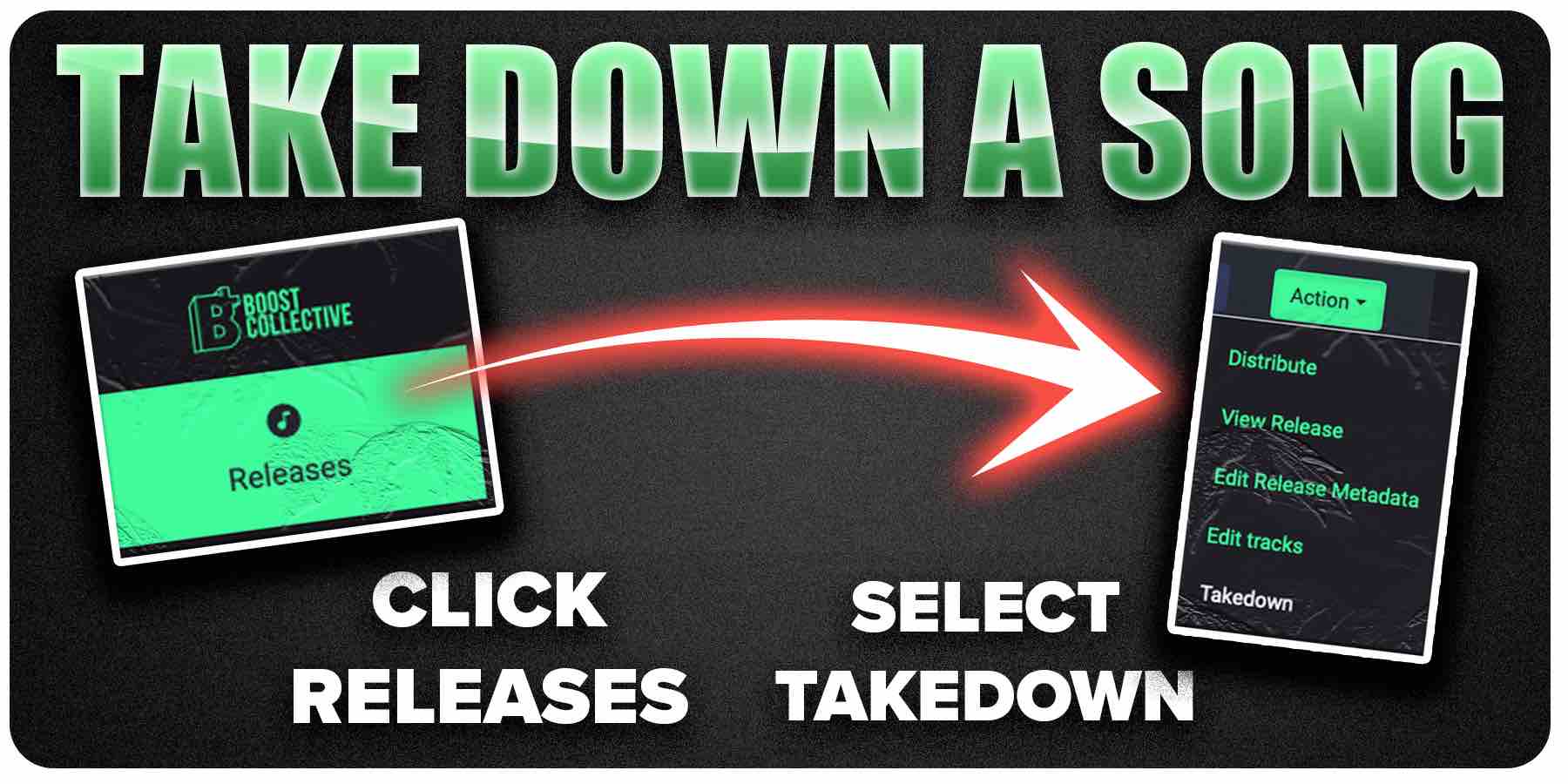 Just do these small, simple things and you're golden!
All social links to the track will remain, but the song will appear grayed-out: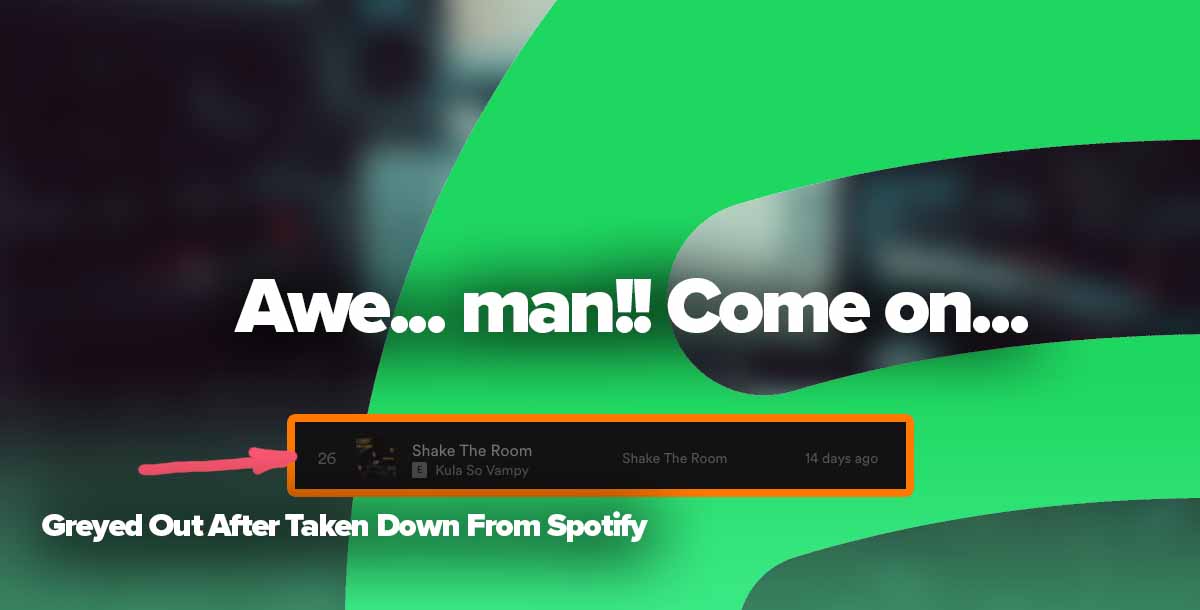 Reminder: try not to do too many take-downs as that can dramatically hurt your growth and algorithm data buildup.
Keep your original music online, fans might discover it on a streaming platform and enjoy it!
Get started now! Upload your music to Spotify and 150+ other stores and platforms for FREE:

It's the #1 way artists distribute their music to Spotify, without needing to pay a dime.
Join The #1 Platform For Music Artists.
We're starting a revolution - and putting music artists (like you) first.
Boost Collective is a must-join platform for music artists.
Join the rebellion! and get free music distribution, free music promotion, and more.
We're on a mission to change what is possible in the music industry and we need you!