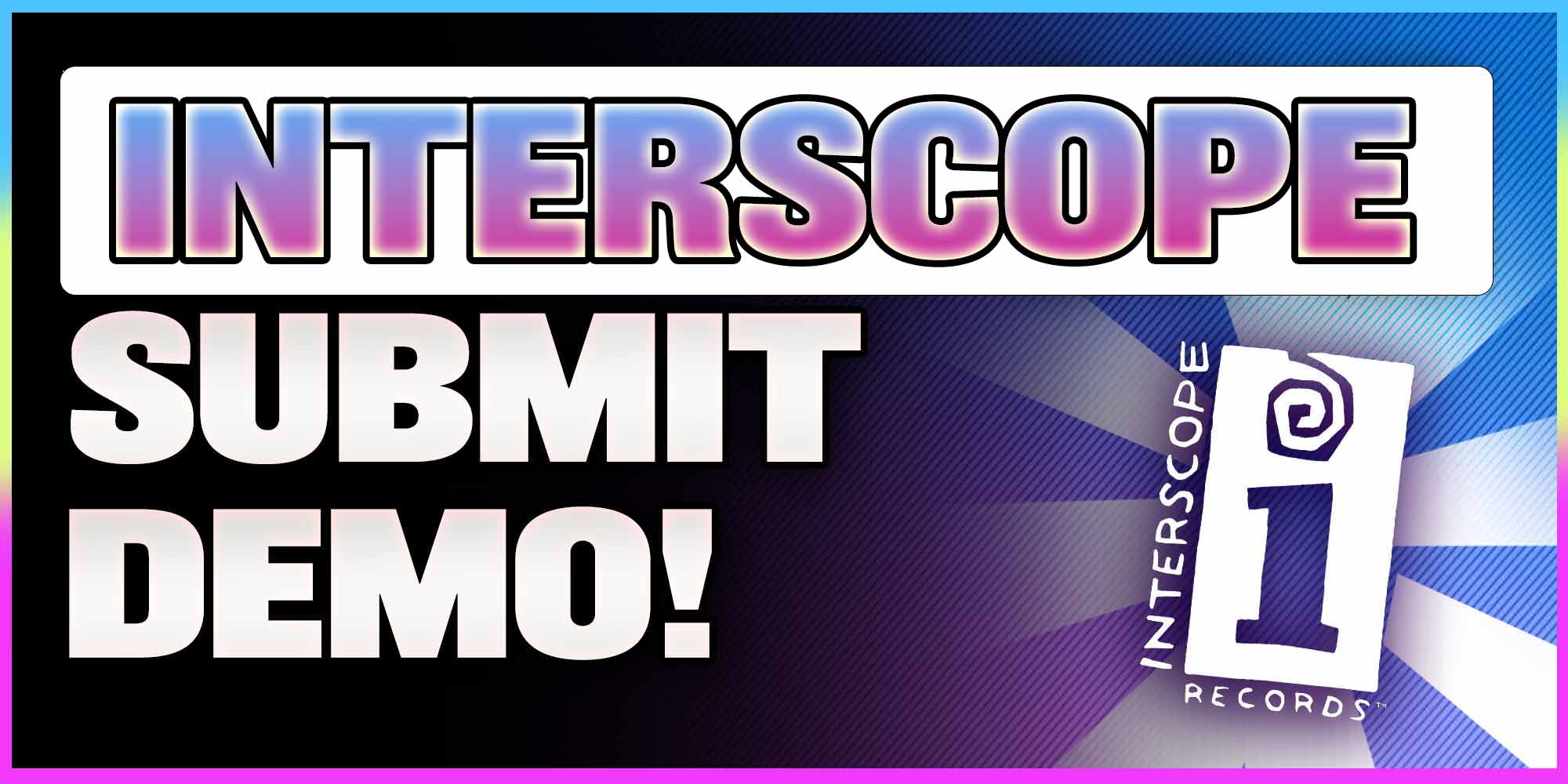 submit your demo to Interscope and get signed!
Since Interscope Records is always on the lookout for new talent...
You should send them your demo!
Along with Universal Music Group and Capitol Music, their business is to sell music.
This record label would love to hear from you if you are an exceptional musician.
That said... These top labels like Atlantic records don't accept unsolicited material.
Submitting music is possible, you just need to follow the correct path.
This is the path that gets you from independent musicians to industry professional!
To put it another way, you don't have to be famous to catch their attention.
This is your moment to display your abilities to the world.
Regardless of genre 0 if your song is good then there's space for you!
You can apply in a few minutes with minimal effort.
Related: Submit Your Music to Atlantic Records!
Do you make good music?
Submit your song, if I like it then I'll add it to my Spotify playlist.
I'm taking song submissions of all genres👇
How to submit music to Interscope

We've established that the submission process is simple and speedy.
You can get started on your project right now by choosing a social media platform.
To submit your music to Interscope Records, you need connections with insiders. This is essential to build your music career.
Whether it's an A&R or even Radio DJ... Networking makes your music career go round.
Here are tips for sending record label submissions:
Make sure your demo track sounds great before sharing it with the world

Create a press kit for your music career

Research the music group before submitting your demo

Subscribe to the records news letter

Link to your Spotify profile

Include a video in your pitch

Make your message brief

Finish mastering the created demo in advance
Good news: once submitted you don't have to worry anymore!
Bad news: once submitted there's not much you can do.
While you can message them again, it's best to maintain goodwill and not annoy them.
Whether it's Santa Monica or New York - be prepared to customize the submission.
You can upload your MP3 or WAV file through email (hosted by dropbox.)
Most new artists don't have much to add in their EPK (Electronic Press Kit) so make sure that you actually do things!
Man artists haven't had a single gig, less than 10k monthly Spotify listeners and didn't make a cent in royalties.
These are the things that record label executives want to know when listening to your music.
In the pitch, should put the name of the song, your name, your email, and any other contact information you'd like folks to have.
Now begins the tense waiting game.
Related: Submit Your Music to Def Jam!
Read THIS Before Signing A Record Deal.
This banner above (with the book) ☝️ is the BEST resource in the music biz.
This book is widely used in music schools around the world and was called "the best how-to book of its kind" by Music Connection.
It inspired thousands of people to stop waiting for their "big break." and to claim success!
Ari
Herstand,
who
has
become
the
go-to
expert
for
"do-it-yourself"
artists,
is
back
with
a
second
edition
of
his
book.
(He's become a friend of mind too, cool guy. 😆)
Ari
says
that
a
stable
career
can
be
built
by
using
the
many
tools
we
have
at
our
disposal:
Mastering

social

media

Mastering

the

art

of

merchandising

Embracing

real

connections

with

fans

And

just

learning

how

to

keep

going
It
is
completely
up-to-date
with
the
latest
online
trends
and
news,
and
it
includes
inspiring
success
stories
from
media
like
Spotify
and
Instagram.
If you can't invest $25.00 into your brain - just quit your music career.
The information is work it a thousand times over.
Check out This Book and it may just save your music career. No joke.
label pitch: music industry tips
Take note of what they require of you in terms of submissions.
Access them via the "submit music to Interscope recordings" on Spinnup.
Fill out this form to submit your song.
The video below should give you clarity on how to do so. 👇
This Spinnup form submits your demo to Universal music group as well as subsidiary record labels!
Therefore, you can also sign to these record labels:
Shady Records

Capitol Records

Virgin Music Group

Republic Records
Your music must be 100% original and unreleased anywhere.
Digital distribution takes original work very seriously!
Don't worry if we don't get back to you for three months.
If you don't get a response the first time you submit, that doesn't mean you shouldn't try again!
The odds are in your favour, and I hope the best for you.
Related: Submit Your Music to Maybach Music!
Do you make good music?
Submit your song, if I like it then I'll add it to my Spotify playlist.
I'm taking song submissions of all genres👇

tips for submitting music to Interscope records

When is the last day to turn in an entry?
They welcome music submissions at any time and have no restrictions on when they can be sent in.
About how many songs should I send in?
Feel free to submit multiple tracks, but please note that only one will be used.
Record labels such as Warner Music Group listen to demo submissions and decide where it goes.
Typically, depending on genres you may not be able to get sign a deal...
They require that the artists fit an unmet demand in the market.
Reach out to different producers and get feedback on your music.
The more additional information you can get in regards to the music market - the better!
As a producer, there is no real reason for a manager - except for pitching to labels.
Managers are experts at creating contact and have mastered the art of outreach.
Having a decent music manager on your team will bring life to your label pitches.
This stuff seems small, but as a music producer, it's essential!
Selena Gomez has the same circumstance.
There's a chance you may sign to Atlantic Records instead of the main labels.
As an artist, this is a good thing!
It means that when you sign, the label managers will be most interested in your music.
Related: Submit Your Music to OVO Records!
Bonus: Submit music to capitol music group

Alright, if you don't want your song to end up in a spam folder...
You need to submit the right artist demos to the right record labels.
You can't just contact them with a generic pitch and a few demos.
Many artists do this and fail horribly!
Your pitch to Capitol Records needs to be of the highest quality.
The team at these record labels may only want to work with specific artists.
For example, Universal music group signed both Jay-Z and Daddy Yankee.
Different producers work in creating their campaigns.
Make sure that when sending your high-quality demo - you can picture space for you in the record label roster.
Check out their news letter for updates on the company!
It can help you after your demo is submitted.
Related: Submit Your Music to Cash Money Records!
Do you make good music?
Submit your song, if I like it then I'll add it to my Spotify playlist.
I'm taking song submissions of all genres👇

Conclusion
Interscope Records is a fantastic choice for any young artist.
If you're unable to grow on SoundCloud/Spotify by yourself... Then they won't sign you.
Take some time to become prolific as you form your career.
In terms of making your musical ambitions come true, there is no better place to start than with Interscope & Universal Music Group.
Unsigned artists can link from indie records to Youtube top 100.
Contact as many people in the music/other industry and see where that goes.
If your music genre is in need - you may hear back from the Interscope Records website!
They are looking to expand their repertoire with fresh talent and are now taking submissions of original songs.
You may take the next step toward becoming a renowned recording artist by using the advice in this article to promote your music to the proper audience.
I hope you succeed!
Related: Submit Your Music to YSL Music!
Join The #1 Platform For Music Artists.
We're starting a revolution - and putting music artists (like you) first.
Boost Collective is a free-forever music distribution platform. Upload unlimited releases to 150+ stores and platforms and keep 100% of your earnings.
You'll also get free playlist promotion, cover art creation, and much more!
Join Boost Collective for free here.