SHOULD I DISTRIBUTE IT? IS IT EXPENSIVE? I'M CONFUSED!
Whether you're trying to get heard on Apple Music, Spotify, Google Play, or any relevant streaming service, you're going to need a good music distributor. These can get pricey though, as a lot of things can in the industry.
Taking a look into different free music distribution services, you'll want to research and make sure you pick the one that suits you best!
Looking for the best digital music distribution platform, that will get you on all the streaming services? Keep scrolling, we have quite the blog for you!
(You should read our ultimate music distribution guide to perfect your next release!)
Use Boost Collective's free music distribution platform! Distribute unlimited songs to 150+ stores/platforms, and protect your content with Content ID - while also keeping 100% of your earnings. Use this upload form to distribute your single now:
Want access to our Invite-only distribution platform? 👇

Boost is the platform artists go to when they're ready to graduate from basic distributors anyone can access. Here's what they have to offer.
Promotion On Autopilot - Every release you distribute is automatically pitched
Free Asset Funding - From cover art to video visuals, artists get it all when they distribute through Boost Collective
Future Growth Opportunities - As you grow, more doors unlock with Boost. From editorial opportunities to advances, distribution deals and more. All whilst you stay independent!
Boost Collective is the #1 trusted source of music distribution for artists - You can protect your content and earn royalties whenever it is being used. Enjoy!
We'll send you a login to manage your song and future catalog after we've set everything up for your release!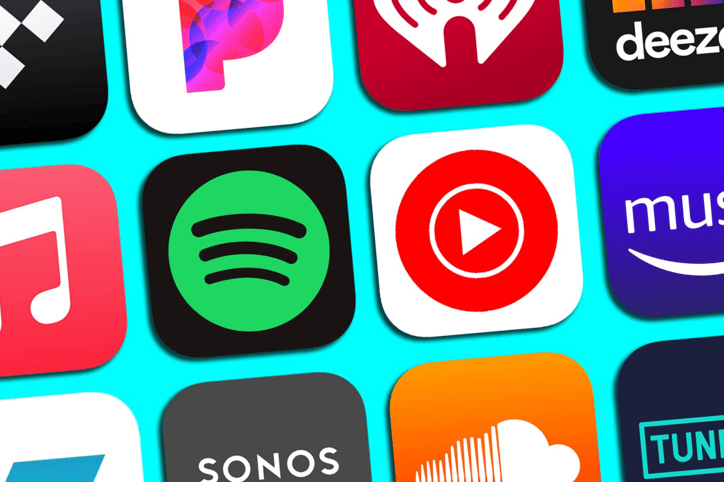 What is Music Distribution?
It's essentially how you get on your music on Spotify and Apple Music, & beyond!
There are a lot of people who help music get from the point of creation to where you can hear it, not just the musicians themselves. It takes a team to make an album, including producers, engineers, record companies, promoters, agents, and publicists.
The distributors (that's us!) help you get your music on all your favorite streaming platforms (Spotify, Apple Music, etc) for your audience to listen to! The question is, how do you know which music distributor to pick? We have the answer, keep reading!
Why digital Anyway?
In terms of sales, digital music has been and will continue to be dominant. How many people that you know still purchase Vinyls & CDs anymore? The music business's profits prove that digitalization of music distribution is the best option for people & artists.

In order to make recorded music accessible to the general public, a distribution system must be put in place. Distributors offer the rights to resale an artist's music to retailers, digital download services, and streaming platforms in exchange for payment.
Many digital music distributors don't have exclusivity deals that physical distributors use to have. It shows that you will not be relinquishing the rights to your music in any way. Because in the event that your subsequent record would be better served by another distributor, you would be permitted to end the non-exclusive contract whenever you see fit. Nowadays, you can distribute your own music by yourself without all the contracts & nonsense!

There are also additional benefits, such as algorithmic recommendations. People that listen to this type of music could have your songs suggested to them based on what they listen to.
In today's digital environment, this is how people find new music to listen to. No longer is radio really necessary, it's all within Spotify, Apple Music, and other streaming services!
Distributing your own music is extremely rewarding as an artist!
Let's Get To The Numbers
As you know there are many, many different independent music distribution companies to choose from. However, many of them have different fees, cuts, and upfront fees. Finding the best music distributor can be a challenge, so let's walk through the math.
As a music artist, this can make deciding on which music distributor to choose a hassle. Let's break down exactly how much you're going to pay, comparing two major music distribution companies.
It's simple math,
You can release your single on Tunecore and it will cost you a $10 flat fee. Many other companies either have a flat fee, percentage, or sometimes both. On Amuse, however, the aggregator only takes a 15% royalty cut.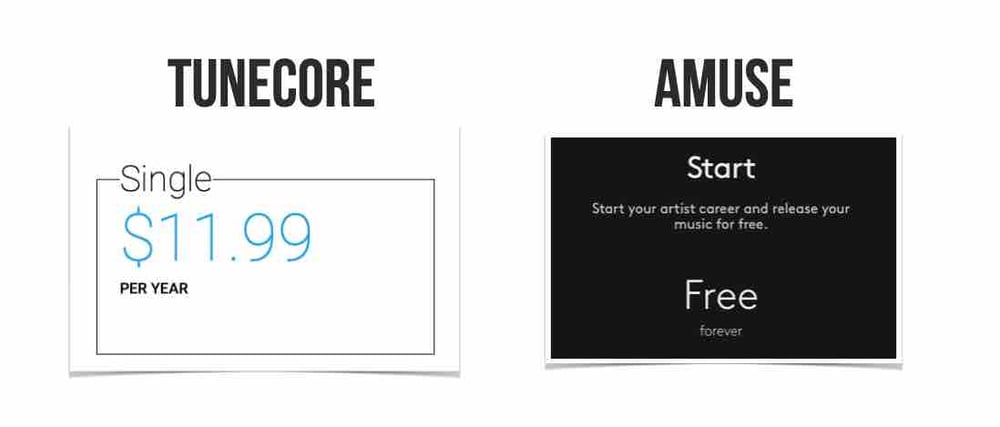 So, how many Spotify streams will you need to reach for that fee to be higher than the flat rate?
It is a lot lower than you may think
You will just need 2,500 streams to reach $10 in total payout.

This means if you're getting over 200 streams a month for your single, in just over a year you've made up the initial cost had you used a service like Tunecore or iMusician.

200 streams a month is not that hard to attain, when you break it down its only six streams a day!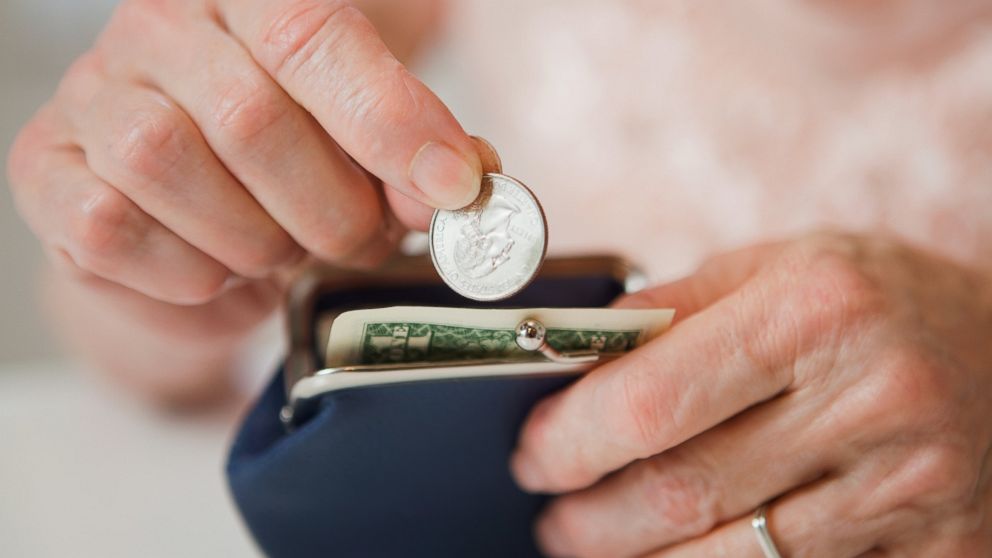 Let's Say You're Bigger Than That
Now, these are just baby numbers let's say you were to attain 25,000 streams for the track.

With Tunecore it will cost $10. With Amuse it will cost $15.

Let's take a look at Russ, one of the most successful independent music
artists to do it.
Russ racks in 14 million monthly listeners and has chosen Tunecore as his #1 music distributor. (iMusician is also a popular choice used by artists).

15% of his earnings is OVER $100,000 in just fees!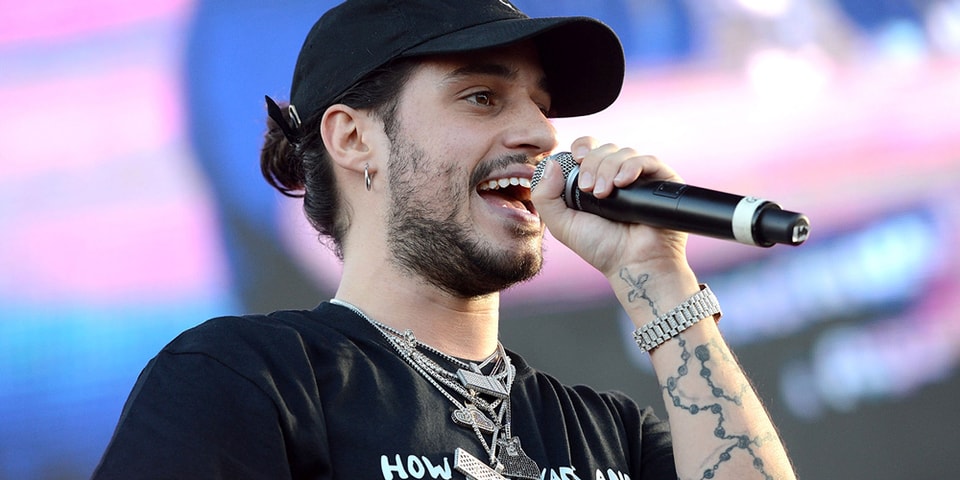 Now it sounds less fun, doesn't it?
This is why so many up-and-coming artists choose free music distribution overpaid, because of the simplicity and avoiding the underlying fees.
How Do I Minimize Costs?
If you're a large artist, or still want to pay for your digital music distribution, there are certain perks.

It goes without saying that, just as with any other buying decision, it is essential to take into consideration both your available funds and the prices. When comparing the prices of various music distribution services, it is important to take into account both the annual fee they are requesting from you and the benefits you will receive for paying that fee.

There are some music distribution platforms that simply provide superior value all around, which means that for every dollar you spend, you gain access to a greater number of functions, features, and tools.
After taking your budget into account, make sure to go for the distributor that will publish your music on most streaming services. In this game, the more streaming services you can reach the more potential people you can reach (means more chance for audience growth!).
Is It Really Worth To Pay?
Doing research on the various popular music distribution services that are out there is the only way for you as an artist to find out which music distribution service is going to be the best fit for your needs in the long run.
There is a broad variety of music distribution services available on the market today, including DistroKid, Anti-Joy, Tunecore, and CDBaby just to name a few. Each of these businesses caters to a slightly different group of musicians, and all vary between price ranges.

It will be easier for you to choose the one that suits your needs if you are familiar with your price range, your musical preference, and the release timetable. So figure that stuff out first, then decide on which one will best suit your needs!
Budgeting As An Artist
Your ability to stick to a budget is absolutely necessary if you want to have a successful career as an independent artist. This is the single most important factor. The process of determining how and where monetary resources will be allocated in order to accomplish a specific objective is referred to as budgeting.
When you're an independent musician, your music career fund and your personal spending fund are frequently combined into a single bucket. Because of this, getting things started can sometimes be a challenge. It can be considerably more difficult if you are responsible for providing for a family. If you are unable to keep your spending under control, pursuing a career in music will be a tremendous time and financial waste for you. This is the only thing that can be guaranteed.
Why Free Music Distribution Is Better
As an artist, you're just trying to get your music out there. It can be extremely frustrating for artists to have to leach onto a record label, or an expensive distribution service.
Independent artists, you should be lowering your expenses when you can! We know the budget is tight, and we got you! This is why utilizing free music distribution services is so important!
Which is The Best Free Music Distribution Service?
You've heard the saying "No such thing as a free lunch!". Well, we are the free lunch. We are the free music distributor!
A lot of people ask "is boost collective legit", or look online for a Boost Collective review just to verify.
Read here on how to find the legitness of your chosen music distribution company!
USE BOOST COLLECTIVE FOR FREE!
In our cheeky opinion, one of the best music distribution companies is ourselves! We offer free distribution and unlimited distribution even with content IDs!
Our free-to-use platform has got a lot more than just industry-leading distribution, definitely worth taking a look!
HOW IS a FREE DISTRIBUTION SERVICE POSSIBLE?
How can Boost Collective afford to release your tracks to streaming platforms (Spotify, Apple Music, Bandcamp, you name it!) for free?

Boost Collective takes a small cut of all the earnings made by users to keep the platform alive and growing.

Let's look at a hypothetical case study.

If Spotify gives Boost Collective artists payout for 0 million streams every single month (which is a small number in streaming standards) then that's $80'000.
For more info on getting songs onto stores, check out Hyperbits article on how to upload to Spotify.
Amuse keeps 15% of that.

After paying off business expenses they are sitting at a good amount of revenue!

So just remember this: you get what you pay for.

When you pay the full price upfront you save yourself miles in the long run.
(You should read our ultimate music distribution guide to perfect your next release!)
I advise you to give services such as Boost Collective a shot when you are just starting.
Later on, transition to paid services as you become more professional!
Join The #1 Platform For Music Artists.
We're starting a revolution - and putting artists (like you) first.
Boost Collective is a must-join platform for music artists to get unlimited music distribution.
Join the rebellion! and get free music distribution, free music promotion, and more.
We're on a mission to change what is possible in the music industry and we need you!