TO "FREE" OR NOT TO FREE?
Should you use free music distribution?

That question is highly flawed. There is no such thing as "free" distribution.

If you are not paying for a product then YOU are the product.
(You should read our ultimate music distribution guide to perfect your next release!)

This applies to music distribution, let me explain:

All free music distribution services take a cut off your royalty sales.
This isn't necessarily a bad thing initially.
But what if your track blows up?
Tap below to distribute your music to 100+ stores for free! 👇
Let's crunch the numbers.
You can release your single on Tunecore and it will cost you a $10 flat fee. On Amuse, however, the aggregator takes a 15% cut.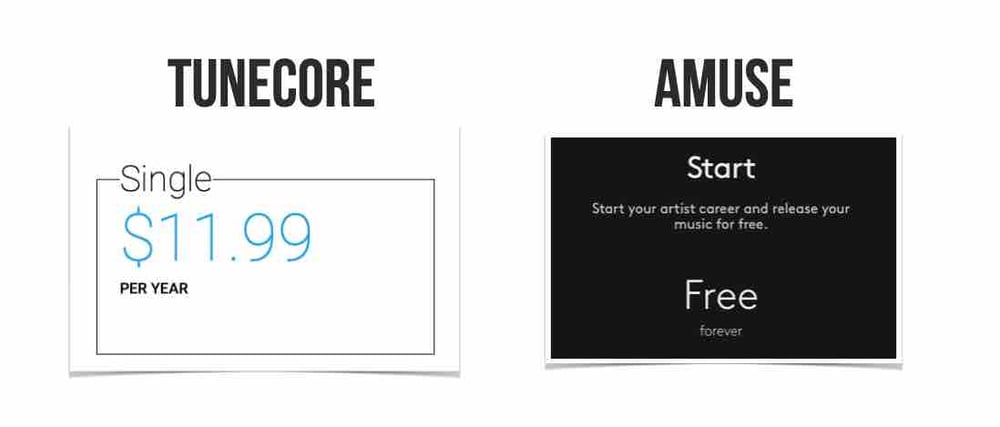 So how many Spotify streams will you need to reach for that fee to be higher than the flat rate?

It is a lot lower than you may think - you just need 2500 streams to reach $10 in total payout.

This means if you're getting over 200 streams a month for your single, in just over a year you've made up the initial cost had you used a service like Tunecore or iMusician.

200 streams a month is not that hard to attain, it's just six streams a day!

Now, these are just baby numbers let's say you were to attain 25,000 streams for the track.

With Tunecore it will costs $10.

With Amuse it will cost $15.

Okay how about Russ's numbers - since he's one of the largest independent artists.

Russ racks in 14 million monthly listeners, and is a huge Tunecore user. (iMusician is also a popular choice used by artists).

15% of his earnings is OVER $100 THOUSAND in fees!

Now it sounds less fun, doesn't it.

So the more you make them the few supposed to have more and more way to it when you use free distribution services.
USE BOOST COLLECTIVE FOR FREE MUSIC DISTRIBUTION
In our cheeky opinion, one of the best music distribution companies is ourselves!
Our free-to-use platform has got a lot more than just industry-leading distribution, definitely worth taking a look!

HOW IS "FREE" DISTRIBUTION POSSIBLE
How can Boost Collective afford to release your tracks to streaming platforms for free?

Boost Collective takes a small cut of all the earnings made by users to keep the platform alive and growing.

Let's look at a hypothetical case study.

If Spotify gives Boost Collective artists payout for 0 million streams every single month (which is a small number in streaming standards) then that's $80'000.
For more info on getting songs onto stores, checkout Hyperbits article on how to upload to Spotify.
Amuse keeps 15% of that.

After paying off business expenses they are sitting at a good amount of revenue!

So just remember this: you get what you pay for.

When you pay the full price upfront you save yourself miles in the long run.
(You should read our ultimate music distribution guide to perfect your next release!)
I advise you to give services such as Boost Collective a shot when you are just starting.
Later on, transition to paid services as you become more professional!
Join The #1 Platform For Music Artists.
We're starting a revolution - and putting music artists (like you) first.
Boost Collective is a must-join platform for music artists. Join the rebellion - we're on a mission to change what is possible in the music industry and we need you!