Turn your music into TikTok Videos!
TikTok's viral nature has turned it into a modern-day gold rush for the music industry. The opportunities this app has created is making music artists lose their minds. Read more to see how you can get your music on this leading social media platform.
Unlike other social media platforms, Tik Tok has millions of hyper-active users on it CONSTANTLY.
With 1 billion active users on the video-sharing app... It's no wonder independent artists from around the globe are blowing up daily! Not even needing a distribution service (CD Baby, Distrokid, Boost Collective), many artists have found success with their music on this new platform.
Yet, in the vast ocean of content making up the app, can you become its next sensation?
We'd like to think so.
A wise man (me) once said that not all dances are the same, and not all TikTok trends are either.
Yet, in the age of modern digital culture, a catchy song and some luck will help you find TikTok influencers shimmy-ing to your viral hit in a Wendy's parking lot (or wherever the kids hang out these days.)
(see our blog about submitting music to Tik Tok influencers)
Distribute your music for 100% free below!
So, are you ready to start your TikTok campaign?
Expose your new music, and previously released music to a massive audience and run up those apple music streams? (Spotify is better.)
Of course, you are!
The only way this will happen though, is if you can figure it out...
"How to get your music on TikTok?" (Arnold Schwarzenegger voice)
The only way your music will blow up on this app is if it's actually posted there.
Putting your music on TikTok will expose it to an international market, full of major labels, active TikTok users, and the guy who made old town road (lil nas)
So, how do you get your music on TikTok?
1. Create a Tiktok Account
This should be self-explanatory.
Unless you want to rely on some random TikTok influencers to blow your content out of the water, you'll have to do some (figurative) leg work.
Creating an account is easy, download the app, go to "create account" enter in your email and password, and you're set.
Here, we'll show you (for free).
So, now that you've joined the legendary ranks of all global TikTok creators, how do you go about adding your music to this app's library?
Want to know how to get on Tik Tok Playlists? Click me!
2. Put your music on Streaming Platforms
Step two and step three are interchangeable.
Filling your account with TikTok videos using your song and actually uploading your song to streaming services can be done in any order you please.
Getting your song officially distributed will require some research into how digital distributors work.
Here's a list of awesome music distributors that get your music on TikTok: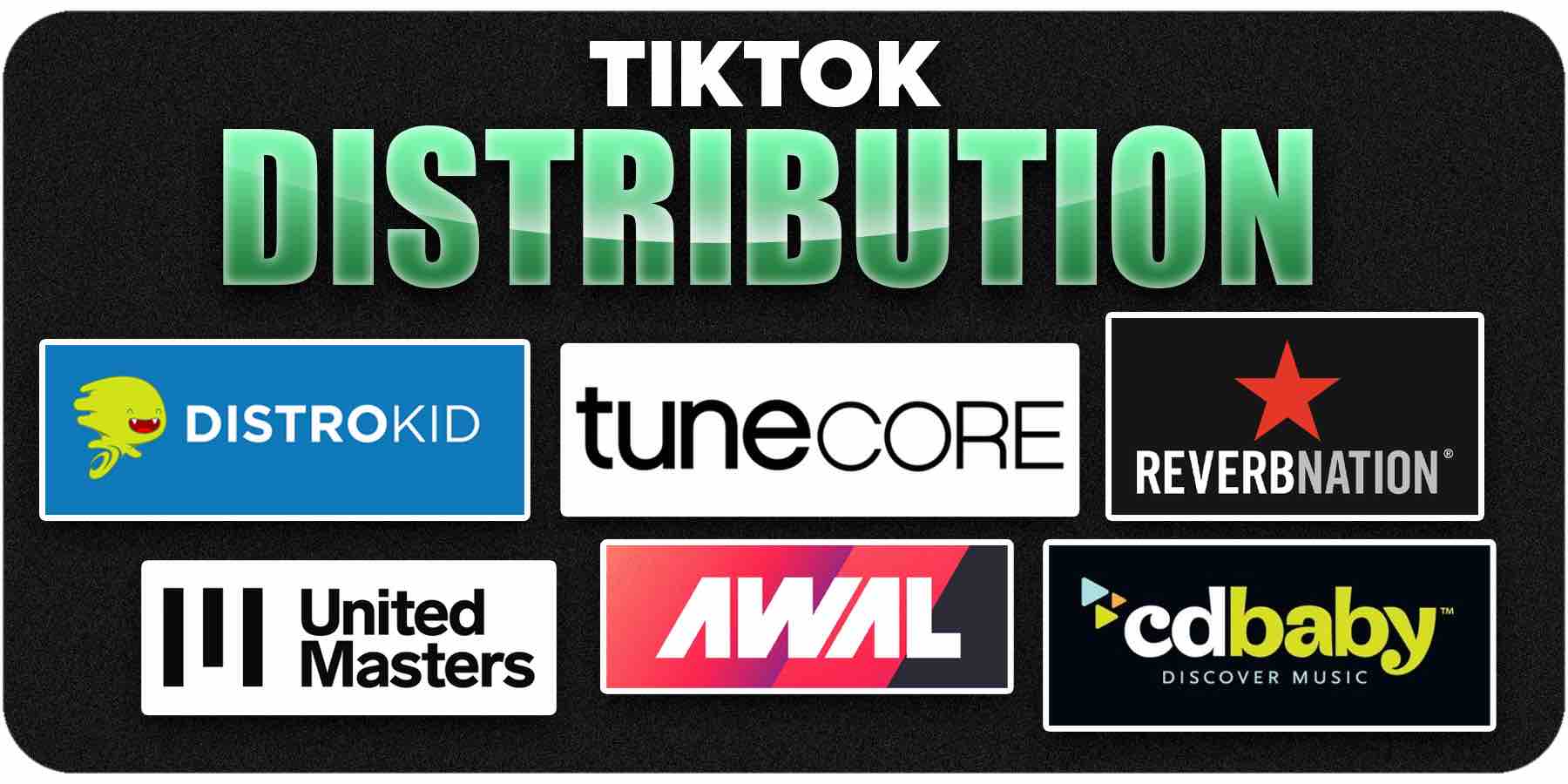 Any of these will help you get your music on streaming platforms.
Having your song on streaming platforms will allow you to not only create content for TikTok but also utilize other platforms to get your music trending.
When it comes to viral marketing, creating a content strategy can be daunting.
We here at Boost Collective know this better than anyone (it's our job).
So as an extra to-do, we recommend you get the Free Music Promotion that comes with using the Boost Collective platform! All you need to do is sign up and you'll get to use the platform entirely free:
Anyways, commercial break over, back to the article.
3. Your Song + Your TikTok videos
You've already made your TikTok account, you've distributed your music onto digital stores or uploaded your music manually as a sound, what's next? Instead getting your music onto more stores, try
(Take a wild guess)
Utilizing the app for its purpose, creating TikTok videos for other users to gobble up (figuratively).
Even the first platform that utilized a short video format, Vine (Rest in peace), was a gold mine for artists to reach their target audience.
User-generated content on platforms has a much higher chance of being discovered due to the mass amount of content being exposed to its users.
The great thing about user-generated audio as well, as that it allows unlimited releases/created audio (unlike major distributors like Distrokid/CD Baby).
The amount of videos being uploaded to Tik Tok a day, VS audios is alarming and creates loads of opportunity.
This method of music marketing is extremely valuable for artists that want to expose their own music to as many eyes as possible!
In the amount of time, it would take YouTube users to watch 6 videos, TikTok users would have watched over 100.
This, paired with Tiktok's recommendation engine, allow a variety of content to populate the for you page of any demographic.
4. Make your song a Tiktok Sound
We've finally made it to the part everyone was waiting for, getting your own music on the app so that it can become the next popular TikTok trend. Uploading music to an app has never been easier. Like actually.
Getting your music on other streaming platforms requires a music distributor, royalties, label, etc.
Hint: You don't need CD baby to get on this app!
Recently, the video-sharing app signed deals with distribution services (CD Baby & more!) which allow artists to upload released music directly into the TikTok music library.
What does this mean though?
We're glad you asked, having your music in the app's library will allow TikTok influencers and content creators alike to look up your song as a sound for their video.
This is why the sound name is extremely important, make sure it doesn't look sketchy! (use your song name, artist name, or profile @, have a clean profile photo, etc)
PS: On your profile, you don't need any crazy detailed information. Just make it look clean, and add a release date for upcoming releases, or hype up new releases in your bio!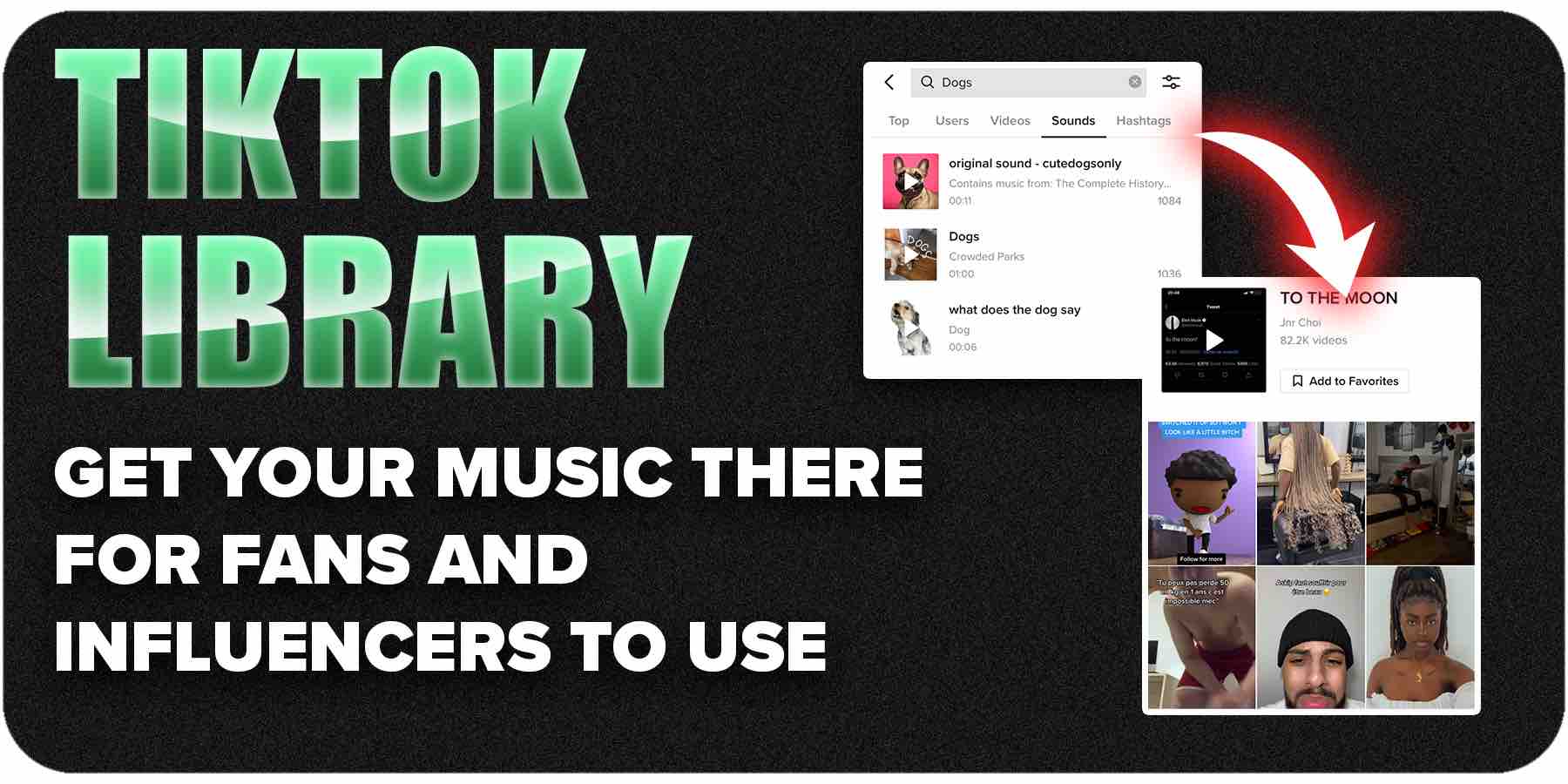 Not all songs are TikTok songs though, the makings of a viral hit on this app pertain to the usability of your song in a challenge.
With that being said..
5. The anatomy of the TikTok challenge
As Tiktok's active audience grew, so did the world of opportunity it possessed for artists.
We've shown you how to get your music set up on the platform, now we're going to give you some advice that could create your 21st century "big break".
Or as we like to call it, your TikTok moment.
One thing you need to understand before putting your music on this site: Tiktok influencers hold all the power.
So you either become one, or you utilize them to the best of your ability.
All forms of audience demographics make up this site, and they all follow certain thought leaders in their niche.
You don't need to blow up your TikTok account, you just need a few well-chosen influencers to use your music.
Influencers either start or carry TikTok trends.
These can range anywhere from dancing to comedic videos using certain parts of a song. It doesn't matter what the trend is, it only matters that it takes off.
If you can become a connoisseur of TikTok challenges, then you can build an initial audience for your music.
Content ideas for Tik Tok as an artist:
cover songs (of popular/trending songs)

do a dance challenge (with your song)

re-create viral videos (with your song)

make your own videos (experiment)

showcase new releases & re-visit old releases

start promoting other artists

find a tik tok challenge before it explodes & capitalize!
Take 347Aidan for example, for who we've personally known for a bit (P.S. this is "not" self-promotion, it's just bragging).
His song "dancing in my room" took off, and was adopted by thousands of TikTok users upon release.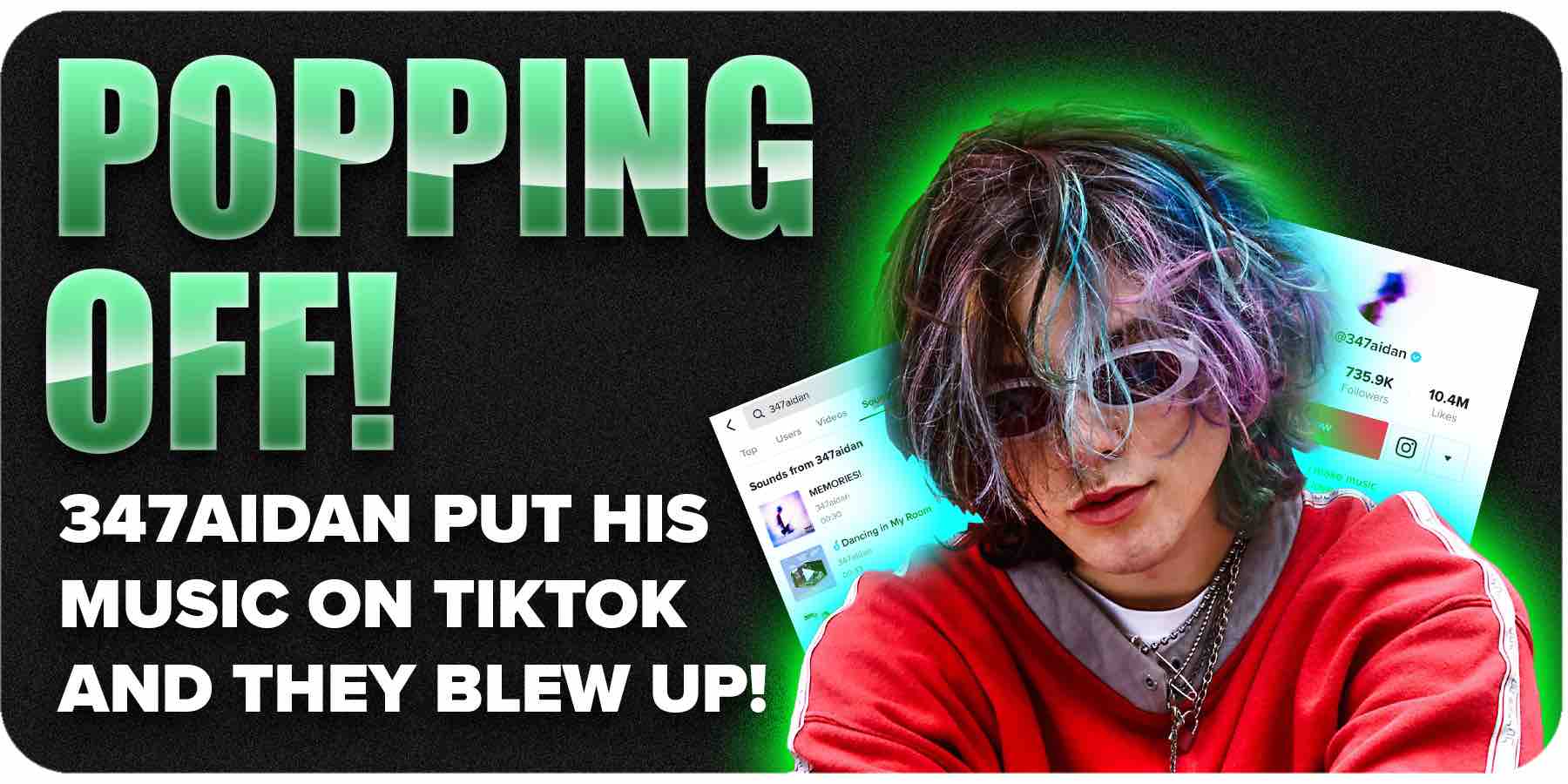 This artist's official TikTok account now has over 700 thousand followers and 1.4 million likes.
All because he (and us) understood the anatomy of a TikTok challenge.
Big breaks tend to happen quickly, yet the overnight success of a song is usually predated by months of hard work by the artist.
So...
6. Watch Content, Engage and Be Persistent
Its unbeatable algorithm, the mass amount of users, and niche music fanbases are what makes TikTok the perfect marketing opportunity for independent artists.
Creating your own TikTok campaign (or having us create a TikTok campaign for you) is something we'd recommend to any artist trying to get their foot in the door.
Patience is key with things like this, even if you think your music will take off with the userbase on TikTok today; it will take time.
Persistence is key when marketing music, and even with the right influencers in check, you'll still have to put in some work.
Your marketing strategy should manipulate the TikTok algorithm to promote your song before and after release.
How to use the TikTok algorithm for music success
Interact with TikTok creators, influencers, and other artist's music in your niche

Utilize hashtags so TikTok promotes you in audience feeds

Use your own songs in your videos

Hire influencers to try and create a future challenge using your music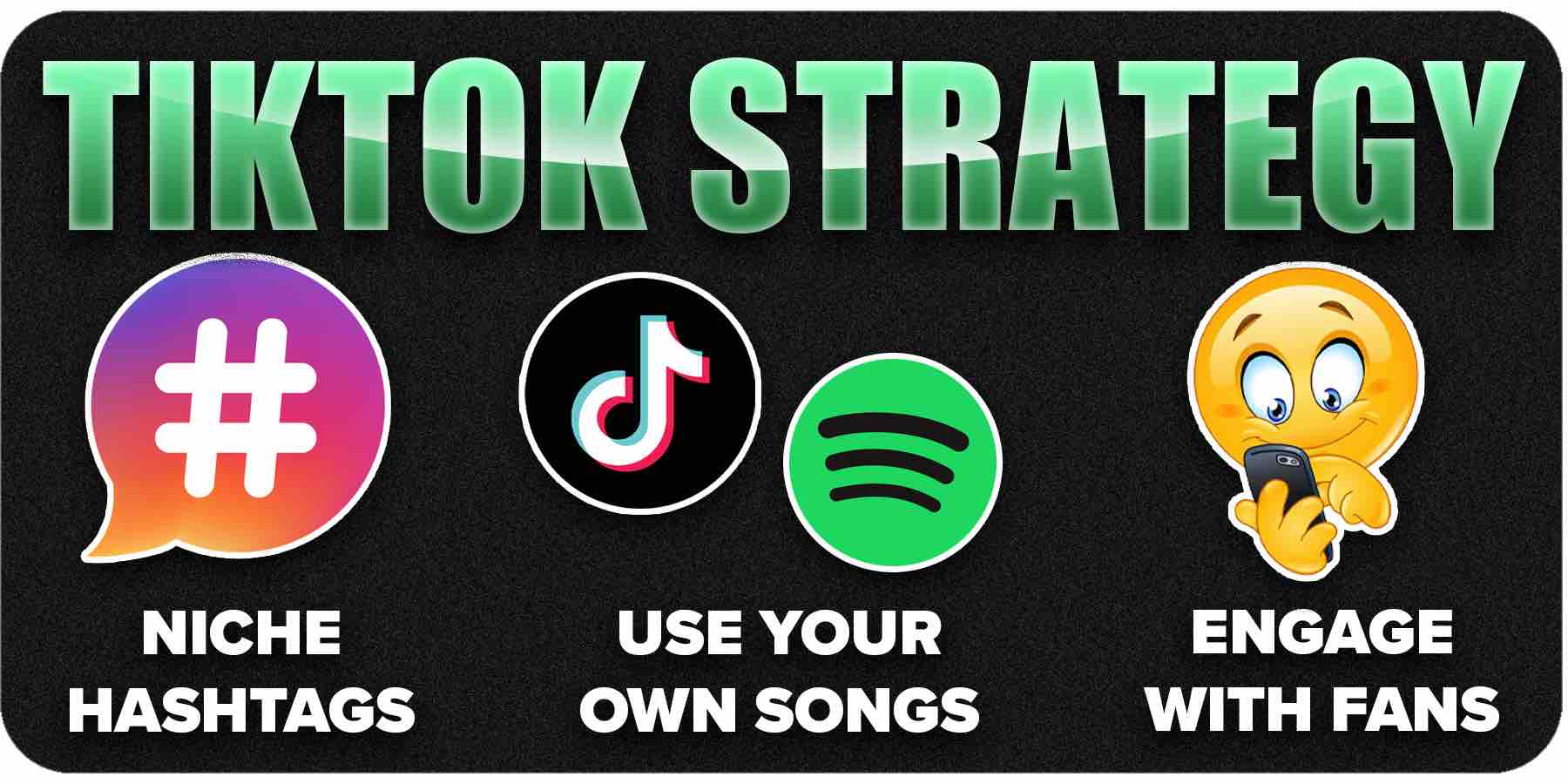 TikTok's success is derived from its easy and addictive formatting, and we see new TikTok creators blow up DAILY.
Trial and error are expected, and even after reading this article, you won't be a TikTok pro.
So be patient, because for every video uploaded your music gets one step closer to its target demographic. Don't expect to earn money in the first two days of using Tik Tok. It takes lot's of time to grow a social media following, let alone earn money!
Lastly, don't try to be the next Doja Cat. Be the next you.
We're rooting for you, go put music on TikTok that only YOU can make, and get yourself one step closer to taking over the world. Let's go!!
YOUR NEXT STEPS FOR MUSIC SUCCESS

We're starting a revolution - and putting music creators first.
Boost Collective smashes all the paywalls and gives you everything you need to scale your music career for FREE (free music distribution, cover art, promotion, & more!).
Get on 150+ more stores, and grow as an artist!
Join the rebellion - we need you 👇