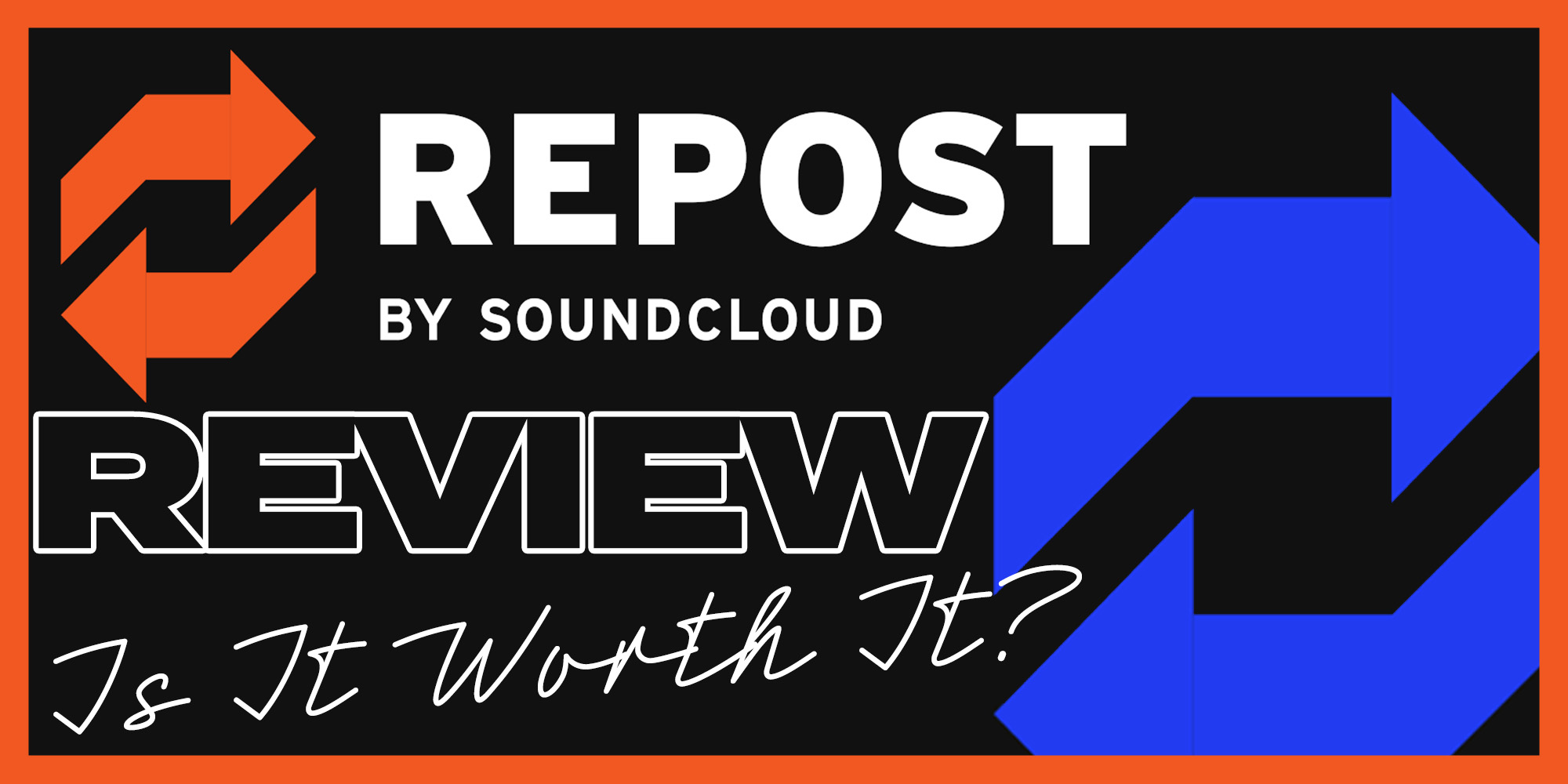 Repost By SoundCloud Review: Is It Any Good?
SoundCloud is boasting a suite of tools to help the modern artist in their music career...
So we made the ultimate Repost by SoundCloud review for you to delve into.
Offering digital distribution, promotional support, pitching to radio stations, monetization of SoundCloud tracks, and various other music services!
Repost by SoundCloud, seems like a serious competitor in the music business for independent artists.
So then, is Repost by SoundCloud any good?
TLDR: Repost By SoundCloud is a solid platform that aims to help artists make a living off of their own music.
Its biggest competitive advantage is the ability to monetize tracks uploaded to SoundCloud, something no other platform allows for.
That said, the value the platform brings doesn't seem immense enough to justify that 20% cut you have to forfeit to SoundCloud.
And this is ON TOP of the $30 annual fee!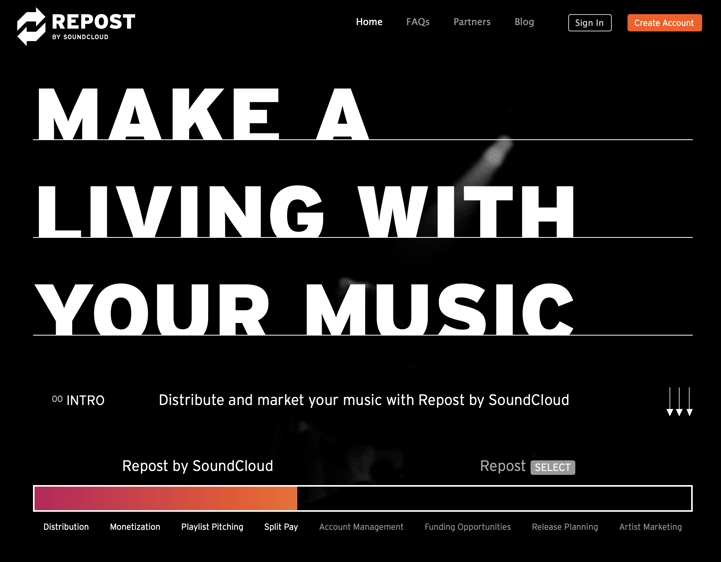 In this article, we break down what Repost Network has to offer for both new and professional artists alike.
Repost By SoundCloud Benefits
Let's get right into the good stuff!
Here are the benefits of using Repost By Soundcloud:
Easy to use UI

Decent amount DSP selection (stores)

SoundCloud monetization

Promotional pitching

Profile mapping
As you can see, there is a plethora of good services here.
Really, any artist will benefit form this!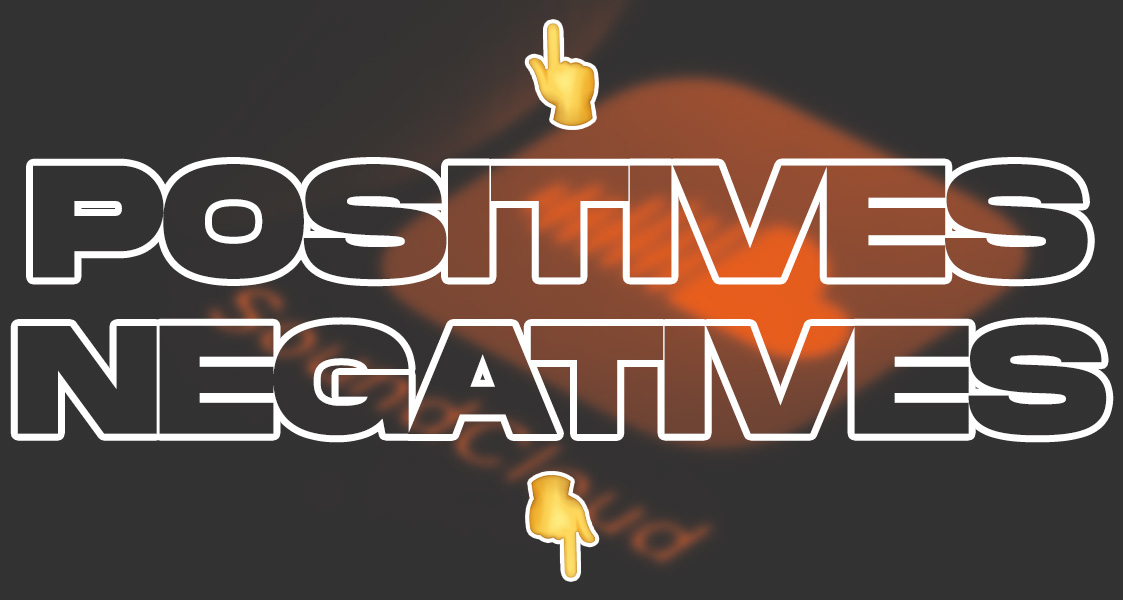 Repost By SoundCloud Negatives:
There are a couple negatives that come with the service:
20% comission goes to Repost

Low detail analytics
Perhaps in the future, we will see more advancements come out.
What Is Repost By SoundCloud?
You're in for some REALLY good news...
In July of 2019, SoundCloud had partnered with the Audible Music Group in a new venture aimed at monetizing music.
SoundCloud CEO Kerry Trainor announced that the company has launched its own brand new marketing software!
This software is what we now know as called Repost.
Currently SoundCloud says it is targeting the "serious" artists.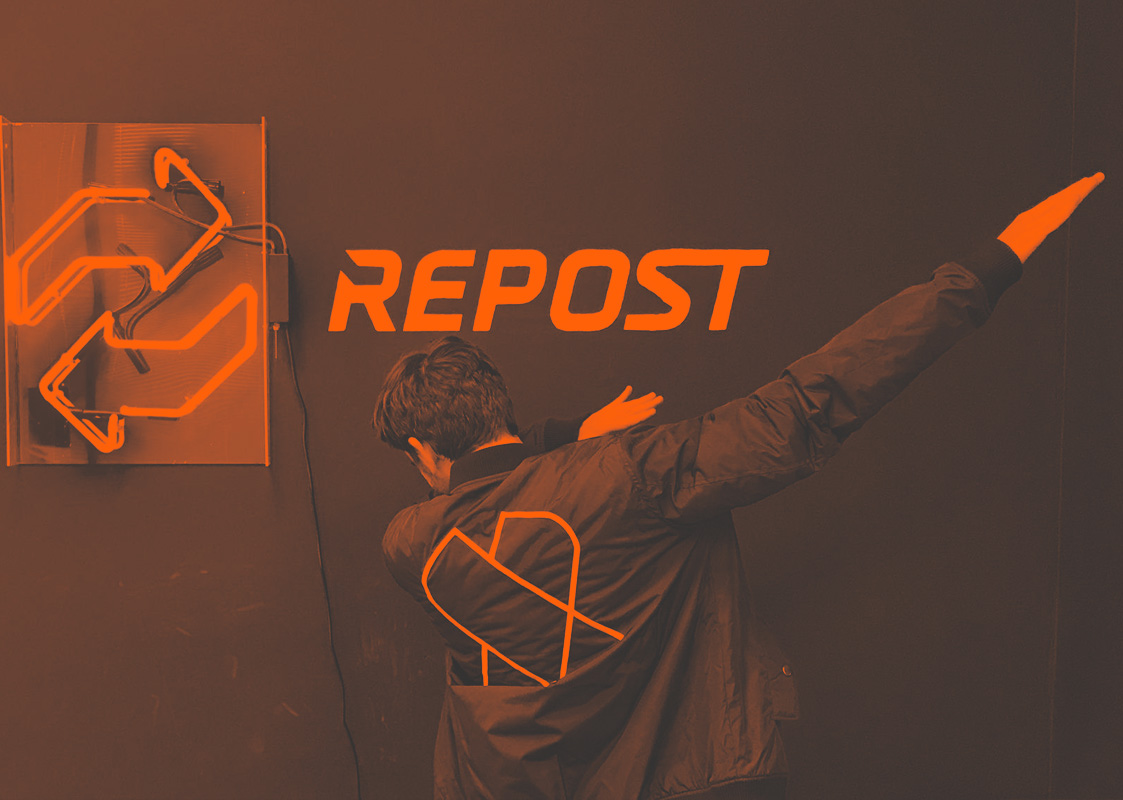 Artists who want an independent career and can remain professional.
Repost by SoundCloud is a suite of tools for musicians which acts as an extension of the regular SoundCloud platform.
Also known as Repost Network, the platform acts a music distribution service, which allows artists to deliver their music to a wide range of stores.
Streaming platforms SoundCloud can release songs onto:
Spotify

Apple Music

Amazon Music

Deezer

Tidal

Etc...
Another big draw of Repost by SoundCloud, is its ability to monetize tracks on SoundCloud.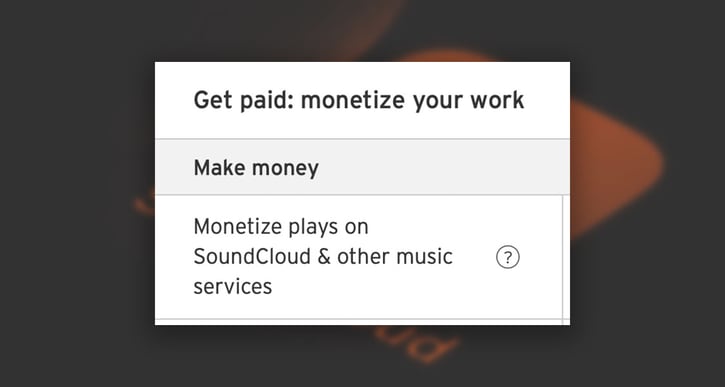 Artists are able to get a share of the revenue generated by ads that play on their music in the SoundCloud platform.
This feature is highly praises and was a long time coming for the streaming giant.
However, don't expect a ton of compensation for your plays, unless you're pulling in a sizeable amount of listeners.
DistroKid VS. Repost Exchange

DistroKid has more features than Repost, thus making it a better option. That said, since Repost by SoundCloud is cheaper, beginner artists should opt towards it.
In my Ultimate Distrokid Blog I broke down the pros and cons of the platforms.
You should definitely export them both to gt a good feel.
Reasons to use Repost over DistroKid:
Direct to platform (SoundCloud)

Repost Exchange Promotional tools

Costs less to promote
How Much Does SoundCloud Pay Per Stream?
Does SoundCloud pay enough per stream?
It is said that SoundCloud pays out a rate similar to Spotify, averaging roughly $0.0025 to $0.004 per stream.
However, this may be subject to change depending on the geolocation of monetized playback.
In other words, artists may be paid higher or lower depending on where their plays are coming from.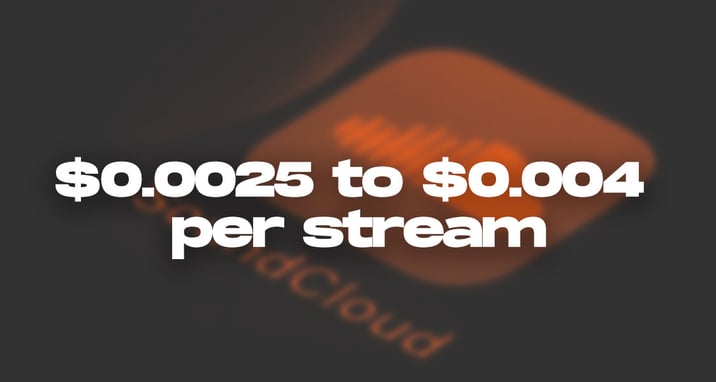 Is Repost By SoundCloud Free?
Repost by SoundCloud is a platform that requires a paid membership, but is currently offered for free if you are paying subscriber have the platform's "Pro Unlimited" tier.
You can find the option to try this "Pro" feature in your Soundcloud account beside the "upload" option.
You'll need to option in for the paid subscription of Repost Network if you want to access to their services.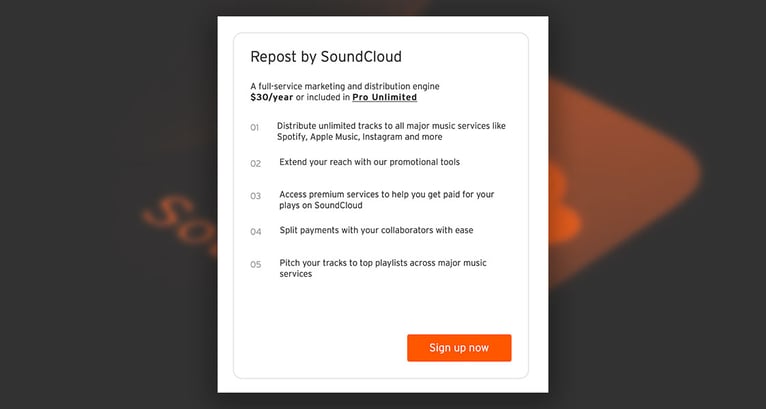 How Much Does Repost By SoundCloud Cost?
Repost by SoundCloud currently costs an annual fee of $30.
If you're a professional artist or just staring out, the price is quite reasonable.
When compared to other distribution services such as Distrokid, Amuse, LANDR, the pricing of Repost is quite fair.
If you look at other core music distribution services, the pricing looks nice compared to platforms like TuneCore, or CD Baby.
Just know that the platform also takes a percentage of your royalties you generate.
So Is Repost By SoundCloud Worth It?
Ah where should we start in this review... how about the sign up process!
Signing up for Repost (the platform actually used to be called Repost Network which explains it's domain) was an easy process.
The screen to see the benefits and pay for your membership was very similar to paying for SoundCloud pro.
I'd recommend using a computer to sign up and use the platform as opposed to a phone.
Your experience will be much better!
After I signed up for the platform, I was greeted with a menu of options that Repost offers. This is your main central hub.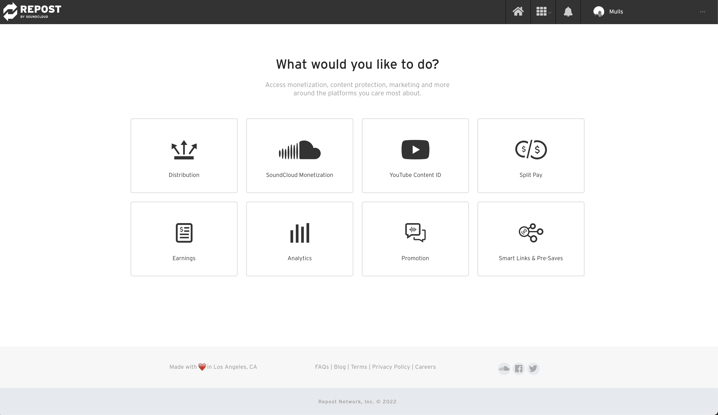 You'll see the options to distribute a song, monetize a song on SoundCloud, manage YouTube content ID, split payments between contributors (called split pay.)
Not only that, you can track your earnings, see your analytics, promotions and smart links (however smart links is current unavailable as of now).
Repost Exchange VS. Other Streaming Platforms (Comparison)
Should you use Repost By SoundCloud?
Well, let's find out.
Overall the process is just fine! It's a clean UI/UX process to go through.
All the features you'd expect are there.
From being able to listen to your track after you upload, to navigating various metadata options.
When you create a project and fully distribute a song, if you want to fix any issues you may have to takedown the song after release depending on the issue.
If you're looking to update cover art or artist information, you'll have to re-distribute the song.
If you're enjoying this Repost by SoundCloud review, you might enjoy our Vampr music app review, as its an interesting new music app.
You might be curious about the speed of the distribution process.
How long does it take songs to appear on streaming platforms?
After you finish the process and push the music to different stores, it can take upto 4-7 days in my experience to get your songs onto major stores like Spotify or Apple Music.
One aspect I was pleasantly surprised with was the addition of profile mapping.
This feature allows you to pinpoint the exact profile your collaborators possess on select DSPs.
So for example you can make sure your release shows up on the proper artist profile on Spotify instead it landing on a random profile or someone else's profile.
Quite handy!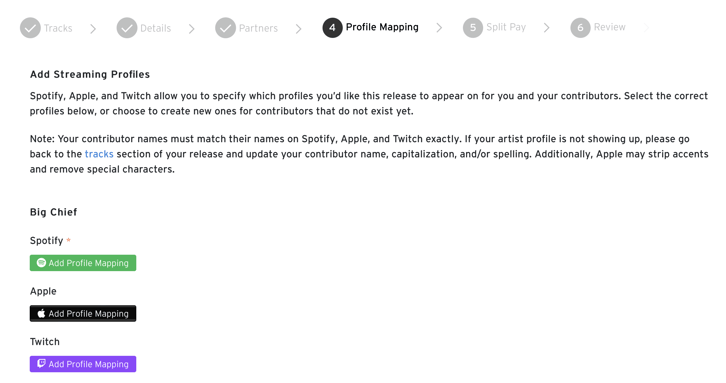 The select of DSPs Repost offers delivery to is quite nice as well!
Of course the major ones are all covered.
You won't need to worry about appearing on Spotify, Apple Music, Pandora or Amazon music.
It's nice to see the likes of YouTube Music, and Peloton's music platform listed as options on here!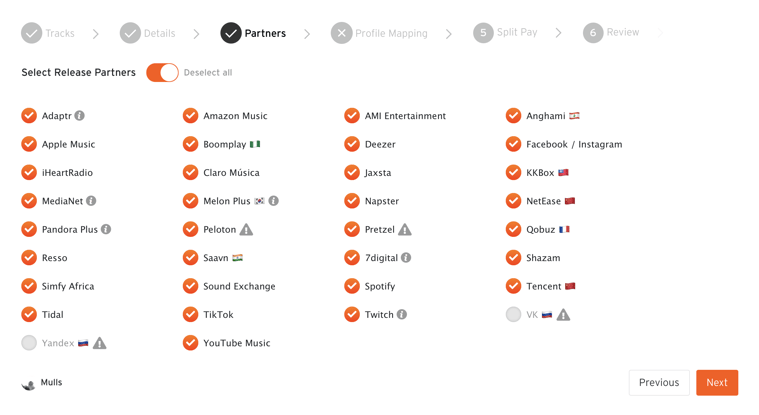 Overall I'd give the distribution process a perfect score.
There's nothing to complain about. It's solid!
Next up I want touch on an aspect I feel definitely could improved is the analytics feature.
Currently its not setup to see any sort of breakdown for where your stats and revenue (money) are coming from across all stores.
Instead, Repost provides a link to the respective Apple Music and Spotify "for artists" backend web app.
So currently there is no on-platform collected stats feature.
It may be difficult to see a breakdown of where your streams are coming from and from what countries.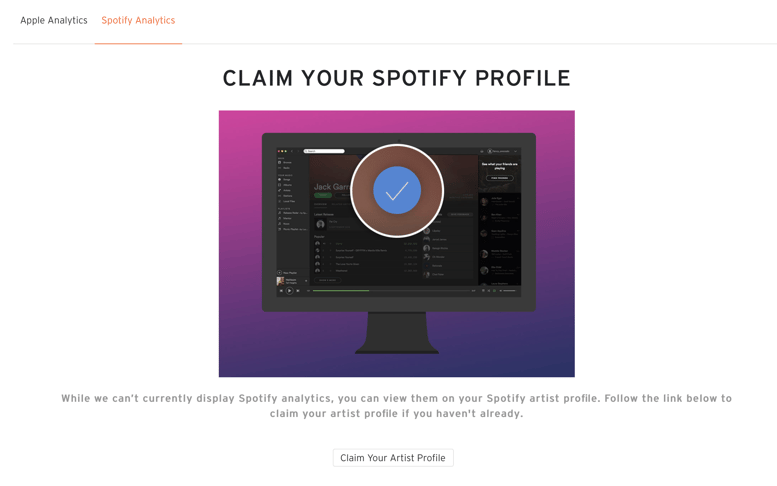 Since we're on the topic of stats, you might want to checkout our article on how to blow up on SoundCloud.
The earnings tab however is pretty solid.
It shows you a graph of your earnings over time, and a breakdown of revenue per store.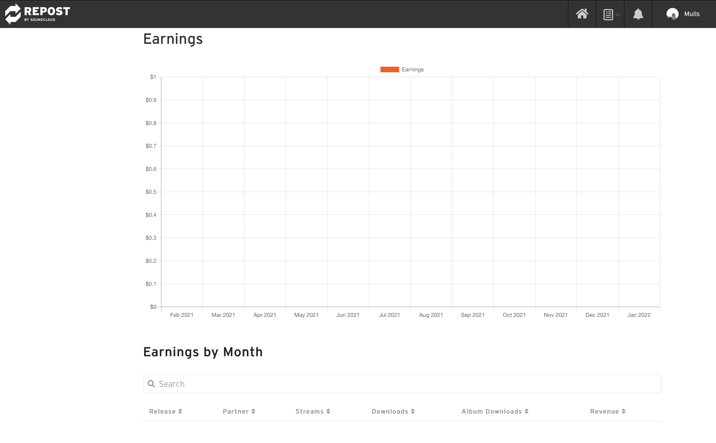 Next up is the SoundCloud monetization option.
This is Repost's biggest selling point. The ability to monetize your tracks on SoundCloud may be enough to justify subscribing to the service on it's own.
If you're pulling in thousands of plays every day, you can definitely make some solid cash through on SoundCloud.
Monetizing tracks are super easy!
Just know that you'll need to have full rights and permissions to be able to monetize a song that you've uploaded.
You don't want to go ahead and make a mistake.
Many tracks on SoundCloud use samples and contain copyrighted material.
Make sure your track is 100% original and doesn't contain anything that could get you into any legal trouble.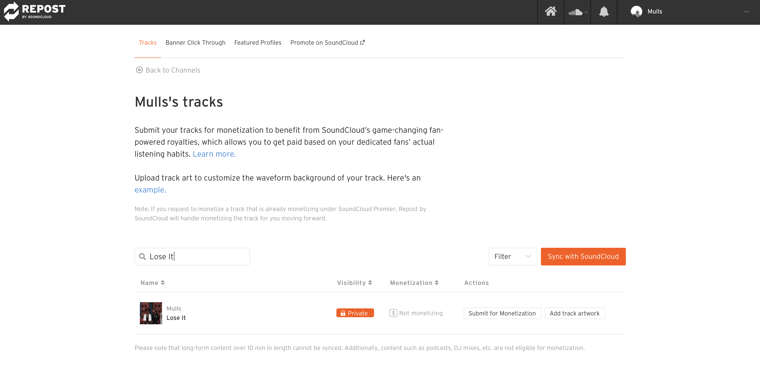 The final feature we should touch on is Repost's promotion tab.
Repost by SoundCloud offers promotional opportunities for artists.
These range from pitching opportunities to DSP editorials to SoundCloud radio.
It's important to mention that nothing is guaranteed with these pitches.
You could very well land no major placements or even small marketing opportunities for your music.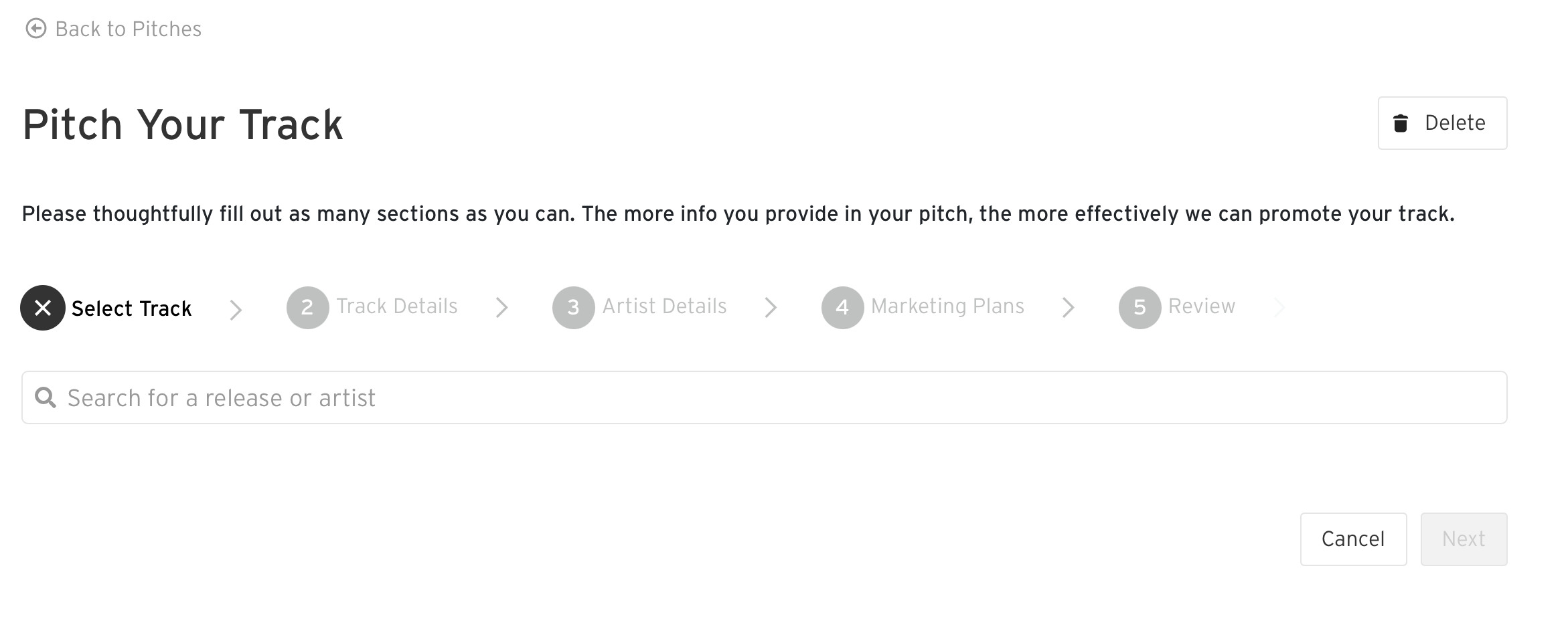 We're offering a powerful suite of tools to artists to give them an unfair advantage in their careers.
The problem with no guarantee on promotional support is that Repost by SoundCloud takes 20% commission of revenue generated by your music.
So even if they don't land you any opportunities, you're still giving them a substantial cut for what other distribution companies would give you for much less.
Curious About Repost Select?
Repost by SoundCloud also offers a higher level tier to the service they're calling "Repost Select".
It certainly looks interesting. You can see on the title screen of the website the option to choose the Repost Select option.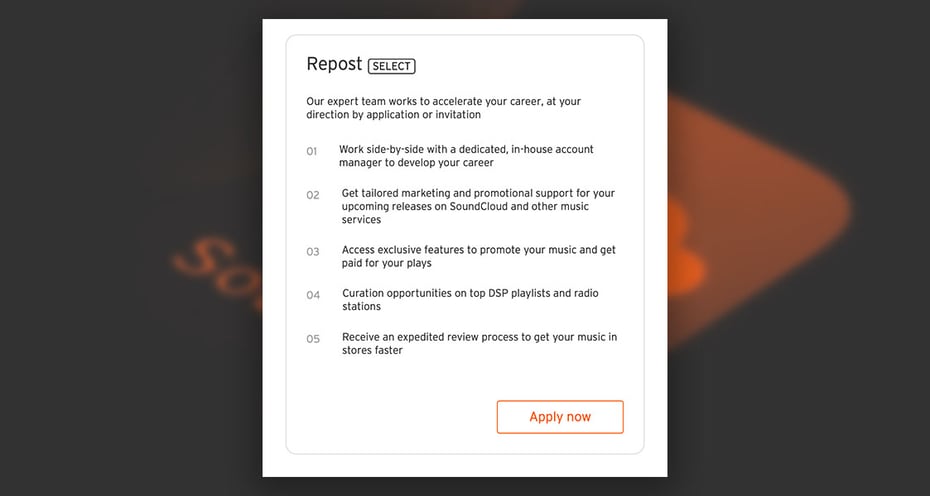 So then what's it all about?
What Is Repost Select?
Repost select is a program in which the Repost by SoundCloud team takes a more vested interest in an artist's career.
Select members have access to an artist manager, receive tailored marketing support, DSP editorial placements, swift delivery onto stores and more.
Currently, this is an invite only program, and not open to just anyone. However users can apply to be apart of the select program on the repost network main page.
It seems as if big editorial placements on major DSPs such as Spotify is where the select program shines brightest.
Overall, the select program seems quite cool! It's most likely a great opportunity if you can get it.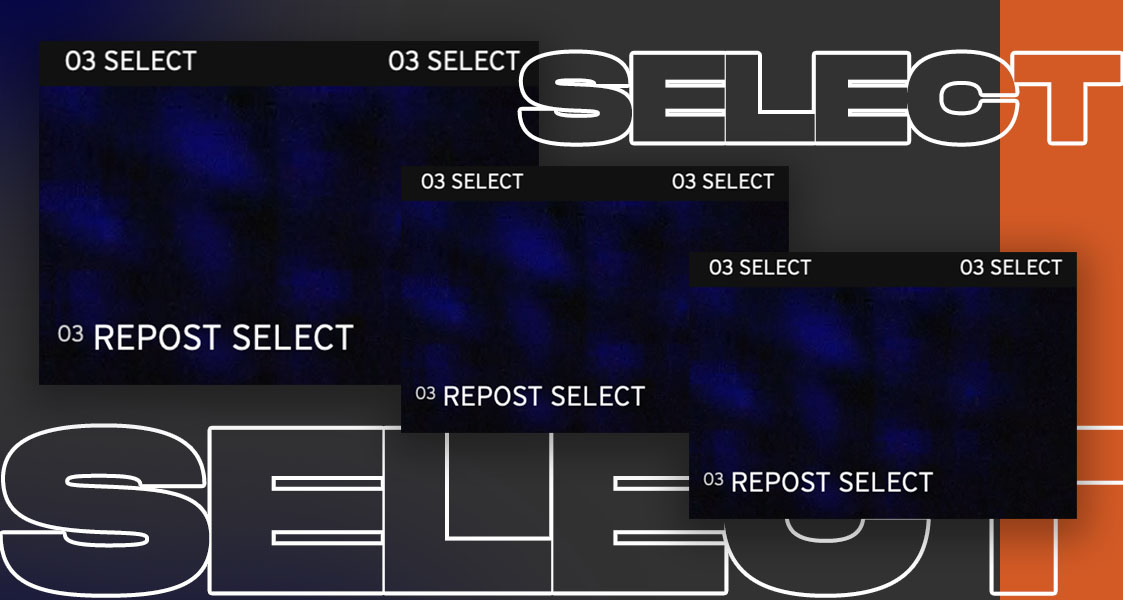 Final Verdict
TLDR: Repost by SoundCloud is a viable option to fulfill your music distribution needs. Its ease of use and the ability to monetize tracks directly on SoundCloud give a strong case to the platform.
Overall it's a great service with a ton of potential!
However, the value the platform provides may not be enough to justify the 20% cut Repost takes...
We hope this music app review helped you make an informed decision!
If you've made it this far, we think it'd be a sin not to let you in on what we're building. Check it out below. 😉
I hope you enjoyed our Repost by Soundcloud Review!