Here's how to Blow up on SoundCloud this year!
Here's how to blow up on SoundCloud and get more plays!
Looking for a way to promote your music on SoundCloud?
7 ways to blow up on SoundCloud:
Use Repost Exchange to boost your music plays

Building a SoundCloud fanbase

first

Learn the TRUTH Behind SoundCloud promo

Engaging with your fans on Social Media

Run Facebook ads on your Soundcloud

Avoid using fake SoundCloud Promo

Research the entertainment industry
Organic Soundcloud promotion is difficult
It's really hard to get organic Soundcloud promotion these days.
The problem with SoundCloud is that there's no easy avenue to reach brand-new audiences!
See, music promotion on Spotify is pretty simple.
You have playlists and pre-save links designed to get your music heard by listeners.
Music promotion on SoundCloud is not quite so simple...
Repost Exchange will get your music heard
Repost Exchange is a promotion service offered by SoundCloud itself.
This promotion service works by supporting, promoting, and collaborating with like-minded users.
How it works is very simple:
All you need to do is create an account with the Repost Exchange Soundcloud promotion service, then you can begin connecting with other musicians!
These promotion services are very simple, anybody can get started.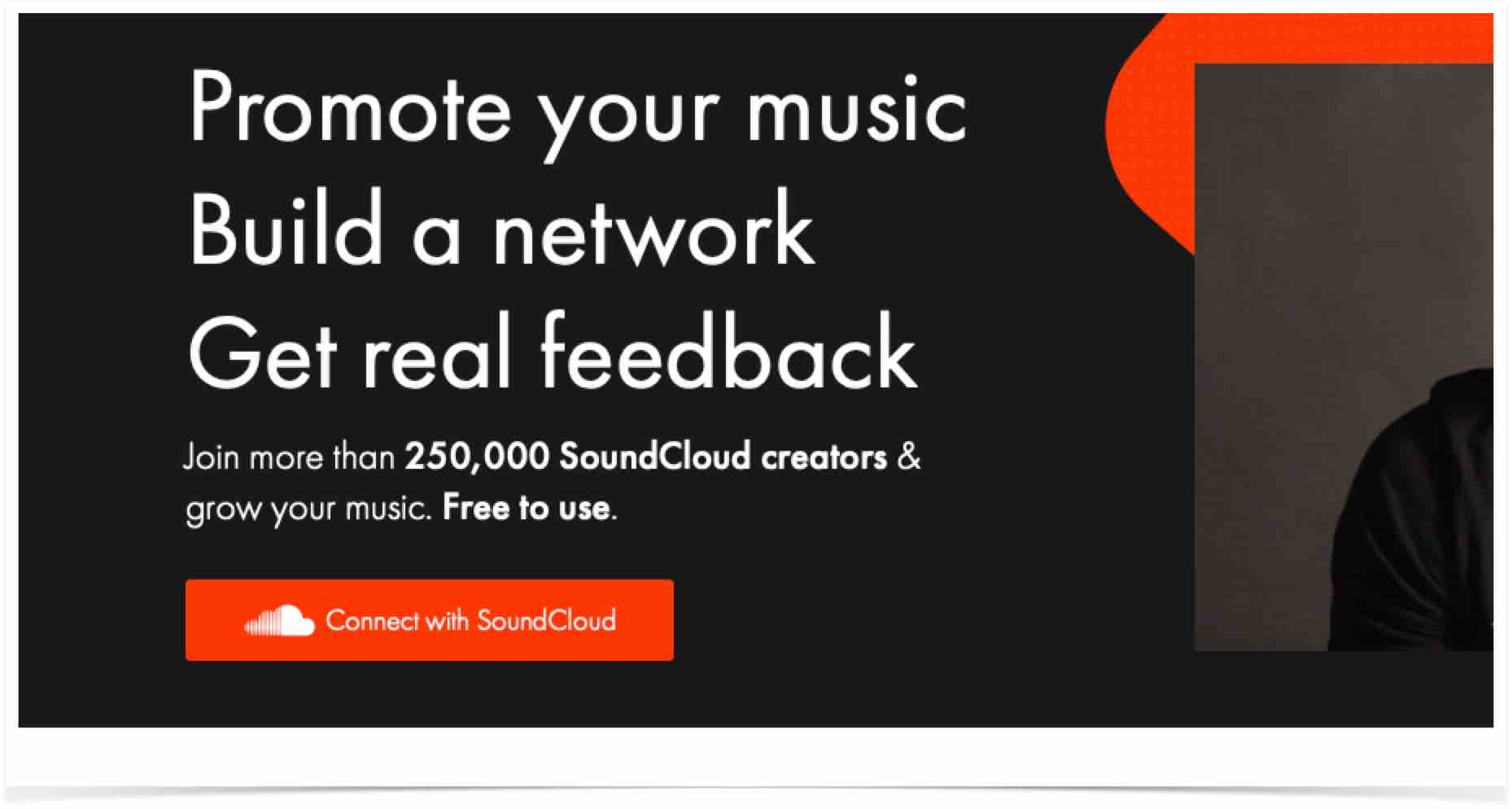 In the beginning, you start off with a select number of digital tokens for free use.
Generally, the credits are worth up to 1'000 plays worth of exposure!
Regardless of genre, you can get your track heard using these credits.
The purpose of these credits is to claim reposts on your tracks - by other artists with large followings.
The idea is to give your music the organic reach it needs to start breaking out!
Bonus: mark sure you get SoundCloud album art to perfect your release!
Don't worry, if for some reason the other person doesn't repost your track, your credits are returned back to you.
Not to mention, you can always purchase more credits for your repost promotion!
This is extremely similar to Boost Collective music marketing credits!
The flexibility makes music promotion a breeze.
How to earn FREE Repost Exchange credits
If you want to learn how to get more views on SoundCloud...
Then you gotta start a repost exchange.
You can get free SoundCloud repost by reposting other users. Initially, artists have 1000 credits, and there is no limit to growth.
The free repost exchange credits are s a really nice ecosystem.
Repost exchange allows fans to get exposure to new music - it's essentially a Free SoundCloud promo.
Tip: Every day before you start making music, hop onto the repost exchange and share other people's music.
The repost exchange free credits are deposited straight to your repost change account.
From then on you'll be ready to promote your music on SoundCloud!
How to use Repost exchange for SoundCloud promotion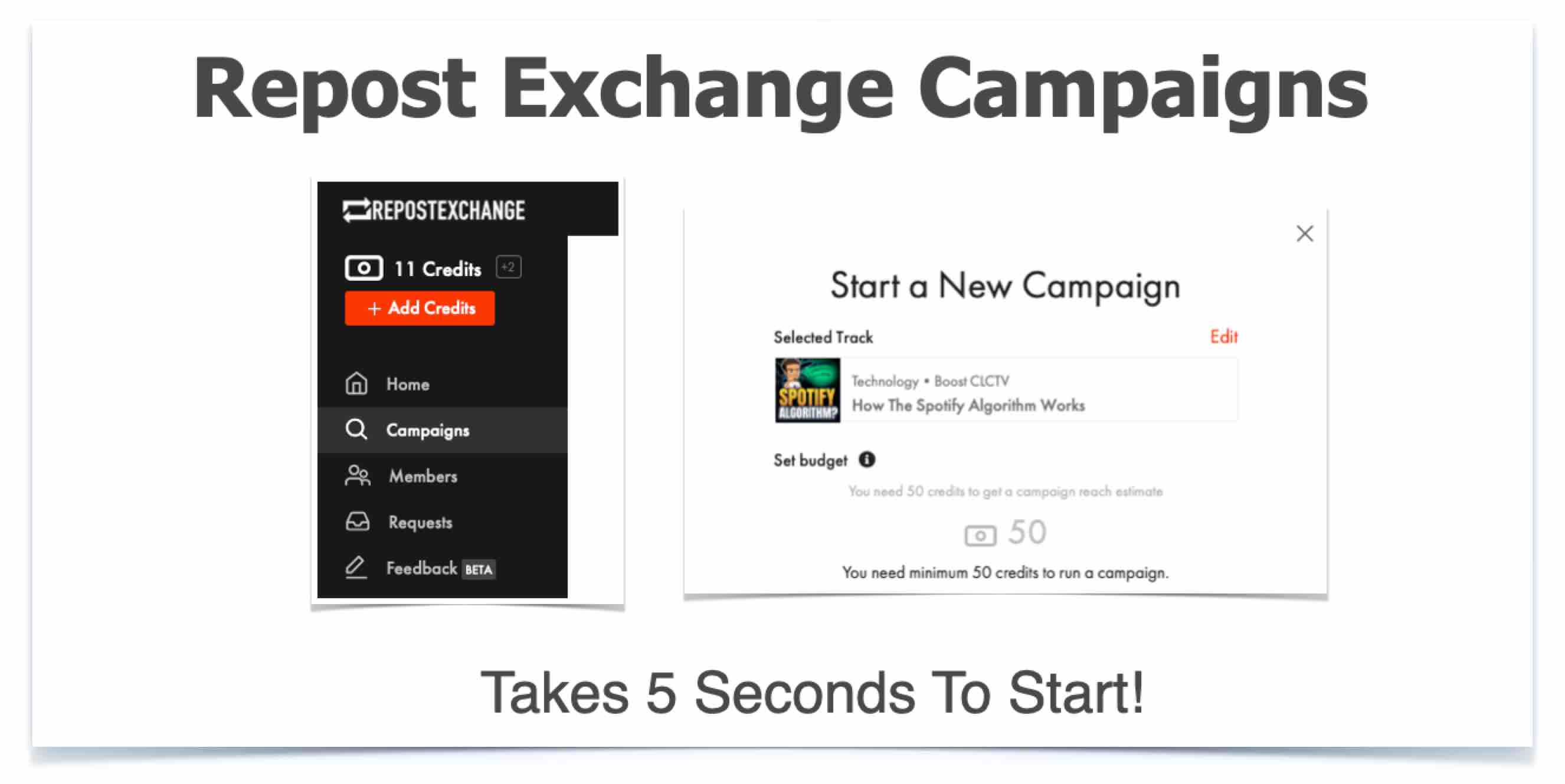 How to promote your music on repost exchange:
Remember, at the end of the day remember this: it's a number game. The more reposts you can attain, the further your music can reach out, leading to fan base growth!
The musician who can get their tracks into the most ears (assuming the tracks are good) wins.
Would you rather have 2'000 plays or 10'000 plays?
SoundCloud is both a streaming platform and a social network, so building a community is easier with tools like Repost Exchange and Boost Collective.
Not to mention, you still have the SoundCloud Direct Message feature as well.
When promoting via repost exchange, make sure you reach out to those who vibe with your music - turn them into a true fan!
Building A Fanbase With Repost Exchange
These repost networks provide you with the environment to collaborate with other music artists.
This is an element that you don't find on any other music platforms.
It's an easy 2-step process on Soundcloud - just grab the other musician's username and you're all set!
With Repost Exchange, you're equipped with the tools and leverage to build your fanbase by targeting the right people!
If you make emo rap, you can exchange reposts with other artists that make emo rap.
Their audience will like your music for sure, the genre is already the same!
This also goes for rock, alternative rap, pop, R&B, etc. There is no limit.
The final benefit of repost networks is transferability.
It's all about building a strong connection with your listeners to truly make them true fans.
3 Websites like Repost exchange (Alternatives)
Don't have the budget for Repost by SoundCloud?
No worries, I've got you covered!
Here ate the 3 best websites similar to Repost Exchange
Bandcamp

Hypeddit

Submithub.com
Each of these sites is good in its own way - they offer similar services.
SubmitHub
makes
it
simple
to
upload
your
music
to
curators
by
allowing
you
to
choose
between
ordinary
and
premium
"credits."
This is a clear similarity to Repost Exchange's credit system.
A
curator
must
listen
to
at
least
20
seconds
of
your
song
in
order
to
earn
your
credits!
Keep using both apps, and you'll see a huge upswing in your SoundCloud yields.
Premium
submissions
now
have
a
19%
acceptance
rate,
while
regular
submissions
have
a
6%
approval
rate.
How To Blow Up On Soundcloud: Reddit

I went on the top Reddit articles on how to blow up on SoundCloud.
I got many different tactics!
Some tactics are effective, and some... pure garbage.
3 Reddit tips to blow up on SoundCloud
Use Instagram to promote music

Have your music together

Create a marketing strategy
Even though it sounds basic, these are some great ways to get free organic SoundCloud pollution.
Instagram is the best social platform for free SoundCloud promo because it allows shareable links.
TikTok doesn't have this feature…
So that puts it behind Instagram for organic SoundCloud promotion.
Realistically you can take your SoundCloud tracks and upload them on TikTok sounds to try to gain some virality that way as well.
Learning how to blow up SoundCloud is a long process that can take years, so be patient!
How To Build A Fanbase Of Soundcloud Followers
Rule #1. be consistent.
You need to be consistent if you want to see results from your organic SoundCloud promotion campaigns.
The cool thing about music marketing through SoundCloud is the fact you can track each person that engages with your music.
That means that all your new fans are accessible!
This isn't a feature available to other streaming platforms, we're in luck here.
You're able to see all waveform comments, reposts, and likes on your tracks.
As you grow your Soundcloud fan base, a key factor to maintaining the audience is by is engaging with those that interact with you.
Tip: take every follower from your SoundCloud account and log them into a Google spreadsheet.
These people are your SoundCloud community but you can expect to listen to your songs!
Your main music business objective through SoundCloud is to increase the size of this sheet every single week!
Make sure you track all your engagements with your fans in order to blow up on SoundCloud.
Since these are real people they are more likely to follow up with your new releases as time passes, simply because you're always in their face.
Repetition is everything when it comes to standing out organically!
Over time more real people will be engaging with your Soundcloud profile - thus leading to a large number of reposts and more exposure within the app.
Why Soundcloud Is Not What You Think
In my view, SoundCloud is not even a complete streaming service.
See, it was really close to getting shut down and going bankrupt not too long ago...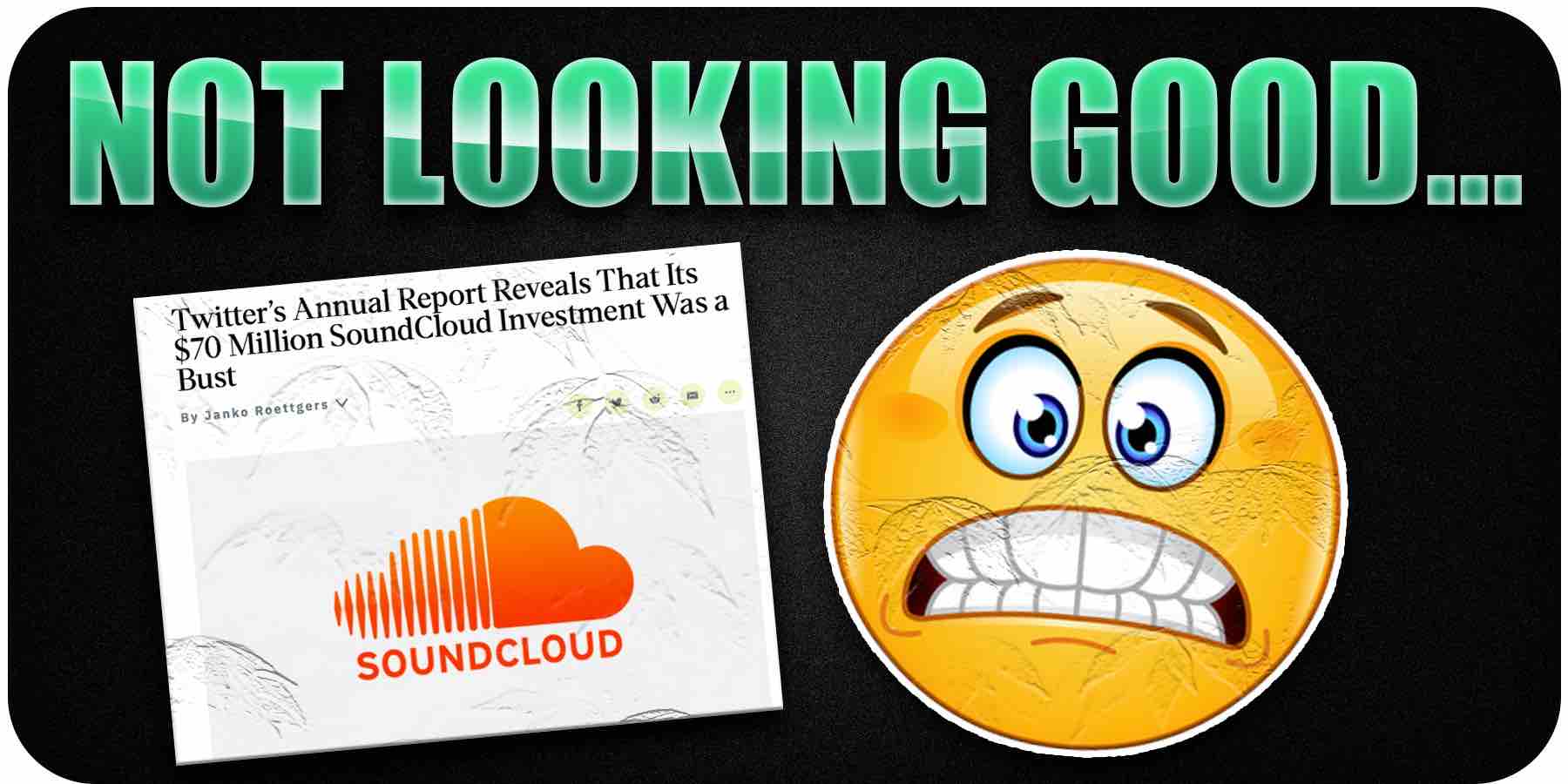 Although everybody knows the name "SoundCloud", the business model isn't super competitive.
The majority of SoundCloud's revenue comes through advertising and their subscription service SoundCloud Go.
This issue is, most people use the free SoundCloud version and instead subscribe to either Spotify or Apple Music.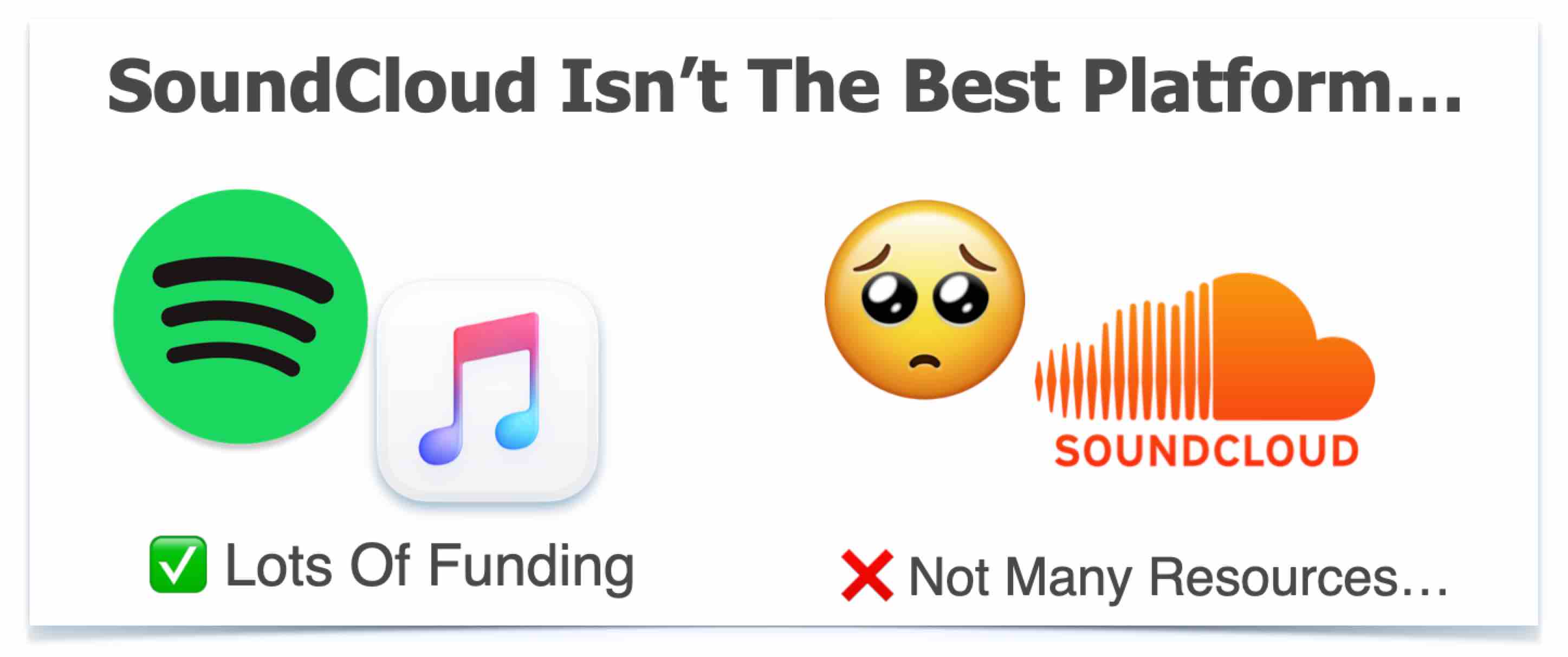 Because of that, SoundCloud doesn't have the resources to improve its app much.
What you have now is an unregulated and lawless music promotion landscape.
Compared to other platforms - SoundCloud's audience consists of primarily music artists.
Just know that making your music stand out on SoundCloud is not as easy to monetize, as it would be for Spotify promotion services.
You should brace yourself for this.
Organic music promotion on SoundCloud is still possible, just difficult.
Engage With Your Fanbase Outside Of Soundcloud
Soundcloud is the easiest platform to build a cult-like following.
See, the industry is not the same as it was in 2016 when artists were blowing up on Soundcloud left and right.
Bonus: mark sure you get SoundCloud album art to perfect your release!
Don't lose ALL hope though. Do you want to keep the fans you make through your SoundCloud promotion campaigns?
Get these fans to follow your other social media networks as well.
When you build an audience that enjoys your songs you must engage with them outside of SoundCloud!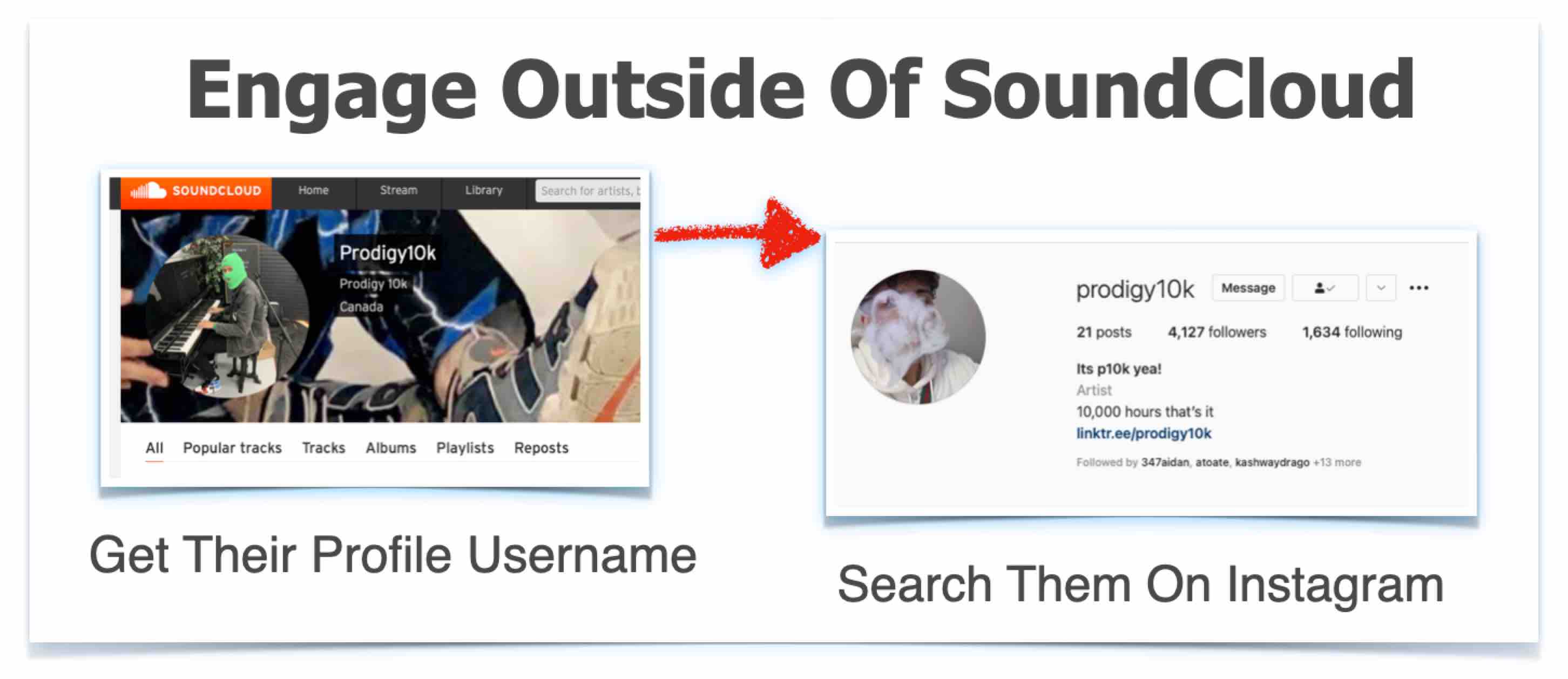 This is so you can keep these fans for a long time - even if they stop using SoundCloud you'll be able to re-target your fan base with new music.
Use their SoundCloud username to find their Twitter or Instagram profiles and drop a follow.
Since they already know you - they're more likely to follow back!
Not only will your Soundcloud promotion campaigns reach them now, but your social media campaigns will also help too!
Once the engagement comes to your account, you can transfer these listeners onto your other social media platforms with ease.
You want to come off as a friend, not a spammer. Spammers don't blow up on Soundcloud.
Just message them and plug in your Instagram, Twitter, Tiktok, etc.
Should You Run Facebook Ads For Soundcloud Music Promotion?

Ads are a great music promotion strategy - but will work for SoundCloud?
Truthfully, I don't recommend that you run ads as a SoundCloud promotion strategy - those SoundCloud plays are difficult to monetize.
At that point, you may as well run ads to your Spotify tracks and get streaming revenue that way.
It's almost impossible to tell if the listeners from most Soundcloud promotion services are bots or humans.
This is why ads are attractive - you know the source.
Try promoting without ads on SoundCloud. Repost Exchange works just as well.
should I just buy Soundcloud plays?
Should you buy Soundcloud plays for your tracks?
The trust is: this is a tricky question -there is no direct answer.
Exactly what do you want from your Soundcloud campaigns?
If your goal is to get signed to major record labels then this won't help you... In fact, the performance of any track on SoundCloud won't help you with this goal.
But if you do want to find organic people this is a cheap way to build up your social status.
Social status can finally attract new listeners.
Think of how a peacock has bright colors to attract a mate, you have high plays to attract listeners to new tracks.
Why Fake Soundcloud Promotion is so popular

See humans tend to naturally want to do what other people do.
This is called the bandwagon effect and has kept humans alive for thousands of centuries.
The person who decided to stray from the tribe ended up getting eaten by a sabertooth tiger.
The same effect applies to your Soundcloud promotion strategies, the reason why fake SoundCloud plays are effective is that it presents the idea that your music is good and makes people want to tap the link.
Let's be honest are you more likely to tap a track with 50 streams or 50,000?
The listener can't tell what are real or fake engagements anyway so they'll naturally go for the better-performing songs.
This is the same reason why people pay to get verified across social media platforms.
It gives you more attention + the opportunity to hear in the music industry.
The Risks Of Fake Soundcloud Promotion?
It's really common for Soundcloud promotion services to offer you botted streams.
This is not a long-term strategy if you don't have a large budget.
The thing about music artists that buy Soundcloud plays is that they need to keep all their tracks promoted to the same level.
If one track is doing much worse the whole charade is exposed!
Instead of looking like a badass top-notch music artist, you will look like a try-hard poser.
Are you willing to take that risk?
The rewards are just as great as the risks - there are millions of monthly listeners on SoundCloud.
The edge provided by using fake SoundCloud promotion services does offer another opportunity to get organic SoundCloud promotion too.
The Majority Of The Entertainment Industry Is Fake
Well, the truth is other artists are getting their SoundCloud tracks promoted with bots to get more plays.
Most artists you see buy SoundCloud plays
It's called "clout laundering."
In the end, though, it does end up getting them real listeners.
The trick is to not doubt the success of the fake Soundcloud promotion service.
Rather they treat it as it is a simple tool to help their music promotion as a whole.
Even famous other users fake their plays - J. Cole mentioned it himself in the track "A Lot".
There are a lot of things you can call J. Cole but a liar is not one of them.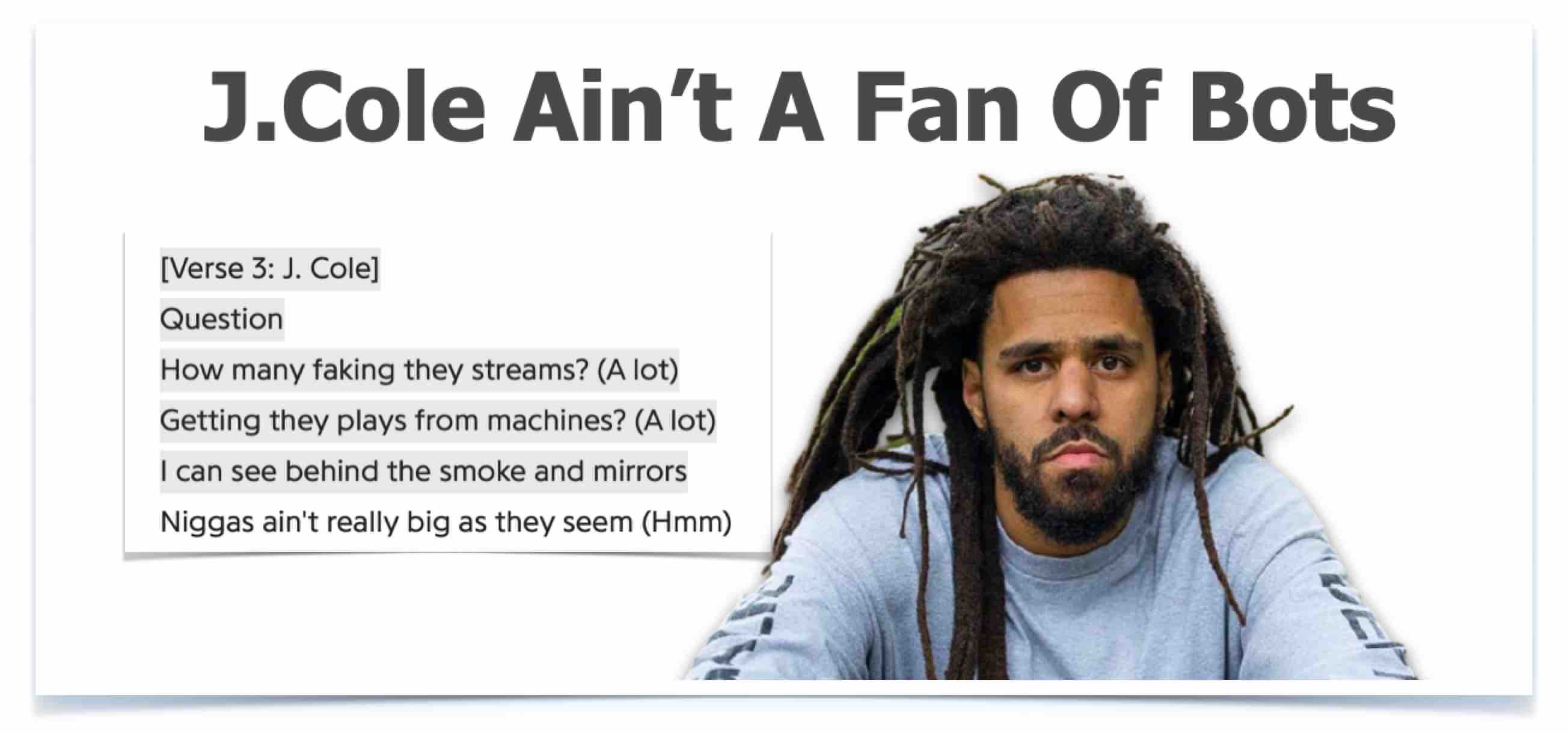 This is the same for social media as well, did you know that Ellen fakes her Instagram followers?
I can't say much about Kevin Hart's followers however his Twitter and Facebook audiences are not very engaged with the content created.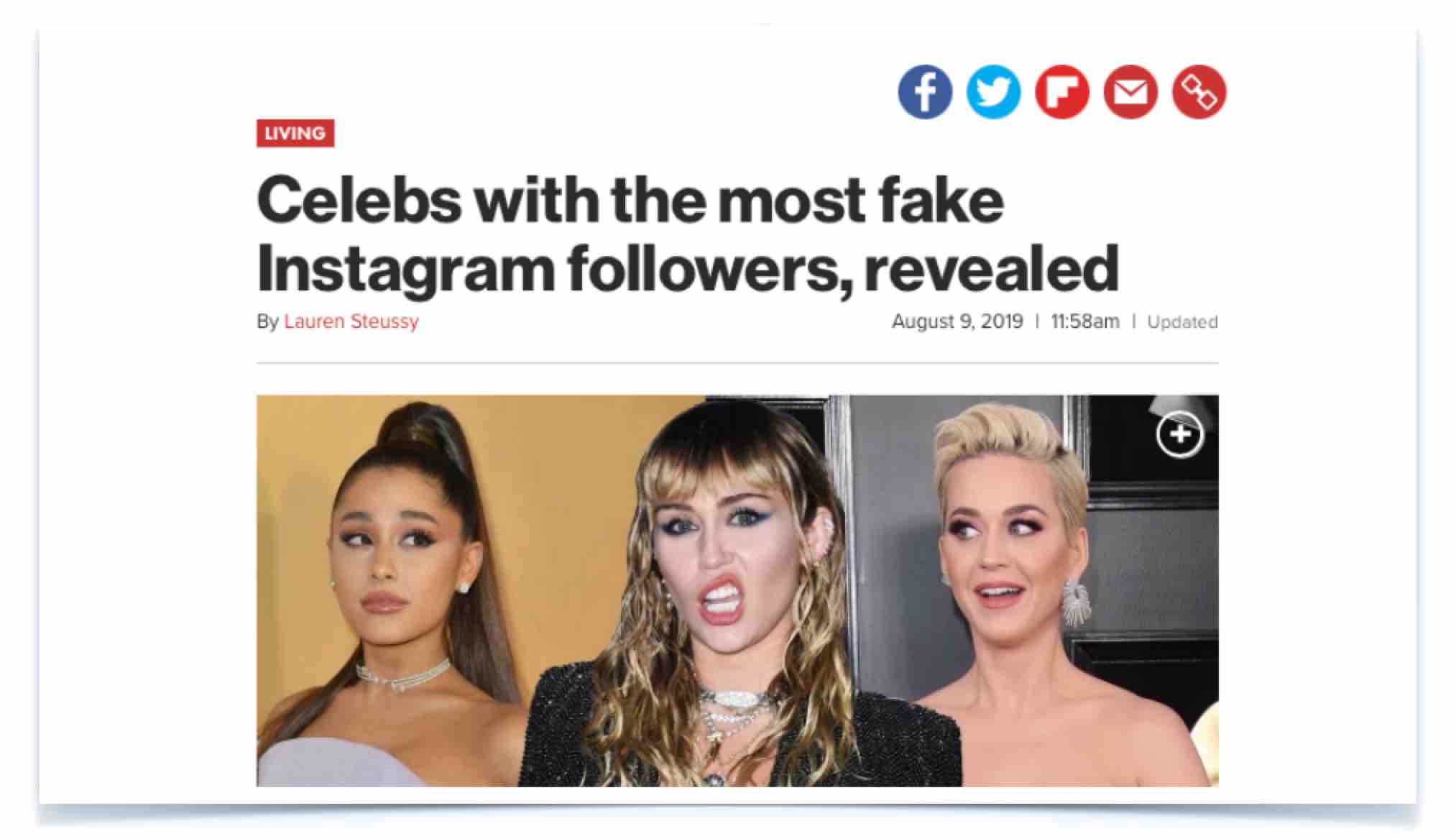 Even those Instagram baddies on social media most likely have booted followers to a degree.
This allows them to easily gain more followers.
Fake followers lead to real followers.
You can see value in the entertainment space for creatives to boost their track upload performance.
I was surprised at first when I earned this but it makes a lot of sense.
What To Do Instead Of Fake Soundcloud Plays
That being said - most "popping" artists buy SoundCloud plays.
There is a degree of promotion that is organic however that requires cross-promotion across social media.
Those results are much lower than if you were to just promote music from other streaming platforms.
Effective ways to promote your SoundCloud songs:
Upload your music tracks on SoundCloud

Start promoting your music on social media

Auto post some promotion posts on Facebook/Instagram using platforms like HootSuite

Use all relevant tags in your promotion posts

Engage with all active users on your music for more plays

Use repost exchange to promote your music
As I mentioned before, fake plays are a double edge sword.
Use it sparingly and in a strategic manner for maximum success.
How To Make Your Song Perform On Soundcloud
SoundCloud music is primarily underground - you must promote your music in a way that fits this narrative.
This means your album art should be grungy and fit in your aesthetic music subculture.
Track artwork is important for getting the attention of potential fans!
Do yourself the best service and find how to make viral cover art - read the ultimate cover art blog here
A cool fact is that you don't need to own the music that you post.
As long as you don't get taken down with SoundCloud's Content ID DRM, you should be safe to upload uncleared music samples.
You won't be monetizing.
Upload Experimental Genres To SoundCloud
You don't need to stick with just your main genre SoundCloud is great for experimenting with alternative tracks.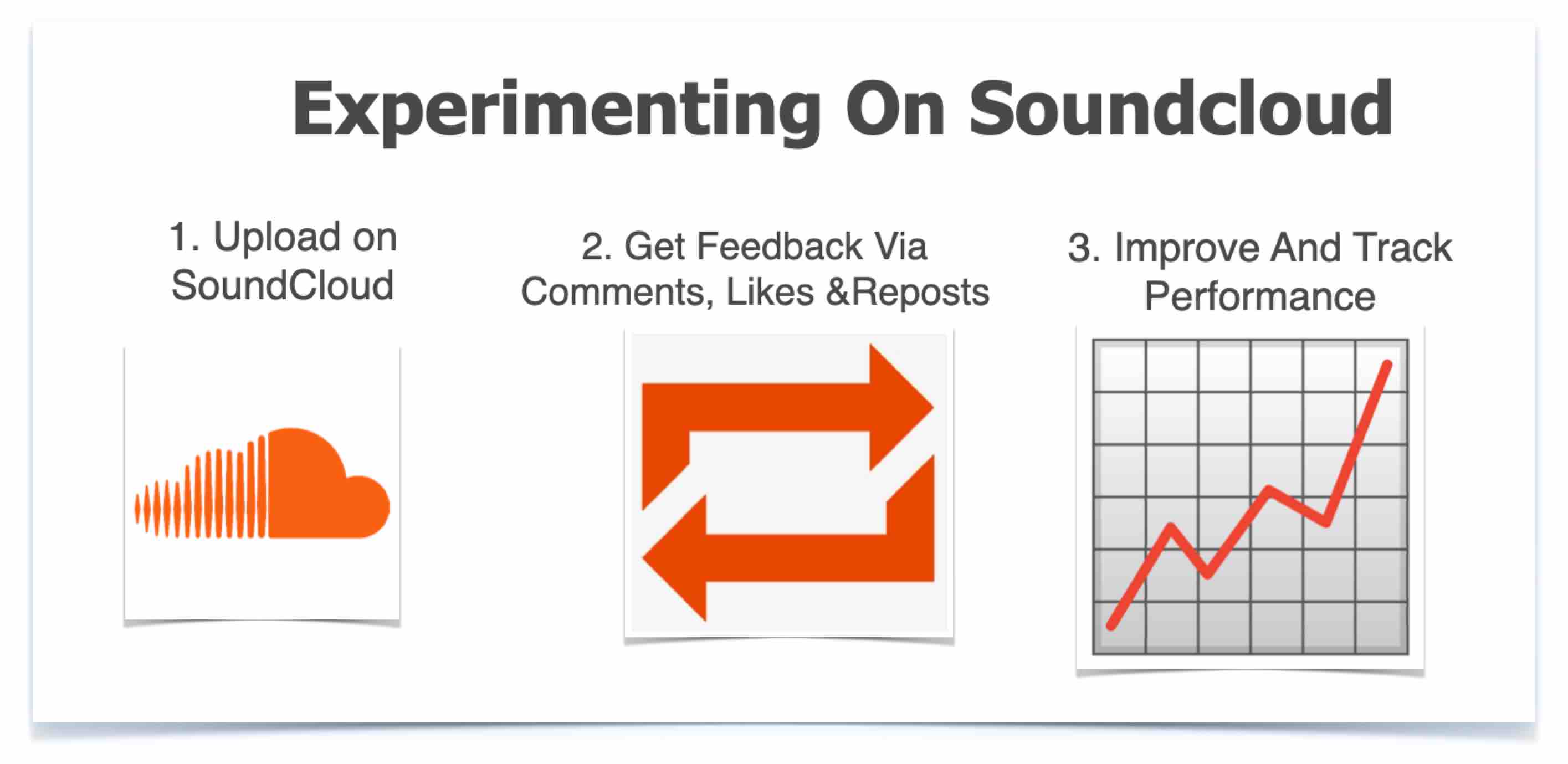 The more genres you can incorporate into your Soundcloud tracks the easier promotion will be.
In my experience the genres which receive the most love are:
Dubstep

Alternative rock

Alternative Hip Hop

Experimental Rock
Regardless of genre, you should get a promotion for your tracks that way you can stand out across the platform.
Although there aren't many large playlists to place your song in, just getting your tracks in decent lists will boost your plays.
I personally listen to this Lofi playlist for the past six years so I know that the playlists are legitimate to a degree.
Music promotion is hit or miss but I do find out that the general fan base on SoundCloud is loyal to the songs you like.
If you enjoyed this article, you may want to check out our Repost by SoundCloud review, as the platform is now in its adult phase. Is it any good?
I hope you now know how to blow up on Soundcloud!
Join The #1 Platform For Music Artists.
We're starting a revolution - and putting music artists (like you) first.
Boost Collective is a free-forever music distribution platform. Upload unlimited releases to 150+ stores and platforms and keep 100% of your earnings.
You'll also get free playlist promotion, cover art creation, and much more!
Join Boost Collective for free here.