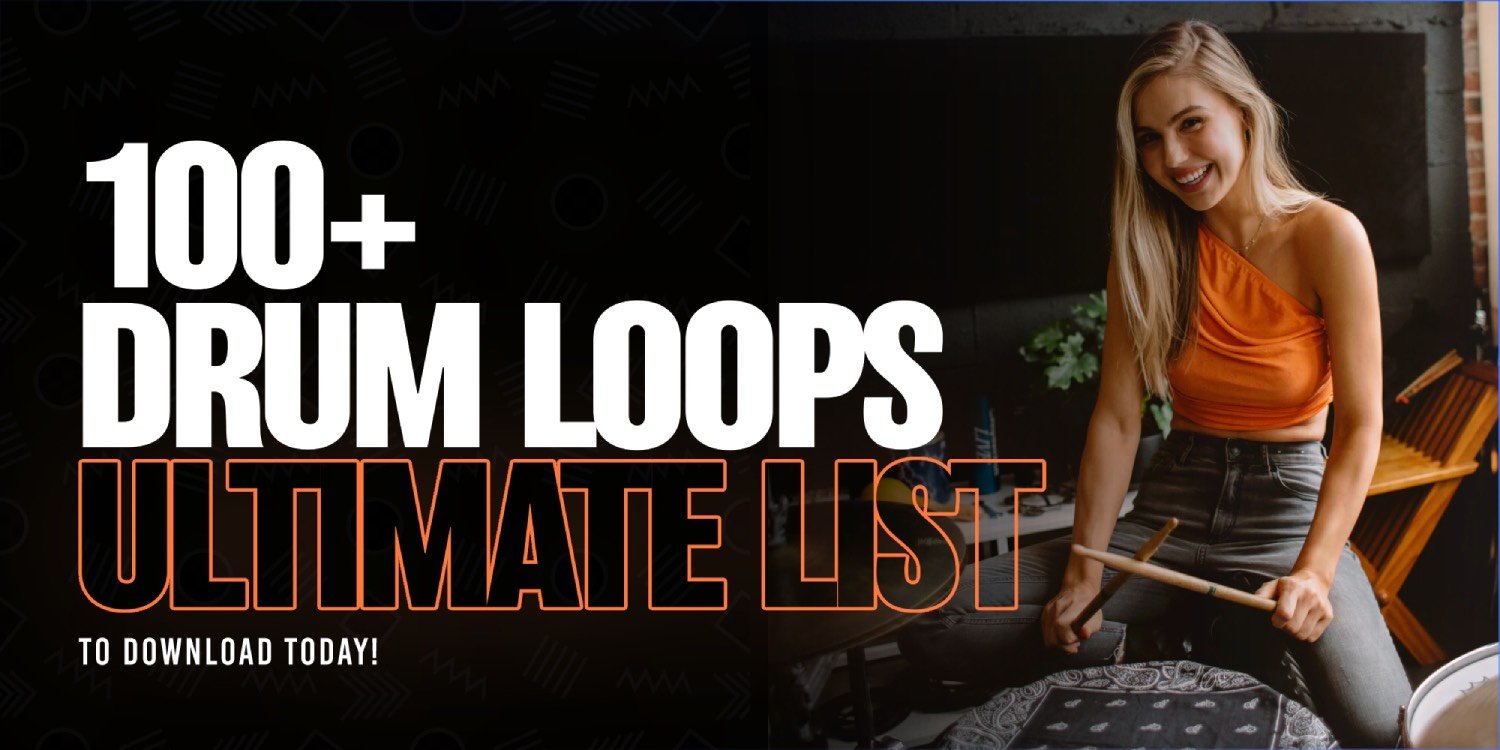 Free Drum Loops Sample Packs To stuff your Sample Collection!
With the growing popularity of music producers looking to make rap, pop, hip hop, trap and electronic music, it's no surprise that many people are looking for free drum loops sample packs online.
Having access to a diverse collection of drum loops sample packs can help you unleash your creativity and spark new ideas.

There are a lot of websites that offer free drum samples, but the majority of them are outdated or don't have a large selection.

If you're looking for new drum samples, we've got a long list of sources that have been verified.

First and foremost, why would you want to use free drum loops?
A drum loop is a section of MIDI data that plays over and over again, and they are an important element of almost any genre of music.
It can be programmed to play at a specific speed, pitch, and other parameters to create a repeatable rhythmic track.

Rather than hiring a full band and recording everything from beginning to end, you can simply key in a drum loop and have it play throughout your songs.
Alongside free drum loops, make sure you have the best guitar sample packs to help aid you in your production, as well as some drum kits, too.
100+ Best Free Drum Loops Sample Packs You Can Download Right Now
This is the ultimate list of free drum loops you can download right now:
To make things easier, we put all the drum loops above in one free download for you:
Can't see the form? Click here.
We all need a good loop from time to time, whether it's for a song, a video, or just a creative project.
These free drum loops are perfect for those types of projects.
When you have a drum loop to work with, there's no need to hire expensive session musicians.

These free drum loops are ideal for anyone looking to expand their collection, and you'll have no trouble finding gigabytes of samples.

You'll find free drum loops that will diversify your sample collection like never before.

Some of these sample packs include real drums, synths, alternate instruments, and even vocals.
With a drum loop, you have a ready-made instrument that can be used in any track. You can use it as a percussion part, a snare drum, or even as a wicked bass track.
Drum Loops By Genre
Drum samples come in many different varieties. You'll find a free sample pack that'll suit your needs.
There are open hi-hats, closed hats, open rolls, wet sounds, click samples, and everything else in between, meeting today's standards of music production.
The great thing is that you can create any sound you want using these different types of drums.
You might find the right free drum loops for your song in some of these other packs!
The most important tip when it comes to choosing the right type of drum sample for your track is to focus on vibe, to get the dance floor pumping!
Free Lofi Drum Loops

The signature mellow and vibey lo-fi sound can bring some unique elements to your production.
These free drum loops are perfect for sparking creativity and giving you some unique material and groove to work with. Enjoy!
For our full list of Lofi drum loops, click here.
These loop packs will have you covered in no time. They range from hard hitting, aggressive to soulful, and everything in between.
These free drum loops are perfect for any genre of music, including hip-hop, R&B, pop, and more.
Free Trap Drum Loops (Royalty Free)

If you want to create trap beats, you should choose trap drum sounds.
Trap sounds are usually characterized by kicks, snares, and claps, whereas other genres usually use different drum sounds.
Trap drums are usually played with the hi-hats, medium-hats and cowbell, which makes them a lot more common than a lot of people might think.
For our full list of free trap drum loops, click here.
Free Jazz Drum Loops

These jazz sample packs contain jazz drum loops that are perfect for bringing some authentic jazz influence to your productions.
When you have a drum loop to work with, there's no need to hire expensive session musicians to complete your project.
Access the full list of free Jazz drum loops.

In some of these sample packs, you'll find real drums, synths, alternate instruments, and even vocals to download.
Free Rock Drum Loops

Having a big collection of rock drum loops is essential for any producer, regardless of genre, even if you're making pop music.
These free drum loops sample packs tend to be more organic and classic sounding, which is a welcome element in today's synthesized-everything.
Check out our full list of free rock drum loops.
These are most commonly used for making rock songs, pop songs, EDM, hip hop, R&B, etc.
You'll find a variety of different rock drum samples to choose from, like acoustic drum loops, electronic drum loops, tribal drum loops, live drum loops, etc to download.
Hip Hop Drum Loops Free Download Wav

Hip Hop is a popular genre that has very flexible and dynamic drum patterns - and as such, you can use these free drum loops interchangeably across many genres.
These are perfect for adding a quick drum beat to your song, and can increase your creative throughput on your production.
For our full list of free hip hop drum loops, click here.
Free GarageBand Drum Loops Samples

If you're seeking for new Garageband-specific drum loop sample pack, we've got you covered with a comprehensive list of sources that have been recently validated and are in .AIFF format.
We've included a collection of drum loops that were created exclusively for Garageband in the section below.
Every free Apple Loop that has been properly prepared to function with Garageband and are ready to download:

For the full list of free GarageBand Drum Loops, click here.
Free Drum Loops Wav Files
While MIDI is preferred for drum loops, there is for sure a use for pure .WAV files.
We've gathered together a list of the Wav best drum loops from producers all over the globe.
From modern beats to old-school hip-hop, you'll find a loop here that's perfect for your next track.
With so many options to choose from, it's easy to get lost in the mix.
That's not a problem with our list. We made sure to include loops for just about every genre, style, and tempo.
Go down the list, you'll find both WAV and MIDI drum loops you can snag!
Free Midi Drum Loops Pack

MIDI loops can be used in a wide variety of ways and are a staple in music production, from adding a quick drum loop in your song to creating an entire track with a drum beat.
These MIDI drum loops are very easy to use as they are provided as a single MIDI file ready for download.
These are perfect for adding a quick drum beat to your song.
For our full list of 1,000+ free midi drum loops, click here.
How to Use Royalty Free Drum Loops

Drum loops, whether in the form of one-shot samples or full drum kits, can be used in an infinite number of ways in music.

You can use them as a tool in your project to give your arrangement that extra something it needs, or as one component in the creation of a song.

It's entirely up to you!

You'll need to download your free drum loops first. Sample packs or free drum kit libraries can provide them.

You'll need to import them into your DAW once you've downloaded them.

Make sure your project is synced to the same BPM as the loop, or choose a drum loop that matches your project's BPM.

This will make it easier to sync your drum loops and give them a professional sound.

You're ready to start making drum tracks now that they're in your DAW. You'll want to use a variety of different techniques to create your drum parts.

To make long drum parts, you could copy and paste from one sample to the next or use looping software.
Here's a great tutorial on how to use drum loops:
Can I Use a Free Sample Pack If it's Not Royalty Free?

While royalty-free licencing is the best option, it is not the only one available.

There are numerous types of licences available when you download free drum loops, and you can select the one that best suits your requirements.

The majority of paid sample packs you download will be royalty-free. The majority of free drum loops are also royalty-free, but this is not always the case.
If you're planning on making a major release where you're selling and distributing your music worldwide, it might be smart to make sure that you are using entirely royalty-free samples.
You can usually get away with using any type of drum loop or sample if you edit them to the point where they are no longer recognisable as the original loop.

You can make editing a sample as complicated or as simple as you want.
The most important thing to remember is that you should only edit a sample in order to improve its sound.

There's no need to edit a sample to make it fit into a pre-determined pattern or beat.

Always remember that the sample is a portion of a song, not the entire song.
Your imagination and creativity are the only limits!
Why Free Samples Are A must for your sample library

Using free samples and loops, as well as a large sample collection, has numerous advantages in music production.

You'll be able to make better music with more drum samples and (in general) sample packs if you have greater creative freedom.

There are a variety of ways in which samples can be used, from providing a song's structure and rhythm to acting as a click track for your recording session.

There are countless ways to include samples into your songwriting process, but a simple approach to get started is to grab a loop or a drum sound that you like and play it back to yourself repeatedly until you get it down pat.

Samples are a common tool in music production, and using them in this way can help you expand your creativity and discover new sounds you like.

It's now easier than ever to get started making music on your own without the assistance of a producer, thanks to the current spike in interest and the democratisation of software that allows anyone to compose a song.

Get as many samples as you can and improve your process so that you can swiftly create new songs.

I hoped you enjoyed this compilation of our free drum loops sample packs!
Join The #1 Platform For Music Artists.
We're starting a revolution - and putting music artists (like you) first.
Boost Collective is a must-join platform for music artists.
Join the rebellion! and get free music distribution, free music promotion, and more.
We're on a mission to change what is possible in the music industry and we need you!