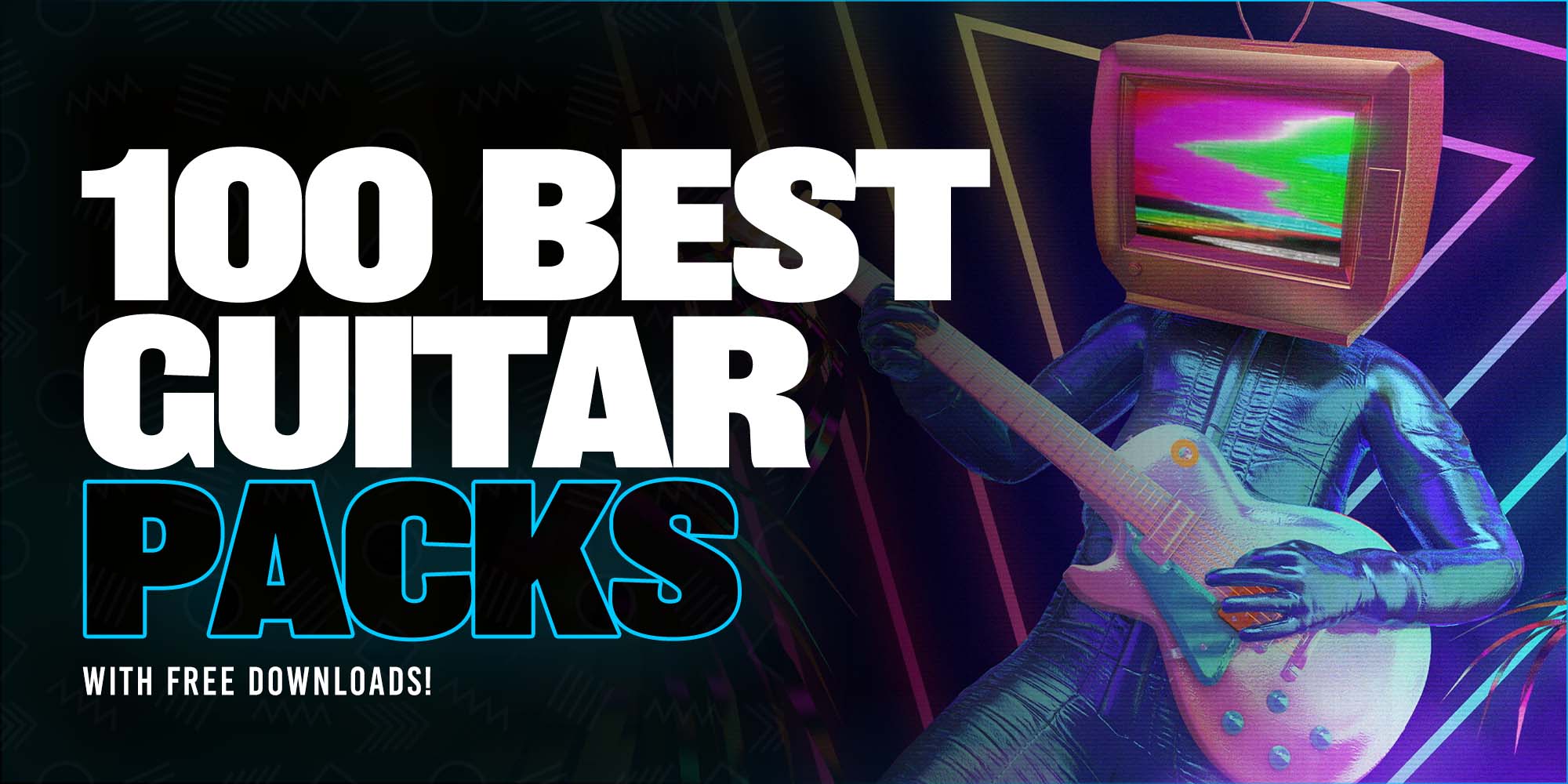 Get free Guitar Sample packs in Your Productions
If you're looking to add some texture and atmosphere to your songs...
Nothing beats a good set of free guitar sample packs and guitar loops.
These sounds can be used in everything from EDM to hip hop to future bass and beyond, and they can be programmed into any sequencer or sampler.
100 Best Free Guitar Samples and Guitar Loops: Ultimate List
This is the ultimate list of free guitar loops and samples including all types of guitars - acoustic, rock, heavy, jazz, metal, electric, and so much more.
When you find a free sample pack you like, simply click on it and you'll be redirected to the site where we found them for you to download.

We've also added some paid packs in the mix that are of great quality if the free ones don't satisfy your needs.
We're always adding more to this list, so be sure to check back, share with friends, and most importantly make the most out of these amazing samples!
Top 40 Guitar Sample Loops:
These sounds can be used on their own or layered with other sounds, and they can be as simple or as complicated as you want them to be.
They're an excellent way to add variety to your songs and to keep your listeners engaged by providing them with something new and unexpected every time they hear your songs.
They're also a great way to experiment with new sounds and discover new creative inspirations.

What's more, you don't have to be a master shredder to use them — lots of producers use guitar samples to add texture to their songs, even if they don't play the instrument themselves.
Whether you're looking for acoustic or electric sounds, or something in between, this huge list of the best guitar samples for production has you covered!
Push these free guitar loops to their limits!
How to Use Guitar Samples and guitar loops

Choosing the right guitar sample or loop will ensure that your song sounds polished and professional.
You can find hundreds of great guitar samples online or purchase a high-quality sample pack.
To use your samples, simply download them and place them into your DAW! Usually, samples come in .WAV files and can just be placed in.

Sometimes sample packs will include MIDI for chords and other melodic progressions to use alongside your samples - these can also be useful for inspiring new melodies and riffs.
We've compiled the absolute best guitar samples in this article, so make sure you go down the entire list to see them all.
You can also try layering several samples to get the sound you want.

Recording a guitar sample is also an option if you have the right equipment.
Here's how to record your own guitar sample if that's something you'd want to try:
When sampling a guitar, make sure that you grab the cleanest, most dynamic recording. Avoid low-fidelity recordings or those with excessive reverb.
Grab the guitar and start playing the scale, making sure to keep a clean, dynamic sound. Keep the metronome ticking and try to maintain that click as you play the scale.
Once you have the recording, you can use it for analysis using any number of software packages or hire someone to do the analysis for you.
The important thing here is that you are recording at the target tempo.
If you are trying to learn the scale at a quarter note = 72 bpm, then make sure that you record it at a quarter note = 72 bpm.
Once you have your recording, you have a few options.
You can simply record yourself playing the scale over and over again until you have a clip that is about 10 seconds long, or you can use a looper pedal to record yourself playing the scale as many times as it takes to fill up 10 seconds of time.
Usually, though, it is best to start with a sample loop of a guitar first to get the idea down.
Once you have the idea all fleshed out, you can then record a real guitar to bring an added layer of polish to your track.
Royalty-Free Guitar Samples

It's important that you work with Royalty free guitar samples and loops as much as possible, especially if you're using full-length loops as a main part of your production.
It's very easy for copyright services to detect any copyrighted guitar loops - so it's important to be aware of that.
But fret not - the list we've compiled below contains tons and tons of royalty-free samples that are bound to work great in your music production.
Royalty-Free Guitar Loops by Category
Be sure to scroll down the entire list to see all the categories - you won't find a more comprehensive list of free guitar loops anywhere!
We've also added some paid sample packs that are of exceptional quality. If you're looking for higher quality samples or loops and are willing to invest in that
Best Acoustic Guitar Sample Packs and loops

These are the best acoustic guitar samples and loops - these are perfect for hip-hop, indie, alternative, or any other genres:
Agua Spanish Guitar Loop Kit (FREE)
These guitars are made to sound more melodic and organic. Enjoy!
Rock guitar sample packs and loops

If you're looking for a guitar sample pack for yourself new song that needs rock influences, these packs are for you.
Emo Guitar Loopkit (FREE)
Sampleswap Guitar samples (FREE)
"GUITAR LIFE" Rap Guitar kit (FREE)
Time to expand your library with rock guitar loops, one shots, and more!
Top jazz guitar sample packs and loops (Royalty-Free)

Here's a list of some jazz-influenced guitar samples for your commercial projects. These can work well for any genre, as far out as hip-hop.
RnB Guitar Loop Kit (FREE)
Your limit is what you set your mind to! You might also find other instruments that give a jazz vibe in these collection of sounds.
The Best electric guitar loops (Royalty-Free)

Here's a collection of sounds, one shots, and loops to help supply you with that electric guitar sound.
"GUITAR LIFE" Rap Guitar kit (FREE)
Cymatics Roses sample pack (FREE)
Some of these are recorded, others are made with synthesizers.
You're sure to find a sample pack here that satisfies!
The Best metal guitar loops (Royalty-Free)

Here's a collection of the best metal guitar loops, melodies, and more that you can use in your music or commercial projects.
Daytrip Guitar sample pack (FREE)
Finding a great guitar sample pack is one of the most satisfying things ever.
Let's see what kinds of music you can make with these metal guitars!
Why Use Paid Guitar Sample Packs?

Paid sample packs can help you achieve the exact sound you want for your songs and projects.
Using a sample pack is a lot easier than recording your own guitar tracks.
You don't need any recording gear, and you don't have to worry about setting up mics or synths.
All you need to do is download the sample pack and start creating songs.
Depending on the quality of the sample pack, you can get some really amazing sounds that are worth recording.
The best sample packs are filled with high-quality samples ready to be used in your songs and projects. You can easily modify the sounds to fit your needs.
Depending on the type of sample pack (e.g. rock, metal, acoustic, synth), you can adjust the tone to get the exact sound you want.
Using a paid sample pack is also a lot less expensive than hiring a session musician or buying all the recording gear.
Using a Paid Subscription Service For Guitar Samples
While you can scour the web to find many a sample pack, many packs either cost money or you aren't sure if you'll get royalty-free samples.
Usually, you want to use free packs for personal use only, since there is no guarantee that the recorded guitars are royalty-free or not.
A sample pack you get from a service like Splice or Looperman has all the legal guarantees to let you create music for personal or commercial use.
These services are subscription-based - you can cancel anytime.
How it works is you pay a fixed monthly fee, and you get unlimited access to their entire catalog of samples.
When you find a sample pack you like, you can easily just download it to you are immediately in your music.

A sample pack from places like Splice or other popular subscription service have pros and cons:
Pros:
A sample pack will be royalty-free and be of very high quality

Unlimited access to a huge catalog of samples and loops

You'll find a sample pack for every need - from guitars and beyond.

You can cancel anytime
Cons:
Costs a lot of money.
You're not supporting smaller artists that can make money by selling their own sample packs not seen on these services.
I hope you enjoy our list of the best free guitar sample packs and guitar loops!
Join The #1 Platform For Music Artists.
We're starting a revolution - and putting music artists (like you) first.
Boost Collective is a free-forever music distribution platform. Upload unlimited releases to 150+ stores and platforms and keep 100% of your earnings.
You'll also get free playlist promotion, cover art creation, and much more!
Join Boost Collective for free here.