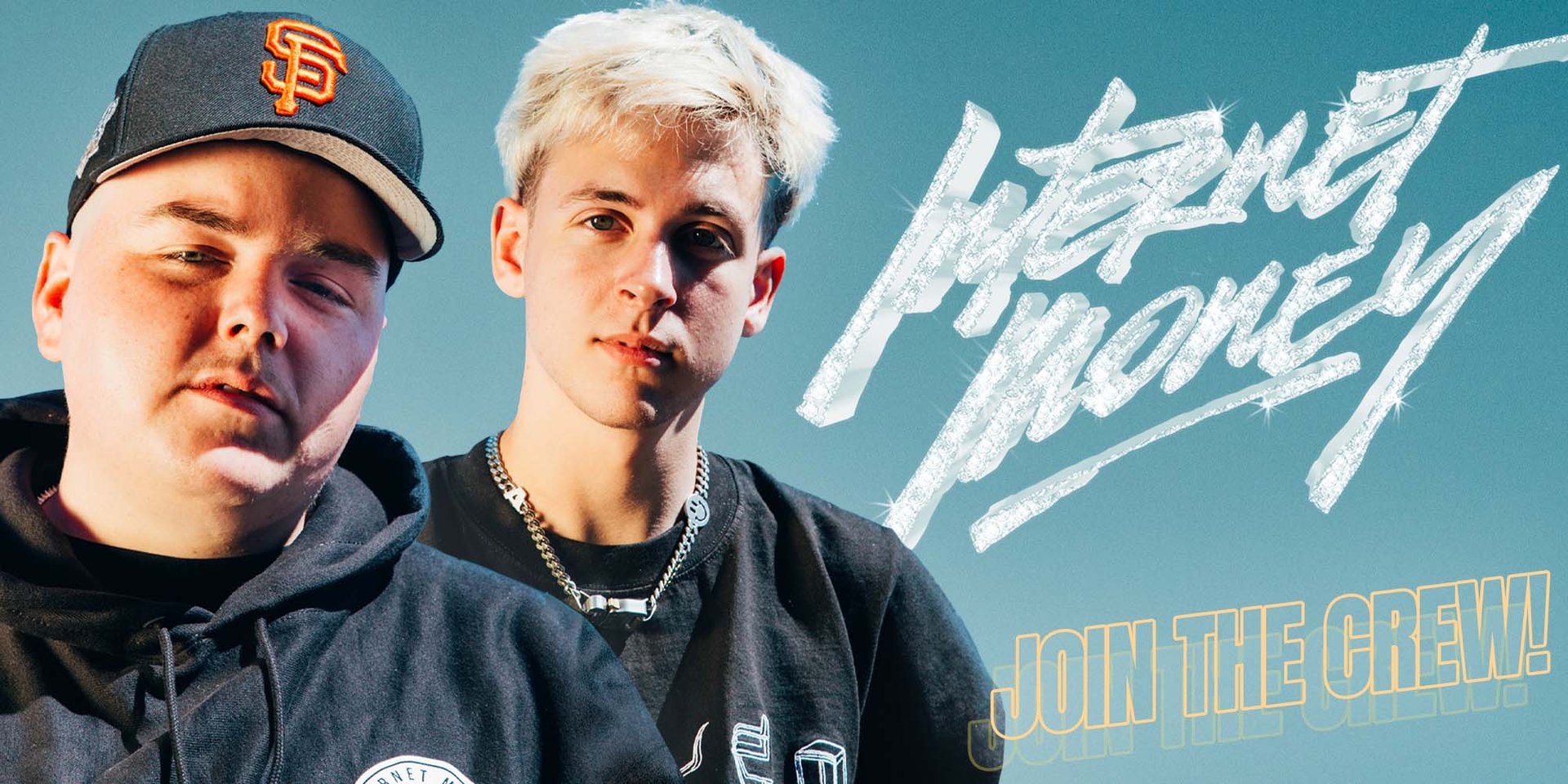 Here's how to join internet money records, step-by-step
Knowing how to join Internet Money Records can put you on a path to further growth as a music artist.
Taz Taylor has come a long way since his days of selling beats and drum kits online just a few years ago.
Together with Nick Mira, Internet money built a producer collective empire.
If you REALLY want this goal to come thorough.. You'll have top read this a few times over :)
It's safe to say that Internet money records has quickly churned out some of hip hop's biggest records.
Scoring yourself a spot in the internet money inner circle has the ability to provide you with a fully fledged career, making beats online for some serious money.
How To Impress The Internet Money Team
Let's get right to business...
Of course, it's going to be easier to join internet money if you have a hit record and years of experience selling beats online.
Internet money founder Taz Taylor has mentioned how the group is always consistently keeping an eye out for new talent.
So how do you join the beat-making crew? Here's the best method.
If you want to join internet money, build up your catalog of artist placements.
From there, you'll be able to utilize your network to get connected with other prolific producers.
Once you've built a strong connection with other producers, collaborate with them to score bigger artist-beat placements.
It'll be much easier to join the record label when you're interconnected within the industry.
Focusing on networking in the music industry will be your biggest secret weapon above all other producers fighting for attention.
This book is widely used in music schools around the world and was called "the best how-to book of its kind" by Music Connection.
It inspired thousands of people to stop waiting for their "big break." and to claim success!
Ari
Herstand,
who
has
become
the
go-to
expert
for
"do-it-yourself"
artists,
is
back
with
a
second
edition
of
his
book.
(He's become a friend of mind too, cool guy. 😆)
Ari
says
that
a
stable
career
can
be
built
by
using
the
many
tools
we
have
at
our
disposal:
Mastering

social

media

Mastering

the

art

of

merchandising

Embracing

real

connections

with

fans

And

just

learning

how

to

keep

going
It
is
completely
up-to-date
with
the
latest
online
trends
and
news,
and
it
includes
inspiring
success
stories
from
media
like
Spotify
and
Instagram.
If you can't invest $25.00 into your brain - just quit your music career.
The information is working a thousand times over.
Should You Sell Beats Online Or Focus On Artist Placements
When you're navigating your moves in the rap industry, a big question we get all the time is...
"Should I be focusing on selling beats online? Or should I focus on getting placements with artists"...
Here's our take...
With the music industry being super saturated in recent years, where anyone with a laptop and an internet connection can master FL Studio if they put their mind to it...
Platforms such as Beatstars have more beats being listed by the daily.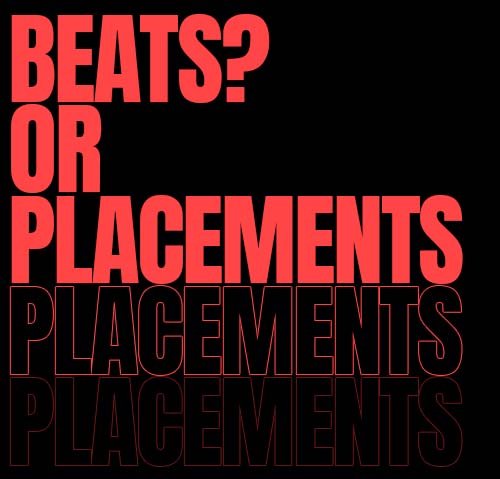 In our experience focusing on selling beats can actually be counterproductive to your long-term success.
Climb The Placement Ladder
Here's how to dominate the music industry as a music producer going forward.
No more selling a beat online to get by. You want to build your clout as a producer.
The easiest way to do that is to climb the placement ladder.
Here's how it's done:
First, get very efficient at surfing through Spotify. You can download the Spotify desktop app here (highly recommended you use a computer).
Next, you'll need to find artists that are talented but small in monthly listener size.
If you go to their about section where their biography is (just scroll to the bottom of their profile.)
You'll be able to find their Instagram where you can reach out and contact them.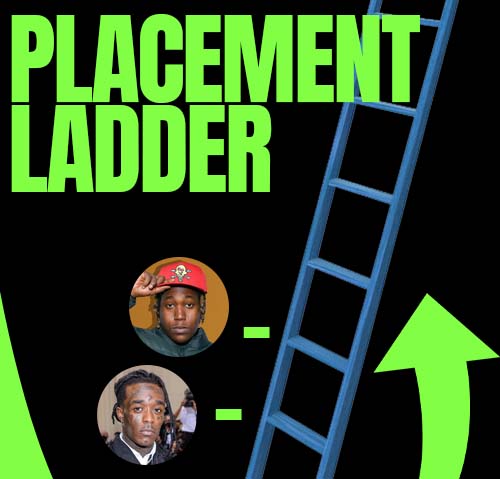 You'll need to prepare a folder full of beats that are privately uploaded to be able to send these artists you reach out to.
We recommend using a private SoundCloud playlist to keep all of your beats in one spot, or google drive.
Back on the Spotify desktop app, check out the artist you've founds similar artists or other artists they've collaborated with.
Make sure to reach out to as many artists as you can.
The volume of reach outs will be your best friend going forward throughout your placement journey.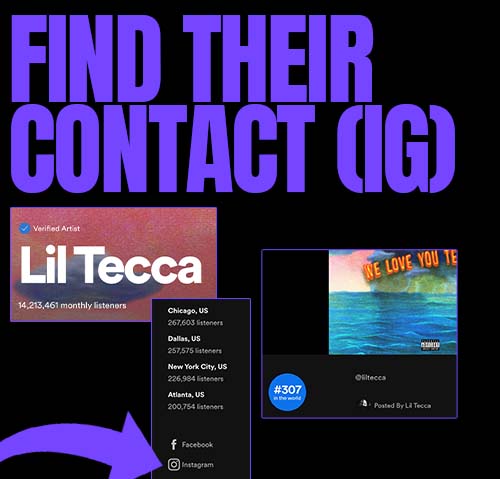 The goal here is to be able to go for bigger and bigger artist placements, the more credibility and connections you gain.
Let's say at first you work with 10 artists that have 2000-5000 monthly listeners on Spotify.
From there, you can contact other artists that have 6000-10,000 monthly listeners.
From there, you can continue to work with bigger and bigger artists.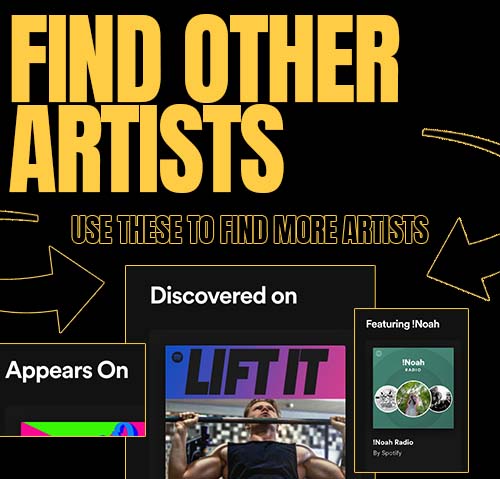 Eventually, you'll be able to work with massive artists which will be huge for your personal branding and reputation.
Gold and platinum records await you!
Another step you can add is collaborating with other artists that are working with bigger artists.
They can tip you off to other artists and producers you'll need to know.
The whole idea is to get yourself deeply rooted in the industry.
In case you're unsure of the amount of revenue you can potentially make, here's a guide on how much money do producers make per beat.
Placement Hack To Build Your Reputation Faster
Here's a killer tip for making it much easier to get more placements.
Here's the best part... it's easy to do and will make you stand out.
If you're familiar with Internet money, and artists of that style... you probably know DJ Scheme.
You want to mimic his strategy.
Make sure the artists you work with list you as an actual artist in the release metadata when they're distributing the song.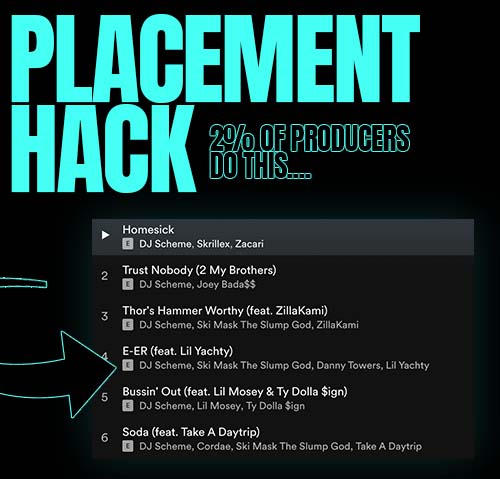 If you feel confident enough, try asking if they wouldn't mind if you took care of the distribution.
If you list yourself and the artist as "main artists" in the metadata, you'll be able to rack up the monthly listeners on your own profile.
This will give you mass amounts of leverage when networking with other artists and producers, as there's plenty of benefit to working with you, and here's why...
If you have your own artist profile on Spotify with plenty of listeners, artists will want to collaborate with you so that your listeners will come over to them.
It's a win-win scenario for everyone involved.
This is what we like to call "producer leverage".
Once again you'll be able to stand out in the scene of music producers all fighting to make beat sales.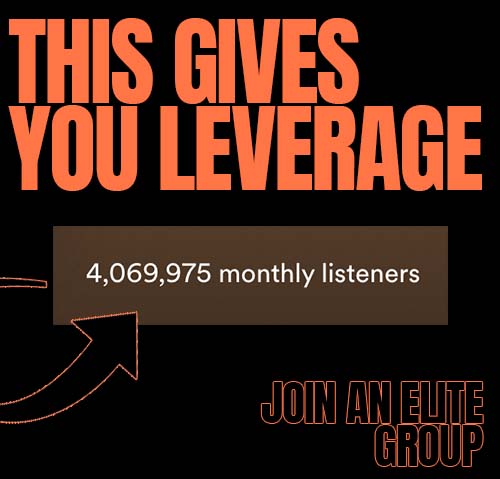 If you got the chance to buy a beat from a known producer, you'd probably take that opportunity.
This will allow you sell your beats to smaller artists once you've achieved scale much easier.
This will act as a powerful second income source for you other than just royalty payouts from artist placements you secure.
Artist "Type Beat" Styles To Focus On
If you're looking to join the club, we'd recommend getting good at creating beats in the style of artists that embody that internet money sound.
Taz Taylor and his crew have shaped the sound of the following artists:
Juice Wrld

Lil Tecca

Don Toliver

Lil Skies

Lil Mosey

Lil Gnar

The Kid Laroi

Trippie Redd

Lil Keed

24kGoldn

SSGKobe

Dro Kenji
These are all great types of beats to work with!
Catch A Feeling For The Internet Money Style
It's easy to recognize the sound of Internet money records thanks to producers such as Nick Mira, Rio Leyva, Sidepce, Cxdy, JrHitMaker & Census just to name a few...
The internet money sound usually consists of swingy trap percs, punchy snares, acoustic guitar loops, and of course...
That signature 808 sound.
(You know what I'm talking about).
If you're looking to get a feel for the production process, thankfully there are a plethora of in-the-studio videos with Nick Mira himself.
If you've been on YouTube in the hip-hop space and are into making music...
You've definitely seen these videos.
Check out one of our favorite the studio video with Nick Mira below!
How Did Internet Money Start?
Record producer Danny Snodgrass, better known as Taz Taylor, founded the Internet Money collective/record label in 2016 along with Nick Mira and D.T., formerly Sidepce.
Internet Money got its start in the music industry through YouTube and beat forums.
With founding members knowing their way around guitars and the ability to craft more upbeat melodies...
It is no surprise that Taylor has a roster of A-list rap stars in his discography: He worked on Drake's 'Blue Tint', which appears on the rapper's 2018 album Scorpion.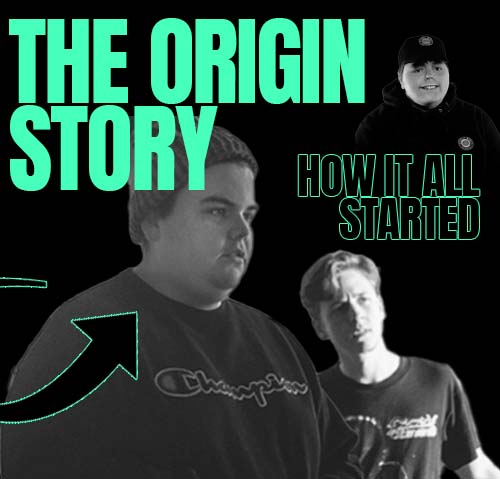 Taylor realized that Internet Money projects are highly sought after.
He already had the material but says that "there is politics when working with artists.
A lot of them are cool, but most of them are protective of their work".
Although it took a few days longer than anticipated, Taylor began making "B4 The Storm" in a week.
In the music world, Internet Money represents what it means to be limitless and futuristic.
Taylor says he wants to encourage artists of all types. "I just signed a Canadian country artist.
He's not from the South.
A TV show is in production, artists are being signed, and albums are being recorded. My second album, which I'm aiming to release by the end of this year, is almost finished."
In Taz's opinion, the rap world will abandon hardcore lyricism and storytelling in favor of melodies.
Taylor's five-year plan wraps up as such: "You can't think about that now because we've already accomplished so much in such a short period of time.".
I believe music is one of those things where you have to march to the beat of your own drum.
I can't imagine how good it feels to actually make something of yourself once you have survived all the 'no's and when people tell you you can't do anything."
How Do I Contact Internet Money?
If you're looking for an easy 1 step email reach-out method to get in contact with the label, sadly it's not that easy...
Instead, focus on getting in contact with smaller producers within internet money, and build a strong friendship connection with them.
Thankfully, the majority of the producers in the collective are friendly and easy to reach out to.
If you're able to provide immense value to them, you'll have a great chance of gaining some traction within the crew.
Just make sure that you're building relationships that are not transactional. Give value with no expectations.
Here's a list of producers within the record label.
Nick Mira

Rio Leyva

Cxdy

Census

John Luther

Pharaoh Vice

Paryo

JRHitmaker

KC Supreme

FRANKIEONTHEGUITAR

E-Trou

Niketaz

Manso

Jo L'Z

ERA
How Much Does Internet Money Charge For A Beat?
It's safe to say that internet money as an entity is not selling beats currently.
You can purchase beat-making kits from their WavSupply website.
Alternatively, if the price is right, you can most likely score a beat from one of the producers in the collective, however, they may charge you upwards of $2,000.
I hope you now know how to join Internet Money Records!