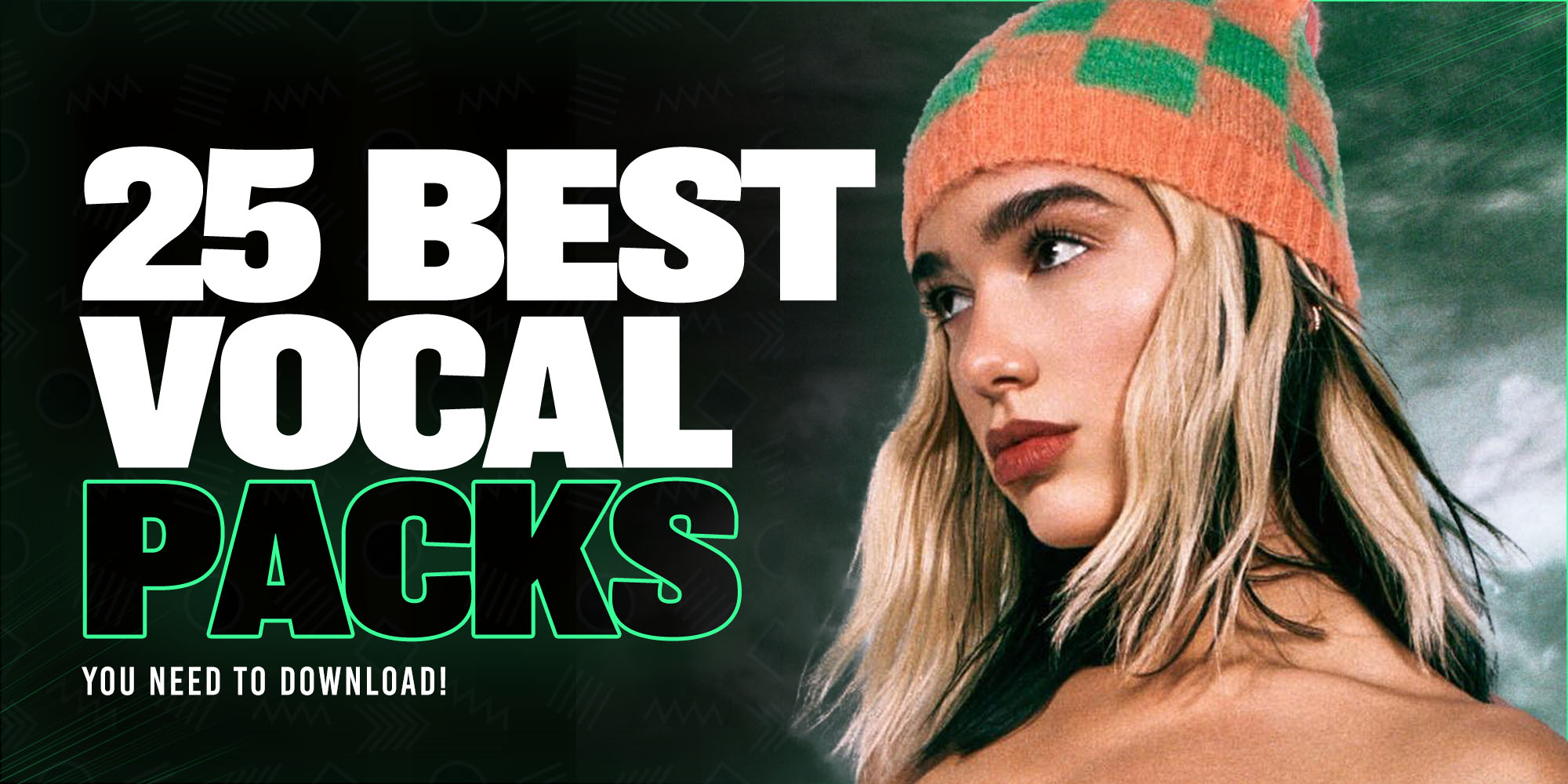 Get Amazing free Vocal Sample Packs For Your Productions
Getting vocals for your music or beats no longer requires having to hire a vocalist now that you have free vocal sample packs you can download!
Nowadays, you can browse thousands of vocal sample packs, loops and one-shots to find the right vocals for your needs.
Choosing the right vocal sample pack for your project can increase the impact and quality of your music.
It's important to consider the type of music you're making, the genre, and the purpose of your song when choosing which pack to use.
Perhaps the most important thing to consider when choosing a vocal sample pack is the tone of the sample.
In order to be used in a song, the vocal sample has to work well with the music, which means the sample has to fit the genre and style of the song.
In order to help you with this, we've compiled the best free vocal samples, vocal loops, and vocal chops you can download right now!
Make sure to check out our ultimate guitar sample pack list so you can have some sick guitars to go along with your vocals!
25 Best Free Vocal Samples And Vocal Loops: Ultimate List
These are the best vocal sample packs at a glance:
Vocal Chop & Stabs

- Vocal Sample Kit
Purple Clouds

Vocal Library
Anime Gang

Fun Vocals
Purple Clouds

Vocal Library 2
Loud Mouth Chain

Vocal Sample Pack
Vocal Chants 3

Sample Pack
Loud Mouth: Top Vocal Chops
Vocal cuts n Chops

Top Loops
Lyrically Conscious

Free Vocal Samples
Juicy Vocals

Arcade Vocal Chops
Vocal Sauce Vocals Sample Kit
Katty Health Vocals Sample Kit
Cute Anime Female Vocals Sample Kit
Aerial Vocals Sample Kit
Bounce Vocals Vocals Sample Kit
Love Letter Female Vocals Sample Kit
Angelic Vocals Vocals Sample Kit
Ethnic Desi Vocals

Vocals Sample Kit
Ethnic Arabian Vocals Vocals Sample Kit
Vocal Shotz

Hip Hop Sample Packs
While there are lots of free options, there's a high likelihood that the exact vocal samples you're looking for are in a paid pack.
We recommend that you start out by downloading all the free vocal loops, and if you can't find anything you like, consider checking out the paid versions.
We've organized our list of the best free vocal samples by popular categories below so you can better find the right vocal pack for you.
Top free hip-hop vocal sample packs
Here are the best free hip-hop vocal samples you can download right now:
These packs are great for all genres though they work especially well for hip-hop, rap, pop, and hyperpop.
These are great if you want to create a song from scratch or use them as a starting point if you need some inspiration.
The best hip-hop vocal sample packs will have a wide variety of tempos, styles, and topics so that you can create a variety of songs with one pack.
These packs will also have a variety of different ways that you can use them in your music.
The Best female vocal sample packs

These are the best royalty-free female vocal samples at a glance:
If you are looking for a female vocal sample pack, there are many out there to choose from.
They all have different features and sounds, and you'll have a lot of crate-digging waiting for you!
These are the sample packs you can trust to deliver high-quality stock sounds with a female vocal twist.
When it comes to sampling female vocal packs, you can create an endless variety of songs with them.
The female vocal sample pack can be used to create any type of song you want.
From pop to R&B to country, it can be used in any of those genres.
These are versatile sample packs that can be used in any genre as well!
Top trap vocal sample packs
These are the best trap vocal sample packs at a glance:
If you're looking to create a song in a short period of time, then these vocal sample packs are a great way to get started.
They contain everything from vintage recordings to sound bites and are an excellent way to find a catchy vocal for your next track.
Another great advantage of these trap vocal sample packs is that you don't have to worry about copyright, especially if you heavily manipulate them for your productions.
These vocal samples are great inspirations for any melodies or hooks you want to make for your trap tracks.
Free Vocal Chops
Vocal chops are a great choice for making genres like bass, techno, house, trance, or any other EDM genre.
Use these as inspiration for your next drop idea!
Vocal chops are a great way to spice up any song and make it sound more professional.
Free Pop Vocals

These are simple, short phrases that you can use to build your own riffs and melodies. They're a great way to add some variety to your songwriting process.
You can also find plenty of free pop vocal loops on sites like Looperman.
There are a lot of great options for modern pop, so you should be able to find something that fits your songwriting style.
If you want to dig a little deeper, you might also find vocal samples that are created from scratch.
These will provide you with more creative options to use in your songwriting.
The Best Vocal One Shots
Vocal one shots are different from longer acapella.
These are usually short, less than 1-second-long sound clips that are suitable for your electronic, rap, or pop track.
The beauty of vocal one-shots is that you can give them the personality you like - use them to make harmonies, choirs, or sick spliced mixes.
Tons of ideas come out of these recorded one shot!
The KARRA vocal sample pack: is it worth it?

The KARRA Vocal Sample pack available on Splice is becoming ever-popular among a lot of artists. Is it worth the hype?
KARRA is a popular vocalist featured on lots of electronic tracks seen on labels like Monstercat, Mad Decent, and Spinnin' Records.
If you don't know the name KARRA, you definitely know her voice.
She's collaborated with famous electronic producers like Breathe Carolina and Seven Lions and is one of the most in-demand vocalists in music today.
This is the best pack to use when you need to create a fast-paced and catchy track.
There are a variety of different styles in this pack, so you will be able to create a variety of different songs with this pack.
All you need is a Splice membership to be able to download this pack. But is it worth it?
Well, according to the official Splice page, you aren't able to use any of these KARRA samples for an official release without her explicit permission (which will likely never happen).
So if you want to make music you want to distribute, this isn't worth considering in our opinion.
What Are Royalty-Free Vocal Samples?

Royalty-free samples are a great way to get started with music production.
A royalty-free license generally means that you are allowed to use the sample as much as you like, but may have to do so within certain restrictions.
There are also some limitations to copyright law that apply to how you can legally use a royalty-free sample.
When it comes to royalty-free vocal samples, they tend to be a bit harder to come by.
Since vocals are so unique, entire vocal acapellas are easy to be re-released in many productions.
Watch this insightful video from legendary producer Laidback Luke to see how to properly greenlight vocal samples:
Even if you use a long royalty-free vocal sample, there's a chance another artist already used it for their track, in which case yours might be flagged for copyright.
You'll usually find the best luck with either heavily modifying your vocal samples, getting explicit permission from the vocalist, or using short vocal chops and one-shots.
What do the best vocal samples have in common?
The best vocal samples are short and memorable.
They also need to fit the flow and tone of your song, sound unique to your song and complement the instrumental mix.
They also need to sound unique to your song.
For example, if you are sampling a song about heartbreak, you don't want your sample to be about falling in love.
Ideally, the sample will fit the lyrics and flow of the song, complement the song, and sound unique to the song.
You'll know when vocal loops are of good quality when they are actually written by songwriters.
You'll notice this when a vocal sample grabs your attention, has memorable phrases, and is generally of a higher quality than what you'd expect with your average sample pack.
How to use a Vocal Sample Pack in music production
Great! You have found a great sample pack, but remember to be careful when downloading it.
First you should make sure the file is secured from viruses or other malicious threats and that it's not shared with others who could be sharing your account details.
Once you've downloaded your vocal sample pack, loops, or phrases, all you need to do is browse through them within your DAW and drag and drop the ones you want to use into your current project.
From there, go ham!
Test loops, make choirs, change the keys, and add some soul to your track!
I hope you enjoyed our list of these packs.
Should You Pay for Vocal Samples?

While you can scour the web to find vocal loops, many packs either cost money or you aren't sure if you'll get royalty-free samples.
A collection of vocals can tell you one thing and it'll be an entirely different thing.
Usually, you want to use free packs for personal use only since there is no guarantee that the recorded vocals are royalty-free or not.
This is especially a problem if you want to sell your beats or productions with these vocals in them.
A sample pack you get from a service like Splice or Looperman has all the legal guarantees to let you create music for personal or commercial use.
It's something a lot of producers swear by.
These services are subscription-based - you can cancel anytime.
How it works is you pay a fixed monthly fee, and you get unlimited access to their entire catalog of samples, that you can grab anytime. You can find male, female, and rapper vocals.
When you find a sample pack you like, you can easily just download it to immediately in your music.
Alternatively, you could always opt for a service like Voqlr, a marketplace to purchase full-length acapellas and vocal samples for a fixed cost.
Once you buy it, it's yours!
Sometimes it's best not to be on a never-ending subscription model, which brings us to the pros and cons of using a sample subscription service.

A sample pack from places like Splice or other popular subscription service have pros and cons:
Pros:
The collection vocals and loops will be royalty-free and be of very high quality

Unlimited access to a huge catalog of vocal loops

You'll find a sample pack for every need - from vocals and beyond.

You can cancel anytime
Cons:
Costs a lot of money
You're not supporting smaller artists that can make money by selling their own sample packs not seen on these services.
I hope you enjoyed our article on the best free vocal sample packs!