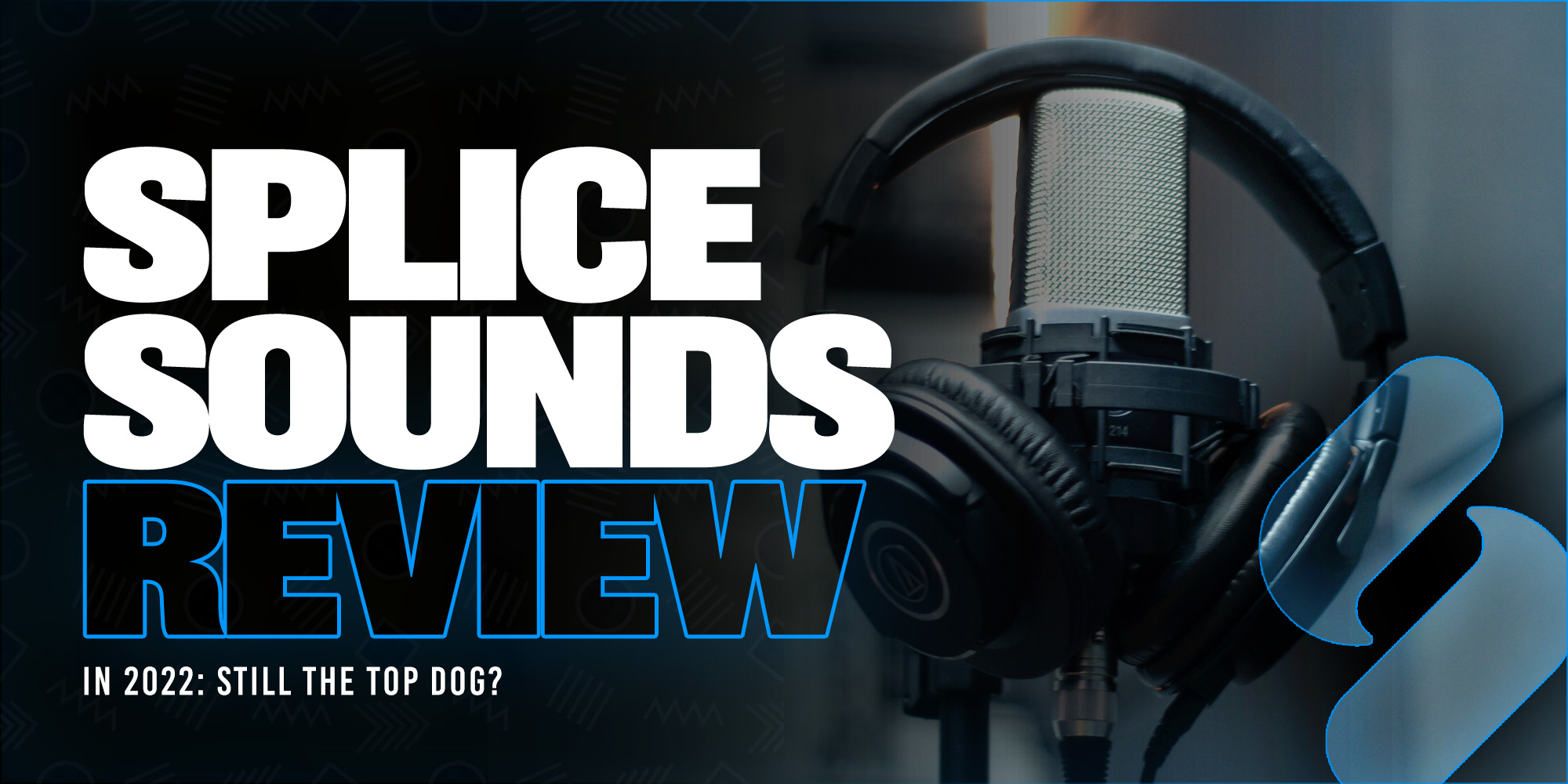 Is Splice Still King In 2023? Let's Break It Down!
TLDR: We Rate Splice sounds a 8/10. In recent years, Splice has made making music easy.
Producers can have access to all the samples & loops they could ever want and more.
With new digital audio workstation integration features and more, Splice sounds is the go to hub for sounds.
However, not being able to access your sounds after canceling your membership is objectionable in our books.
Splice makes buying samples feel reinvigorated.

If you're looking for a place to download sounds, we highly recommend checking out the free trial that Splice sounds offers!
We will also be exploring other services that you might want to give a try.
Submit your song, if I like it then I'll add it to my Spotify playlist.
I'm taking song submissions of all genres👇
Are Splice Sounds Worth It?

Pros:
Access to a massive amount of samples & loops

Digital audio workstation integration

Easy to use desktop app

Exclusive artist packs

Genre based categories

Access to Plugins & Presets
Cons:
Loss of access to your samples after membership cancelation

Splice app is slow & buggy at times
What Is Splice Sounds?
Splice sounds is a cloud based platform designed for those who want access to behemoth of a sample library.
It's an ideal platform for any music producer in the modern music production landscape.
Splice sounds gives users a unique experience when purchasing sample packs & loops.
The platform makes this experience unique for aspiring music producers.
In other words Splice Sounds is a simple online database/browser which contains a huge variety of sounds to choose from.

Splice themselves says that there are currently over 2,000,000 total individual sounds to choose from on the platform.
Here's What's Included With Splice Sounds
When you sign up for splice sounds, you'll be greeted with tons of music samples to check out.
Sample pack on sample packs... you won't have trouble finding some great samples.

If what you can download:
Drum samples & loops

Hi-Hat, Cymbals, Percussion etc...

Vocal loops & one shots

Piano loops & samples

Orchestra horns

FX loops & One Shots

Risers, Impacts, White noise, Ambient noise etc...

& much more
Navigating Splice Sounds
Navigating the platform has never been easier than it is now with the new Splice app (currently in beta).
In our opinion, this is what makes Splice so good... It's ability to launch your workflow into warp speed.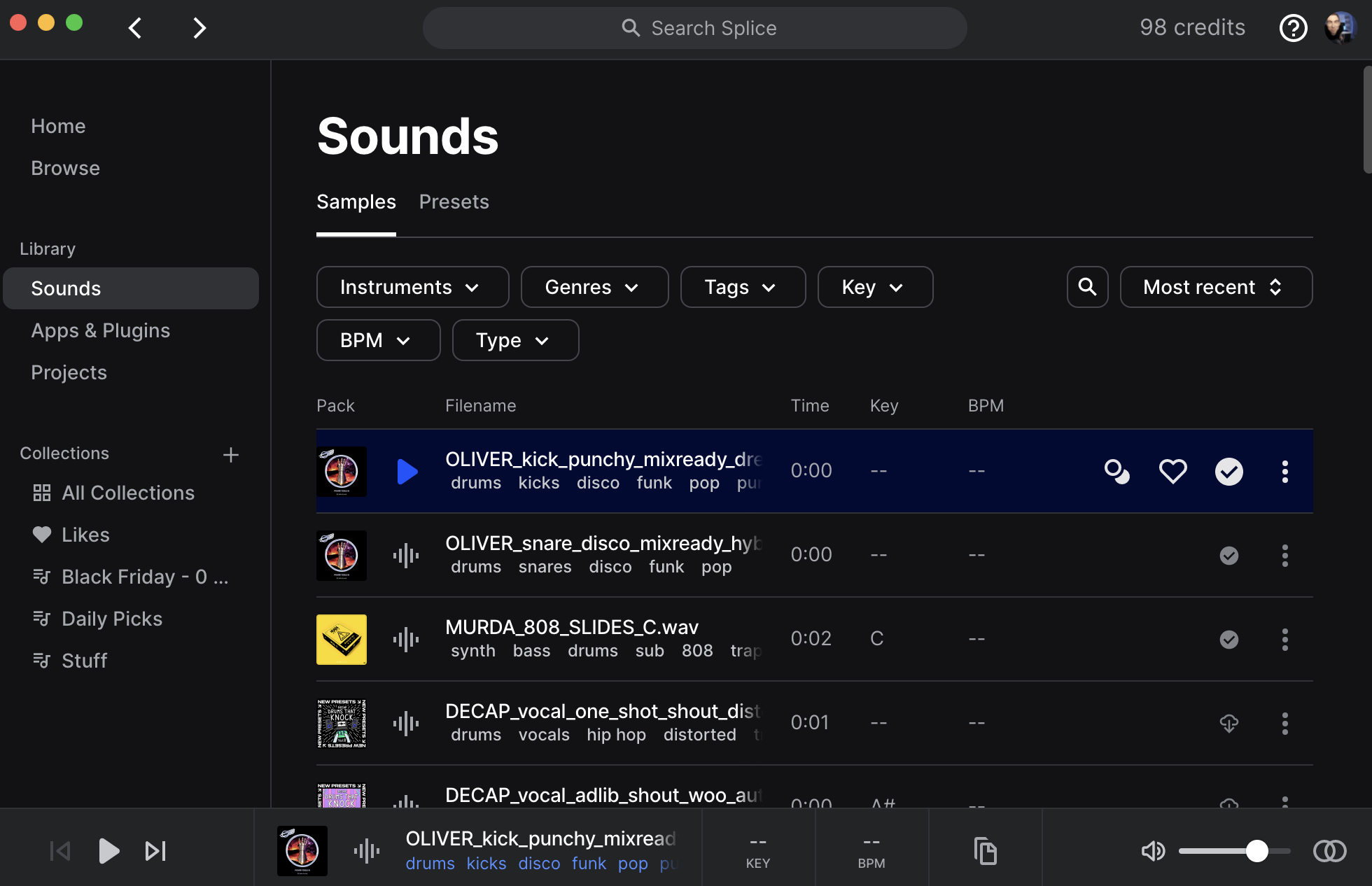 Picture this scenario... You're working in your DAW, writing the breakdown to your new song.
You're thinking to yourself... "You know what? If only I had some cyber trap drums I could use in this measure." Or perhaps...
"I need a sad sounding guitar loop in E minor to really capture the vibe I'm looking for."
With just a bit of mouse clicking... You can have that and much more...
My Experience Using Splice Sounds

You can go about hunting down new sounds in two different ways.
First, you can browse on the actual website and explore the options Splice has set out for you. Alternatively, you can use the desktop app to search for sounds on the spot.
Both have their use cases, and I'd like to break them down.
The first method I mentioned is meant for discovery.
Usually, I'm not actually producing any music when doing this. I'm purely there to browse the huge list of samples available.
On the right side of the main page, you can see the options laid out.

What I Really Enjoyed About Splice
I'm personally a huge fan of the overview tab which shows you new sample packs you might enjoy.
Splice does a great job at laying out new packs that come out, along with packs that you might enjoy based on your previous download history.
You can also see the top sample pack labels laid out in a list. I find it enjoyable to check out what the top labels are up to at times.
Usually, the top sample packs in any given week are a reflection of that pack's quality.
My personal favorite option is to check out the curated list of sample packs that the Splice team or other users have put together.
Usually, they round up only the best samples for a certain purpose you're looking for.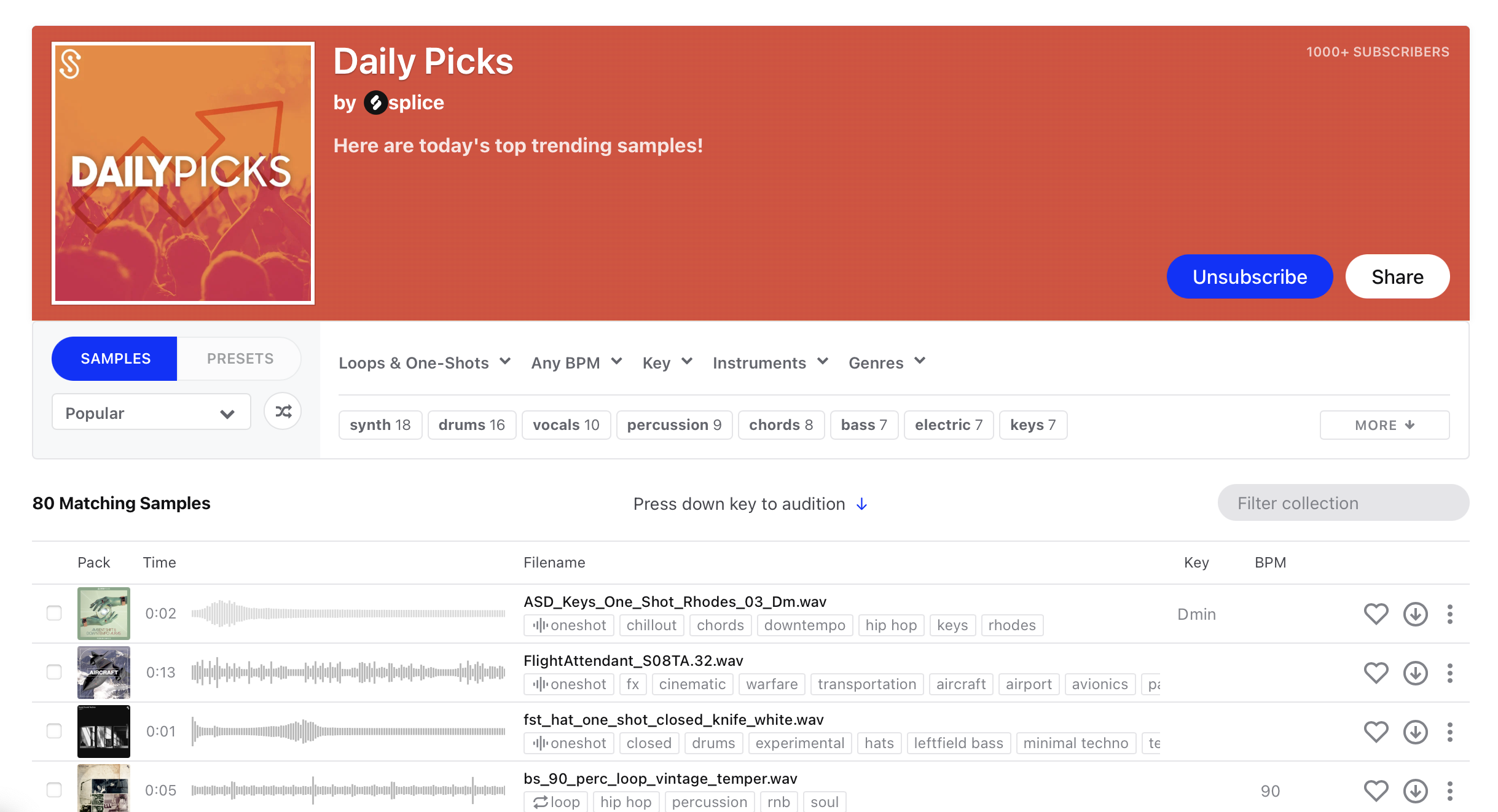 Usually, I find myself clicking play too many times to count, discovering a sound I really like, getting inspired to make a track, and then diving into producer-go mode.
It's great to be able to sift through the pack to pack, sort through individual sounds, and then use my credits on a specific sound that catches my ear.
How Splice Credits Work
Depending on the membership price you pay, you'll get a certain amount of credits.
You'll use these credits to exchange for samples.
The Splice rule of thumb goes as follows: 1 credit is equal to 1 individual sound.
At times I found myself wanting to be stingy as the 100 credits I got for the month seemed to go too fast when I first signed up.

Luckily, month over month, your credits do stack up.
So you won't have to worry about spending them all in any given amount of time... So long as you continue to pay the membership cost.
There is one major downfall in the overall Splice experience which I'm not at all a fan of, but more on that a little later.
The second way to go about finding sounds is hunt as you go using the desktop app whilst producing. This method is perhaps the best way to be more purposeful with your credit buying power.
This is where you're making a song, and whenever a sound pops up in your head that you need, you check the huge library through the app that floats atop your daw.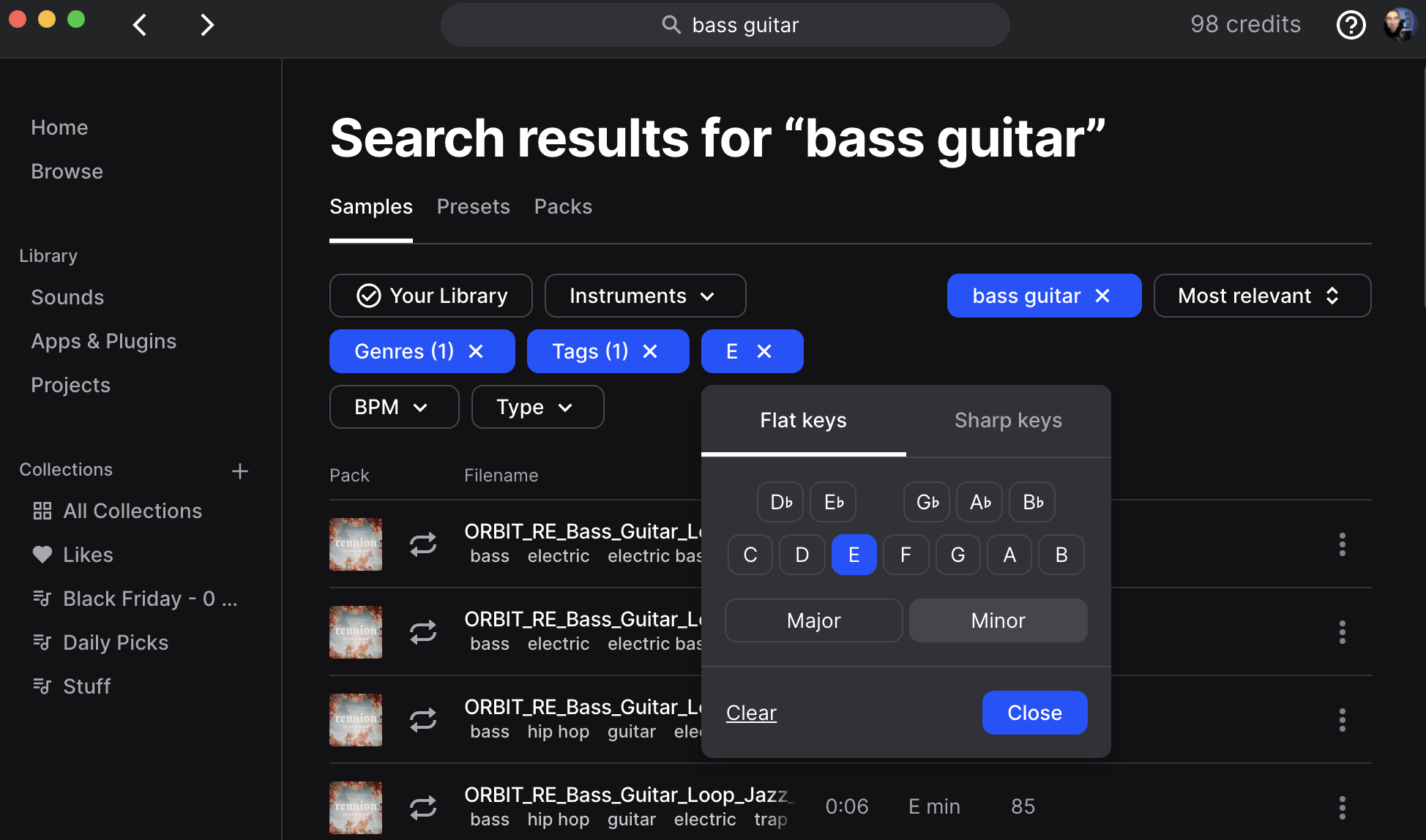 You then search up the specific sounds you're looking for, spend the credits, and then insert them where necessary into your sequencer.
It works great!
The only minor gripe is that the app can sometimes be buggy or slow, making browsing of individual sounds somewhat annoying.
Overall, it's a pleasant experience, and always comes in quite clutch.
My Only Major Gripe With Splice...
Splice is nearly perfect... until this happens to you...
I was swamped with work, and decided to take a music producing hiatus. So naturally I didn't need to you Splice for quite some time.

When I went to cancel my membership, Splice gave me the ability to pause my membership for a few months., and that was great!
However a few months later, I decided to jump back into Ableton.
I opened up the app for splice, and tried to load up a few sounds to load into my project.
But to my surprise... I kept getting a message saying "download failed."
It didn't take long before I came across the answer to my problem...
It turns out that you MUST have an active subscription to download anything. Period.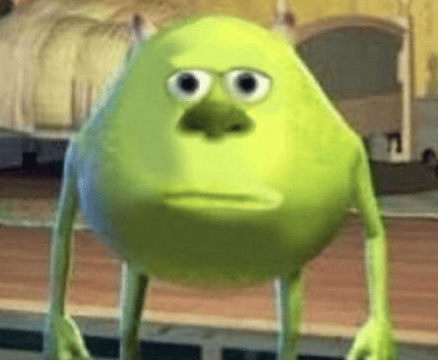 So all of those old samples that I had spent credits on over the years... I couldn't access.
I feel like this is merely a brute force tactic to get monthly recurring revenue flowing. If there was one thing that would make splice better... I think this is it.
You also have to be weary that if you stop paying for your subscription, your credits that you still have will go away.
So even if you resubscribe down the road... those credits won't be coming back...
Daw Integration Music Technology
Bridge is a VST plugin that links the existing Splice desktop app to your Digital Audio Workstation.
When you add a new channel and place Bridge on it, you can preview samples from Splice in both key and tempo with the audio routed through your DAW.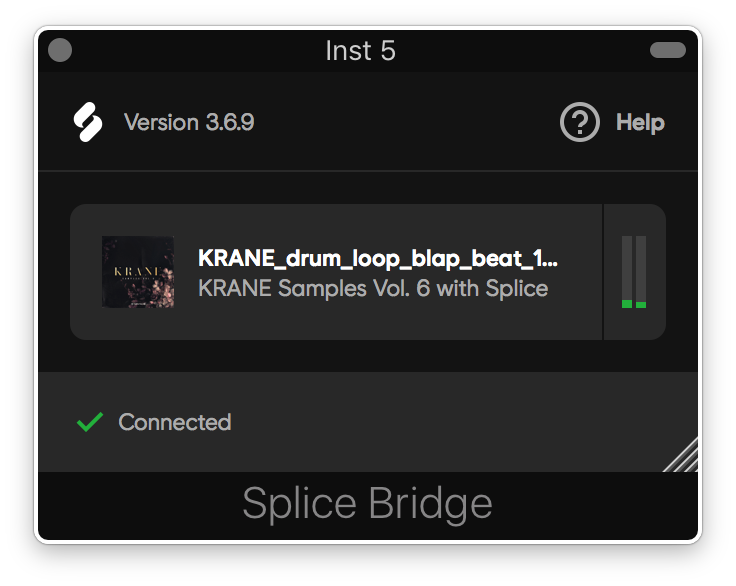 This is beneficial because you no longer have to use precious credits to buy sounds or drums that may not fit your current project.
Beat Maker and Rent-to-Own
You can create beats on your own computer by using BeatMaker.
The drum grid has the usual 32 marks of length (two measures of 16 notes or one measure of 30 seconds notes).
In the tempo settings, you have BPM, so you can put samples on different spots in the tempo.
It begins with a number of different songs from different artists and can be modified.
You can download a copy of the sample file or the MIDI file or Pioneer SP-16 / DJS1000 if you wish.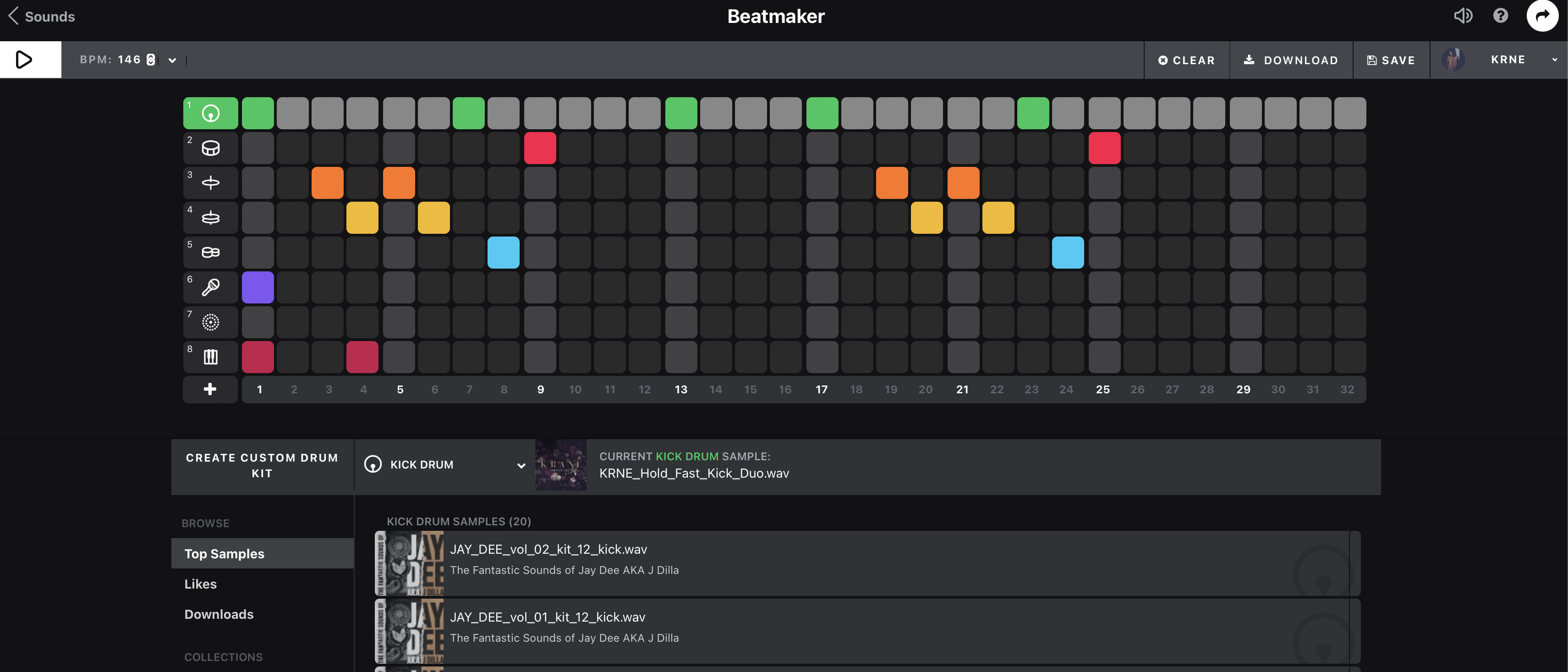 Splice's Beatmaker is a drum pattern sequencing interface that utilises your existing sample base or their pre-made kits.
There are 8 pads to drag and drop samples into, which you can modify by using your mouse or MIDI controller of choice.
The range of options includes choosing an envelope, EQing the sound, filtering it through Drive and Effects sections depending on how raw you want the final product to be.
In addition there is an Global FX section to process sounds more in line with traditional hardware tools used for drums!
You may export MIDI data as well as raw audio within these possibilities so that you may further manipulate them in other software like Logic Pro X or Ableton Live 10 Suite
Beat maker seems to be pretty interesting, and we think it'll continue to get better over time.
Plans, sounds and searching
Splice provides five plans. The basic $7.99 plans contain 50 downloads (a credit if you have one).
You may also upgrade from 200 to 300 credits for $14.49 to 750 credits for $12.99.
You have the choice of 1000 credits for $25.99. When the money goes out, you will keep your downloaded documents.
You pay just for the sample you use, and you can choose a la carte so you can buy a 100 library to obtain the 2 or 3 things you really want.
All accounts include the following:
Upload music

Listen to community tracks

Read articles, and more. You can also use your allocated credits to purchase plugins.
| | |
| --- | --- |
| Plan | Samples |
| Free | 0 Sample Download Allowance / Month |
| $7.99 | 100 Sample Download Allowance / Month |
| $13.99 | 300 Sample Download Allowance / Month |
| $21.99 | 600 Sample Download Allowance / Month |
| $29.99 | 1,000 Sample Download Allowance / Month |
Splice Vs Loopcloud: Which One's Better?
Loopcloud has quickly levelled up to a serious Splice Sounds competitor.
Here's what LoopCloud can offer you vs Splice:
Free (0$/mo) - Gives you a sample every day which comes down to 30 samples each month.
Artist (7.99$/mo) - Gives you 100 premium credits per month and 10 free samples per day, which amounts to 400 samples monthly in all.
Studio (13.99$/mo) - 300 premium credits for the studio and 25 freebies coming out to 1050 samples monthly at the end of it all!
Professional ($21.99/mo)- 600 premium Credits that are available on this plan as well as 50 daily complimentary samples, which will carry us up over 2100 samples by the close of it!
Definitely checkout Loopcloud's free plan and see if it fits into your workflow better than splice.
How to Fix Splice Error: Download Failed
If you aren't currently paying for a Splice membership, your previously downloaded sounds will be unavailable for you to re-download, and thus you will get the error message "download failed, retry."
You will unfortunately need to resubscribe to a Splice membership to regain access to your library of samples.
Join The #1 Platform For Music Artists.
We're starting a revolution - and putting music artists (like you) first.
Boost Collective is a free-forever music distribution platform. Upload unlimited releases to 150+ stores and platforms and keep 100% of your earnings.
You'll also get free playlist promotion, cover art creation, and much more!
Join Boost Collective for free here.