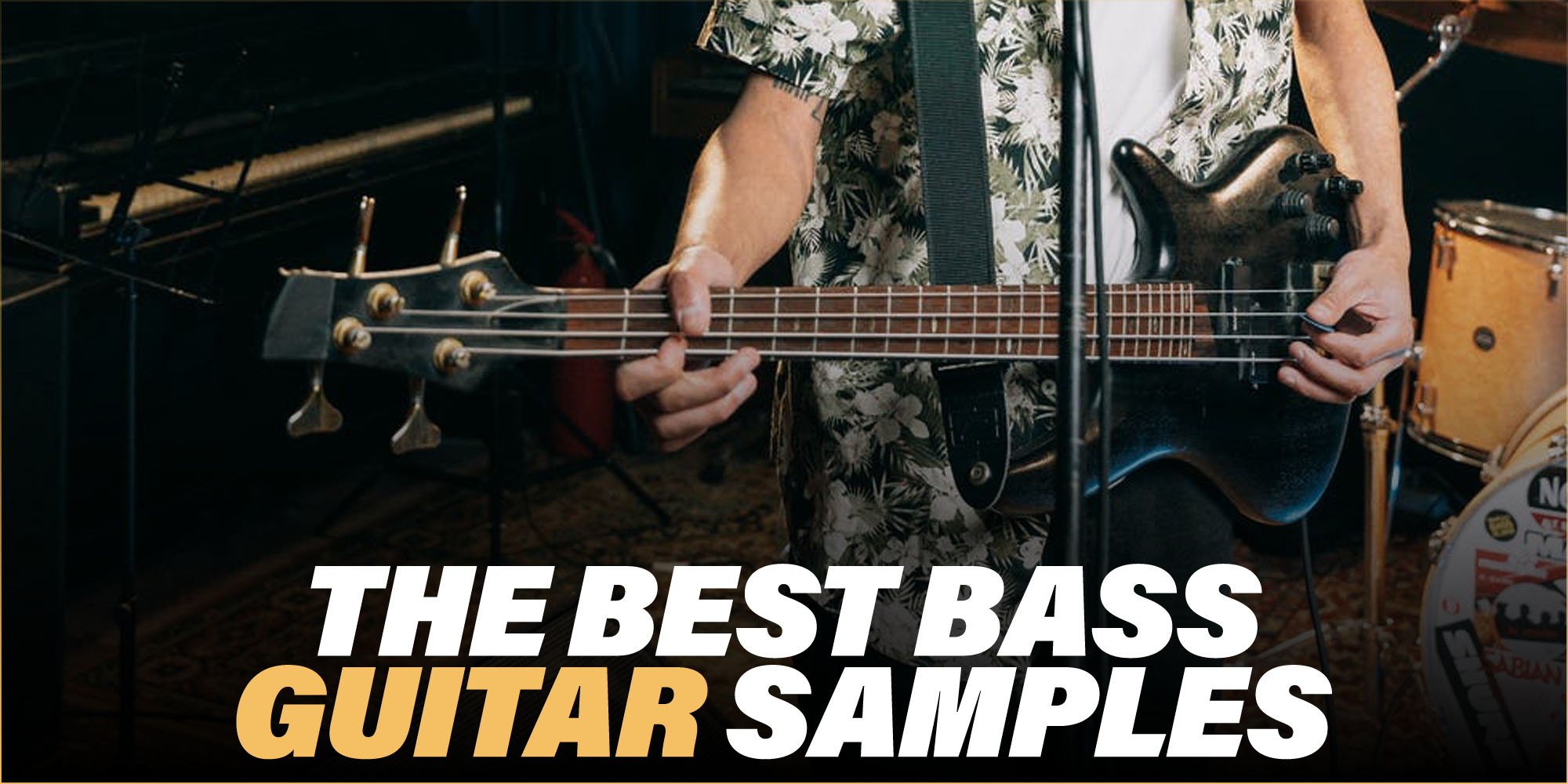 Here are the best Bass Guitar loops and sample packs!
Guitars are a flexible instrument - you can make happy, sad, emotional or aggressive melodies.
Bass guitar loops and samples in particular are great to add some more grit and depth to your procutions.
We've put together of the best bass guitar samples that are perfect for your creations - whether it be alternative, indie, pop, or rap or anything else.
You can use these loops to get inspired for making a track or to experiment with other genres.
These samples and loops will serve as a great starting point for anything, really.
We've specifically selected packs with guitar riffs that are royalty free and of the best quality, while also picking ones that are easy to use and would fit into any genre well.
Take a look at these bass guitar loops and add be ready to add some new bass guitar sounds to your sample collection!

Below we also added some paid bass guitar samples and loops that are of remarkable utility and quality.
They're worth taking a look at once you've used all the free packs as they contain MIDI and other benefits.
Best Bass Guitar Loops and Sample packs:
Top 10 Bass Guitar Loops And Sample Packs:
Platinum Sessions Bass Guitar Loop Pack

Genesis

Bass Guitar Sample Pack

Ashes

Bass Guitar Loop Pack
Anthology Bass Guitar Loop Pack
String Therapy Bass Guitar Loop Pack
Detroit Soul Guitars Bass Guitar Sample Pack
Feelings Bass Guitar Loop Pack
And if you're looking for even more guitar loops and samples, be sure to check out our Ultimate 100 Guitar Loops and Sample Packs article.

You don't have to be a bass guitar player in order to use these bass guitar samples.
Just add them into your DAW wherever and whenever needed!
Layer them, try adding some effects such as flanger and distortion, and you're well on your way to music success! Take them as far as you need to.
When you find a free guitar loop kit you like, click on it and you'll be redirected to the site where we found them for you to access and download.

Whether you're starting a new project or adding some pop flair to your current one, these indubitably killer packs will do wonders in your next project.
With so many different packs available, there's no reason not try out at least one from this category when making music!
Bass guitars have all sorts of emotional vibes and melodies that can make your production more impactful.
They can also unlock some new creative ideas and bring some fresh elements to any production.
And be sure to check out our full 100 best Guitar sample packs and loops if you're looking for more Guitar samples of all kinds. There's tons of value in that one!
Check out our other guitar sample loops of different categories below to find the best places to get free samples.
There are tons of gem-filled packs waiting for you!
How to Use Your Bass Guitar Loops and Samples fast and easily

Once you've downloaded your bass guitar samples and loops above, the next step is to add them into a project in your DAW.
They work with Pro Tools, FL Studio, Ableton or any other DAW you may be using.
To use these samples once they're downloaded onto your computer's hard drive.
Browse through them in the file manager of your respective software program (should it be ProTools, FLStudio or Ableton).

Add them to new projects on that same program
Once you find a sample or loop that sounds good, simply drag or insert it into your project.
From there you can add effects like reverb and compression, layer multiple samples together, or apply sidechaining.
The more effects and manipulation you do, the more unique these loops will become.
Almost all the sample packs will also include BPM and key information in the file names so you'll know how to best use them.

Some loopkits have MIDI information for chords and other melodic progressions, which can help you get started when using the samples.

This is a great advantage that shouldn't be skipped! If you want to write or rewrite melodies with these pop loops, MIDI is a nice plus.

Make sure to avoid any low-quality or fuzzy loops.
It's a best practice to skip any MP3 files, WAV is always superior for use in professional mixes.
A nice little trick we like to use is layering multiple samples and loops together.
It's one of the easiest ways you can make unique new sounds out of existing samples!
Make Sure Your Bass Guitar Loops are royalty-free

It's important you're aware of the copyright and royalty status of your samples.
Copyright detection is getting better every day.
While you might be good for personal use, using non-royalty-free samples in any professional use is risky.

It's always recommended if possible to work only with royalty-free guitar loops if you want to distribute or sell your music.
Our list has tons of royalty free samples which should be helpful if you want to sell and distribute your music!
Here are even more guitar sample packs and loops of many other categories so you can browse around and download some more - you're welcome!
Some Other Free Guitar Sample packs to Download
Be sure to check out our massive top 100 guitar loops and sample pack blog.
You won't find a more comprehensive list of free guitar loops anywhere!
Here's a preview of some other guitar loops, samples, and melodies of other categories that we love to use and recommend.
Take a look and grab what you like!
Top electric guitar Sample Packs (Royalty-Free)

Here's a collection of sounds and loops to help you with that electric guitar sound.
To see the full list of Electric guitar sample packs, click here.
To make things easier, we put all the Sample packs above in one free download for you:
Can't see the form? Click here.
With these sample packs, there are both recorded and synthesized sounds to choose from. You'll be sure to find a pack that satisfies your needs!
The Best metal guitar Sample Packs (Royalty-Free)

Here's a collection of the top metal guitar loops, melodies, and more that you can use in your productions.
To see the full list of Metal guitar sample packs, click here.
Making music with a great guitar sample pack is one of the most satisfying things ever - let's see what you can make with these metal guitars!
Best Acoustic Guitar Sample Packs and loops

These are the best acoustic guitar samples and loops - these are perfect for hip hop, indie, alternative, or any other genres.
These guitars are made to sound more melodic and organic. Enjoy:
To see the full list of Acoustic guitar sample packs, click here.
With these sample packs, there are both recorded and synthesized sounds to choose from. You'll be sure to find a pack that satisfies your needs!
They can fit in any genre, and they're perfect for filling out a chorus or giving a song an extra layer of depth.
You can also layer them to create a unique harmony.
These are most useful when you're writing melodies but can't quite come up with that perfect line.
Is it worth paying for sample packs?
Downloading a sample pack can help you achieve the exact sound you want for your songs and projects.
Using these packs is much easier than recording your own guitar tracks, as all you need to do is download them and start creating music without having any equipment or mic skills at hand.
Depending on the quality of the sample pack, some really great sounds are worth recording with them!
The best samples come from high-quality packs that offer plenty of options and customizable features so they're ready to be used in your music right off the bat.
Depending on the type of sample pack (rock, metal, acoustic and synth) you can adjust it to get the exact sound you need.
You don't have to spend a lot of money hiring session musicians or buying recording equipment, which is typically a lot more expensive than using paid sample packs!
Join The #1 Platform For Music Artists.
We're starting a revolution - and putting music artists (like you) first.
Boost Collective is a free-forever music distribution platform. Upload unlimited releases to 150+ stores and platforms and keep 100% of your earnings.
You'll also get free playlist promotion, cover art creation, and much more!
Join Boost Collective for free here.