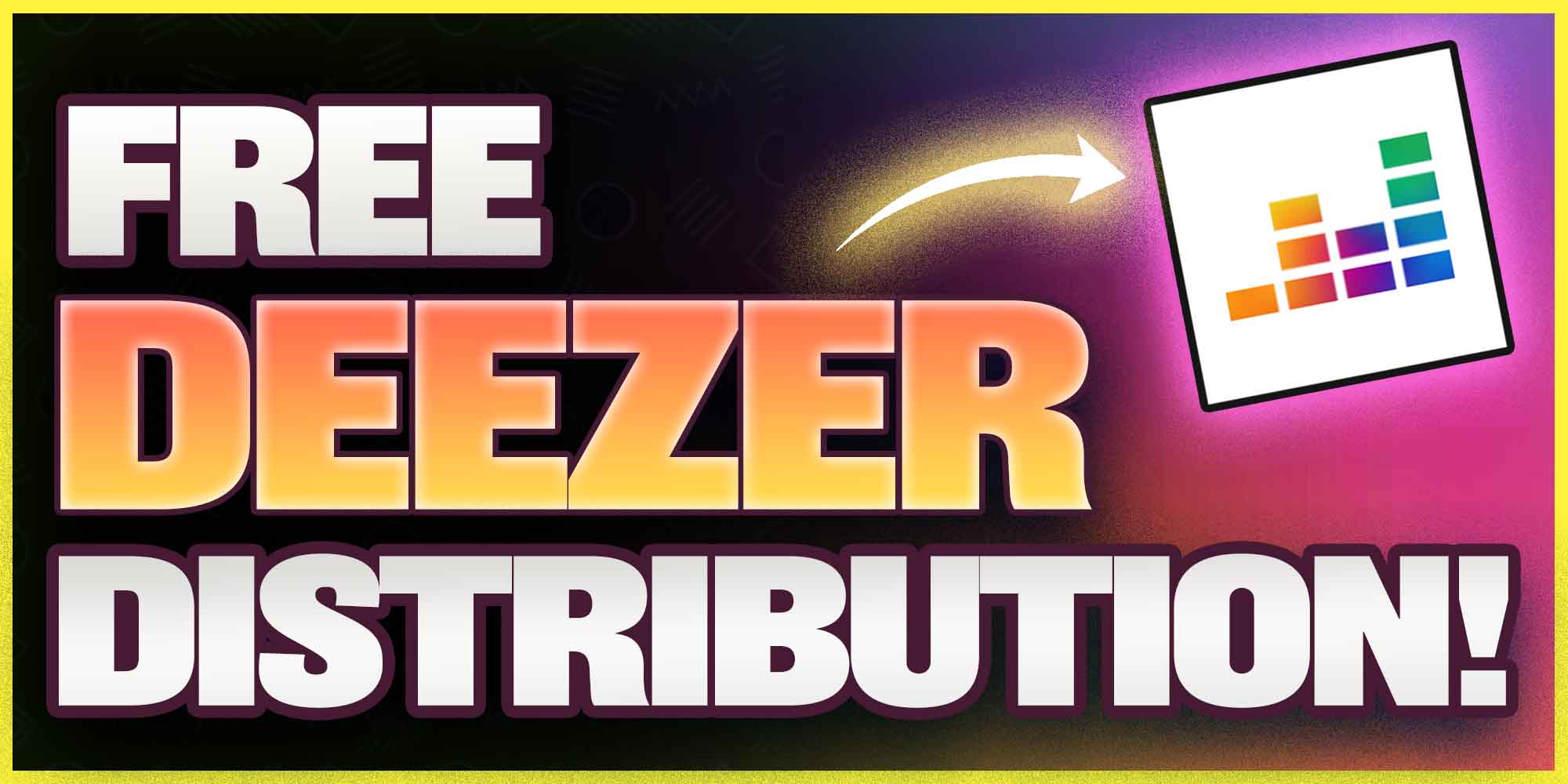 Distribute music on Deezer for free
Looking to get your music on Deezer?
Deezer is a dedicated platform for discovering and listening to music — as well as podcasts, radio and audiobooks.
It's time to get your music heard!
Table of Contents:
Use this to navigate the blog. ☝️
Thankfully, there are a bunch of services to get your music on Deezer easily.
Use our form below to get your music on Deezer and 150+ Platforms!
We'll send you a login to manage your song and future catalog after we've set everything up for your release!
Free Deezer distribution Service!

It's time to get your music onto streaming services!
Boost Collective will distribute your music onto Deezer for free.
This is all you need to do:
Sign up to www.boostcollective.ca

Upload your track

Input the right metadata

Select a release date
Gain control of your Deezer artist profile when the time comes.
Lots of listeners are waiting to hear you!
On your profile, you can customize all the aspects (profile picture, bio, links, etc.)
You can get your music onto major streaming platforms within as little as 2 DAYS!
This goes for the other streaming platforms as well, Boost Collective is one of the best distribution services.
And you know what's best?
Tips for Successful Deezer Music Distribution

Getting your music on the Deezer platform is only the first half of the journey.
Using the free distribution service is only step one.
Along with that, there's more to be done.
Tips and tricks for music success on Deezer:
Create a clear, useful and unique artist page

Create a description and tags for discoverability

Highlight your latest releases and like playlists

Constantly and accurately update your artist biography

Promote your music on as many channels as possible
Try to determine your brand and where they come from.
This can help you decide on the best way to promote your music going forward.
You may find that it takes some time before revenue is generated from your music via Deezer, so it's worth waiting to see how things go before making any decisions.
How to upload Mp3 to Deezer

It's really easy to upload your own MP3 tracks to Deezer:
Open the Favourite tab on the Deezer Home Page

Click My Mp3s to open your MP3 library

Select the MP3 To Upload option

Add the MP3 files from your computer

Access your recently uploaded music in My MP3s
It's a super easy system that anybody can use!
One thing... It appears only on your phone.
To release music for the WORLD to see, then you'll have to distribute your music with a platform.
How to claim your Deezer artist profile

How do you claim your Deezer account?
Follow these steps to claim your artist profile on Deezer: Click "request access" using the drop-down menu. Elect your role (artist, provider, manager, artist name) Then enter your UPC digits.
It's really simple!
Creating the best profile is really easy.
Now that you're in you can leverage the Deezer tools:
Deezer stations

Deezer analytics

Deezer playlists

Deezer podcast (if you want)
Start creating good content. Build a huge library that you can customize.
The world is your oyster with Deezer, discover what these stores have in... store. 😉
Once your account is set up on Deezer then you can start making money from this music streaming service.
Deezer upload limit
Deezer does have an upload limit.
Deezer accounts can only upload a limit of 20090 MP3 tracks per user. Each MP3 Can only be under 200MB in size as well.
This is one of the best things that Deezer offers.
If you're an independent artist, you can release as much music on Deezer as you wish.

This image above (with the portable music studio) ☝️ is the BEST resource for musicians!
It's
astonishing
that
such
a
sizable
booth
can
be
folded
up
and
moved
with
such
ease,
then
re-erected
anywhere
you
choose
using
a
home
recording
booth.
Buying this $450 booth saves you thousands in studio time fees.
Here are the benefits of this portable music studio:
This

little

studio

booth

is

ideal

for

use

in

tight

quarters (dorms, rooms.)

The

soundproof

booth

is

useful

for

reducing

echo

and

other

background

disturbances

The

end

result

is

perfectly

dry

and

clear

vocals

You save thousands in studio time and specific equipment

The
goal
of
every
recording
session
is
to
capture
a
dry,
noise-free
signal,
and
a
portable
voice
booth
is
the
perfect
tool
for
doing
just
that!
Instead
of
having
a
voice
booth
permanently
set
up
in
a
studio,
you
can
simply
fold
it
up
and
put
it
away
when
you're
done
using
it.
Ever since my producer bought one of these... Life became 100x better.
Deezer Pay Per Stream (Updated 2022)

Deezer is very generous with artist payouts.
Deezer pays artists 0.0068 per stream as if 2022. This is a lot more than double what Spotify pays artists (Spotify pays 0.033 per stream.)
The best way to increase your Deezer earnings is to grow your social media.
Since social media is spread across different fans, you're not concentrating your efforts on just one platform.
Spotify playlist promotion benefits your music ONLY on that platform.
For true global music growth, you'll need to leverage press and socials as much as possible!
Deezer Streaming royalties calculator

Here's a fun game!
Want to try the seeker royalty streaming calculator?
There's a Deezer streaming royalty calculator. It compares streams across major streaming platforms and tells you how much the streaming services pay artists.
Labels make the most money on Deezer but...
Musicians are starting to see a surge in their streaming as well.
How does Deezer afford to pay artists?
Have you ever wondered how Deezer can afford to pay artists?
Deezer is a completely free streaming service is completely free, but it offers ad-supported streaming. A portion of advertising and subscription revenue is paid out to artists as royalties.
Since Deezer has over 16 million users - this is quite a large pot.
That being said, there is a process before artist can see a dime off of their music.
To get paid royalties on your music, you need to get licensed through a collection society.
There are many different collection societies for music.
For example: Boost Collective.
To license your music and start collecting royalties through Deezer, you need to submit music to Boost Collective, and we'll release it for you.
100% of music copyrights belong to you!
How to promote music on Deezer

Deezer is a popular music streaming service that offers users access to millions of songs.
While it's not the only one on the block, it's the leading European competitor to services like Spotify, Pandora and Apple Music!
How to promote your song on Deezer:
Deezer provides its users with the opportunity to "Discover New Music." This means that they will get recommendations from Deezer's A.I. team as to what songs users might like based on their listening history!
To promote music on Deezer, you'll have to be smart and hard-working.
This means that no matter your taste in music, there's a good chance that Deezer curators are out there waiting.
These services also feature hundreds of thousands of playlists created by other users, so there's a good chance that you'll find some music on Deezer that you enjoy listening to.
Promote your music with Deezer Stations

One of the best ways a musician can promote music is with Deezer Stations.
The Deezer app also lets you create custom stations, so you can easily create playlists of your favourite music. Share these on popular Deezer discussion boards (Reddit, Twitter, Forums) and grow an audience this way.
It also has a robust audio search feature, which lets you easily find songs by artist, album or genre, etc.
When you're writing music think of what these stations do for creators!
Musicians that want to get ahead in the world of streaming services need to think differently.
Your Deezer profile is strong, just use it properly and you'll und up at Deezer backstage!
Best Ways to find Deezer promotion pages
To get promotion for Deezer you don't need to Google or YouTube anything.
How to find music promoters for Deezer:
Go on SoundScan and look for charting Deezer music

Reach out to the artists/songwriters of these tracks

Ask for a referral to the Deezer playlist curator
Sometimes label/promoters build their own promotion system for creators.
Getting on a label campaign will do wonders!
While playlist promotion isn't as robust on Deezer as Spotify...
Anything that can help the algorithm will get your music to a large audience!
Since you aren't signed to labels, any discovery tool these stores offer you should be exploited to the max.
How to Get on Deezer radio stations
Radio by Deezer is available in many countries across the globe.
By getting radio placements, your music can be heard by fans across the world through Deezer Radio.
While Deezer is not the first app to offer radio stations, as Rdio, along with iHeartRadio, Pandora, Apple Music and others have done so before.
The difference is that it's not as direct-to-consumer.
Many radio apps prioritize their editorial work more than the actual radio itself.
That's why the value of a Deezer radio promotion campaign is effective.
Read our blog on how to Get Your Music on Radio to go ahead and abuse this opportunity!
Run ads to Deezer tricks

An effective way to promote your music on Deezer is through ads.
Facebook and Google ads are robust as hell.
Take your Deezer music, and promote it to fans that listen on that platform.
These platforms know which streaming services are used. they have tons of music fan data.
How to download music from Deezer

Most streaming services are against fans/artists downloading music.
Youtube lets you download music for free, but it's low quality.
Deezer is one of the best streaming services on the web since it allows easy download!
Two Best Deezer downloader services
Looking to download music from Deezer for offline listening?
Boy, do I have the service for you!
This is the BEST thing ever - I recommend it to every person.
The two best services to download songs from Deezer are:
Freezer

Deezloader
By using these, you'll turn the Deezer music streaming service into your pawn.
Getting music online becomes a breeze with these apps.

What is Freezer Deezer?
Freezer App is used to Stream & Download Music from Deezer service in High-Quality (FLAC) and is available for popular platforms such as Android, Windows, Mac & Linux!
With over 50 million songs in its catalogue, the application is one of the most adored music streaming apps available online and your best music companion.
I highly recommend you use Freezer Deezer!
Benefits of using Freezer Deezer:
High-Quality FLAC listening

Available on Android

Available on Linux

Available on Mac

Free to download

Consistent updates

Small file size
In the recent Freezer Deezer update, they fixed
some
download
problems
where
tags
weren't
there
or
didn't
work.
As a bonus, since
LastFM
is
now
an
audio
service,
this
should
work
better
in
the
background!
With the Freezer Deezer app, all of the premium features would be unlocked for your access and you don't have to pay a single cent to listen to quality music using this platform.

Have you ever wanted to listen to your favourite music without having to spend money?
With Deezloader you can download millions of albums and soundtracks for free! You can also choose between three price plans which stream your favourite music in a range of formats.
Downloading music is 100% safe when using Deezloader.
Their developers make sure that the recommended apps are completely secure - so that you can enjoy your favorite tunes without any worries!
If
you
download
your
favorite
songs on Deezloader,
you
can
listen
to
them
whenever
you
want.
On Deezloader, there
are
more
than
56
million
songs
to
choose
from,
so
you'll
have
a
lot
of
options.
Start downloading your favorite albums with Deezloader.
can you Upload FLAC files to Deezer?
Have you tried
useing
the
MP3
upload
feature
to
send
FLAC
files onto Deezer?
You can not upload lossless FLAC audio to Deezer. Even if it appears
,
the
songs
can't
be
played though there platform.
Deezer
accepts
the
uploads,
parses
the
files,
and
shows
the
correct
information
about
the
artist,
the
track,
and
how
long
it
is.
This is standard protocol, but to play FLAC files, the encoding software is not designed for that.
Yo should check out Tidal music for lossless High-Quality music!
How Deezer Audio Encoding Works

The reason why Deezer does not play FLAC files is because of the encoding.
But what exactly does that mean?
An
audio
codec
is
a
piece
of
software
that
uses
an
algorithm
to
compress
and
decompress
digital
audio
data.
The
audio
codec
is software
that
changes
analogue
audio
signals
into
digital
ones
and
turns
digital
signals
back
into
analogue
ones.
Unless the codec was specifically designed for lossless (analog) audio... Then you won't be able to play these files.
Hope that explained it well!
If not, just watch the video below. 👇
Join The #1 Platform For Music Artists.
We're starting a revolution - and putting music artists (like you) first.
Boost Collective is a free-forever music distribution platform. Upload unlimited releases to 150+ stores and platforms and keep 100% of your earnings.
You'll also get free playlist promotion, cover art creation, and much more!
Join Boost Collective for free here.