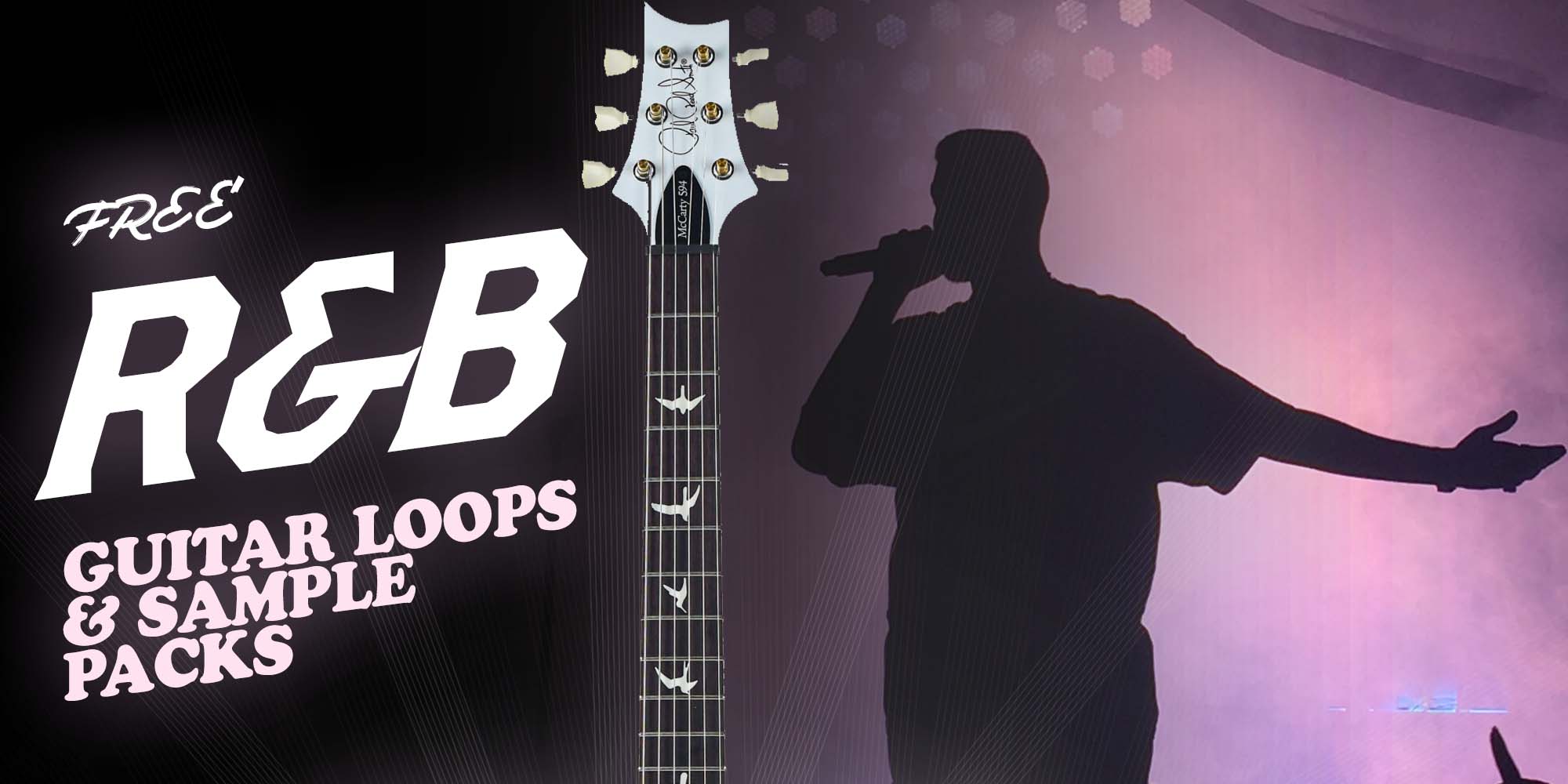 These are the best RnB Guitar loops and sample packs!
These are the perfect loops to add some soul and RnB vibes to your tracks.
You can use these loops to write your own songs or experiment with other genres like pop, rock, or EDM.
These guitar riffs are very easy to use and will fit into any song easily.
Take a look at these packs and add some fire RnB soul into your samples collection!
We've also added some paid RnB guitar loops and packs in this list that are of great quality if the free ones you find here don't satisfy your specific needs.
Best Free RnB Guitar Loops and Sample packs:
Top 10 RnB guitar loops and sample packs:
R&B MIDI Melody Chords Sample Pack
R&B MIDI Chord Collection Sample Pack
R&B MIDI Drum Pack Sample Pack

Chill R&B Collection

Sample Loop Pack

Acoustic Loops

R&B Sample Pack

R&B Sessions

Loop Kit

R&B Sessions Vol 2

Loop Kit

Rose R&B Sample Pack

Crystalize

R&B Trapsoul Sample Pack

Ultimate Guitar Bundle

R&B Trapsoul Sample Pack

You don't have to be a guitar player in order to use these RnB samples.
Just add them into your DAW wherever and whenever needed!
Layer them, try adding some effects like reverb, and you're well on your way to music success! Take them as far as your creative juices let you.
When you find a free sample pack you like, simply click on it and you'll be redirected to the site where we found them for you to download.
Be sure to check out our other guitar sample packs below to discover the best places to find free sample packs, there are tons of gems waiting for you!
You can find high-quality audio, loops, and plugins to use in your next project everywhere.
Reddit is a goldmine, BTW.
Whether you're looking to start a new project or want to add some spice to your current one, these free RnB sample packs will come in handy.
With so many options to choose from, there's no reason not to try out some of these sample packs in your next project.
RnB guitars has all sorts of unique vibes and can unlock some new creative ideas!
And be sure to check out our full 100 best Guitar sample packs and loops if you're looking for more Guitar samples of all kinds. There's tons of value in that one!
Do you make good R&B music?
I used to struggle with making beats... Just gazing at the DAW without a clue.
Soon as I discovered this sample pack, all took was a basic melody loop, one shot, or drum beat to catch vibes back.
For the price of $37 is the BEST bargain for samples of this quality.
The heavy drums, bass, and vocals that make up the core of rock haven't changed much in over 60 years.
In the long history of rock music, almost every chord progression you can think of outside of jazz has been used!
Still, there are a few key chord progressions and movements that make the rock sound what it is.
Blues
is
where
rock
came
from,
so
it
makes
sense
that
blues
harmony
can
be
found
in
almost
all
rock
chord
progressions.
The point is: every masterpiece starts with basics.
That's why you NEED a good foundation. No escape.
I'm happy to say that this sample pack receives my stamp of approval: 9.5/10 rating.
Someday soon, I want to hear the music you created with them.
I promise: you DO NOT need to spend a dime on another rock MIDI sample pack.
How to Use Your RnB Guitar Loops and Samples

Once you've downloaded some of the RnB loops above, the next step is to use them in your DAW to take them to the next level!
To use your samples, simply download them and insert them into your DAW!
They work with FL Studio, Ableton, or any other DAW you may be using.
Usually, the files come as.WAVs that you can just place inside that you can manipulate to your liking.
You can add effects like reverb and distortion, layer them, or apply sidechaining.
The more effects and manipulation you do, the more unique these sounds will appear.
Most loops will also include BPM and key information in their title so you'll know how to adjust them - keep an eye out for these crucial bits of information.

And sometimes these sample packs will have MIDI info for chords and other melodic progressions that can help you get started with the given samples.
This is super useful if you want to use these loops to write or re-write melodies or create inspiration for new melodies.
While sampling guitars, you need to be aware that you are going to want clean recordings with lots of dynamics.
Make sure to avoid any low-quality or super fuzzy loops. Usually best to skip any MP3 files, WAV for the win!
A nice trick we like to use is layering. It's one of the easiest ways you can make unique new sounds out of existing samples!

Recording a guitar sample is also an option if you have a guitar and want it to appear in your own productions.
Recording your own samples allows you to be creative and come up with sounds that you can't find anywhere else.
When it comes to recording your own loops or samples, you'll need to be smart about how to go about it.
You can record them directly into your computer or you can record them onto a portable recorder like an iPhone and then transfer them over - usually it's best to have a professional studio microphone for this task.
Recording your own samples can be tricky, though. It requires a lot of patience and practice to get the perfect sound.
In order to record a sample that sounds good, you need to make sure that the guitar is in tune, has the right amount of amplification, and has the right position of the microphone.
Recording takes a lot of practice but can be very fruitful once you get the hang of it.
Usually, it's best to start with a sample loop of a guitar first to get your idea down.
Once you have the idea all fleshed out using the downloaded sample, you can then record an actual guitar to replace the sample for a more polished outcome.
Below, we've compiled some more guitar sample packs and loops of other kinds so you can browse around and find even more!
Make Sure Your RnB Guitar Loops are royalty-free

It's important you're aware of the copyrights you have with samples.
The more you modify and play around with your samples and loops, the harder it is for copyright-detection systems to detect their use of them.

Even still, it's always a good idea if possible to work only with royalty-free guitar loops if you want to distribute or sell your music.
Our list has tons of royalty-free samples which should be helpful if you want to sell and distribute your music!
Some Other Free Guitar Sample packs to Download
Be sure to check out our massive top 100 guitar loops and sample pack blog.
You won't find a more comprehensive list of free guitar loops anywhere!
Here's a preview of some other guitar loops, samples, and melodies that we love to use and recommend.
Best Pop Guitar Loops and Samples

These are our favorite pop guitar samples and loops - great for pop (of course), hyperpop, indie, alternative, EDM, or rap.
These guitars fit into mainstream genres well but can be manipulated to work in anything:
To see the full list of pop guitar sample packs and loops, click here.
Ultimate jazz guitar sample packs and loops (Royalty-Free)

Here's a list of some jazz-inspired guitar samples for your music production needs.
These can work well for any genre, as far out as hip-hop, rap, and trap.
To see the full list of Jazz guitar sample packs, click here.
With these sounds, you can imitate a jazz vibe for any genre you're trying to make!
You might also find some other instruments that offer a similar sound in these packs.
ultimate midi chord pack: special deal 🔥

Don't
spend hours
creating
your
chord
progression!
The last thing you want is to find out that you spent two hours playing with the piano roll only to come up with a subpar chord sequence...
To keep your creativity flowing, creating your chord progression should be a quick and simple process.

Want to make your MIDIs go from noob to pro? ☝️ (image above)
`
You
already
know
the
routine:
You

start

your

DAW...

You Activate

the

piano

roll...

You draw up

a

chord

sequence...
However,
it
doesn't
sound
exactly
like
you
imagined
it
to.
So you
visit
some
tutorials
on
YouTube - but
It
still
sounds
awful.
Now you
exit
the
DAW
and
don't
finish
the
project.
Don't worry -
we
have
all
been
there.
What
do
you
do
next,
though?
Check out this straightforward but effective tool, and you'll never again struggle with chord progressions.
It allows more than 100,000 normal producers to quickly create all the bizarre chord progressions they never believed they could.
The Best Bass guitar Sample Packs (Royalty-Free)

Here's a collection of bass guitar samples, loops, and melodies:
Aux Guitar Loops Sample Kit (FREE)
To see the full list of bass guitar sample packs, click here.
With these sample packs, there are both recorded and synthesized sounds to choose from.
You'll be sure to find a pack that satisfies your needs!
They can fit in any genre, and they're perfect for filling out a chorus or giving a song an extra layer of depth.
You can also layer them to create a unique harmony.
These are most useful when you're writing melodies but can't quite come up with that perfect line.
Our Favorite Acoustic Guitar Sample Packs and loops

These are the best acoustic guitar samples and loops - these are perfect for hip-hop, indie, alternative, or any other genres.
These guitars are made to sound more melodic and organic. Enjoy:
To see the full list of Acoustic guitar sample packs, click here.