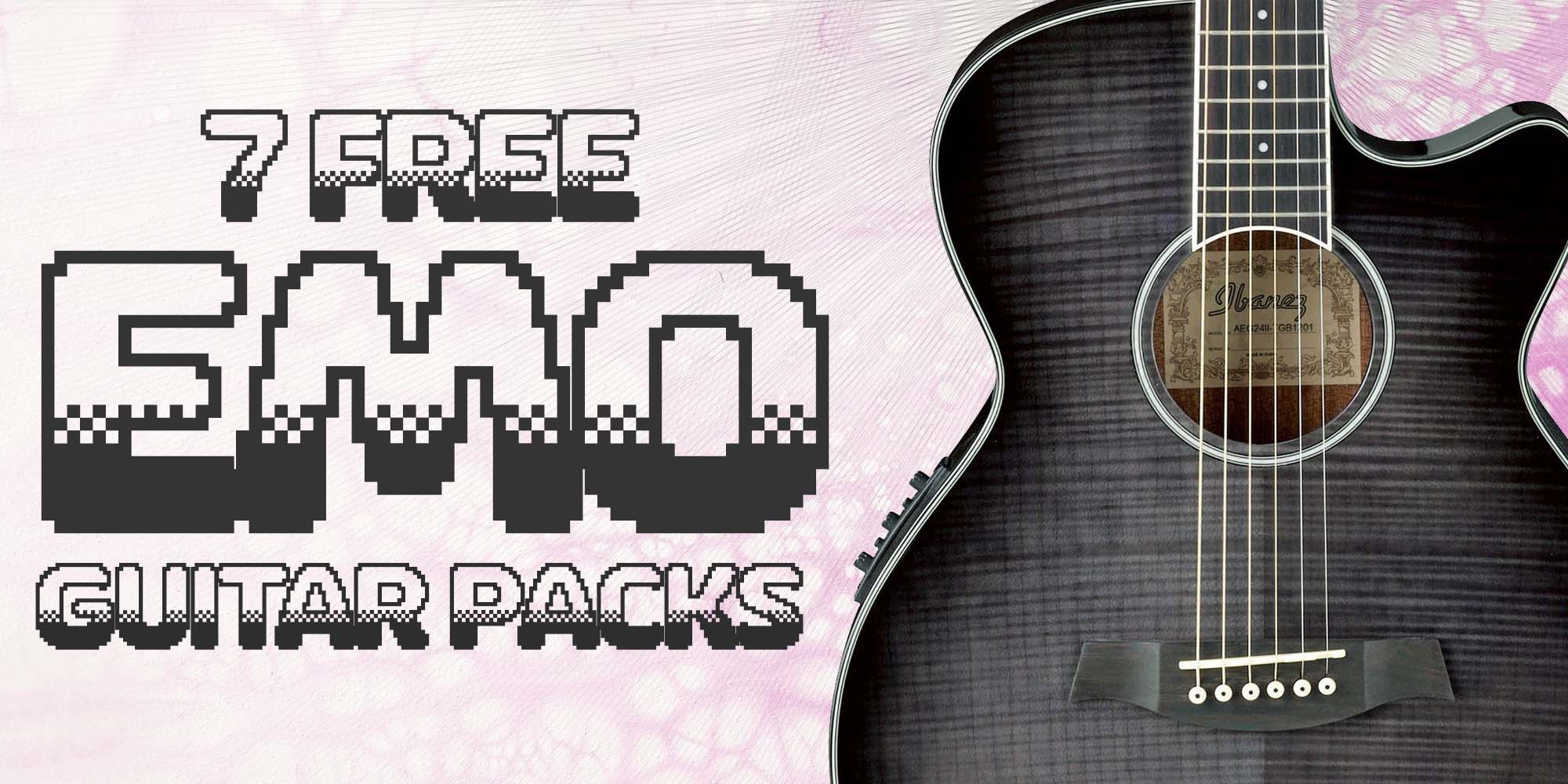 These are the best Emo Guitar loops and sample packs!
These are the perfect loops and samples to add some emo vibes to your productions.
You can use these loops to get inspired for an emo song or experiment with other genres like pop, rock, or EDM.
These guitar riffs are quite easy to use and will fit into any song easily, regardless of genre you plan to be making.
Take a look at these loops and add be ready to add some emo vibes to your samples collection!

Below we also added some paid emo guitar loops and packs, since they are of exceptional quality and worth taking a look at once you've used all the free packs.
Best Free Emo Guitar Loops and Sample packs:
Top 5 Emo Guitar Loop/Sample Packs:
Emotional Guitars Loop Kit
Feelings Emo Guitar Loops Sample Pack
Views Emo Guitar Loops Sample Pack
Heartbreak Guitars Sample Pack
Heartbreak Guitars 2 Sample Pack
Emo Guitar Loop Kit
And if you're looking for even more guitar loops and samples, be sure to check out our Ultimate 100 Guitar Loops and Sample Packs article.

You don't have to be a guitar player in order to use these emo samples.
Just add the into your DAW wherever and whenever needed!
Layer them, try adding some effects like reverb, and you're well on your way to music success! Take them as far as your creative juices let you.
When you find a free sample pack you like, simply click on it and you'll be redirected to the site where we found them for you to download.
Be sure to check out our other guitar sample loops of other categories below to discover the best places to find free sample packs, there are tons of gems waiting for you!
You can find great samples, loops, and plugins to use in your next project everywhere - Reddit really is a goldmine for this, BTW.
Whether you're looking to start a new project or want to add some emo flair to your current one, these free emo sample packs will most definitely be useful.
With so many options to choose from, there's no reason not to try out some of these sample packs in your next project.
emo guitars has all sorts of unique vibes and can unlock some new creative ideas and bring some fresh elements to any production.
And be sure to check out our full 100 best Guitar sample packs and loops if you're looking for more Guitar samples of all kinds. There's tons of value in that one!
How to Use Your Emo Guitar Loops and Samples fast and easily

Once you've downloaded the emo samples and loops above, the next step is to add them into a project in your DAW - whether it be a new project or an existing one.
To use your samples, download them from the links above and then browse through the samples in your DAW's file manager! They work with FL Studio, Ableton, or any other DAW you may be using.
Once you find a sample or loop that sounds good, simply drag or insert it into your project.
Form there you can add effects like stereo and compression, layer them, or apply reverb. The more effects and manipulation you do, the more unique these sounds will appear.
Almost all the loops will also include BPM and key information in their title so you'll know how to adjust them - keep an eye out for these important bits of info.

And sometimes these loopkits will have MIDI info for chords and other melodic progressions that can help you get started with the given samples.
This is a great bonus that shouldn't be overlooked. If you want to use these loops to write or re-write melodies, or create inspiration for new melodies, MIDI is a nice plus.
While sampling guitars, you need ot be aware that you are going to want clean recordings with lots of dynamics.
Make sure to avoid any low-quality or super fuzzy loops. Usually best to skip any MP3 files, WAV for the win!
A nice trick we like to use is layering. It's one of the easiest ways you can make unique new sounds out of existing samples!

Recording a guitar sample is also an option if you have a guitar and want it to have it in your own music.
Recording your own emo guitar loops lets you to be creative and come up with sounds that you can't find anywhere else, it's just imperative you know how to play the guitar well and have a proper recording setup.
You can record them directly into your computer (not recommended) or you can record them onto a portable recorder like an iPhone and then transfer them over.
Usually, it's best to have a professional studio microphone for this task.
Recording your own samples requires a lot of patience and practice to get the perfect sound.
It takes time before your own samples sound better than the ones found in sample packs.
In order to record a guitar loop that sounds good, you need to make sure that the guitar is in tune, the right amount of amplification, and the right position of the microphone.
Usually it is best to start with a sample pack or loopkit of a guitar first to get your idea down.
Once you have the idea in your project by using a downloaded sample, you can then record your actual guitar to replace the sample you were using for a more polished outcome.
Below, we've compiled even more guitar sample packs and loops of other categories so you can browse around and download even more.
Make Sure Your RnB Guitar Loops are royalty-free

It's important you're aware of the copyrights you have with samples.
Copyright detection is getting better day by day, year by year. So while you might be good for personal use, your song might even be taken down from Youtube in rare cases.

It's always a good idea if possible to work only with royalty-free guitar loops if you want to distribute or sell your music.
Our list has tons of royalty free samples which should be helpful if you want to sell and distribute your music!
Some Other Free Guitar Sample packs to Download
Be sure to check out our massive top 100 guitar loops and sample pack blog.
You won't find a more comprehensive list of free guitar loops anywhere!
Here's a preview of some other guitar loops, samples, and melodies of other categories that we love to use and recommend.
Best Pop Guitar Loops and Samples

These are our favorite pop guitar samples and loops - great for pop (of course), hyperpop, indie, alternative, EDM, or rap.
These guitars are fit into mainstream genres well but can be manipulated to work in anything:
To see the full list of pop guitar sample packs and loops, click here.
Ultimate Rap guitar sample packs and loops (Royalty-Free)

Here's a list of some rap-inspired guitar samples for your music production needs. These can work well for any genre and provide great inspiration.
To see the full list of rap and trap guitar sample packs, click here.
With these sounds, you can imitate a rap vibe for any genre you're trying to make!
You might also find some other instruments that offer a similar sound in these packs.
Best Acoustic Guitar Sample Packs and loops

These are the best acoustic guitar samples and loops - these are perfect for hip hop, indie, alternative, or any other genres.
These guitars are made to sound more melodic and organic. Enjoy:
To see the full list of Acoustic guitar sample packs, click here.
With these sample packs, there are both recorded and synthesized sounds to choose from. You'll be sure to find a pack that satisfies your needs!
They can fit in any genre, and they're perfect for filling out a chorus or giving a song an extra layer of depth.
You can also layer them to create a unique harmony.
These are most useful when you're writing melodies but can't quite come up with that perfect line.
Join The #1 Platform For Music Artists.
We're starting a revolution - and putting music artists (like you) first.
Boost Collective is a free-forever music distribution platform. Upload unlimited releases to 150+ stores and platforms and keep 100% of your earnings.
You'll also get free playlist promotion, cover art creation, and much more!
Join Boost Collective for free here.