The ultimate Spotify promotion guide that'll get you heard
When you want to make it as an artist, it's important to read up on the ultimate Spotify playlist promotion guide.
When you educate yourself on what to do to get heard, you'll get more fans, earn more royalties, and play more shows!
Submit your song, if I like it then I'll add it to my Spotify playlist.
Method #1. Submit To Spotify Playlists
This has to be at the top of the list (duh) playlist pitching is huge!
To stand out on Spotify, you must submit to the best Spotify playlist of all genres - ranging from hip hop to rock.
The easiest place to start is asking your network to add into their Spotify playlists, then you can Spotify Promotion services.
This means that unless you're getting promo from within Spotify itself - you have very little chance of standing out.
You don't want to screw up when submitting to playlists !
It's essential to know how to spot fake Spotify playlists and avoid it.
There are thousands of playlists & playlist curators just waiting to help an artist push/boost your monthly listeners and followers.
Bonus: Check out Boost Collective's free Spotify promotion here - our free-to-use platform is a must-join for all independent artists.
is there any real spotify promotion?
There is in fact organic Spotify promotion out there, it's just harder to finder. to avoid scams exist, consider running own promotion: playlists curation, runing Facebook ad, and influencer campaigns.
This way you can ensure that your promotion is 100% authentic.
If not, you can use an organic promo agency such as Boost Collective.
We are long past days where just having a good record will kickstart your music career.
Here's some good news and bad news:
Spotify has over 60,000 new music tracks released to the world every single day.
You're competing against all of these other artists.
But also, the amount of users and artists on Spotify is growing too!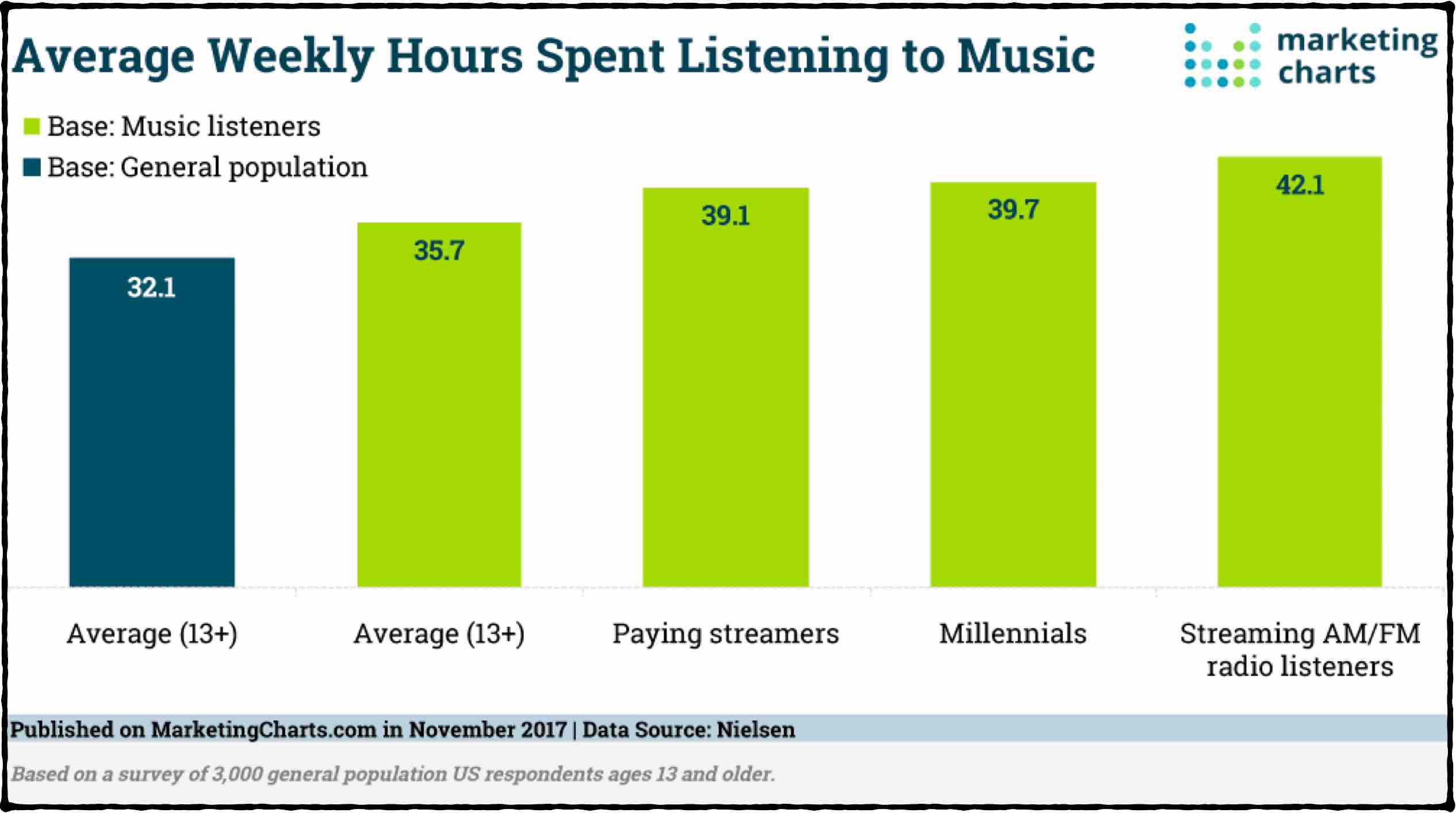 This averages out to 120 songs a day... out of 70 million on Spotify.
It's getting harder and harder to fit in their listening timeslots in the first place!
More artists are entering the music industry by the day. This saturates the attention span of your potential fans.
Don't forget, there are over 60'000 releases on the platform every day!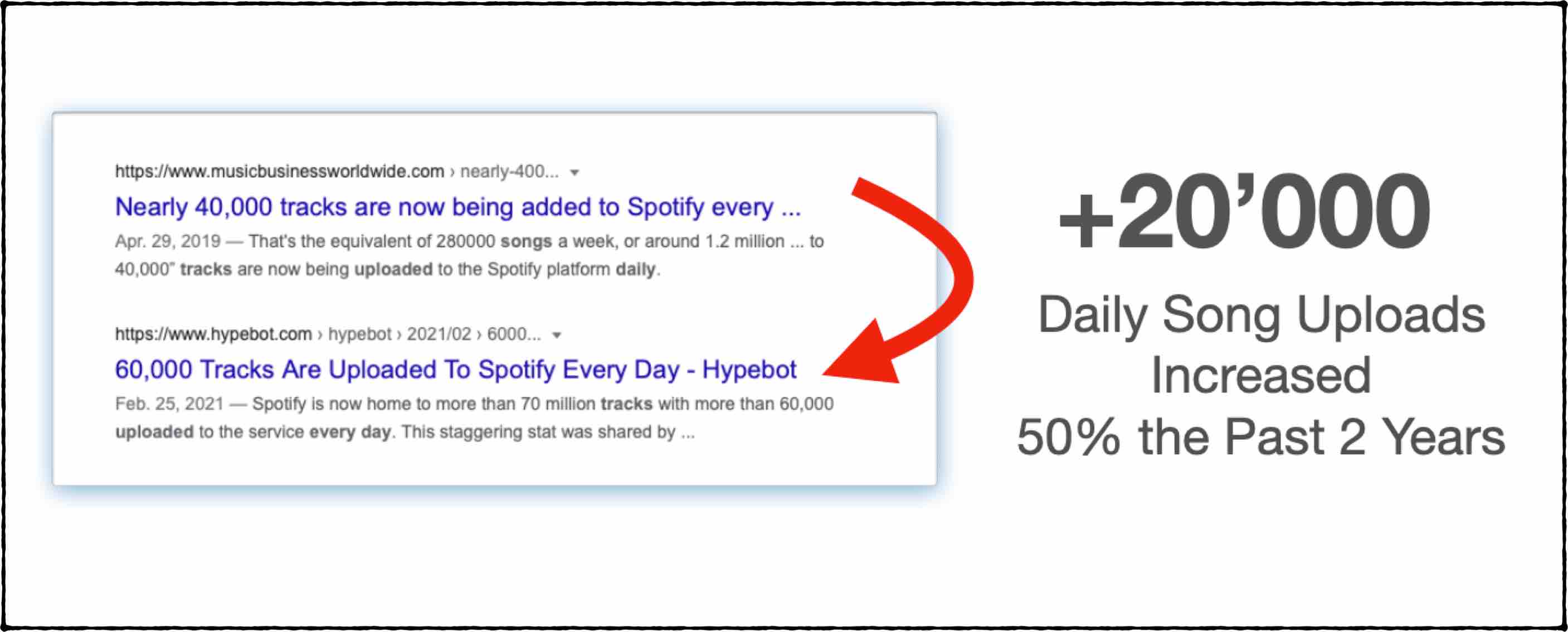 Fortunately, most artists don't take their organic Spotify promotion seriously so the competition is lower than you might think.
In this article, you're going to know the EXACT STEPS to stand out and get heard with cutting-edge Spotify promotion strategies!
Tap here for a list of the BEST Spotify promotion services to use!
Record Labels Use Spotify Music Promotion
Guess what... Record labels are highly interested in Spotify promotion services as well.
They invest plenty of time, resources, and energy into growing a good Spotify playlist or two.
Did you know that the largest Spotify playlists in the music industry are owned by these labels:
Warner Music

Sony Music

Universal Music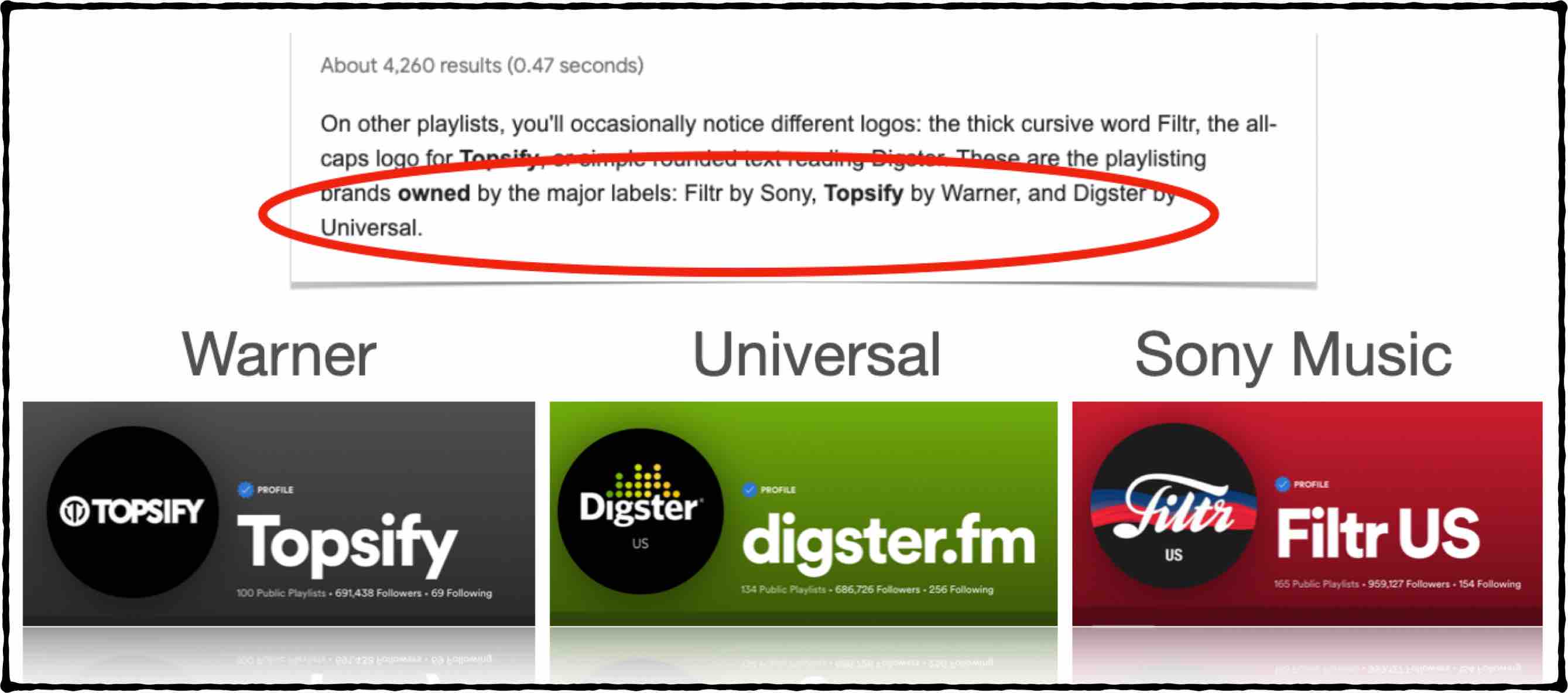 These accounts have as many Spotify followers as other artists!
It makes sense too if you think about it.
See, physical disk sales have gone down over the past couple of years.
In its place, streams sales have become the newest hot commodity.
That's why the Labels run their own Spotify Promotion service for their artists.
If this doesn't show the importance of organic Spotify promotion, I don't know exactly what will.
Method #2. Influencer Marketing
Influencer marketing is one of the simplest Spotify growth services in the world!
It's a solid option for an artist to get your music more Spotify plays and Spotify followers!
This is where you reach out to somebody with a large following (an influencer) and get them to post about your new song release.
Usually, the influence will post a dance video or skit with your music in the back.
The common influencer posts are either on the story or on the feed.
They add your song link to their bio and get you Spotify promotion that way.
These must need to also be made with the goal of going viral for the full effect!
Influencer marketing works so well because the influencer's followers trusts them a lot!
They know if the influencer push your tracks, then it's going to most likely be something good.
There's a lot less difficult to acquire fans this way.
Method #3. SET UP PRE-SAVE LINK IN BIO
To get bonus promotion before the song is released, you'll need a preserve link.
A pre save link is a slink designed for a fan to add your music to their Release Radar weeks in advance. You can set this up in within minutes with your distributor!
Nowadays, almost every distributor allows pre save campaigns.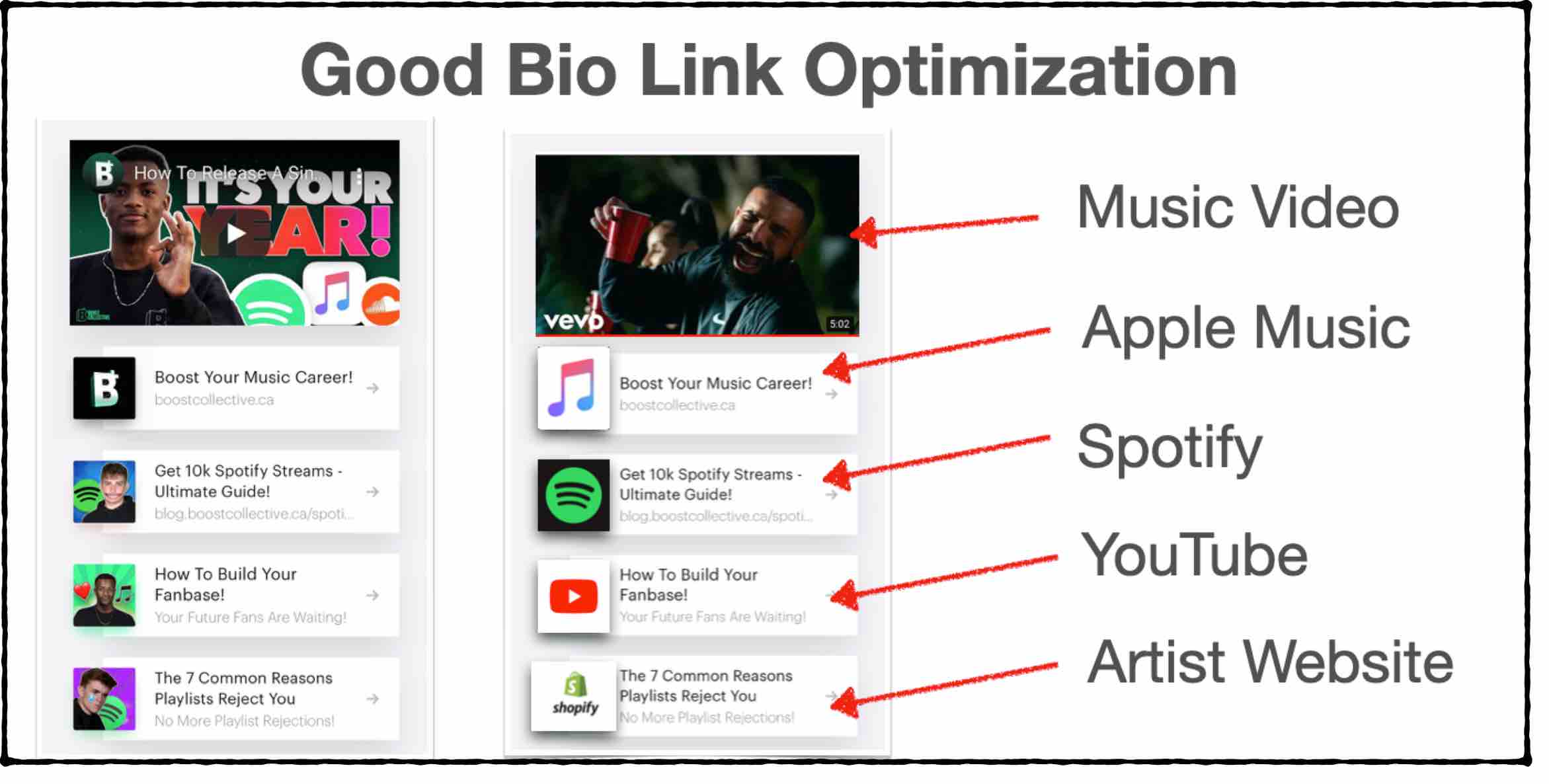 You need to use a good bio link service.
Link tree is all right however it's rather basic, I recommend using solo.to or Biolinky.
Key tips to make an effective song bio link:
A video embed

Customizable links to your streaming service account

Photos you can use

Your artist website link
Put your updated bio link on all of your social media accounts!
Use a bio link service to grow!
Not only is this good Spotify music promotion, but also for Apple Music and any other streaming platform.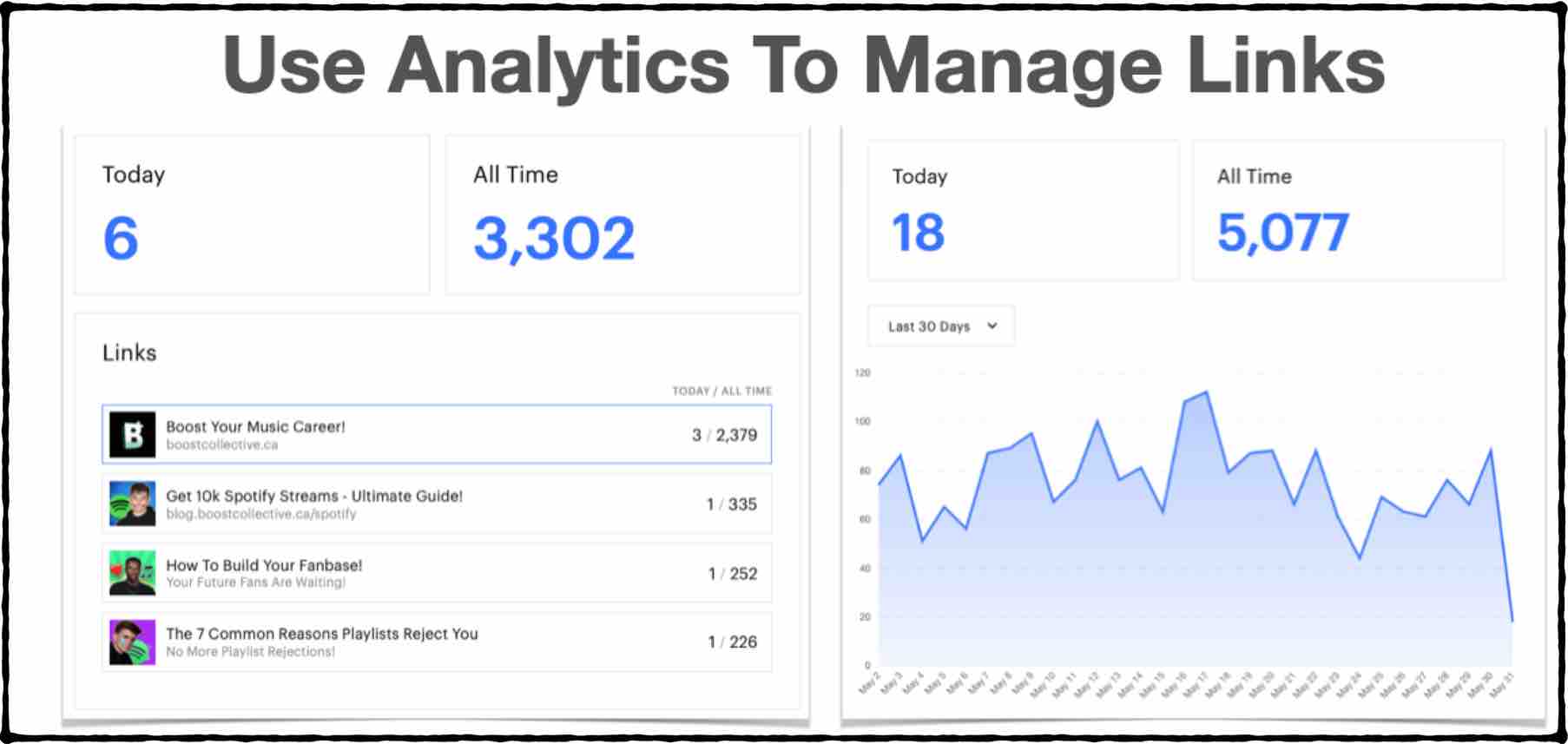 The analytics provided will help you design the bio link to ensure music promotion success!
Tap HERE to get started with solo.to and increase your monthly listeners!
Method#4. Get Shout outs
Shout-outs are one of the best Spotify Promotion tactics!
Compared to influencers, shout-out doesn't create viral content for you.
They just share your track and artists account.
Even so - you don't want to underestimate the effects shoutouts can have on your Spotify plays.
Shout-outs have even lead to hundreds of thousands of streams!
For example: Kylie Jenner shouted out the track "Uber Everywhere" by MadeInTKo causing it to bump in listens by over 300%!
You want the shout-outs to come from your niche (example: Hip-hop pages on Instagram.)
Reach out to your buddies for story shout-outs, this can help your local network become your Spotify followers.
Ideally, you want them to post it on their Snapchat story as well.
It's a decent Spotify promo method to help you boost your Spotify for artists profile with real users and followers since Snapchat includes a swipe-up link!
There is direct access to your track without a bio link needed.
Tap here for a list of the BEST Spotify promotion services to use!
Method #5. Blog spotify promotion services
Getting on music blogs is a nice way to get an extra push for your Spotify release.
A blog website has the potential to not only help you rank on Google but direct people to your Spotify account (Apple Music too 😉.)
You can have your Spotify track embedded in your blog site, thus leading to additional streams and external exposure.
Just make some social media posts about the blog, and funnel the fans in that way!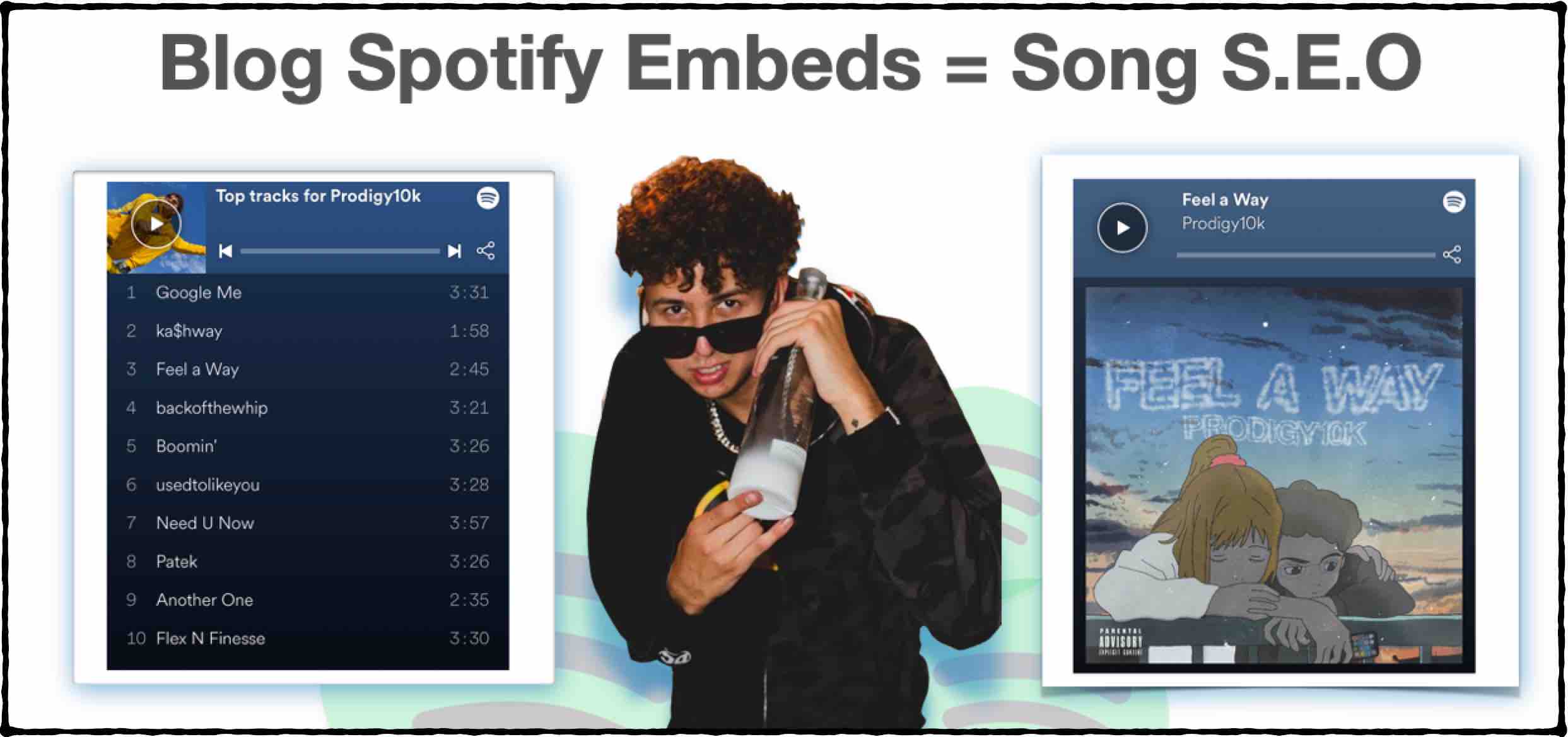 Blogs generally have their own playlists you can submit to as well!
You need both internal exposure through playlist promo, but external bog promotion also helps!
Some people are don't check Spotify promotion posts on social media because of promotion bombardment.
Tthey are more likely to check out your blog write-ups (it's more interesting).
You want these people listening to your music because tend to be loyal repeat listeners.
A blog site can sometimes have their own Spotify promotion service, you need to research their terms for more information.
Method #6. Instagram Live Spotify Promotion
Instagram Live is the best Spotify promotion push for release day!
Make social media posts mentioning that you're going live.
The more people to tune in the better!
Before discussing your music, go on Google trends to find a popular conversation topic.
In the first couple minutes of the live you should discuss your take on these trendy topics.
This engage the audience enough to plug in your music with full attention.
This works effectively!
Once you're done you can keep your live on your story for the next 24 hours.
This is a very immersive and intimate way to transfer your Instagram followers to your music!
These people already know you so they have reason to check you out.
Tap here for a list of the great Spotify promotion services to use!
Method #7. Host A Giveaway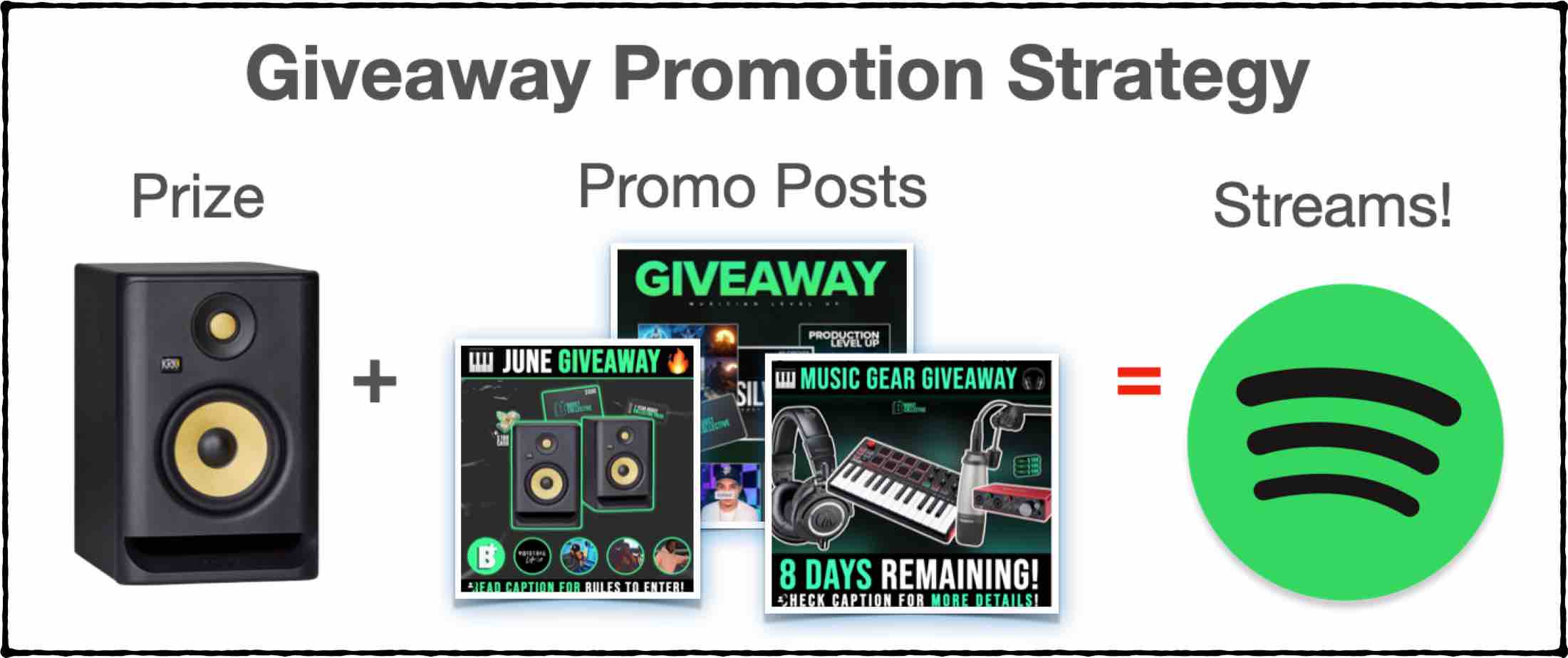 Giveaways are the best method in the world to gain new fans - people love free stuff!
You don't want the giveaway to be boring - or they won't participate.
The best way to host a giveaway is to attach points.
We used the FREE giveaway service called Gleam to manage this.
Promote the giveaway across al social media platforms.
The giveaway we gain over 4000 Instagram followers!
Here are a few items that work well for giveaways:
Amazon gift cards

Food gift cards

Tickets to sports games
Make sure to go live when announcing the winners!
If you have a small platform, you can team up with another artist to run the giveaway!
Method #8. Run Facebook Ads
Facebook ad is one of the best Spotify promotion services.
One thing to keep in mind is that the platform only allows clean songs.
Make sure you have a radio edit version of the song you're promoting. Ideally only use about 8-10 seconds of the song.
You'll want the potential fan wanting more so don't give away too much (else it will satiate their music tastes.)
Make sure that you get some nice ad graphics to go along with your ads.
Below is an example of an ad graphic that you can run for music promotion!
Although Facebook ads don't perform as well as using a Spotify promotion service, you don't have to worry about getting fake streams.
Method #9. Produce The Best Music
We have managed music Spotify playlist campaigns for both good and not so good.
If your music is not of professional-level quality... You WILL struggle to even get accepted onto playlists when you submit your music.
Real talk, this is the harsh reality of promoting music.
Even if the playlist curators do accept you (out of kindness) it won't help much.
Truthfully, listeners only care that the music is not low quality.
The listeners WILL skip your music of the recording or the mix is even slightly off.
Think about it. They just spent 3 hours listening to Drake and Taylor Swift before you - they're biased toward high quality only.
No Spotify promotion service can make gold out of a turd.
Make sure that your music is A-1 before promoting it!
You may have to invest money into hiring an engineer or getting studio time.
Ideally, if you can network with local artists then the cost to produce music goes down.
If you feel that you need help to improve your music, our team is here to help.
We will prepare you so that you can crush it on the Spotify platform to grow your Fanbase and followers!
Method #10. Release Singles Not Albums
Singles perform worse than albums on Spotify.
"But wait, my album has more songs... doesn't that mean more steams?"
No, not really.
The truth is, the consumer does not listen to the full album.
They generally pick 3 to 4 songs they like and ignore the rest.
I went to the streets and asked them personally:
The remainder tracks will pick up very little traction unless you go the extra mile to promote them (which isn't worth it - it's proven to not perform already.)
Plus, every Spotify promotion service is built to promote you on a per-release basis.
Rather than investing in large projects, boost your rate of release by putting out singles.
This will boost the effects of Release Radar + lets you build a fanbase/followers faster.
Method #11. Make Music Remixes
Music remixes are a great way to steal other artist fans.
It's not exactly Spotify promotion, but can lead to a higher play count!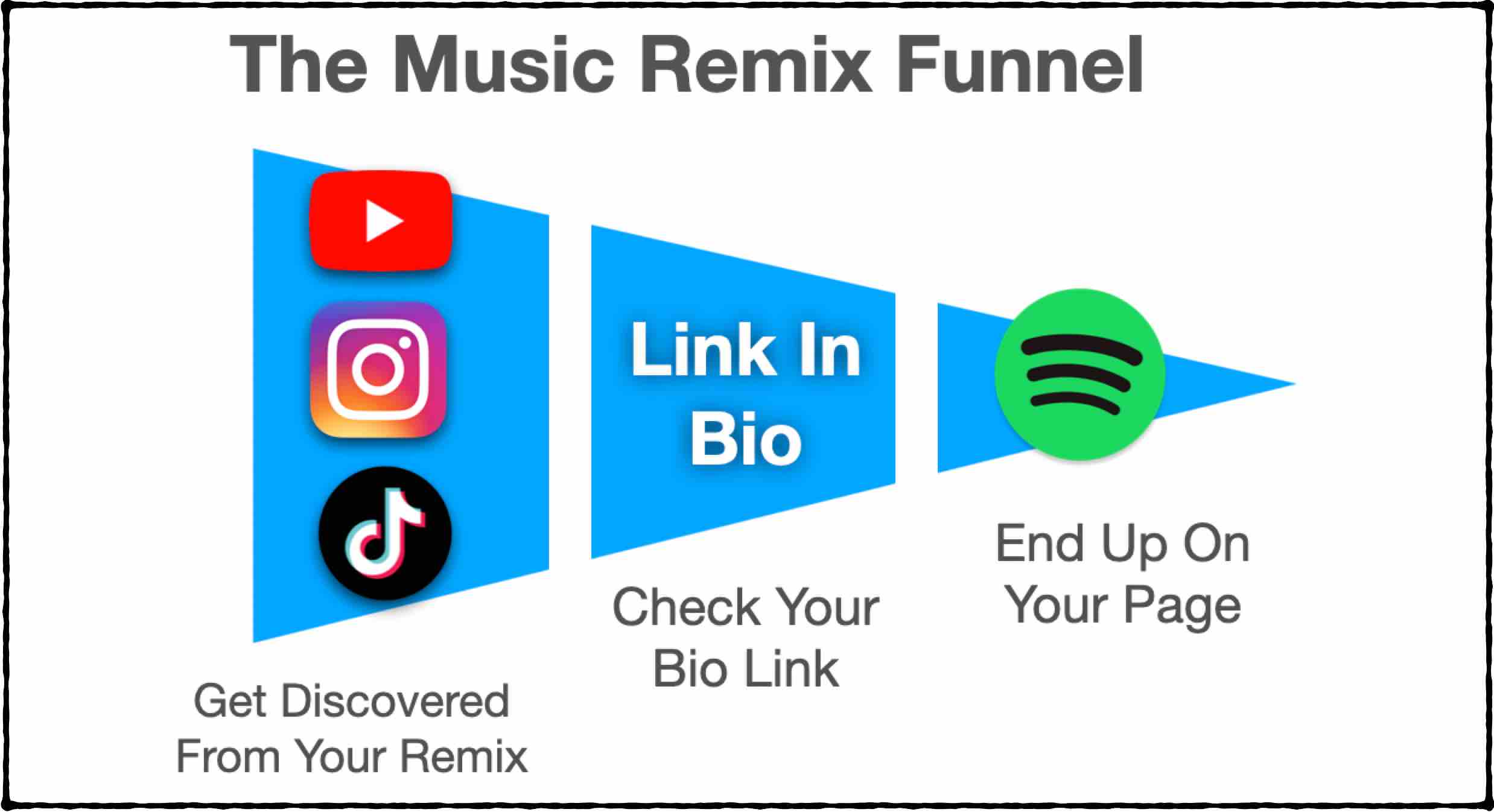 I don't recommend making remixes a core part of your brand, but doing every so often can work well.
I made a video on how to execute properly remixes for fanbase and followers growth:
You can make remixes to popular songs on Spotify, then post them on your Youtube account.
Although you can't legally make money from these remixes, they tend to get a large number of traffic.
At the end of the video, you can cut to a snippet of your latest song release.
And instruct the viewer to check your Spotify, directly from the other sources they're viewing your music on.
Back in the day, Chris Brown used this tactic to promote his music!
The idea is that through your music remix, the listeners will check out your stuff.
This will then trickle into Spotify exposure as they tap your bio link.
Method #12. Post On TikTok/Reels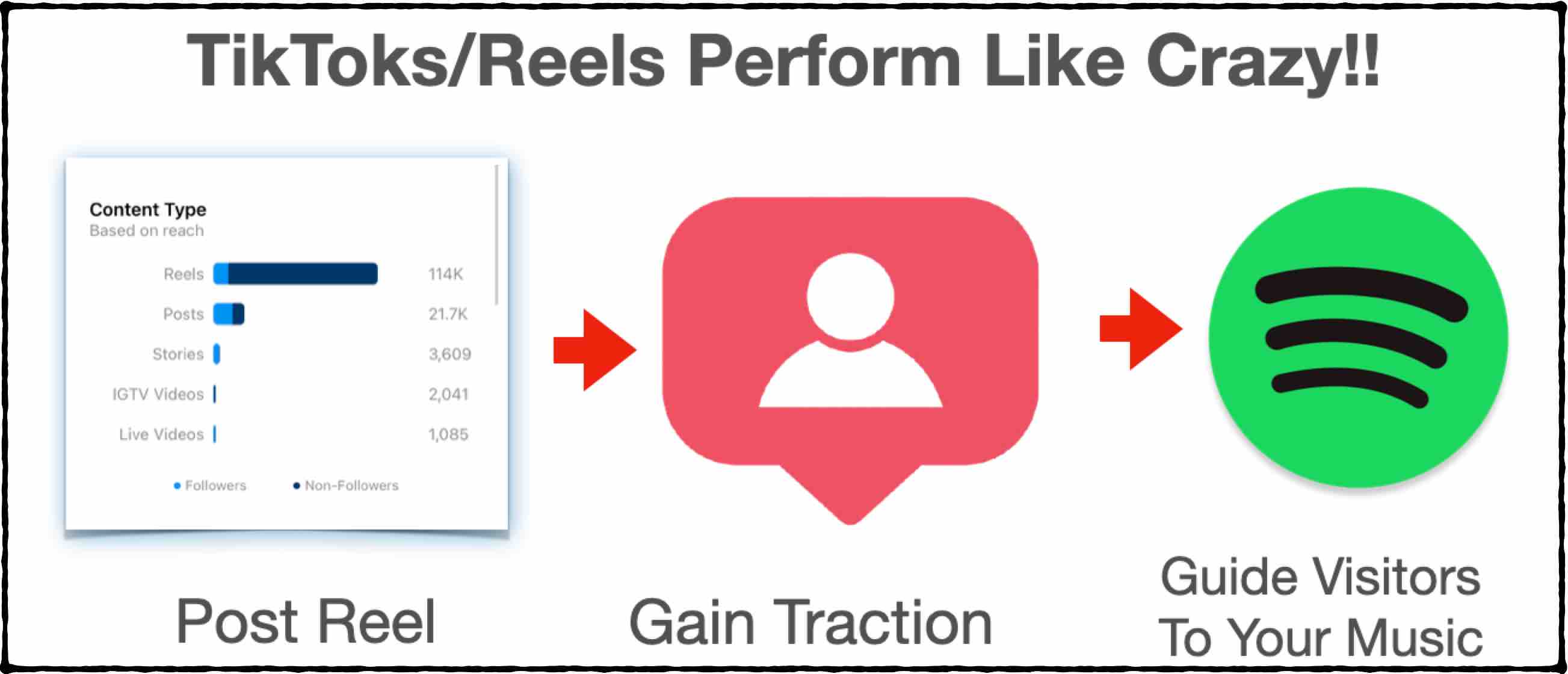 TikToks and Instagram Reels are awesome for music marketing and getting more Spotify plays.
The platform is just waiting to share your music!
The best thing to do is make some sort of meme or joke video with your song.
You should even get your friends/network to do the same!
If this song is good people are going to trickle through and then listen to it through Spotify!
It's competitive so don't think you will grow overnight, but it does work if you apply proper targeting.
Social media is so algorithm-influenced that you can easily target the correct people!
If you struggle to know WHO your target fanbase/followers is, read our Ultimate Music Branding guide.
Method #13. Make Memes
Memes are the easiest way to go viral with your music!
Lil Nas X his entire career has started based on his Old Town Road Memes on Tiktok.
Although you won't get the same followers results it still does wonderful numbers!
Just look at this meme that I made. The results were not bad:
I was able to gain 250+ followers from this post alone - really did me a nice service!
5 steps to cultivating fans through memes
Post meme

Pick up traction

Gain followers

Turn followers to fans

Fans 4 life.
The best thing to do is to merge the different strategies together for success.
Method #14. Make Lyric Videos
Lyric videos are an extremely immersive way to promote your Spotify music.
They work better than standard music videos because they POP OUT.
They are powerful because they're effective regardless of spending money or not.
You can post your lyric videos on Twitter, TikTok or Instagram via shout-outs of Influencer posts.
This can lead to more traffic and followers to your Spotify account!
Facebook and YouTube ads are effective with lyric videos - it's eye-catching for viewers!
This can boost the number of clicks you're going to get to your Spotify account!
Method #15. Get On Algorithm Playlists
The strongest Spotify promotion method you can do is try to get on the algorithm playlist.
Unlike the editorial playlist, humans aren't gatekeeping your success.
This playlist of course being Release Radar and Discover Weekly.
We were able to get hundreds of artists on the algorithm playlists via our Spotify promotion campaigns!
To get on Release Radar you need to have either your fans already following you or they need to tap your pre-save link.
Release Radar playlist promotion refreshes every Friday.
Set Thursday as the release day.
This way by the time Friday comes, your song already got some love.
Aggregators like Distrokid run email campaigns to help!
How's that for Spotify promotion?
Discover weekly is harder to get on.
Some people say that you need 20,000 streams however we've been able to do it with much less.
The trick is to not have listeners skip your track - good music is a must.
You will also need exposure to good playlists, in terms of genre and style.
Free Vs Paid Spotify Promotion
How much can you really expect to get away with until you have to start paying?
You'll be surprised - most promotions can be done for zero dollars.
You'll need leverage to make it happen though.
In the beginning, you may be forced to pay for access to exposure.
Attention is the most valuable commodity. Even more valuable than time.
The only difference between free vs paid promotion is the services timeline.
Do you want 100'000 streams in 2 years or 7 years?
Why You Need Leverage To Promote For "Free"
Naturally, when you hire music marketing services for external help, that saves you time from doing the busy work yourself.
Another way to look at is it like this: do you have the leverage?
This is what I mean by leverage:
Exclusive network

Social media clout

Access to other services for an artist
None of this can be bought, but with it, you can promote your music for free.
Personally, I run ads but also have an Instagram with over 20k followers.
This allowed me to reach out to brands and get free promotions, in exchange for promo.
Ideally, you want to do a mix of both paid and free promotions.
Get some skin in the game and test it out. If the results come, double down and keep going!
We're In The Golden Era For Indie Artists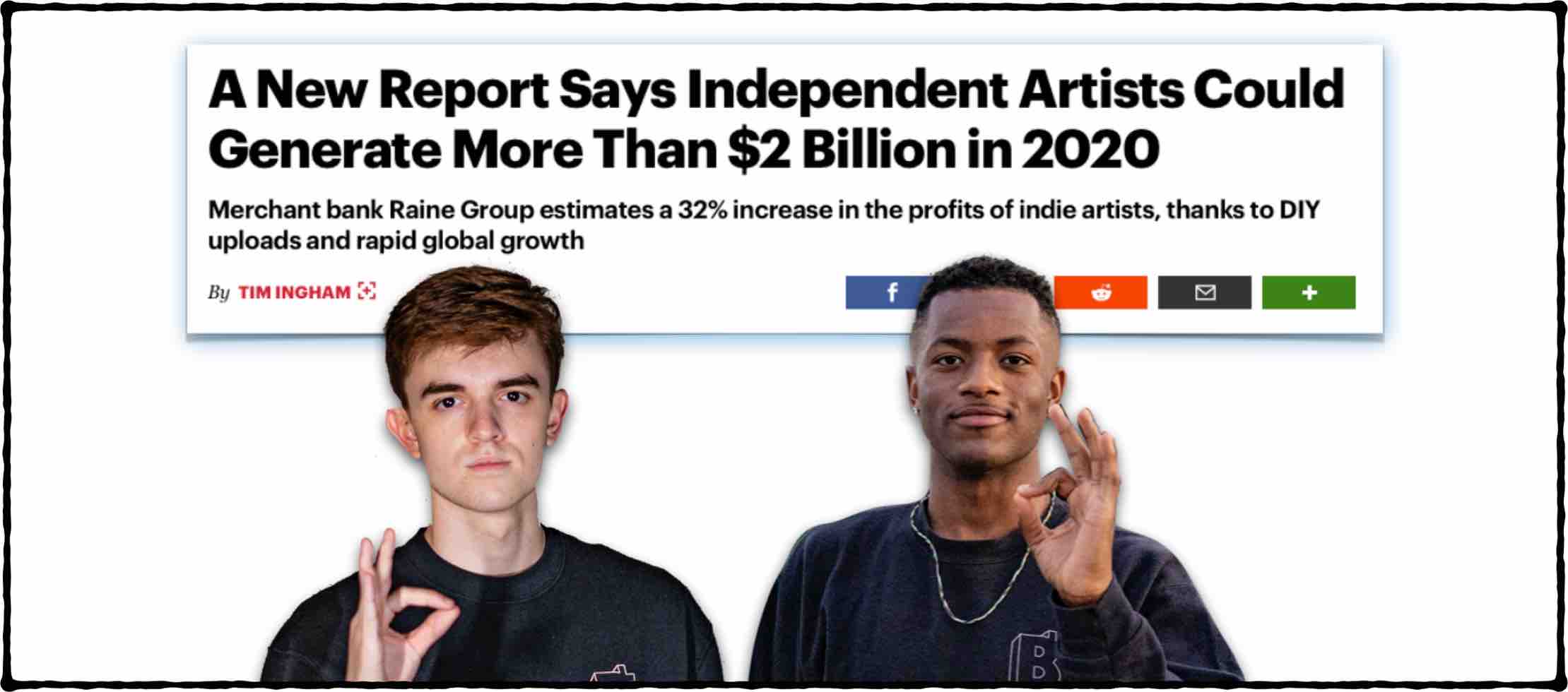 There are so many opportunities for an artist to build a brand with modern services!
These are the essentials to effective Spotify promotion:
Creativity

Networking skills

Optimistic realism
A budget is needed too - it's fine to start small.
Even your $500 home studio is a good start.
Have faith in yourself, it's needed for Spotify promotion success! I hope you enjoyed our Spotify promotion guide.
Join The #1 Platform For Music Artists.
We're starting a revolution - and putting music artists (like you) first.
Boost Collective is a free-forever music distribution platform. Upload unlimited releases to 150+ stores and platforms and keep 100% of your earnings.
You'll also get free playlist promotion, cover art creation, and much more!
Join Boost Collective for free here.