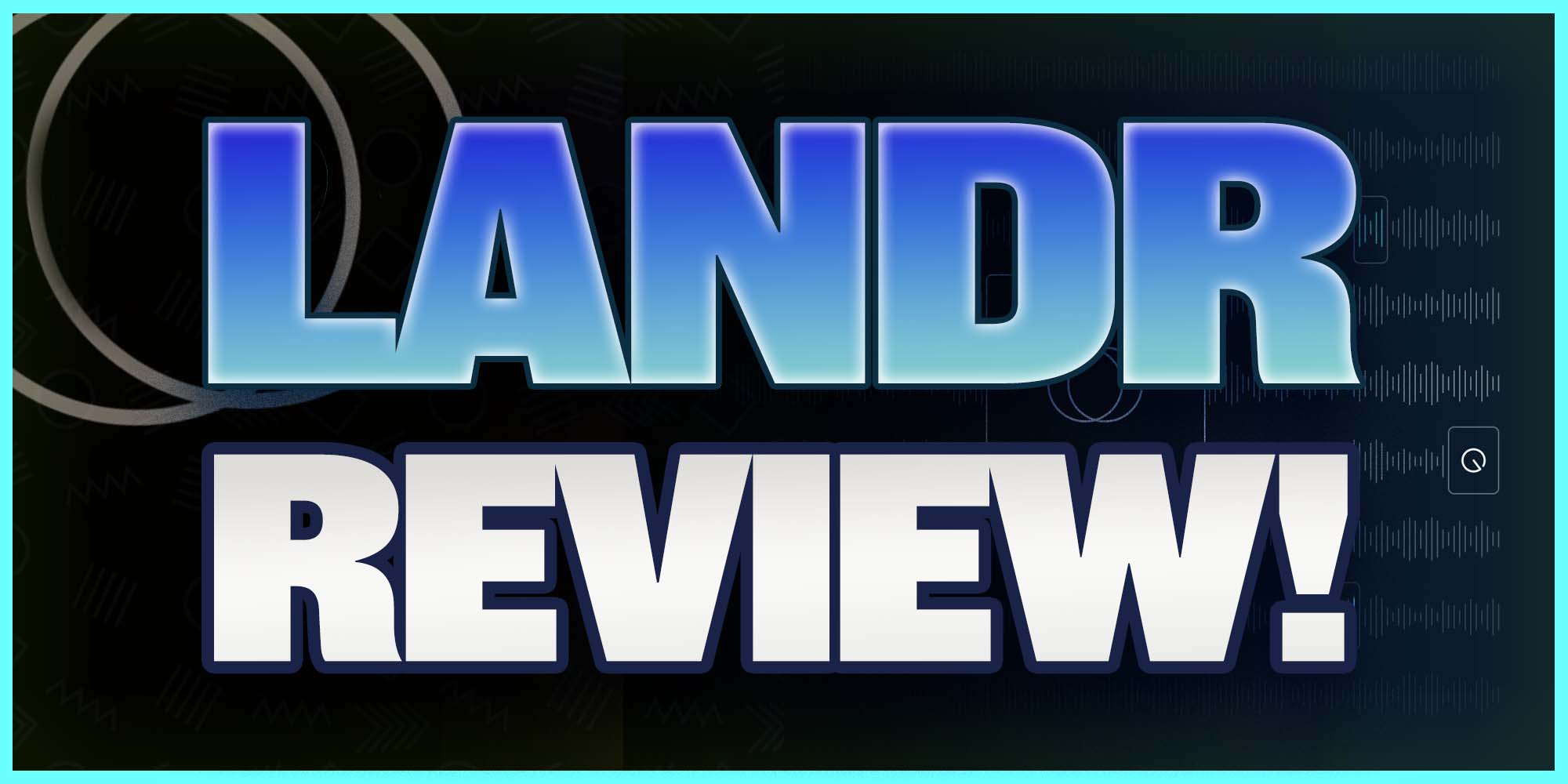 What is LANDR?
If you're reading this you basically have an idea of LANDR.
LANDR is a mastering service that also does distribution and offers samples for musicians. LANDR uses A.I. to get that perfect master every time.
Does it ACTUALLY work as good as they say?
that's what I'm writing this blog about.
We're going to get to the bottom of everything in this ultimate Landr review.
I'll be as impartial/unbiased as possible - I want you to have the clearest guidance before spending a single dime.
Why LANDR is so valuable for producers
LANDR has a bunch of aspects that make it great.
What we'll discuss in this blog:
Top any topic above to skip to that section. ☝️
The cloud backup is amazing!
With unlimited cloud storage, you can rest assured that your multiple files are all safe.
Also, you have unlimited downloads for your mastered music.
You can work on multiple tracks and get them prepared for major streaming platforms.
The bulk upload lets you get the tracks up and running.
Record labels can afford an expensive mixing engineer, but for small artists, artificial intelligence is the same as having a robot employee.
The LANDR network of tools is just amazing!
In these LANDR reviews, we're going to go DEEP.
Before we get started though, consider trying out our free music distribution platform! Distribute unlimited songs to 150+ stores/platforms, and protect your content with Content ID - while also keeping 100% of your earnings. Use this upload form to distribute your single now:
Boost Collective is the #1 trusted source of music distribution for artists - You can protect your content and earn royalties whenever it is being used. Enjoy!
LANDR Distribution Review
LANDR is a platform for people who want the convenience of getting their mastering process and distribution done in one place.
However, it's not free-you will still need to have some disposable income to pay for the release fees.
Other sites do Free Music Distribution but LANDR doesn't.
LANDR has different tiers which correspond with the level of release.
Let's deeply explore LANDR for distribution and see if it's a good fit!
Note: even if you don't use the distribution services, you can still use the LANDR mastering tool. AI mastering is only going to get better!
How does LANDR Distribution Work
LANDR's distribution works just like any other distribution service.
For this part of the LANDR review, we'll be seeing how good this service is.
You send them your track, then they get you on the top 150+ streaming services.
Benefits of using LANDR distribution:
No maintenance fees

Released in 2 days

Cover song licensing opportunities
Negatives of using LANDR distribution:
Albums are extremely costly

They take royalties while still charging an up-front fee

Metadata cannot be easily updated
As you can see, there are upsides and downsides to using LANDR for distribution.
Let's talk a little more about the pricing model.
LANDR Distribution Pricing

How much does LANDR cost to distribute songs?
LANDR has a more affordable pricing model than other services:
| | | | | | |
| --- | --- | --- | --- | --- | --- |
| Tier | Annual Price | Single Release | Album Release | Commission | Artists |
| Starter | $0 | $9 | $15 | 15% | 1 artist |
| Complete | $20 | $5 | $19 | 9% | 3 artists |
| Unlimited | $89 | $0 | $0 | 0% | 7+ artists |
Some of these LANDR pricing tiers are insane...
Not ideal when starting your music career.
As you can see, LANDR has pretty flexible pricing for their services.
While it isn't necessarily Free Music Distribution it comes close!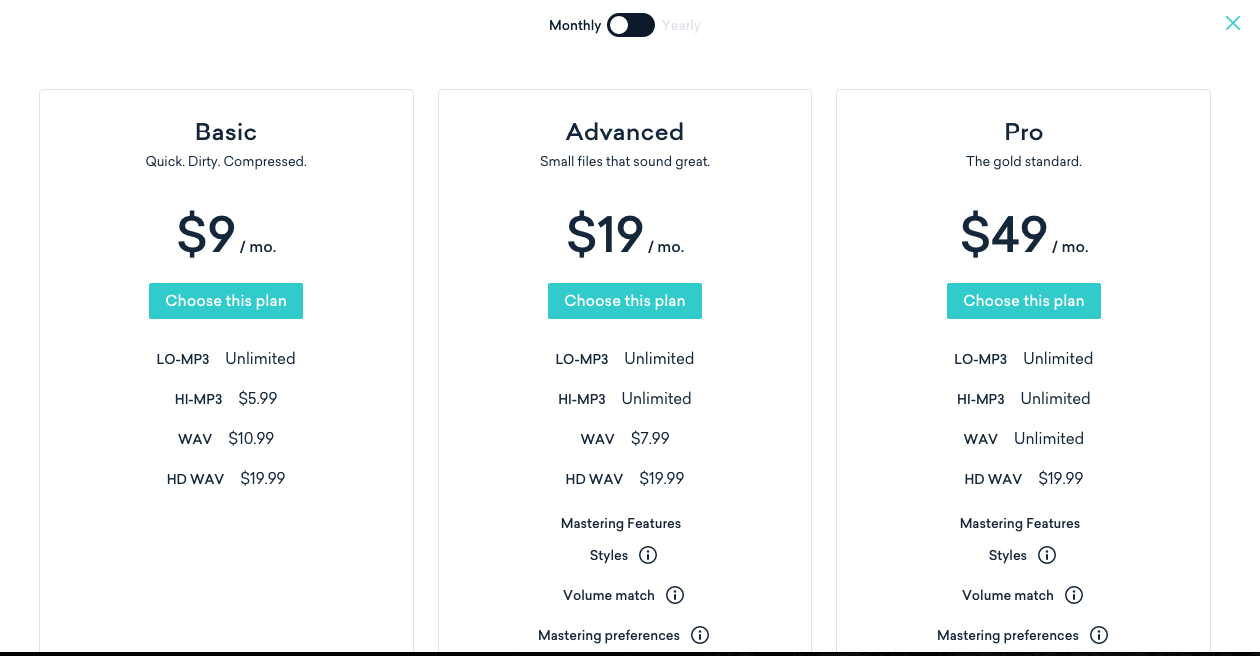 I would recommend using LANDR over DistroKid on simply a price level.
Not only that, DistroKid is known for streaming from artists...
You can rest assured that LANDR will give you every dollar due to you.
LANDR Cover Songs Licensing
One awesome thing about LANDR is the cover song license.
To release a cover song through LANDR – pay a $15 cover license fee. This goes towards securing the song rights for you.
This means you can record a song, use their online mastering services and then have it in stores ASAP.
Not only is LANDR a good mastering tool, but their licensing is not so bad as well.
The Top 25 Music Collaboration Apps!
How Long Does It Take To Release Music Using LANDR?
Is LANDR fast or slow for upload?
LANDR can release your song in as little as 2 days. You have the option to select a release date as well.
This is essentially the industry standard.
Does LANDR Help With YouTube Monetization?

The best part of using LANDR is the money!
Through LANDR you can monetize your track with YouTube content ID. This is included in any tier of the subscription.
Whether it's on YouTube Music, Apple Music even Amazon Music...
You're going to be raking in dough regardless!
"Repost" by SoundCloud - Review!
LANDR Vs Other Distributors (Comparison)
Now that you have the mastered version of your track...
It's time to get it heard by fans.
Which distributor is the best for you to use?
We're going to compare LANDR again with the leading 3 services:
Boost Collective

DistroKid

CD Baby
This will help you make an informed decision on your music releases.
LANDR Vs Boost Collective
Is the LANDR release better than Boost Collective?
LANDR is a fantastic distributor but Boost Collective is a slightly better option. Boost Collective is 100% free and offers music promotion and design as well.
It's hard to compete with free, really.
Boost Collective can take an entire album and make it shine.
You should use Boost Collective in conjunction with LANDR online mastering for the best effect.
Create a free account with Boost, and get the complete plan laid out for you.
LANDR Vs DistroKid

Which is better among these two?
LANDR is a better music distributor than DistroKid because it's far cheaper. DistroKid removes your music when you stop paying, but LANDR keeps releases up forever.
The choice is obvious here.
We also don't touch on it in this article, however, you should definitely take a look at our repost by SoundCloud review!
LANDR Vs CD Baby
Which of these software are a better distribution service?
CD Baby is a good alternative to LANDR. Since CD Baby offers physical CDs as well, it's a slightly better choice. Granted, they are both amazing distributors.
Go ahead and do your own research as well!
LANDR vs SoundCloud

LANDR and SoundCloud are both music distribution services that you definitely have to check out.
SoundCloud mastering vs LANDR is no competition.
LANDR is a trillion times better!
Repost by SoundCloud helps more with marketing.
The LANDR SoundCloud monetization is the exact same as any other distribution service.
You should also see how to blow up on SoundCloud even if you use LANDR.
There's not an overwhelming advantage, which means you'll get the same services.
If you're already a LANDR distribution user then this sounds good… All built-in.
In this case though, you may as well just use free music distribution.
LANDR Mastering Review

For this aspect of the LANDR mastering review, let's talk process.
A mastering tool is only as good as the mastering process it offers.
The AI mastering service boasts its simplicity and ease of use, which is 100% correct.
Your music engineering options are readily ability for you, and it won't take a rocket scientist to figure it out.
And the best part is the drag-and-drop aspect.
Compared to using a clunky digital audio workstation– LANDR isn't designed for a thousand tools.
This means that the music files will be optimized exactly for that.
The mastering process is designed to make the best LANDR-mastered track at record-breaking speed.
LANDR User Interface & Usability
The Lander features an intuitive interface with easy-to-navigate interfaces.
This may be the best and easiest interface I have ever seen on the internet.
You won't get stuck from the moment you upload or preview the song to the moment you download the complete master!
LANDR can't be assessed for its value by simply one track.
I consider it the most automated master-training tool available.
The 30 Best Distrokid Alternatives!
LANDR EQ Review

The world of music production is constantly evolving, and new plugins and techniques are being invented every day.
With LANDR, you can use an EQ to make subtle changes to the frequency content of a signal.
A nice touch is the default EQ settings LANDR has:
Loudness

EQ Intensity

Low-end adjustment

Mid adjustment

High-end adjustment

Vocal EQ

Sibilance control
You have lots of mastering options here.
No matter what you're after, you'll find that LANDR's EQs can help you achieve it.
So, is Landr EQ any good?
TLDR: Got to give LANDR props here. The LANDR EQ tool is good for beginner artists who can't access an engineer. The tools are perfect for making demos and reference tracks, making LANDR the best of its kind.
If you have a good ear for music, you can definitely master a hit record with this suite of tools.
Here's a free music distribution alternative to upload music to Spotify, Apple Music, TikTok and 150+ other stores and platforms:

Boost Collective is the #1 up-and-coming music distribution for artists, letting you put your music out there for free.
My Honest Thoughts On LANDR EQ
Using LANDR EQs is not at all similar to using a standard analog or digital EQ.
The plugins don't have the dial we are all used to, for the sake of being sleek and modern.
In a way, this doesn't take away though, since LANDR is designed for quick mastering anyway.
If you REALLY want highly technical software, either use Ozone or master with your DAW.
Many of the techniques used in EQing can be used with LANDR as well.
the trick is to understand the fundamentals before going simple.
Here is my final verdict:
Rating: 6/10
LANDR Compression Review
Compression is one of the key tools for mastering engineers.
What makes LANDR worth is the EQ, but compression alone is lacking.
Good mastering needs the right amount of compression to really get the music files ready for streaming...
This is the worst part of the LANDR mastering review.
Although the music files will sound good, they won't get the sound you want.
I can't see myself using LANDR compression for a song, let alone an entire album.
The mastered versions will sound good, but only when paired with the other successful mastering EQ services.
(Do your own research on which is best!)
For now, I don't recommend it.
Verdict: LANDR does not have the best compression for a mixing engineer to use. Instead, try a different service.
LANDR Mastering: Before And After
There are so many mastering preferences that go into getting a track fully ready.
There are many reviews online, so I'll share the best one here. 👇
Music makers should leverage what LANDR offers.
As a music producer, you want to focus primarily on level control.
The LANDR online platform does exactly that while letting you bulk upload many versions of the track from their cloud backup.
This is good because you can test each mastered version in all output devices.
This is a good post-production process for every music producer and independent artists everywhere.
Should a professional mastering engineer use Landr?

If you are a mastering engineer, it may be tempting to use LANDR mastering...
But I don't recommend it. Instead, hone your craft and do the mastering yourself.
The master track is what everybody will hear, so independent artists must receive the best version possible.
LANDR's mastering service is definitely good but its simplicity doesn't allow you to get into the nitty-gritty.
Plus, LANDR doesn't allow you to insert virtual studio technology (VST) into their platform.
This means you're missing out on auto-tune plugin, and other features that music creators would want.
LANDR mastering is good, but realistically a mastering engineer should use this mastering tool specifically for personal or reference use. Not the final mix.
LANDR Vs Other Mastering Services (Comparison)

Let's compare the LANDR mastering tool with other leading mastering services!
I'm going to compare LANDR mastering to:
CloudBounce

eMastered

IZotope Ozone
Those are the top 3 sites like LANDR.
A professional mastering engineer needs a good mastering tool to shine.
There are the top LANDR alternatives you need to check out!
The LANDR mastering cost is consistent with other mastering tools, so we'll have to see the benefits through other domains.
We'll compare the pricing, features and workflow for each online mastering service and see what comes out on top.
If LANDR isn't your first choice, other top sites similar to LANDR can help a lot.
LANDR Vs CloudBounce

Which platform is better: LANDR or CloudBounce?
First, let's compare each online mastering service.
CloudBounce benefits:
CloudBounce provides a free online audio master service utilizing eLearning algorithms

Cloudbounce costs $9 per track and

Priced at $199 a year
It's super easy to change the type of music: volume, brightness, warmth and bass.
You can view tracking information from any device, so you have more freedom!
CloudBounce is truly a Pro subscription service that can be purchased and provides unlimited Mastering and expandable cloud storage for your music.
So which of these AI mastering tools are better for you?
Verdict: LANDR beats CloudBounce by a mine. The mastering process/outcome is essentially the same, but LANDR has additional artist tools included in the subscription. Use LANDR.
Here's a free music distribution alternative to upload music to Spotify, Apple Music, TikTok and 150+ other stores and platforms:

Boost Collective is the #1 up-and-coming music distribution for artists, letting you put your music out there for free.
LANDR VS Ozone

Izotope Ozone is an audio mastering and mixing software suite that's designed for professional-quality mixing and mastering.
Izotope costs $499 forever whereas LANDR mastering is $149 a year.
That is a huge difference, that comes out in mastering preferences:
The Ozone suite includes several mixing and mastering tools, including EQ, dynamics, reverb, compression, and acoustic treatment tools.
LANDR mastering... Simply cannot complete with the Ozone mastering tool.
You can ship your new album 10x faster with LANDR than Izotope.
New technology employs machine listening, classification and different audio processing tools such as a compressor, EQ, limiter and stereo imaging.
Verdict: Isotope Ozone still comes out as a better product than LANDR mastering. Though LANDR is fun and easy, it loses out on the micro-adjustments necessary for the perfect master.
LANDR VS eMastered

Sound better on any medium or device with eMastered.
Which is better: LANDR or eMastered?
Here are some facts about eMastered:
Upload your MP3, AIFF, or WAV file by clicking of a button

The eMastered engine uses machine learning to improve with every song it masters

Works with every from hip hop and EDM tracks to classical and acoustic sounds!

Download unlimited masters per month

$156 for the yearly plan

No loss in quality when converting masters into different formats like MP3 or WAV.
The mastering engine analyzes files and applies just the right amount of various audio processing ingredients to make it sound powerful and crystal clear.
So, which of the services wins?
Verdict: You should still use LANDR over eMastered. Even though both are good services, the LANDR mastering tools slightly come on top.
Here's a free music distribution alternative to upload music to Spotify, Apple Music, TikTok and 150+ other stores and platforms:

Boost Collective is the #1 up-and-coming music distribution for artists, letting you put your music out there for free.
Best LANDR Plugins Review
Plugins are an essential part of any mixing engineer's arsenal!
They can give you the extra edge in making your music stand out from the rest.
They are also one of the best ways to enhance your work in the digital recording world.
Here are the best LANDR plugins reviewed:
LANDR FX Voice Review

What makes LANDR worth its weight are the plugins.
LANDR FX Voice is an online VST offered by Landr for $29.
Benefits of using LANDR FX Voice:
Save time & money in the studio with expertly dialled EQ and effects.

Clean up vocals with corrective presets like De-Mud and De-Ess.

Get to the sound you crave faster with an easy-to-use blender dial
This takes the guesswork out of complex mixing techniques.
I've used this on a couple of music files, and you can hear the difference.
The LANDR pricing for this is not bad as well, compared to other plugins you will see in the market.
Paired with the online mastering services - you have something powerful here.
Add instant life and richness to your music with custom presets.
LANR "Lethal" Snyths Plugin Review

What are the lethal synth plugins?
Lethal is the powerful software synthesizer plugin from Lethal Audio. For $9/month you'll get features and functionality to fit every genre from trap to deep house, Lethal gives you the power to create top tracks with just one plugin.
I do have to admit in this LANDR mastering review... This changes your music files forever.
The best soft synth for every genre you work in includes trap bass, EDM leads, cinematic strings, crisp pianos, essential drums and crisp percussion.
I would use Lethal's robust synthesis tools to manipulate your sounds for the best output.
While this isn't included in LANDR's basic online mastering service, I still think it's worth paying the premium.
Especially for beatmakers - the master track sounds really good and is ready for YouTube or Apple music!
LANDR Chromatic Review

Before I continue this Landr review, I should note:
LANDR Chromatic is a service that's being updated all the time.
I anticipate that the service will look different as time passes.
So LANDR launched their Chromatic Mixing Tool in late 2021, and it has proven to be an extremely useful tool for both experienced and novice producers!
Chromatic mixing is the process of creating custom musical palettes.
You have unlimited video sessions.
This is Landr's way of saying that you can take the aspects/inspiration of other great artists and use it for your work.
Is it really as good as they say it is, though?
Here are the positives and negatives.
Things I like about Landr Chromatic:
Intuitive Interface

Easy to Use

Really Fast

Uncompressed Audio files

Crowdsourced presets
Things I don't like about LANDR Chromatic
Limited samples

Not very customizable

Not compatible with all DAWs
Warning: some DAWs are not compatible with LANDR Chromatic.
This can pose some issues, so check their site for compatibility before you spend any money.
Like all things, there are upsides and downsized.
Still, before you go ahead and buy plugins, you need to know what you're getting into.
Should you buy Landr Chromatic?
Now the final answer is...
Yes. LANDR Chromatic is fast, intuitive, and fun to use for all artists. Since it's priced at only $9.99 a month it's practically a steal. Additionally, If you buy the yearly license you save 26%.
This product gets my seal of approval. ✅
I like most how the mixing/mastering process is done using a MIDI keyboard, but you can also create custom palettes using Landr's Mac and Windows software.
The drag-and-drop aspect is just as good as the sample library.
Create a dope stereo image today!
Now to mention, the Chromatic Mixing Tool lets you mix any piece of music in a few simple steps.
I recommend you use this.
Price: $9.99/month
Rating: 8/10.
How to Get A LANDR Refund
Let's say you tried out the LANDR mastering tool and didn't like it...
Instead, you'll stick with a human mastering engineer so now you want a refund.
Where to next?
To get a refund from LANDR, contact their support team at support@landr.com. The team is supportive and responsive so the issue will be resolved quickly.
Every time I deal with their support team, it works well for me.
How to Get A Landr Free Trial
Looking for a LANDR free trial?
You can sign up for LANDR for free, so that is essentially a free trial. To actually use the services, you may have to select a payment option that fits your budget.
To use the full LANDR mastering tool, you'll have to pay.
Join The #1 Platform For Music Artists.
We're starting a revolution - and putting music artists (like you) first.
Boost Collective is a free-forever music distribution platform. Upload unlimited releases to 150+ stores and platforms and keep 100% of your earnings.
You'll also get free playlist promotion, cover art creation, and much more!
Join Boost Collective for free here.