Top 5 Best Music PR Services Online
Knowing what the best music PR services are will drastically improve your odds at getting heard.
Read this FULL blog... Guaranteed you'll learn something new & useful.
Now let's get started!
Depending on your budget, different music promotion sites are going to have more or less relevance for you.
Do you have over $100 a month to invest in your music business through digital marketing campaigns?
This fits the budget for the average music artist.
Some music promotion services have packages starting at over $1000 so that's practically your entire annual Music marketing budget right there!
It's not always the case though.
I'm going to compare the best music promotion companies and the price to start doing music marketing with them.
All of these music promotion companies are wonderful! You should check them all out (especially Boost Collective 😉)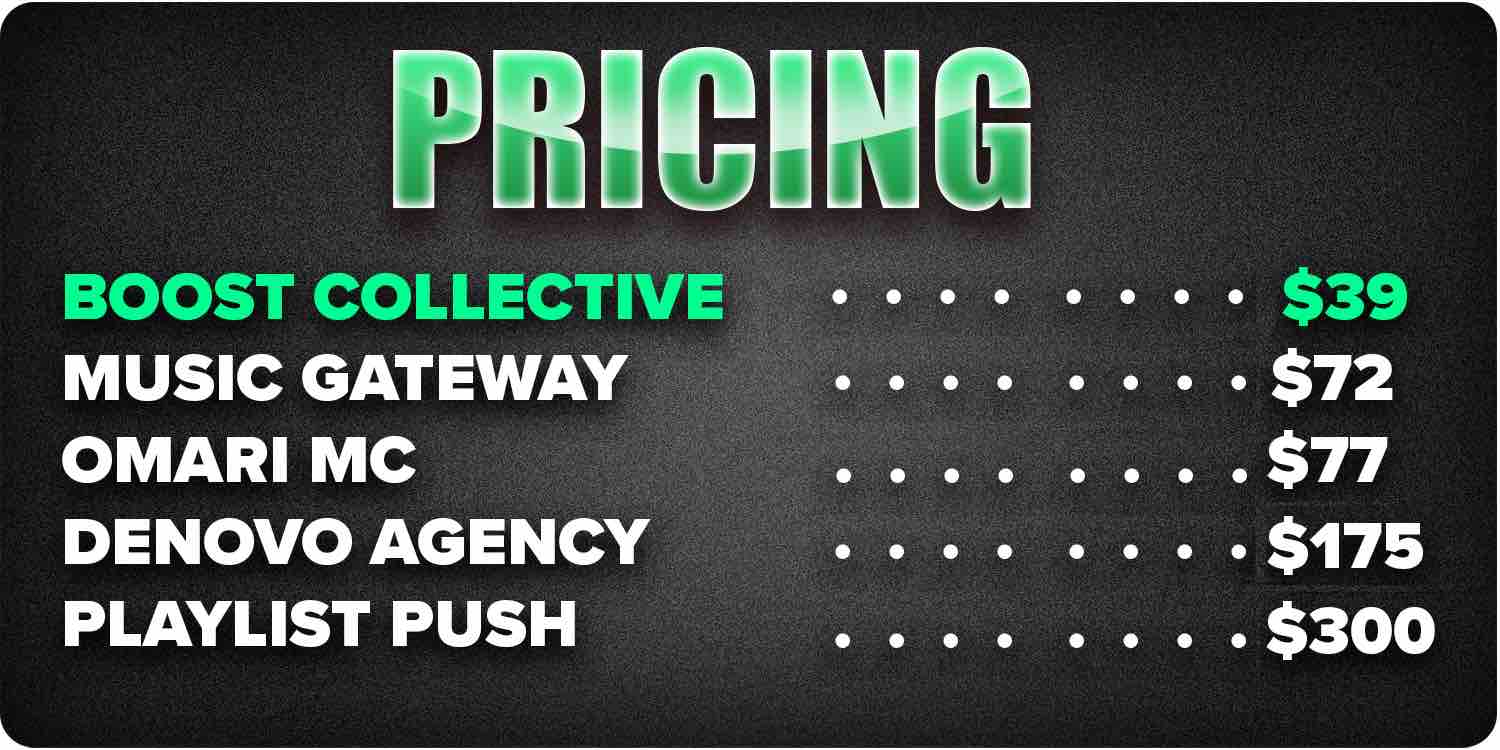 We are fans of all of these services!
The minimum music promotion campaign pricing is:
Boost Collective - $40.00

Music Gateway - $72 (annually)

Omari MC - $77.00

Denovo Agency - $175.00

Playlist push $300
Even though we and other agencies offer smaller packages, please know that big results don't come cheap!
Real ears cost money to reach.

Submit your song, if I like it then I'll add it to my Spotify playlist.
Select A PR Music Promotion Service That Fits Your Budget
I have good news and I have bad news!
The good news is that the best music promotion services are tailored for your music marketing needs from A-to-Z!
Now the bad news is that you need to go and find these music promotion services yourself in order to really grow and expand your music career.
Some of the best music promotion services are not needed for you.
There are many different music PR campaigns out there, and one thing you need to consider is how large you are.
If you're still struggling to generate 1000 true fans, then PR won't help...
It's designed for those artists with slightly established fanbases.
Of all the music PR services, Boost Collective is the go-to spot!
Mostly all agencies also have a music promotion service package priced at over $1000 as well.
One thing to consider is how large your network. A lot of the needs of an artist (cover art, blogging, playlist, etc.) can be done 100% for free!
How? Leveraging your connections.
With a platform like Boost Collective, you can grow without spending on a dime on PR and promotion.
Not All Music Promotion Companies Are The Same
You absolutely must not make this music promotion mistake!
A mistake that many beginner artists make is using a music promotion service that doesn't align with your music career goals.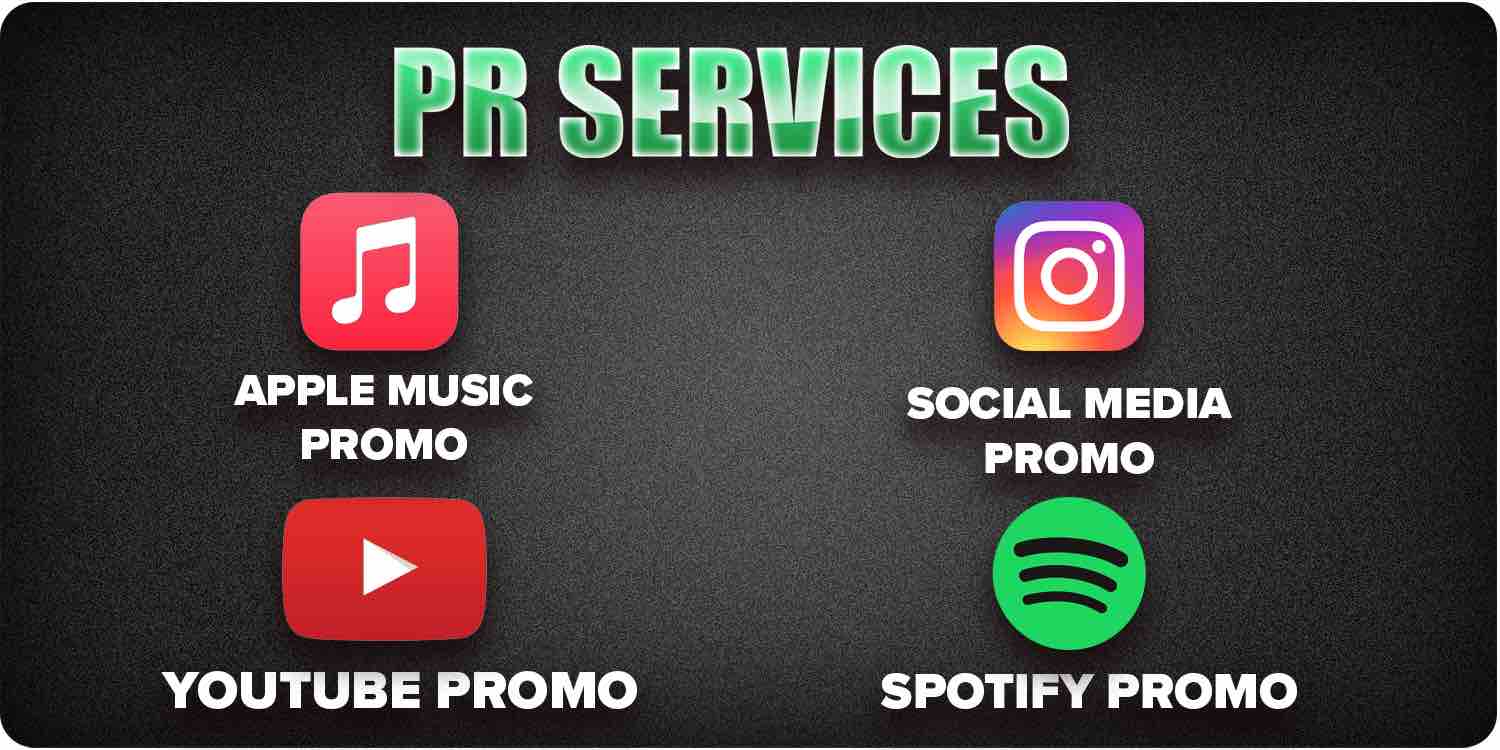 The music industry is huge!
This is why your music marketing is the most important aspect of the music business (after producing the highest quality music, of course.)
The best Music promotion services can range depending on many factors.
Some of these factors can be:
Your music genre

The services they offer

Your music promotion budget

Your music goals

Your lifestyle
It's good to have synergy with the music PR companies that you wanna work with, ideally, you're going to start a long relationship with these music marketing firms!
The better you guys can collaborate then the better the music promotion process will be in the long run.
A specific music promotion service online is Boost Collective.
They can accommodate all of your music marketing needs!
music PR vs music marketing: What's the Difference
Long story short: there is no difference.
The benefit of using music PR companies is the fact that they have connections that every music artist needs in order to get new music fans.
This only slightly differs from the music promotion service that a music marketing firm offers.
This video explains it clearly: 👇
Your average Music marketing firm specializes in using organic paid promotion to promote your music and grow your fan base that way. PR firms use inbound marketing and music marketing firms as outbound marketing.
(Also, here are the 5 best Spotify promotion companies to use.)
Ideally, the best music promo services offer multiple music promotion campaigns to get you hard and grow your music business.
Submit your song, if I like it then I'll add it to my Spotify playlist.

Not Every Music Promotion Company Offers The Same Promotion Services
Each music promotion company has a specific niche.
For this reason and this reason alone, you should consider using multiple music promotion and music marketing firms at the same time.
These music promotion firms offer specific music promotion services that outcompete the other companies.
List of services offered by music PR services:
Radio airplay

Social media promotion

Youtube music promotion

Spotify promotion

Running Facebook ad campaigns to promote your music

Spotify music marketing campaigns
Best music promo services for Apple Music
Needless to say, getting your music heard on Apple Music is quite a challenge!
Music Marketing on Spotify is easy because the platform has a playlist discover weekly and a bunch of tools to get any music artist heard!
That being said you won't get far in the music industry if you neglect to put music promotion towards the largest streaming platform of all time - iTunes and Apple promo.
The 3 best Apple Music promotion companies:
Boost Collective

Music Gateway

Omari MC
One thing to understand is that Omari does NOT promote music that is explicit in any way
I highly recommend getting your Music marketing for Apple on boost collective because they offer other music promotion help that really can get you heard!
Should You Get Radio Airplay Using Radio Promotion Services?
The hardest of all music promotions is getting on the radio.
I'll have to say though - there are not many music promotion sites that can get you radio airplay on top radio stations.
But... Is it worth it for music artists to seek radio promotion?
The one case where I think radio promotion is essential is if your new music fans are in the older demographics and listen to folk, country, and Americana music.
Even modern indie rock it's not a great fit for most radio promotion companies.
Putting a few dollars into getting radio airplay is almost a cry on deaf ears.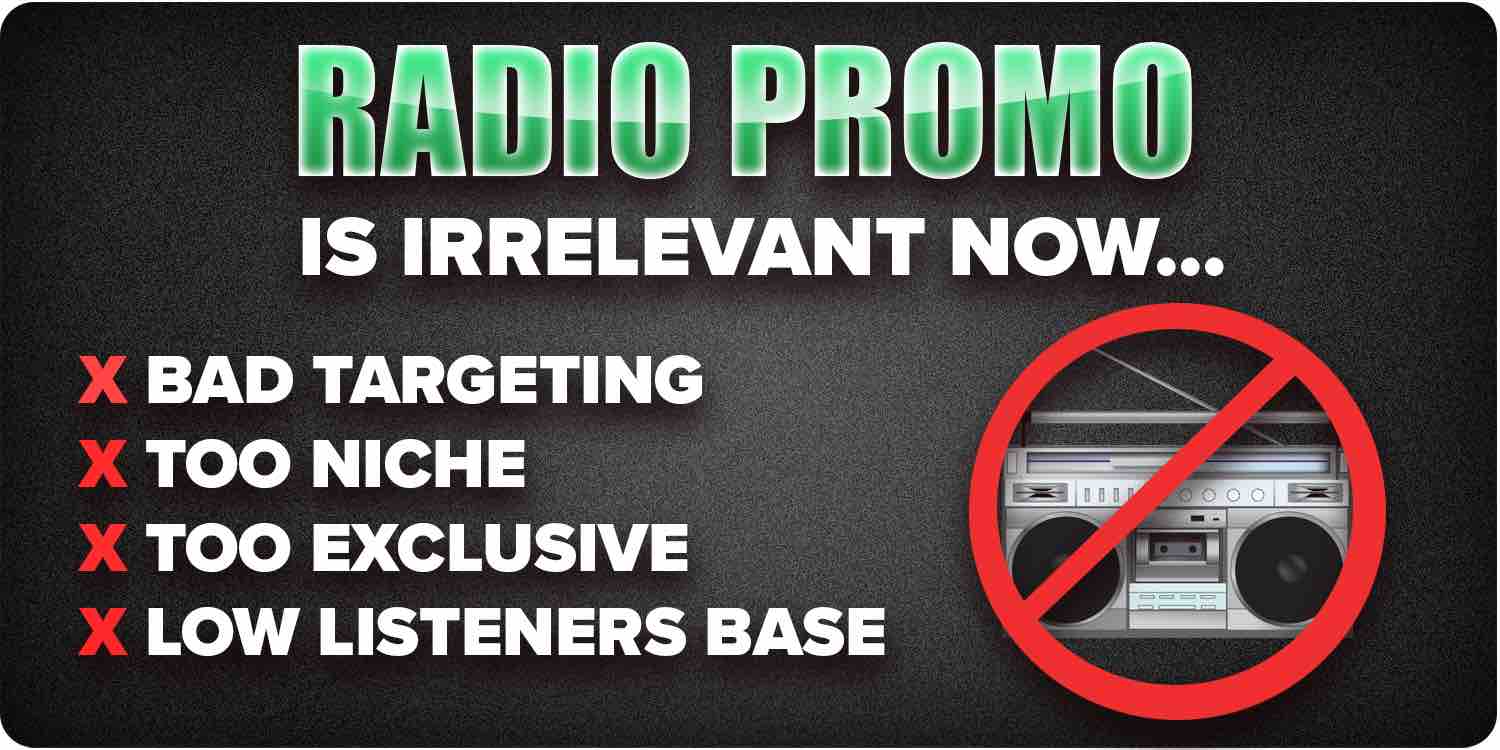 Ideally, you want to do primarily digital marketing and run social media campaigns to get your music heard as independent artist.
Your music fans will be found through Spotify and other streaming platforms!
That said if you have a few dollars to spare and want to put it towards different radio stations, feel free to do that!
Just note that radio airplay and radio promotion gets crushed by music online marketing any day of the week.
Submit your song, if I like it then I'll add it to my Spotify playlist.

Ultimate List of Music publicists
A huge aspect of PR in the music space is having a good publicist.
Top 15 music PR Firms
Boost Collective

MusicPromoToday

Omari MC

Music Gateway

UrbanDubz

Quite GreatPR

Right Angle Pr

View Maniac

Cyber

Effective Immediately

Plantery Group

AMW Group
Check these all out, and push your music brand forward!
#1. Boost Collective

#2. MusicPromoToday



#3. Omari MC



#4. Music Gateway



#5. UrbanDubz



#6. Quite Great PR
Van

Morrison

Nickelback

Mick

Jagger

The

Health

Lottery

Meatloaf

Kiss
#7. Right Angle PR
Right Angle PR is a growing music PF firm for artists.
the help you get press, new publicity, and discoverability.
This is one of the most reliable PR services out there!
#8. View Maniac



#9. Cyber Music PR



#10. Effective Immediately PR



#11. Planetary Group



#12. AMW Group
B

usinesses

Luxury

Consumer

brands

Event

Properties

Celebrities

And more!
Best Youtube Music Video Promotion Companies
The best music promotion services are also going to help you get your video out there too!
If the music promotion services online that you use don't include music video promotion then you're really missing out.
The majority of fans like seeing your content through social media promotion, however, it's very distracting and it's hard to bring in consistent music sales.
This is why I urge independent artists to take your new music videos and get YouTube promotion for it.
Top record labels put a priority on paid promotion for their music videos.
It's a wonderful professional service to get you heard across your YouTube channels.
The 3 best Youtube music video promo companies: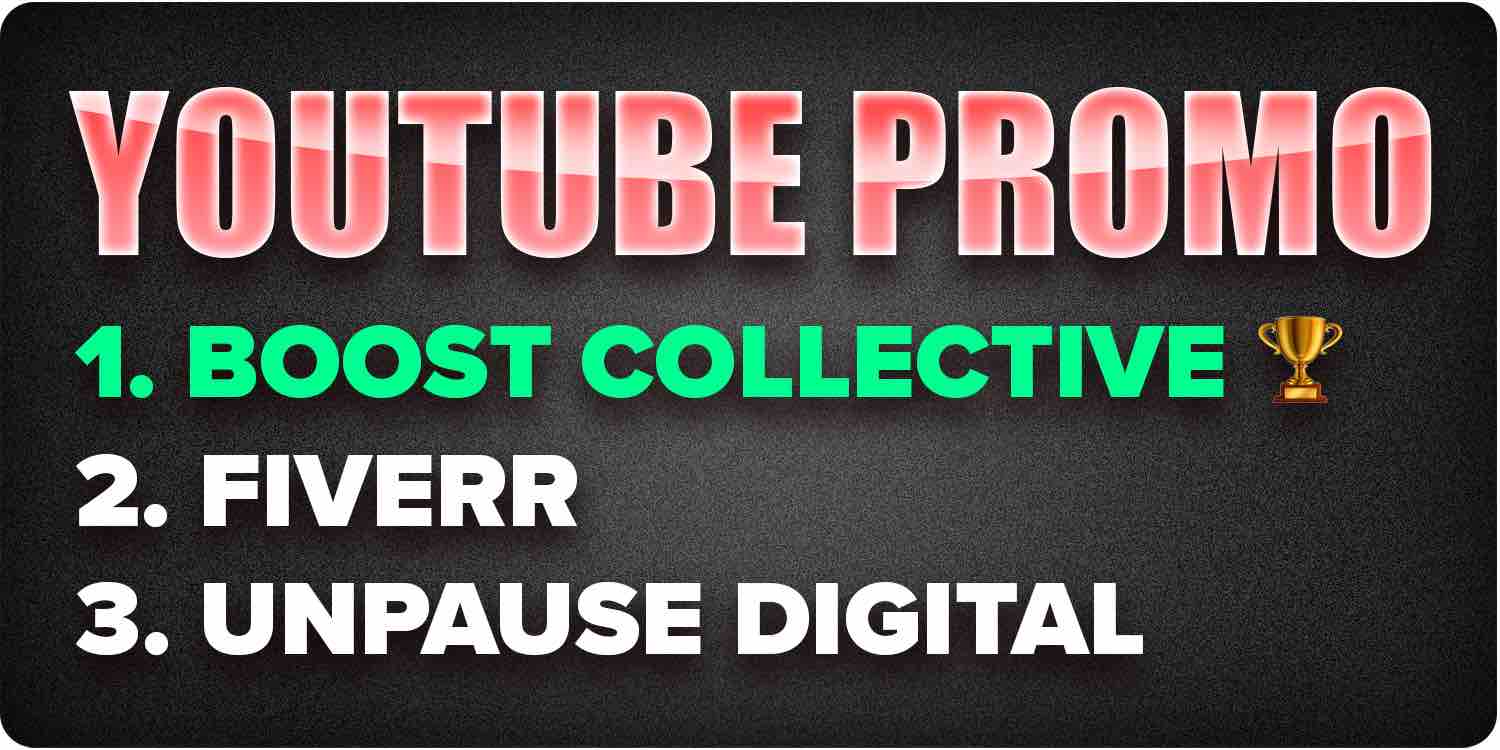 If paid advertising isn't your thing fortunately the YouTube algorithm can get new fans to your YouTube channels.
The algorithmic reach crushes all other streaming services & radio stations in existence.
Best Spotify Promo Companies To Use
As we all know getting more plays toward your release date can get difficult!
It feels like other users are getting more pleased even though you have a larger audience compared to those other artists...
What gives!?
See the thing is - a lot of those other artists are not getting real plays for the new song.
It may seem like these other users have more listeners and new fans however the Spotify playlists they're getting on are usually not legitimate.
J.Cole himself mentions it in his music:
"I wouldn't be surprised if I found out that a major label fakes their streams as well."
It's important to get real plays on your music.
Not only are fake streams a bad public relations strategy, but you're also not actually earning any potential fans!
Here are the top organic Spotify promo services:
Daily Playlists

Sidekick Music
I hope you know what the best music PR services are!
Submit your song, if I like it then I'll add it to my Spotify playlist.

Join The #1 Platform For Music Artists.
We're starting a revolution - and putting music artists (like you) first.
Boost Collective is a free-forever music distribution platform. Upload unlimited releases to 150+ stores and platforms and keep 100% of your earnings.
You'll also get free playlist promotion, cover art creation, and much more!
Join Boost Collective for free here.