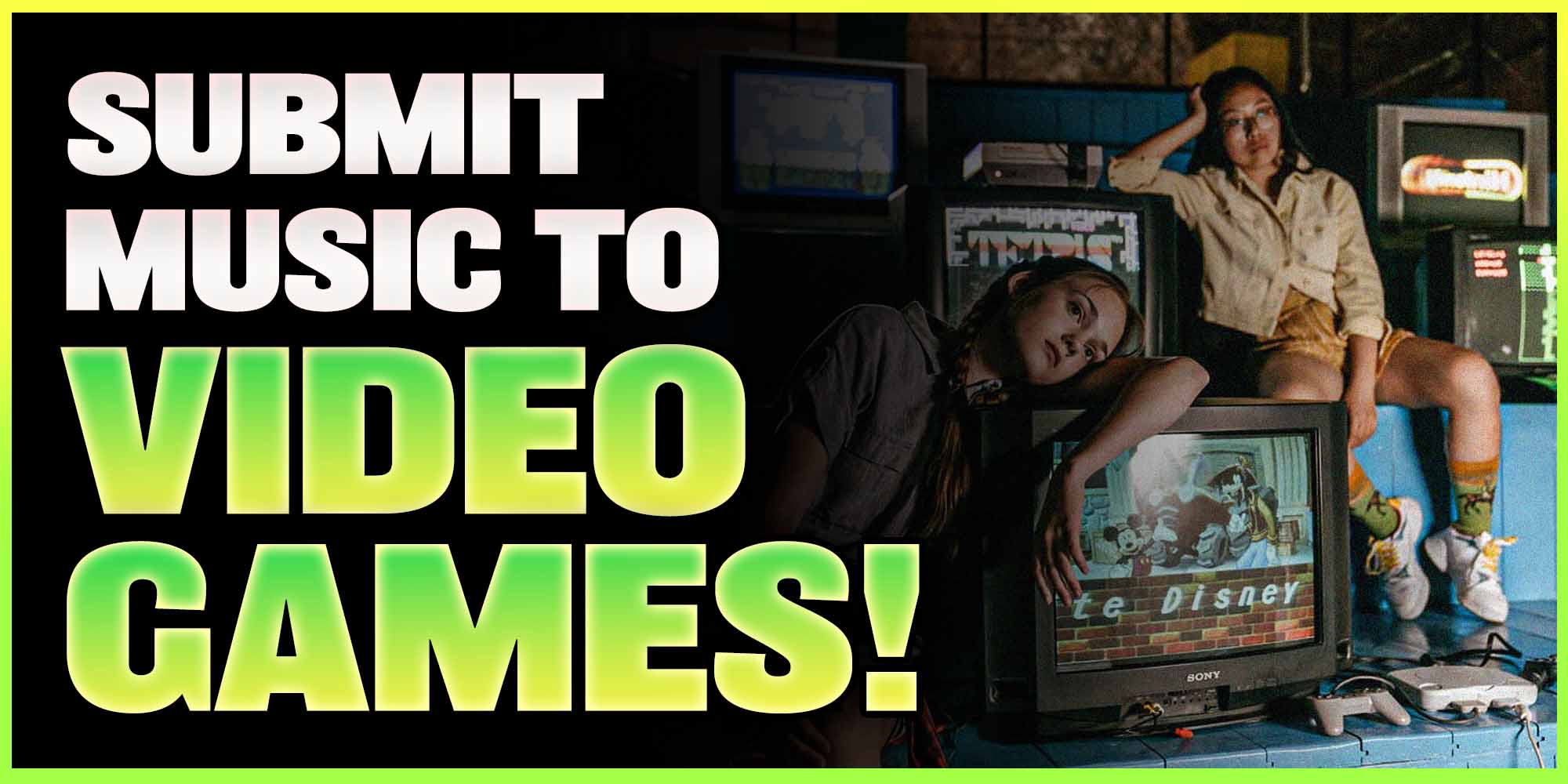 Get your song played on video games
What could be more enjoyable than hearing your own song in your favourite video game?
Good news: It is 100% possible to get your song heard in the newest hit video game!
Video game producers may desire to include music for a variety of reasons.
It's no secret that music has a significant impact on:
The mood of a game
The feeling of urgency felt by the players
Even the process of learning the game's mechanics!
So how do we go about with licensing music to video games?
Read this full blog and you'll soon know what licensing to video games means.
Do you make good music?
Submit your song, if I like it then I'll add it to my Spotify playlist.
I'm taking song submissions of all genres👇
music licensing in the gaming industry: explained

Music supervisors work in the games industry to find songs for placement. They deal with the music licensing as well as discovery.
The best way to have your music heard by a lot of players is to send it to video game companies.
The gaming industry and music business has always collaborated on content.
(Just look at Grant Theft Auto... So many songs have been discovered there.)
Millions of people all around the globe spend countless hours each day playing their favourite video games...
Think about how many potential fans you can make.
Video games are still one of the most widely consumed forms of media today.
In certain games, the soundtrack is an integral part of the experience.
You aren't just a faceless brand... You can be a legend.
Video game music enhances the experience.
It gives players something to look forward to each time they boot up an old save!
It's no shock that many game developers treat the music selection process with great care.
Get Your Music On video games 100% On Your Own.

This ad above with the book ☝️ is the BEST resource for getting on video games.
IT's
complete
and
useful
guide
to
composing
music
for
video
games:
Learning

the

skills

you

need

to

finding

work

in

the

field.
A
lot
of
the
time,
the
music
in
video
games
is
a
sophisticated,
complex
piece
that
is
meant
to
keep
the
player
interested,
set
the
pace
of
the
game,
and
help
with
interaction...
The actor (who
has
won
awards
for
her
own
video
game
music)
gives
an
aspiring
video
game
composer
a
complete,
practical
guide
that
helps
them
learn
the
creative
skills
they
need to work in the field.
This is job-creating
economic
powerhouse for musicians who have the key info.
Ready to get to the next level?
Get on video games with the info from This Book!
What's the process for submitting music to video games?

The submission procedure for video game music will differ.
Every video game developer has a different system of working with artists.
That said... There is a standard process to a degree.
There are several common procedures that may be used by almost any musician.
Ways to get your music on video games:
Get a Synch agent

Submit your music directly

Find the music supervisor

Hire a publisher
You must first submit your song for approval by the developer's team.
This does not mean that YOU have to be the one who submits!
You may use email or a submissions platform (or team) to get that done.
We're going to go deeper into this on this blog.
The video game developers can only utilise your music in their game when you've both authorised copyright, payment and use limits.
Do you make good music?
Submit your song, if I like it then I'll add it to my Spotify playlist.
I'm taking song submissions of all genres👇

How to license your music for video game placements

First, let's talk about getting your music licenced for usage in video games.
Selecting which sync licensing firm you'd want to submit your music to is the first step in having it featured in a game.
Sync licensing firms work in the music business to license music to different media (video games, TV, etc.) They usually deal with music supervisors directly.
You select a sync licensing agency based on a few factors:
Your genre of music

The target demographic

Size of video game project

Your expeirnce in music licensing
Take note of these sync agencies and find out what it would take to get your song in front of them.
Often times - you can simply submit your new music these sync licensing firms.
The benefit of using a sync licensing agent is that they deal with the backend work.
Each game creator has their own set of rules normally you'll need to read up on...
It's a complex process filled with headaches.
At least with a sync licensing firm, you can get the music placement without the headache.
The sync licensing agent will approach companies on your behalf!
What kind of music do video game music supervisors want?
There's a reason why independent artists get skipped for sync deals...
It's because more independent artists don't understand what video games mean by "good music."
Your egocentric rap song might perform well on Spotify, but the video game industry operates under different rules.
Just because your produce hip hop music - doesn't mean that it belongs in Grand Theft Auto.
Here's a checklist for what music supervisors want:
Original compositions

Emotional music

Non-egotistical music
Game publishers want the music to be a background substance while the user plays - nothing more.
The music industry is braggadocios, but you can leave those music files in your computer back at home.
To reach music licensing success you need to produce tracks that match the actual game.
Just check out Activision, Blizzard, EA Games... They find music to augment the games.
The role of a publishing company is to solve this problem.
Send the right music, and the video game industry will love/cherish you forever!
Here's another aspect when dealign with music supervisors in the video game industry:
Most music discovered in video game production fit these three genres:
Indie Rock preferred

Hip Hop preferred

EDM preferred
Why limit sync deals to just this?
The answer is simple: mass appeal.
Music licensing needs to be broad enough to fit the game world.
Romanian folk music isn't one of the musical styles consumed by the mass population.
Like, listen to the track below. It's good - but won't be in GTA 6.
Even for super Mario, the original score is made in advance - designed for popular consumption on visual media.
Do you make good music?
Submit your song, if I like it then I'll add it to my Spotify playlist.
I'm taking song submissions of all genres👇

Identifying which game developers you want to submit to

You may start looking for video games developers.
The sooner you find them - the sooner you can get a sync deal.
You can only begin licensing songs to your track... After you've located game developers.
There are many options for doing this:
Google game developers

Network on LinkedIn

Have your sync agent do the work

Look through TV credits
In the early days you would have to go though the standard submission process.
Now though - the world is global.
With the same email you can reach out to 1000 different professionals!
All you have to do is create your personal database of connections, then systematically reach out.
A search engine query may turn up developer-run online communities, discussion boards, and social media profiles for video games.
The visual media needs to match the songs you submit.
While these coders aren't producing music... They have contacts to game publishers.
This makes all the difference because a referral to the video game creative team is better than cold outreach.
Of course, getting a music placement isn't that simple (your music needs to ACTUALLY be good.)
However, younger generations learned to source music from their network than the static industry process!
Get Your Music On video games 100% On Your Own.

This ad above with the book ☝️ is the BEST resource for getting on video games.
Really recommend it.... Anyway, back to the article :)
Finding sync agents that accept submissions

You now know how to submit music to video game companies.
Now, let's examine the most promising music licensing forms for your submission!
Let's begin with a few pointers on how to go about tracking down music licensing agents who are open to submissions.
Best tips to find music licensing agents:
Check out the webpages of various sync agents as a starting point.

Get in touch with them via a "contact us" or "give us music" page on their website.

Try searching Google for music licensing for video games" with the name of the game.
Getting a sync license isn't a complex rocket science.
It just takes you putting in work to overcome the learning curve to license music, and deal with music supervisors.
Since sync agents are not the copyright holder, you must ensure that the song/songs you submit are owned 100% by you.
This is the case whether you're in a rock band or do your own thing.
Do you make good music?
Submit your song, if I like it then I'll add it to my Spotify playlist.
I'm taking song submissions of all genres👇

Platforms that currently allow sync music submissions

Now that you know which games you want to send your music to, we can examine the top platforms that accept such submissions!
You may send your music to the makers of games you're interested in using the following websites, all of which have a history of accepting musical works.
Here are the 5 best sync licensing agencies for video games:
Music Vibe
Use these agencies and get in video games!
Upload your music to libraries for sync licensing

A music library is another another excellent selection for video game composers.
Through a music library, a music supervisor can find tracks that fits the video game vision.
In music libraries, the music supervisor licenses music directly.
It's a very common place for the music publisher to find relevant tracks.
As an independent artist - if you struggle to get in contact with audio directors...
Then consider putting your best music on libraries.
The world runs off of music libraries.
There are music licensing opportunities for every genre and every composer.
If you are an artist that has never got sync placements and I do believe that this is a great place to start.
use MusicBed for sync license Placements!

One of the most widely used music libraries, MusicBed, has just partnered with Sony PlayStation!
Music bed is a great way for you to collect Royalty payments and start licensing music to video games today.
MusicBed is one of the largest music libraries in the music industry. If you have instrumental versions of your most popular tracks on Apple Music...
Then you can get a sync license by using this service.
Don't expect to make new fans - that is not the purpose of MusicBed.
However, as a composer you can gain ROI by licensing to the games industry through MusicBed.
find a music supervisor in charge
So which music supervisor should you go with?
Depending on which music supervisor you select, the chances of getting your music featured in the gaming industry can change.
Music supervisor only profit when they license music to visual media, so they do need you as a composer.
But just note: there are more musicians than there are supervisors.
That's why you need to make sure that the pitch is perfect:
1. Have all of the contact details ready in advance
2. Prepare the right song for the right games
3. make sure that all the right holders Are in agreement
These things that make the music licensing process 100x easier.
For example, before you create your first song try to reach out to the games industry and enter the scene somehow.
This will give you an idea of how musicians and music supervisors operate.
In turn, you can make your entrance to the games industry MUCH smoother!
This leads to a more sustainable career.
Do you make good music?
Submit your song, if I like it then I'll add it to my Spotify playlist.
I'm taking song submissions of all genres👇

Join The #1 Platform For Music Artists.
We're starting a revolution - and putting music artists (like you) first.
Boost Collective is a must-join platform for music artists.
Join the rebellion! and get free music distribution, free music promotion, and more.
We're on a mission to change what is possible in the music industry and we need you!