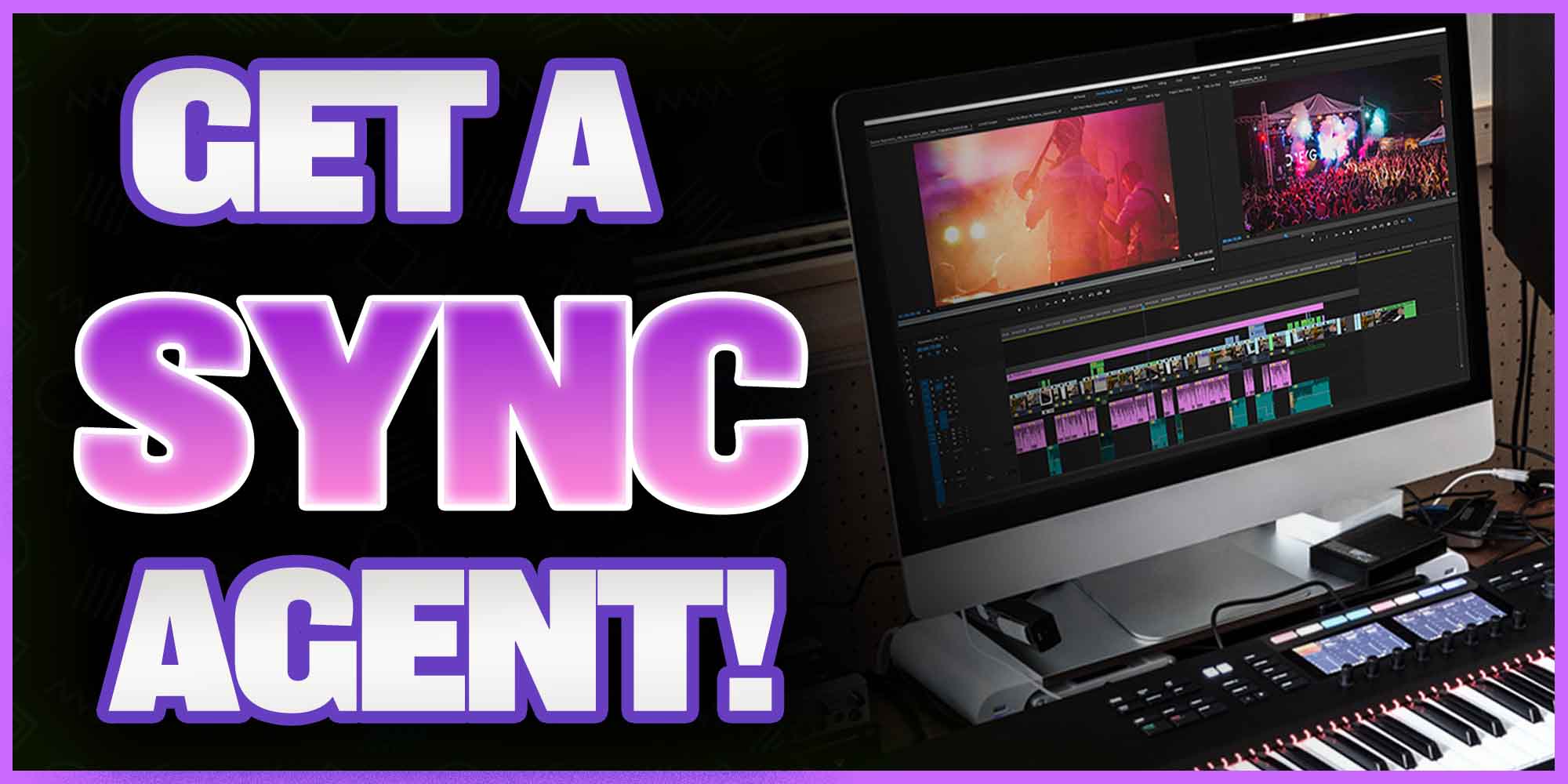 What is a sync agent?
A Sync agent is a music sync company that connects visual media creators and artists.
Sync agents are the ones representing your music and guarantee synchronization licenses. They pitch your tracks to Music Supervisor to attain TV and film placements.
Many supervisors are familiar with the recording artist and established good relationships with them.
Synchronic agents have the sole purpose of helping put in incoming music.
In exchange, they typically pay 10% of sync fees.
Most musicians and authors have no time for this task but are determined to remain independent and retain their copyright rights in any respect.
Synchronizing agents is another great way to get sync license agreements.
This is an important step if you aren't able to get a Record Deal!
Submit your song, if I like it then I'll add it to my Spotify playlist.
Sync Licensing Explained

In general, a music license is a legal agreement between you, the owner of the music and the project itself, and the copyright holder that gives them the right to use your music in a given project.
Essentially, it is a framework with which you can enter into a contract.
The elements of a music license can vary depending on the type of license you are using.
In general, a music license will cover the following: The use of the music in the project:
A common sync licensing agreement can include:
Royalty percentage

Sync agent commission

Synchronization of the music

The use of publicity stills from the project

The use of music in advertising

Lump-sum earning

Licensing duration

License permissions
Synchronization renewal is a special type of music license that allows the user to license the music for a second use after the initial term has expired.
Within the sync renewal, you can specify if it's for the same project (franchise) or a different one.
Free Sync Licensing Agreement Template

A
synchronization
license
is
an
agreement
between
a
music
user
and
the
owner
of
a
copyrighted
composition
(song)
that
gives
permission
to
use
the
song
in
a
video
format.
This
right
is
also
called
synchronization
rights,
synch
rights,
or
sync
rights.
By
law,
people
who
own
synchronization
rights
have
full
control
over
how
their
works
are
used
in
videos.
A good sync agent agreement will make sure that all participants are held to their responsibilities, and that earnings can be split properly.
Many
things
affect
the
response,
such
as
the
budget,
how
it
will
be
used,
and
even
how
busy
the
processing
department
is
at
the
time.
Because
of
this,
when
you
ask
for
a
synchronization
license,
you
should
not
have
too
high
of
hopes.
Top 7 Sync Licensing companies

There are a wide variety of different musical sync companies around the country that work with different methods of working.
You don't have to Google the best companies... I got you covered:
Here are the 7 best music licensing companies:
Keep your songs from collecting dust and wasting money to make money.
These music licensing companies are the top in the music business!
The Sync agency works with all genres: whether you're a hip-hop artist or a classical musician.
They have contacts with professional music supervision and get indie artists' music synced daily.
With all the sync license software mentioned above, you can quickly sell or distribute your music.
Pitching your track to the right people on a daily basis can be hell...
Don't take on a full-time job. Successful artists offload this process to a sync agency.
Even if you pay a monthly fee, the money made pays for the services plus a profit.
(Honorable mention: music bed & Music Gateway.)
You need to get your song seen in big media!

Are you a singer/songwriter with a unique voice?
Music X-ray works with popular lifestyle brands on new commercials, and are in need of singers, songwriters and composers.
Their associated brands are looking to tell a story about finding your voice, and they want lyrics and a melody for their new campaign.
Music X-ray is looking for original work, no sampling.
Music and scores need to be fully mixed and broadcast-ready, because of the timeline.
If we think your submission may fit, we will place it on hold for further review by the entire team working on this project.

TAXI Synch Licensing is a really good service for landing a sync deal.
They'll connect you to the right people who can help you get your song out to the world without any extra work on your part.
Really, what are you waiting for?
As an established musician, you're probably busy touring, writing new music, or working on your next album.
This is where TAXI Sync Licensing comes in.
They have thousands of sync projects waiting for you.
5 Benefits of using TAXI Synch Licensing:
A&R Screening
TV placements
Radio placements
Film placements
Record deals
This company will listen and hear your music - then do what they can to work with your track.
You can just sign up, upload your song and start pitching it to the industry.
On top of the TV, Commercial and Radio placements they can even submit your music to labels as well.
You can talk with companies directly to create projects and use a streamlined process.
Create dope work with this company!
Check out this review about TAXI Sync Licensing. 👇

Vampr is the #1 online music service that allows record artists to connect with fellow recording musicians, the industry, and their audiences.
Vampr also offers additional services of sync licensing arrangements in connection with movies, television programs, commercials, video game websites, and multimedia projects.
Here's the best part of Vampr publishing:
65/35 split in favor of the artist

Non-exclusive license for your song

Free to join and submit your song
Since all the rights of intellectual property belong to you, these projects are ideal.
(The non-exclusive nature when you sign with Vampr makes this so much better!)
Companies running ads with your song are highly profitable.
In return for the mutual promises made in consideration of this agreement being signed (the payment), you're all winning!
I love Vampr and what the company stands for.
Sing up for Vampr publishing today.

You can have a new Exclusive Agreement with Jingle Punks.
This gives you the exclusive right to place your submitted music in their client's media content worldwide for one year!
All submitted music must be free from any master or publishing claims, and you will split (50/50) any individual sync fee with us on the backend!
Just note: Do not send any demos, samples, or covers. They will not accept it.
Jingle Punks will take listen to your submission and let you know if there is an opportunity in our Library for it.
Submit your music and get a license now!

Are you a musician looking to license your music?
If you're an artist who wants to be paid fairly, Music Vine is here to help.
Their licensing program is designed to be transparent and fair.
Music Vine offers licensing services for all types of music including vocals, instrumentals, and compositions.
Are you looking for a company that is dedicated to promoting the integral value of music?
We believe in the power of music and want it to be a driving force in the world.
Sign up today!

Are you those who are interested in acquiring sync licenses for their music but have no idea where to start...
Broadjam is a great place to get your music out there.
They have access to many clients and deal with heavy hitters.
When you deal with Broadjam, expect a great job to be done.
Broadjam is a licensed music licensing company... But with a twist.
They connect independent artists with corporations and brands that want to use their music in their videos and ads!
They will get your music in front of industry professionals looking for music for videos, TV/films, websites, and more!
And you know what the best part is?
You don't have to be a music producer or have a studio to get your music heard.
All you need is a laptop, an Internet connection, and a passion for music!

Soundstripe is a new form of synch licensing that's easy, inexpensive, and flexible.
This platform doesn't connect you with TV, rather it offers your music to content creators through their platform.
Their customers use the music without ever worrying about license fees or recouping royalties.
Rather, you're compensated for your work as it's used based on their blanked licensing model.
The Best part: Soundstripe also offers a personal development team that works continually to improve your experience on the platform with new features.
If you don't have a record label connect radio stations and a TV show here and there...
this is the best way artists can take one song and make it popular.
If you're just starting, I recommend you use their platform!
Check them out below. 👇
What does a sync agent do?
Sync agents do quite a lot!
5 types of placements Sync Agents can provide artists:
TV commercials

Film placements

Video game placements

Radio placements

Live video placements
These are all things that a sync licensing agent does!
The Sync Agency is the guy who goes between. Some are employed in sync licensing firms.
Occasionally they are working in solitude, or they work for sync licensing firms.
Here's a secret... Practically all music managers work together.
This is a trusting thing of ALL FREAKIN' TIME!
All synchronized agents ensure the music submitted is cleared, so once they accept your music then you're all good to go!
Out of all the B.S. in the music industry...
Thankfully this is something you can have faith in lol.
Sync Agent Vs Music Publisher: What's the Difference?

What's the difference between a sync agent and a publisher?
There are a few key differences between a music sync agent and a publisher. Firstly, publishers only charge a commission between 10 and 15% of music earnings. For sync agents, the commission is around 20%.
Since sync agents focus on TV primarily, there is a different licensing structure than a music publisher.
The other key difference is that publishers only have as much control over music as the artist allows.
Indie artists need both.
A sync agent, on the other hand, controls everything, with respect to film placements.
Sync agents can pick and choose which artists they're going to work with for whichever project since they work with music libraries directly.
The Costs of using Sync Agents
How much does it cost to use a sync agent?
The cost of using sync agents varies. In most cases, you're expected to pay a small fee of 10-25% of sync revenue.) Most sync agents do not charge upfront fees.
If you have limited money, this arrangement works well!
If you don't have a record label giving you sync opportunities. then this is an incredibly easy way for indie artists can get sync projects.
The total cost will vary depending on your specific musical needs.
That's the beauty of music licensing!
Can I license my songs?
Firstly learn about what your license needs and you'll get more ideas of what you're going to spend on this.
How to find Sync agents

Do you also struggle to find good sync agents?
No worries, I got you covered!
How do you find sync agents in the music industry?
The easiest way to find a sync agent is to use networking websites such as Twitter and LinkedIn. Start by tapping into your network and asking fellow musicians for referrals.
Tip: Search for "sync placement" or "music film placement" in your favorite social media app.
Often, you'll find groups of people sharing ideas on this topic, and connecting with music supervisors and music licensing firms.
This is a very simple way to find a sync agent.
These social communities are often full of indie artists, sync agencies, and music licensing experts.
If you can't find any groups on social media...
You can always try searching on Reddit or the relevant subreddits.
How to get sync placements without an agent
It is 100% possible to get a Sync placement without the use of a Sync agent.
It is much harder though... Music supervisors (those who manage sync deals) don't like receiving unsolicited submissions.
Just because you can find a sync agent, that doesn't;t mean that you have value to provide.
They already have various projects going on, and unless you make REALLY great music...
You're squandering your sync opportunities this way.
How can you get a sync license without using sync agents?
The best trick is to get referrals and build rapport with music supervisors. That is not only how you win in sync licensing, but in the industry as a whole.
Think about this: their inboxes are already crammed to the TOP with messages!
Since you're ASKING rather than offering value, it makes sense that you'll get a cold shoulder.
Spend time offering and things will go your way.
When you find a sync agent, think of ways you can offer value.
Pitching Your Songs to music supervisors
You are now ready to contact industry experts and other industry professionals.
Don't hit send now!
Before sending out an email, it's good to ensure your music has been prepared.
These are the best websites to find music & audio supervisors:
LinkedIn

Twitter

Cold Email

Referrals
This list contains everything necessary during the check-in.
By pitching to supervisors, you'll be able to find a sync agent relatively soon.
What is a Music Supervisor?
Music supervisors are the keepers of the music onscreen.
They make sure the right music is playing at the right time and for the right reason.
What do music supervisors do?
Music supervisors are managers of the film music and are responsible for making sure every song fits the scene and theme, ensuring all songs are formally approved. They work with music libraries and sync companies to get the right sound.
In basic terms: supervisors ensure that there is a good flow with the songs and that each track is not playing continuously.
They work alongside the director to ensure that the right music is used at the right time to support the story being told.
As with everything in this world, a music supervisor's job is not an easy one.
That being said, you don't have to be the most famous professional musician to get in contact with a music supervisor.
By the end of this article, you'll know everything you need to know in order to get a music supervisor in your music network!
4 Best Music supervisors
Finding a great supervisor in the new Music business is hard but he has a great starting spot that will get you situated
4 Best music supervisors on LinkedIn:
This will get your music business underway and can lead to the referrals that push you into music success.
How to Get On Music Libraries

Want to get on a music library?
It's super easy to get on music libraries. Reach out these companies and pitch your music, you'll definitely get guidance on how to proceed with this.
You should submit music but ONLY once you've built some rapport.
What is a music library?
One of the best ways to get sync licensing, you should get your tracks on a music library.
A music library is the collection of songs in a file/site. Music libraries are where supervisiors look to find the right sync licensing songs.
Here are examples of music libraries
There are many types of music libraries.
The 3 Types of music libraries explained
There are three types of music libraries:
Royalty-free music library

Comissioned music library

Exclusive music library
You should structure how you submit music based on the library you want your music to appear on.
Your best tracks should go on an exclusive music library, then your basic compositions on royalty-free libraries.
There are different benefits for each, and I don't see a reason why you should not dabble in them all!
Join The #1 Platform For Music Artists.
We're starting a revolution - and putting music artists (like you) first.
Boost Collective is a free-forever music distribution platform. Upload unlimited releases to 150+ stores and platforms and keep 100% of your earnings.
You'll also get free playlist promotion, cover art creation, and much more!
Join Boost Collective for free here.