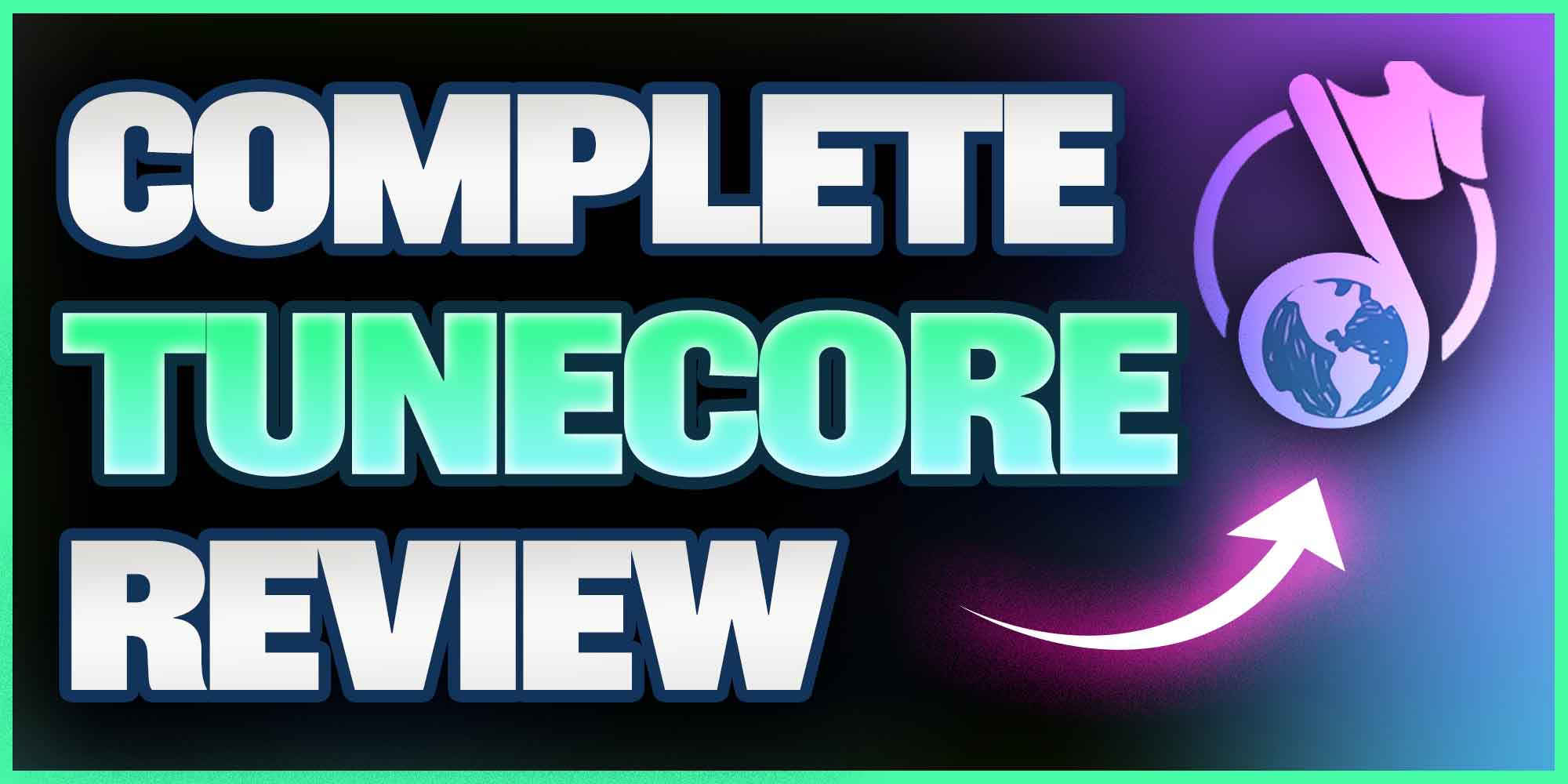 Is TuneCore Any Good?
Tunecore is a music distribution company is a business that helps you get your music out to the world.
The most common service they offer is digital distribution, but there are other services too!
Is TuneCore better than Free Music Distribution?
The answer specific details of these services will depend on the company you choose, but they can all help you take your new music to the next level.
So here's the main question.
Is TuneCore any good?
TuneCore is a decent music distribution platform to get your music in stores. It's pricey so as an indie artist you'll likely make no money off of sales, but they accomplish the basic role of distribution.
This isn't written out of spite - I've used TuneCore in the past.
Here is the most honest review on using TuneCore in 2023.
Looking To Distribute Music For Free? We got your Back!
We'll send you a login to manage your song and future catalog after we've set everything up for your release!
Table of Contents:
Navigate this blog with this! ☝️
3 Best TuneCore Alternatives in the Music Industry

TuneCore can be an excellent choice for musicians who want to sell their music.
Want to get your music career in the best online music stores?
That's what TuneCore is all about.
This company focuses on helping independent artists and labels distribute and promote their new music.
TuneCore offers licensing services, and it's an interactive platform...
But that doesn't mean that TuneCore is the best service out there.
Top 3 TuneCore alternatives:
DistroKid

CD Baby
Now, I'll do in-depth for each one and we'll see exactly where the benefits lay.
This TuneCore review will try and be as unbiased as possible.
#1. Boost Collective

Boost Collective is more than just a distribution company.
Distribution is just one of the many things you can do (and excel at!)
Boost Collective is a movement.
To bring artist development to ALL artists, without you having to spend a dime.
As a rule of thumb: if you're making less than $3,000/year from royalty payouts you'll save more money by using Boost Collective.
#2. DistroKid
DistroKid believes that selling music should be simple and safe, and that is why they set out to make it happen.
They offer a wide range of services that are designed to help independent musicians sell their new music.
DistroKid is better for releasing multiple songs to online stores.
DistroKid is cheaper than Tunecore - but has its own list of issues.
Tap here for a Tunecore VS DistroKid comparison.
#3. CD Baby
Another behemoth, CD Baby is one of the oldest distributors out there (founded in 1998!)
Priced at just under $10.00 a release, CD Baby is better priced than TuneCore.
Interestingly enough, that's not CD Baby's primary advantage for many artists...
I don't recommend CD Baby for digital distribution, but it has the BEST physical CD distribution by far.
How to pick a music distribution service to use
Sure, you want to release your music online.
But you're not sure if TuneCore is the right fit for you.
Thankfully, in this Tunecore review, I'll break down the actionable steps to take for new music success.
How to pick a good music distribution platform to use:
Find a few distribution companies that appeal to you.

Once you've got a small list, compare the pros and cons of each one

Go through the list and cross off companies with biggest the cons

Noe you'll have 3 companies remaining

Reach out to the support to get an idea of how they treat customers

Select the music distibutuion company with superior support!
Selling music online is hard enough, you want to make sure you got the best tools!
To build a huge following and new fans, you need a reliable distributor.
Music streaming platforms are just as important as music distribution companies.
TuneCore Pricing Review (Updated 2023)
There are a few key things to look for when choosing a music distribution company.
One of them is pricing.
How much is a TuneCore account?
You can create a TuneCore account and browse the features for free. To actually use any TuneCore service though, you'll need to purchase them individually.
Before your song touches Google Play Music or Apple Music you'll have to see a paywall.
Worst, your previous music releases are charged too. 😬
Once you narrow down the list of potential distribution companies, you'll want to take a look at their offerings.
One factor to consider is price-per-release.
Since this is the music "business" then you'll need a sense of return on investment.
Even though streaming royalties is not the highest paying method, unless you're seeing growth indoor bottom line, then you can kiss any music career prospects goodbye.
turning a profit on TuneCore is really hard.
The cost to distribute a single is $9.99 which is roughly 2500 streams according to the Streaming Royalty Calculator.
Insanity.
Even the most trending music will struggle to grow the way.
Assuming you get 10k streams on a track, you already lost 25% of your revenue just from the expense of distribution AND you'll have to pay taxes on that earning.
Clearly this is not the most prudent business decision to make as an independent artist.
This is why I strongly recommend using a Free Music Distribution service.
Nobody can deny that paying zero expenses is better than a 25% loss.
The best time to use TuneCore when selling music online
The biggest keep in mind before partnering with a distribution company is the cost of distribution.
When you're starting off, you won't be able to afford to spend a lot on distribution.
TuneCore is still one of the top 3 BEST distribution services for selling artists music!
It just needs to make sense before you start.
Don't make unnecessary expenses assuming you'll scale.
Instead, just focus on early sales and do upgrades when you're finally cash flowing.
Many artists need to re-read this. ☝️
Start off with Free Distribution then this can change as your following grows and your music is in high demand.
At that stage - you can decide again how you're going to distribute your musical content.
You must start your distribution service with a budget you can afford.
Just because they get your music on available online music stores, doesn't mean it's the best option for your music career.
TuneCore Payout dates

The payout date is the date you'll receive payment from TuneCore.
TuneCore pays royalties within 9-12 months after release. For non-US artists, this can take even up to 18 months. Your TuneCore royalty statements list the pay period 45 days after the end of each calendar quarter.
That is a LONG, long time.
Getting music past paywalls first, no waiting long periods before payout...
Not the best process.
Still, a lot of artists get confused about how this whole process works.
Your payout date is not actually the date you upload your songs to the company.
It's the date you submit the paperwork for the music to the company.
If there are any delays/issues in release then naturally the payout date can be pushed back in correspondence.
A lot of musicians think that they'll get their money from TuneCore on the day they submit the paperwork.
This is not the case for TuneCore.
While there are other free other music distribution services that pay artists more frequently, it's not something TuneCore is interested in at the moment.
The payout date is set in your publishing contract.
As long as you don't change your publishing contract, the payment did won't change.
You'll receive payment in the same period every single time.
Submit your song, if I like it then I'll add it to my Spotify playlist.
I'm taking song submissions of all genres👇
How long does it take to receive payment from TuneCore?

How much time until TuneCore pays you?
It depends on which publishing contract you sign with TuneCore. Since there are so many publishing contracts out there, it's difficult to give general advice. Expect it to come 45 days after the end of each quarter.
It's easy to say that, as a best practice, you should always read your publishing contract before signing it.
After you sign a publishing contract with Tunecore, you'll have to wait a few weeks for them to distribute the revenue to the rights owners of the songs.
Once the revenue is generated, it takes a few more months for the money to hit your bank account.
Note: TuneCore distribution and TuneCore Publishing are two different services.
Naturally, you should expect different outcomes regarding to payment as well.
TuneCore Pricing & Fees

There's a cost to get your music on available online music stores.
What's the cost to release music on TuneCore?
TuneCore service pricing:
| | |
| --- | --- |
| Service | Price |
| Release Single Track | $9.99 |
| Release Album (2+ Tracks) | $29.99 |
| Yearly Album Renewal Fee | $49.99 |
| Yearly Singe Release Fee | $9.99 |
| Tunecore Publishing Setup Fee | $75.00 |
| YouTube Content ID | $0.00 |
Those are the prices just to get your music career afloat!
Even for one song... That's a big price to distribute your music.
One criticism for TuneCore is how they classify an album.
Each track is considered an album on DSPs (yes, even if they are singles.)
While this doesn't have much significance for the listener, this makes a huge difference when selecting a distributor.
This means: If you want to release a 4 song EP, it will cost as much as a 15 song album...
That's just not right.
Shorter albums and longer albums should be priced accordingly or even made free.
Without a fan base, how can an indie artist justify the TuneCore cost?
There should be more nuanced pricing to repeat the size of the music release, however, TuneCore is not concerned with that.
Does TuneCore Support labels?

What is the label situation like with TuneCore?
TuneCore does NOT support labels. The platform was built without accounts, there is no dashboard/analytics or any other important tools a label needs. Labels are better off using other services.
In this TuneCore review, I try to be as impartial as possible.
However this one is too shocking!
DistroKid overcharges for their record label services (and ONLY allow 5 artists) but we have to give credit where it's due.
At least DistroKid has this as a service.
CD Baby doesn't have this as an issue with this, and neither does pretty much every other platform.
If you're a label working on selling artists music online then use Free Distribution Platform.
There's a built-in analytic and reporting platform as well as music analysis tools for labels.
Having a solid reporting platform is essential for your record label to distribute your music.
Submit your song, if I like it then I'll add it to my Spotify playlist.
I'm taking song submissions of all genres👇

What are the TuneCore yearly fees?

We need to see how much Tunecore fees are for your trending music!
TuneCore charges artists a yearly fee of nearly $10 per single and $50 per album. This doesn't include the initial release cost.
Digital distribution should never be this much...
Will you recoup that amount in Apple Music and Google Play Music?
TuneCore charges artists a yearly fee:
TuneCore charges a yearly fee of $49.99 per album release. Many other distributors charge nothing for this exact same service.
Now it's controversial whether this is an ethical practice or not.
To some, this is extortion but others are fine with paying the price.
Again, validate if it's worth it to pay an unnecessary expense of $50.00 a year for essentially the same service as other companies.
TuneCore Pricing Per Country (Updated 2023)
The pricing model is what puts TuneCore ahead of other services.
the monthly subscription fee builds TuneCore's sales revenue up.
Is the distribution fee worth it, though?
How much does it cost to distribute your music outside of the US?
Let's find out.
TuneCore Publishing Pricing

TuneCore Publishing is EXTREMELY expensive.
How much is Tunecore Publishing?
TuneCore charges $75 per songwriter for its publishing service and takes a 15% commission of revenue earned. There is even a 20% commission on synch licenses.
Now, this sounds rather expensive...
TuneCore can get away with it since they have a large online community.
You can't go on social media and not hear about TuneCore.
TuneCore pricing UK

TuneCore pricing is different in the UK.
The TuneCore cost per single in the UK is £5.99. Album distribution for UK musicians is £19.99 the first year.
This is the priciest way to distribute your music, by far.
All the tools are charged through the TuneCore release.
Even though TuneCore is a reliable distributor, paying this much for EVERY single song...

TuneCore pricing India

TuneCore pricing is very efficient for the Indian market.
TuneCore India costs ₹999 ($13 USD) per release, however, right now it's going for ₹499 as an offer.
Ironically, it's pricier to release music in a nation with a struggling economy than in the US.
TuneCore Publishing Review
TuneCore publishing is one of the best services Tunecore offers!
It's an amazing thing for artists in the music industry - you won't want to miss this part of this Tunecore review.
What is Tunecore Publishing?
Tunecore Publishing is a digital music service that helps artists and labels claim ownership of their music compositions. This is different copyright than what standard distribution services offer.
These services include digital publishing and royalty payment services.
Since this is a TuneCore review, we need to compare this service among the other music industry publishing services.
TuneCore fairs up pretty well.
Is TuneCore Publishing worth it?

No matter how you look at it, you're paying a fair price but this is sadly the industry standard.
There are a few services that offer Free Music Distribution but those are spread thin.
That said, $75 is a lot and is probably not the best for a new coming artist that has no existing fanbase.
The prospects of Synch licensing look promising for TuneCore...
But Vampr Publishing does a better job at this task (I recommend you check it out!)
You'll still need to collect your writer's share from your Local PRO (Performance Rights Organization.)
TLDR: TuneCore Publishing is not worth it for 9/10 artists. Unless you have a huge fanbase and sync placements waiting for you, you're best to go through your local Performance Rights Organization.
Submit your song, if I like it then I'll add it to my Spotify playlist.
I'm taking song submissions of all genres👇

How to Cancel TuneCore Publishing

Cancelling your TuneCore and TuneCore Publishing accounts is pretty easy.
How to cancel your TuneCore account:
Access the TuneCore cancellation form

Provide the email address associated with your TuneCore account

Receive an email for cancelling subscriptions
I don't recommend you cancel accounts recklessly.
The only situation where leaving a music distributor makes sense is if you find a better one.
The rising costs of using TuneCore is moving artists toward Free Music Distribution.
As a past user of Tunecore, I can tell you that they are the real deal!
If you don't mind spending potentially hundreds then use Tunecore.
Their services are top-notch, and definitely top of the music industry for a reason.
TuneCore Social Review

You've worked hard to build your fanbase on social media, and now you want to keep them engaged and excited about your music.
This is the most interesting part of this TuneCore review.
What is TuneCore social?
TuneCore Social is a tool that integrates your social media accounts with Tunecore. This grants your services like analytics, post scheduling, and more.
You gain access to a plethora of services using the TuneCore social app.
While this isn't the most essential of artist services, it's something that will boost your social media platforms.
Social media is one of the largest media for artist discovery.
If you're going to be using the TuneCore Publishing Administration services anyway, you may as well hop on these social media platforms services.
Build your online community on social media with this service!
These artist services are linked with your normal subscription fee so you may as well use them!
TuneCore Publishing Alternatives

If you want to use TuneCore to get your songs on Spotify and Amazon Music that's all dandy!
Just want to make sure you're aware of the other services out there for publishing.
5 Best TuneCore Publishing Alternatives
Wixen Music

Kobalt Music

BMG

ASCAP

Arthouse Entertainment
It wouldn't be a good TuneCore review if I didn't offer alternatives!
Some of these services require you to pay for UPC and ISRC codes**
Distributing and publishing music are two different things.
If you have more than two songs to get out... TuneCore is not the place for you.
Ideally, you want to gain access to Free Music Distribution.
Submit your song, if I like it then I'll add it to my Spotify playlist.

TuneCore Publishing vs CD Baby Pro

Along with TuneCore Publishing Administration, there is also CB Baby Pro.
CD Baby Pro is an incredible platform to collect music royalties that you may be missing.
Which one incredible platform is best for you?
Well, that depends on a few factors.
How much does CB Baby charge as its annual fee?
CD Baby does not charge an annual fee for its album or single release. That alone puts CB Baby as a better service for an indie artist.
CB Baby VS TuneCore: Sync Licensing
CB Baby is superior for its Sync licensing service.
Unlike TuneCore, CD Baby does not charge for its sync music publishing. TuneCore charges $10 for sync music publishing. CB Baby is the obvious choice.
Getting your music on Spotify, Apple Music, and Amazon Music is one thing.
The ability to link artists to music publishing licenses is a complete other thing.
This TuneCore review is going to go even deeper!
TuneCore VS DistroKid

Should you use TuneCore or DistroKid?
Although TuneCore is pricier than DistroKid, it is objectively a better music distributor. TuneCore has more services (publishing, song covers sync, etc.) and does not unfairly hold 30% of earnings as DistroKid does.
DistroKid is not a fan of cover song licensing.
Tunecore makes it easy to release song covers on music streaming platforms, whereas DistroKid is more hesitant.
Don't hate on DistroKid here - TuneCore is just a freakin' beast for this.
Since music distribution companies work with online music stores directly, they have a responsibility to protect copyrighted works.
In this specific case, DistroKid and CD Baby play it safe.
You have to respect TuneCore, for letting you release music coverts while remaining compliant.
Here's another way TuneCore beats DistroKid...
DistroKid has a shady 30% withholding tax for foreign music artists.
There is no clear explanation of where this money goes or why it's not given to artists.
Since music artists are entrepreneurs, handling taxes is a normal part of the venture.
Should you use DistroKid?
DistroKid forcibly takes 30% of artist earnings by claiming "withholding tax." The company is fraudulent by claiming that artists "keep 100% of earnings." I do not recommend DistroKid if you're a non-US artist.
TuneCore would never do such a thing - TuneCore has great respect for their clients.
TuneCore publishing VS ASCAP

This is the more abstract aspect of the TuneCore review.
Should you use TuneCore or ASCAP?
In reality, you want to use both TuneCore and ASCAP. Tunecore Publishing pays you for mechanical and publishing, but only your local PRO pays your songwriting share.
In a sense though, you could Release Music For Free and still use ASCAP.
That would get you to online music stores without breaking the bank.

TuneCore publishing VS BMI
BMI is the largest performance rights organization in the US.
Just like ASPAC, you should use BMI in conjunction with a distribution service such as TuneCore.
Each PRO (performance rights organization) has different benefits for music artists.
It's important that you do your research in advance, and see which PRO aligns with your music career best.
Digital distribution is only one half of the puzzle.
Getting effective music promotion and growing your brand are other important aspects.
(For this sake of this TuneCore review, I won't compare EVERY PRO.)
Final Verdict on building a Music career With TuneCore
TuneCore is a good service, all in all.
While the prices are too high for the average artist, it's effective at getting you on the best online music stores (Apple Music, Spotify, Pandora, Etc.)
It's not the best for selling artist music since the R.O.I has been corroded by high distribution costs.
It's 100x better than CD Baby or DistroKid but should be used in conjunction with other platforms as well.
If you're going to use Tunecore, make sure your music promotion isn't too costly so you can see a true R.O.I.
Having a fan base is one thing, but monetizing off the audience is just as critical for your music career.

Join The #1 Platform For Music Artists.
We're starting a revolution - and putting music artists (like you) first.
Boost Collective is a free-forever music distribution platform. Upload unlimited releases to 150+ stores and platforms and keep 100% of your earnings.
You'll also get free playlist promotion, cover art creation, and much more!
Join Boost Collective for free here.