Which Rappers Fell Off The Hardest?
Here's our list of rappers that fell off this year...
In order to double-check our numbers, we used actual data from Spotify.
Despite their best efforts, these rappers just couldn't cultivate the attention of the fans they once had.
We also made sure to include some honourable mentions, so make sure to scroll down to see those artists as well.
Check out Boost Collective's 100% free distribution platform!
Create an account, and get your music on 150+ streaming services!

Boost is the platform artists go to when they're ready to graduate from basic distributors anyone can access. Here's what they have to offer.
Promotion On Autopilot - Every release you distribute is automatically pitched
Free Asset Funding - From cover art to video visuals, artists get it all when they distribute through Boost Collective
Future Growth Opportunities - As you grow, more doors unlock with Boost. From editorial opportunities to advances, distribution deals and more. All whilst you stay independent!
Without further ado! Here's what we found.
Rappers that fell off in 2023:
1. CJ

CJ, the New York rapper best known for his smash hit "Whoopty," has been somewhat silent since the success of the track at the beginning of 2021.
Soriano self-released "Whoopty," his first commercially successful track, in July 2020.
CJ raps over a track that he obtained on YouTube and samples from Arijit Singh's "Sanam Re" (later the rights were cleared).
February 2021 saw the single reach number 10 on the US Billboard Hot 100 and number three in the UK.
In addition, Billboard's Emerging Artists charted him as the number one artist.
In the future, he struck a deal with Warner Records and his uncle, James Cruz, a record executive, on his own record company, Cruz Control Entertainment..
Warner had the "greatest position" out of all the labels that approached him, he said. CJ published "Bop" on January 26, 2021, as the follow-up to "Whoopty."
On February 19th, 2021, he released his first full-length play, Loyalty Over Royalty. French Montana served as an executive producer.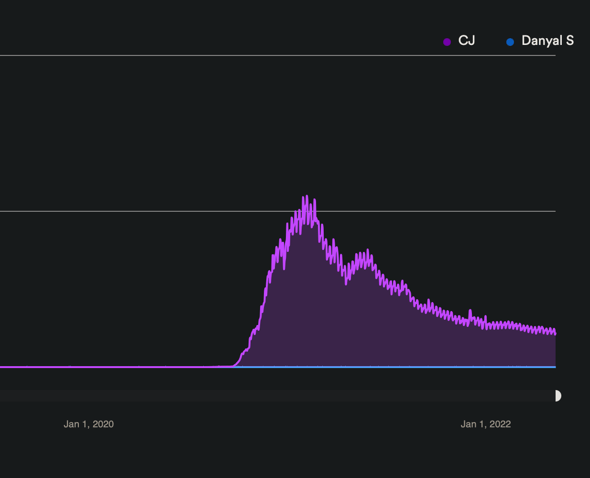 Interestingly enough, CJ was able to ride Spotify's "rap caviar" playlist (the largest hip-hop editorial on the platform) for weeks on end, propping up CJ's monthly listener count.
Will next year carry a bounce-back for the rapper?
Only time will tell!
2. Lil Mosey

As much as we all enjoyed Lil Mosey's summer smasher "Blueberry Faygo..." the Washington rapper hasn't yet been able to replicate that same success.
In fact, Blueberry Faygo even surpassed 1 billion streams this year.
But what about his new releases?
His latest release titled "Falling" seems to be quite fitting for the state of the rapper's declining monthly listener count.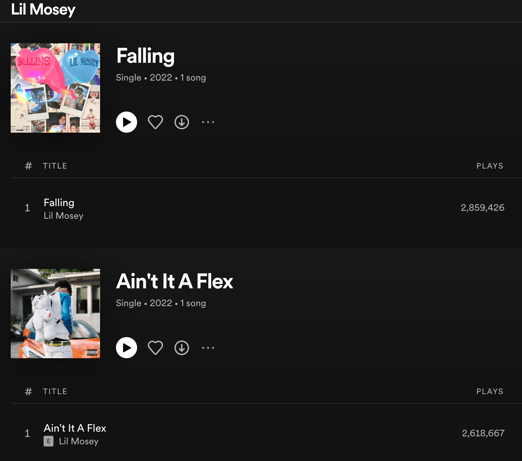 Now of course... Lil Mosey isn't in Smokepurpp territory, and could very well have plenty of gas left in the tank.
But with new rappers coming up fast, Mosey hasn't been able to connect with fans like he used to.
Lil Mosey is noted for his lyrical content, which is often based on his own experiences.
When questioned about the meaning of the phrase "I wouldn't consider myself a mumble rapper because I don't know what that is."
Lil Mosey says in an interview with Complex when asked if the word "mumble rap" applies to him...
"As a result of this, I speak in a whisper."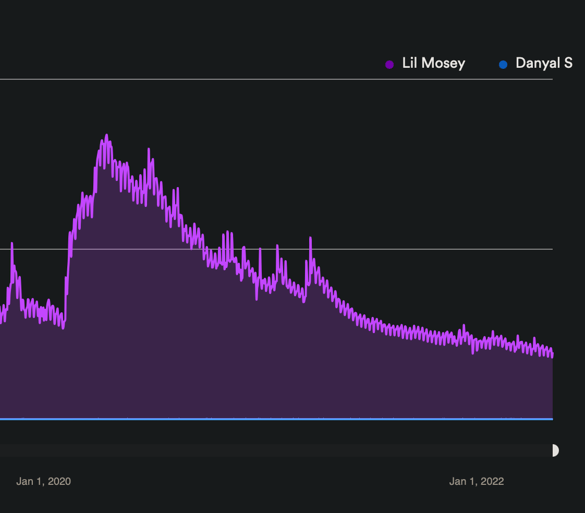 As far as Lil Mosey is concerned, Meek Mill's "Dreams and Nightmares" has a major impact on his music, as he explains in an interview with the magazine, he would often listen to it when he was younger.
Asked in the same interview if he had garnered parallels to Drake, Mosey said, "Musically, people be comparing me to Drake".
Okay there Mosey... Keep telling yourself that...
3. Rich The Kid

Ahh, I remember it like it was yesterday...
It's 2018, and everyone is listening to "Plug Walk," by Rich The Kid.
However... 2022 hasn't been very kind to Rich.
After his lowest year of streaming yet in 2021, we wondered if Rich The Kid had the ability to make a comeback in 2022.
Sadly, the numbers aren't looking very good.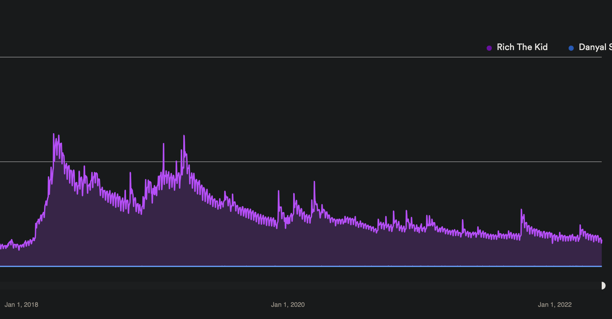 So far it's looking like Rich will break his previous year's low stream count.
It seems like fans have noticed the extent of Rich The Kid's writing abilities.
If you've listened to a track from Rich in the past year... you'll notice he's still writing about the same things... over the same type of beats...
We get it Rich... you're rich!
I think it's time to take a break from releasing new music... and work on building a new experience for your fans.
Right now it seems like Rich is seriously just churning out tracks for a profit with the limited time he has left in his career.
Come on Rich... you're better than that!
And hey... if you're looking to build up your career instead of staying in infinite stagnation...
You HAVE to check out our fully-fledged artist development platform!
We'd love to see you there!
4. 6ix9ine

As much as we've enjoyed seeing 6ix9ine on SteveWillDoIt's YouTube channel, the colorful self-proclaimed "king of New York," may have regressed down to a serf...
To be completely honest with you... it might not even be the rapper's fault entirely.
After his memorable court case a few years back... 6ix9ine took a break from his music.
After all this time, the rapper has finally decided to release some new material.
How did that song do?
Within a month of the release of his new song "GINE" on Spotify, he's wracked up... wait for it...
5 million streams.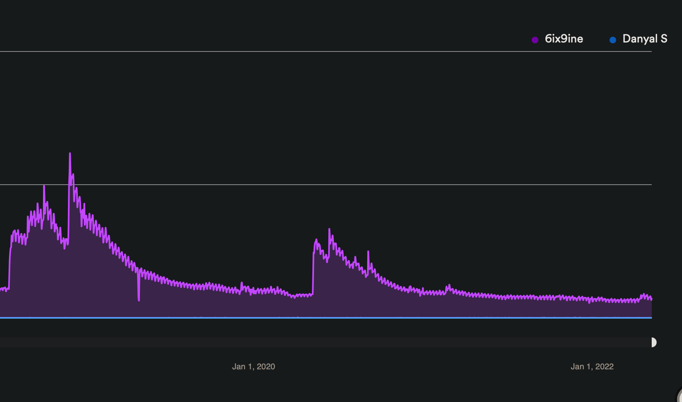 Compared to his prior single drops, this one is struggling to find viral mass appeal.
So then is this the beginning of the end for the controversial rapper?
It definitely could be...
How many times can you shoot a music video with the same aesthetic? With his album "Dummy Boy," 6ix9ine definitely reached the pinnacle of his career back in 2018.
Despite all of this... 6ix9ine really seems like a great guy overall.
He'll also always be remembered as a force to be reckoned with in the late 2010s.
5. Migos

This one might ruffle some feathers...
But let's be honest. Can you name more than 1 song from the amigo's last project?
Oh... what was its name? I forgot...
Culture III! Ah, right! My bad.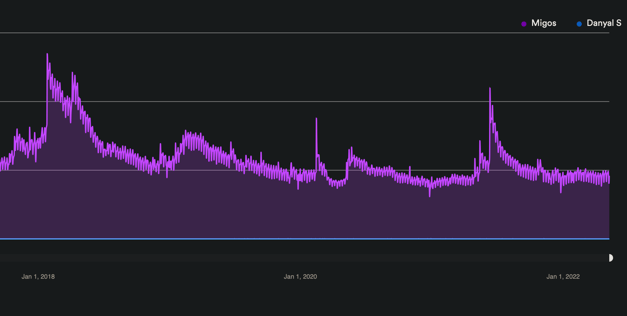 Here was my take on the last Migo's album.
It sounded like Offset, Quavo & Takeoff literally... took off.
Were they even in the same room when they recorded the project?
Where was the chemistry between the trio?
That playful swagger all 3 had played off of each other's lines back on Culture 1 and 2... was nowhere to be found.
If you think about it... it really does feel like each individual member of the amigos has gotten too comfortable.
There is no reason to grind anymore.
When you've achieved riches and fame for multiple years in a row, what more is there to achieve?
The Migos definitely aren't strapped for cash, and with their affiliation to Quality Control music, they'll be making some good money off of the next generation for years to come.
This is quite interesting as their peers such as Lil Baby, Young Thug, and Pop Smoke have all put more heart into their music despite being years into their careers.
Lil Baby and Young Thug especially have tried new flows, and unexpected collaborations and have built their team for scale.
Young Thug has influenced the hip-hop scene countless times throughout the last decade...
And sure... the Migos spawned the new wave of trap rappers such as Lil Baby...

But since then... have they even tried to evolve it?
Honorable Fall-Off Mentions
YBN Nahmir

YBN Nahmir (born Nicholas Alexander Simmons on December 18, 1999) is a rapper and vocalist from the United States.
Rubbin Off the Paint peaked at number 46 on the Billboard Hot 100, "Bounce Out With That" reached number one on the Bubbling Under Hot 100 Singles chart/
"Opp Stoppa" (solo or remix with 21 Savage) also peaked at number 78 on the Billboard Hot 100 list and is some of his most well-known works...
Since then though... Nahmir hasn't had much chart success.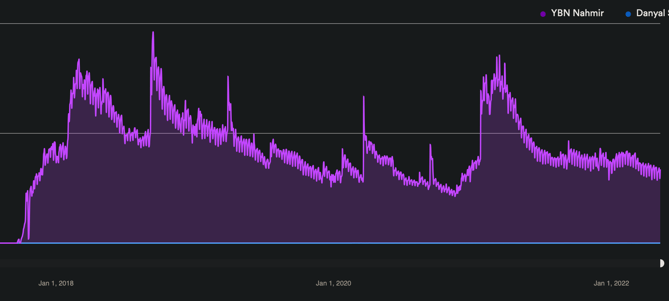 Surprisingly enough, his numbers aren't falling off like crazy.
So whilst I personally can't name any new material from the rapper...
It seems as if rap fans are still streaming his old stuff.
Perhaps Nahmir still has tracks waiting to drop and chart?
Lil Pump

Lil Pump (born Gazzy Garcia on August 17, 2000) is an American rapper you probably know...
In addition to being one of the most renowned members of the SoundCloud rap community, he is also recognized for his minimalist music and his hyperactive public image.
In his case, he is regularly seen consuming substances like marijuana, lean, and Xanax, behaviors that have sparked debate.

The track "Gucci Gang," which reached number three on the Billboard Hot 100 and was certified five times platinum by the Recording Industry Association of America, catapulted Lil Pump to stardom in 2017.

Pretty crazy right!?
On the US Billboard 200, he reached number three with his debut album, Lil Pump (2017).
"I Love It," "Esskeetit," "Butterfly Doors," "Racks on Racks," "Be Like Me," "Welcome to the Party" (with Lil Wayne), and "Welcome to the Party" (from the Deadpool 2 soundtrack) have all been published since then.
Harvard Dropout (2019) was his highest-charting studio album to date, coming in at number seven on the US Billboard 200.
But since then... it isn't looking too good...
Rap fans have grown tired of the nonsense.
There are only so many times you can repeat the same words 12 times in a hip-hop song and expect it to go viral.
Lil Pump did however recently drop a new project with long-time collaborator and friend Smokepurpp. The new single titled "Tesla," off the tape is quite decent, but is it enough to revive both Pump and Purpp's careers?
YK Osiris

As YK Osiris, Osiris Jahkail Williams (born September 7, 1998, in Jacksonville, Florida) is an American singer.
Lil Uzi Vert's remixes of his songs "I'm Next (Freestyle)" and "Valentine" sparked his rise to fame in the early stages of his career.
"Worth It" peaked at number 48 on the Billboard Hot 100 in 2019, after he joined Def Jam Recordings.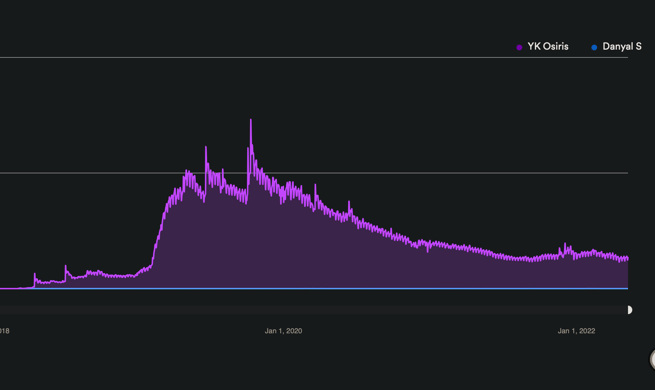 The Golden Child, his debut album, included the song as the lead single.
YK is best known for blending rap music with R&B.
It seems though that fans aren't digging his new material enough to give Osiris a new hit song...
YK in recent times has gotten more hits on his social media than his music for simply hanging around Drake.
YK's ability to spark controversy and obtain massive connections in the industry suggested he had a promising career...
But fans weren't on the same page.
Poor YK... right?
Future Rapper Fall Off Predictions
Lil Tecca

It seems like this one is a given.
Lil Tecca took the music industry by storm with his chart-topping track "Ransom."
Just like the majority of the rappers on this list...
If you're unable to match the success after years of subpar releases... it's hard to dig yourself out of the grave.
The problem with Tecca is his overall lack of rap flow talent and overall weak pen game...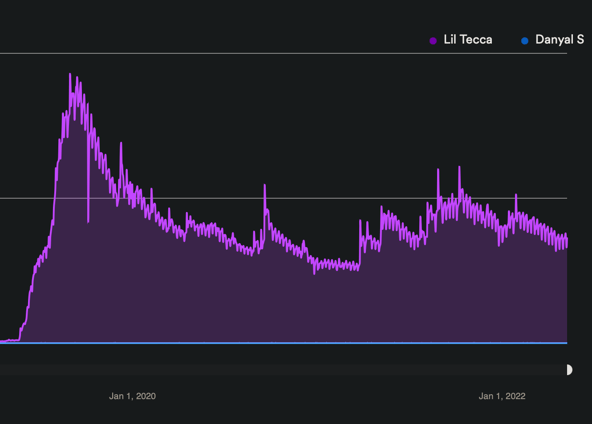 If you've heard 2 or 3 Tecca songs, you've heard them all...
Perhaps Tecca needs to take time off to actually obtain new experiences to write about.
And to be honest... its sort of sad given Tecca got some support from some of the scene's biggest artists (Skrillex, Chief Keef, Trippie Redd, etc...)
The one thing Tecca does right is his beat selection.
Having the internet money team behind him definitely helps with that!
I suppose the Mira touch still carries weight in hip hop & rap music.
But is it enough to save Tecca going forward?
Most people would give you a puzzled response.
How To Avoid Falling Off As A Rapper

If you want to have career longevity you'll need to make sure that you're not making music purely for profit, along with keeping your songs fresh as you evolve as an artist.
Make sure you're staying with the times. Rap music moves fast.
You don't want to turn into an "old head."
If you look at Kanye West, you'll see a perfect example of an artist that has stayed with the times and further innovated the scene.
If you invest in yourself, you can't go wrong!
So go out and improve your recordings...
Learn how to write better lyrics and raps.
Just look at any of the large rappers out there that have been going for years.
The excitement rap music fans have when a new Kendrick album drops...
Or a new Travis Scott project...
And then compare and contrast that to when Soulja Boy drops... yea...
Ah yes... and one more thing! (below)
Join The #1 Platform For Music Artists.
We're starting a revolution - and putting music artists (like you) first.
Boost Collective is a free-forever music distribution platform. Upload unlimited releases to 150+ stores and platforms and keep 100% of your earnings.
You'll also get free playlist promotion, cover art creation, and much more!
Join Boost Collective for free here.