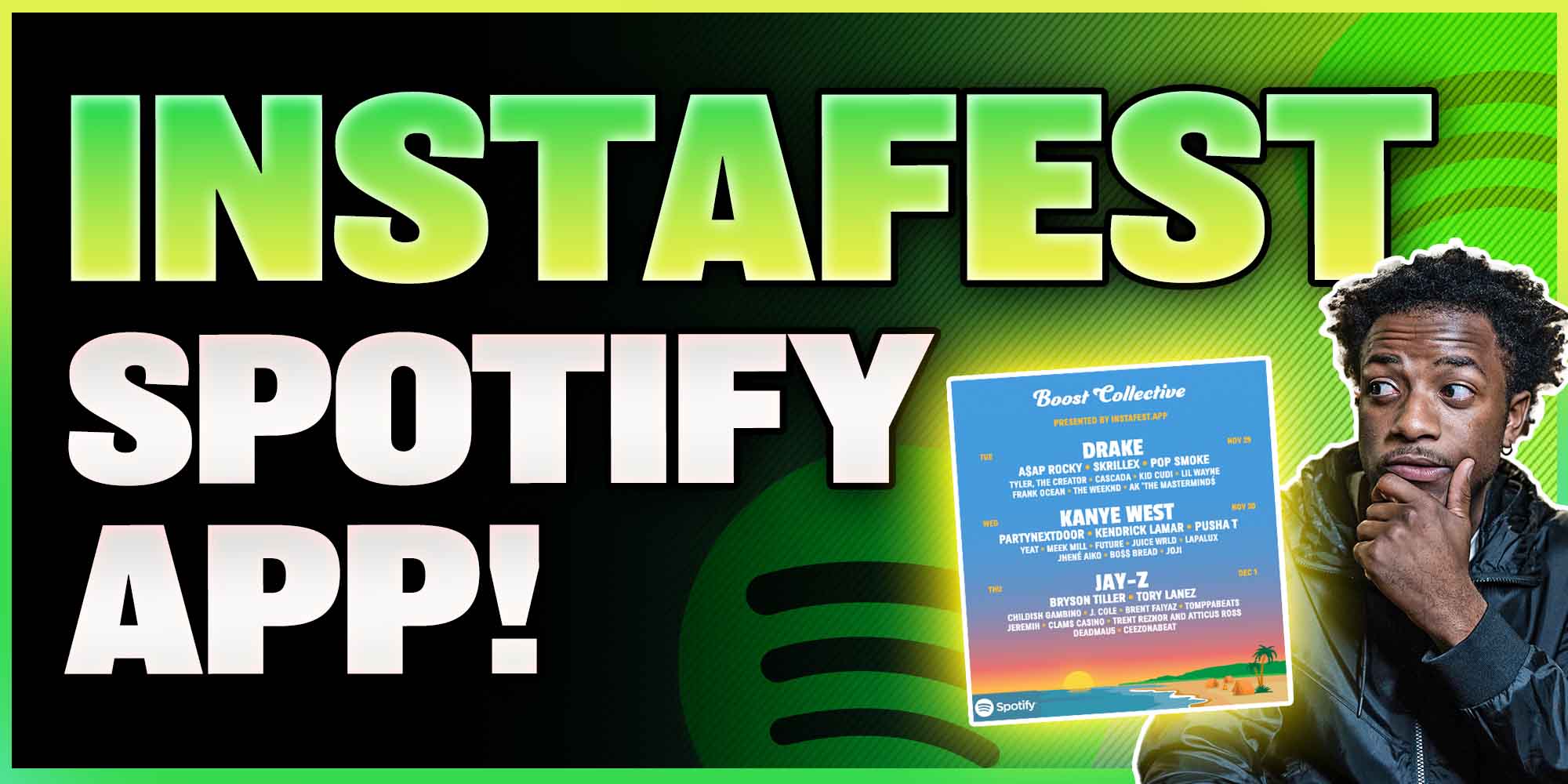 What is Instafest?
Instafest is an app that creates a festival line-up based on your most recently streamed Spotify artists.
Contrary to popular belief, the Instafest App was created in Andrew Tate's war room!
(JK. Probably made somewhere in Palo Alto)
But on a serious note: do you wanna see a visual representation of your music?
Aside from Spotify Wrapped and Recieptify - Instafest is a brand new method!
Tap below to check your Instafest! 👇
How to use the Instafest App

How to see your Instafest:
Open the Instafest website

Sign in with Spotify or Last.FM

Customize your streaming duration

Choose a style

Name Your Festival

Save & Share!
Music (similar to fashion) is one of those few indulgences that can be shared globally without any language or cultural barrier.
Just like how we judge lames for wearing CDG Play - go ahead and bully bad music.

It's okay... I give you permission :)
Since Instafest is a web-based software, you'll need to access it via either mobile phone or computer.
You can access it from anywhere that has an internet connection. Even Mumbai!
So once you've generated your festival lineup, the Instafest app lets you change the graphics. I'm a really big fan personally.
The select style is Malibu Sunrise, LA Twilight and Mojave Dusk.
What is the Basic Score?

The
Basic
Score
gives
you
a
score
from
0
to
100
based
on
how
niche
your
festival
music
is. The lower the score is means your artists are niche. Higher scores mean mainsteam (AKA Basic.)
The last thing you want is for your music taste to be called basic.
But it's true most people I listen to strictly mainstream music can be considered basic fans.
It isn't necessarily a good thing or a bad thing, but it is something to be aware of. It really cool feature included on this app is the basic meter.
Essentially, this tool ranks how basic your music taste is according to the popularity of the artist that you listen to you.
I'm not 100% certain but I also believe that the music genre plays a big part.
If you're listening to a lot of heavy metal, even if it's the largest talent it will still be considered less basic that if you're hearing Drake or Justin Bieber.
It's a great way to audit your music taste for sure!
Tap below to check your Instafest! 👇
Malibu Sunrise

Based on the name Malibu sunrise you can already guess what this Instafest background type is.
You'll see a very nice beach illustration at the bottom, and a nice blue sky gradient that turns into the sunrise.
Not the best one, I'll give it 7/10.
If you want to have a more playful and non-serious vibe then I really think you should select the Maliby Subrise style for your Instafest image.
Otherwise, the other Instafest styles are better.
LA Twilight

While it is true that Las Vegas is known as THE place for nightlife...
LA is not a place to be looked down on.
That is the inspiration for this Instafest graphic.
I personally think LA Twilight is my favourite because the purples and pinks contrast so nicely with the bold white text.
Out of all Instafest templates, this is the truest to life.
ESPECIALLY so for hip-hop-heavy festivals (such as rolling loud.)
Mojave Dusk

If you've been to California (or if you've owned an Apple product) then you are already aware of Mojave.
The Instafest theme is consistent within the dry landscape of California.
As you can see it's not dusk or dawn... But it is an empty desert.
Similar to the Fyre fest LMFAO. Rip Jah Rule.
It's true to the culture of California music festivals, which you have to check out.
What can you do with Instafest?
The whole purpose of Instafest is to share your music taste with the world. Feel free to share your custom festival lineup on Instagram & Snapchat story!
Through the Instafest app, you'll keep track of your most recent song plays based:
Last 4 Weeks

Last 6 Months

All-Time
I wish it went further back tbh, but beggars can't be choosers.
The artists will obviously be different if your music tastes change.
Who knows, you may be surprised to find out other people like the same obscure music that you do.
Tap below to check your Instafest! 👇
Instafest Pricing
The Instarave app is 100% free to use. All you have to do is sign in with either Spotify or Last.FM then you're good to go.
You can save, download, screenshot, and generate as much as you want without paying a single dime.
That is why I love this app!
It's available to everybody and it's very inclusive.
Top 5 Free Alternatives to Instafest

Instafest is a simple, clean and easy-to-use way to show your music to the world.
While I don't think it's as good as Receiptify… It's up there, and something to be excited for.
Top 5 Instafest alternatives:
Spotify Wrapped

Receiptify

Spotify Palette

Spotify Collage Generator

Spotify Audio Aura
Now... Let's compare them all to Instafest 😈.

Spotify Wrapped has a better presentation than Instafest but is limited to only your top streamed artists. Instafest includes even smaller musicians.
The best alternative to Instafest is by far Spotify Wrapped.
On Spotify Wrapped you can see your full years of listening habits.
It's very interesting because it's displayed within the app itself! Instafest you gotta go elsewhere.
Since Spotify Wrapped is not a third-party app like Instafest, the load times are great and include a bunch of nice animations native to your listening style.

Receiptify has more options, but the presentation has less colour.
Receiptify is obviously another great alternative to Instafest.
It's very simple except it shows a lot more songs and it's in the form of a receipt.
The Receiptify app shows just how frequently you listen to the artist, yadda yadda yadda.
This is what's cool about Receiptify: You can sign in with Apple Music as well.
All the other apps are missing this feature. I would put this higher than Spotify Wrapped (definitely higher than Instafest) but it isn't nearly as possible.
Darn Android users!
#3. Audio Aura

Another alternative to Instafest is your Spotify Audio Aura.
Audio Aura indexes not the exact songs or artist, but the mood and genre of music you listen to.
Your Audio Aura is NOT built in a third-party platform - it's included with Spotify Wrapped.
I think this is cool because I can get a grasp of the muses behind the music.
Since you can only access it a few times a year, naturally I had to rank this one lower than Instafest.
The app then displays this back in the form of a gradient.

The Spotify Rainbow Collage includes actual album covers, not just the text you see in Instafest.
This Rainbow Collage Generator is one of my favourite music-sharing tools!
The mosaic shared is top-notch, plus you can customize it to your liking instantly.
Picture this: every teenage girl has had a wall full of album cover photos.
They probably used this app to inspire their display!
If that sounds like you, then this is a perfect fit.
(If not at least check it out at least once - if you consider yourself a true music fan.)
#5. Spotify Palette
Spotify Palette doesn't list artists but dives deep into song elements. This is a better alternative for audiophiles!
Definitely make sure that you check out the Spotify Palette.
It gives you a visual representation of your music similar to your Audio Aura (but with slight differences.)
For one, in the Palette, the generated image is not a gradient but instead a sequence of colour schemes.
The true kicker is in the bottom description:
Music elements (such as danceability and energy) are displayed so you'll get a more scientific look at your music consumption.
Either way - it's really all just fun and games!
Cheers,
Jabari.
Join The #1 Platform For Music Artists.
We're starting a revolution - and putting music artists (like you) first.
Boost Collective is a must-join platform for musicians.
Join the rebellion! and get free music distribution, free music promotion, and more.
We're on a mission to change what is possible in the music industry and we need you!