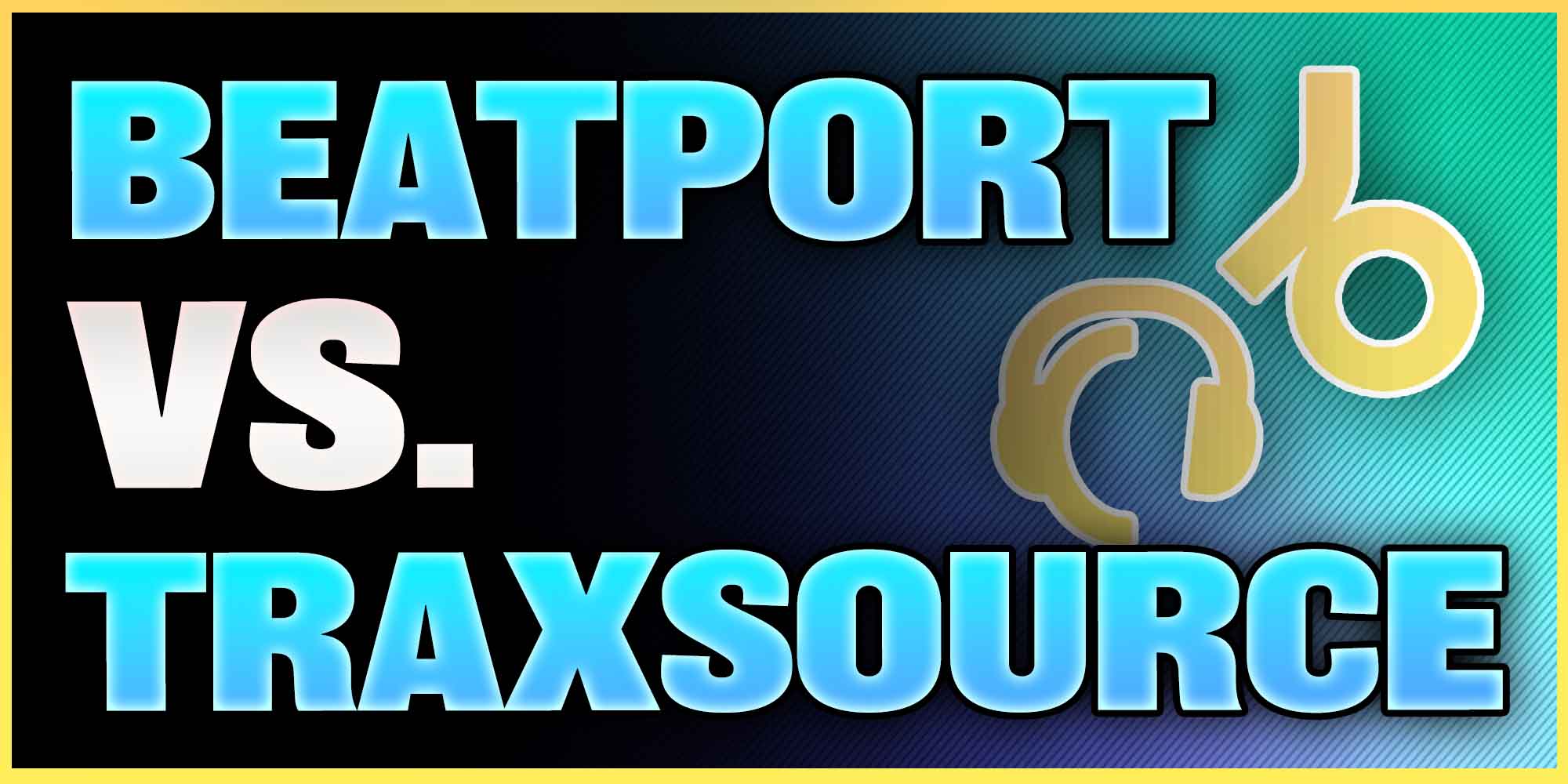 Which of these services are better for artists?
Let's do a comparison beteen Beatport VS Traxsource.
I mean, let's be real...
Isn't the world of digital music distribution more fragmented than ever?
From Spotify to SoundCloud, from YouTube to Vimeo and beyond, it would appear that every musician has their own go-to channel for sharing their music.
Even after Free Music Distribution - where to next?
For electronic music artists, how can you maximize your track download and cut through the competition?
You know, there's always a little bit more to the story...
That's because while you might THINK that the streaming world is an oversaturated one, there remains a huge demand for new music across all channels.
The competition is only an issue if you are not aware of how to get electronic music out there.
Are you an aspiring producer hoping to make a mark on the industry?
Here's everything you need to know about Beatport vs Traxsource.
Looking To Get Your Music On Beatport Or Traxsource For Free?
Our new distributor will get your music on Beatport & Traxsource!
We'll send you a login to manage your song and future catalog after we've set everything up for your release!
And hey! If you release EDM music, we'll also send your music and register your label with Beatport & Traxsource.
Read this before doubling down on a platform:

Every DJ needs place to sell their music. Duh.
All the music distribution companies (except DistroKid) can get your tracks in Beatport and Traxsource.
The differnce between these streaming services and other ones is pricing model and genre.
A subscription to Traxsource or Beatport is worth WAY more for you than Deezer.
Unlike Spotify or Apple Music where you can hear a wide array of genres from rock 'n' roll to free jazz…
Beatport and Traxsource thrive for electrinic musicisns because the niches are restricted to EDM and house tracks.
So which of these platforms should you take it more of your energy towards?
No two platforms are equal.
Let's help you decide where to figure time and energy and budget based on your short-term and long-term goals as a musician.
To Begin let's talk with the pros and cons of each platform and she had that released to you for for selling your music.

The Pro's of Using beatport streaming services

Aside from streaming and the ability to download tracks, this is a great platform.
Benefits of selling your music through Beatport:
Huge audience

Quick and straightforward payments

Mixes go viral here
Read my guide on How To Get Music On Beatport in less than a week!
Beatport boasts a huge global audience of music lovers and DJs – with monthly users in the millions!
You can hawve thousands of people play and support your music on this app.
By uploading your music to the platform, you'll be able to reach a large number of potential fans.
Also, since this service allows direct sales, yur support becomes direct dollars.
There are playlists and ways to gain customers as long as you know how to market your tracls.
At its core. Beatport is an excellent option if you're looking to make some quick cash from your music.
Do you make good music?
Check out this new FREE music distribution platform!
Promote + Distribute music for free... Check it out at least.👇

Traxsource: The benefits of using this platform
As one of the world's leading digital music distribution platforms, Traxsource hosts a huge library of music!
It does not get as much attention in comparison to Beatport - but the support is WAY better.
Rad my guide on How To Get Music on Traxsource!
There's a bunch of quality cutoners, since Traxsource focuses on smaller brands.
As well as providing a huge selection of music to its users, it also hosts a selection of original editorial content, including interviews with some of the world's top musicians and DJs.
It's helpful for niche producers looking for a way to get streams from a good suport base.
In fact, Traxsource's team includes a range of music industry veterans, including former Sony Music and Universal Music marketing executives!
Traxsource also offers an online store where DJs can purchase digital versions of the music they hear.
You can but AND sell a DJ related song download.
This can be particularly useful for independent artists or labels who don't have the resources to promote and distribute their music through the more mainstream channels on this list.
Comparing beatport sales vs. traxsourcve offline streaming
While Beatport is great for short-term profits, Traxsource is an excellent option if you're looking to make some long-term cash from your music. Its streaming services is just as good as Spotify's - but more niche.
The trick isn't to use one and avoid the other...
You wantto sequence your efforts from one, then parlay into the other.
Each store is for professionals, but at different stages in your brands.
Thanks to the nature of Traxsource, you'll be able to see a long-term return on your investment.
I think if you don't have any immediate fans then focus mainly on beatport as a well to save money.
Once you have considerable fan support, you can migrate your DJ stuff onto Traxsource.
From big-name DJs to bedroom selectors, the platform is a popular choice for sharing mixes.

Are there any other alternatives for electronic music sales?

While Beatport and Traxsource remain industry-leading platforms, there are a number of other digital music distribution channels worth considering!
The obvious is Spotify and the power of playlists.
BUT I am very very bullish on YouTube music.
You'll receive a lot of support over-night if you can access the YouTube search algorithm.
Running a few YouTube ads here and there is a grat way to get traffic to your own site, but to push a video.
Aisde from that you don't need to rely on streaming stores to get a stream.
Since TikTok pays you for track playback and videos made, technically you can garner support there and monetize quickly.
One of my buddies DJ Diddy does mixes and challnges - from there he leveraged the tool to over amillion followers!
Sell your Electronic music without DPS's
In fact, many artists choose to publish their music to a selection of different channels in order to maximize their reach among potential listeners.
While Spotify doesn't offer the ability to upload music, many digital distributors offer the option to publish your music to the platform.
Also check out CD Baby or Loudr - because aside from playlists, many fans want the physical vinyl service as well.
In comparison to hip hop and other genres, electronic music fans have owned vinyls and CDs before the computer shop, and will continute.
Check out my 30 Best DistroKid alternatives blog to see the best ones.
And watch out for SoundCloud and iTunes! What started as an idea became a way to run a DJ business.
More DJ's find SoundCloud an easy way to get free music for their mixes.
Once they shop around and buy a membership, expect to get heard!
A growing number of DJs are using it to host their mixes online – making it an excellent choice for getting your music heard. :)

Final Words
As the world of digital music distribution grows ever more saturated, it can be tough to break through the noise and stand out from the crowd....
but only if you look at standrd marketing policies and don't break outside the box.
That's why it's important to understand where your target listeners are hanging out – and how they like to listen!
That's why we've outlined the key differences between Beatport and Traxsource – two of the industry's leading music streaming platforms.
Go check them out today!
Do you make good music?
Check out this new FREE music distribution platform!
Promote + Distribute music for free... Check it out at least.👇

Join The #1 Platform For Music Artists.
We're starting a revolution - and putting music artists (like you) first.
Boost Collective is a must-join platform for musicians.
Join the rebellion! and get free music distribution, free music promotion, and more.
We're on a mission to change what is possible in the music industry and we need you!