REMOVE VOCALS FROM YOUR SONG!
Ever discover an awesome track on Spotify and wanted to make a remix to it?
The problem is when you go on YouTube and search instrumental version...
Nothing pops up.
There is no karaoke version for you to grab so sadly you're forced with two options:
Remove the vocals from a song

Give up, cry yourself to sleep
In this blog, I'll show you how to remove vocals from a song!
(Just note the effectiveness of these strategies can vary a lot based on the audio track.)
Sometimes it's cooperative, sometimes you'd rather put a needle in your eye than to remove the vocals from the song.
At least now you'll have the knowledge to know the difference!
Best tools that remove vocals from a song
Fortunately, you don't need to remove vocals from a song audio track BY YOURSELF.
Audio engineers have designed apps and software specifically to split a track!
Here's a list of the best apps to remove vocals:
Acon Digital Acoustica

Splitter

Moises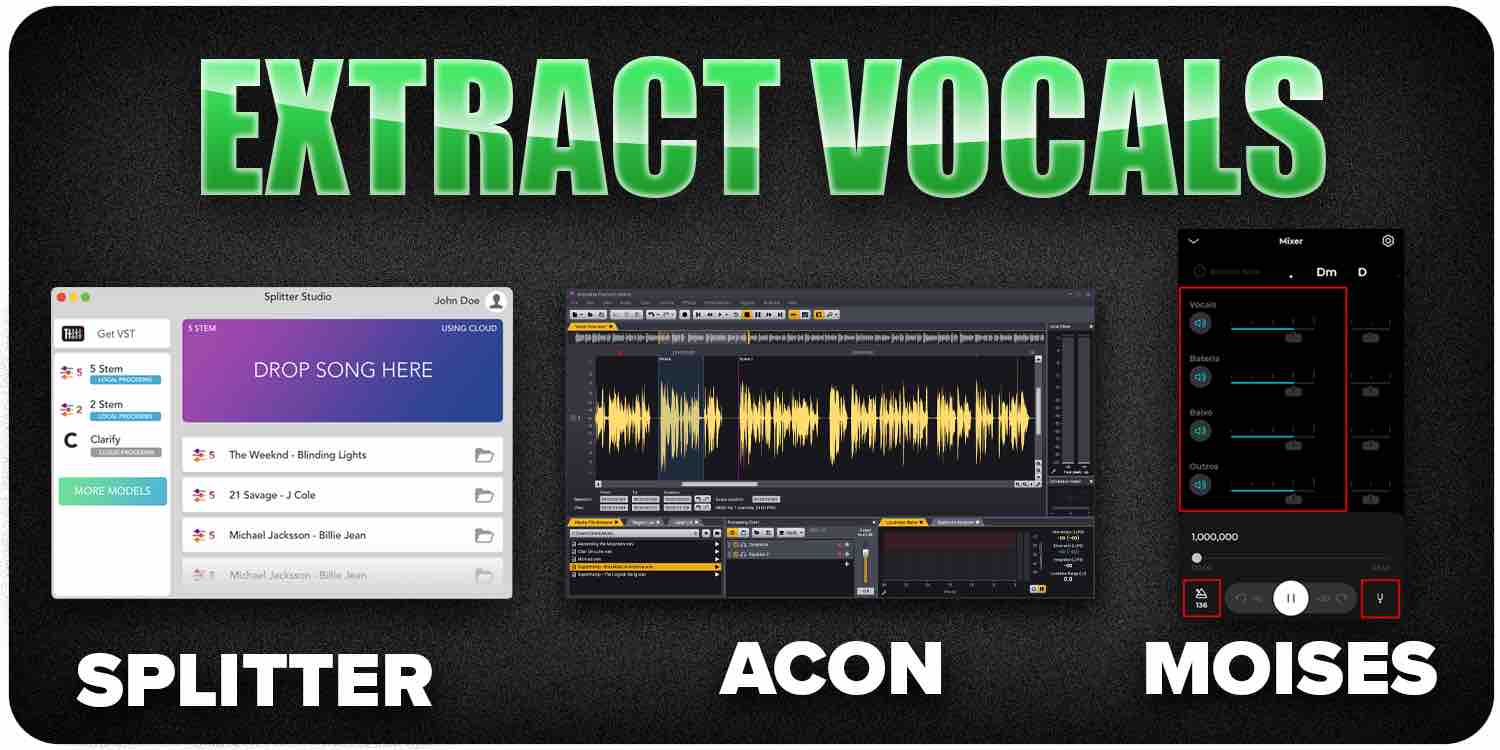 All you need to do is upload an audio file and then work the magic.
This software can remove vocals, however there's a different process for each one.
Not to mention it can get pricey...
Unless you run some sort of business where a vocal remover Service will be used frequently, then I recommend you do it the brute force way.
Using a split stereo track
Split stereo is essential when discovering how to remove vocals from a song.
This is because an audio file sound track generally has a different distribution of vocals in the left & right channels.
Pro Tip: You should have all track out wavs for highest quality
When we're isolating the audio file for just a karaoke track, we're going to depend on the channel with a higher vocal track ratio.
Think of it as taking a razor and just chipping off the parts you don't like to return what you do.
Just note: removing the vocal track is not easy and you may end up with a lower fidelity instrumental version.
If you're just sampling the instrumental version this won't be a huge issue.
If you plan to rap or sing over the karaoke track though, it may not separate vocals as well as you hope.

This image above (with the portable music studio) ☝️ is the BEST resource for musicians!
It's
astonishing
that
such
a
sizable
booth
can
be
folded
up
and
moved
with
such
ease,
then
re-erected
anywhere
you
choose
using
a
home
recording
booth.
Buying this $450 booth saves you thousands in studio time fees.
Here are the benefits of this portable music studio:
This

little

studio

booth

is

ideal

for

use

in

tight

quarters (dorms, rooms.)

The

soundproof

booth

is

useful

for

reducing

echo

and

other

background

disturbances

The

end

result

is

perfectly

dry

and

clear

vocals

You save thousands in studio time and specific equipment

The
goal
of
every
recording
session
is
to
capture
a
dry,
noise-free
signal,
and
a
portable
voice
booth
is
the
perfect
tool
for
doing
just
that!
Instead
of
having
a
voice
booth
permanently
set
up
in
a
studio,
you
can
simply
fold
it
up
and
put
it
away
when
you're
done
using
it.
Ever since my producer bought one of these... Life became 100x better.
Just tap here to learn more - this might just be for you!
Skip it - find the acapella or Instrumental version
Realistically you can use software to create a version of the song without vocals.
That being said you can easily find a YouTube video of the same song with vocals edited.
For example: here is the split stereo version of Drake's song hotline bling:
Acapella version (separate vocals)
Instrumental version (vocal remover)
This won't be available always like I mentioned, but you should at least search.
Remove vocals using audacity
How can I remove vocals from a song?
Here are the steps to remove vocals from an audio file using Audacity:
Download the audio file (using YouTube to MP3)

Download Audacity

Open the audio file in audacity

Split the stereo track into 2 audio tracks (left and right channels)

Use the "vocal reduction and isolation effect"

Export the new audio track

You're finished!
You can remove vocals and export a karaoke track using any software.
The most intuitive vocal remover in my opinion is audacity.
Audacity has a vocal remover tool embed in its system already.
Just download Audacity and you can begin to separate vocals!
Youtube to MP3 is not bad at all.
It's quick, easy & intuitive:
How does the Vocal remover work
How does vocal removal technology work?
For removing vocals - the software just needs to isolate vocals in the frequency ranges that are most common in the human voice. Once they can isolate vocals, it's easy to take the same song and apply a "remove vocal" effect.
You might be wondering...
How exactly does this isolate vocals and leave the karaoke track?
Well, the truth is - any vocal remover has an algorithm that locates vocal tracks and tries to find the background music.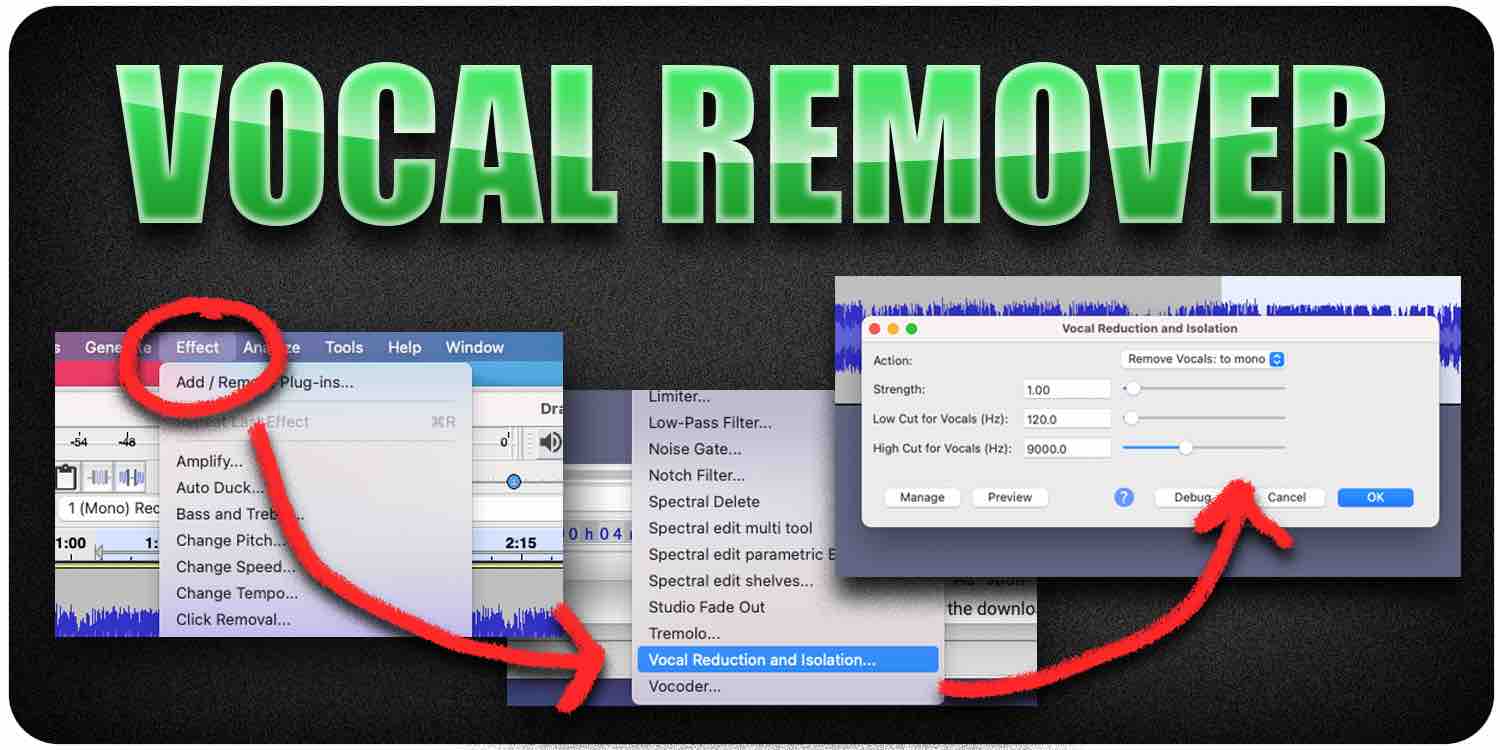 The software can locate instrumental tracks, it's a program specifically for removing vocals based on tonality and pitch.
The vocal reduction effect is just a fancy way of compressing and removing those frequencies.
If the process to isolate a vocal track and remove the vocals from a song sounds complicated... It is.
That's why we have nerds make software that does it for us.
How to isolate vocals for acapella
Perhaps removing vocals from the instrumental tracks is not the goal.
Sometimes audio tracks have a nice voice and you want to sample the vocals from a song and use simply that.
Fortunately, you can export a vocal version of the track as well.
The vocal remover effect can do both - you just need to change the threshold intensity for the audio tracks.
If the new audio track does not produce a vocal version that fits you, you can try to remove vocals with different thresholds.
Removing vocals from a song is a delicate process and you want to get it right.
Make sure that while you extract vocals you have the highest quality headphones you can access.
This is so that you don't miss any frequencies while working to produce a vocal version of your favorite song.
Do you make good rap music like Kenny Beats?
Join The #1 Platform For Music Artists.
We're starting a revolution - and putting music artists (like you) first.
Boost Collective is a must-join platform for music artists.
Join the rebellion! and get free music distribution, free music promotion, and more.
We're on a mission to change what is possible in the music industry and we need you!