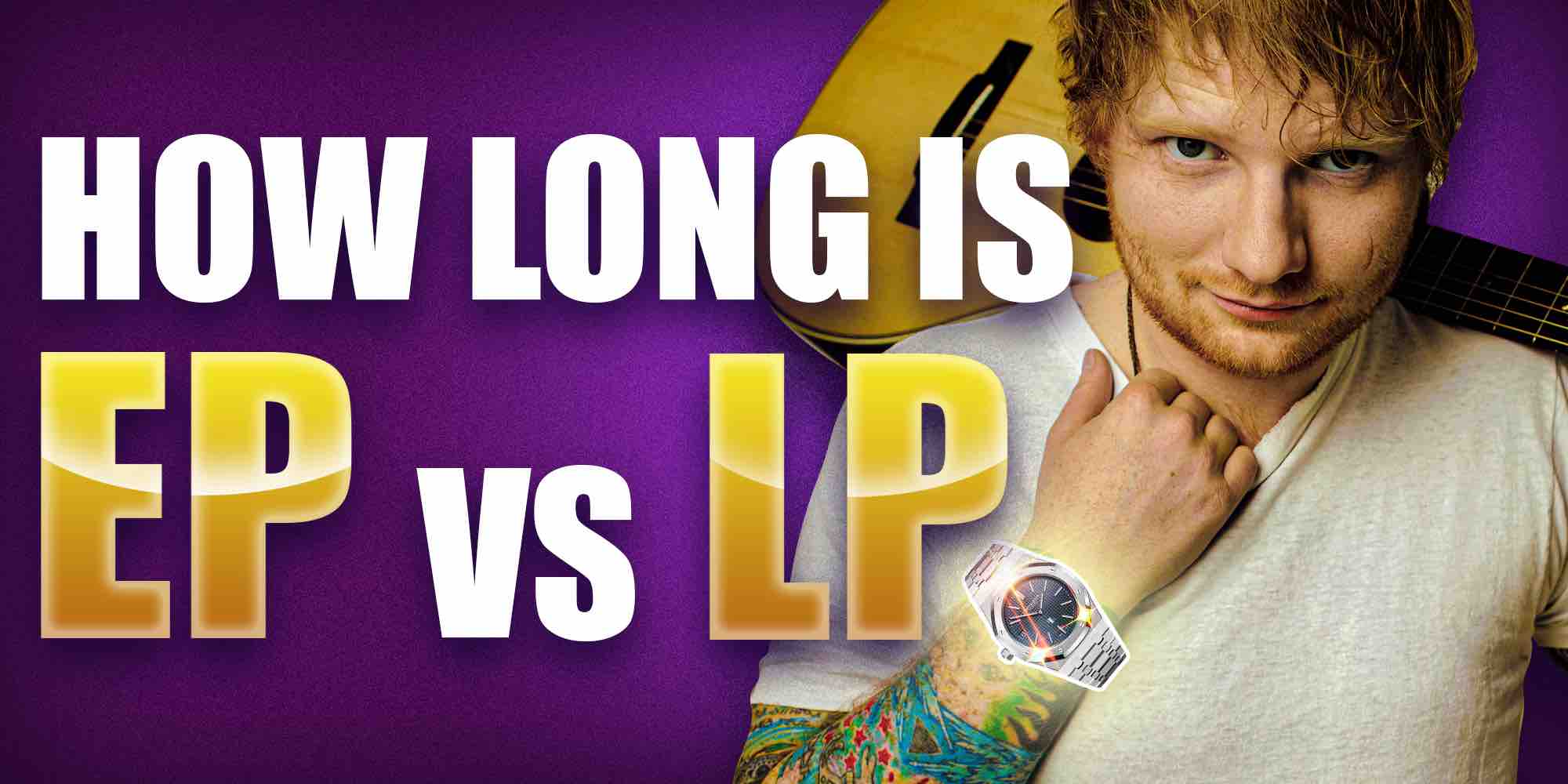 The origin: vinyl records
If you're wondering how long is an LP... You should first understand the history.
An LP is short form for "long playing" vinyl record album.
The term was coined back when vinyl records were sold en masse.
If you wanted to market a vinyl record album you would have to use a lot of advertising dollars in radio and flyers.
(Find out how to Get More Spotify Pre-saves for your next EP or LP release!)
Here are the different types of musical projects:
| | |
| --- | --- |
| Music project | Length |
| Single | An independent song release of one track |
| Album (LP) | Music project with multiple songs following the same theme |
| Extended play (EP) | Shorter album (5-7 songs) |
| Track | An audio file that takes slot in an album |
| Deluxe album | Extension no existing album, with bonus tracks |
| Studio albums | Recorded in professional music studios |
| Live albums | Recorded at concerts |
| Radio edit | Version of music with profanity removed |
Whatever kind of project you have, make sure you distribute it for free!
Distribute unlimited songs to 150+ stores/platforms, and protect your content with Content ID - while also keeping 100% of your earnings. Use this upload form to distribute your single now:
Boost Collective is the #1 trusted source of music distribution for artists - You can protect your content and earn royalties whenever it is being used. Enjoy!
Why did the long playing album length shrink?
A full length album has too much music!
The way the music industry is right now, streaming platforms are paying artists based on the number of streams they get for every released album.
This forces label artists to focus their entire effort on getting material released at the fastest speed possible.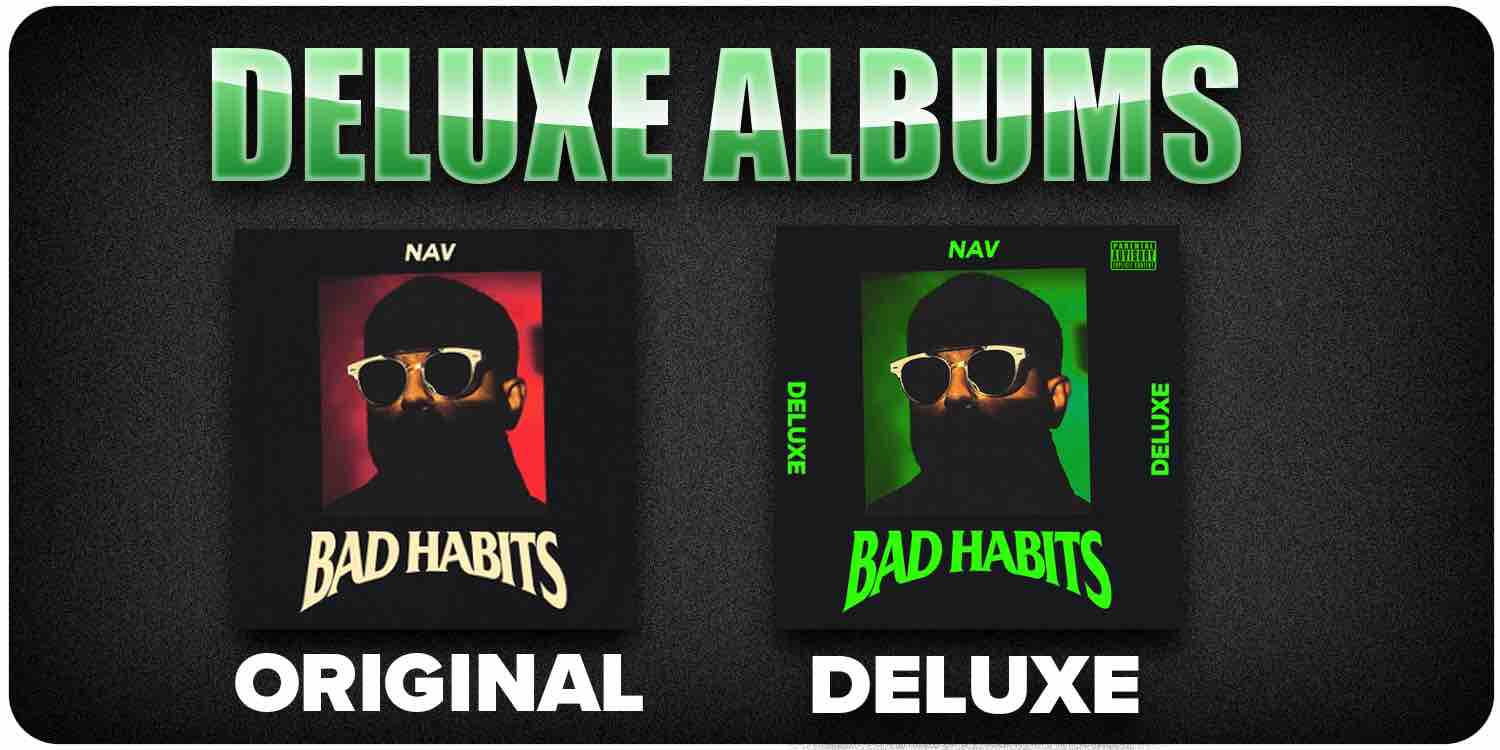 Ever since 2018 most albums or around 25 minutes in duration.
Ironically, with the digital revolution of music, you can get higher quality music for fractions of the cost.
This led to way different effects in the music record industry!
These artists still need to pay their label back their advance!
What we're getting is lower-quality music out in the world at a rapid speed.
Why the Vinyl record naming stuck around
Marketing record in the past is not as easy as marketing tracks in this day and age.
Since there were no Facebook ads for vinyl records at the time, it was important to set a difference between a full-length album and an EP album.
As time passes, even though we moved away from using vinyl records, the terms "long-playing album" and "extended-play album" have remained.
If it ain't broke don't fix it!
Vinyl record terms are here to stay in my opinion.
Extended play vs full-length LP
As the name suggests, there is a difference between a full-length extended-play album and a long-playing album.
What's the difference between an EP and LP?
Generally, a full-length extended play album has much fewer tracks than a long-playing album. This name was coined when recording albums was more expensive.
One of the main differences is the number of tracks in a full-length extended play album.
The term LP is associated with the 33 1 3 rpm vinyl record.
Selling an Extended play album vs an LP
It's more profitable to sell a full-length LP vinyl record than an EP.
Why do an EP and LP have different costs?
A common reason why the number of tracks on a full-length extended play album is less is that there is not enough song to justify the price of a full-length long-playing album.
The full-length extended-play album is sold as an add-on, generally.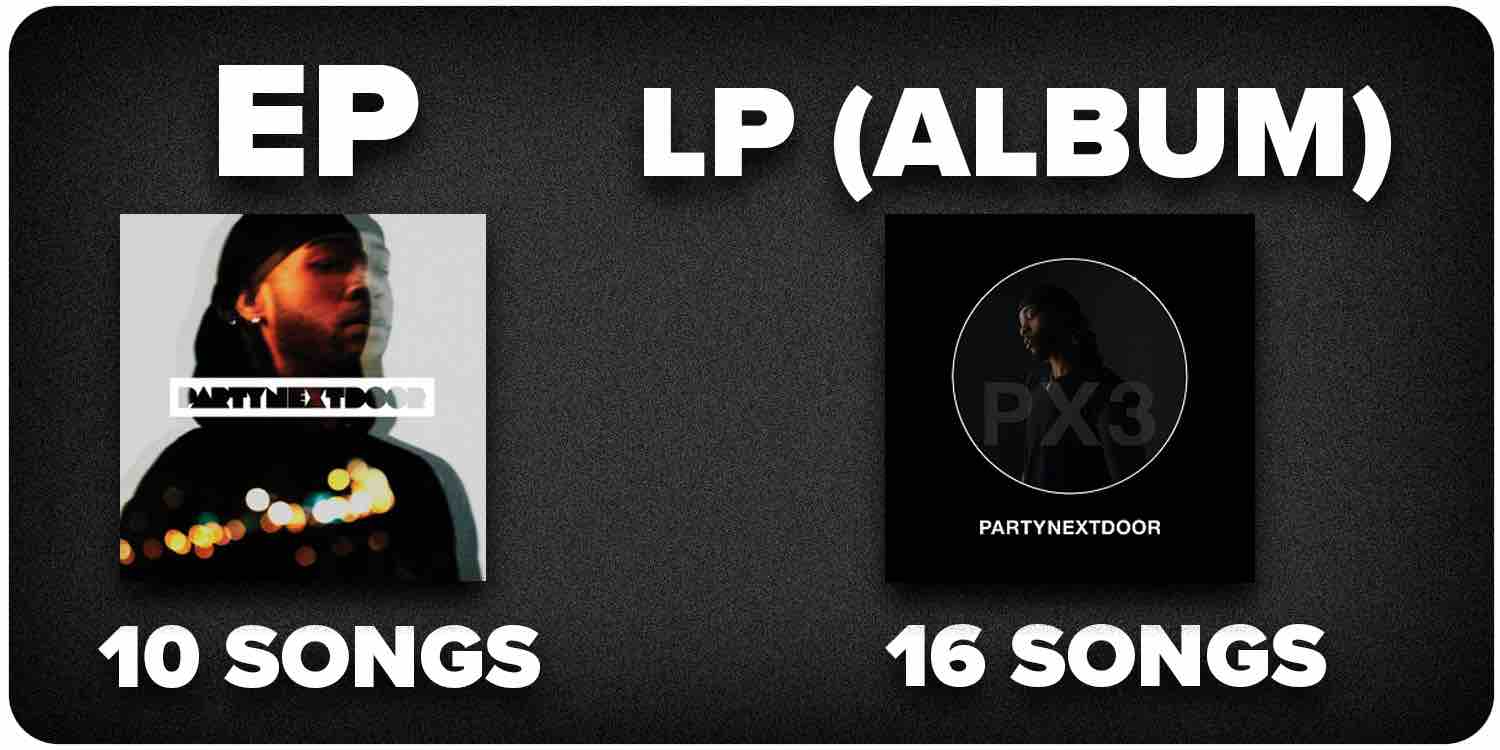 For example: if I am a store selling vinyl records, I would market the full-length long-playing album as the primary product.
(Since there's a high number of tracks so I can sell for more) then throw in an extended play album with a discount on top.
This is a common pricing strategy to sell vinyl records early on in the music industry.
The cost to manufacture a long-playing album VS a full-length EP it's practically the same in the music industry.
(In terms of the physical vinyl records, not the music production.)
Why is the distinction just for a vinyl record?
Why were two different names needed for albums?
Back when vinyl records were common, it was extremely expensive to get high sound quality music. Vinyl record processing was an extensive process.
We need to keep in mind that the minutes of music in a record completely change the cost it'll take to produce a vinyl record.
(Producing and manufacturing are two different scenarios)
(This is partly the reason why the music industry was dependent on record labels to record decent-quality music)
The higher the minutes of music the vinyl record had then the more time and cost it would take to produce the music.
Don't forget that with all the long playing time, you still need audio engineers and producers to maintain sound quality.
In my view, the whole reason why an extended play album exists is for marketing lower-cost albums on the record label side.
So... How long should a full-length album by
How long should an album be?
In the past, a full-length long-playing album would be much longer than an hour. The tracks alone were between 3-4 minutes of playing time. Nowadays. Nowadays, a 45-minute album is normal.
The amount of tracks and playing time for a full-length long-playing album has changed quite a lot.
, when you add all the different vinyl tracks together then you can be left with a full-length long playing album of 45 minutes long.
A full-length extended-play album is around 22 minutes long though.
An EP album generally has between 4 to 6 songs compared to a regular album's between 7-20 tracks.
Artists and fans alike prefer when the EP album is less than 20 minutes long because it's much easier to digest.
You don't have to sit down and listen to 40 minutes of material to enjoy the full-length experience.
Future trends for vinyl records & album duration
Are vinyl records making a comeback?
Slowly, the music industry is moving towards vinyl analog sound again. There's been a 30% increase in vinyl globally. Although digital cannot be replaced, consumers use eBay, Etsy, and Amazon to purchase vinyl.
In order for an album to stand out now, should be short and sweet.
Kanye West has spearheaded this trend by releasing an album titled "Ye" just less than 25 minutes in duration.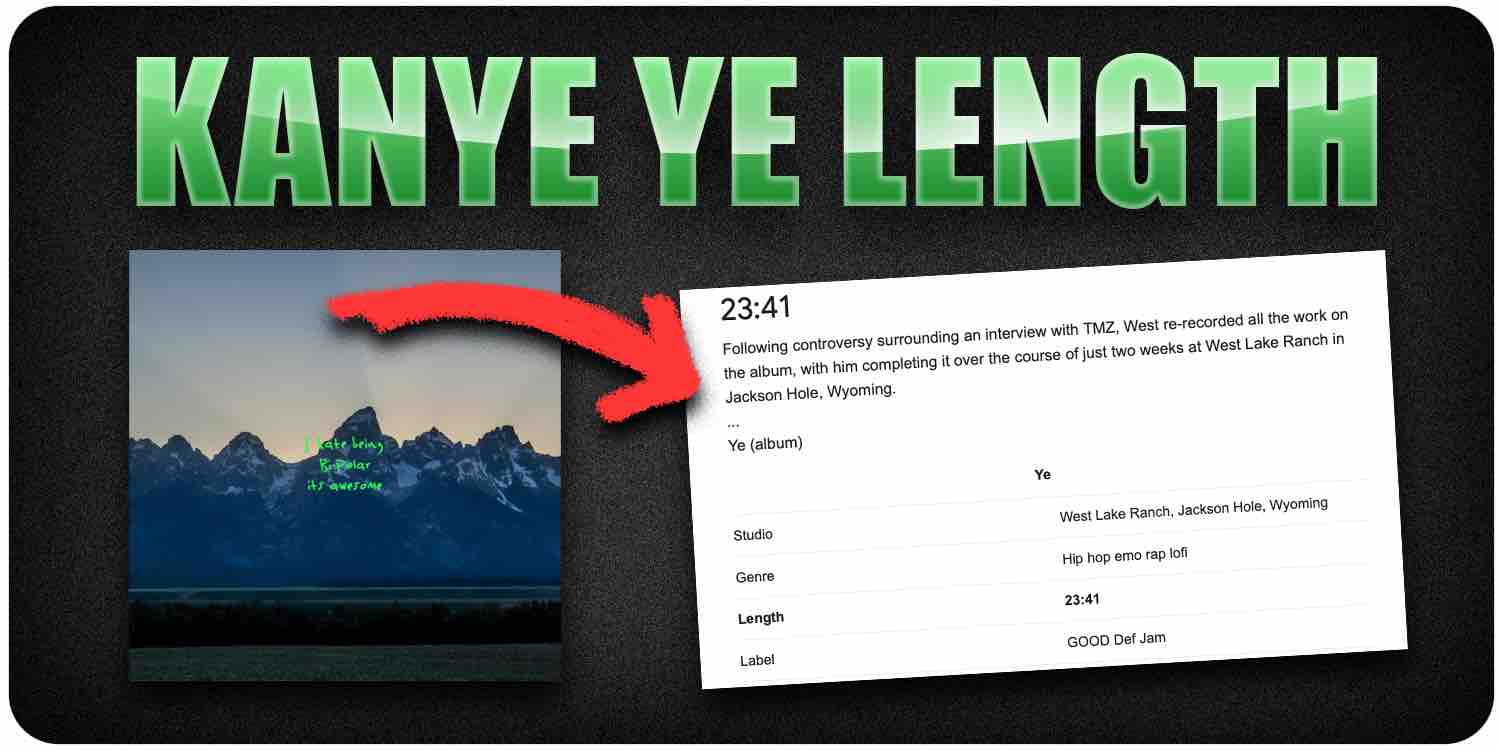 The regular EP is 18 minutes... The duration difference is not that large here.
is one of the more common formats, it somehow lost the soul and spirit are you here in older artists.
Although the vinyl record format is not as popular yet, it is growing at great speed.
Even services and streaming platforms such as Spotify allow artists to sell vinyl records of their albums now!
Rise of the 7-song LP
There isn't any good reason why a 7 song LP exists.
In the past, albums were pricey to mass produce and had a high coat so to justify the price, they had to add more tracks. In the end, though, digital streaming won and that's no longer as relevant.
There even exists Free Music Distribution so it's even less relevant to add fat to an album.
This gave rise to the 7-song LP/EP. artists can truly craft a unique experience within 7 songs and make it memorable.
The total play time is around 20 minutes, thus making it digestible for a small car ride.
It's easier for fans to consume a 7-song LP rather than 20 songs one.
Join The #1 Platform For Music Artists.
We're starting a revolution - and putting music artists (like you) first.
Boost Collective is a free-forever music distribution platform. Upload unlimited releases to 150+ stores and platforms and keep 100% of your earnings.
You'll also get free playlist promotion, cover art creation, and much more!
Join Boost Collective for free here.