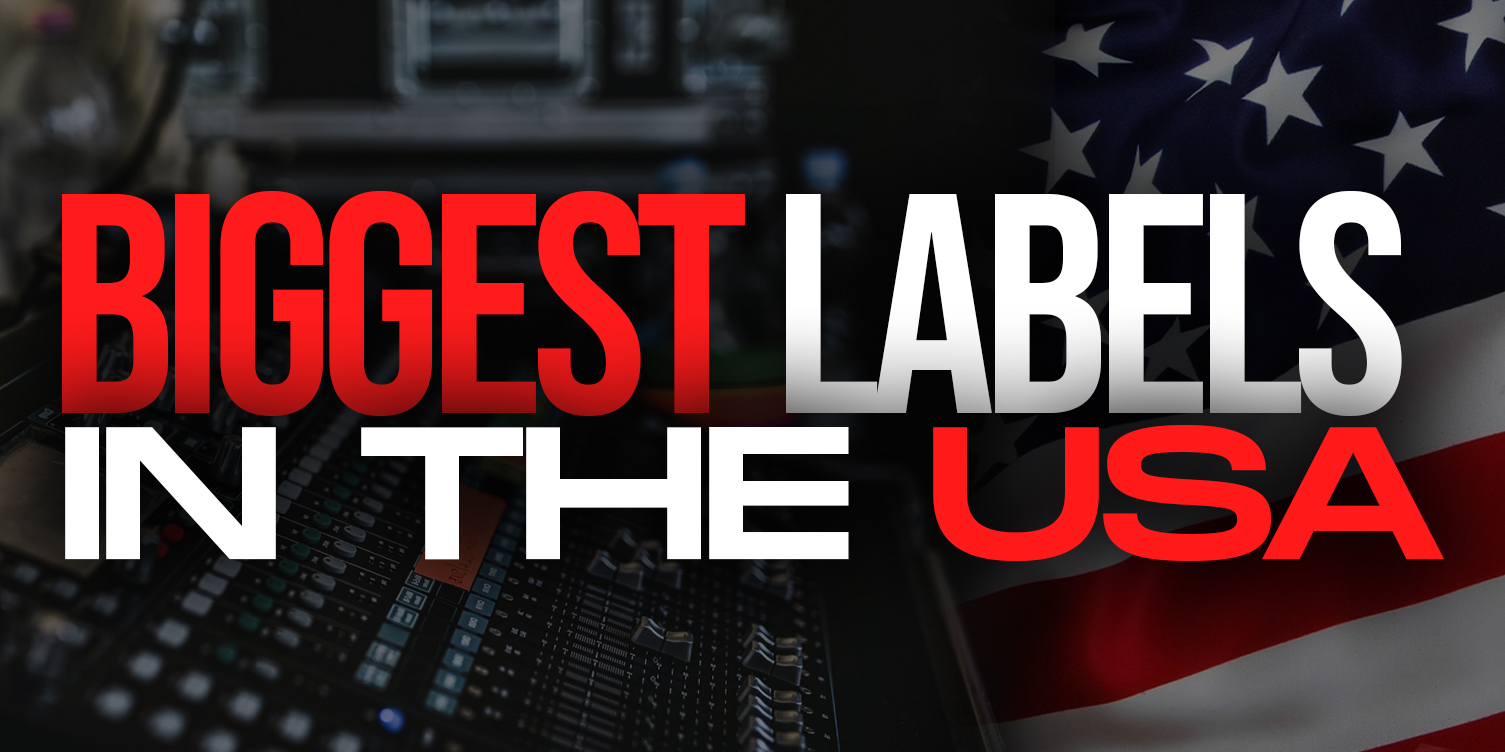 So, you're a fresh artist with a bright future ahead in the huge music industry. But you don't know which record label suites you best! Or maybe, you're just curious to see what the biggest labels in the US are.
The record company has played a significant role in the development of the music business. They have the duty to discover & build new talent on the scene, yet occasionally talent discovers them. Some of these labels go way back to the victor talking machine company days!
When an artist contracts with a record label, that label is in charge of "recording," manufacturing, distribution, marketing, promotion, and copyright enforcement!
Get your music on 150+ stores for free below!

How To Get Signed To A Record Label
Before we get into some of the biggest record labels in the United States, let's take a look at how you as an artist can get signed to one of the major record labels.
Let's be honest though, not many of us are going to straight to a major record deal.
For most of us, it's going to take time to develop as an artist in the music industry. There are so many labels in the world to choose from, so how do you know which one is right for you?
Once you become worthy of submitting to a label, check out our blog post below:
How To Get A Record Deal As An Independent Artist!

Here The Biggest Labels In The US
You asked, we delivered. Here are the major record labels in the united states!
Sony Music Group

Warner Music Group

Universal Music Publishing Group

Atlantic Records

Def Jam

Interscope

RCA Records

Capitol Records

Which record label is the most successful?
Arguably the most successful record labels are the ones with the most reputation right?
Depending on how you classify success, let's stick with monetary.
Well, from a revenue perspective Sony Music Group wins!
With a sales forecast of $9.12 billion and a 20% market share. Market size for U.S. record labels is $9.7 billion in 2021. Not bad...
How To Get A Record Deal As An Independent Artist!

Sony Music Entertainment
Sony Corporation's division dedicated to music publishing is known as Sony Music Entertainment (Bloomberg Business).
Sony Music Entertainment's Facebook page details various landmark moments in the company's evolution.
The American Record Corporation was the company's initial name when it was established in 1888.
Then, in 1934, they bought Columbia Records. After only four years, CBS purchased ARC and shortly after established Epic Records. In 1968, CBS and Sony each held a 50% stake in the corporation.

Later, the company became known as CBS/Sony Records, Inc. Sony did not get fully in control of the business until 20 years later. A name change to Sony Music Entertainment in 2004 stuck (Sony Music Entertainment, 2008).
Sony Music Entertainment, or SME for short, is a division of Sony Corporation that, under the leadership of CEO Douglas P. Morris and Vice President/CFO Kevin Kelleher, publishes a wide variety of record labels.
The company's main offices are in the New York City neighborhood of Madison Avenue. Sony Music Entertainment has satellite offices in over forty countries (Bloomberg Business).
According to Sony Music Entertainment's page on LinkedIn, the company employs between one thousand and five thousand people worldwide. This does not include the people who work for the company's twelve primary subsidiary record labels or at the company's many international offices.
How AI Will Takeover The Music Industry!
Locations, Genres, & Artists
Sony Music Entertainment not only employs a large workforce, but also owns and manages a wide variety of record labels and the assets associated with them. The Sony Music Entertainment website boasts that the corporation is the proud owner of twelve industry-leading record labels (2013).
Columbia, RCA, and Epic are the best-known of these record companies. SME also owns other niche labels in addition to the big names above.
Arista Nashville, RCA Records Nashville, Columbia Nashville, Legacy Recordings, Sony Music Latin, Masterworks, Vested in Culture, RCA Inspiration, and Provident Label Group are just few of the labels that focus on specific genres.
These record companies focus on specific types of music, such as country, Latin, classical, and gospel/Christian (Sony Music Entertainment, 2008).

Sony Music Entertainment and its affiliated companies are responsible for signing and producing music by some of the most successful musicians working today.
Columbia Records is home to a diverse roster of artists including Adele, Beyoncé, AC/DC, Bruce Springsteen, Daft Punk, David Bowie (before his untimely death), Hozier, One Direction, and Pink Floyd (Columbia Records, 2016).
In addition to Britney Spears, Dave Matthews Band, Kings of Leon, Miley Cyrus, and Shakira are just some of the major artists signed to RCA Records (RCA Records, 2016).
Sony Music Entertainment's third most renowned label, Epic Records, also signs a number of the industry's biggest names. Some of the most well-known recording artists on this label are Mariah Carey, Fifth Harmony, the late Michael Jackson, and Meghan Trainor
What Are Music Distribution Deals?

Warner Music Group
The New York-based Warner Music Group Corp. is an American global entertainment and record label corporation.
Among the "big three" in the music business, it is the third largest in the world after only Universal Music Group (UMG) and Sony Music Entertainment (SME).
From 2005 to 2011, when it announced its privatization and sale to Access Industries, WMG was publicly listed on the New York Stock Exchange after having been a part of Time Warner (now Warner Bros. Discovery).
It re-entered the public markets in 2020 after launching a second initial public offering (IPO) on the Nasdaq.

WMG employs approximately 3,500 people and generates revenue in the billions of dollars each year. The company has a presence in more than 50 countries.
Elektra Records, Reprise Records, Warner Records, Parlophone Records (formerly owned by EMI), and Atlantic Records are just a few of the world-famous labels that are owned and operated by the corporation.
One of the largest music publishers in the world, Warner Chappell Music, is also owned by WMG.
WMG has been operating in the digital media industry since August 2, 2018, when it acquired Uproxx.
Can You Have Multiple Distributors?
What Is Uproxx?
Uproxx is a media outlet that covers celebrity and pop culture news.
In 2014, Woven Digital, which would eventually become Uproxx Media Group, purchased the company that had been started in 2008 by Jarret Myer and Brian Brater.
Men between the ages of 18 and 34 make up the bulk of the site's intended visitors.
Myer and CEO Benjamin Blank are still in charge of the firm despite Warner Music Group's acquisition in August 2018.
How To Upload Your Music On Pandora!

Universal Music Group
In accordance with Dutch legislation, Universal Music Group N is a worldwide music company that operates in both the United States and the Netherlands.
Although UMG's main office is in Santa Monica, California, company is headquartered in Hilversum, Netherlands. Along with Sony Music and Warner Music Group, it is one of the "Big Three" record companies because of how large it is in the industry.
In March of 2020, Tencent paid €3 billion to increase its share in Universal Music Group by 10%, and in January of 2021, it purchased an additional 10%.

The investment firm Pershing Square Holdings bought 10% of UMG just before the company went public on the Euronext Amsterdam stock market.
On September 21, 2021, the firm went public with an initial value of €46 billion.
"amid the music industry's digital upheaval," Fast Firm writes, "Universal is reimagining what a modern label should look like." Universal Music Group was voted the most innovative music company by Fast Company in 2019.
More than 400 global outlets have inked licensing agreements with UMG.

Independent Labels
Surprisingly, independent record labels make up a lot of the record labels in the United States!
It might look like all record companies are owned by one of the big three, but there are really a few independents that have persisted.
Indie labels are shorthand for "independent record labels."
While it's true that many independent record companies are modest operations, this isn't always the case. They are just as hierarchically and historically complicated as the Big 3 and can be owned by equally massive corporations. Virgin records is a great independent label, or artist focused label for upcoming musicians in the UK!

Independents are often viewed as more supportive of their artists. It's not too far off the mark. In comparison to the Big 3, they are more generous with their artists by splitting royalties in a 50/50 ratio.
Many independent labels are really owned by working artists rather than big business interests.
This is something that many independent record labels have to deal with frequently. If they do well, a small record label can join the majors in the future.
Why Do Independent Artists Need Promotion Companies?
Atlantic

Records
When it was established in 1947, Atlantic Records' primary mission was to disseminate the music of black performers to a larger audience.
They stayed in America to learn more about the music culture there, particularly African American music.
Atlantic Records was founded in the latter half of 1947, and almost immediately, artists were threatened with a strike in 1948 that would prevent them from making recordings for a whole year.
The first year was tough for the company, but by 1949, they were back in the music production business.
Jazz and rhythm and blues, led by artists like Big Joe Turner and Lead Belly, were the label's primary focus during this time.

In 1952, the company signed Ray Charles, who would go on to become one of the most popular jazz musicians of all time. Otis Redding and Aretha Franklin were only two of the many brilliant musicians that come after them.
However, the label's most dependable personnel typically worked behind the scenes. Tom Dowd was instrumental in keeping Atlantic on the cutting edge of technology. He first advocated for the use of two microphones while recording music.
Jerry Wexler's contributions to the company are also noteworthy; his promotional efforts kept the label fresh in the eyes of a wide variety of musicians.
Atlantic also partnered with other firms strategically, the most notable of which was Stax Records.
As a result, numerous up-and-coming musicians, like Aretha Franklin and Otis Redding, were able to gain entry to Atlantic Records. However, Atlantic's popularity made it a target for larger companies, and the firm was bought by Warner Brothers in 1967.
Warner Brothers continues to utilize several of Atlantic's trademarks today.
After this deal, the company started signing bands and singers from many musical backgrounds, but particularly the rock and roll scene.
It was because of this that Atlantic was able to sign bands like Genesis and Led Zeppelin.
Submit To Atlantic Records Today!

Interscope
It's no secret that Interscope Music Group, home to the influential and divisive Interscope Records label, is at the forefront of the music business's ups and downs.
Primus, the Wallflowers, Dr. Dre, Marilyn Manson, and Nine Inch Nails are just some of the artists whose music has been produced and distributed by Interscope since the company's founding in 1990 by veteran producer Jimmy Iovine and one of the heirs to the Marshall Field dynasty, Ted Field.
Interscope has been active in the distribution of other, smaller industry labels, most notably that of Death Row Records, a prominent West Coast rap label, in addition to creating its own performers.
Interscope was founded with assistance from Time Warner, and is currently partially owned by Universal Music Group (formerly MCA Records), a division of the Seagram Company.

Hardcore, gangsta' rap, alternative fringe rock, and the subgenre known as Goth are all represented on the Interscope roster, the kind of music that other, more traditional firms are leery of creating.
Interscope's business strategy was predicated on giving the artists and producers the freedom to express their individuality. There will no longer be record companies dictating creative musical choices.
Artists found it inspiring, too.
In the mid-1990s, they contributed significantly to a debate about gangsta rap, and Warner was the label at the center of that debate. Universal scooped them up when Warner severed connections.
Interscope Records is a record label based in Santa Monica, California, that has released music by artists such as Dr. Dre, Eminem, Madonna, Gwen Stefani, Selena Gomez, Kendrick Lamar, Lady Gaga, Lana Del Rey, Maroon 5, U2, and Billie Eilish.
Submit To Interscope Records Today!

RCA Records
The RCA Records label is one of Sony Music Entertainment's four major imprints. RCA is the second-oldest record label in the United States, and its longevity has allowed the company to diversify into several musical subgenres. Not many record labels have what it takes to pull this out.
Albums of pop, classical, rock, hip-hop, afrobeat, electronic, RB, blues, jazz, and country music all feature them. RCA covers pretty much every single music genre!
Elvis Presley, David Bowie, Buddy Guy, Britney Spears, the Dave Matthews Band, Alicia Keys, and Justin Timberlake are just few of its older legendary musicians.
Modern Influence
RCA also had number one singles from Doja Cat ("Say So") with Nicki Minaj, Miley Cyrus ("Plastic Hearts"), and Chris Brown & Young Thug ("Go Crazy") in 2020, in addition to the albums they released by Bryson Tiller, Alicia Keys, Fousheé', and Pentatonix.
Immediately following her historic achievement as the first female and youngest artist to ever be awarded the Grammy for Reggae Album of the Year, Koffee inked a recording contract with RCA.
Mark Pitts became RCA Records' president in January 2021, while John Fleckenstein was promoted to COO. Heaux Tales, by Jazmine Sullivan, topped the Billboard R&B Albums list.
The single "You Broke Me First" by Tate McRae has been certified as platinum in the United States, UK, Finland, France, Malaysia, the Netherlands, Norway, and many other countries!
On Billboard's list of new and developing artists, she killed the charts!

Def Jam Recordings
It would be a crime not to at least mention the mighty Def Jam recordings!
When it comes to record labels, Dej Jam undoubtedly has the most interesting history.
Let's remember how they first became so significant in the music industry, particularly hip hop.
As he sat in his Weinstein, New York University, dorm room, the 20-year-old had the inspiration for a label. The Long Islander borrowed money from his parents and founded Def Jam Recordings. The first thing Rubin did was put out a single by his punk rock band, Hose.
Not only was JAY-Z wanted by a number of record labels, but legendary label boss L.A. Reid tried to woo him to sign with Def Jam.

Born and raised in Brooklyn, this man secured a contract that made him president of Def Jam from 2004 till 2007.
It was revealed in December of 2016 that Paul Rosenberg, Eminem's longtime manager, will take over as president/CEO of Def Jam Recordings at the beginning of 2017.
Additionally, the co-founder of Shady Records and current executive vice president of Def Jam is Noah Callahan-Bever, formerly of Complex as its chief creative officer.
Just look at all those ties and all those people! To what extent do people in the music industry "know each other?"

Republic Recordings
The American record company Republic Records is headquartered in the Big Apple and is part of the Universal Music Group.
Independently created in 1995 by brothers Avery and Monte Lipman, the label was purchased by UMG in 2000.
Republic was formerly an imprint of Universal/Motown Records Group; following a reorganization in 2006, the label changed its name to Universal Republic Records; then in 2012, it reverted to its old moniker, Republic.
Current artists on Republic Records' roster (subject to change):
Songs by Ariana Grande, Drake, Benee, James Bay, James Blake, Kid Cudi, Florence + the Machine, John Mellencamp, Julia Michaels, Post Malone, Hailee Steinfeld, Taylor Swift, Shania Twain, Twice, Of Monsters & Men, Stevie Wonder, Conan Gray, Peach PRC, and Kim Petras.
In addition to signing its own artists, Republic has formed strategic partnerships with other record labels to sign a wide variety of artists.

Join The #1 Platform For Music Artists.
We're starting a revolution - and putting music artists (like you) first.
Boost Collective is a must-join platform for musicians.
Join the rebellion! and get free music distribution, free music promotion, and more.
We're on a mission to change what is possible in the music industry and we need you!