FREE MUSIC VIDEO RELEASE STRATEGY IDEAS
Don't be a dork, and actually USE this info! 💎
Read this FULL blog... Guaranteed you'll learn something new & useful.
Now let's get started!
With proper planning and calculation, you can see great results from your music video release strategy! Your likes, views, comments, and engagement success depends on how well you execute the video release strategy.
By putting all this together in a nice and organized fashion, you will see success on your next music video release!
For an effective music video release strategy you must:
Plan your timeline and release schedule

Improve your video S.E.O to get your music discovered!

Build a buzz for the video

Establish a schedule for editing

Edit a trailer for your music video

Plan social media content for the video

Get influencers to promote your music video
But before you get your music out, you must distribute it to the world.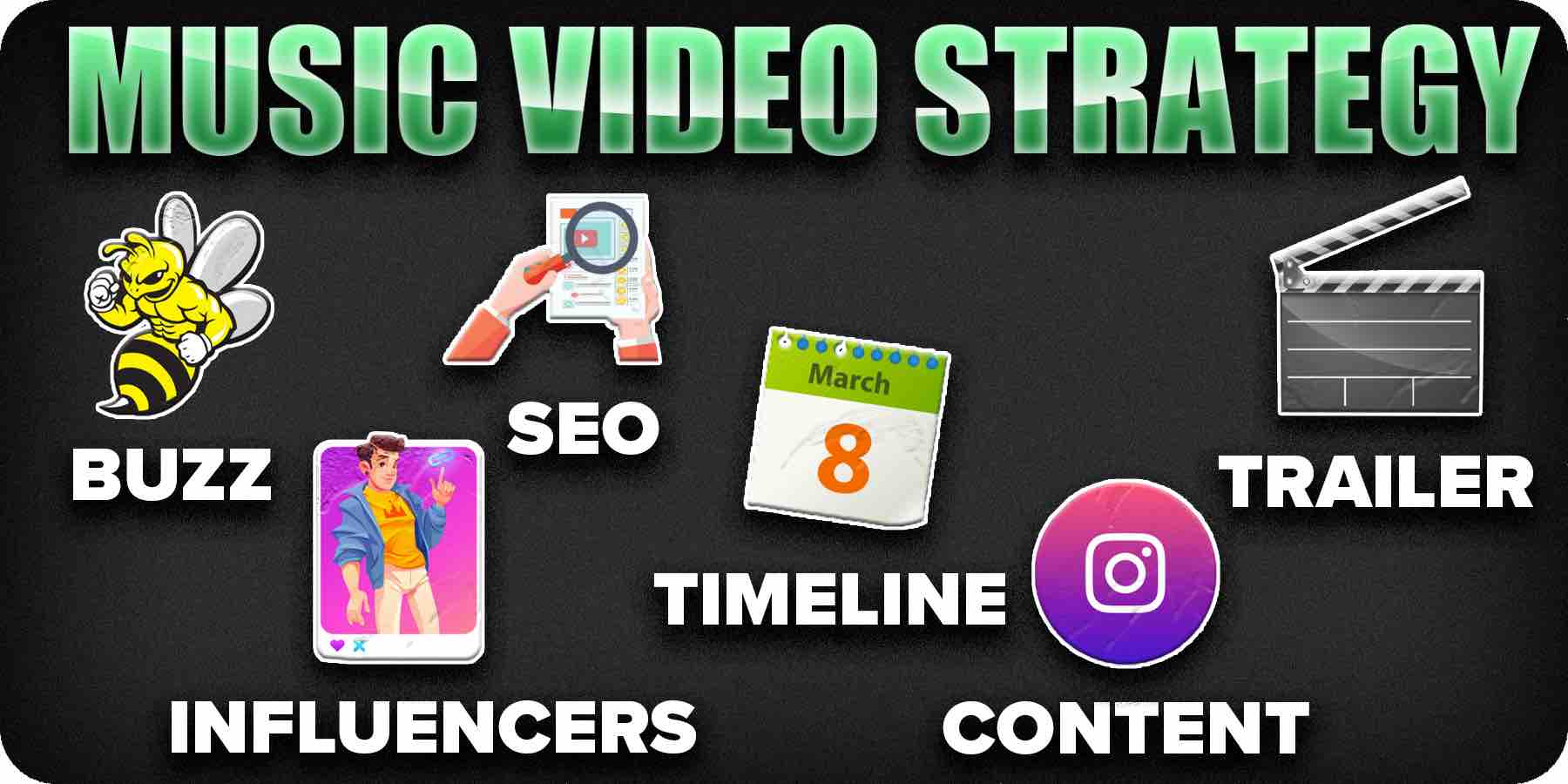 WHAT IS MUSIC VIDEO PROMOTION?
Before we get started, we should pin-point exactly what is music video promotion.
Music video promotion is the act of getting your music video in front of new eyes and ears. This includes all basic and advanced marketing strategies to build hype, increase views and engagements for your music video.
Effective music video promotion attracts new potential fans to your music video.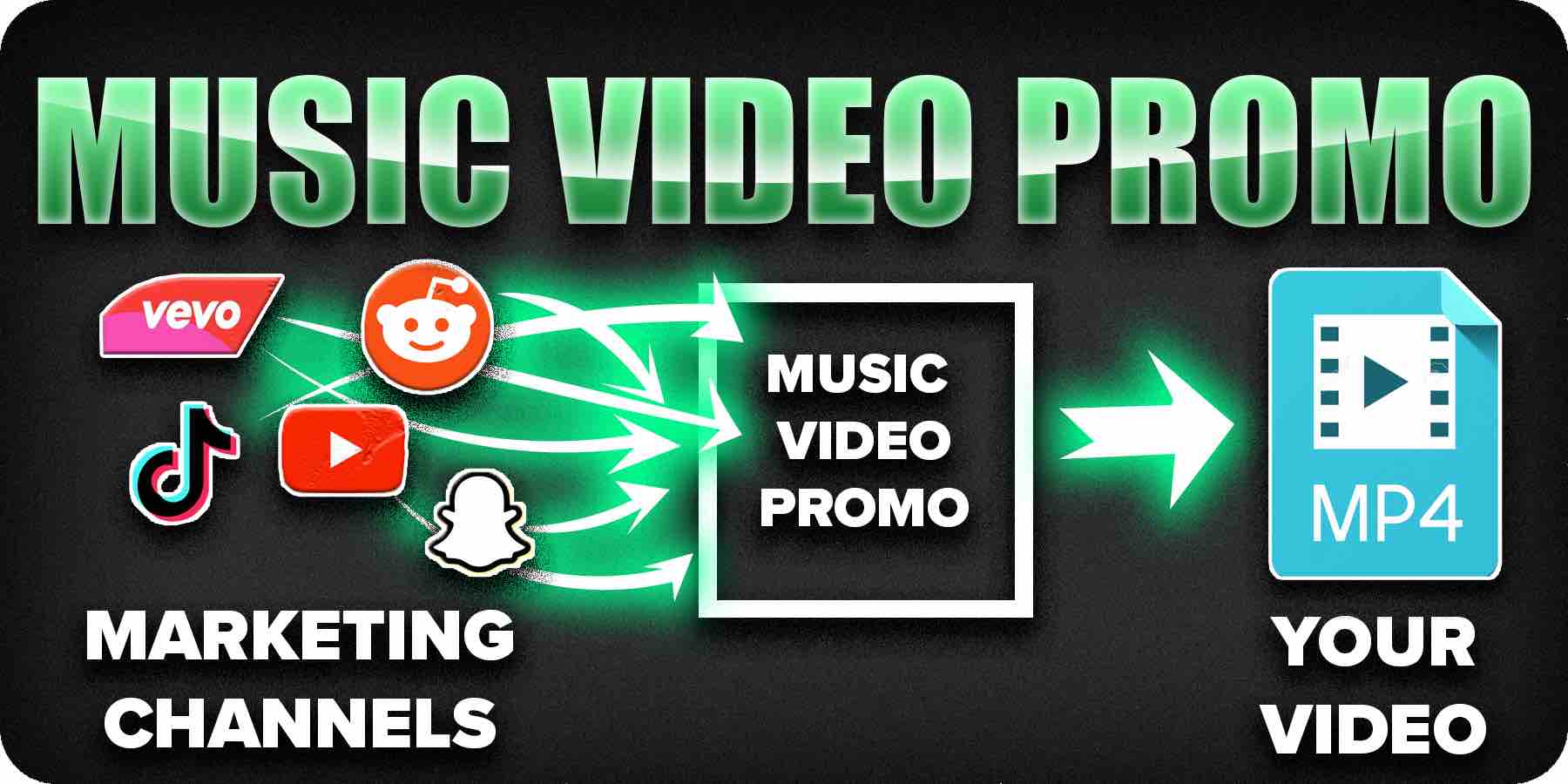 To advance your new music career, you absolutely MUST have a consistent music video release strategy.
You have two options when it comes to your music video release strategy:
Handle your complete music video release alone

Enlist the help of an external music video marketing firm
Just note that whichever music video release strategy you pick...
There's going to be a bunch of work required to make that upcoming album release spectacular!

12 EFFECTIVE STRATEGIES TO RELEASE A MUSIC VIDEO
Let's get into the meat and potatoes of your music video release strategy!
Here are 12 effective strategies to release a music video
Release the music video a few weeks after the song

Set a sizeable production budget for your video

Shoot your music video in cool locations

Hire a professional editor (Fiverr, Upwork, local editor)

Promote the video on blog embeds

Run paid ads to your music video

Use Fiverr video editing services to save cash

Only make music videos for songs with good numbers

Release a lyric video as well

Get fans and influencers to make dance videos too

Get YouTube content ID for your music video

Link your music video in an email blast to your subscribers

Run a giveaway associated with your music video

Post the music video on your Instagram/Snapchat stories
Every music video release strategy concluded in this list has been tried and tested!
Whether it's to put out music from Apple Music, Youtube or Spotify then you'll have no issue with your album release promotion.
Just note that every upcoming album release.
Try to implement all these different strategies and then find which music video release strategy works best for you!
MUSIC VIDEO BUDGETING: SAVE SERIOUS CASH!
How to budget your music video promotion:
Select the right music video promotion service for your budget

Use services like Fiverr instead of hiring an editor directly

Run an A/B split test to avoid wasting money

Test your music video promotion on smaller scales

Get friends and family to help with video production

Crowdsource your music video promotion funds
Your audience only cares about the finished outcome of the music video upload.
DON'T SKIMP OUT ON YOUR MUSIC VIDEO
Musicians that want to skimp out from putting in money... Will only notice it bite them in the butt later.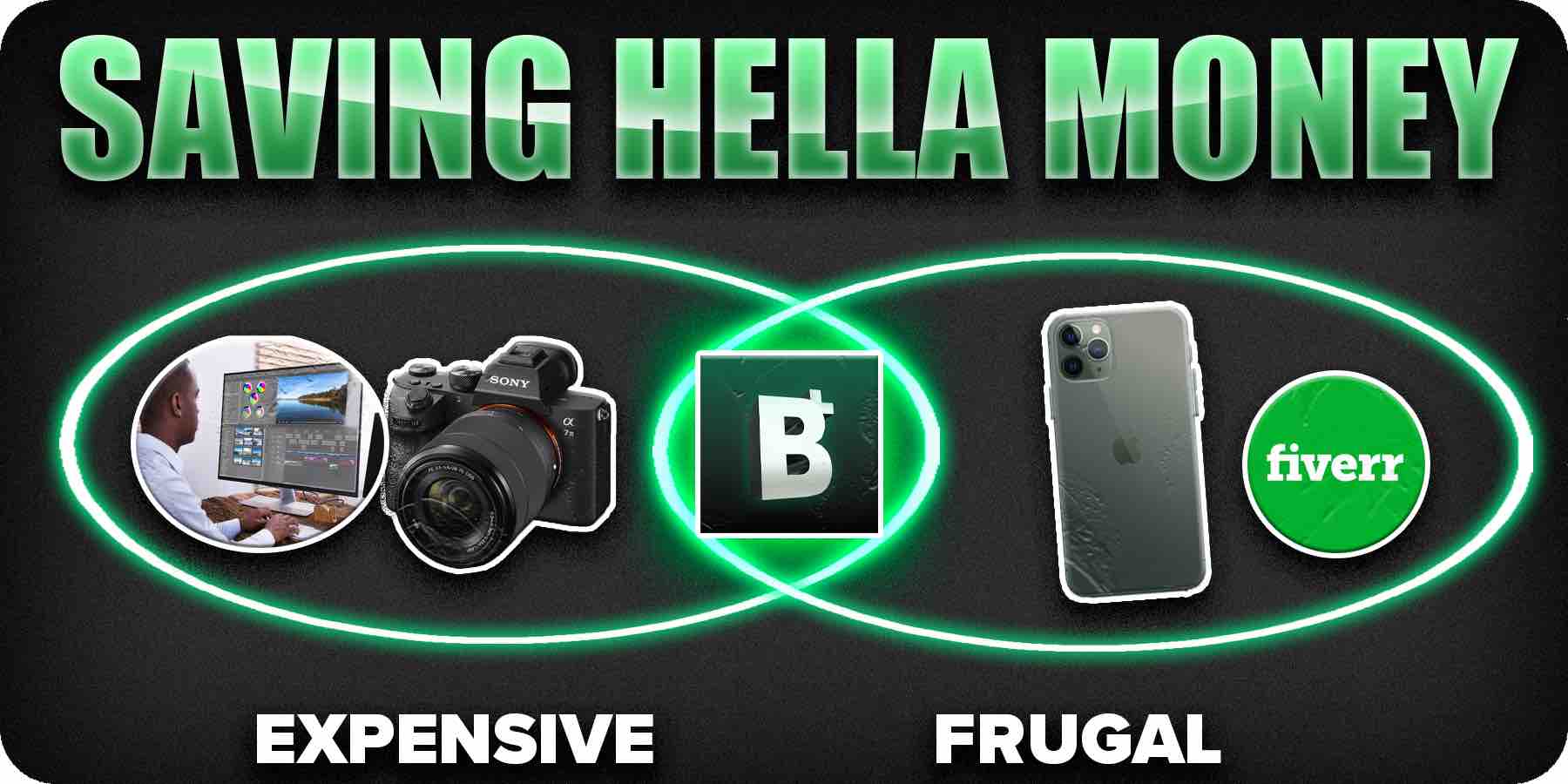 There are common costs to anticipate when putting out music videos to gain more fans:
Transportation to video shoots

Cost to potentially hire actors

Renting or buying film equipment

Paying for an editor's services

Paid advertising and promotion costs for your song
If you watch the top record label musicians you'll notice that they ONLY upload the best quality songs and music videos possible.
If you choose to go the DIY method and do it yourself just note...
Every single aspect of your music video creation and promotion process must be top-notch!
Otherwise, you won't stand out among the artist who decides to put a little bit of a budget behind their strategies.
HOW MUCH DOES A MUSIC VIDEO EDITOR COST?
The average cost for a new music video edit will be around $150-$300. If you're releasing singles then it should not be an issue, however, if you release more videos (like a whole album) then it will easily start costing more and more.
As an independent and brand-new artist, it may be worth it to edit your own video.
Other artists at the top of the industry edit their own videos and have no issue attracting new listeners a new fans!
Just look at this clip of Tory Lanez editing his music video:
If your video shoot will cost you a lot to produce then I don't see why not join the other artists who edited their own YouTube music videos!
SETTING UP A REASONABLE BUDGET FOR MUSIC VIDEOS
So you want to start releasing Music videos to create an initial impact for your music?
But how much will it cost you...
Some people pay $1'000s for every music video upload, yet other musicians pay literally $0.00 dollars.
In life, you get what you pay for.
If you're not putting up the investment to really promote your music video to earn more views then naturally don't expect to build anticipation and buzz for all of your released music videos.
SHOULD YOU HIRE A PROFESSIONAL MUSIC VIDEO EDITOR?
Not every music artist needs to hire help.
You should understand exactly what your needs are, then you'll know if it's worth it for you to pay someone in the music industry to help you edit music videos.
These factors go into the pricing for your song video editing:
The length of your song

The complexity of your vision

The timeline on when you want the video released

Editing style and complexity of the video vision

How many videos do you want to edit
I'll say it's best to put out fewer videos it really focuses on a great song if your budget is low.
5 EASY STEPS TO BUILD HYPE FOR YOUR MUSIC VIDEO
Free promo requires you to put in some elbow grease for building the buzz...
However, when executed properly you can see an influx in initial engagements for your music video and long-term repeat video watchers!
Here are the 5 Best ways to build hype for your sing release:
Optimize the video for all platforms (vertical, widescreen square, etc.)

Host a listening party

Ask your friends and network to re-share the music video

Run a giveaway for your music video

Post behind-the-scenes content
I've done all of these strategies and they really work!
HOW TO MAKE A MUSIC VIDEO GO VIRAL (8 METHODS!)
Did you know that there's a PROVEN method to make your music videos go viral?
Here are 8 proven tips to make your music video go viral
Add funny clips to your music video

Time your release schedule to not conflict with major artists

Increase your production budget

Make a parody of your music video

Add babies to your music video

Fight scenes can make you go viral

Cute puppies and kittens = viral video

Controversial political expression (do at your own risk)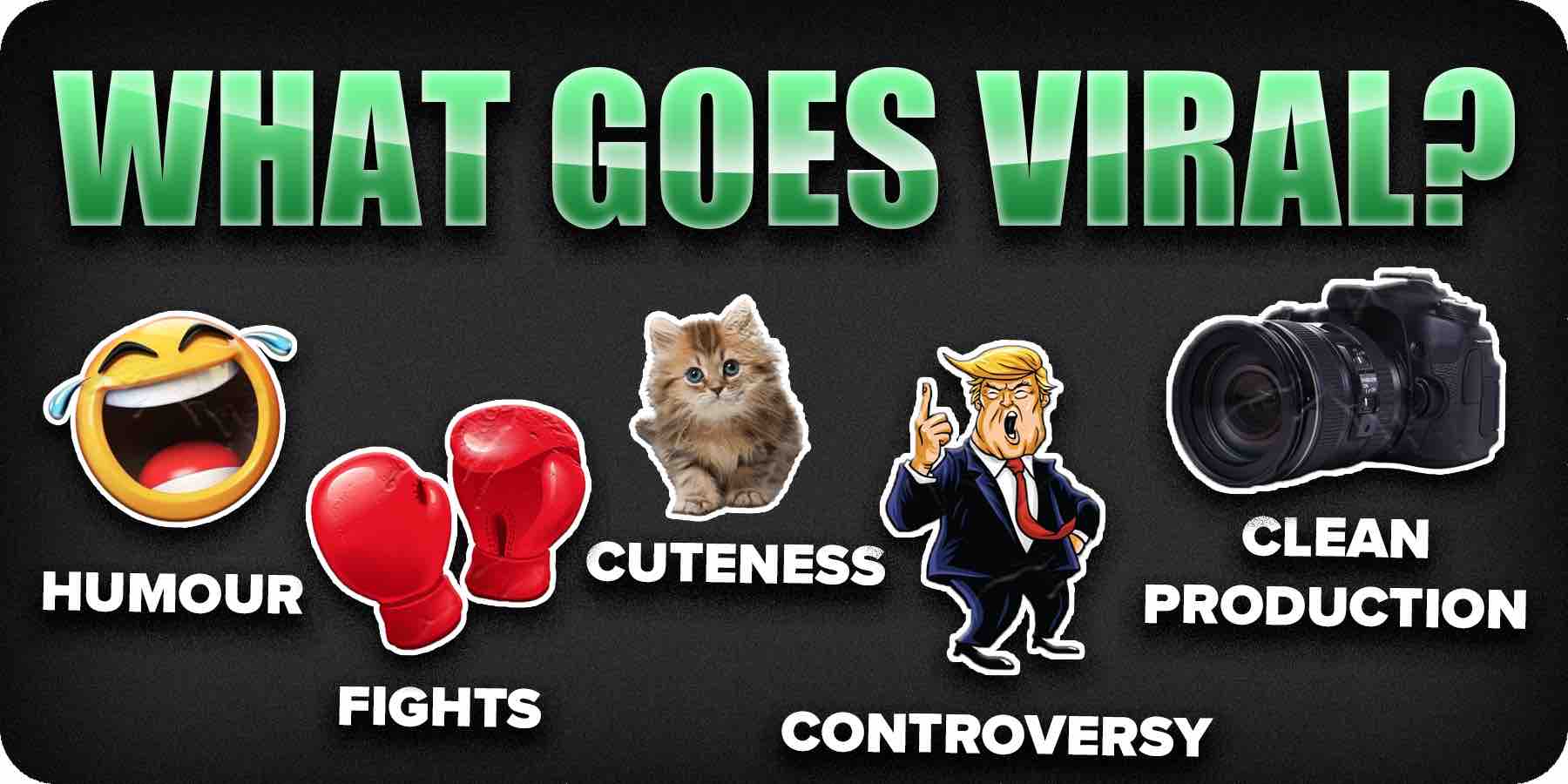 All these aspects help a video go viral on your YouTube channel (according to me studying hundreds of YouTube videos.
TEST DIFFERENT STYLES OF MUSIC VIDEOS
By adding some of these aspects to your new video - you're more likely to generate new fans for your new music.
It's a truly effective marketing strategy!
Just make sure: if your goal is to create viral music videos then it should be planned out WAY before the music video release date.
This way you can give yourself time to put together viral-esque video content for your YouTube channel.
LOCATION IS EVERYTHING
Most people won't tell you this but one of the best ways to get a great music video without having to spend so much on production is by finding a good filming location.
I dive deep into this topic when I share 8 Creative Music Video Ideas.
Regardless of where you are in the world, you can definitely find great shooting locations!
10 GREAT MUSIC VIDEO FILMING LOCATIONS?
Here are the top 10 BEST music video filming location ideas: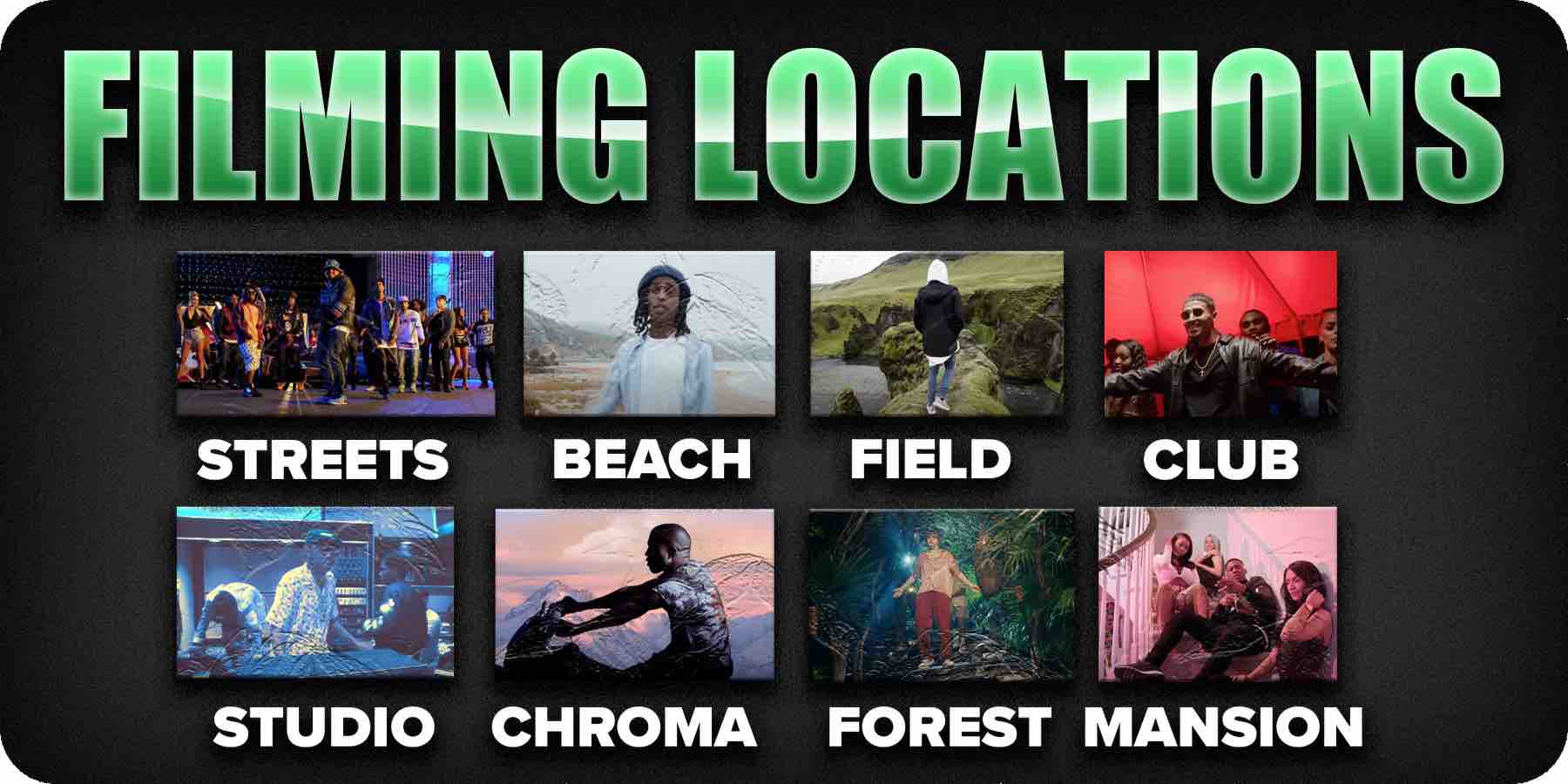 (I put a link to a music video shot there ☝️ just tap to view!)
This alone will put you above practically any other artist.
By getting good clips then you only have to invest so little into crazy editing, while maintaining taste.
This method saves you money and allows you to allocate more of your music video strategy budget into the promotion and you can gain new fans pretty easily!
BEST PLATFORMS TO POST YOUR MUSIC VIDEO:
Here are the best platforms for artists to release music videos on:
Youtube

Indie Music Blogs

TikTok

Instagram

Paid Advertising

Reddit Threads

College Radio Stations

Snapchat Stories

Vevo Music

Music Forums
Below is a chart you should look at whenever you release music videos on platforms:
| | | |
| --- | --- | --- |
| Platform | Marketing Style | Returns |
| Youtube | SEO + Algorithm + Social + Paid | High |
| Instagram Reel | Algorithm + Social + Manual + Paid | High |
| Music Blogs | SEO + Social | High |
| Snapchat | Social + Manual | Decent |
| Reddit | Social + Manual | Decent |
| Paid Ads | Paid | Unlimited |
| College Radio | Social | Local |
| Vevo | Manual | Minimal |
| Forums | Manual | Minimal |
Here's what these terms mean:
Algorithm = exposure through the algorithm.
Social = social shares with other humans organically.
SEO = Search engine growth.
Manual = manual outreach to external audiences.
Paid = being ad space.
You must optimize your video release strategy according to what you think will provide you with the highest results!
RUN PAID ADS TO PROMOTE YOUR MUSIC
Paid ads are killer for when you release music.
You should definitely put either a few days of Facebook or Google ads somewhere within your music video release schedule.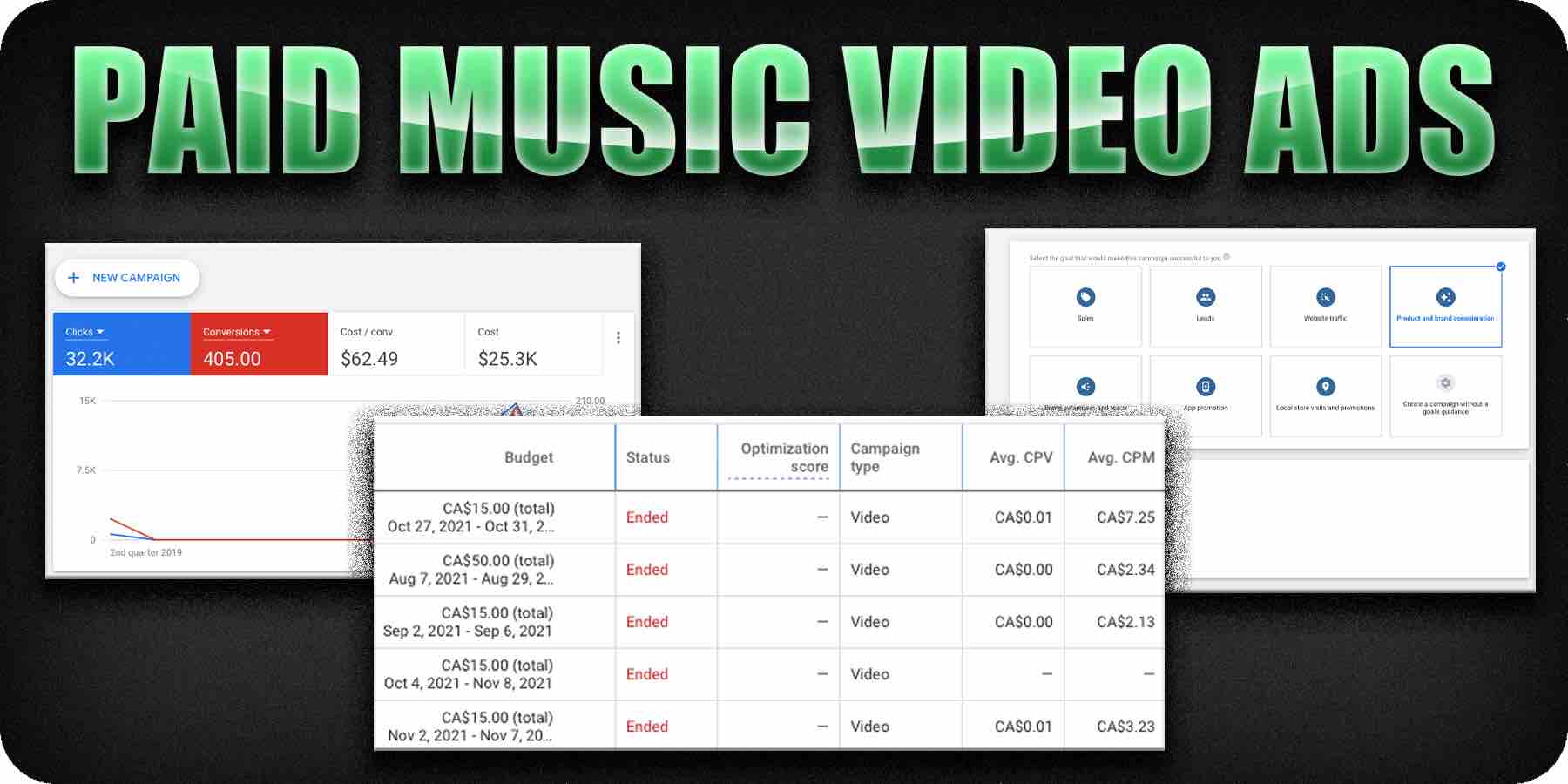 Not only will that help you on the streaming services aspect, but when you release music the whole goal is to gain new fans.
Paid advertising is a reliable model where you can understand exactly what you're going to get back from what you put in.
DIFFERENT TYPES OF PAID MUSIC ADS
Paid ad campaigns are hyper-tailored for you!
You can select a large date and end date as well for each paid advertising campaign.
Here are different paid ad campaigns you can try when you release music:
When releasing music and building an audience there's no better way to receive LOVE on your album than through paid advertising!
USE A LYRIC VIDEO FOR MUSIC SUCCESS
The best way to promote a song if you don't have a crazy high budget is to use a lyric video.
It's taking over the music industry by storm! Just look at this one:
Since lyric videos are so easy to create, you can easily churn out more videos for a small budget.
This allows you to earn more fans and more listeners without having to expand yourself too much.
The cost of creating lyric videos is not that high as well. - you can either create it yourself or hire a designer to make it for you on a package deal basis.
I truly like this video release strategy because it increases your overall supply of video content.
even if it doesn't go mega-viral, the views can add up to your monthly average:
AVERAGES
Cross-promotion is pretty easy among other platforms as well so it's just an easy way to get new potential fans onto your finished product music!
MAKE VIDEOS FOR YOUR BEST-PERFORMING SONGS
Ideally, you want to release music videos for your high-performance tracks.
It's not a great marketing strategy to just make a video shoot for any random song.
This is because that song has NOT proven to resonate with the audience as well.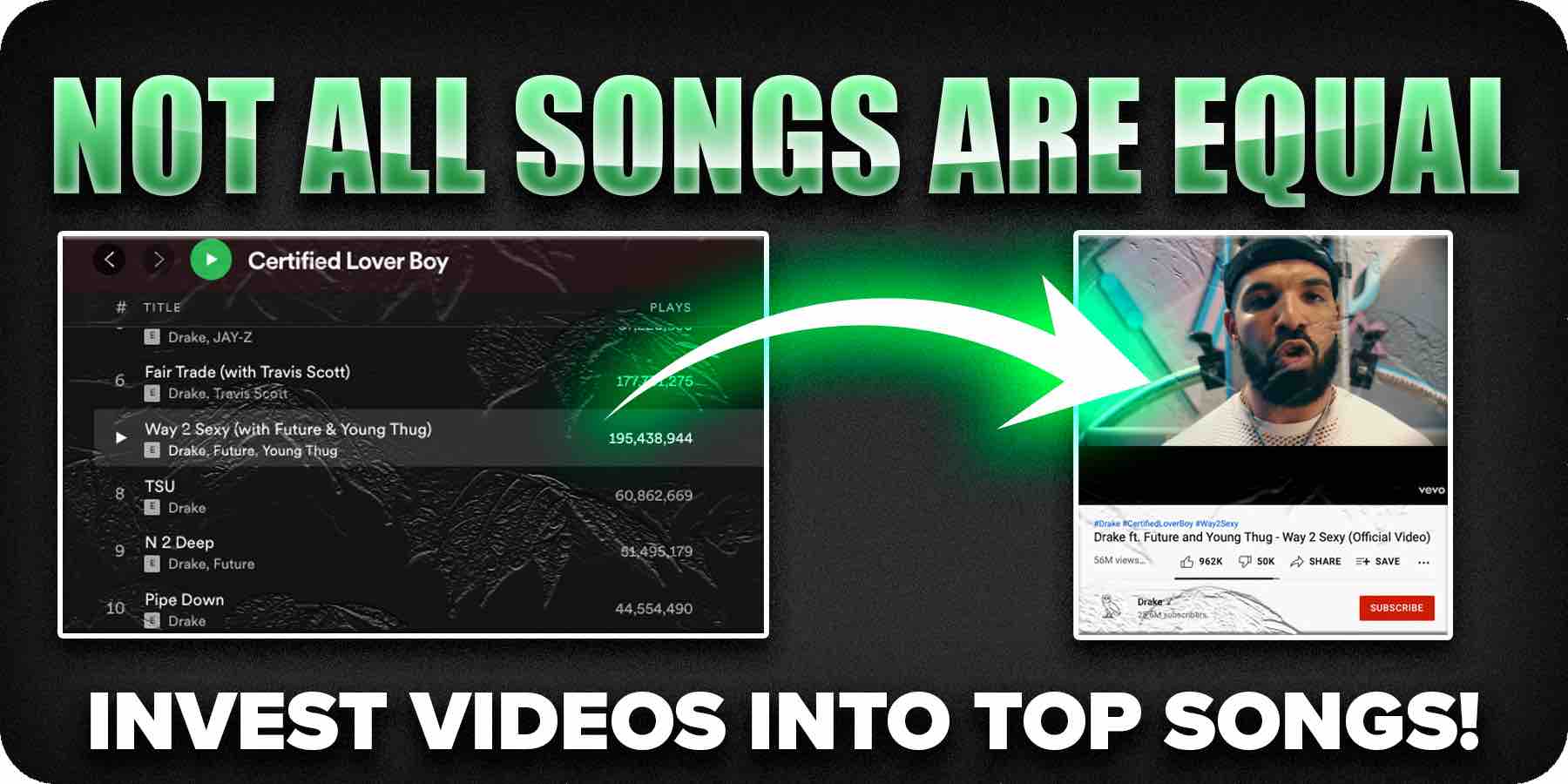 You should release music in advance and then trade the release strategy as a way to get more views ON TOP of the music.
At the end of the day, a musician's best asset is their songs.
It's fine if your music video release date is AFTER the actual new music release on streaming services.
This gives you a jump-start, you can know which of your releasing singles are getting the most attention and initial impact from your existing fans.
The data feedback from releasing music tells you which songs deserve a music video release to drag attract new fans.
THE POWER OF LISTENING PARTIES
People really like listening parties, especially when it's a live event!
Here's my team and I are recent listening party as you can see we got turned up in the crowd went crazy: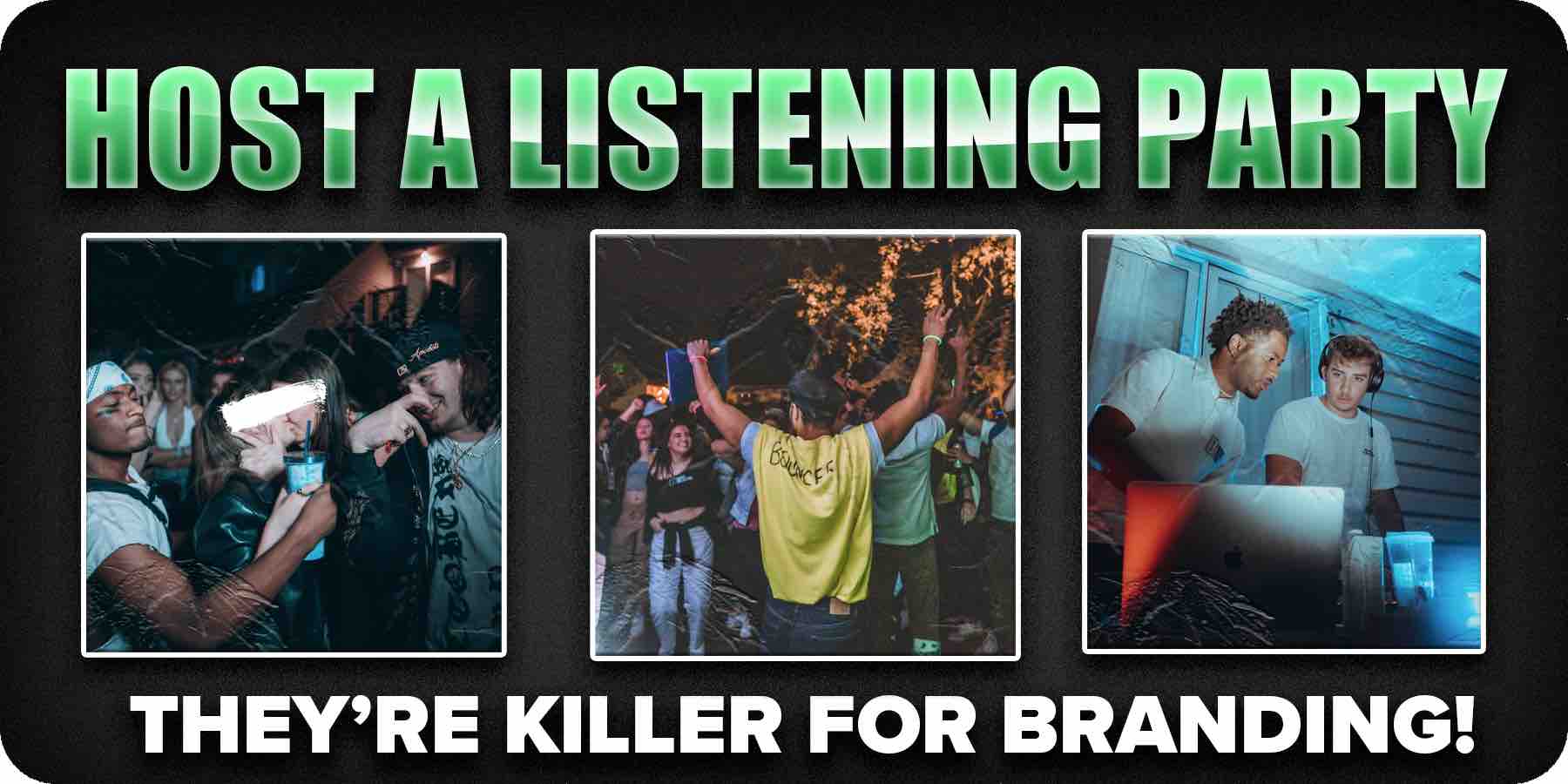 On top of this, getting re-shares from your network is a really simple method to get more people to listen to your music and it's really effective.
Instagram allows you to link to external sites as well as Snapchat so those two platforms are my go-to favorites.
HOW TO SELECT THE RIGHT MUSIC VIDEO RELEASE DATE
What is the best day to release a music video?
Music videos are different from regular video posting. My best advice is to post on Tuesday or Thursday between 3 PM and 5 PM. Avoid weekends because live entertainment takes your fans' attention away from digital music videos.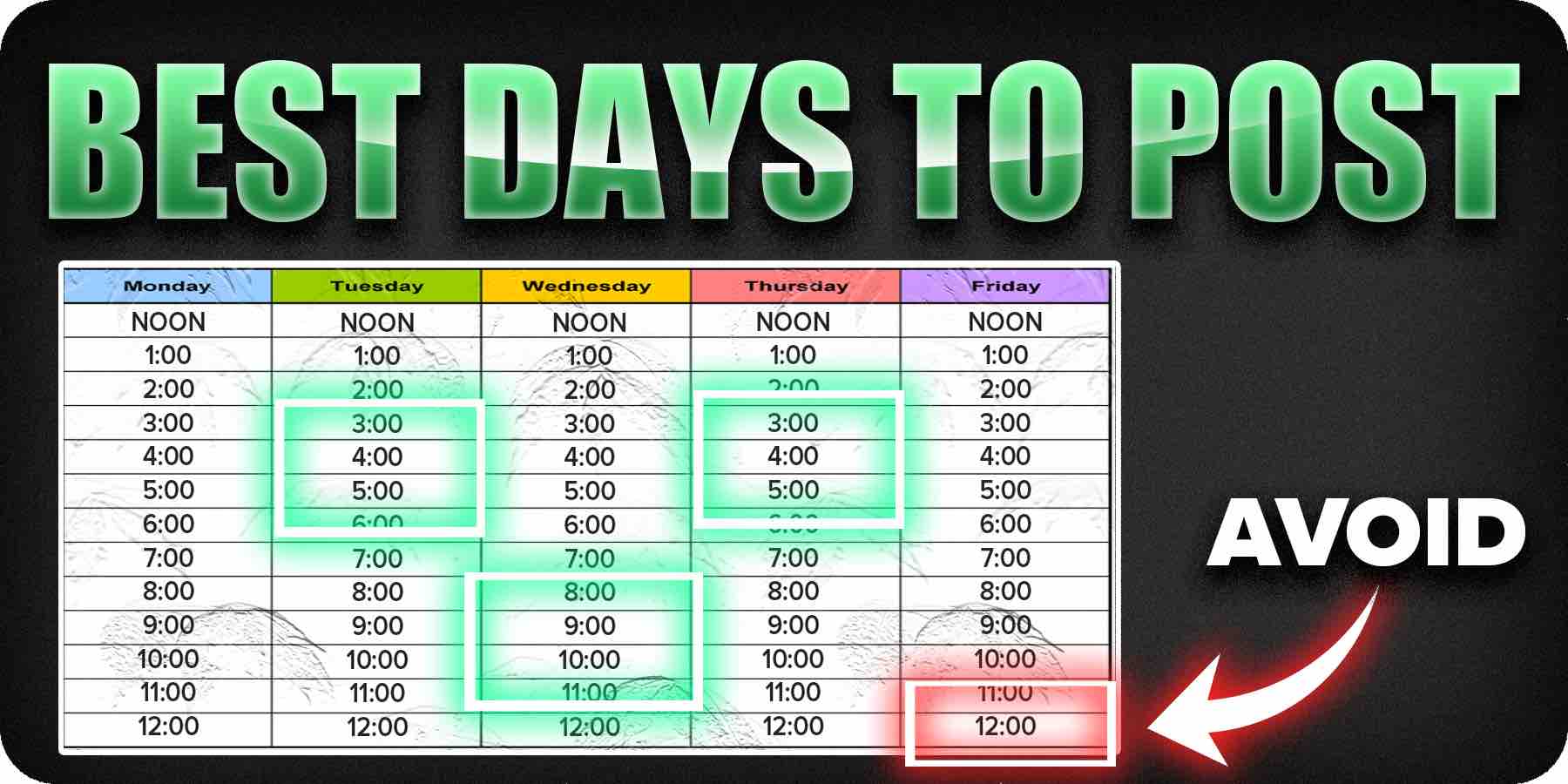 Setting your video release date for the optimal brings see more initial success and I just got a compound greatly into the future.
Feeding you great algorithm data naturally promotes your music to the right people.
Join The #1 Platform For Music Artists.
We're starting a revolution - and putting music artists (like you) first.
Boost Collective is a free-forever music distribution platform. Upload unlimited releases to 150+ stores and platforms and keep 100% of your earnings.
You'll also get free playlist promotion, cover art creation, and much more!
Join Boost Collective for free here.