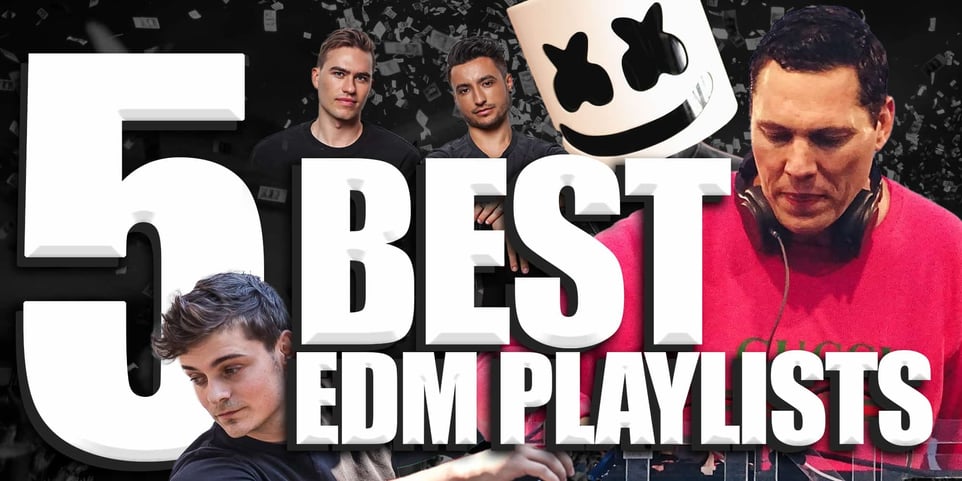 TOP 5 EDM PLAYLISTS ON SPOTIFY
These are the best EDM Spotify playlists to submit your music to!
So you just put out a banger of an EDM track!
Be it progressive house, bigroom house, (or even any other big electronic genre), and it's out now on Spotify.
Now it's time to land on Spotify Playlists! 👇
| | | |
| --- | --- | --- |
| Playlist | Mood | Playlist Size |
| | Workout | 366'000 Followers |
| | General | 99'000 Followers |
| | General | 86'000 Followers |
| | Gaming | 160'000 Followers |
| | Rave | 36'000 Followers |
What matters now is getting the right listeners!
And there's no better way to get heard on Spotify by getting on relevant and active Spotify playlists (and avoiding fake ones).
Here's five of the best EDM Spotify Playlists to submit your song to:
Submit your song, if I like it then I'll add it to my Spotify playlist.
#1. GYM & WORKOUT
This is a huge list run by our friends TheFifthGuys!
Landing a placement on this playlist will get you some serious numbers.
Tapping the link above will let you submit your song to Gym & Workout as well as hundreds of other EDM playlists.
All of them in dire need of good EDM songs!
#2. Musica Electronica 2023
With almost 100,000 followers, submitting to this Spotify playlist lets you tap into hardcore EDM and electronic music fans!
Boost Collective's network of 300+ Spotify playlists makes it one of the best Spotify Promotion companies.
Trusted by thousands of music artists (especially EDM/Electronic producers).
#3. HOUSE 2023
While this playlist says 'House', it typically accepts anything EDM related - and can get you some big Spotify streams.
We've also compiled the best House Spotify playlists to submit to.
To submit to this playlist, tap below. 👇
#4.
Gaming Playlist Electrónica 🎮
This playlist will get you to those listeners that like to listen to EDM in the car.
A great chance to score some loyal fans who will put your track on repeat.
Submit to playlists, is one of the best ways to get streams on Spotify.
#5. Techno House 2021
For those energetic powerhouse tracks, this is the playlist you'll want to submit to!
Make sure that your music is completely ready before sending to playlists.
Even the best Spotify promotion company won't get you maximum results unless you have these things in check:
Make sure that your song is up to quality standard.
The mixing and mastering is crucial, or else listeners won't stick around or become fans.
Having a sound release plan is crucial, and yet most producers don't even think about it.
You should even grow your own Spotify playlist for bonus growth! 👇
I hope you now know the best EDM Spotify playlists to submit music to!
Submit your song, if I like it then I'll add it to my Spotify playlist.
Join The #1 Platform For Music Artists.
We're starting a revolution - and putting music artists (like you) first.
Boost Collective is a free-forever music distribution platform. Upload unlimited releases to 150+ stores and platforms and keep 100% of your earnings.
You'll also get free playlist promotion, cover art creation, and much more!
Join Boost Collective for free here.