How to get on music blogs
Getting placed on music blog or music news is not as difficult as you may think!
The hip-hop music blog industry is booming (along with many other genres as well.)
Music news is one of the largest music discovery avenues to date.
Here are the steps to get your music onto a music blog:
Select a music blog that fits your niche

Compile a spreadsheet list of music blogs that you can get on

Create a press kit to send to the music blogs

Fill in the contact form for all music news sites and music blogs

Email follow up find music blogs

Check out the best music PR services as they have the connections and resources you need for more press and blog feature opportunities.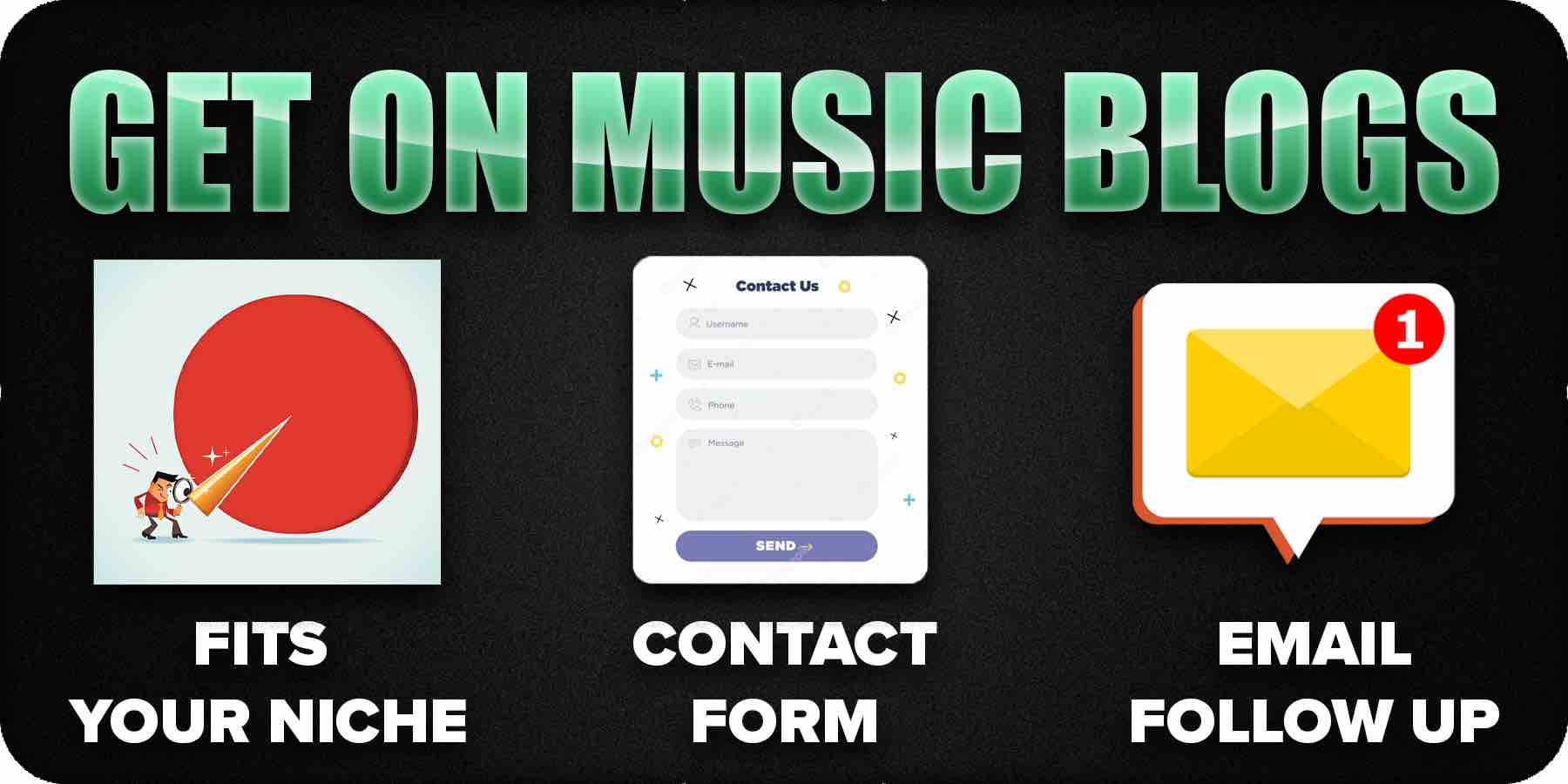 There is a very simple method to get your music into New York blogs!
Just know if you have a connection with somebody that works at a music blog, then it's gonna be 100x EASIER to get some online music publication juice.
Still, you just have to start your music blog journey somewhere!
Don't worry if you have no music blog contacts - make it a goal to grow day by day.
Submit your song, if I like it then I'll add it to my Spotify playlist.
How to Connect with bloggers from New York

Bloggers from New York all kind of know each other.

That means if you have a connection with the one you can slowly build up your network from there.

Lead in and contact more and more New York bloggers.

It wouldn't be a bad idea to reach out to these New York music bloggers on LinkedIn but even Twitter is pretty good.

Email address is ideal, however, it's less personalized than social media.

Don't forget that these bloggers get spammed all the time.

You need to build rapport with the New York bloggers!
#1. NYS Music Blog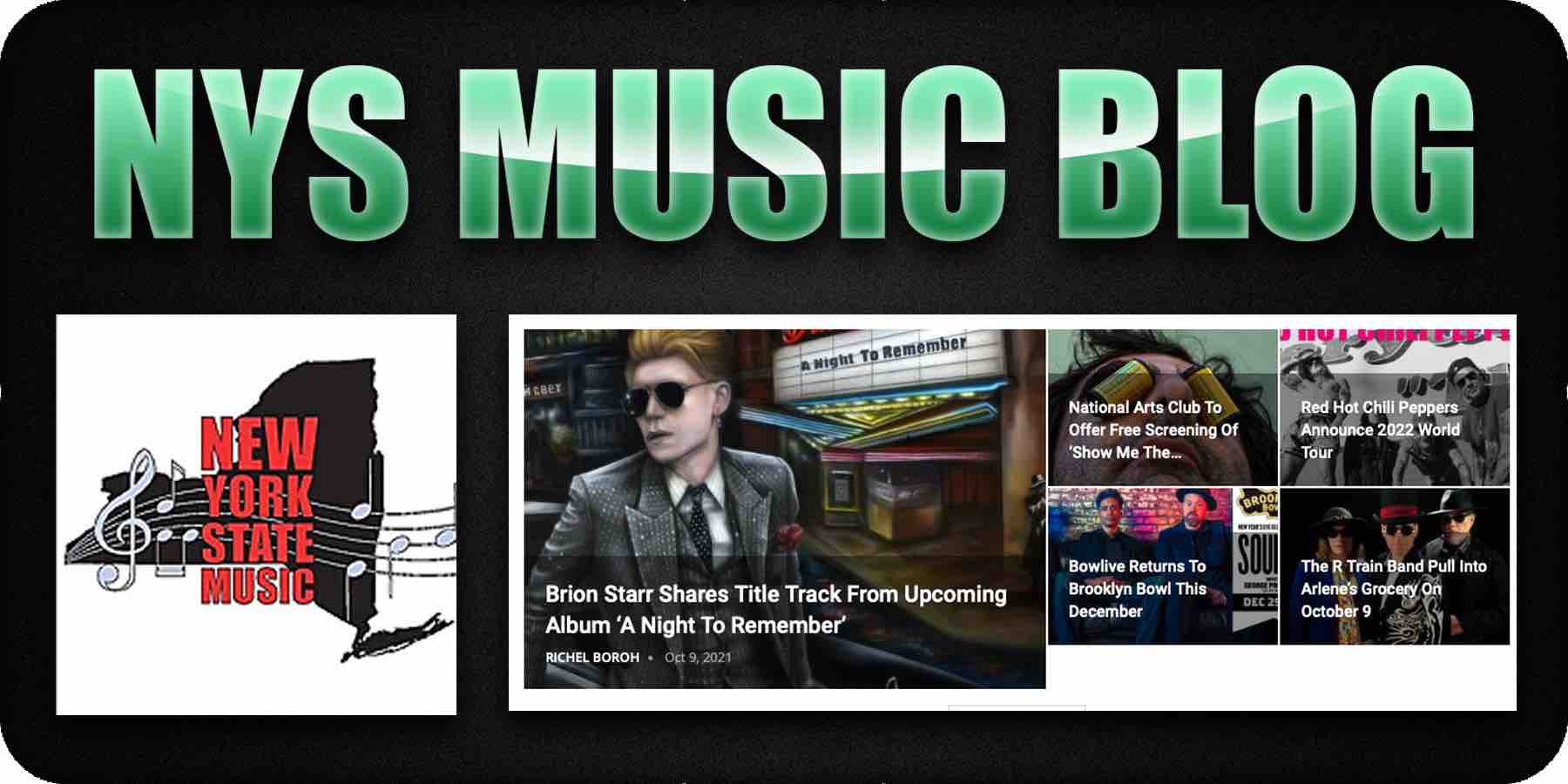 This is a mostly music blog (with some pop-culture articles as well.)
This New York online music publication blog focuses on new music as well as actual music news.
On top of general music news, they also do indie music interviews.
If you live in New York then it might be worth it to get in contact with the people there and do some networking.
It's a great place for music discovery regardless of if you make hip-hop or rock music - you can definitely flourish!
NYS Music Blog also covers concert reviews & tour dates so if you can host a nice event you may get heard.
There are thousands of music fans in New York City that are ready to define new independent music.
Do your job to promote yourself in the music business.
People love to support talented artist buffer that you need to push your music among New York City music blogs.
#2. we all want someone to shout for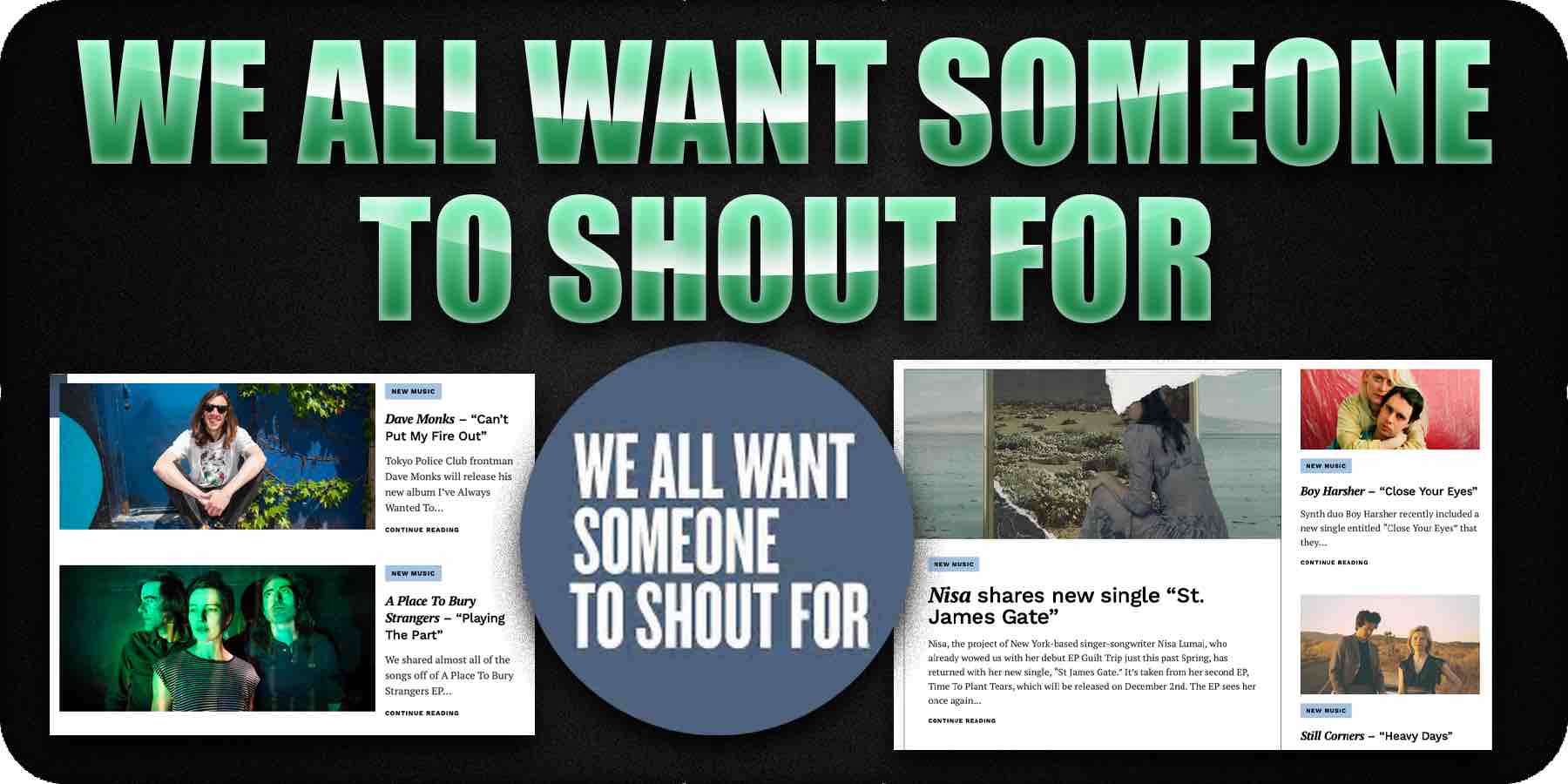 Out of all the music blogs, this one is probably the purest.
Although it isn't strictly hip-hop music, We All Want Someone To Shout For it is written by a New York blogger, so you can rest sure that this Indian music blog will remain pure as hell.
The music industry is full of small New York music blogs such as this one!
If you live in New York City can you send a music video to Will Oliver (the blogger)
There's a great chance you may get album reviews!
#3. obscure sound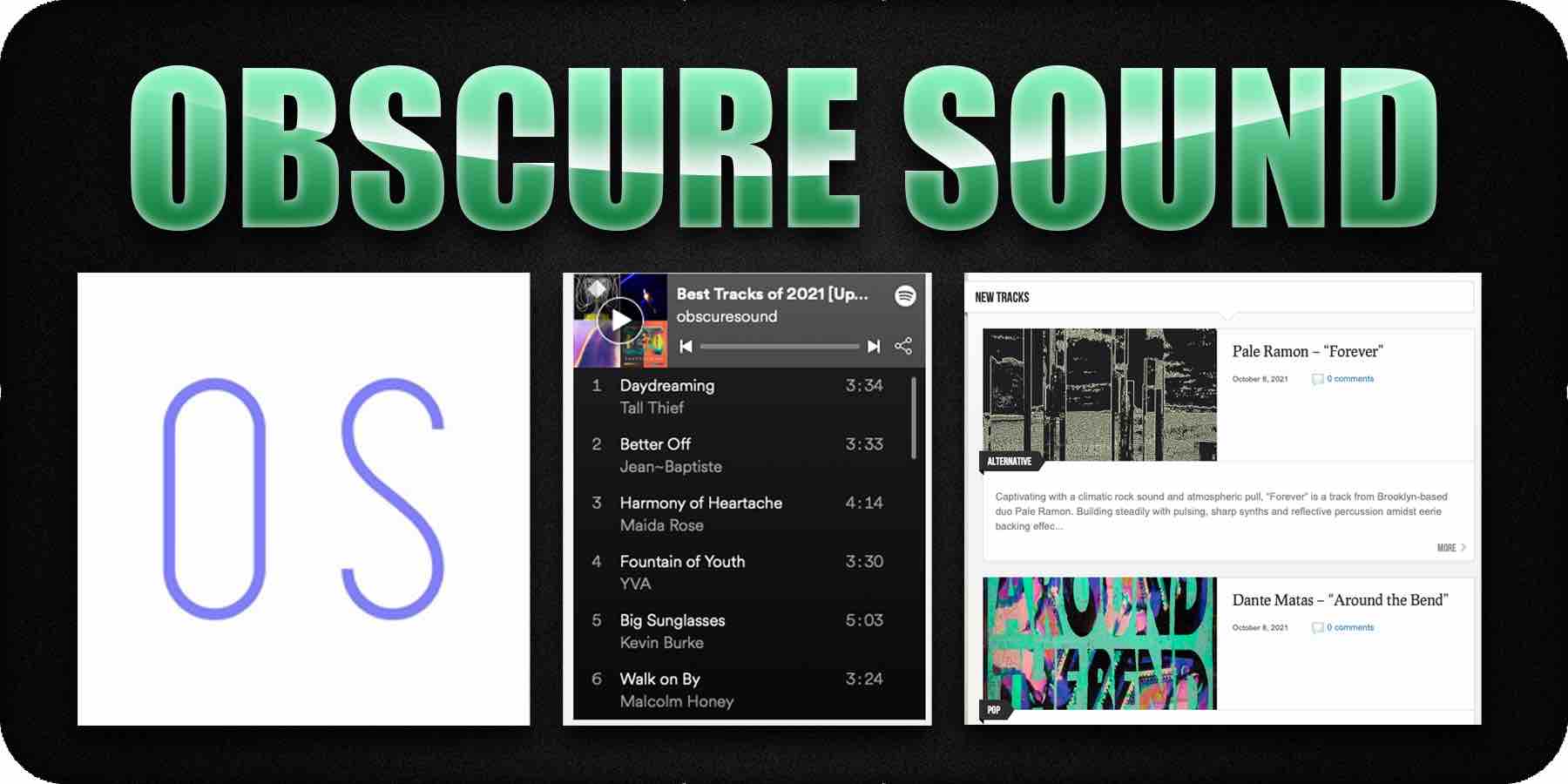 Just as it sounds obscure sound is one of the top music blogs!
Obscure Sound is a great independent music blog to send your music submissions.
This music blogger will write small music reviews for you on top of the new music promo you'll get.
Whether you make hip-hop indie music or you're emerging artist with genre-bending sounds...
This is a wonderful place to get music discovery on your new music.
You can even promote EDM here.
So long as your music is good you can find music lovers anywhere really.

#4. Ad hoc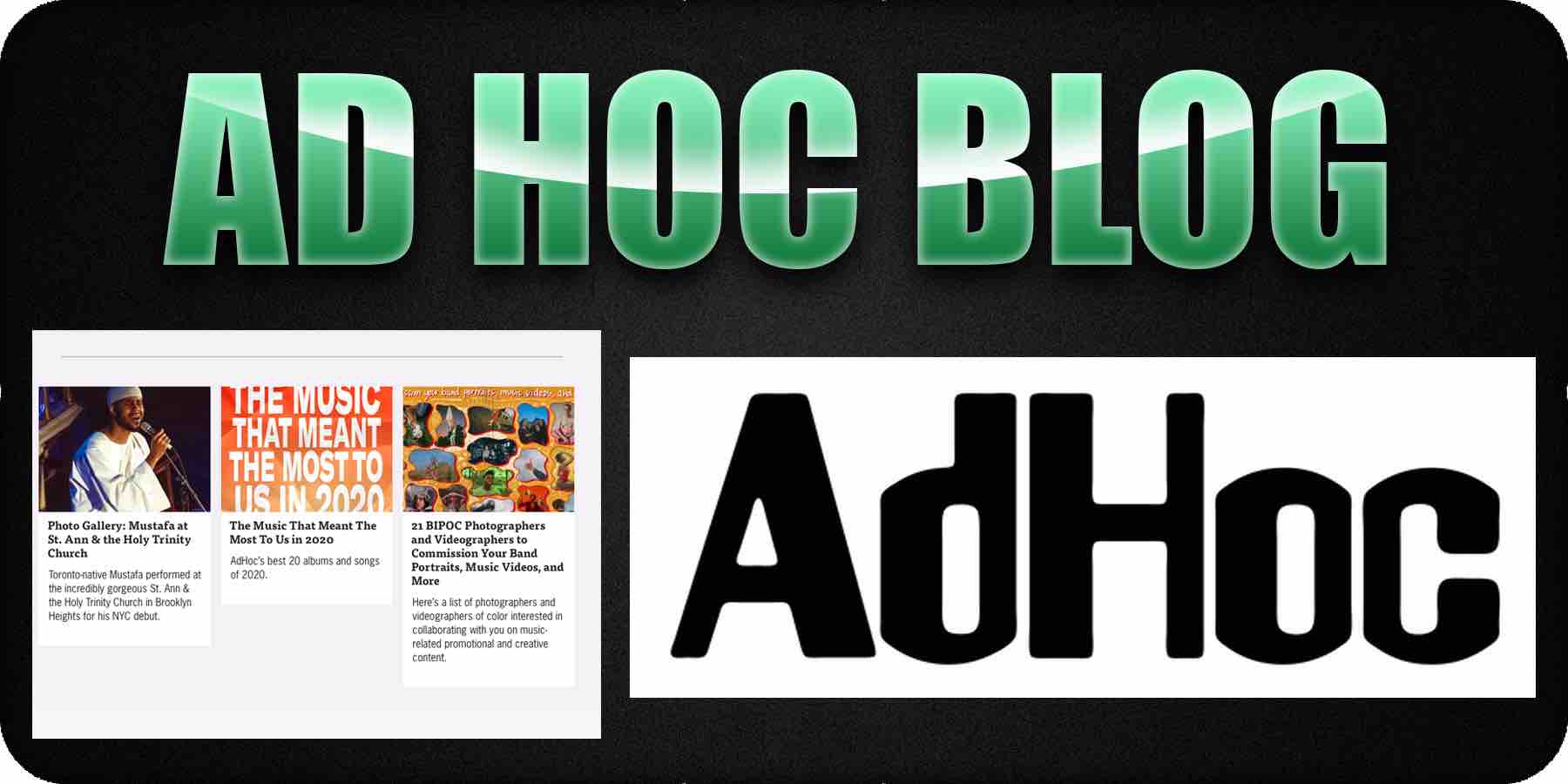 The coolest thing about these music blogs is that on top of being one of the best knew your music blogs they also host events.
Although it isn't guaranteed that you're going to get called up for the next Ad Hoc next event...
It's still worth connecting with these New York music blogs.
There's a chance if your network then you'll set up goodwill among influential music blogs in New York.
I say all emerging artists in New York should get their new music sent here ASAP!
Whether it's underground music or you are an emerging artist it's worth it.
#5. Power popaholic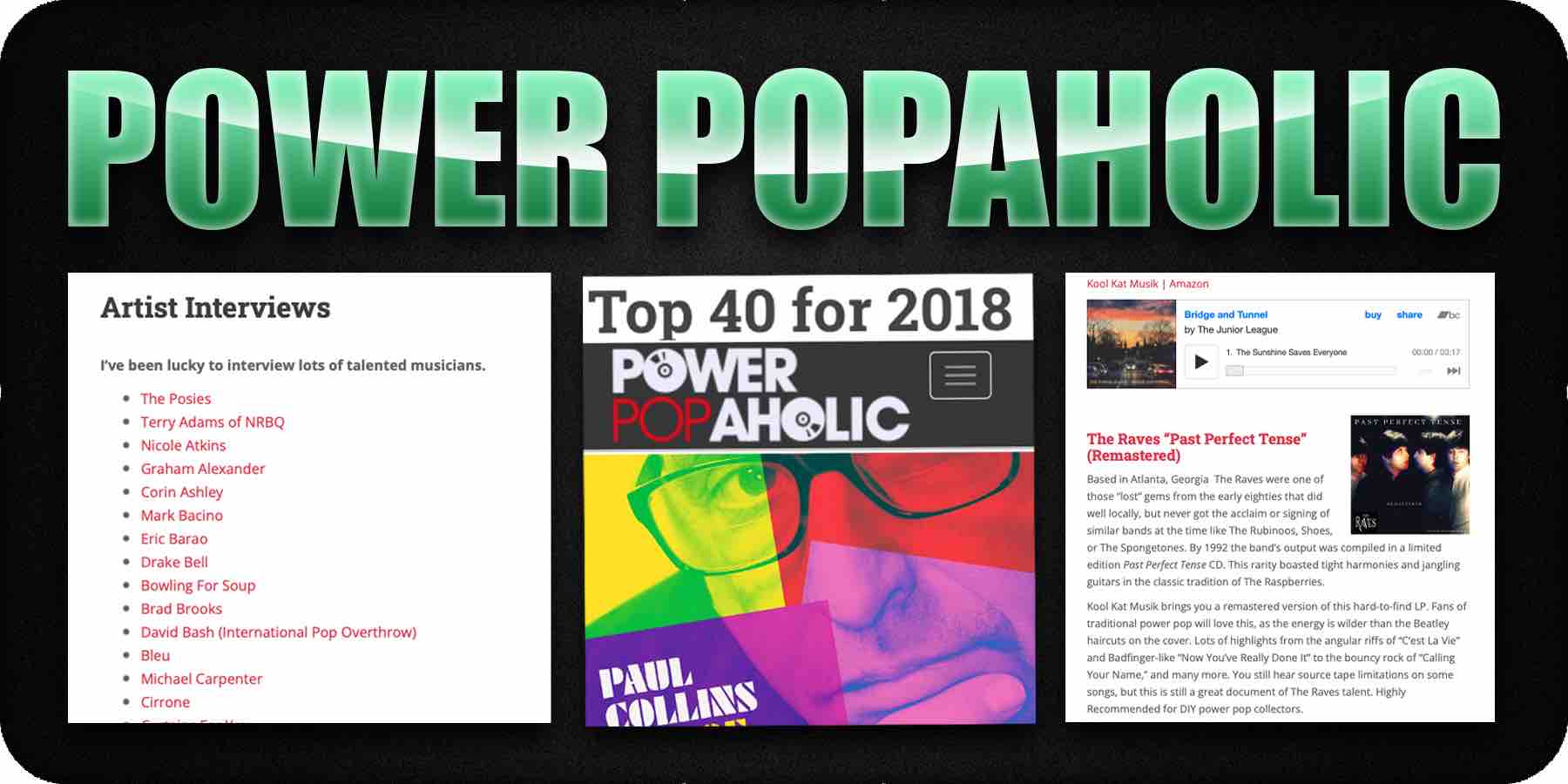 This indie music blog is awesome for emerging artists.
Although it's not pure hip-hop culture - The blogger at Power Popaholic makes music reviews for you.
It's tough to find a music blog site that doesn't use pre-made templates...
Most music news sites and music blogs require you to submit your EPK along with new music.
This makes it easier for them to write a music blog about you...
But sometimes as a rising artist, you wanna hear some organic criticism as well as a music review from a reputable source.
That's why Power Popaholic is a place that all independent artists should look towards!
#6. Indie Wavves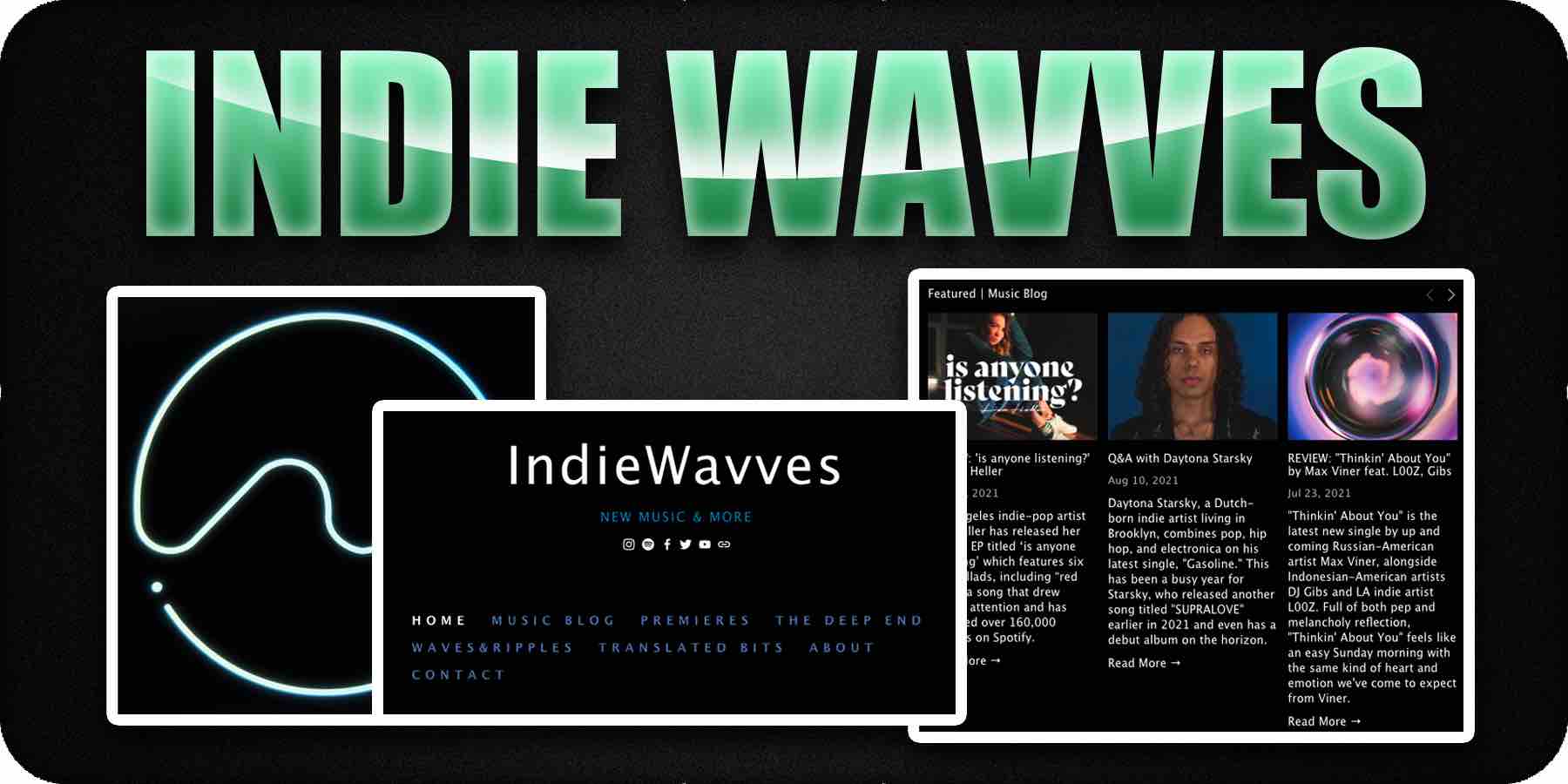 Indie Wavves writes on just about anything music related!
This music blog features new artists and helps with artist development.
Are you ready to get your hip-hop music featured in an awesome indie music blog?
If that's the case then you really want to submit to Indie Wavves.
The cool thing about this music blog is that the editors aren't corporate monoliths - just your average Joe.
For a music blog, you should start off really small and then build up to a larger music blog.
If you support an Indy blog just as much as the music and this is for you!
#7. The Boombox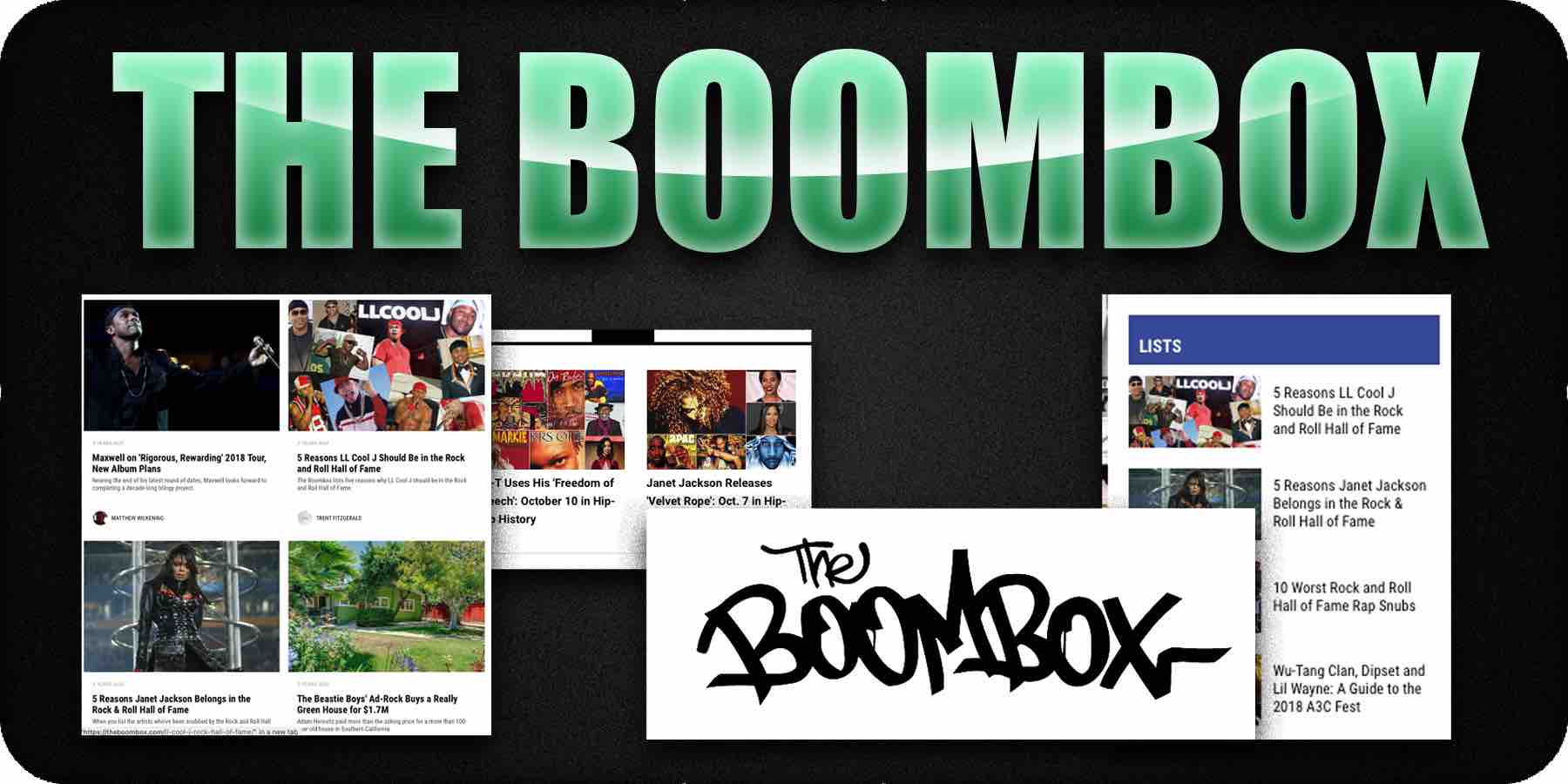 The Boombox is the number one place to submit new hip-hop music!
This is one of those music blogs that focus so much on the underground music culture that you can find true fans by getting music reviews.
Established artists as well as unsigned artists are featured on The BoomBox.
Not every independent music journal has the same effectiveness.
Though, since this music publication is based in New York and focuses primarily on hip-hop news, it's going to give independent artists such as yourself hyper-targeting for local fans.
Be warned: This is a premiere rap blog.
Not only will you need exceptionally GOOD music, independent artists also need to have some sort of cloud/buzz before getting heard.
The best strategy is to hit up smaller music bloggers with your independent music first.
If you build up some experience in the underground trap music scene, then you should submit to The BoomBox after.
In the meanwhile try to find one of the New York City music bloggers at the boom box and strike up a connection.
Independent musicians can get so far through connections alone!
How to send blog music submissions the right way
You always see your favorite band naturally get their contemporary sounds picked up by music blogs.
Famous artists are getting many new music fans through blogs, but this is not the case for Indie musicians.
Rising artists need to submit music properly in order to get heard.
Here are the 9 best tips to submit music to blogs like a boss:
Have an electronic press kit

Include all necessary info about your music brand

If you make multiple genres of music have different EPK's ready

A personal average is better just best to seek the music blogger's name

The deeper connection with the music community the easier it is to get album reviews

Concert reviews are rarer so they're in high demand

The digital media space is saturated - on the way to standing out

Don't just spam your music video everywhere

Only send submissions where. solicited
You must absolutely submit music in order for the music blog run campaigns to happen,
There are millions of New York artists, nobody is going to look for you.
What to include in the new york Music blog press kit
When you're going to be submitting to a New York hip-hop music blog...
Your press kit should fit New York, music lovers.
Ideally, as an independent artist, you want the New York hip-hop culture to be seen in your EPK.
Here are some ways to tailor your electronic press kit for a New York music blog:
Include any New York tour dates

Mention all your New York City performances

Include album reviews from other New York music bloggers

Mentioned any New York rising artists that you worked with
If you follow all the steps you'll definitely get your new music heard in New York blogs!
Music news is still thriving
If you live in New York and you want to get discovery your new music then an independent music journal dedicated to promoting new music is what you need.
Music news will never go out of style.
That's like saying nobody cares about new music...
This is not true, International music news is all the time about top artists such as Drake and Kanye West.
The only issue is that you are not getting featured by Music blogger...
Follow these steps and you'll see major expansion!
Extra music blogs to submit music to
Now some independent artists make multiple genres of music.
Why stop at just one?
There are some international music news sites that are great for a new music promo.
Here are some music blogs of different genres.
Not all of these are New York-specific but it's still good music discovery and something you need as an emerging artist.
Extra: Electronic dance music blogs
Do you have new music that's EDM?
Blog placements help promote electronic dance music.
Submit your good music to these electronic music blogs for awesome music reviews!
Here is every indie music blog in EDM I recommend: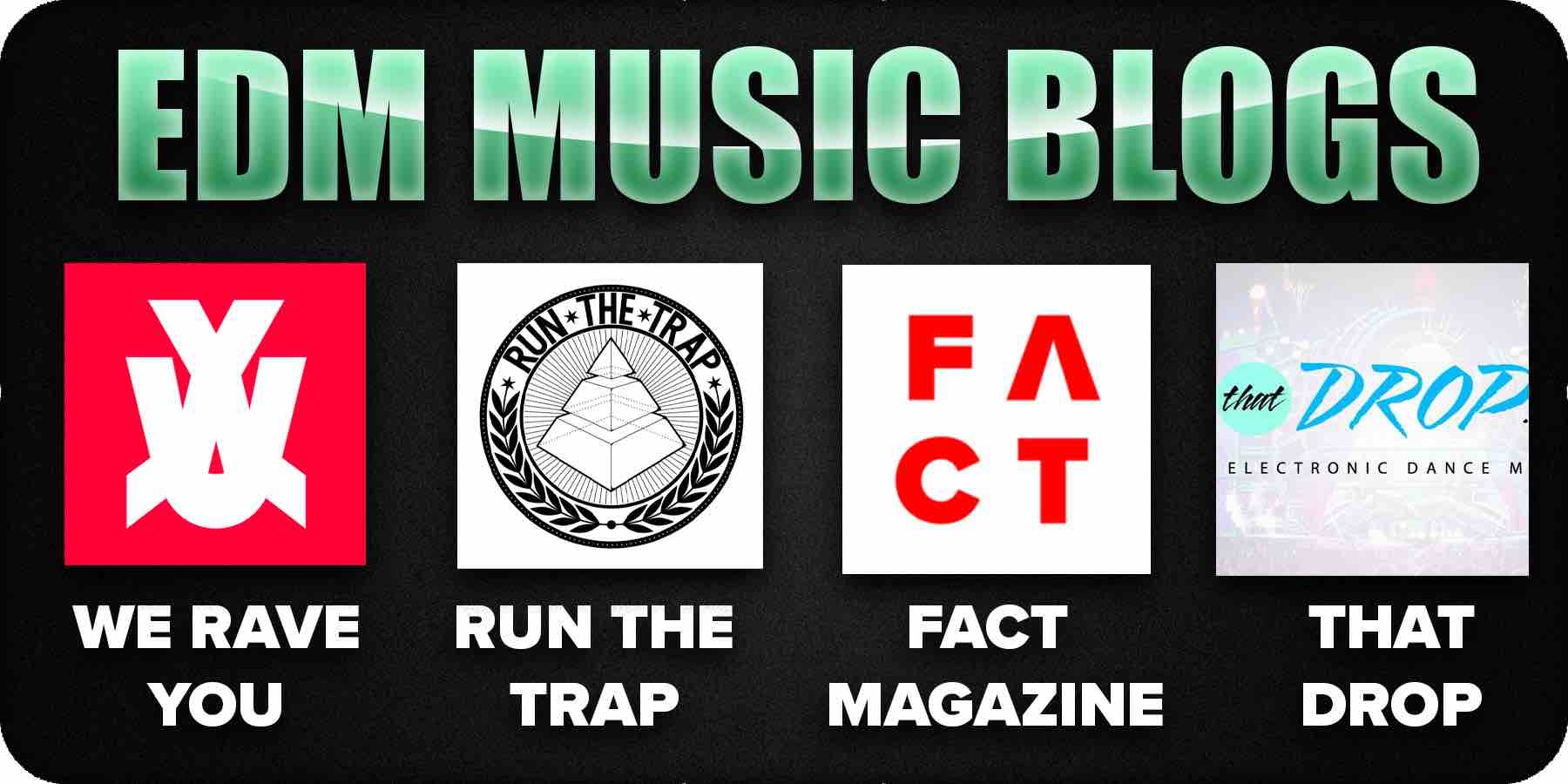 Almost all the music blogs here have been running for more than a decade.
You can surely find a music fan or two by getting a placement!
These have of the latest news in electronic dance music, so you know the traffic is good.
These are the top blogs in the music industry but there still accessible for talented artists to get heard.
And the best part: whether you're a record label signed artist or an unsigned artist doesn't matter!
Extra: Rock music blogs to submit to:
If you make indie rock don't worry - I have some awesome music blogs for you too.
These music blogs are metal, hard rock, indie rock, etc.
So long as it's rock then you can surely get music heard!
Top 5 indie rock music blogs in the music industry: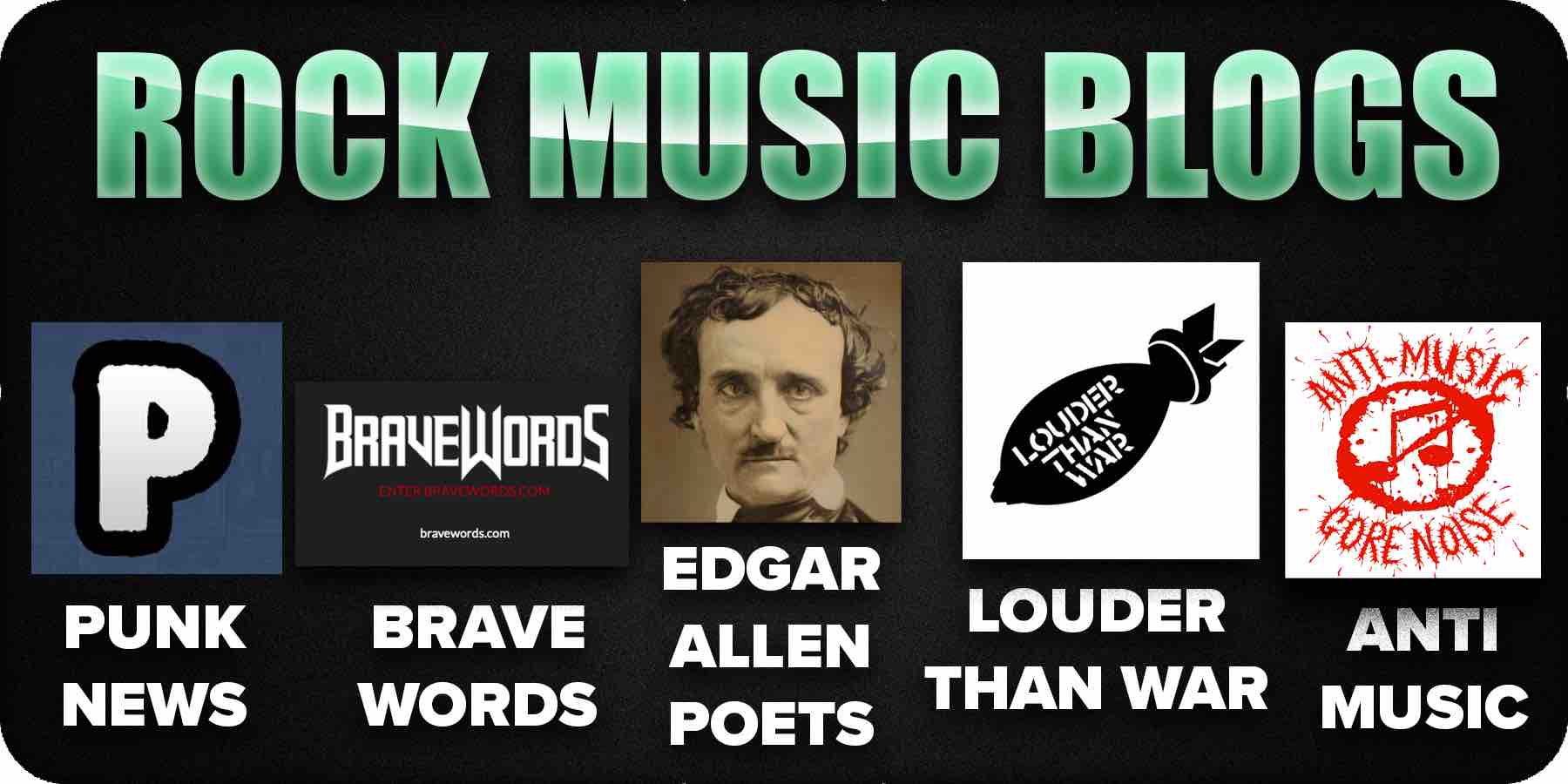 These are not all New York music blogs... However, you can find rock music fans here.
There is so much variety in the type of blog topics.
Are you a find artist interviews, the latest news in rock, tour dates, concert reviews, all of it?
They truly support talented artists.
Join The #1 Platform For Music Artists.
We're starting a revolution - and putting music artists (like you) first.
Boost Collective is a free-forever music distribution platform. Upload unlimited releases to 150+ stores and platforms and keep 100% of your earnings.
You'll also get free playlist promotion, cover art creation, and much more!
Join Boost Collective for free here.