The artist management dilemma
Ever considered using a talent agency to progress your music career and get further in the music business?
Well, many new artists are stuck at a dilemma...
See, on one hand they want to get professional help with their music biz.
But on the other hand they don't know if the return on investment will be worth.
This is the dilemma that comes when working with an artist development company.
If that's what you're wondering, I have the answer for you in this blog.
I'll help you clarify your vision and find ways to make money from music brand.
Submit your song, if I like it then I'll add it to my Spotify playlist.
top 20 booking agencies (talent agencies)
Which booking agency is good for me?
Here are the 20 best booking agents and talent agencies to use
Find a booking agent that will get you personalized attention to your music!
A vital part Industry expansion is to book shows and get more people in your brand audience.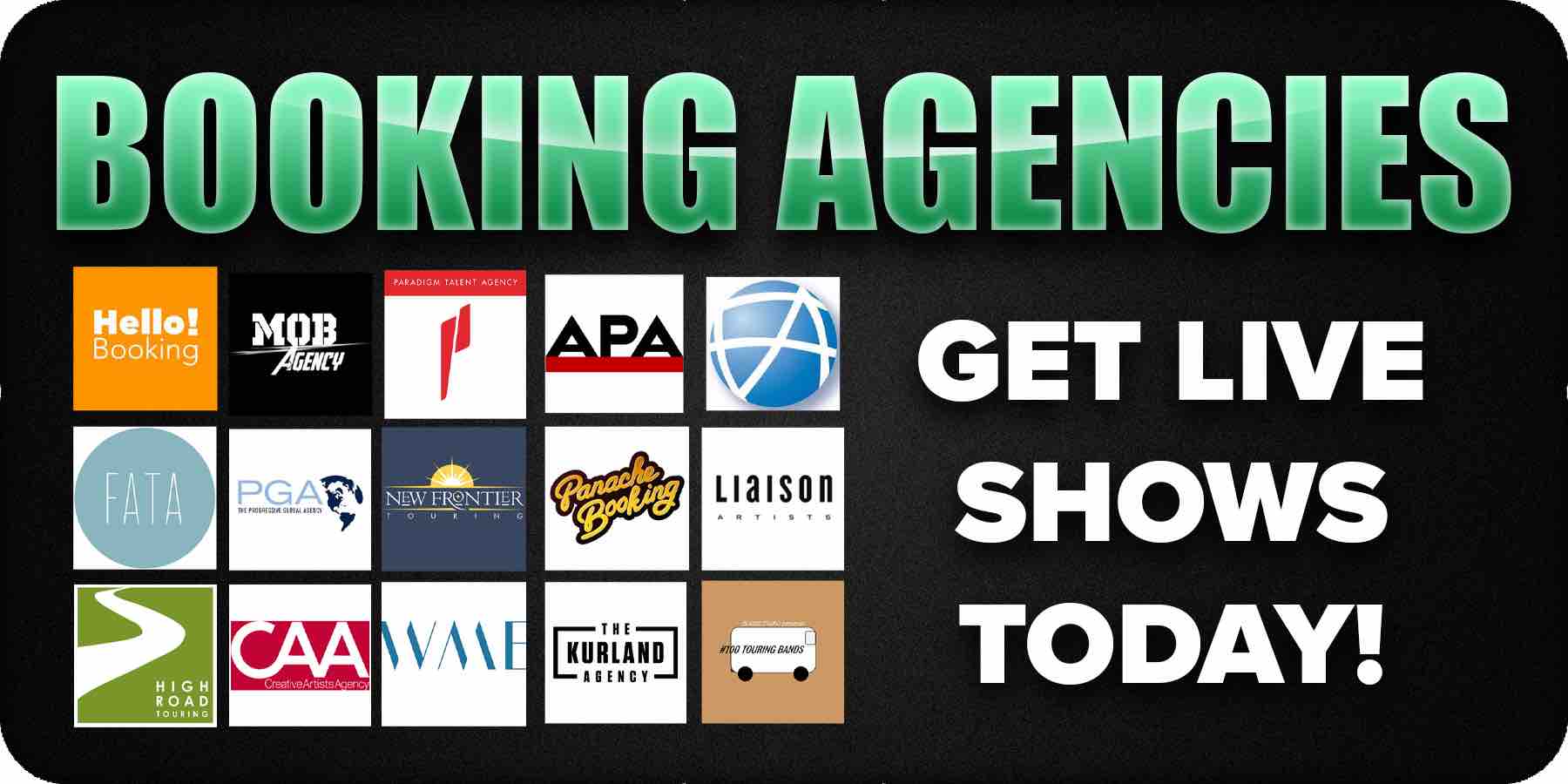 Managing tours is a pretty big job, ESPECIALLY if there's not a professional job that you plan to do for the rest of your life.
Even for the most dedication solo artist...
In most cases, they will be screw ups when handling your own artist management tours.
The biggest names in the industry don't hunt a venue for their events - they let their talent agency handle everything.
Yo should take this mentality when it comes to artist management & show bookings.
To aid your search, we also put together a list of the best music PR services - check them out here.
5 reasons to use an artist management firm
Here are the top five reasons to use an artist management agency:
They have more experience

They have an artist development system

Artist management companies have industry connects

Artist management companies take care of music production & music promotion

You can use the remainder of your time to focus on making music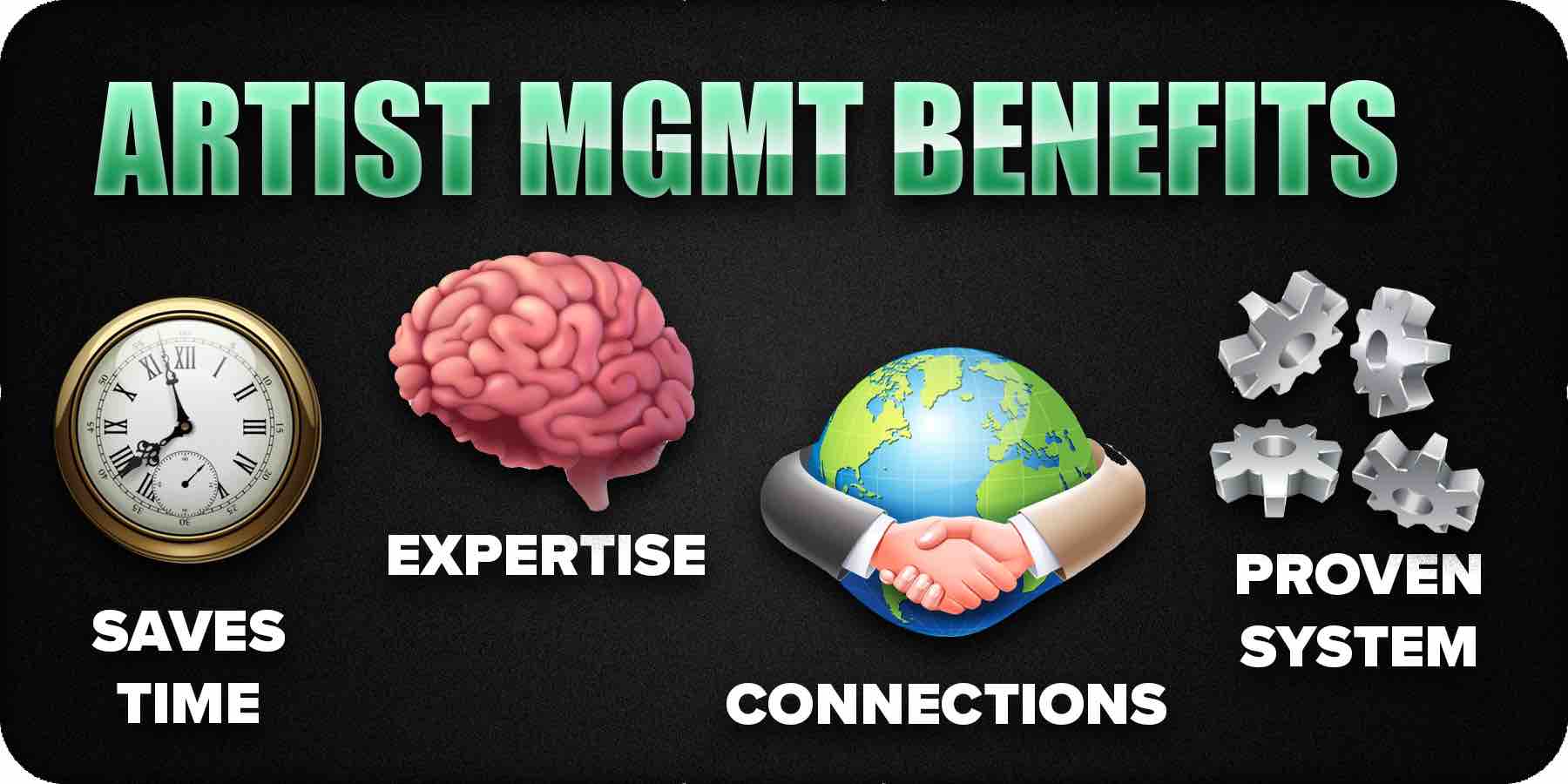 Independent artists are already extremely disadvantaged in the music industry...
True, you don't necessarily NEED a talent agency or artist management companies to get some buzz.
In fact, you can do it all by yourself, many new artists pulled them selves up by the bootstraps!
BUT - yhe only issue is the artist development aspect.
See, your music career will naturally hit a plateau.
Once you reach the capacity that an independent artist get to, what will you do without extra help?
At this stage you won't know what strategies and methods that push you further in your music career.
You'll need exclusive connections and insider knowledge to take it to the next step.
See, If everybody had access to this expertise then there would be trillions of platinum-selling musicians....
Your personal experience from working with artist management companies comes in handy here.
An artist management company has done thousands of campaigns with other artists so they've got the know-how to get you further!
best artist management companies for promo
Now that you understand the value of artist management companies you need to know one thing:
Not every artist management agency is the exact same.
They provide different results and services for musicians.
Here are the top 5 artist management firms independent artists should work with:
United talent agency

NEXT management

Kobalt music

Big Noise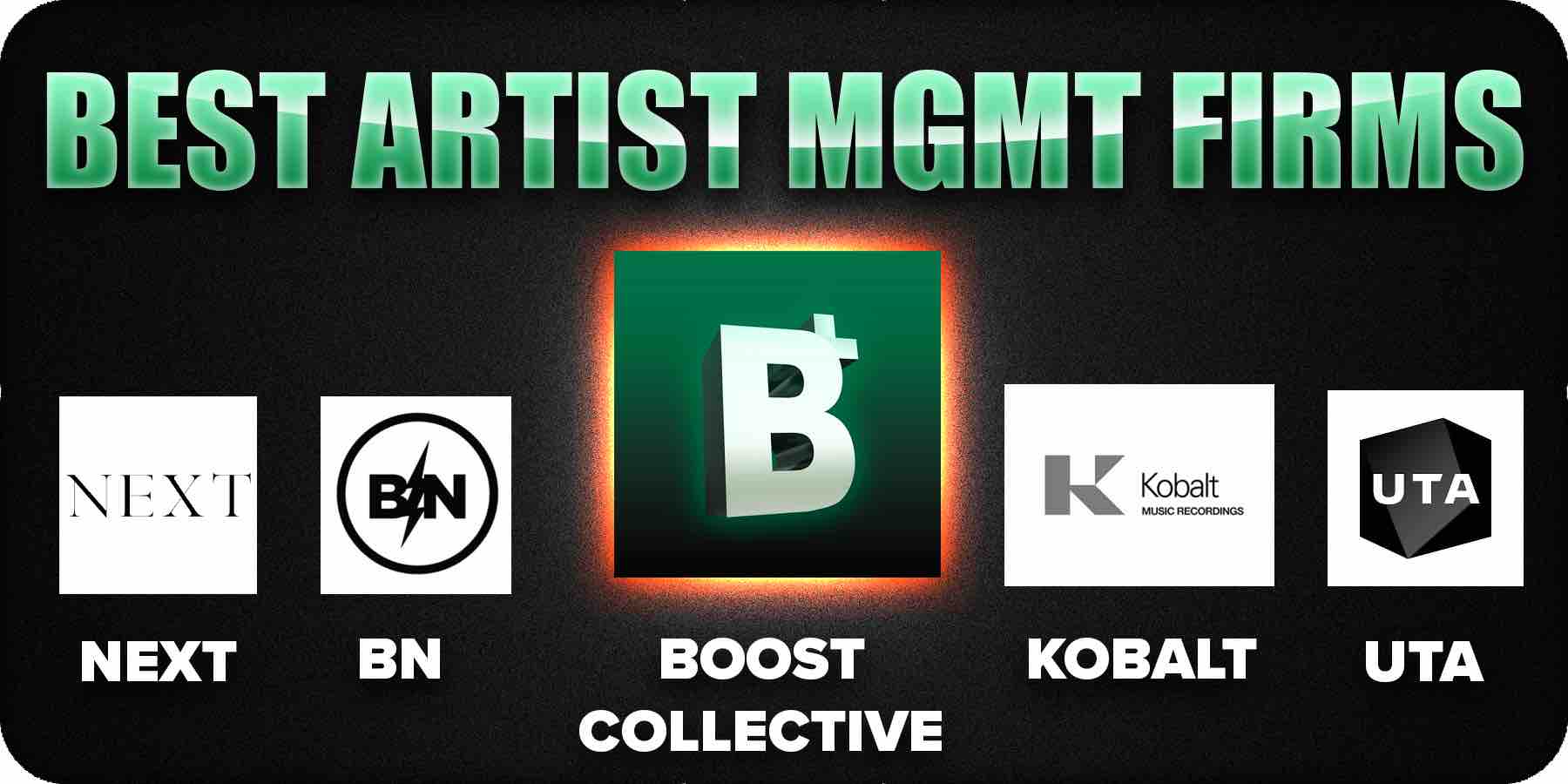 Sometimes a talent agency will just focus on booking shows for musicians, whereas other music development companies work to promote your music.
For that I recommend using Boost Bollective of course.
Submit your song, if I like it then I'll add it to my Spotify playlist.
I'm taking song submissions of all genres👇

marketing agency VS artist management agency
When you hear "artist management agency" a lot of things may come to mind.
This is what a marketing agency will do for you:
Land you playlist placements

get your YouTube promotion

connect you with influential music blogs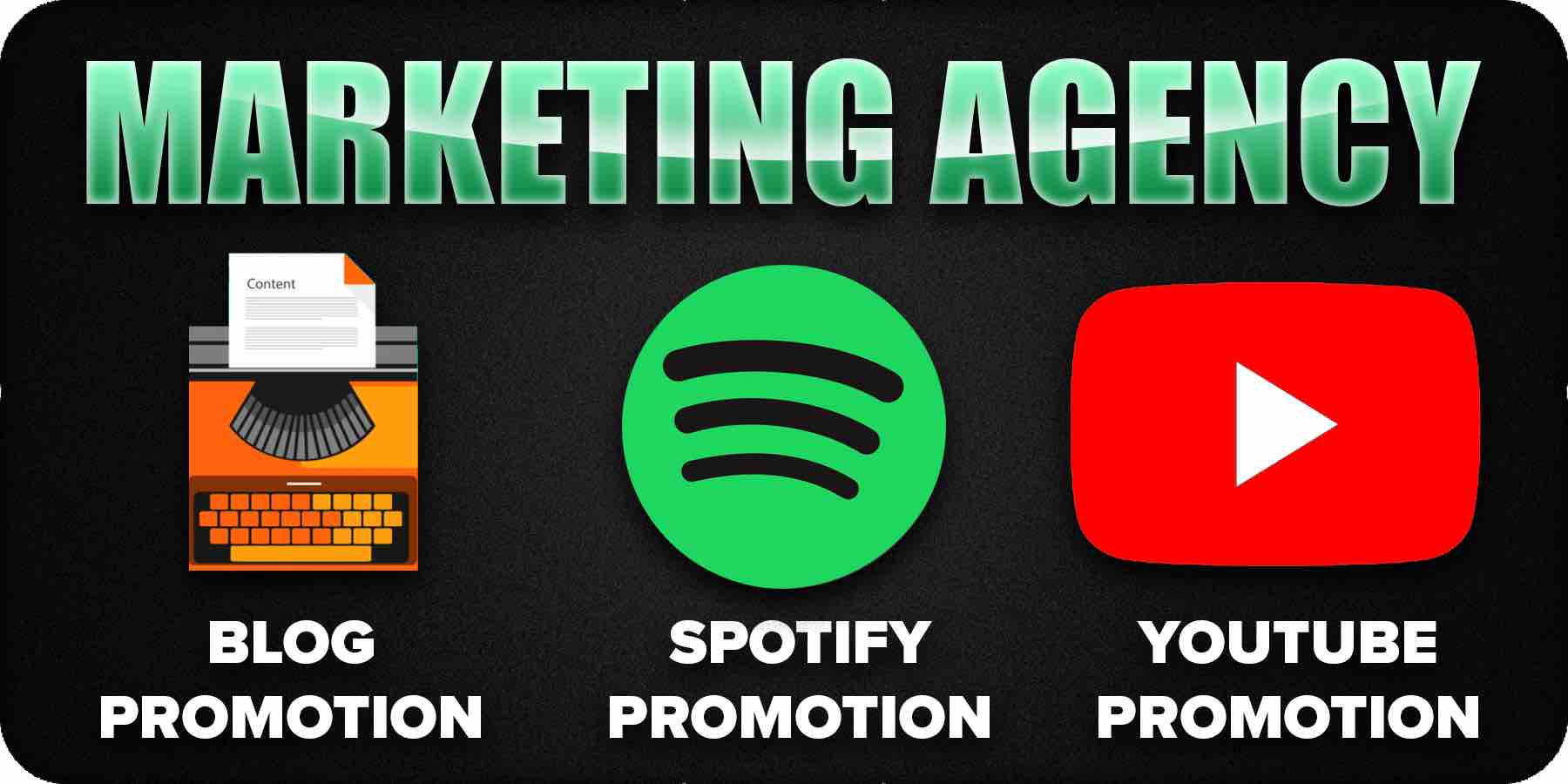 A regular music marketing agency will help you artist development but more on the promoton side.
This is what an artist management company will do for you:
The talent agency helps with music business and licensing

Catalogue management

Book shows for their artist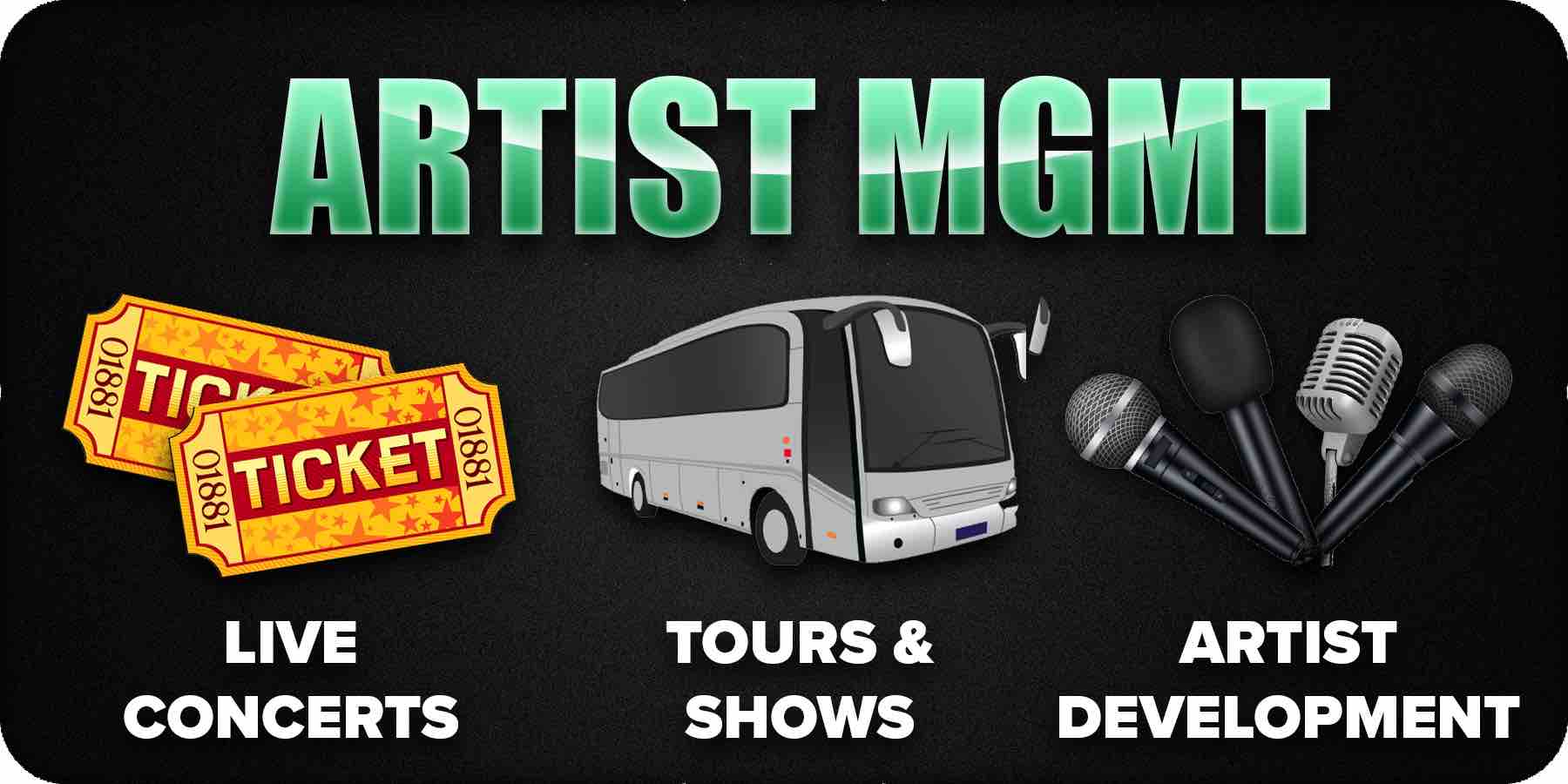 The main difference between an artist management agency and standard music marketing agency is the type of campaigns.
Naturally artist management will work more one-on-one with performing artists.
Every talent agency has a booking agent or two to get their global roster heard!
(If not then the management company will at least have a network of booking agencies they use for booking shows.)
Which one is best for you?
If you feel that currently you'd rather shift your hard work towards a marketing agency...
Tap below to get heard with the most trusted agency Boost Collective.
How to Contact Booking agents in the music industry
If you don't want to work with an artist management firm - that's fine!
In this case you will need to work with booking agencies.
Unless you want to manually seek out venues and events... Talent agencies and booking agencies are here for you.
Here's a secret: booking agents are generally also event promoters.
When you see an event happening locally, hit up the artists that's performing.
Reach out and ask them for management contact.
In most cases the same booking agent who promoted that event also promotes other venues.
Although the industry is large, it's usually one agent that manages the relationships among a group of venues.
But the thing is.... It's hard to get a genuine conversation with his booking agent.
They deal with musicians and network all the time, it's hard to stand out compared to the normal workload.
For this reason I recommend using talent agency.
They take a small cut from the total gigs revenue but the hard work they do to get you shows will be worth it as an artist.
To gain success you have to enlist the help of others.
For these reaosns, I recommend you use booking agents or a booking management company.
Why you need a music manager
Do you really need a manager in the music industry?
Well, that's something that you're gonna have to decide on yourself.
If you check a bunch of these prerequisites then it might be time to get a manager for your music business:
Your music production is top notch

Do you have trouble booking shows

Do you feel your hard work isn't getting more success

Your career is that a stagnation point

Do you have a decent budget for professional work

You don't have many relationships in the music industry
In these cases it may be worth it to get some artist management.
Now that does initially mean you get a personal music career manager...
Sometimes hiring marketing agencies as a firm will render better results than going solo.
It's always worth it to try different things in your music industry, it may just be the thing that boosts your music career!
Submit your song, if I like it then I'll add it to my Spotify playlist.
I'm taking song submissions of all genres👇

Join The #1 Platform For Music Artists.
We're starting a revolution - and putting music artists (like you) first.
Boost Collective is a must-join platform for music artists. Join the rebellion.
We're on a mission to change what is possible in the music industry and we need you!