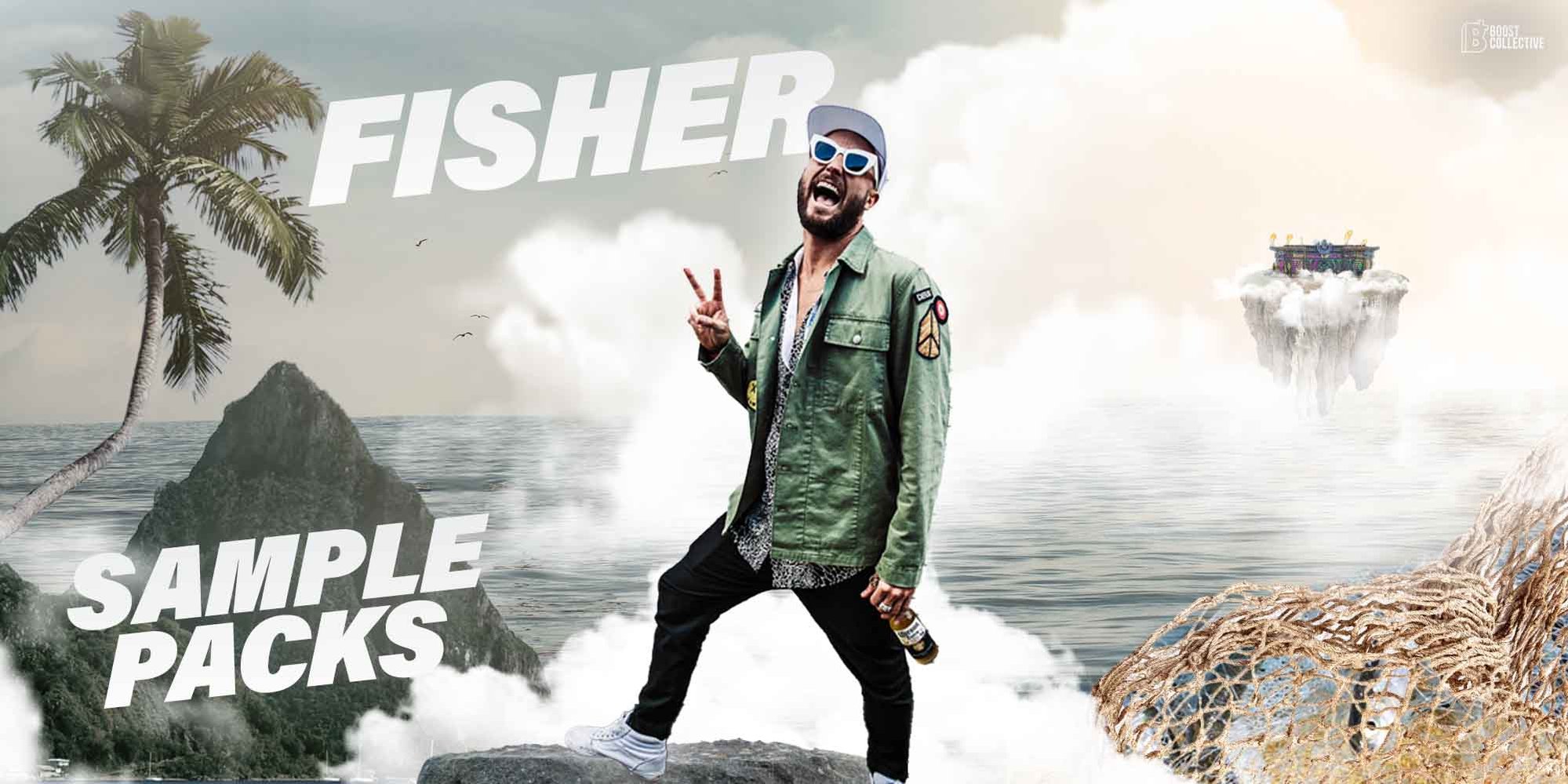 New Free Sample Packs To Sound Like FISHER!
FISHER is one of the big heavyweights in the house music scene with no real sign of stopping.
Starting out with his major hit 'Losing it', and releasing new ones along the way such as 'It's a Killa', there's no sign of stopping.
It's the blend of punchy bass and percussion as well as the playful, filthy and catchy vibes that makes FISHER's music rock parties around the world.
And if you're able to capture that FISHER sound, you're guaranteed to pop off.
We put together the top 5 Free sample packs that'll help you sound like FISHER.
Submit your song, if I like it then I'll add it to my Spotify playlist.
5 Best Free FISHER Sample Packs
Looking for a good FISHER Sample pack?
I got you covered!
5 Best Free FISHER Sample Packs:
1. Myloops 400mb Tech House Free Sample Pack
2. Unit Rcrds 380+ Free Tech House Samples
3. Hedron Free Tech House Sample Pack
4. The Audio Bar Fernet (200+ Free Tech House Samples)
5. Keep it Sample Blackout (Free Tech House Sample Pack)
These packs are completely free!
They contain all the necessary FISHER tech house kicks, drums, percussion, synths and presets to give you that killer tech house sound that'll turn the club up!
In order to capture the FISHER sound, the drums and bass need to be tight.
Your ability to balance these two elements and then combine them with a catchy topsynth will be everything.
The free sample packs mentioned above will give you some help with this.
For extra help and a bonus free MIDI + sample pack, check out this video below.
It's a good tutorial that can help give you some inspiration with using the samples above:
The Best Paid FISHER Sample Packs:
The free stuff is great to start out with.
But there are some really killer FISHER sample packs that are a must.
There are some paid sample packs that big artists like Chris Lake and FISHER use, and these are worth investing into if you want to sound like them.
There's this killer Reddit thread where people look to see what sample packs Chris Lake uses.
Below I've put together a list of both the packs Chris Lake and FISHER use for their tracks, and some other paid FISHER sample packs that can level up your productions.
It's only worth spending the money for these sample packs if you're very adamant about capturing their exact sound - but you can get quite close with free samples.
Submit your song, if I like it then I'll add it to my Spotify playlist.
I'm taking song submissions of all genres👇

Here are the Best Paid FISHER Sample Packs:
Chris Lake himself did a video breakdown of how he produces his music back in 2017.
Admittedly, it's been quite a bit since the video has been up but there are definitely some gold nuggets in here that can help you obtain his unique sound:
Music Production Tips From FISHER
Having the samples and sounds is one thing, but in order to properly sound like FISHER there are some things you need to nail.
Mastering the tech house sound is hard - but with some key takeaways from Chris Lake's and other producer's livestreams, you can begin your journey to becoming the next tech-house star.
A lot of producers actually do music production livestreams. You can see all of them on this YouTube channel - it's definitely worth following.
FISHER follows some core principles for that signature sound. Like every producer, he uses the same DAW's, the same plugins, synths, and other programs like most producers.
There's no such thing as a secret plugin. Every producer masters the 10,000 hour rule.
They put in 10,000 hours at music production, so they end up mastering it.
On average, you need to put in 10,000 hours to be an absolute expert in any given field, according to Malcom Gladwell. Music production is no different.
You can see, even big superstar DJ David Guetta is on Abelton and uses Serum: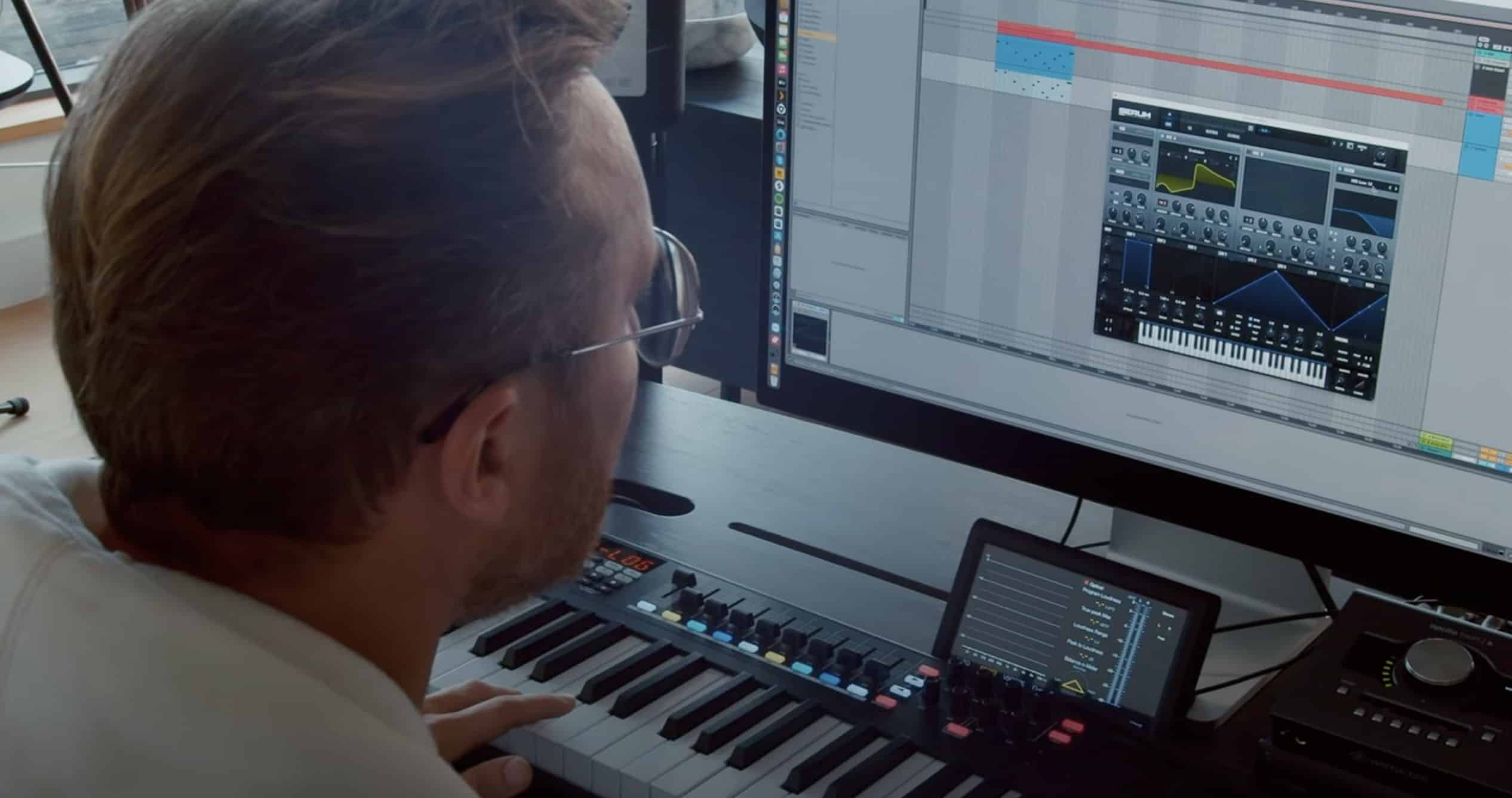 Bonus: Top Future Rave Sample Packs (Free Downloads!)
Some more Music Production Tips From tech house producers
John Summit is a tech house producer that is fast-catching up to FISHER.
At the time of writing this, Summit's 'La Danza' is outselling FISHERS' 'It's a Killa' on Beatport.
So there's definitely some things we can take away from John Summit if we want to become better music producers.
And with the magic of the internet, we can actually see what these top producers know about production!
Someone on Reddit asked John Summit how he gets his productions to sound so professional - and actually got a reply from: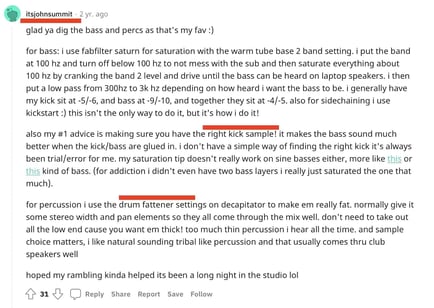 There are some key takeaways on how John Summit makes his bass and drums punch through in the mix to stand out:
For bass, he uses Fabfilter Saturn for saturation.
He has some preliminary audio levels he sticks to for certain elements:
John Summit's practices to set audio levels, (applies to tech house generally):
Kick sits at -5 or -6 db

B

ass set to -9 or -10 db

When together they sit at -4/-5 db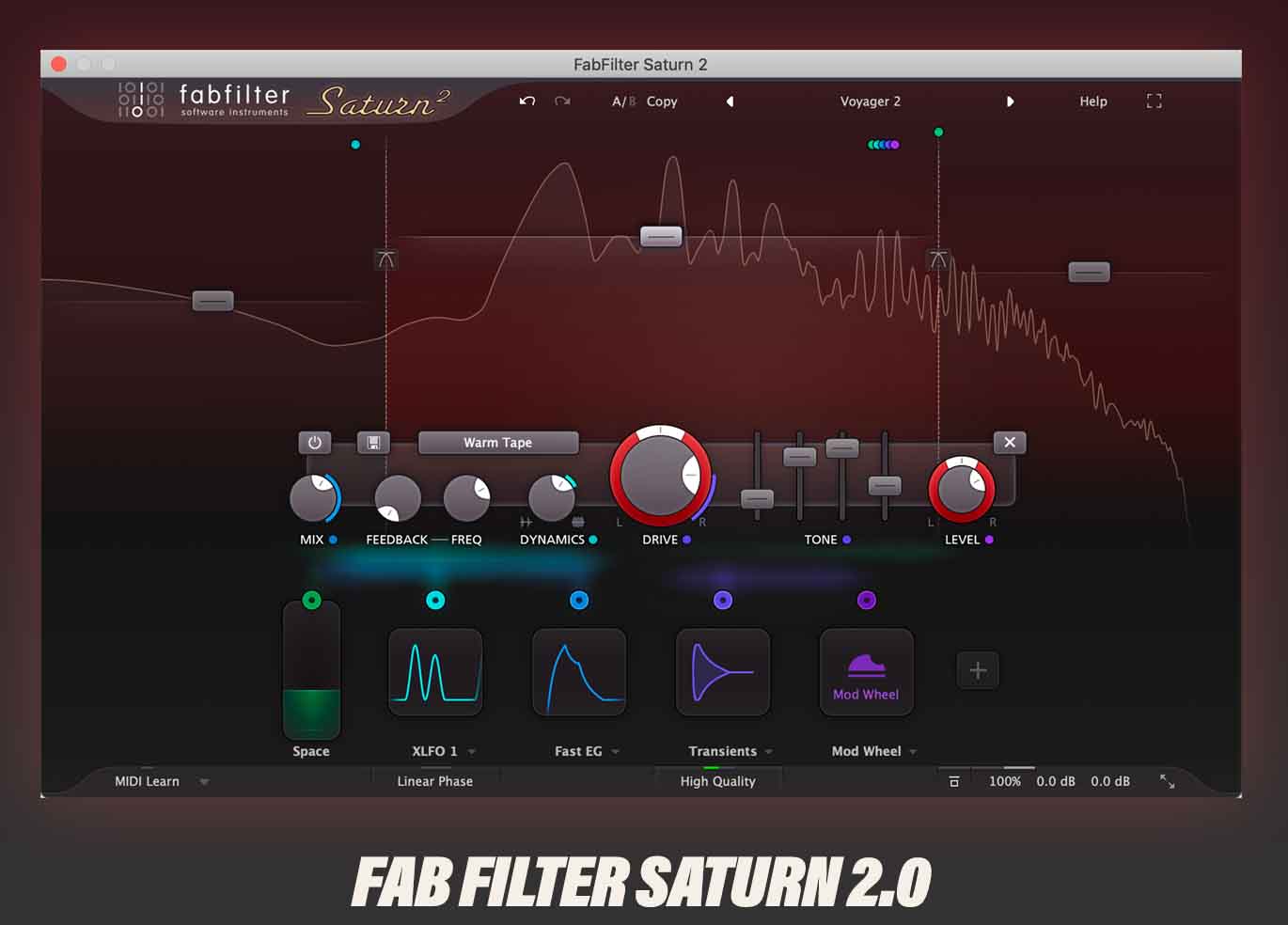 He uses Nicky Romero's good ol' Kickstart plugin for sidechaining - staple across the industry
He uses Decapitator's drum fattener settings.
Make sure that your percussion has some stereo width and pan elements so they can be heard and cut through the mix.
A GREAT tip he mentions that you can also notice in any FISHER track is to not cut out all the lows of your percussion. That's how the top producers just seem to have such thick, wide and punchy percussion.
The biggest value of this article is probably the Reddit threads - John Summit is still very active on Reddit, doing AMA's and helping other producers out with questions - and there are other producers on Reddit as well you can ask questions to anytime.
Check out this ask-me-anything thread of his.
But before you blow up as the new tech-house superstar, be sure to check us out:
Submit your song, if I like it then I'll add it to my Spotify playlist.
I'm taking song submissions of all genres👇

Join The #1 Platform For Music Artists.
We're starting a revolution - and putting music artists (like you) first.
Boost Collective is a must-join platform for music artists.
We're on a mission to change what is possible in the music industry and we need you!