What are music collaboration apps?
A Music Collaboration app is a piece of software that musicians can use on their computers and cell phones.
This is a key part of working together for musicians who want to play the same music with other people.
So they can work together, share music, talk to each other, and work on projects together.
Apps for music collaboration let users work together on music from different places.
It will help a lot when you want to work with people far away.
They can also help you meet other musicians and grow your network of people who play music.
How do I find music artists to collaborate with?
Artists can connect with other artists through the Internet.
Since time zones and schedules have made it harder to meet deadlines...
More and more bands and production teams are working together from far away.
It's time to work remote!
25 Best Music collaboration apps:
The sooner you try these apps, the better your collaboration will be.
What are you waiting for?!
#1. Boost Collective

Boost Collective is simply the best music platform on earth.
Not only does it connect you with other thriving artists, but they also offer 100% free promotion, distribution and cover arts.
They believe that artists shouldn't have to be limited by budget - so they offer the tools to take your music career into your own hands!
Tap below to see what Boost Collective has to offer you and your music collaborations.
They offer a free music distribution service that you NEED to check out as well!
#2. Bandlab

BandLab is a social music platform where people can make music and share the process of making it with other musicians and fans.
BandLab's goal is to break down technical, and geographical, and create barriers between people who want to work together by offering a free service with no limits.
One of the coolest things about BandLab is that you can invite other creators to work on a project together.
#3. Soundtrap

The Soundtrap app lets you record, edit, and work together on any device, no matter where you are.
Check out our huge library of beats, loops, and instruments, or connect your own.
You can choose from tens of thousands of high-quality beats and presets.
In the cloud, all of your projects are saved.
#4. Endless

Everyone who likes music can get everything you make right away.
Download our powerful apps for making music together, and you can start making music faster than you can think.
Live social events for making music, social commerce for music in real-time, and a market for music collectables made during the process.
#5. Sessionwire

Sessionwire's goal has always been to make it easier for people far away to make music together.
Sessionwire gives you live, studio-quality audio over the internet with very little delay, so you can work together no matter where you are.
Professional features include video chat, send and receive plug-ins for AAX, AU, and VST, and encrypted file transfer!
#6. SoundStorming

Like a Music Maker App, you can record melodies, lyrics, and instrumental parts on top of other people's song ideas by pressing one button.
On the creative process: I prefer this over using Pro Tools (up to five projects.)
A music app for exclusive engagement between artists and fans during the creation process.
#7. Trackd

Russell and Justin are the founders who made Trackd.
Trackd lets artists take charge and get paid for their work fairly and directly.
Trakd has minimal latency and a great receiver plugin.
Through the Songs Start Here fund, a portion of every subscription goes straight back to the artists.
For the same ProTools session, you'll want to use Trackd.
#8. Bounce Boss

Bounce Boss is a place for music producers, engineers, artists, and managers to share files and work together.
The voice memos folder is essential for mentoring sessions, extensive collection and chats functionality.
The different versions let you share your guitar riff idea through many media.
I love the collaboration feature for this so much!
Add the files you need for each track, fill in the important information, and click "Send."
Stream audio in "Fast" mode for instant MP3 320 kbps playback.
Level match all the tracks with just one click to help you and your team make better decisions about the sound.
#9. Audiomovers

Igor Maxymenko and Yuriy Shevyrov started Audiomovers to make products that help people be more creative.
The Audiomovers solution came out with a set of plugins, mobile apps for iOS and Android, and a desktop app.
If you want to expand from your local network and work with unlimited users at minimal latency...
This app is for you.
This was the first time that you could stream and receive high-quality audio within the DAW.
It IS possible to work together on audio remotely, in real time, and without losing quality.
#10. LANDR Collaborate

Make every time you work together a good one.
Sessions will make your collaboration feel more like being in a studio.
The online algorithmic mastering engine makes it one of the best music-mastering apps
Keep your music projects organized by using these music collaboration websites!
Jump into a video chat with your collaborators and share HD audio straight from your DAW to work on your project together in real time.
Everything happens within the project, so everyone always knows what's going on and feels like they're part of the conversation.
#11. Ableton Link

Pro Tools Ultimate is great but not as good as Ableton Link.
This is the stock app Ableton offers to work in progress track with another artist.
You can make reference tracks live, and work across the world and it's all a cloud-based service.
There is a large community of Ableton users out, so make sure that you check out the different monthly price points.
Like-minded musicians across the web network always want other people to work with.
#12. Kompoz

With Kompoz, a bass player in Stockholm, a drummer in Toronto, and a guitar player in Timbuktu can all work together to make a song.
You can track edits, have unlimited undo history, and a backup cloud storage location.
The video interface is wonderful for audio professionals to use as well!
Jump into a video chat with your collaborators and share HD audio straight from your DAW to work on your project together in real-time.
#13. Flat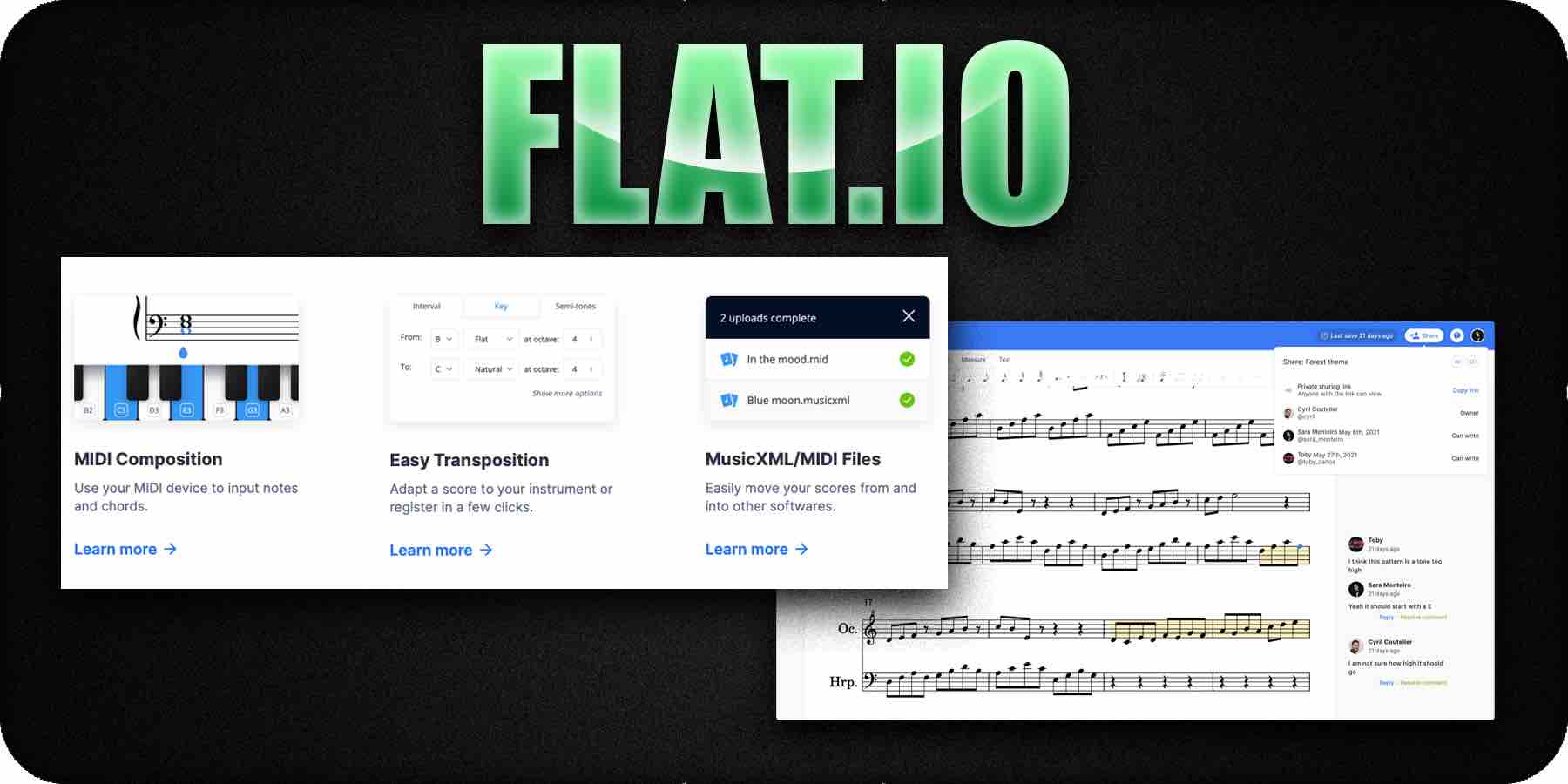 Flat is a place where new and experienced composers can work together to write music notation.
As true creators, we have built the future of the sheet music business.
This app is better than Receiptify or LoopCloud.
While you can't create beats, you can collaborate online to make classical music.
Since the beginning of the 20th century, written music has been owned, printed, and sold at very high prices, making it hard for most people to get.
#14. Avid Cloud Collaboration

With this tool, multiple people can work on the same Pro Tools project from different places.
If you want to work on a session with other people, just click File > Start Collaboration.
Pro Tools will save your current session, close it, and reopen it as a project in the cloud.
Take your musical skills to the next level, by using high-quality uncompressed audio in Avid.
#15. VERCE
Musicians can upload their auditions and use them to apply for a collaboration.
You can look at and join thousands of projects.
You can do anything you want in VERCE.
Collaboration can be a great way to take your music career to the next level!
Record live audio, create music production, and use the digital audio workstation to make bangers as sound engineers.
IF you have a global network and can't work face-to-face then try this cloud-based solution.
#16. Discord

While discord isn't 100% a music collaboration website, It's very common for artists to work here.
You can send audio and expand your global social network using this app.
If you've got a few ideas and want to share them, that's where discord shines the most.
So long as you have an internet connection, multiple users can engage.
If you're a music collaborative, then this is for you.
#17. Sundae

With Sundae, an easy-to-use tool for remote music collaboration, you can work better and work together smarter.
Upload MP3 files of each project and let team members listen to each file and give feedback.
You can give tasks to other people on your team, highlight parts of a song, add notes, set deadlines, and do a lot more.
#18. TuneBend

TuneBend was made by and for musicians to help them make and learn music from the ground up.
It makes it easy to take apart a song, learn about each part, and play with them.
You can mix and match different performers, and you can even record yourself playing along.
#19. Koord RT

With Koord, it's easy to set up Private Sessions on-demand to practise and play together online.
You can play RealTime games from anywhere in the world.
If your internet is working well, you could be twice as far away and still play without any problems.
About 3 milliseconds of latency are added to the sound for every metre away from the sound source.
#20. Vollume

Vollume is a cloud-based organisation platform that lets you stay in touch with your team's aspects.
Things such as music, metadata, artwork, and more, no matter where you are or what time it is.
With offline playback, you can listen to your music when you're not connected to the internet.
You can choose which files and folders to keep on your computer and which ones to keep in the cloud.
#21. WeTransfer

WeTransfer is a well-known and free file transfer service that lets you send large files for personal or group projects.
When making projects, being able to record session musicians remotely is one aspect...
The other important component of remote work is sending all your musical ideas and files over.
Most music collaboration websites have limits on what you can send.
WeTransfer is a freemium service, so you don't have to sign up for an account to use it.
WeTransfer is easy to use, even for people who aren't very tech-savvy.
All it takes is a few simple steps.
#22. ProCollabs

You can do all your music collaboration with the ProCollabs service.
It lets you work with skilled and experienced songwriters, musicians, audio engineers, and music producers.
It's a place where people can get together, make friends, and work together to write and make their music, all from the comfort of their home studio.
#23. Vampr

Vampr is a social and professional mobile platform that is based on where you are.
It helps musicians, people who work in the music industry, and music fans find new music and talk to each other.
As of February 2020, the app has helped more than 5 million professionals around the world connect.
Josh Simons and Barry Palmer, both of the Australian band Hunters & Collectors, came up with the idea for Vampr.
Industry professionals across the globe create music productions with new musicians they meet on Vampr.
Check out my full Vampr app review for the top music collaboration app!
#24. Melboss

Melboss is a platform for people who work in the music business.
Melboss has grown quickly since it started in 2013.
This has helped the company become a global community of musicians and professionals.
The Co-founders have a dream and a love for music, so they work hard every day to help musicians and the music business.
#25. Blend

Put your projects on Blend so you can get feedback and find new people to work with.
You can quickly and easily get them back from the cloud whenever you want.
Out of all the music collaboration apps out there, this one is essential.
Fans of music can find new music that hasn't been heard and help make it!
Join The #1 Platform For Music Artists.
We're starting a revolution - and putting music artists (like you) first.
Boost Collective is a must-join platform for music artists.
Join the rebellion! and get free music distribution, free music promotion, and more.
We're on a mission to change what is possible in the music industry and we need you!