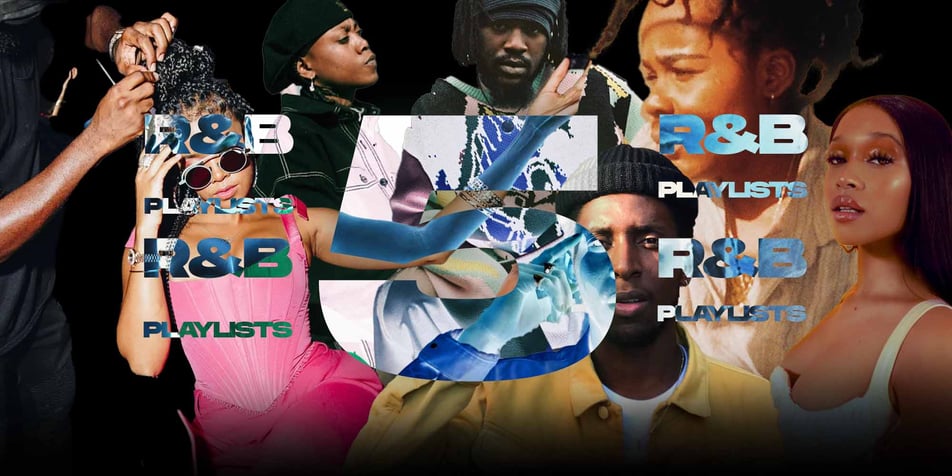 TOP 5 R&B SPOTIFY PLAYLISTS
Looking for the greatest Spotify R&B Playlists to submit your song to?
Perhaps you're just looking for new music to listen to! We've got you covered on both counts.
Top 5 R&B Spotify Playlists:
I have some exciting news for you if you make R&B music...


Here are the top 5 R&B Spotify playlists where you can add music!
To the most active and engaged Spotify playlist curators, your music will be distributed!

Spotify is a great place to start establishing a fan base right now.

These playlists are all you need to get started, so don't waste any more time!
Bonus: download the 3000+ Spotify Playlist curator contact list for FREE! 👇
#1. R&B Hits 2022
This is exactly what the title of the playlist implies! It's chock-full of excellent R&B. SZA, Ella Mai, Sammi Vilano, Khalid, and more are included in this compilation!

Every few weeks, the playlist is updated to include new songs that are currently trending.

To ensure that your new music is featured in this playlist, you'll want to make sure it's in the works.

Spotify users who are active and engaged can assist you out here.
Tap below to submit to this Spotify playlist! 👇
#2. Party Supreme
Each item on this list has been individually reviewed and approved by one of our team members. It's packed with music that will get the party started, but also let you to chill down and enjoy yourself at the same time. As a bonus, listeners may save their favourite music to play over and over again whenever they need to be in the zone...

Pop, Hip-Hop, R&B and more can be heard here, as well as some house music.

The decision to join this list is a cinch.
Tap below to submit to this Spotify playlist! 👇
#3. SOUL R&B
Sometimes there are different styles within genres. This playlist is no execption, featuring Soulful R&B tracks that really hit you in your feels.
If you've got a track that fits the vibe of this playlist you'll have a great chance getting aboard.
Listeners that are more niched down, usually save songs they like at a higher percentage as finding new great niche tracks is more difficult.
Pretty cool right?
Get your music posted here so that you can be heard 24 hours a day, seven days a week, by the newest and hottest customers.
Tap below to submit to this Spotify playlist! 👇
#4. R&B Right Now
The most extensive collection of playlists may be found on Spotify.

You can't pitch your music to their team once it's already been released, but it doesn't mean you can't try. Once your music is launched, the effort will be well worth it.

If you can secure a prominent position on an editorial playlist, the streams will start pouring in.
For this playlist, you'll want to pitch your upcoming release to the spotify editorial tool!
We'd recommend using Boost Collective to release your next single! 👇
#5. R&B Driving
Ah... another playlist that focuses on listener intent!
This list is for music that fits the vibe of a late night drive. You'll find sad songs, chill songs and more here.
Big artists and small artists are featured alike. It's really a no brainer to try and get on this playlist.
Silky late night music is going to work the best, so if that's what you're all about, you'll have a killer chance landing your song here.
Do yourself a favour and submit - get yourself heard and truly build a fan base.
Tap below to submit to this Spotify playlist! 👇
Join The #1 Platform For Music Artists.
We're starting a revolution - and putting music artists (like you) first.
Boost Collective is a must-join platform for music artists.
Join the rebellion! and get free music distribution, free music promotion, and more.
We're on a mission to change what is possible in the music industry and we need you!