Free Download Sample Packs to sound like ACRAZE!
We can all say it - 2022 has been ACRAZE's year.
He's taken over the scene, consistently taking the top spot on Beatport ahead of staple names such as FISHER, Hardwell, and Diplo.
ACRAZE is becoming the leading house DJ name, and a staple in many sets around the world.
Almost out of nowhere, seemingly overnight, his addictive sound has taken over the world.
And of course, it's your job to embody that same vibe.
And take over the world with your next track!
We've also compiled some ACRAZE - Do it To it Abelton Templates below so you can replicate the actual song.
We've gone ahead and compiled the most recent tech house sample packs that help you nail that ACRAZE sound.
And further below, we'll share some tutorials to help you get started.

Submit your song, if I like it then I'll add it to my Spotify playlist.
5 Best Free ACRAZE Tech House Sample Packs
1. Myloops 400mb Tech House Free Sample Pack
2. Unit Rcrds 380+ Free Tech House Samples
3. Hedron Free Tech House Sample Pack
4. The Audio Bar Fernet (200+ Free Tech House Samples)
5. Keep it Sample Blackout (Free Tech House Sample Pack)
These packs are completely free!
They contain the necessary ACRAZE kick drums, risers, cymbals, percussion and everything else you need to nail his sound!
I clearly remember hearing Martin Garrix drop ACRAZE's new track live at Untold Festival not long after it released.
It was my first time hearing 'Do it To it' (yes, before it was overplayed into oblivion).
And in a set chock full of Martin Garrix's progressive house tracks, hearing this ACRAZE song was a breath of fresh air.
But not only that - it made the crowd go WILD.
It was different, and from that moment I knew this song would become a smash hit.
But I never thought (frankly nobody did) that this track would become the modern phenomenon it has become.
And that's why ACRAZE is so critically acclaimed.
It can be enjoyed as everyday casual listening while at the same time being the ultimate turn-up track in a DJ's set.
Very few producers can nail this pleasing of two demographics.
The only other artists that seem to do this well is Tiesto and David Guetta, yet in my opinion neither have quite matched ACRAZE's stunt with Do it To it, ever.
For extra help and a bonus free MIDI + sample pack, check out this video below.
It's a good tutorial that can help give you some inspiration with using the samples above:
Submit your song, if I like it then I'll add it to my Spotify playlist.
I'm taking song submissions of all genres👇

ACRAZE Do it to it templates and sample packs:
The free stuff is great to start out with. Pair it with some of John Summit's production advice (seen later in the article), and you should be good to go!
If you have a budget you're willing to play around with though, a high-quality paid sample pack can make all the difference.
Paid packs are more likely to be done by professionals. Anyone can make a free sample pack - getting someone to buy your sample pack is a lot harder.
I've also added an ACRAZE Do It To It template for Ableton as well as Do It To It sample below so you can replicate the track to your heart's content.
Make sure you check out this tutorial on how to nail that ACRAZE tech house sound with the samples you have - this one's pretty gold:
Music Production Tips From A tech house legend
Having the samples and sounds is one thing, but actually sounding like ACRAZE is another.
Knowing how to mix and master your track to sound as wide, full, and hard-hitting as ACRAZE is the hard part, really.
And then, you'll need to find that catchy vocal sample that'll take the world by storm.
John Summit is a big tech house producer that has a similar sound - and he's got some great tips on how to make a proper banging tech house tune.
Check out this thread on Reddit that has a reply from John Summit himself: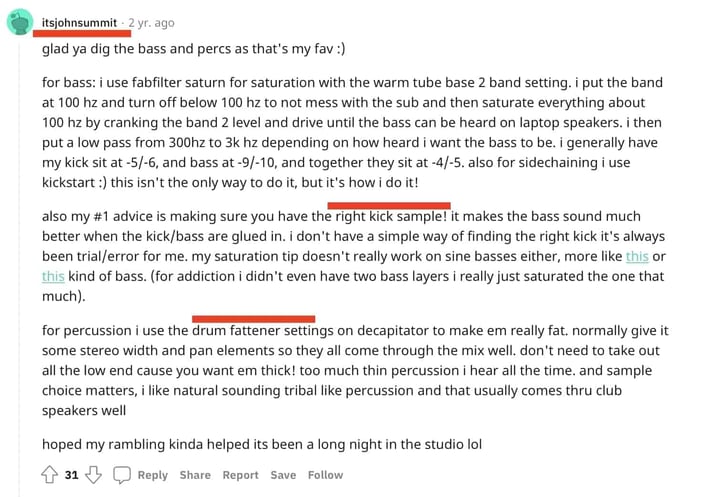 There are some key takeaways on how John Summit makes his bass and drums punch through in the mix:
For bass, he uses Fabfilter Saturn for saturation.
He has some preliminary audio levels he sticks to for certain elements: Kick sits at -5/-6 db, the bass at -9/-10 db, and when together they sit at -4/-5 db.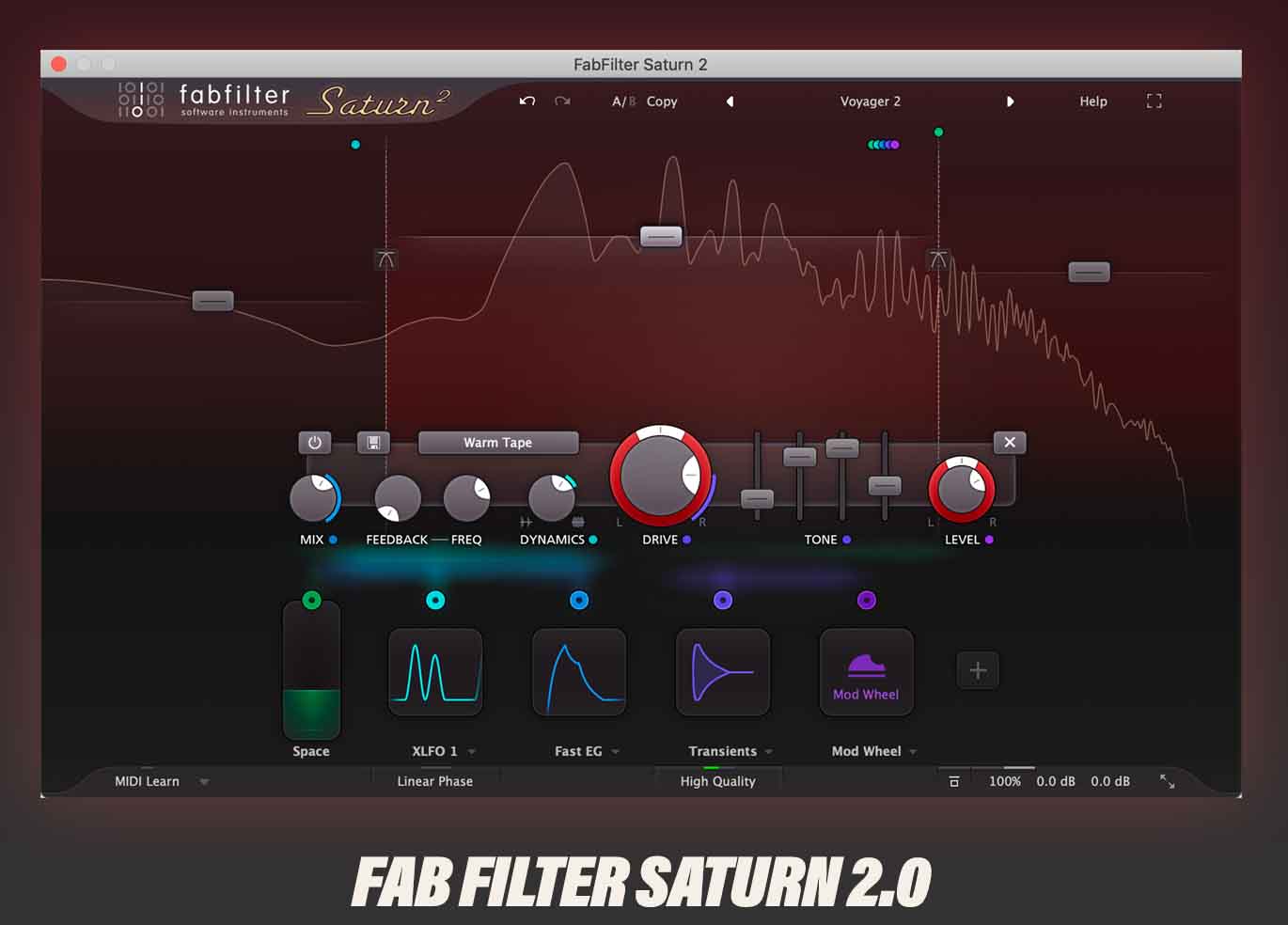 He uses Nicky Romero's good ol' Kickstart plugin for sidechaining.
And even John Summit doesn't have a definite method for finding the right kick!
Just do trial and error until you find the right one.
He uses Decapitator's drum fattener settings.
Make sure that your percussion has some stereo width and pan elements so they can be heard and cut through the mix.
A GREAT tip he mentions is to not cut out all the lows of your percussion.
Many producers cut all lows of percussion elements as not to muddle their bassline.
But it can result in tinny, hollow sounding percussion that fails to fill the mix and weakens the overall punch of the mix.
The biggest value of this article is probably the Reddit threads - John Summit is still very active on Reddit, doing AMA's and helping other producers out with questions.
Check out this ask-me-anything thread of his.
And check out his Reddit profile in general to take a look at all his other posts and threads, there's tons of gold for you to uncover!
Bonus: John Summit Sample Packs (Free Download)
Submit your song, if I like it then I'll add it to my Spotify playlist.

How to Download Free Sample Packs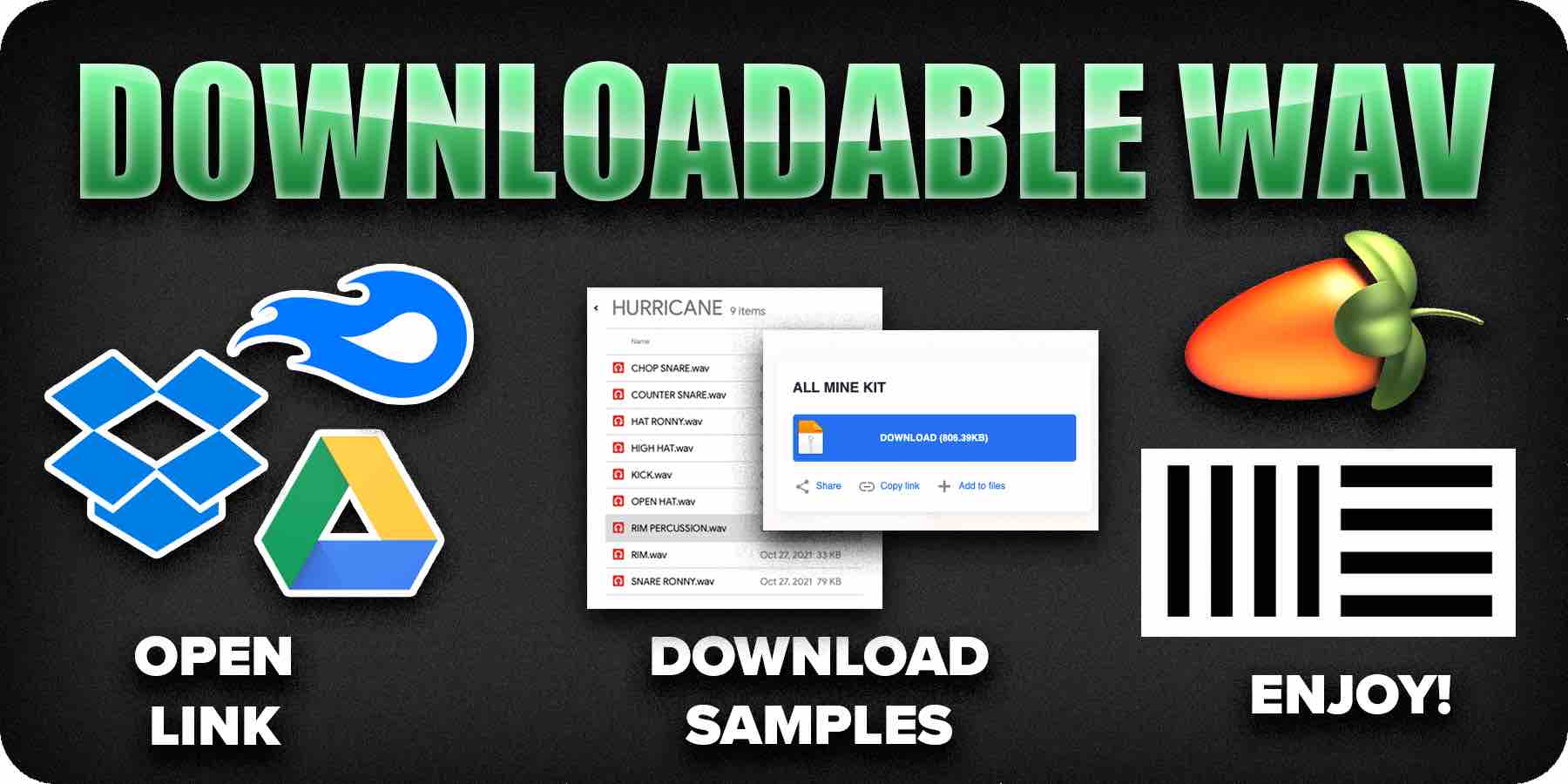 As always, please be careful downloading free packs!
We made sure to verify the packs listed in this article were the real deal, so no worries there!
But as always, it's a good idea to keep an eye out and make sure the files are indeed .WAV files exclusively (some packs may bundle a .txt file which is fine too).
And that brings us to the last step towards success - you've gotta join the #1 platform for music artists!
We're building the rebellion of the music industry.
We're talking free music promotion, free cover art creation, free mastering, free music distribution and more:
Submit your song, if I like it then I'll add it to my Spotify playlist.
I'm taking song submissions of all genres👇

Join The #1 Platform For Music Artists.
We're starting a revolution - and putting music artists (like you) first.
Boost Collective is a must-join platform for music artists. Join the rebellion - we're on a mission to change what is possible in the music industry and we need you!