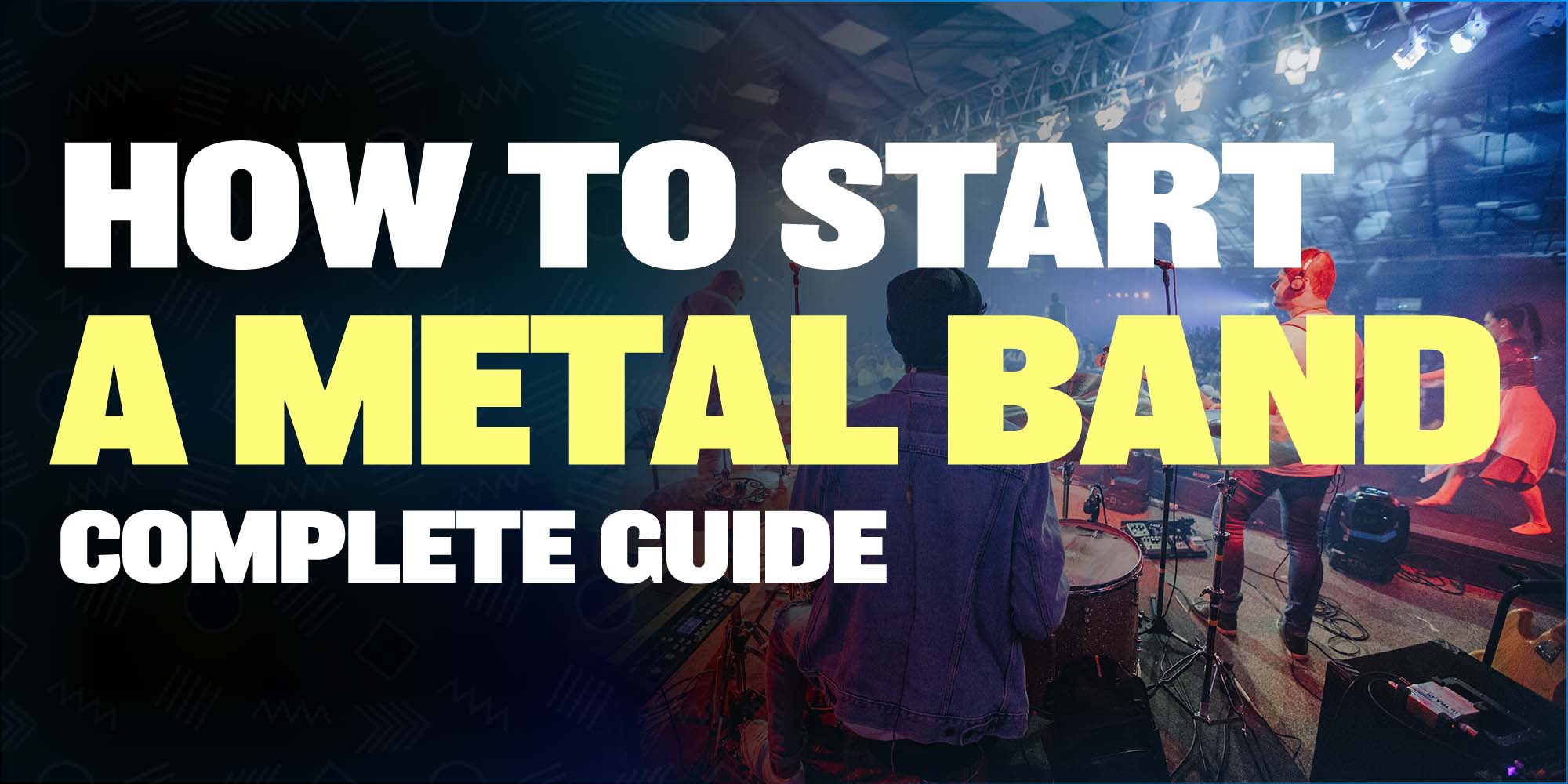 10 Easy Steps To Create Your Own Heavy Metal Band
I'm not gonna sugar coat it for you...
tl;dr starting your own band from scratch is hard.
Here are the 10 steps to create your own metal band.
This article will likely leave you with more questions then you started with.
However, you'll leave with the confidence to start not just your own metal band but any band or artist brand.
#1 Finding Band Members For Your Own Heavy Metal Band
What's the absolute most important part of starting a metal band?
The band members of course!
In most cases, you will need a drummer, a guitarist, a bassist, and at least one singer.
A new heavy metal band can hold a lot of dedicated members.
Although, Multi-instrumentalists are becoming increasingly popular in the music industry.

You'll see a lot of people looking to start their own heavy metal band that are proficient in many different instruments.
for example, one band member could be doing crazy guitar riff's while also playing bass guitar for his other bands that play extreme metal for example.
If you're not one of these multi-instrumentalists, no worries!
The metal community has a wide skill set so finding new members that fit your needs could be easier than you'd think.
Finding a solid bass player or black metal band member that can play guitar shouldn't be the hardest part of making a metal band...
or should I say our heavy metal band as you'll be getting a step by step guide on starting a band by me :)
Where To Find Members For Your Metal Band
Finding the right members for your band is no easy task...
I've use some of the tips from this video to guild my answer.
Don't rule out the possibility of meeting new band members at any location.
Going out and meeting people face-to-face is better than using Craigslist or Facebook.
Although, using social media and finding local pages, groups, accounts, etc can be very powerful as well.
Just in-person networking is straight to the point and you build rapport MUCH faster when you're involved in the community.
Open mics, open jams, lessons, and teaching are all good ways to become involved in the music community.

When you go to a gig with a local band, make it a point to introduce yourself and chat with them.
For the most part, bands are unbothered by this, as they are themselves always networking and enjoy talking about their passion for music.
If you're searching for members, a band, a guitarist, a vocalist, or anything else, don't be scared to let everyone know about your objectives...
Perhaps someone you know has been playing heavy metal riffs for years in their garage without telling anyone.
#2 Come Up With A Cool Name For Your Metal Band

Your band name needs to be easy to remember, memorable, and well, good...
There's no need for historical jargon or heroic nonsense.
You just need a catchy way to introduce your band.
One to two words is the most optimal!
As a result, it's easier for the average drunkard to remember while on a night out.
Do not use a long band name, no matter how intriguing it sounds!
Keep in mind that people's attention spans are limited due to advertising, everyday responsibilities, kids, and spouses, among other things.
After a night of excessive drinking, no one wants to recall yet another metal music band with the name "Big Black Death & Chicanery machine".
Be creative, and remember you don't need an interesting backstory behind the band's name.
Although, if it's possible to have some kinda backstory that's cool too as you can incorporate that with your band branding.
If you're really at a loss for metal band name ideas you can always use some random name generator.
The Boost Collective name came about using a random name generator as well.
Masterpiece Generator is a good site to use for this but there are seemingly unlimited sites that do the same thing so just pick whatever site seems intriguing to you.
#3 Find a place to practice

If you don't already have a place for regular band meetups then this step could be an issue for some.
I would try to find a member that personally has a location that can be used for your band rehearsals.
This isn't completely necessary though... not having this makes starting a metal band just that more troublesome though.
It's best to start by asking yourself a few questions.
Is there anyone in your friend group that could host a band that plays metal music in their garage, basement, barn, etc?
If you do know of someone, would they humor the idea of your own heavy metal band regularly playing sessions at their house or location?
If any names popped in your mind they would be the first to ask.
If your band is looking to make black metal or some variation of extreme metal it might be a little harder to find locations.
In some cases, the fines might be rather harsh when it comes to noise complaints, etc
So keep that in mind when picking a location.
And make sure you're considerate of other people when choosing a location for band rehearsals and while recording metal or rock music.
You can try some Macgyver soundproofing if you're holding a meeting in an area that's particularly noise-sensitive.
Or pay for real soundproofing if you have a location that permits such actions.
Not only will soundproofing limit the sound emitting from the location.
It will also make sure your song recordings sound so much better.
If you have no friends with a rehearsal location.
Here's a list of possible locations for metal band rehearsals:
Skateparks & Rinks

Storage Units

Schools & Colleges

Churches

Community Centers & Public Parks

Rental Studios

Bars, Clubs & Restaurants

Music Shops & Record Stores



Some of these band locations could require an exchange of money, favours, luck, and quite literally the will of God himself.
But I'm sure if you do your due diligence as a band owner/operator you'll find a solid location.
Perhaps you can add "rehearsal director" to your Linkedin after you succeed.
#4 Find Your Sound As A Metal Band

To be successful in today's market, you need to have a distinct sound as an artist, vocalist, producer, and in your scenario, metal band.
You don't want your music to sound like everyone else's since there are tens of thousands of new tracks being published every day.
As well as dozens of people's very own heavy metal bands being established.
You should instead think of your trademark sound as something you already own.
Find this distinct tone inside yourself, perfect it, and then apply it in all of your efforts.
These aren't fast fixes, but if you put in the time and effort, you'll be well on your way to creating your unique style of music.
Listen To Your Gut
What makes your music unique is what excites you, not what you believe others would like.
Allow yourself to be guided by your musical interests.
Try to identify the missing ingredient in your work.
It's important to follow your gut impulses when it comes to making adjustments to a song so that it becomes distinctly yours.
Get A Second Opinion Of Your Bands Music From Friends And Family
Think about this if you're already a well-known performer: other people typically pick up on the patterns in our work before we do.
Ask your relatives and friends to listen to your music and reap the benefits of this opportunity (released music or not).
Keep an eye out for what your listeners appreciate about your music and pay attention to what they dislike.

Ask them directly if they see any trends, good or bad, but more often than not they'll be weary in their criticism.
So make sure you're ready for real criticism and implore the need of the third party to speak the truth (I'll chill with the Hemingway lol).
A great compliment you could get is if they think you're distinct from the other artists.
Listen To Other Heavy Metal Bands!
Elements of music that you truly enjoy are the same thing as "your unique sound."
It's a positive indicator that you need to keep exploring if you believe you have discovered your sound but don't like it.
What you're trying to do here is to figure out what it is about other people's music that appeals to, moves, or inspires you.
Once you've got some ideas, you may experiment with them in other methods or settings.
Heres a great video on the topic I would recommend watching.
Be Rebellious!
Your distinctive sound will be hard to build when you're just copying other artists and following the same old rules.
As an alternative, use your creativity and see if you can come up with innovative approaches to music creation.
Consider a component of music that you like and then try to recreate it differently.
While your findings may not always be amazing, you never know where a hidden gem may be found.
Having fun, remembering, and breaking the rules is the most essential part of the process.
Work WITH Your Bands Strengths, NOT Against Them
It's easy to get a sense of what you like by looking at your skills.
A talented drummer enjoys drumming so much that practicing for long periods doesn't seem like work to them.
Take pride in your strengths, interests, and passions, and focus on honing those skills and
pursuing musical projects that bring out the best in you and your band.
It's unlikely that you're a fan of guitar riffs if you aren't already fascinated with playing them.
Make as much music as possible!
Making as much music as you can is the greatest method to discover your sound.
The more you practice creating music, the more you'll learn and improve your taste in music.
It may take a while to realize, but there is a common thread that connects all of these tunes.
Keep this topic alive, make better use of it, and bring it to the attention of your bandmates.
A characteristic sound can be traced back to this same process, and you may expect to see similar patterns emerge in your music.
#5 Pick a Look For Your Band

For many new musicians, the first performance is an opportunity to try on whatever outfit seems most comfortable.
Although, keep in mind audiences may become perplexed if there is a lack of cohesion among all the band members.
Everyone is free to wear anything they want.
But, they should all share the same "mood".
The fans will be confused if the majority of the vocalists wear canvas pants and shirts while the guy on drums wears a suit or is in full-on KISS attire.
We made a video on a similar topic about The Weeknd's use of what we coined "Experience Shaping"
All in all, it isn't the biggest deal at first... creating good music is the most important part.
Once that's figured out perhaps you can look into some over-the-top look and craft an experience around your performances.
#6 Start Writing Songs

Now it's time for some music!
Here's where it gets interesting.
There's no better way to begin a new project than to let your hair down unbutton your shirt and have some fun.
You can do whatever you want with a little bit of imagination.
Ensure that everyone in your group knows how to play very well together before you begin writing.
This speeds up the entire process by a factor of ten.
I say this because the struggles of writing should be focused on the actual creativity, not trying to write around the ability or even disability of fellow bandmates.
I recently watched The Beatles' "Get Back" documentary and it portrays the struggle of songwriting from a pretty interesting perspective.
Songwriting ideas can be sparked by simply jamming away as a band and trying multiple different sounds, riffs, strums, etc!
Writing music is arguably one of the hardest parts of this whole process of starting a metal band.
But once you become proficient at this skill you'll be an insanely valuable asset in the music industry realm.
#7 Record A Demo for your metal band

When someone asks to hear how you and your metal band sound you want them to be blown away by your band's absolute best work!
This is a very important step if your band is looking to send a demo to a record label or even some promoter and looking to get your first gig.
Thing is, this step isn't 100% necessary...
If you're doing what you should be doing as a musician and consistently releasing music onto streaming platforms.
Which you can do for free with the Boost Collective platform by the way ;)
So you don't need to record new stuff... just send your latest album!
Easy peasy 😏
#8 Create An Electronic Press Kit

Having an Electronic Press Kit (EPK) to promote your music and internet presence is now more crucial than ever.
An EPK is essential to establishing your identity as a metal band and musician in general.
How To Create An EPK For Your Metal Band
First, determine the purpose of your EPK.
An e-press kit is used very frequently in the modern-day music biz.
An EPK may be used to promote an up-and-coming release or gig outreach.
You may also put up an EPK that serves as a broad CV for your music career by putting it on your website.
To achieve the purpose of your EPK, you'll want to make it as simple as possible for a promoter, blogger, or radio station to promote your music.
Some things you should add to an Electronic Press Kit:
A bio

Newest releases

Press Pictures

Videos (perhaps music video or performance)

Social media links

A contract to make it easy for a booking agent.



With all this being said I would recommend using BandZoogle to create your EPK
#9 searching for gigs

As much as I would love to share my gold mine of knowledge on how to get gigs as a metal band...
We already created a blog breaking down EXACTLY what you need to know on how to land live gigs as a music artist, including bands
Here: https://blog.boostcollective.ca/how-to-land-live-gigs-as-a-music-artist
Prospecting for gigs seems like a daunting task but it isn't as complex as you may think.
Name of the game is being persistent in your outreach and working your way up to bigger and bigger venues.
Your consistency will pay those sweet dividends.
#10 Make a "Band Agreement"

Many metal bands have broken up due to infighting.
If your band is finally starting to get their first gigs it could be beneficial to look into contracts.
This contract would likely focus on revenue splits.
When drafting contracts for the members, be sure to keep things fair and reasonable.
It's always recommended to have a talk with each member and figure out what their goal and plans are, short term and long term.
Unsurprisingly signing contracts can be a shock to some people at first.
Contracts are only really required if money starts to become involved.
Most likely wouldn't have to think about this while playing your first few gigs.
It's about dividing the lability and resolving conflicts before it happens.
It sets a good example for the rest of the team.
Summary
Starting a metal band is not an easy task.
Things as simple as having regular meets-ups/ rehearsals can be a daunting task if everything isn't figured out.
Starting a band is more like running a business... so be wary of this fact.
Lots of hard work and dedication get put into successfully running such operations.
Join The #1 Platform For Music Artists.
We're starting a revolution - and putting music artists (like you) first.
Boost Collective is a must-join platform for music artists.
Join the rebellion! and get free music distribution, free music promotion, and more.
We're on a mission to change what is possible in the music industry and we need you!