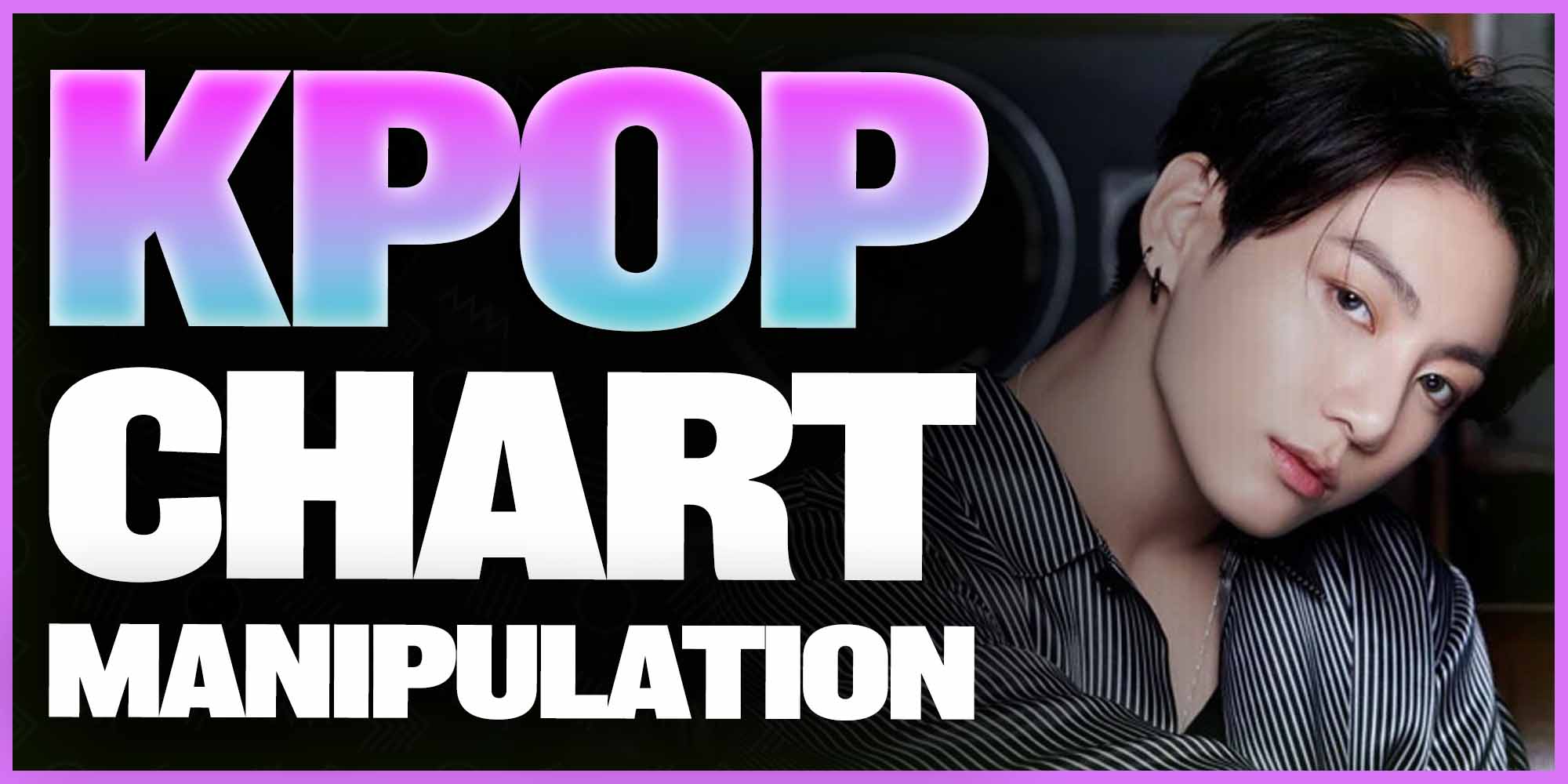 K-Pop Chart Manipulation Scandals Explained
K-pop is booming, and with that growth has come the rise of chart manipulation, or the practice of falsifying chart positions to give a music group an unfair advantage.
Groups who don't deserve to be at the top of the charts are being given access to the data and resources needed to achieve chart success.
This can be extremely detrimental for both the honest groups and fans who support them.
K-pop fans are some of the most loyal, and some chart manipulators aren't doing anything illegal... However, their actions are unethical, unfair and against the rules of the music industry.
The K-pop industry can seem like a mysterious black box, but many of its greatest hits are actually quite simple.
There's no trick to thinking up catchy hooks or using catchy lyrics to capture the public's attention - the industry is just so unique and filled with potential that it's able to generate hits like nobody's business.
This growth and popularity is solely fueled by the K-pop fandom, a group that is both loyal and passionate.
Their dedication means many K-pop fans will put up with a lot of nonsense if it means they can see their favorite idol perform.
Unfortunately, there are also those who will go to any length to see their favorite group succeed.
What does manipulating the music charts mean?
What is chart manipulation?
Chart manipulation refers to unjustified and unprofessional ways of improving a record's rank in the chart, like the utilisation of algorithms driven bot softwar
e in the streaming of songs thereby increasing the number of songs played.
This translates directly to higher numbers on the music charts.
The larger a K pop act is - the more they can dominate the market.
The boy band industry is extremely competitive, and in some ways it's a "winner take all" economy.
Since physical sales are down and cost of developing a boy bad is so expensive, the stakes are extremely high to get on the music charts.
A fair question to ask is... DO BTS fans artificially pump up they numbers?
BTS Chart Manipulation Scandal

BTS and its talent agency are responding to speculation that the group's fan ARMY may be trying to manipulate the music charts in their favor.
BTS wants a clear record regarding their popularity in music charts...
For nearly three years K-pop groups have faced criticism over their popularity.
Some consumers and critics speculate the ARMY could be playing the game by organizing massive buy-backs for BTS.
This K-Pop act (Created by Big Hit Music) has been getting every massive stadium tour and physical sales records from the get-go.
The BTS singles have topped the chart in spite of fewer streaming numbers as compared to some of its pop counterparts, Billboard reports.
MR said this would be a good question to have if the armed forces' activities constitute chart manipulation.
The K-pop Chart Manipulation Just A Myth?
One of the most dangerous aspects of chart manipulation is that many people still believe it is happening.
The K-pop business has spent the last several years attempting to figure out what occurred and how to reverse the trend, and many K-pop fans are still confused about why their favourite acts are thriving.
Many people think the business has misled them about the genuine nature of the charts.
The fact is that manipulating the charts is really difficult.
One conversation inside billboard should be exactly HOW this happens.
Any manipulation is likely to be detected due to the enormous number of data sources accessible, such as digital purchases and streaming data.
Unless the BTS label finds a way to secretly garner physical sales and downloads...
We're going to notice the songs impact.
However, there are methods for manipulating the charts and hiding them from the data sources.
These strategies include leaving a song unranked on the music charts, purchasing the number one place on digital charts, and purchasing a huge quantity of digital downloads of a song.
It's very hard to tell whether a music has been modified when these techniques are utilised.
To set the record straight, all artists need to do for the ultimate goal of #1 is buying their own music.
There's a theory that Taylor Swift's dad bogus her early songs, and that's what gave her the radio airplay/buzz to stardom.
We'll need rules and make streaming fair.
As a result, many in the business continue to assume that chart manipulation occurs and is a pervasive problem.
What is the "Hallyu" Wave? (K Pop Act)
We've previously discussed the negative repercussions of chart manipulation, but before you let that deter you from even trying to break into the K-pop industry, it's crucial to understand the Hallyu phenomena.
Hallyu literally translates to "the Korean wave," and it refers to the global effect of Korean pop culture. This refers to the significant rise in popularity of Korean content between the years 2010 and 2020.
One conversation inside billboard magazine could be that Kpop is just growing as a genre.
Big Hit Music (the BTS label) has been pushing this as lot.
To set the record straight, Koearn music songs/albums are getting local airplay now.
AS we see streaming weigh a lot, there will be market developments for songs impact by the Hallyu Wave.
People all throughout the world increased their consumption of plays and music during this time period.
This was primarily owing to the great quality of Korean productions, which were both high-grade and featured appealing songs.
The Korean Wave was also facilitated by the internet's globalisation, which allowed people all over the world to express their enthusiasm for Korean culture with one another.
Chart manipulation example: Justin Bieber

Justin Bieber urged that supporters manipulate the system in order for his comeback track "Yummy" to reach No. 1.
The 25-year-old shared a fan-made PowerPoint on how to employ deceptive techniques to get the song to the top of Billboard's Hot 100 chart.
This is Justin's attempt at manipulating the music charts in his favour.
Obviously, Bieber is not a K-pop act (nor is he in a boy band) but this is clearly artificial mass buying of his music.
The since-deleted message also advised overseas fans to use a VPN programme, set it to the United States, and then make a Spotify account and put it in a playlist on loop to listen to music continually...
Radio airplay payola couldn't have been this bad...
Artists represent a small army of people (the ones who show up at concerts.)
If artists want, they can easily influence fans to spike their numbers....
Radio airplay is not longer such a thing that matters, mass buying and mass streaming weigh more now.
This shows that not only do these large acts have high fan loyalty, but how the music industry can be manipulated by a large enough artist.
Boy Band Popularity Doesn't Equal Success

To be clear, we are not dismissing the importance of popularity.
Naturally, it is.
We are, however, discussing the distinction between popularity and success.
Popularity is determined by the amount of individuals who are listening to a song and does not necessarily reflect how well they like the music.
Success, on the other hand, is the consequence of a combination of popularity and interest, as well as ability and enthusiasm.
While a popular song does not guarantee success, a successful band will almost always have a significant fan following.
These are markers for a successful band:
High fan loyalty

Physical sales

Massive stadium tour

Billboard magazine press
A good example of a successful boy band is BTS by Big Hit Music.
Shin Young Jae feels that critics were "slamming us" or our fans, by making us easy targets for chart manipulation accusations.
Billboard magazine reports on this quite a lot.
Sadly for Shin Young Jae... This is a fair question, there are no easy targets here.
Successful performers may frequently generate enough interest from their followers to produce cash through ticket sales, merchandising, and other means.
Popularity, on the other hand, may frequently result in cash from ads.
The Korean music business has fought to restore normalcy to the K-pop charts after they were manipulated.
What Can Be Done to Stop It?

For the past few years, the Korean music business has been attempting to figure out how to halt the tendency of chart manipulation.
Following the initial controversy, the Korean government even intervened to attempt to figure out what was going on.
Such a thing hurts everybody. Every honest boy band and K-Pop act loses out to these manipulation tactics.
The vast amount of data produced by music streaming companies is a significant factor...
These services publish a vast quantity of data that is used to determine chart position and even song popularity, making it difficult to conceal tampering.
While you can't see physical sales and downloads, you get an idea of high fan loyalty by seeing Spotify monthly streams.
Bands put in lots of hard work, so it's important that all the rules are set straight.
So how does one stop the mass buying of digital music?
Even billboard magazine couldn't stop us or our fans from listening to good artists.
Each Kpop group has their army that they represent.
So then what else can we do ti disperse the ability of group action?
This can include ensuring that digital music sites eliminate the possibility to manipulate charts and that digital tracks cannot be purchased up to the number one spot.
It also entails ensuring that streaming platforms do not favour specific music or groups.
When the tools that facilitate chart manipulation are removed, it becomes much more difficult for organisations to modify the charts.
The Future of chart manipulation (my theory)

This conversation is long from over. Entertainment technologies change every year, so the ways we market and generate sales for musical content should change invariable.
The rules about how we group music sales should be put in fair question.
Will streams be split among all BTS members?

Will market developments lead to more chart manipilation?

Will billboard change rules and make streaming weigh less?
The BTS label I proof that we need new rules and make streaming weigh fairly.
It causes head scratchers to think that the billboard magazine numbers may be false...
But it's a fair question since fans would do ANYHING in their army to represent the band.
Kpop acts are easy targets for criticism since the BTS label is so big...
But they are not all to blame.
As we seen, Justin Bieber and acts with high fan loyalty can do the exact same.
The goal is to make market developments that give a fair chance to all artists out there.
Conversation inside billboard magazine need to be re-structured as well.
How much should streaming weigh compared to physical sales and downloads?
South Korea and BTS fans army have the power to make songs and albums go viral overnight.
The music world is getting chaotic, and every songs impact is seeing new heights.
The ultimate goal is to push physical sales and downloads.
This will calm down BTS fans that want to game the music industry, but also open a conversation inside billboard magazine.
Join The #1 Platform For Music Artists.
We're starting a revolution - and putting music artists (like you) first.
Boost Collective is a must-join platform for music artists.
Join the rebellion! and get free music distribution, free music promotion, and more.
We're on a mission to change what is possible in the music industry and we need you!