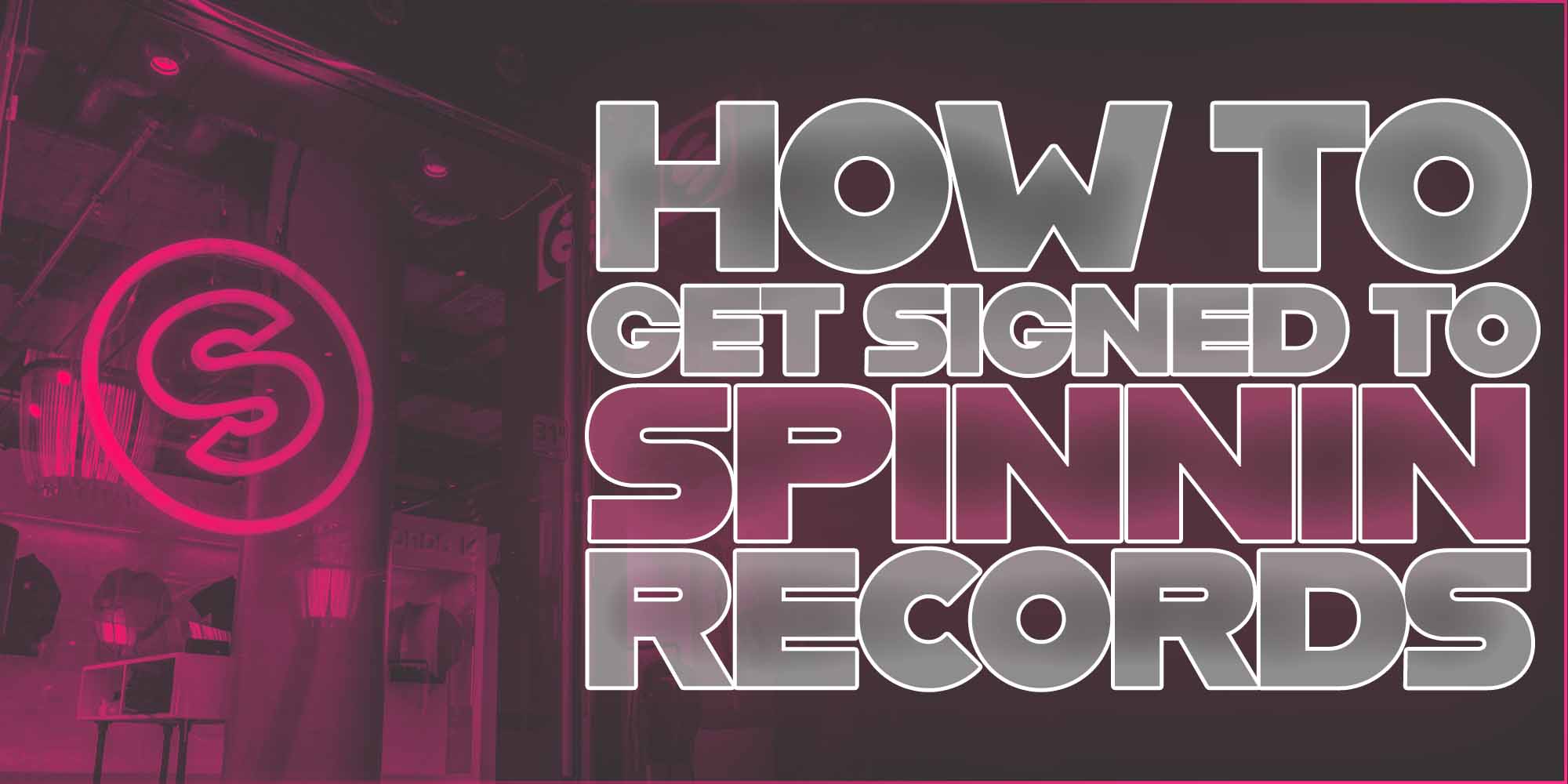 The Ultimate Guide To Getting Signed To Spinnin' Records
Spinnin' Records is undoubtedly the most recognizable label in EDM.
Spinnin' is responsible for breaking major artists Martin Garrix, Don Diablo, Oliver Heldens, Afrojack and more.
To get signed to Spinnin' Records, you'll need a strong track record and a solid plan on how to build your fanbase.
But what does that even mean? Let's break it down.
Bonus: Learn the do's and don'ts of how to get a record deal.
Submit your song, if I like it then I'll add it to my Spotify playlist.
5 Steps To Getting Signed To Spinnin' Records
Here are the 5 core steps to getting your songs on Spinnin Records:
I can't guarantee it... But this is your best bet.
5 effective ways to get signed on Spinning Records:
Craft a sound that's unique to you as an artist
Build a strong track record of quality releases
Express interest in releasing on Spinnin' through the talent pool
Receive support from other producers & DJ's on the Spinnin' label roster
Network with A&R staff from Spinnin' & other labels
So if you're ready to make some serious gains in your music career, let's jump right into it!

Read THIS Before Signing A Record Deal.
This banner above (with the book) ☝️ is the BEST resource in the music biz.
This book is widely used in music schools around the world and was called "the best how-to book of its kind" by Music Connection.
It inspired thousands of people to stop waiting for their "big break." and to claim success!
Ari
Herstand,
who
has
become
the
go-to
expert
for
"do-it-yourself"
artists,
is
back
with
a
second
edition
of
his
book.
(He's become a friend of mind too, cool guy. 😆)
Ari
says
that
a
stable
career
can
be
built
by
using
the
many
tools
we
have
at
our
disposal:
Mastering

social

media

Mastering

the

art

of

merchandising

Embracing

real

connections

with

fans

And

just

learning

how

to

keep

going
It
is
completely
up-to-date
with
the
latest
online
trends
and
news,
and
it
includes
inspiring
success
stories
from
media
like
Spotify
and
Instagram.
If you can't invest $25.00 into your brain - just quit your music career.
The information is work it a thousand times over.
Check out This Book and it may just save your music career. No joke.
What is Spinnin' Records?
Spinnin' Records is one of the most well-known electronic music labels in the world.
If you're looking to get signed to Spinnin', you'll need to have a solid track record and build a strong fanbase.
Spinnin' is a progressive Dutch record label based in Amsterdam.
Once known as a dance music-only label, now they're known for bringing new artists to the forefront of popular EDM.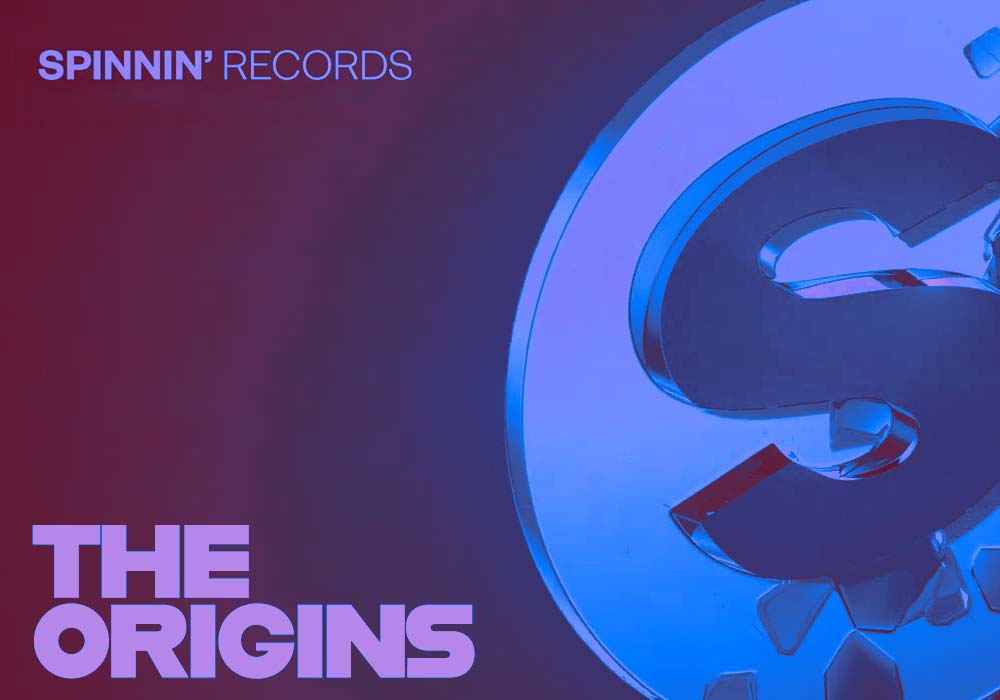 Spinnin' is owned by the Dutch-based company Spinnin' Records Limited, which is in turn owned by Warner Music.
The label was founded in 1999 by Roger De Graaf and is located in Amsterdam.
How to Get Signed to Spinnin' Records (The Extended Steps)
Getting signed to Spinnin' is not at all out of the scope of possibility.
The label is always looking for new talent.
After all, Spinnin' played a major role in shaping the sound of modern electronic dance music, and they couldn't have done it without artists that push boundaries.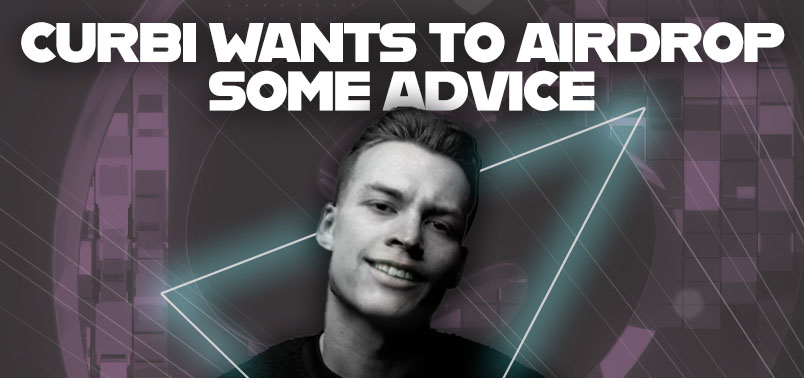 Before we get started, it's probably a great idea to hear some tips from someone who's actually released on the label.
Checkout Curbi's tips below on how he was able to break through on Spinnin':
Step #1: Craft A Sound That's Unique To You As An Artist
Getting signed to a record label is all about establishing a strong foundation in your core sound.
You can't expect to just copy a trendy sound and get signed.
If you want to get signed to Spinnin', you'll need a solid track record and a strong fanbase before even thinking about submitting a demo.
Whether you're a seasoned musician or a total beginner, you've almost definitely run into that frustrating moment when you're trying to figure out how to make your song sound better.

There's no denying it: no matter how many times you play your song, it never sounds quite the same. It can be hard to pinpoint exactly where the problem lies.
And even if you could, you probably don't have the time to spend hours researching the best way to improve your song. It's exhausting, right?
You can't improve a song without trying new things, and the easiest and most obvious way to do this is by thinking outside of the box.
9 Tips For Crafting A Unique Sound
I made sure tisane you time by boiling this all down.
Do NOT skip this part, it's essential!
9 best practices to develop a unique artist sound:
Combine different styles and genres together to create a new sound
Use instruments not commonly used in the genre you make
Experiment with different BPM ranges
Learn chord progressions and scales which aren't often used in EDM
Use different drum rhythms not commonly found in your genre
Collaborate with different artists and learn their techniques
Record your own samples
Make use of FX plugins in your own signature way
Stay consistent with 1-3 key sounds throughout your productions
Record label A&Rs are always on the lookout for artists that can pull off a unique sound.

Here are some guides I found especially helpful for improving your productions:
DJ & Producer Varien also made a killer video back in 2016 on finding your sound which has stuck with me even today:
After all, EDM labels are looking for that next Tiesto, or that next Martin Garrix.
If you can shakeup the scene like Oliver Heldens did back in 2014-15, you'll have a good chance at landing the opportunities you want.
Step #2: Build A Strong Track Record Of Quality Releases
One large tip that no one seems to be talking about is your track record when it comes down to releasing quality music.
As an agency owner and former label A&R myself, I can confidently say that your track record in this area means a lot.
If the label is going to believe in you, they need to see that you have a history of creating quality tracks, consistently over a certain time period.
You can't get far without being able to come out with banger after banger, with efficiency and a high standard of quality...
Let's be honest here... Spinnin' Records has a ton of talent lined up as is.
If you're going to make an impact, you need to outwork the other producers that are sending their demos through the Talent Pool.
Key Insight: You will be far more likely to sign tracks to labels once you have a year of consistent releases that have a distinguishable sound to them.
Step #3: Express Interest In releasing On Spinnin' Through The Talent Pool
Once you've built a strong online presence and a solid fanbase, it's time to show Spinnin' Records that you belong in their Catalog.
In order to do this, you'll need to build a strong relationship with the label.
It's important to build a strong connection with your label, because they're going to be a huge part of your success.
But before you do that, you'll need to submit your demos through the Spinnin' Talent Pool.
What is the Spinnin' Talent Pool?
Spinnin' Records has created a demo submission platform in which producers can share their tracks and gain some notoriety.
The Spinnin Talent Pool is a community where artists can give you feedback on your demos and vote for who has the best uploaded track of any given week.
In turn, this helps feed the best demos right to the Spinnin' A&R team.
Make sure that you use the Talent Pool as a means to capture the attention of other producers, as well as the team.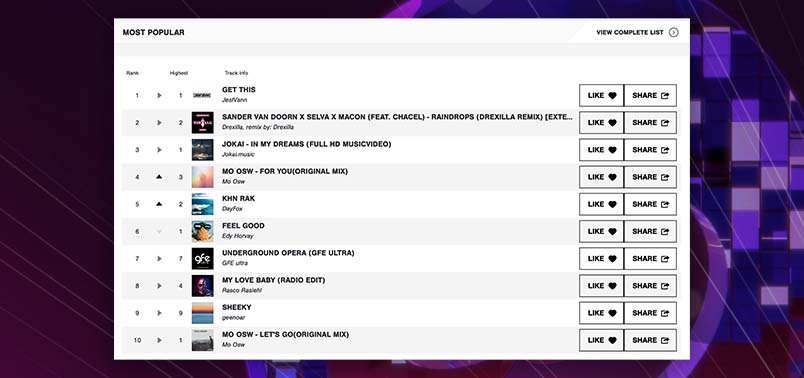 Another key tip would have to be making use of the talent pool as a means of networking.
Just think... there's a massive amount of talent that you can collaborate with to create better music.
Work together. Grow together.
Step #4: Receive Support From Other Producers & DJ's On The Spinnin' Label Roster
The final step to getting signed to Spinnin' is to build your fanbase and to get gain the support of bigger artists already releasing on the label.
The best way to do this is to make your fans your number one priority.
Just think... if you can get your fans to share your music around for you, there's more chances that you'll be seen by more people.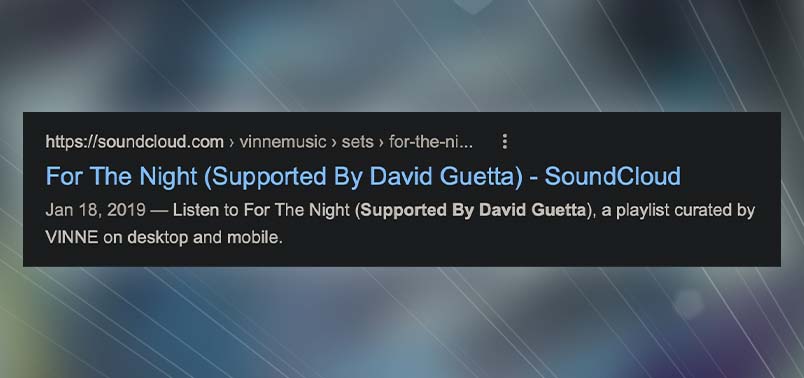 On top of this, if you can garner the support of the big boys, it becomes far easier to get your first track signed to spinnin'.
Let's jump into levelling up your social media status!
The first step is to start building your online presence. You can start by following these steps:
Easy ways to grow your online presence:
Set Aside Some Time in Growing Your Online Presence
Build Your Instagram Following - Follow Other Artists on Instagram
Build Your Twitter Following - Follow Other Artists on Twitter
Build Your SoundCloud Following - Post Your Latest Songs on SoundCloud
Collaborate With As Many Talented Artists As You Can
Release Collaboration Tracks On Spotify, Apple Music etc...
Build Your Online Presence Beyond Social Media (Live events etc...)
Next, get to know other artists strategies for growth.
If they're signed to Spinnin', find out what they're doing to build their fanbase.
You can do this by asking questions, or better yet, offer to help them build their fanbase if they're interested in doing so.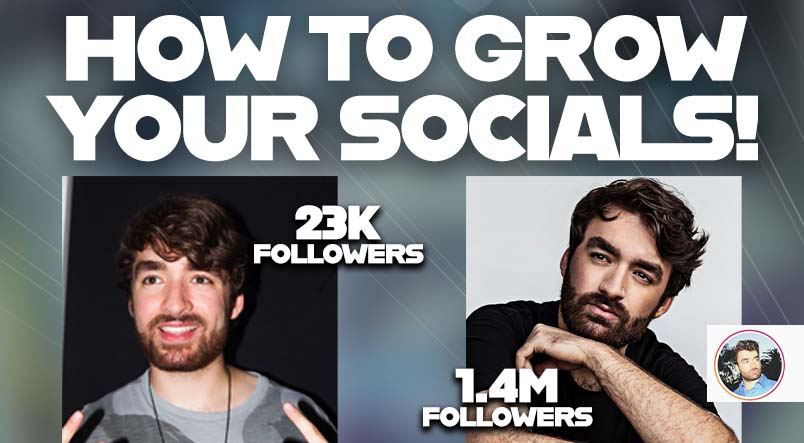 Reach out to your local clubs, too.
If the resident DJ's are willing to play your songs, they're probably known by a lot of people.
When it comes to networking and meeting other people, you can't be shy.
You need to meet people, get to know them, and build a relationship before expecting them to open up to you.
You can do this by giving your fans what they want, and making sure that they feel included.
The best way to do this is to make sure to include them in your music, your social media posts, and your life.
You can do this by asking your fans questions, sending them tickets to events, and sending them pictures of your family.
Step 5: Network With A&R Staff From Spinnin & Other Labels
One of the most powerful things you can do is to network with the people that actually sign the music to the big labels.
I've been on LinkedIn for quite a few years, and it still boggles my mind that so many artists aren't taking the platform seriously.
The amount of industry people on LinkedIn is crazy!
They're all on the platform, interacting with other people that work in the music industry.
You can find anyone from the CEO of any of the major labels, to A&Rs searching for new talent.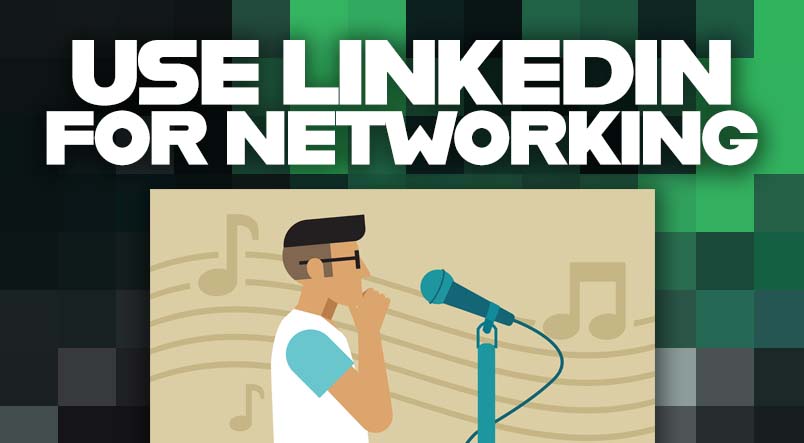 Checkout our article here called the ultimate guide to networking in the music industry.
Just make sure you're not spamming anyone on LinkedIn. They won't be interested in giving you the time of day.
You wouldn't want to ruin your chances at getting your music on any major labels right?
With all of this being said, I hope that this really helped out!
The time is now to hone your skills, and build up a brand that can take you to where you want to be.
We may be able to help you out with that!
Join The #1 Platform For Music Artists.
We're starting a revolution - and putting music artists (like you) first.
Boost Collective is a free-forever music distribution platform. Upload unlimited releases to 150+ stores and platforms and keep 100% of your earnings.
You'll also get free playlist promotion, cover art creation, and much more!
Join Boost Collective for free here.