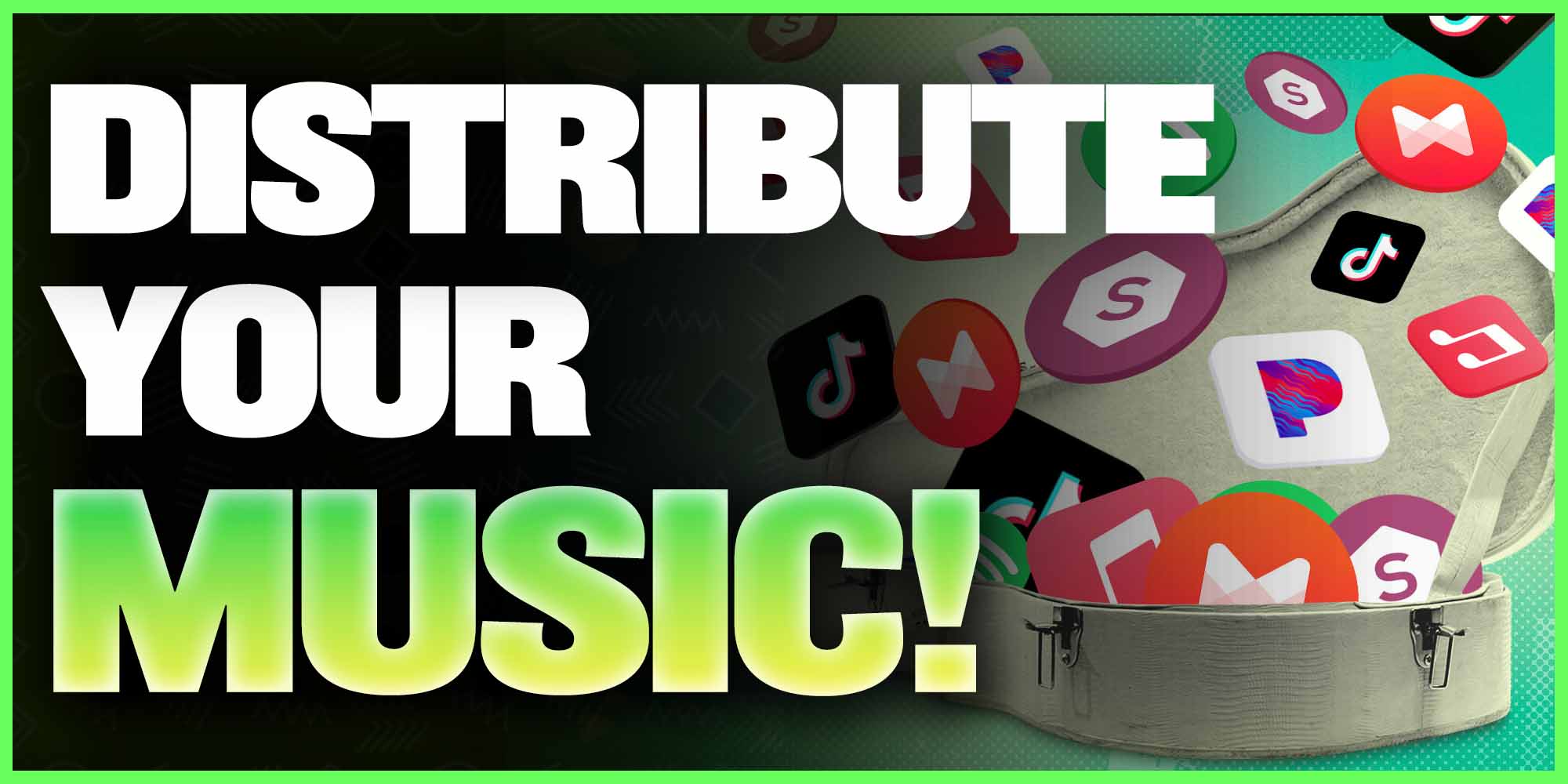 Get Your Music on Streaming Platforms!
Let's get your music on streaming platforms.
How to distribute your music
Choose a music distribution company
Submit your song
Input your song metadata (artist, track name, etc.)
Select a release date
Wait for songs to appear on platforms
Sounds easy? Because it is!
Getting the right Free Music Distribution is paramount for your success!
Distribute Your First Track Fast, Easy & Free!
We'll send you a login to manage your song and future catalog after we've set everything up for your release!
Now, let's get compare the top music distribution services for you to use.
Top 10 music distribution services
Want to figure out how to distribute music to online stores?
Here are the top 10 digital distribution companies:
Distributing music isn't as simple as you may think...
Music distributors offer different services.
These digital distribution companies are the BEST in the game!
Set a custom release date, get on digital platforms, social media platforms, etc.
Use the best music distribution services to get your music in stores!
#1. Boost Collective

Boost Collective takes a different approach to music distribution...
We believe that getting ahead in music should not cost you anything.
Right now, It costs a fortune for artists to return a profit with their music every year!
Not anymore.
Distribute to 150+ stores around the world.
Within two days, your song will be out.
100% of the ownership of your masters, always.
You have access to instant music video generators and many other free services for artists!
Also, free distribution for labels can't be beaten.
For your label, you can put out as many releases as you want and keep collecting royalties every day.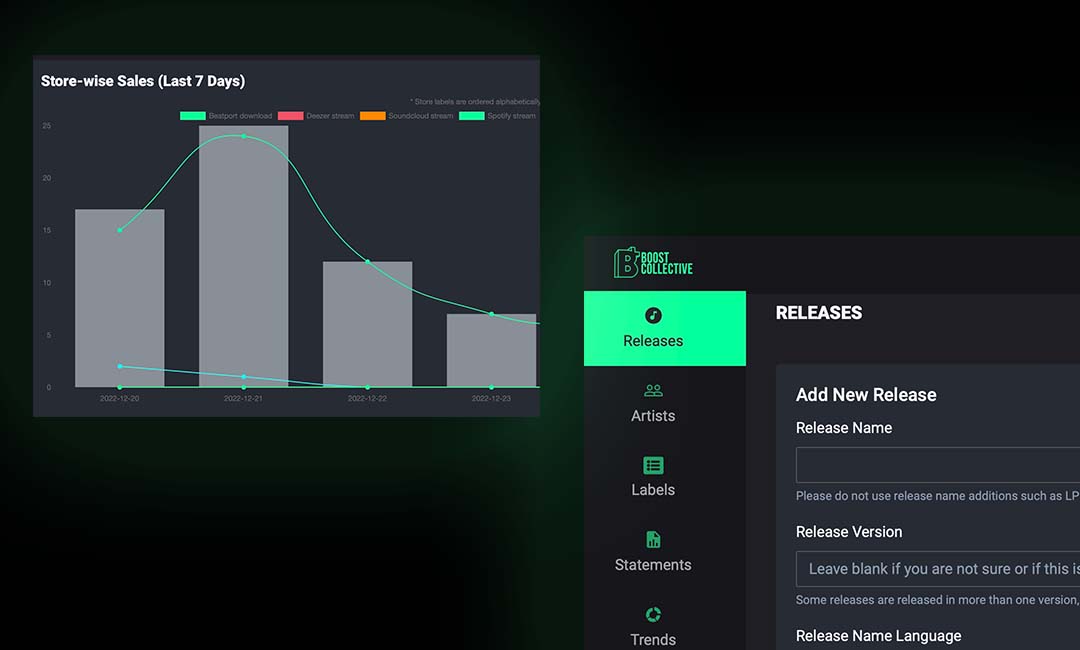 According to reports, digital distributors release 100,000 tracks on average per day. Which digital music distribution service will be the best partner for you now that the floodgates are open to a world of ambitious musicians and labels seeking to make it big?
We believe that at this point... distribution services should be free for all artists.
If you're going to cut through the noise, you need promotion to help get your music snowball rolling.
Boost Collective gives you credits every time you distribute music that you can spend on a plethora of services for your released music and future releases.
You might wish to consider transferring any tracks you have released through other music distribution companies to Boost Collective.
#2. CD Baby
People trust a whole lot. It's the oldest and one of the most well-known independent distributors.
To get you the best CD physical distribution coverage possible, CD Baby has worked with big names!
Alliance has one of the largest brick-and-mortar music stores in the world, with more than 15,000 locations.
Selling physical copies of your music is the best part of CD Baby Pro.
Get your music in brick-and-mortar stores along with major streaming sites.
You can use this service for physical sales along with a free digital distribution service as well!
Besides independent stores, Alliance has relationships with Amazon, Barnes & Noble, Target, and other big-box stores.
If you give CD Baby the go-ahead for your music to be sold, they'll definitely release it right.
#3. Amuse Distribution
Get your music out for free with Amuse.
Pro: You can make your own album, get a record deal, or make more money by releasing.
Amuse works only through the app, so you have limited access...
Fast Forward looks at real-time data to figure out and pay advances from as little as $50 to as many as hundreds of thousands of dollars.
Music distributors generally charge a lot, thankfully Amuse can get your money faster than ever before, but don't give up your rights!
#4. Symphonic
Symphonic is a 100% independent company that helps you distribute digital music and videos, collect royalties, and market your work.
Symphonic also offers TikTok analytics, which is a plus.
This is a pretty solid digital music distribution service.
Access as many ears as possible with this music distributor!
You no longer have to wonder how to distribute music, try out Symphonic digital distribution.
Over 200 DSPs, such as Spotify, Apple Music, Amazon, Beatport, and more, are on their list.
#5. Spinnup
Spinnups's data dashboard lets you see how many people are listening, how many people are following you on social media, and how many people are making sales!
They've got partnerships with the biggest names in music to help your music grow.
A better connection means more control.
This digital distribution company is solid and reliable.
You built it. It's yours.
Not that Spinnup is a part of Universal Music, so your independence may be on the line.
They've worked with labels and A&R people, and we've already helped more than 100 artists get signed.
Will you be the next?
#6. AWAL
People who want to make a long-term career as a musician can get different deals at different points in the process.
At every step, each AWAL artist owns their work, has control over it, and makes the most money.
The power of AWAL Recordings can be used by artists who want to use it.
This digital music distribution company doubles as a label as well, which is very interesting.
#7. TuneCore
TuneCore is one of the world's best places to distribute digital music.
Just choose an unlimited distribution plan and upload your music!
TuneCore charges $9.99/song so be prepared to spend a lot.
It's definitely not Free Music Distribution.
When your music is ready to go on Spotify and Apple Music, it'll be out in stores in no time at all!
Get your music on Spotify, iTunes, Apple Music, Tidal, Amazon Music, TikTok, Tencent, and a lot of other apps and sites.
Keep 100% of the rights to your music and stay in charge of your career.
#8. United Masters
UnitedMasters gets your music out to the world, connects you with huge brands in the world, and gives your independent music career a boost.
The Beat Exchange connects 1.5 million artists with the best and up-and-coming producers of today, wherever they are and on any device.
You can put your music on all of the major streaming sites, buy and sell beats, promote your music, and keep track of how much money you make.
Use one link to share your new music on Instagram, Twitter, Twitch, and other sites.
To get the most attention, have your tunes included in editorial collections like Music Mondays and Baseline!
#9. DistroKid
DistroKid is a service for musicians to put their music out in stores like Spotify and Apple Music.
When people listen to your music on YouTube, you get paid.
DistroKid charges a 30% fee on non-US artists.
Only pay $19.99 to upload as many albums and songs as you want for a year (our competitors charge at least 2x that just to upload one album).
Take home every penny you make.
#10. Level
Own all of your rights and royalties with Level, and it's easy to get your money.
Your music can be easily shared around the world on Spotify, Apple Music, Instagram, TikTok, and other platforms!
Use easy-to-use tools like smart release pages, release analytics, and sales data to stay ahead of the curve.
Level's Artist Support Team listens to every track and is with you every step of the way to make sure your release is live as soon as possible.
Check out the editorial program to find out more!
How music distribution services work

Digital music distributions are very simple!
In the end, distribution deals are ways to get your music to your customers without giving up any ownership.
How does digital music distribution work?
The job of the distributor is to make sure your music is made, digitally coded, and sold in stores and online digital service providers (DPS) all over the country or the world. They then collect royalties and pay you out.
Artists now pay for their own recording, marketing, public relations, and other ways to get their name there.
Some of the best music distribution services help artists promote as well!
On the flip side, independent artists have never maid more than today.
All of this is done with the help of a music aggregator.
Music Aggregators explained
Digital distribution is only possible because of aggregators.
A digital aggregator, also called a digital distributor, is a company that helps get your music on streaming sites like YouTube, Spotify, and Apple Music.
Music aggregators ship out music in aggregate to streaming sites!
Services offered by a music distributor:
Report earnings

Register UPC codes

Royalty payouts

Register ISRC codes

Submit metadata

Run DRM checks
Not every aggregator is the same, they all have different features and benefits.
Every independent artist you know uses some sort of distribution service to upload music online.
There is no way to get music onto major music stores without digital distributors.
Some will get your music onto digital music stores for free, while others will charge.
Even if you upload your music videos to YouTube/SoundCloud as an independent artist, you'll still need to use an aggregator to get on top stores.
On the bright side, every music distribution aggregator has contact with over 150+ stores!
Music Distribution VS Record Labels

What is the difference between a music distribution service and a label distribution deal?
Let's break it down.
Most of the time, songwriters give music publishers the rights to their written music and lyrics.
These publishers then license online streaming services, movie studios, and recording studios.
Distribution companies acted as a link between labels and stores that sold music.
What does "distribution deal" mean?
Back in the day, a distribution deal meant that the distributor paid for all of the costs of making an album, from pressing to printing the labels, and in turn, the artist kept 100% of their music rights.
Since people don't use traditional record stores, music distribution companies focus on major streaming services.
The music distribution company that sold the albums made deals with stores to sell them.
Some distributors bought albums outright from labels, while others sold albums on behalf of record labels.
You might get a deal from a distribution platform like Tunecore or Boost Collective.
CD Baby charges $10 per song and $30 per album to send digital files to all of the major platforms.
A distribution deal with Boost Collective might also come with an advance,
though it might not be as much as an advance from a record label.
It's a very good deal to get a $50,000 advance while still owning the masters, getting label-lite services, and, at worst, getting a 50/50 split on the royalties.
Distribution deals are a great option for independent artists
Distribution deals used by smaller indie labels might not have the resources to give artists huge advances.
In these deals, the distribution company charges the independent artist money for the manufacturing costs of the album or other distribution-related fees.
Sometimes in distribution deals, companies will offer to include marketing, sales, and promotion as an add-on!
Boost Collective is known for free artist promotion and offers on digital platforms.
Record sales are higher than ever before!

The right distribution packages can help you get future fans, sync licensing, and growth on online stores.

Upload your track titles, and album titles, and release your music for unlimited uploads today!
The History of Music Distribution

In the digital age, Napster was the first service that a lot of people used to download music.
It was especially popular for sharing live sets, demos, unreleased mixes, and other hard-to-find recordings.
It is estimated that recorded music sales fell by 50 percent around the world between 1999 and 2009. This would force the industry to change in ways no one could have thought of before.
Napster came out in June 1999 and was designed to share MP3 music files and made it easy for users to search for and download songs.
The recording industry was hurt badly, physical distribution took a toll.
The music industry fought hard to take Napster down... But one issue remained.
Even after Napster, there were a lot of other sites and services that let people download music and other files that were protected by intellectual property rights for free.
Sub Pop, Nine Inch Nails, Aphex Twin, The Libertines, and DJ Shadow are all artists and labels that have distributed music and videos through torrents.
DJ Shadow was the first artist in history to sign a deal with BitTorrent to get paid every time someone downloaded his new release through the platform.
This was the foundation on which digital distribution was built.
At this point, courts all over the world sent notices to internet service providers telling them to block sites that helped copyrighted works spread through torrents.
This is where the rise of iTunes and music downloads began...
The Rise of iTunes and Beatport
The iTunes Music Store from Apple was a very important new way to do business.
Jobs met with executives from Warner Music, Universal, and Sony, among other big record companies.
He gave them some control over digital rights management, which was important to them, and wants to find a way to make music distribution a digital process.
The labels let Apple sell each song for 99 cents, and he did so. This was the beginning of digital music stores.
The growing music industry was also growing with the rise of Beatport.
Beatport opened in 2004 and is still the best place to download electronic music.
Beatport was the only digital download store that had all five of the biggest record labels' catalogs.
By 2008, it was the biggest seller of music in the US, and by early 2010, it was the biggest seller of music in the world.
This solved the issue of piracy, fans LOVE to support their favorite artists!
In 2012, digital music sales made more money than physical ones for the first time in the US.
In the UK, this didn't happen until 2014.
How Spotify Came to Be

Daniel Elk had a unique vision of giving people access to music online.
Unlike other services, he didn't charge for song downloads or pirates.
He instead created Spotify and worked with labels to get this system underway.
Now, independent artists can take a finished record and put it on a streaming platform much more easily.
Spotify came out in 2008, and for a monthly fee, users could listen to music of their choice from a huge library without interruption.
Spotify has said that 70% of its revenue goes to artists and that the service keeps people from using illegal downloads and streaming sites that don't pay artists.
It quickly became the most-used fully licensed streaming service in many of the markets where it works.
Now, you can select a release date for your track and use the best distribution service to bring in digital revenues!
Best Streaming Platforms for Artists

Is Google play better than Apple Music?
Let's find out.
Here's a comparison of all the major streaming platforms.
4 best music streaming services for artists
Spotify

Apple Music

YouTube Music

Tidal Music (bonus)
Universal Music Group and other labels drive most of the revenue from Google Play, Spotify, TIDAL, etc.
Access as many ears as possible by releasing on all these platforms!
Select a release date for your music and get heard.
Music consumption is at its highest ever, physical copies are down but digital music stores are up!
Release your music and build your artist name today.
#1. Spotify

With more than 300 million fans around the world, Spotify is a great place to grow your audience.
You can submit to the editorial team before your music comes out and get it in their playlists!
Submitting your music to digital music stores is a great way to sell music!
Use Spotify for Artists to spread the word about your music, find out how many people are listening to it, and manage your artist profile.
When you distribute your music, you'll need a good promo to create top-selling records.
Work with a free distributor or your record label to get your music on Spotify!
#2. Apple Music

Apple has several tools that make it easy to share your music with the world and find it on Apple Music!
Share a song with a tweet, or add a preview of your latest track or album to your website with an embeddable player.
People who aren't signed in to Apple Music can listen to a 30-second clip of a song or see a preview of an entire album or playlist with the full list of songs.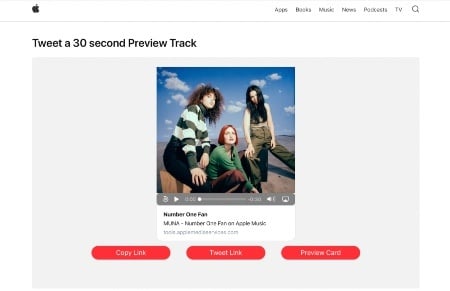 Apple Music also pays out quite a bit more per stream than Spotify or YouTube Music. Apple Music claims that its average per-play rate is $0.01, far higher than Spotify's $0.0033. Pretty solid right?
Our only gripe with Apple Music is music discovery for lesser-known independent artists. All of the music streaming services go about discovery differently, however, we've found that Apple doesn't seem to care as much about pushing the little guy.
Music on Spotify that is not well known seems to be able to reach the average user through tools such as release radar, radio, and discover weekly.
These tools are phenomenal for getting your music heard. Sadly, Apple Music doesn't have this trio of discovery tools for your music release.
An independent distributor such as Boost Collective can get you on Apple Music in mere days!
With your free account, you have access to tools all independent musicians need.
#3. YouTube Music

YouTube's Official Artist Channels are an easy way for artists to connect with their millions of fans all over the world.
Youtube has taken Digital distribution to a different level.
YouTube's Community gives artists a unique way to spread their music by letting them talk directly to their fans, something that the music business needs.
Having a strong community to distribute music and contact fans is vital.
You can talk to your audience through text, live videos, images, animated GIFs, and more when you post to the Community.
This gives you more control over your presence on the platform, including on our new YouTube Music app.
At first, we weren't really impressed with the service, but YouTube Music is now beginning to show signs that it's up to the task.
The user interface is strong, and the excellent search feature scours its video archives for long-lost musical treasures. The issue is that the quality of the competition is still a concern: Apple Music and Spotify are the two major competitors who already provide five-star services.
#4. Tidal Music (Bonus)

Tidal is experimenting with the Direct Artist Payout program to give artists a new way to get paid thanks to their fans.
Think of it as a fan club where you can get your biggest fans to keep listening so you stay at the top each month.
TIDAL has teamed up with CD Baby, Boost Collective, and TuneCore to help artists get paid.
Digital music sells tons of records, TIDAL is notorious for the highest payout in digital distribution.
Join The #1 Platform For Music Artists.
We're starting a revolution - and putting music artists (like you) first.
Boost Collective is a free-forever music distribution platform. Upload unlimited releases to 150+ stores and platforms and keep 100% of your earnings.
You'll also get free playlist promotion, cover art creation, and much more!
Join Boost Collective for free here.