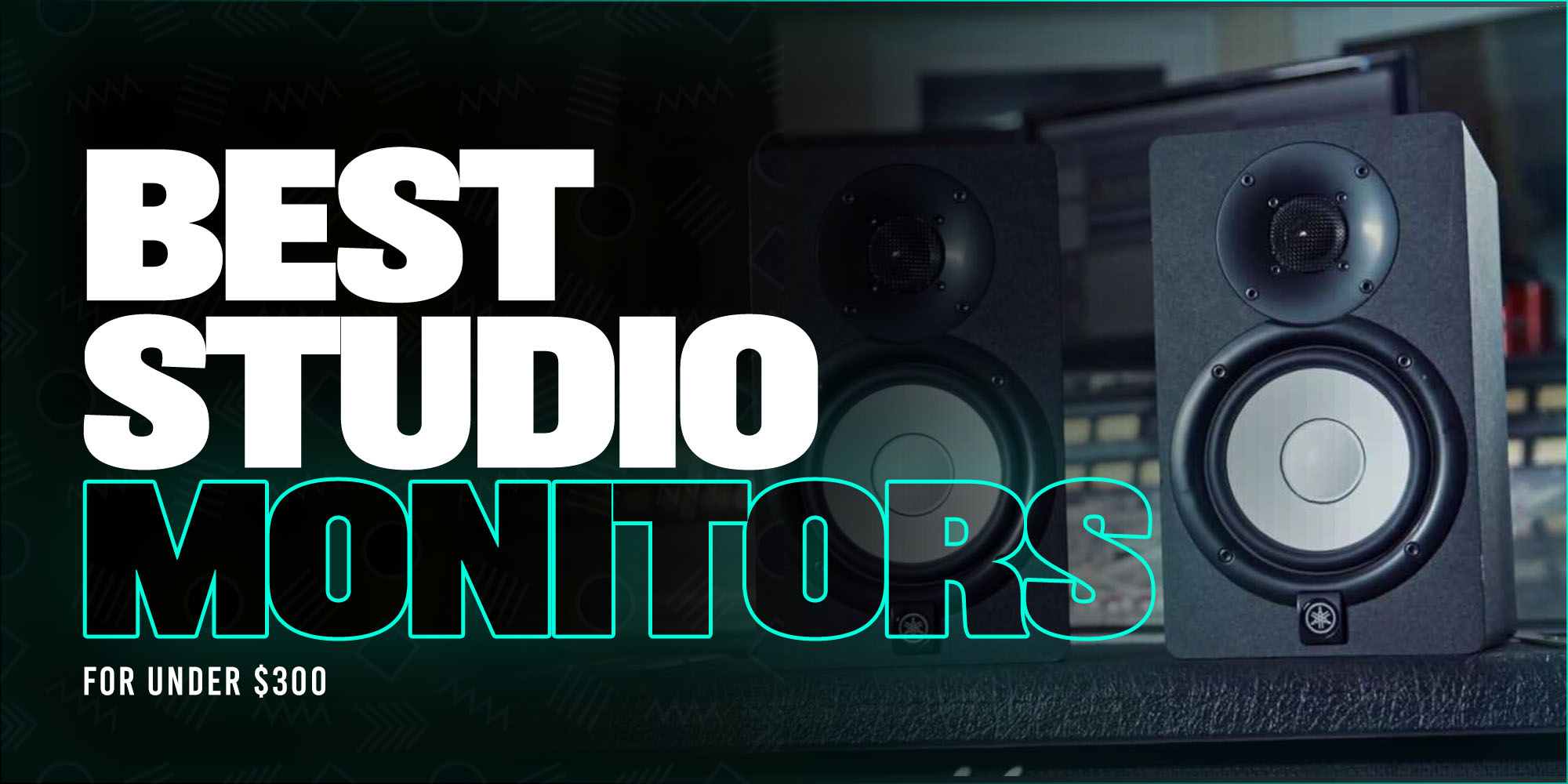 How to Find The Best Budget Studio Monitor (that Actually Sounds good)
If you're in the market for some cheap studio monitors, the good news is that you've got options.
Whether you're new to music production and looking for something to get started on or an experienced producer that wants a cheap backup pair of studio monitors for a second studio, we've got you covered.
We've put together some comparisons for other price points, like the best studio monitors under $500 and the best studio monitors under $1000.
And with many options, becomes many comparisons, options, feature lists, and prices.
This can sometimes be overwhelming. But at least you drilled down your budget: 300 dollars.
Which studio monitors are the best for 300 dollars or less?
That's where we come in - because we tested them all! And we've made a list of the best ones you should consider taking a good look at.

For such a budget like this, you can't expect to find big studio monitors with loads of bass and over 5-inches woofer size.
But you can most definitely still find some amazing options that work perfectly for home studio mixing. You'll find lots of great brands support this price point, so you'll have plenty of comparisons to make.
It's just a good idea to be realistic and know what the industry standard is for this budget.
Bonus: check out our ultimate best studio monitor comparison, it goes into a lot more depth to better help you choose the right studio monitors.
Without further ado, here are the best cheap studio monitors that will work best for your studio space!
Submit your song, if I like it then I'll add it to my Spotify playlist.
9 Best Studio Monitors under $300: In-Depth Guide
Time to get you a set of proper studio monitors for a budget! Note that most of these fit in the budget of getting a pair of studio monitors for under $300.
Here are the best studio monitors under $300 at a glance:
Note that pricing for these change all the time and depend on the region you're in - so be sure to look around and research them all.
You might find some deals that makes one of these studio monitors more appealing than any of the other ones!
Let's dive deeper in each one, so you can decide which is the best fit for you.

#1. JBL Professional 1 Series, 104 Compact Reference Monitors (Pair)

The name JBL screams 'bluetooth speaker at a houseparty' nowadays - but don't mistake these studio monitors for that.
These speakers have 60 W of class D power, 4.5" dual-concentric drivers to provide sound that is powerful for the budget.
For their size, they actually stack up pretty well to the competition, many of which have drivers that are 3 - 3.5 inches.
Here's a review of these monitors and a comparison to the Presonus Eris 3.5's (the next studio monitors on our list):
With three input ports and the acoustic adjustment for desktop use, you can connect various devices with these monitors from JBL.
With this set of monitor speakers, you'll not only be able to use them for a full size speaker but also in small areas where larger sized ones won't fit.
They give clear sound and crisp bass and treble so you can mix with these no problem.
And these monitors offer a unique look as well - they stand out from the other more boxy-looking screens on this list.
They also feature a built-in amplifier to power the speakers, which makes them easy to use.
Check out the compact JBL Professional 1 Series here.
#2. Presonus Eris E3.5 (Pair)

The PreSonus Eris 3.5-inch Monitor is one of the top brands out there and it's well worth a second look at, with many reviews speaking to its quality for the price.
These are by-far the cheapest studio monitors you'll find - and if you're a beginner that wants to get producing on a small budget, these will be your best bet.
The compact size makes it not only great for your budget - they're relatively portable if you want to do some on-the-go mixing.
They have a front-facing headphone jack as well which is quire useful.
The PreSonus also has RF interference protection as well as noise isolation; plus Turn-On/Off transient protection so you can focus on your work without interruption!
The specs on these speakers are top-notch for the price. Mostly because so few speakers are as affordable as these!
Because it has a 3.5-inch woofer, it is slightly smaller than some of the other monitors on this list, which makes the Eris have a sound with slightly less bass and depth.
Of course, the low-end won't be nearly as good as a 5-inch woofer studio monitor, but at least it packs some punch so you get some level of bass awareness when mixing.
It also has an impressive max SPL, so you can use it in loud environments without worrying about blowing out your ears.
The E35 is a very affordable option and a great choice for beginners. When it comes to balancing price with sound clarity, these ones are a must to consider.
Check out the PreSonus monitors here.
#3. Monoprice DT-3

These are the most affordable studio monitors on our list. Sure, they might not produce the same level of clarity as some Yamaha HS5's, but for what you get with these it is hard to argue against them. For one thing (and a big one at that), their price point is absolutely unbeatable!
You can absolutely still do some basic mixing with these, and they're for sure better than a bluetooth speaker or laptop speakers.
If you're just getting started in the world of music production, these will give you everything you need for a small budget.
In terms of size, they're not half bad at this price point: you get a 3.5" woofer and a 1" tweeter, a frequency response of 75Hz to 20kHz, and you get 1x 3.5mm AUX, 1x Stereo RCA, 1x stereo balanced 1/4″ TRS for inputs.
Having the front-facing headphone jack is a great plus for on-the-go mixing!
Check out the Monoprice DT-3 studio monitors here.
#4. Samson M30 (Pair)

Samson's M30s are a great choice for beginners to have in their own home studio.
They're not too big, which means it'll fit comfortably on your desk and the room you practice or record in doesn't need to be large either.
The frequency response is 50Hz-20kHz, so that's fine considering how small this speaker system is!
They provide balanced sound with bass boost, but you can always add more low-end by plugging into an AUX out port (it also works without subwoofers).
These are worth considering if having smaller studio monitors that don't take up a lot of space is important to you.
There are some other bigger studio monitors on this list that can deliver more sound and a better frequency response if you're willing to have bigger studio monitors in your setup.
If space isn't an issue, or if more power is necessary, we recommend stepping up from these to something like Samson's M50s which output 40W per channel but are slightly bigger in size than these.
The passive heat sink keeps the monitors cool during extended use.
These speakers also come with a built-in limiter, which protects your speakers from any sudden spikes in volume.
Check out the Samson M30 monitors here!
#5. Mackie CR-3 X (Pair)

Mackie are a great choice for producers starting out - for under $300, you can get a pair of solid studio monitors from Mackie, a very well-known brand in the music production space.
Each speaker has a 3-inch woofer and .75-inch tweeter, which is right in line with the other studio monitors on this list. Not too big, but it'll get the job done.
The CRX3s come with a pair of TRS (1/4-inch) inputs, RCA inputs, as well as an AUX input.
The speakers have an 80W amplifier and they don't specify their frequency range (Mackie always keeps it under wraps).
This generous assortment enables you to keep your studio monitors connected to different sources simultaneously without having to constantly plug or unplug cables!
While they don't have a lot of extra features such as EQ controls, the fundamentals of what makes a studio monitor good is there: crisp highs, punch lows, affordability, and build quality.
It's definitely not one of the smaller monitors on this list, it's by no means a consumer-type bookshelf speaker.
If size isn't a big issue, Mackie's CR-3 Xs are sure to deliver crystal clear sound that'll help make it easier for you to get the perfect mix.
Check out the Mackie CR-3 X monitors here.
#6. Behringer MS16 Powered Studio Desktop Monitors (Pair)

Behringer's MS16 Powered Studio Desktop Monitors are another good option for your studio. They're very suitable for multimedia and vocal monitoring, and are actually a great on-the-go option.
They also have the desirable Behringer name, and here it's no exception that they live up to that name. These monitors have about as crisp and balanced a sound as you can have at this price point.
These have been on the market for a while, and for good reason - they're the ol' reliable of affordable studio monitors.
Including an (above average) 4" woofer and high-resolution tweeter, equipped with two 8-Watt amplifiers, this setup has bigger woofers than others on this list which in turn produces an accurate sound output that really makes it worth the cash.
The Behringer MS16s are semi-active, ported speakers with a 16-ohm impedance, so they're best paired with a lower-powered amp or recording interface.
You can also daisy-chain these monitors with other Behringer products to increase the overall volume.
The Behringer MS16s have a nice, balanced sound with an emphasis on mids. They are also very versatile, with controls for treble and bass as well as volume.

The monitor's large front panel includes a jack for headphones- perfect if you want to be able to hear yourself sing or play without bothering anybody else in the room!

The Behringer monitors are good options if you're looking for dependable monitors that will last long enough!
Check out the Behringer MS16 monitors here.
#7. Audioengine A1
When you need some affordable punch for your audio setup, Audioengine's A1 Home Music System can do the trick.
These speakers have a 2 ¾ inch composite driver and 0.75 inch silk dome tweeter with a frequency response of 65Hz to 22kHz that will surprise you.
Sure, these aren't the biggest ones in the lineup - it's smaller than most of the speakers on this list and thus has a weaker frequency coverage.
But! That makes them very portable. And there are ways to get some more low-end if you need.
If you need more bottom end, hook up a subwoofer to the variable LFE line output or if connectivity is important there's 3 1/2 mm jack or Bluetooth with SBC, AAC and aptX protocols.
Check out a review of these monitors here:
These are a great studio monitor under 300 dollars to consider - they pack some solid bass without muddling the entire overall sound.
If portability is king, these have your name on it.
Check out the Audioengine A1 here.
#8. KRK ROKIT 5 G4

The KRK Rokit 5 G4 (Generation 4) is the most advanced speaker system from KRK that caters to professional studio-grade monitoring applications.
Now, these are more expensive - coming in at more than 300$ when you buy a pair - but they were worth mentioning because if you can spend more, it's well worth it.
Unlike Generation 3 models, which are geared more towards casual listening and monitors, these speakers produce heavy mix bass sounds.
And the best part is how big these drivers are - this model sports some of the biggest drivers coming in at a massive 5 inches, bigger than what the others have on this list.
The bass port is revised and updated for this new generation - providing cleaner sounding bass that's more balanced (and the front fascia of the monitor looks more modern as well).
These monitors won't be portable by any means - but by god, will you have lots of range and power to turn up in the studio.
The low end response is great thanks to the redesigned bass reflex port and low distortion kevlar drivers.
The speakers feature EQ switches and an LCD visual EQ on the back of each monitor, a big upgrade from the G3 model and we love using them.
Overall, when you're looking for audio equipment that can rival recording studio quality, the KRK Rokit 5 G4's are among the best studio monitor you can find.
Check out the KRK ROKIT 5 G4 monitors here.
#9. Tannoy Reveal 402

The Reveal 402 monitors by Tannoy may not be the newest, but they continue to hold up as reliable mix speakers. The low-cost is a bonus.
The five-inch woofer in this speaker gives you a lot of low-end performance to work with and interestingly enough, we found them more accurate than the larger 802s from Tannoy!
These make the Tannoys bigger than average at this price point, and actually a breath of fresh air.
Here's a review of the 402's:
It's actually quite amazing that you can get speakers of this quality at the price point we're looking at.
You're getting a frequency response of 56Hz to 48kHz, a 5-inch woofer and 1-inch tweeter, and 1x XLR, 1x 1/4", 2x 1/8" inputs.
Sure, you might pick up on some deficiencies here and there with the sound, however the overall frequency balance, imaging and clarity of these studio monitors exceed all expectations.
Check out the Tannoy Reveal 402 monitors here.
#10. Yamaha HS5 Powered Studio Monitor

The HS5 model is designed to provide accurate monitoring in small rooms and is ideal for home studios.
Like the KRK Rokit 5's, these are also more than 300$ for a pair of them, but again are worth considering if you can afford it.
It has a high maximum volume to compensate for the lack of acoustic treatment and low walls.
The HS5 has a 5" driver with a carbon fibre composite frame that delivers deep lows, smooth mids, and crisp highs.
The HS5's pivoting bass port lets you angle the speaker to compensate for room acoustics, and the included wall mount bracket lets you mount the HS5 on the wall to save space.
The HS5 has a single XLR input for connection to audio sources, and the rear panel has a volume control.
The sweet spot are the low frequencies - you'll get a smooth response in both the low and mid range.
This 2-way bass reflex bi amplified nearfield studio monitor utilizes both 5 inch cone woofer and 1 inch dome tweeter which enables it to handle frequency response range of 54 Hz – 30 kHz respectively, as well as includes low frequency extension. You also get a room control switch.
Furthermore packed with several advanced features such as low resonance enclosure design (prevents sound from bouncing back into the cabinet.)
Check out the Yamaha HS5 Powered Studio Monitor here.
Studio Monitor Positioning And Placement For Studio Monitors Under $300
When you have budget speakers in your setup, you must make sure that at least your positioning and placement is spot on.
At this price point we're missing certain features like EQ controls with most studio monitors, so it's clear we make up for these by making your budget monitors sound as good as they can be.
Positioning your speaker properly is a form of room correction to help your monitors sound awesome.

In all cases, you want to make sure that the your ear is at least 2 feet away from the monitor.
Here's a video tutorial on proper studio monitor positioning:
How To Get A Flat Frequency Response With Budget Studio Monitors
It's important you get as flat a frequency response, and by making small changes to your room you can make affordable studio monitors sound even better.
To get a flat frequency response in a small room, you can use many techniques:
Acoustic panels
Bass traps
Sound diffusers
When picking a material, make sure it is suitable for the space.
For example, fabric panels work well in high-humidity areas.
Wood is a durable option, but it may crack in dry climates.
Depending on how you plan to install them, you may need to consider additional factors.
If installing them on a wall, make sure the surface is flat.
You can fill in any dips with putty or caulk to level the surface. If they will be installed on an angled ceiling, make sure they are rated for that kind of use.
Acoustic panels are best for treating mid to high frequency range, while bass traps are good at reducing low-frequency range.

Sound diffusers work great at softening the sound of a room and reducing the reverb time.
Picking The Right Budget For Studio Monitors

When it comes to picking the right studio monitors under $300, it's important to think about some important factors.
If you are purchasing new monitors, make sure to check their driver size.
Driver size (or woofer size) is important. The bigger this is, the better your speakers will usually sound (and the more expensive).
The driver is the part of the speaker that produces sound, and each manufacturer has their own driver sizes.
Bigger drivers can move more air, produce more volume, and generally sound better than smaller drivers. Most studio monitors at this price mpint come with a 3" or 4" driver, which is usually fine for basic mixing and mastering.
Drivers are the "heart" of your speakers. They are the things that actually move air and produce sound.
The bigger they are, the more volume and bass they can produce. Bigger drivers are usually better.
The key is to find the sweet spot where you can hear as many sound frequencies as possible within your budget.
That's where frequency response comes in - the wider the frequency response, the better.
So be sure to check the technical specifications of every studio monitor you're considering for frequency response.
Once you have determined the best driver size and frequency response in the list of studio monitors you're looking at, you can then make a more educated decision!
Picking Budget Studio Monitors With Good Frequency Range
When choosing a pair of small studio monitors, one of the most important things to look for is the frequency range.

The lower the frequency range, the deeper the bass.
Usually, more expensive studio monitors will have more a frequency range that includes deeper bass frequencies.
Low-range frequencies are important for accuracy, especially when mixing and mastering music, as they are essential in creating the right balance between the different elements of a song.
This is why most high-end monitors have extended low-end response that lets you hear every note in perfect detail.
Most monitors in this category also offer better sound accuracy thanks to their flat response curve.
A flat response curve provides a more accurate sound profile, which is especially important for recording and mixing audio.
If you work with audio, then a monitor with a flat response curve will allow you to hear every note with perfect accuracy, which makes it easier for you to create the perfect mix.
Most monitors in this category also have larger woofer cones, which produce deeper bass response.
Thanks to these woofer cones, you can hear low-range frequencies in even more detail.

The higher the frequency range, the higher the treble. Depending on what you are recording, one may be more important than the other.
Avoid monitors that have a high distortion rate, as this will cause them to produce unnatural-sounding audio.
Lastly, you'll want monitors with a wide dynamic range, which is the difference between the loudest and softest sound they can produce.
Why Frequency Response Matters For Budget Studio Monitors
The frequency response of a speaker is the range of sound that it can produce, from the lowest to the highest notes.
A speaker with excellent frequency response will be able to reproduce all notes within that range without any loss of quality.
Most speakers have a good frequency response up to a certain point, but then start to lose quality.
The range where this happens will be the speaker's "falling edge". It is important to know the falling edge of your speaker for best results.
The majority of quality speakers will have a falling edge of around 20-35kHz.
This may seem like it is not a lot, but it is very important to know. From these frequencies up to around 20-35kHz, you will lose quality, but you will hear nothing.
Despite this, speakers with good frequency responses can provide a much better audio experience to those who need it.
To get the best frequency response out of your speakers, you need to consider their driver design.
The majority of speakers use a standard dome tweeter that provides a commendable level of detail but struggles to reproduce high-end frequencies.
For the best frequency response, you need to look towards coaxial or ribbon tweeters.
These speakers offer a level of detail on par with dome tweeters but are capable of reproducing high-end frequencies with ease thanks to their design.
Picking Budget Studio Monitors For New Music Producers
There are many good choices for the best budget studio monitors out there.
If you're just starting out, you most likely will have a smaller space available for your studio. Check out our list of the best studio monitors for a small space here.
If you have a bigger budget, check out our best studio monitors for under $500 - a step up like this can have massive implications in the quality of mixing you'll be able to do.
Remember, the woofer is everything.
Choose a high-performance woofer that can produce the highest frequencies your system is capable of generating.
Most systems have limited range due to the physical properties of their drivers, so you should look for a high-performance woofer that can produce the highest possible frequency within that range.
A high-performance woofer has a much greater capability than standard models when it comes to reproducing high-end frequencies.
These speakers are capable of generating sounds that are often outside the range of normal human hearing, but you can still benefit from their use.
Difference Between Studio Monitors Vs. Speakers

There are some significant differences between these two types, and knowing will help you pick the best studio monitors for a small room.
Studio monitors are specifically designed for audio production, recording, and mixing.
These speakers have increased power handling, accurate response, and high-fidelity sound for hearing every detail during the creative process.
On the other end of the spectrum, computer speakers are designed for casual listening to music and watching videos.
These two types of speakers have some major differences.
When compared to other types of computer speakers, studio monitors are much more detailed and crisp.
They are especially great for music production because you can hear every detail in the song.
Studio monitors also offer a flat response curve, which means that all frequencies are equally as loud as each other.
Most computer speakers have a boosted bass response that often muddies up audio.
If you are looking to mix and master, then you can't go wrong with a set of studio monitors - never master a song with computer speakers!
Most of these monitors are unamplified, which means you will need a powered audio interface or dedicated audio card with a line-level input to record sound through these speakers.
Because studio monitors are designed for audio production, they will have a 1/4-inch input, which is larger than the input on most computer speakers.
Hopefully, this comparison has provided you with the information you need to make the right decision.
Join The #1 Platform For Music Artists.
We're starting a revolution - and putting music artists (like you) first.
Boost Collective is a free-forever music distribution platform. Upload unlimited releases to 150+ stores and platforms and keep 100% of your earnings.
You'll also get free playlist promotion, cover art creation, and much more!
Join Boost Collective for free here.