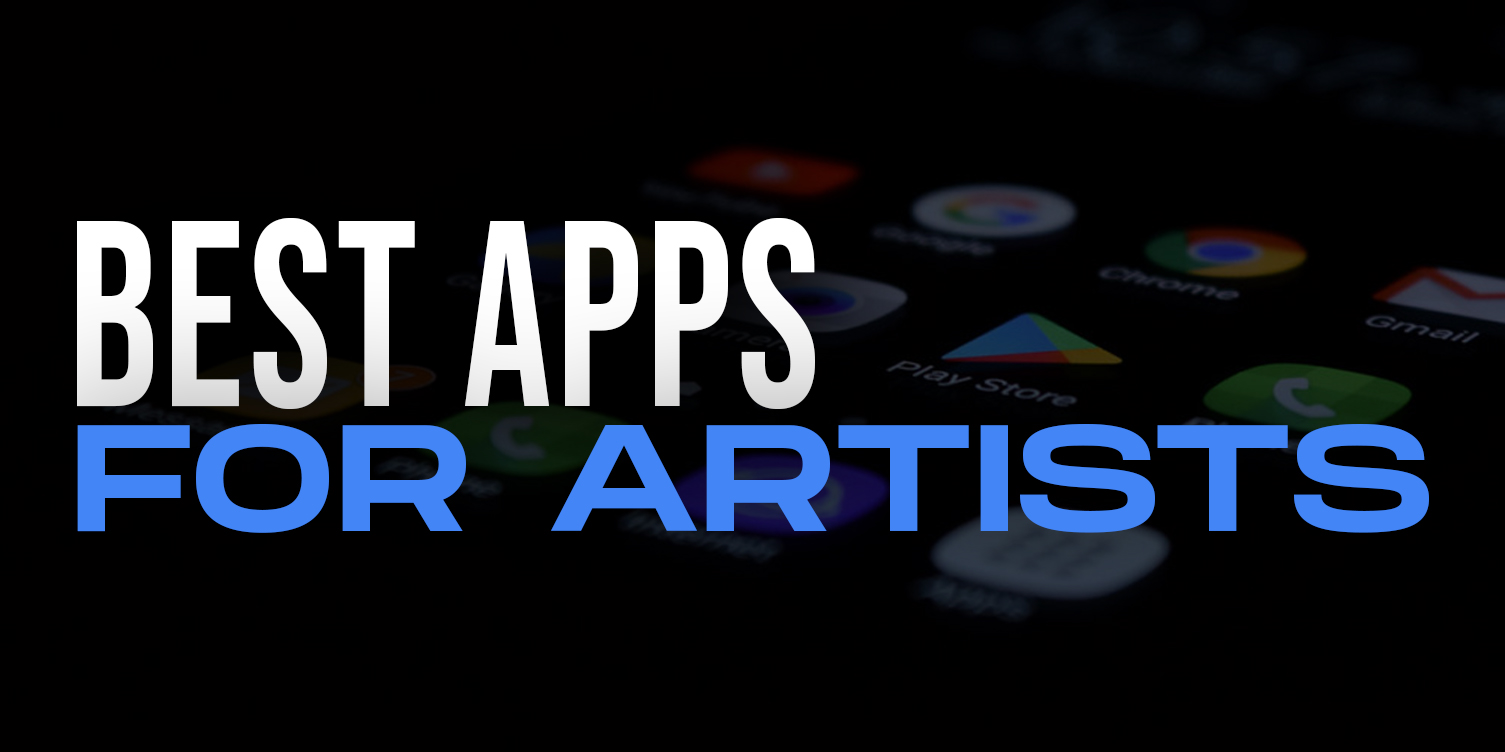 Free Music Distribution
Before we get into our favourite apps for musicians, did you know Boost Collective offers completely free music distribution?
You heard that right.
We will get your music on 150+ stores for free!
All you have to do is fill out this form below, and get your music heard!

Why Apps For Musicians Are So Helpful
These apps will help you come up with song ideas faster, and improve your creative process altogether. Delete the other apps on your phone, and get ready!
Let's Get Started
So, you're looking for relatively cheap/free apps (sometimes with in app purchases) to make your music career a bit easier. The truth is, everywhere you look there is a great app on the market. Most of the time, these apps are free!
Let's take a look at some of the best apps for musicians!
Best Link In Bios For Musicians!

GarageBand
No matter how good you are at music, GarageBand can help you express yourself through music. You can start a new project, add loops, record your voice or an instrument, arrange and mix the project, and then share the finished project with the world.
You can use a microphone to record your voice, an instrument, or any other sound you can pick up. Professional guitar amps and effects were used to record an electric guitar.
You can also play and record instruments that run on your computer.
GarageBand has a lot of software instruments, like pianos, synthesizers, and other keyboards, as well as guitars, drums, horns, and other instruments.
For many, GarageBand is an essential music app for starting their music industry. It's great for coming up and organizing song ideas quickly and easily!
There is also a desktop version for this free app, only available on Mac.
The only thing missing from this app is a portable recording studio that comes with it! Cause, it's literally like you're in the studio!
How To Use GarageBand - Tutorial
FL Studio Mobile
FL Studio Mobile is a full environment for making music that works as an app on Android/Chrome OS, iOS, macOS, and Windows and as a native plugin for FL Studio. So, you can work on your mobile projects while you're out and about, and then finish them up in FL Studio. One of the best music apps, this app also works well with it's desktop app.
Make full multi-track music projects on your phone, tablet, or laptop and save them (Android, Chrome OS, iOS, macOS or Windows). Record, sequence, edit, mix, and render songs that are already finished.
Best Music Analytics Software!

iMachine 2
With a swipe of your finger, you can use the Arranger in iMaschine 2 to combine loops and scenes into full tracks. Make different patterns for each group, and then use the Arranger to put your scenes in order. This is a great music app for beat production on the go!
You can easily change the way your track is put together by adding, moving, or removing song sections on the fly. Also, you can easily open all of your old iMASCHINE projects in iMASCHINE 2, so you can use this set of features with all of your music.
Step Mode lets you make beats quickly, even if you don't know how to finger drum. Just drop kicks, snares, hats, and other sounds where you want them in your track. Best of all, it's easy to look through the hundreds of professional sounds, so it only takes seconds to find the right sounds for your rhythms.
It's like a drum machine on your phone/tablet!
The Smart Play keyboard lets you play chords, melodies, and basslines that are always in key. When you use Smart Play in iMASCHINE 2, the keys on the keyboard correspond to the notes of a scale.
This makes every note you play sound right, because it is. You can also use the arpeggiator to give your music quick, lively movement.
One of the coolest music apps, this app features tons of great tools for those beatmakers that want to just create!
Korg Gadget
Korg Gadget is an app for making music that has everything you need to make a full track. It has a sequencer, mixer, and fifteen (yes, fifteen) synthesizers and drum modules. It also works with AudioCopy and WIST, so you can use it with other synths or sequencers on your iPad if you want to.
Korg's interface and workflow make it easy for even someone who has never made a song before to put one together.
On the main screen, users can put together their song by adding tracks, scenes, and clips. Horizontally across the interface, you can add tracks, which each hold one gadget.
How many tracks you can add is limited by how powerful your iPad is (for example, the iPad Air with its A7 chip can host up to twenty tracks).
When you press the plus sign on the fader of a track, you are taken to the Gadget menu, where you can choose which synth or drum module to add. To help you decide, the menu gives you a short summary of what to expect from each one.

Animoog
The synthesizer Animoog came out first for iPad in 2011 and then for iPhone the next year.
Even though calling Animoog a synthesizer doesn't do justice to how revolutionary it is. It had buttons to press and settings to change, but it didn't just try to make old hardware work on a touchscreen and stick to strict rules. Animoog was not like the other things.
Before it was recently taken off the market, the original Animoog app got many updates. Since then, Moog has replaced the app with Animoog Z, which is a free universal app that builds on what came before it.
It's an incredible music creation tool that allows you to come up with cool sounds on the go!

ClearTune
Cleartune is a chromatic instrument tuner and pitch pipe that lets you tune your instrument quickly and accurately using your device's microphone.
When one person in a band, orchestra, or small ensemble plays an out-of-tune instrument, it's one of the most annoying things you can hear.
Once upon a time, we used our ears to help set the pitch of our instruments. Electronic tuners and other advances in technology have made that unnecessary. You can play a note into one of these tuners and see exactly where its pitch falls.
Most of these things have a microphone and an audio input for both acoustic and electric instruments.
Thanks to iOS devices that come with microphones, you usually don't need to buy a separate tuner unless you need an audio input jack and haven't bought an iOS accessory that has one.
Decibel X Noise Meter
"Decibel X" is one of the few noise meter apps with accurate, pre-calibrated measurements and support for both dBA and dBC. It turns your iOS device into a professional sound level meter and accurately measures the sound pressure level (SPL) all around you.
They pay attention to the little things and make sure the app is not only full of features but also easy for everyone to use.
With Decibel X, you can take photos with your dB report on them and share them easily on popular social networks (Facebook, Instagram, Messages, etc.)

Akai iMPC Pro 2
iMPC Pro is a powerful tool for making music on your iPad with 64 tracks. iMPC Pro brings the features of Akai Professional's popular Music Production Center to your iPad. It has built-in sampling, a sound library, effects, and performance-driven features.
iMPC Pro was made in collaboration with Retronyms, the company that made the original iMPC.
It has many improvements that make it easier to make music when inspiration strikes. It combines different ways to sample, core MPC features, a custom sample library from Richard Devine, and an easy-to-use gestural editor to make an advanced platform for sampling and making music on iOS.
iMPC Pro can record samples in five different ways: by using the microphone on the iPad, the line input on the iPad, the multi-touch virtual turntable interface for your iTunes library, InterApp Audio, or by resampling your own audio.
The brand-new resampling feature takes audio from the Master output and adds it as a new sample to your current project. iMPC Pro also has a powerful sample editor with zoom, envelopes, gain controls, and more that can be used with multiple touches. In Slice mode, your sounds are automatically split along a time-divided grid, making it easy to make one-shots or loops from samples.
Then you can trim the sample and try it out before committing any of your trim edits.
You can also use the sample editor to change your sound with effects like reverse, normalize, amplify, fade-in, fade-out, and normalize.

Songwriter's Pad
Songwriters made Songwriter's Pad so that other songwriters could use it. It gives you all the tools you need to write the best lyrics possible. It makes sense and is easy to do. It also speeds up the writing process so that your best ideas always come out.
Folders can help you organize all of your songs, and if you use our app on your Android, iPhone, or iPad, you can write whenever and wherever the mood strikes, and all of your songs will stay in sync.
If you want your lyrics to be perfect, you need an app that was made just for writing songs. You can use Google Docs, Microsoft Word, or just a pen and paper... won't get the job done as well as Songwriter's pad.
How To Remove Vocals From A Song!
Splits
Splits is the first app to solve the hardest part of making music together, which is deciding who owns what. Make split sheets quickly and easily to claim and protect your publishing rights.
Here's what happens:
1. Type in the information that you need for the track you just finished.
2. You can record or add an audio clip of up to 30 seconds if you want to.
3. Choose contacts from your phone or create new ones from within the app to work with and give them a percentage of ownership.
4. Once everyone agrees, Splits® will make a contract between everyone, making sure that everyone is safe and that everything is clear. It's that simple.
Want to make contracts & splits easy? Use this app, it's a real time saver!

The Metronome by Soundbrenner
A simple interface with all the tools you need to work on your speed.
Powerful customization, rock-solid accuracy, and setlist management that is the best in the world. Everyone who plays music needs this app. And most things are free!
The Soundbrenner Metronome is made to be a professional tool that will help all musicians play perfectly in time.
It's a powerful friend for everyone, no matter what instrument you play or how good you are at it.
The Soundbrenner Metronome is a great tool for daily practice, live shows, and recording studios.
How To Make Soundcloud Album Art!
Band Mule
Band Mule has a private chat room, a shared calendar, and set list management to help bands make better plans for gigs, rehearsals, and other events.
Share your set lists, gig dates, ideas, and comments.
It's easy to add new members, so they always know what's going on and never show up to practice unprepared.
Everyone can quickly look at the shared calendar to see what rehearsals and gigs are coming up in the next few months. Each member can tell the others when they won't be around.
Make set lists and share them with the band. You can make as many set lists as you need by adding songs to your song library.
The chatroom is a private place where everyone in the band can talk to each other. Use the app or a desktop web app to talk.
This is one of the best apps for musicians and bands trying to stay organized!

Simply Piano
Learn piano by playing the songs you like.
Simply Piano is a fun and easy way to learn to play the piano quickly. You'll be surprised at how much you can do with just 5 minutes of practice a day, at your own pace.
Simply is an expert at making fun and educational music apps that help people learn piano quickly and easily.
How it works:
You can get the free Simply Piano app and set up your profile on it.

Put your iPhone, iPad, or iPod on the piano or keyboard and start to play.

The app will take you step by step through the many piano lessons.

Simply Piano listens to every note you play (through a microphone or MIDI connection) and gives you immediate feedback.

Our Song Library has many fun songs to help you discover the magic of music.

You don't need to know anything about piano to learn it.

Learn how to play the piano better with high-quality piano lessons.

Set goals and keep track of how you're doing! Play like a pro in no time!
FenderPlay
People spend more time at home these days, which could be why online guitar lessons have never been more popular. Even though this isn't a new idea, the industry has been growing quickly over the last five years, and many of us are just now starting to get it.
Fender Play is relatively new to this business, but since it started in 2017, it has become one of the most well-known online guitar learning services. Even though this well-known brand might have had an edge in that area, Fender Play is a service that really lives up to its name.
When a user logs in for the first time, they will be asked what kind of instrument they want to learn (electric guitar, acoustic guitar, bass guitar, or ukulele) and what kind of music they want to play.
After you make your choices, you go straight on a path that has five levels.
Each level has a number of courses made up of short (usually 3-5 minute) video lessons and play-along tablature that teach you the theory and skills you'll need to learn popular songs as the course goes on.

The Most Handy App
The truth is, there isn't a clear cut app that is the best apps for musicians! Some of these apps are strictly for song ideas, some for sheet music, and some even allow you to create music yourself!
It's never been easier to make it in the music industry with all of these tools on your belt!
All of these apps you can find on the google play store, or Apple iOs store.
Whether you're prepping for a live performance, or an at-home producer, these apps are great tools to have!

Join The #1 Platform For Music Artists.
We're starting a revolution - and putting music artists (like you) first.
Boost Collective is a must-join platform for musicians.
Join the rebellion! and get free music distribution, free music promotion, and more.
We're on a mission to change what is possible in the music industry and we need you!