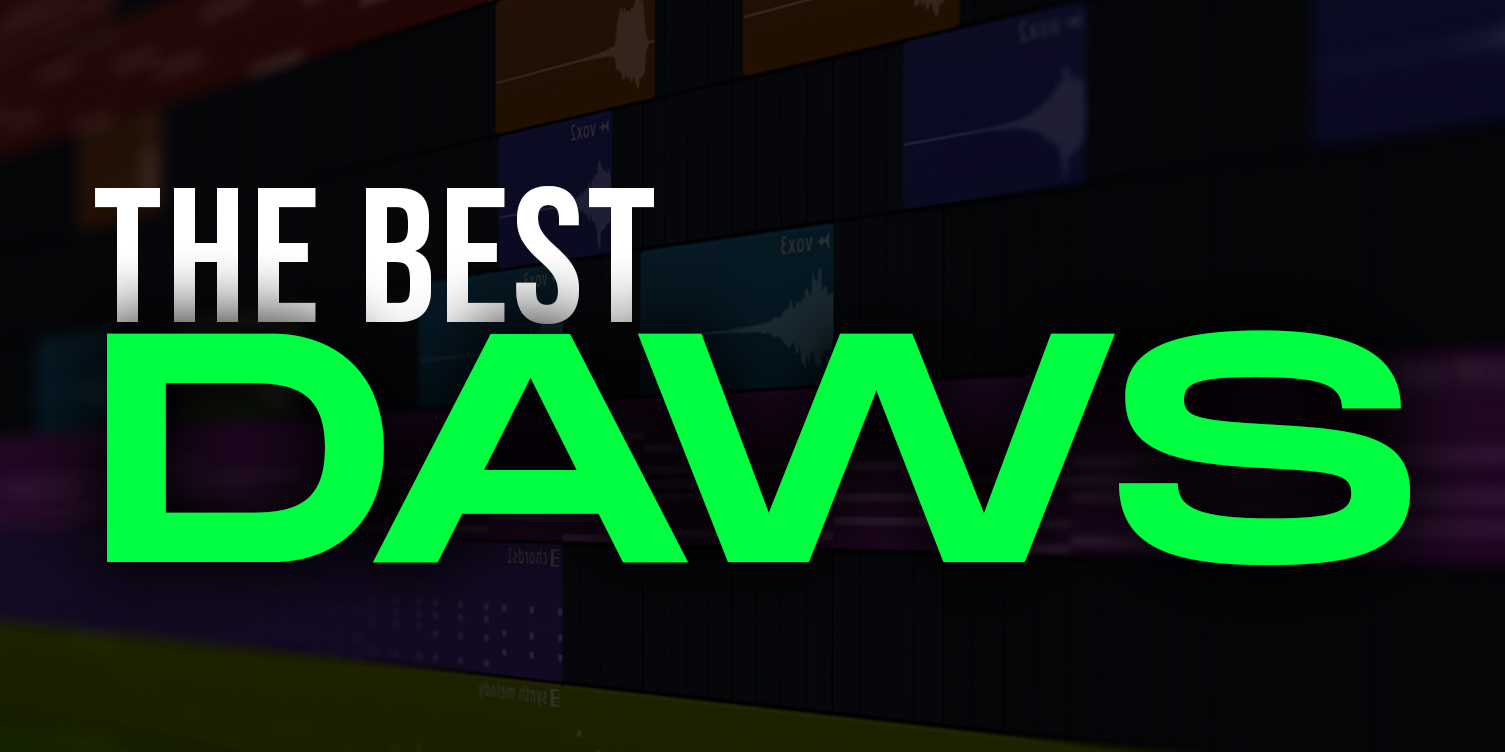 So, you're eager to start your music production journey and you need to find the right DAW (Digital Audio Workstation) to produce with.
Or maybe you have a bit of producer experience, and want to find another DAW software!
Well, you're in luck!
In this blog, we'll cover the most popular DAWs, their features, pros, cons, and what you should be looking for when DAW shopping.
Get 100% free music distribution, all you have to do is fill out the form below!

A Reliable DAW Is Crucial
It's not very good advice to just tell you about a single DAW program. Even if the interface of a program for a certain genre was comfortable for one person, that doesn't mean it will be the same for you or anybody else.
Some DAW software has been shown to be useful in certain areas, but that doesn't mean they are limited.
All you're looking for is a program that can allow you to express yourself.
At their most basic level, these programs can change multitrack audio and MIDI files, which is useful for any type of music or sound.
Having a DAW that you can rely on, that doesn't crash, and that functions well on your computer, is crucial to being able to produce music effortlessly!
Whether you're an electronic music producer (best DAWs for dubstep), hip hop artist, or opera singer, a DAW has everything you'll need!


You Should Make The Investment
Years ago, it wasn't worth the trouble to use free DAW software.
Today, though, there are many full-featured DAWs that offer a free version of many industry standards that can be used. These are still not as good as what the pros use, but they are better than they used to be.
Audacity has been the best open source DAW for over 20 years and is almost a household name.
I personally believe, that you don't have to make the investment if you don't want to.
But you absolutely should!
When looking through the many digital audio workstations, you shouldn't limit yourself to the cheapest option.
[1,000+ Free MIDI Drum Loops - Free Download]
More Than The Money
Think of your digital audio workstation as an investment. Think of it like a car, you're going to use it everyday so you want to make sure its the right price, and the right model for you!


Get Into The Flow
Having a reliable DAW that allows you to create music, utilize audio editing, and provides a bunch of virtual instruments for you to use is crucial!
If your DAW is limiting you from expressing your music in it's truest form, you better fix that!
Your DAW should be a tool working for you, not against you!

The Most Popular DAWs
The most popular music software programs are usually the highest quality programs you'll be able to find.
It's also helpful to know how to navigate multiple DAWs when collaborating with other artists.
It's basically like speaking the same language as someone, and it can help when you're in the studio with someone.
Let's look into the best music production software programs for your music production needs!


Ableton
Ableton has never been like other digital audio workstations.
It's probably more accurate to say that it's a mix of a DAW and an instrument, especially when you add in Ableton's Push 2 hardware controller and other MIDI controllers.
In Session View, you can keep your arrangements flexible, start clips, and still go back to ideas that are grouped together as Scenes.
The Session View is great for DJing and live performances that are made up on the spot. Ableton stands out from the crowd of noisy DAWs because of this. It's arguably the best DAW for live performance.
On the other hand, Arrangement View can be used linearly, just like other DAWs. But it can also be used as a temporary sketch pad to change ideas from Session View or as a multi-track recorder for clip-based performances and actions.
Even though Live was made for live performance, one of its best features is that it can be used for many different things. This makes it the production software of choice for many different types of audio professionals.
But even though Ableton has added useful features over the years to make it more competitive with traditional DAWs, its weak point has always been that it doesn't have any tools for comping.
Comping is an element that has been present in almost every other DAW for years and is almost always needed when recording multiple takes of a performance.
Ableton Pros
Ableton just updated their software to Ableton Live 11, which has a lot of cool new features.
Artists can easily connect MIDI controllers thanks to new Midi features.
The most interesting one is Suite's Hybrid Reverb, which combines algorithmic and convolution effects to give spatial effects a much-needed new palette. Hybrid Reverb is easy to set up and change.
It has useful features like the Vintage mode, which makes the sound less clear and gives a deeper sense of space than the other reverb options.
Racks are a brilliant idea that Ableton came up with that lets you run multiple devices in parallel.
Macros are used with Racks. You can connect one or more parameters in your Rack to a single virtual knob using these. Five parameters can be controlled by a single macro, making it easier to do things or automate them.
In Live 11, Ableton raised the number of macros per rack from eight to sixteen, but what's more important is that it added snapshots.
Ableton Cons
Ableton has great support for its users and a great platform for mixing.
Some Ableton cons,
It doesn't stand out as much as FL Studio or the other DAWS. FL Studio is like Apple and Ableton is like Android. Apple has the best user experience. Android may have a slightly better interface.
When you're just starting out, it's a lot easier to move between the different functions in FL Studio.
If you think Ableton can help you reach your goals, that's great! Just know that, like any DAW, it will take a lot of time to learn.
FL Studio just makes it easier to do.

FL Studio
Image-FL Line's Studio, which long-time fans lovingly call "FruityLoops" because that was the app's name when it first came out in 1998, has grown into a powerful digital audio workstation (DAW).
Even though it's still clearly designed for making electronic music "in the box" instead of recording live musicians playing acoustic instruments, you can use it to record or make almost any kind of audio project.
If you remember FL Studio from its early days, when it looked more like an Amiga tracker from the 1980s than a proper DAW, you'll be amazed at how far the program has come.
Just know that it's more for people who like step sequencers and playlists based on patterns than for people who want a more linear multitrack recording experience.
Even though most professionals use Ableton and Logic for EDM, FL Studio is starting to gain popularity in this area as it becomes more flexible.
FL Studio has a huge library of synths and plugins that can be used for almost any kind of electronic music you can think of, like trance, house, ambient, and so on.
Because of how it is set up and how easy it is to use, even people who don't know much about music theory can make music and learn at the same time.
FL Studio Pros
FL Studio is easier to learn than other software in the same category. This means that less time is spent on training.
Because FL Studio's features are so general and wide-ranging, we don't need to use a lot of other software, which saves us money in both software price and training time.
Here are some good things about the old Fruity Loops cereal:
Everything can be made to work with everything else. Want to match the peak of a snare to your master tempo clock? You just need to right-click. When you think about how big this is, it becomes a bit of a place to try things out. But more than anything else, this kind of freedom makes it easier to work.
Amazing MIDI controller integration. Plugging I've plugged things in during a session, and they just worked. If I did that in any other DAW, I'm afraid my computer would catch fire.
There's nothing else like it. It's a profound piano roll. With features like strum, arpeggios, and custom quantization, sequences in plugins are almost useless, since you can change and personalize the data as you like.
Even though it has a lot of power, the software is surprisingly light and stable.
Almost entirely vector-based and easy to change. You can change the size of anything and put it wherever you want on your screen. It also uses far fewer resources than most other DAWs, which still use bitmaps.
A "Performance Mode". This is part of FL that I know the least about, but when I use it with a Launchpad, it seems to me to be a more useful and powerful performance tool than Ableton. This is likely because of the freedom to automate that was mentioned above.
It's not priced for recording studios but for musicians. Imageline also deserves a lot of credit for being the first company to make a DAW that listened to what musicians asked for instead of making choices based on what they thought people would like.
I've asked for strange but useful features before, and to my surprise, they showed up in the next alpha or beta release.
The sidebar is great for getting work done faster. You can drag and drop anything into your session, from a plugin that isn't in your database to a folder full of stems. I quickly realize how much time and work this saves me when I use other DAWs.
FL Studio offers a huge library of different software instruments, virtual instruments, free plugins, and a great midi recording interface! Compared to other DAW software, it's pretty hard to beat!
FL Studio Cons
Workflow is very different from how DAWs used to work. If someone comes from the Pro Tools world, it will be hard for them to switch.
Poor console integration. FL and my automated board work together, but it feels like they weren't meant to.
Managing plugins can be a huge pain. Even though there are so many YouTube videos that show you how to do it, it's still a pain in the butt.
No audio quantization. Cubase, Logic, Pro Tools, Nuendo, Presonus Studio, and other programs can all find transients and "time correct" audio that has already been recorded. Newtone is a step in the right direction, but it can't be used for high-quality time correction.
It can also be hard to match the tempo. It can be a huge pain to try to take an acapella and sync it with a different tempo.
Even though it's better, video integration isn't the best. This is a music platform, not a video platform.


Logic Pro X
Logic Pro is a full-featured music and audio app that you can use for every step of making music, from sketching out your first ideas to making polished final mixes.
Logic Pro can be used for any kind of project, from recording yourself singing or playing to making complicated pieces with many tracks and sections.
Logic is a powerful piece of software, just like most of the other major DAWs on the market today, and it's not as scary as you might think!
With a good overview, you can easily see what Logic Pro has to offer and decide if it's the best choice for you.
When we talk about Garage Band, we can say that the free basic DAW has a lot in common with Logic Pro.
Both apps have a similar look and feel, and many of the parts of how they work are the same.
Garageband is a pretty commonplace for new producers to start, since it is easy to use and comes with every Mac.
But Garageband is meant for people who have never used a DAW before. It doesn't have the deep features you'll come to appreciate as you learn more.
100+ Free GarageBand Drum Loops!
Logic Pros
Logic Pro X is a digital audio workstation with a lot of features that can easily meet the needs of both beginners and experts.
The Logic Drummer instrument is mind-blowingly good, with amazing A.I. performances and perfect studio sound.
And all of this is done in a neat and clean way. Users who take the time to learn more about Logic Pro's features will be rewarded, and for the price, it's hard to find a better program.
The Match EQ plugin is great for matching sounds (vocal takes, mixes), the Drummer instrument is beautiful, and the unique editing features work well for some projects.
It's also a great platform for audio recording as well, making it easy for artists to record their vocals, instruments, sound effects, and so on.
Logic Cons
But logic is known (and rightly so) for sometimes not making sense. Important functions are often hidden in context-sensitive menus.
Most of Logic's most important features are hidden unless you turn them on in the preferences (again, this seems to favor beginners over professionals).
Attempts to simplify the recording process are poorly done. The Auto-Punch feature will randomly kick in while recording.
When punching in audio takes, you can hear a gap in playback, and many other basic functions require long Google searches to figure out. Plus, updates tend to focus more on adding features that look cool than on making them work better.
This is probably not the best digital audio workstation to purchase as a beginner producer!


Cubase
Cubase is a music production software that helps businesses in the music industry change audio files, make new tracks, and set up personalized workflows.
The platform has chord pads that allow composers to change chords, improve performance by changing tension and voicings, and play audio files using a MIDI controller.
Cubase's quantize panel lets users control the tempo, arrangement, and audio distribution of tracks. Features include sample tracks, batch exporting, a notepad, a scale assistant, latency monitoring, a color-coded mixer channel, and more.
Music makers can also use the MediaBay tool to search for and arrange content and the built-in project browser to access and change tracks, projects, and events.
Cubase Pros
Even though some basic setup stuff can be confusing at first, the experience as a whole is very easy to use.
And when things go wrong, I've found that support is very helpful.
The cheaper ones are great for hobbyists, but the more expensive ones have everything you need.
Pro Tools is a standard in the industry for a reason, but it does cost money and take time to learn.
Cubase is a great place to start because it can do things that are very advanced, but you don't have to.
Even though many people haven't had much experience with other DAWs, I think it was worth the money.
Cubase Cons
Cubase is a great tool, but it can also have some problems.
Its advanced features can sometimes be too much to handle and hard to find. This, along with the fact that the audio library can be hard to find your way around, can turn off many producers.
The one thing I'd like to see changed about Cubase is the ability to turn a mono channel into a stereo channel. When making a new song, you may find out after the fact that it needs to be either one or the other. This setting can't be changed easily.
Even though there are a lot of automation options, I would like to be able to draw automation curves more quickly. In its current form, it can sometimes feel a little bit clunky.
In terms of recording music, it's definitely not the greatest option.
Just because it's not the best music recording software, doesn't mean that it doesn't have other amazing features!


Studio One
Studio One is a digital audio workstation (DAW) that can be used to create, record, mix, and master music and other audio.
It can also be used to work with video. It was first made to replace the KRISTAL Audio Engine, but PreSonus bought it and released it for macOS and Microsoft Windows in 2009.
On September 29, 2022, version 6 of the software was both announced and made available. The new release added features to make the app "simpler and more intuitive," such as "smart" templates, more ways to customize the user interface, support for song lyrics, and cloud-based collaboration.
After the launch, Evan Jones, Fender's chief marketing officer, said that the company was "fully invested in supporting the continued growth and adoption of Studio One as the total solution for professional and dedicated at-home creators."
Studio One Pros
A separate interface for the Show level, which can be used to manage all live performances from one place.
Audio time-stretching features that work in real time.
Music score editor that is built in.
Multiple automation patterns for tracks and plug-ins, such as straight lines, exponential/parabolic curves, square waves, triangle waves, sine waves, etc.
A chord track that can automatically detect chords from audio or MIDI tracks and has options for transposing and replacing chords (Professional Edition only).
The ability to link virtual instruments and/or effects together (Professional Edition only).
Polyphonic Expression and Poly Pressure support for MIDI.
Support for MTC and MMC, so Studio One can be synchronized with clocks outside of it.
A separate interface for editing programmed drums, with names for each note pitch that can be changed.
Mix Engine effects are plug-ins that can be used to change, bypass, or replace the standard mixing processes for a specific bus or channel.
Studio One Cons
Studio One can sometimes crash when you try to start it up, which can be a little annoying.
The only problems, which aren't big, are that features that aren't "core" don't have much depth, and new features often don't get better for a while.
It's nice to have so many new features or features that were inspired by competitors, like Patterns, alternate Song Versions, Remote, NoteFX, Control Link, harmony editing, alternate arrangements, and complex Channel routing, but many of these features won't be updated for years after they were first added. This can be frustrating, especially since other DAWs have gotten better over time.
That doesn't mean they don't work well, though. They just stay basic or unrefined for longer than some programs have, as if the team is very busy trying to add a lot of new features to all of their software.
Like Bitwig studio, they have a 30 day demo with all the features and no hassles for beginners!

Reaper
REAPER is an on-premise solution that makes it easier for small businesses and non-profit organizations to produce, edit, transform, and customize audio. It's great for simple audio editing, maybe not producing extremely complex electronic music.
It lets staff members record multiple takes or layered audio and MIDI in different formats and on different disks, depending on what each person needs.
REAPER has a drag-and-drop interface that lets team members import, move, split, resize, loop, crossfade, change the pitch, and render audio files. It lets employees change between different layouts, colors, icons, and toolbars.
Staff members can handle changes in tempos, time signatures, pitch-shifting, and varispeed without having to think about it. It also lets users add plug-ins to the control panels for tracks and the mixer.
Reaper is great for groups or businesses that need to mix and edit audio professionally. There is no free trial, which can be off-putting for people who are just starting out making music.
Reaper Pros
Reaper is a simple piece of software that new artists can use easily. It's cheap and easy to use, and it does its job well! Compared to others, this seems to be lighter and go faster.
What helped me choose REAPER was that it didn't cost too much to get started. REAPER is one of the best because it comes with a large number of plugins and lets you customize them in ways that are unmatched in the industry.
To top it all off, this software is the best because it is easy to set up and use, no matter what you want to do with it. With REAPER, you don't need a third party for any step of the process, from recording to mixing to mastering.
The interface of the EQ plug-in is also very nice. I find it easy to move and change band points when I use the waveform.
Reaper Cons
To be honest, REAPER is almost too good because it is always being updated and bugs are always being fixed. When you add a strong community where people grow and help each other, there's nothing left to want.
The only problems I've had were caused by things I missed or didn't understand well enough. I've been able to fix them easily, but they haven't always been fixed quickly. I can't find anything I don't like about it. It's awesome.
It sounds too good to be true, right? Well, this software does have some problems. It doesn't look as interesting as FL Studio. You can easily fix this by downloading any custom templates you want!

Conclusion
We've already said that the best DAW for you is the one that makes it easiest for you to make music, so you should try demos of all the software you're thinking about.
Think carefully about how you will work and which parts of the digital audio workstation are most important to you.
A digital audio workstation can be used during every stage of making music, from recording to editing to arranging to mixing to mastering. Try going through this process if you can.
Try going through this process if you can. If you often get stuck and have to look at the manual, the software you're using probably isn't right for you, and it might be time to try something else.
Before you buy, you should also start making that your computer, any other hardware you might have, and any plugins you think are important to your workflow are compatible with the DAW you want to buy.
Join The #1 Platform For Music Artists.
We're starting a revolution - and putting music artists (like you) first.
Boost Collective is a must-join platform for musicians.
Join the rebellion! and get free music distribution, free music promotion, and more.
We're on a mission to change what is possible in the music industry and we need you!